August 12 - 18, 2018: Issue 371
Church Point's

Jacquie Maynard

Wins 2018 Northern Beaches Art Prize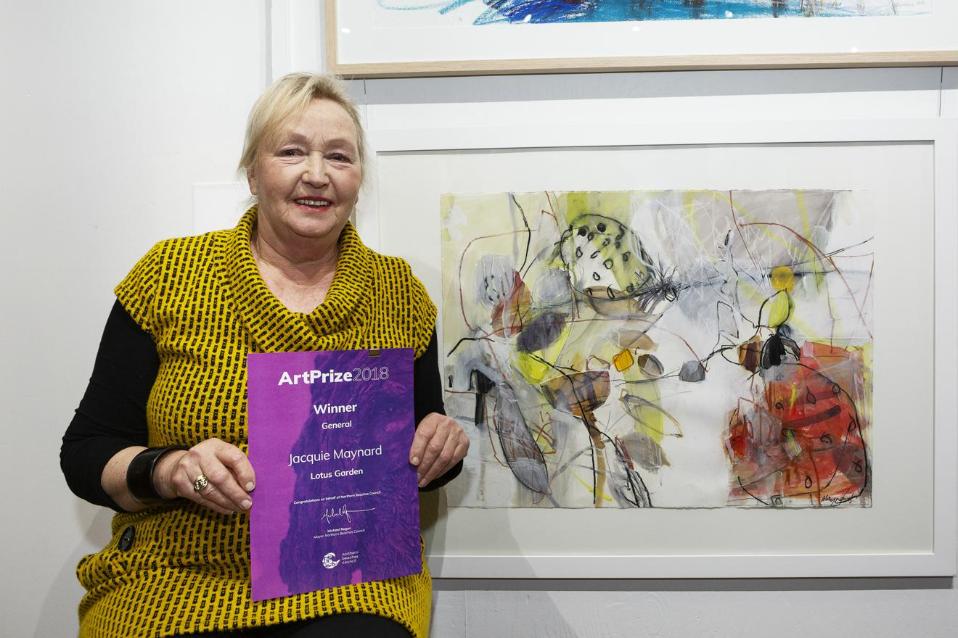 Jacquie Maynard from Church Point poses in front of her work Lotus Garden (Winner General Category 2018)
Northern Beaches Art Prize 2018 Winners Announced
Friday August 10th, 2018
The winners of two categories of the Northern Beaches Art Prize 2018 were announced last night in a stellar awards ceremony.
The annual Northern Beaches Art Prize (formerly Warringah Art Prize) began in 1955. Since then, it has become the Northern Beaches' most prestigious art competition.
With over 900 submissions across all categories, a record number of entries in the competitions history, the curator and judging panel had a tough decision in narrowing down eight winners in the General and Small Sculpture categories to share in the $15,000 prize pool.
Northern Beaches Mayor Michael Regan said Council is incredibly supportive of the arts and culture community fostering opportunities for talented and up-and-coming individuals to launch their career and showcase their artworks.
"This is the region's most prestigious art competition open to all Australian residents as young as 10.
"It has been a launch pad for many artists over the years and its evident this is well received in the industry with the amount of entries growing every year." Mayor Regan said.
The General Category - includes original paintings, works on paper and photography. The winners for this year's competition include:
Major Winner, $6000 –Jacquie Maynard for Lotus Garden
Honourable Mention –Painting, $1000 - Tannya Harricks for Gladys
Honourable Mention – Works on Paper, $1000 – Julie Johnstone for Tamarisk and Thyme
Honourable Mention - Photography, $500 and $500 framing voucher – Orlando Luminere for Degrees of Freedom
Encouragement Award, $500 – Susan Laurent Blau for Domestic Habitat 2
Tony Geddes, Former Director at Mosman Art Gallery and one of the two judges said Jacquie Maynard, who took out the top honour in the General category, was a convincing winner.
"A confident, poetic and playful work. There is a lovely sense of balance and fun with line and shape varying across the surface. Beautifully composed and judicious use of colour. Superbly resolved." Mr Geddes said.
The Small Sculpture Category winners for this year's competition include:
Winner, $4000 – Victoria Monk for Prayers on Tonl Sap
Honourable Mention Award, $1000 – Richard Byrnes for Empires Dismantled 6
Encouragement Award, $500 – Ellenore Griffith for Hip-hop
Judge Julia Davis, Lecturer at the National Art School said Victoria Monk was a deserving recipient of this category.
"Well crafted, lyrical work, a terrific drawing in space. Sensitive playful piece with a wonderful combination of geometric shapes and spaces. A lovely open narrative to be enjoyed. Perfectly resolved in formal terms." Ms Davis said.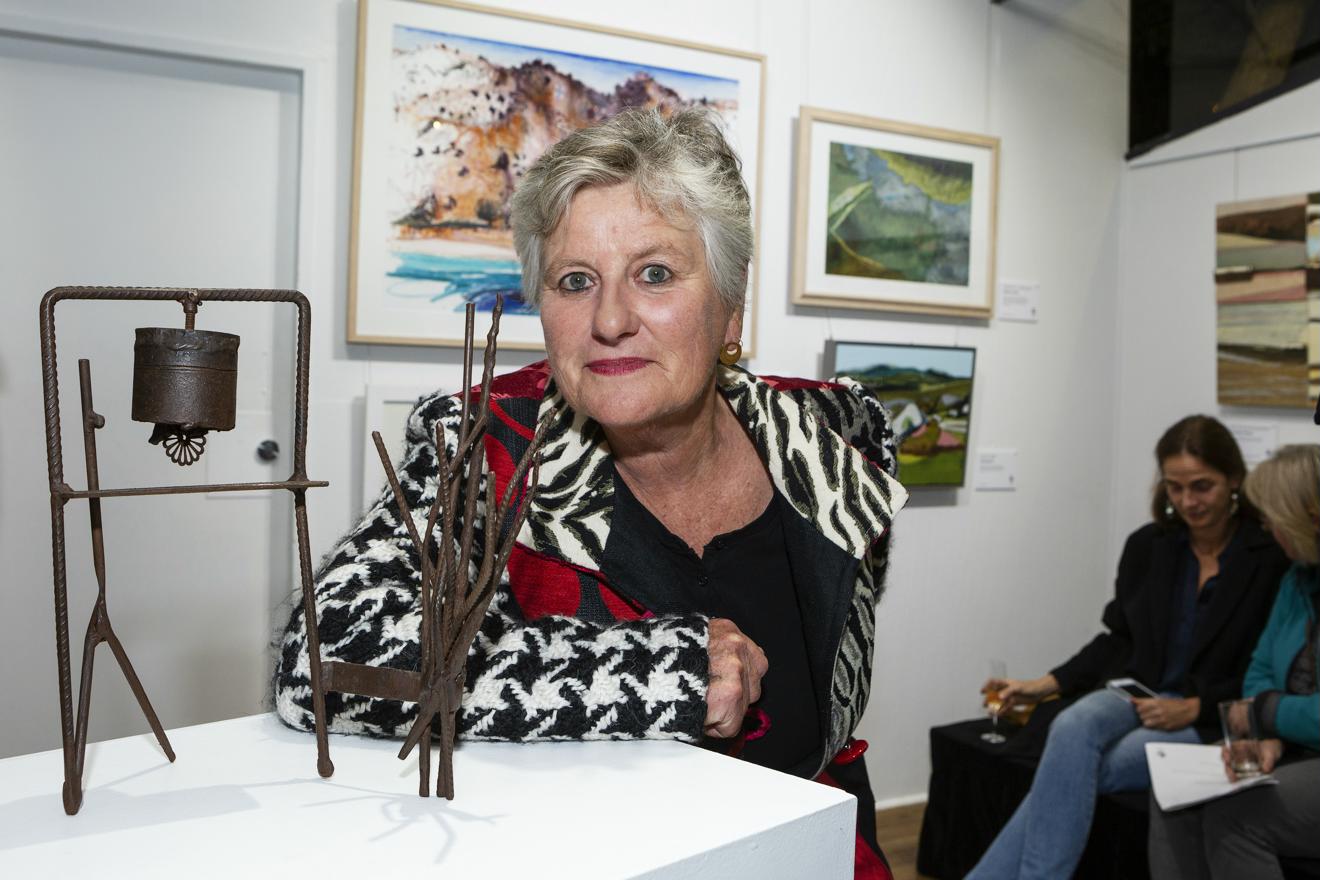 Victoria Monk from Darlington poses in front of her work Prayers on Tonl Sap (Winner Small Scultpture 2018)
"Congratulations to all the winners. Your efforts are a reflection of creativity, dedication and hard work. It's inspiring to see such a wonderful celebration of creativity on display.
"Thank you also to this year's curator Dr Therese Kenyon, Former Director at Manly Art Gallery & Museum who had the difficult task of narrowing down the works to 72 finalists. Thanks also to the judging panel for their efforts in selecting the winners." Mayor Regan said.
Winners and finalists of the other two categories of the Art Prize - Waste to Art and Youth categories - will be announced at a combined exhibition opening and awards ceremony on Thursday 23 August with $8,600 in prizes on offer.
The competition's entries will be on display at the Creative Space in North Curl Curl from 10 - 19 August for General and Small Sculpture, and 24 August to 2 September for Youth and Waste to Art.
The public is invited to vote in the People's Choice Awards for each category, which will be announced on the final day of each exhibition.
Creative Space is open daily (10am - 4pm) and entry is free.
For the full list of prize winners and finalists, please visit this link.
Creative Space
105 Abbott Road
North Curl Curl
By Northern Beaches Council
Winner of the General Category Jacquie Maynard poses alongside her winning entry with Mayor Michael Regan