August 27 - September 2, 2023: Issue 596
Sydney Water's North Head facility to increase fertiliser production for farmers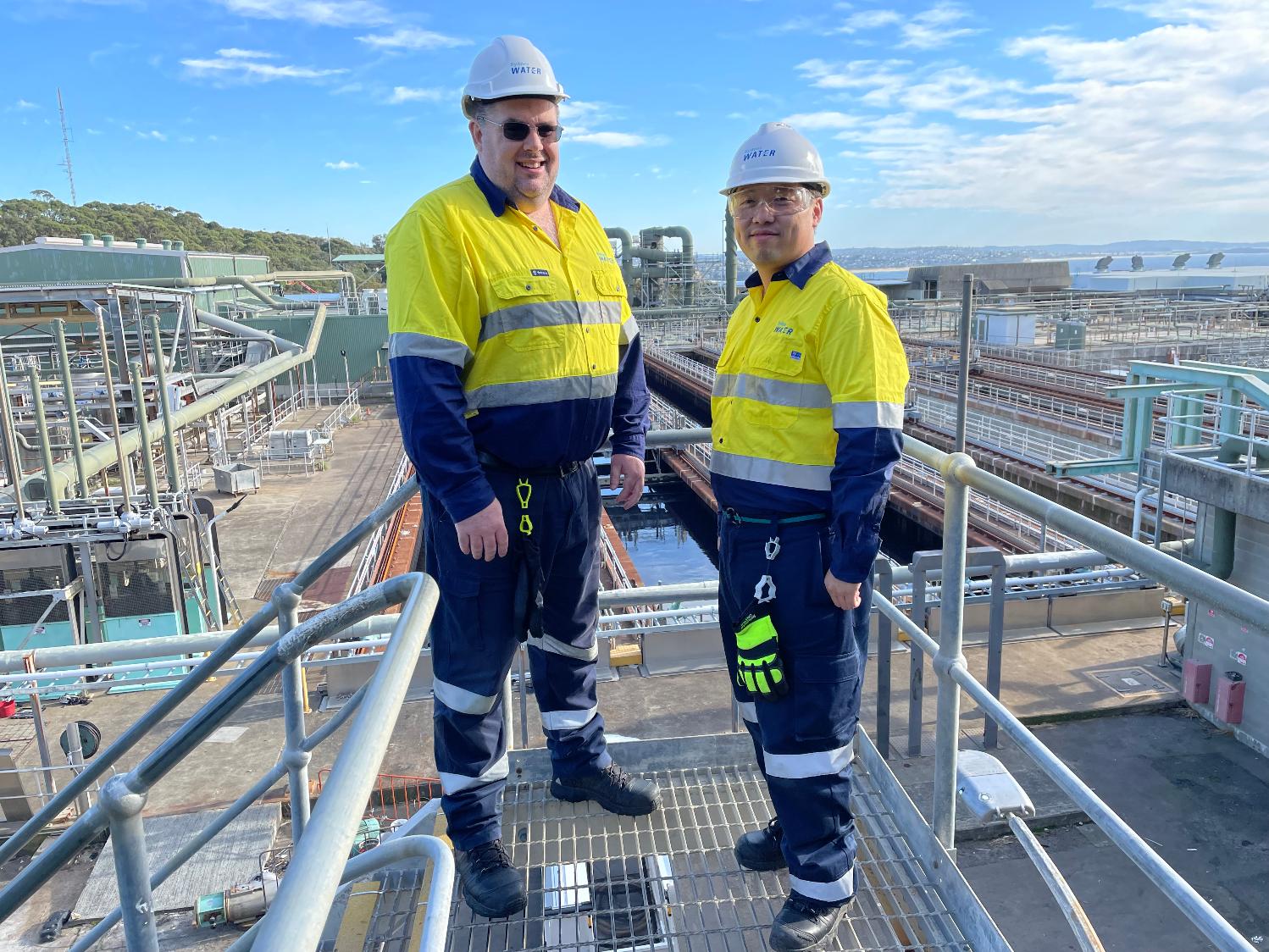 Kelvin Chow and Ian Blair on site. Photo: Biosolids
A $94 million upgrade to Sydney Water's North Head Water Resource Recovery Facility (WRRF) has reached an important milestone with the installation of two digesters which will help increase fertiliser production for the Central Tablelands of NSW.
The digestors will almost double the amount of biosolids which can be reused as agricultural fertiliser from 40 tonnes to 70 tonnes per day. Fertiliser from biosolids will continue to be delivered to farms in the Central Tablelands of New South Wales including Bathurst and Orange.
The North Head WRRF provides wastewater facilities for one-million Sydneysiders; from Seven Hills in the west, to Yagoona in the south and Ku-Ring-Gai and Collaroy in the north.
In 2021, Sydney Water began important upgrades to the facility to improve how we process biosolids for use as fertiliser for agricultural purposes.
Over 100 workers recently helped build and install two digestors which will almost double the capacity of sludge production for fertiliser from 40 to 70 tonnes a day by 2043.
The upgrades provide important circular economy benefits in that almost 100 percent of biosolids will be reused for agricultural purposes. Recovering biosolids also helps reduce waste to landfill while also reducing the number of chemical fertilisers used on farms and enhance soil structures.
Sydney Water North Head Project Interface Manager, Kelvin Chow says the upgrades are an important step forward in how we treat wastewater.
"We proudly produce biosolids for agricultural purposes which help reduce our environmental footprint. Not only will these upgrades result in increased biosolids production which are stable and odour free, but they will ensure the ongoing reliability of the facility," says Mr Chow.
Sydney Water is constantly looking to reduce its carbon footprint and use alternative and renewable energy sources. At North Head WRRF, almost 60% of the facility's total energy needs come from renewable sources.
The facility features a hydroelectric generator. The treated wastewater falls down a long drop shaft on its way to the deep-water ocean outfall. The falling water has enough kinetic energy to drive a water-powered generator, producing hydroelectricity.
North Head WRRF also uses cogeneration to meet some of its energy needs. Methane gas (biogas) is captured from the anaerobic digesters and used to power a combustion engine that drives an electricity generator.
Upgrades to the North Head WRRF are due for completion by late 2024.