February 28 - March 6, 2021: Issue 485
'no means no': what young people need to know about consent
+
Sexual assault: what can you do if you don't want to make a formal report to police?
On Monday February 22nd, 2021 the Editor of this News Service received a 'FaceTime' obscene video phone call from a stranger that showed that 3 other numbers had been tacked on.
They were targeting a young woman they called 'Scout'
.
After hanging up on this young man, he recalled, with the same 3 other numbers tacked on again - all visible on my phone. Somehow the connection was re-established late Tuesday morning when the initial phone caller was breaking from class for lunch - still with the other 3 mobile numbers tacked in.
If you have been a target of obscene phone calls from your peers, please speak to your parents/guardian to help you make a record and make them aware of what is going on.
If you have been or are the target of obscene phone calls it is important to remember that in Australia this is illegal.
In Australia - under Section 189 unlawful stalking, telephoning, sending electronic messages or contacting [the person] with intention of physical and mental harm or arousing apprehension or fear in the victim for [his/her] own safety, is a crime and carries punishment of 5 years.

If you do no wish to make a formal face-to-face report to the Police you can do so online to Crime Stoppers.
In fact, you can report to Crime Stoppers about:
People wanted by the Police
Unsolved crimes and future crime that is being planned
People you know who committed criminal offences where they have not been arrested
Suspicious or unusual activity
Remember, you can report your knowledge of criminal activity online (desktop version; click on icon at top right, mobile version).
The other vital aspect of such an experience is to remember that it's not you, it's them. Such conduct is termed 'telephone scatologia'. Telephone scatologia (TS) is a psychosexual disorder that involves making sexually explicit obscene telephone calls to unaware strangers, through which the caller receives sexual arousal by delivering sexual or foul language to strangers.
It's a disorder.
If you're interested, put the term into Google Scholar, and you will see how many people are studying the area to help both victim and perpetrator alike.
One 2017 study states; ''Clinical assessment of various comorbid psychiatric male adolescent sexual offenders at our out-patient and emergency department who had committed verbal sexual exhibitionism showed that [the] majority were maladjusted and suffered from some form of psychopathology.''
The advice about what to do if you are the target of such calls is:
Most often the caller is looking for a reaction to the call. Do not react to it.
Don't ask questions of the caller (i.e., who is this?) as this is what they would like you to do. Hang up the receiver promptly and gently. Any other response may provide the caller with a sense of accomplishment since they may wish to either frighten or anger you.
Never blow a whistle or yell into the phone. The caller will know that you are angry and may call back.
If you begin receiving calls on a regular basis, make a log of the dates, times and content of the calls - get a parent/guardian to help you with this - it will be needed by the Police.
These articles (below) have been made available this week - the first one on the day I spent trying to work out how I could help the young lady who those with scatologia were targeting - but the NSW Police will follow up on that. A report, with all information abut the incidences has been provided, and lodged.
The federal governments' esafety website also has a large amount of information for those being 'targeted' in other ways. Visit: www.esafety.gov.au/report
As with every generation the reminder that we are here to lift each other up, not tear each other down, is a good place to start when realising or reaching for or maintaining how you really want to be.
There's also some 'old stuff' that holds true too and is known by most of us, even my own young people. This favourite is a scene from The Philadelphia Story - and is known as the 'rules about that' scene. The film is a 1940 American romantic comedy film directed by George Cukor, starring Cary Grant, Katharine Hepburn, and James Stewart, and featuring Ruth Hussey. It is based on the 1939 Broadway play of the same name by Philip Barry. Jimmy Stewart won the Oscar for his work in it.
The scene speaks about how real men know how to conduct themselves around women and see their role as to protect and look after them - even when they're the worse for wear or influenced by drugs or alcohol.
This has been the way to conduct yourself as a man for thousands of years of course - and its epitome use in this film is simply is a nod to what is embedded in a person as part of their best nature and thus becomes part of the place we live in - our 'society'.
Some still refer to it as the 'Jimmy Stewart rule', 80 years on.
The part of the plot accompanying this is that the night before a wedding, Tracy (Hepburn) gets drunk for only the second time in her life, kisses magazine reporter/writer Mike (Stewart), and ultimately takes an innocent late night swim with him. When George (her fiancée) sees Mike carrying an intoxicated Tracy into the house afterward, he presumes the worst.
The next day, he tells her that he was shocked and feels entitled to an explanation before going ahead with the wedding. She admits she really has none, and realises that he does not really know her at all. He has loved her as a perfect, ideal angel, an embodiment of goodness and not as a human being and so she breaks off the engagement.
After the calling off of the engagement Tracy realises that all the guests have arrived and are waiting for the ceremony to begin. Mike volunteers to marry her (much to Liz's distress - Hussey), but she graciously declines. Then, Dexter (Grant - her first husband), who clearly planned to get her back all along, offers to marry her again, and she gladly accepts. She has realised the imperfections that made her end their marriage are also in her too and that love is more than that.
The scene for you - hope it all, including what follows after this clip, helps.
Not as simple as 'no means no': what young people need to know about consent
February 23rd, 2021
By Jacqueline Hendriks, Research Fellow and Lecturer, Curtin University
A recent petition circulated by Sydney school girl Chanel Contos called for schools to provide better education on consent, and to do so much earlier.
In the petition, which since Thursday has been signed by more than 5,000 people, Contos writes that her school
… provided me with life changing education on consent for the first time in year 10. However, it happened too late and came with the tough realisation that amongst my friends, almost half of us had already been raped or sexually assaulted by boys from neighbouring schools.
So, what core information do young people need to know about consent? And is the Australian curriculum set up to teach it?
What's in the curriculum?
This is not the first time young people have criticised their school programs. Year 12 student Tamsin Griffiths recently called for an overhaul to school sex education after speaking to secondary students throughout Victoria. She advocated for a program that better reflects contemporary issues.
Australia's health and physical education curriculum does instruct schools to teach students about establishing and maintaining respectful relationships. The resources provided state all students from year 3 to year 10 should learn about matters including:
standing up for themselves
establishing and managing changing relationships (offline and online)
strategies for dealing with relationships when there is an imbalance of power (including seeking help or leaving the relationship)
managing the physical, social and emotional changes that occur during puberty
practices that support reproductive and sexual health (contraception, negotiating consent, and prevention of sexually transmitted infections and blood-borne viruses)
celebrating and respecting difference and diversity in individuals and communities.
Despite national guidance, there is wide variability in how schools interpret the curriculum, what topics they choose to address and how much detail they provide. This is further compounded by a lack of teacher training.
A study of students in South Australia and Victoria, along with repeated nationwide surveys of secondary students, have shown young people do consider school to be a trustworthy source of sex education. But most don't believe the lessons have prepared them adequately for relationships and intimacy.
They want lessons that take into account diverse genders and sexualities, focus less on biology, and provide more detail about relationships, pleasure and consent.

The national curriculum also stops mandating these lessons after year 10 and many year 11 and 12 timetables are focused on university entrance exams or vocational learning opportunities. This means senior students have limited opportunity to receive formal sex education at a time when they really need it.
So, what should young people know about consent?
The term "consent" is often associated with sex, but it's much broader than that. It relates to permission and how to show respect for ourselves and for other people. Consent should therefore be addressed in an age-appropriate way across all years of schooling.
The most important point about consent is that everyone should be comfortable with what they're engaging in. If you are uncomfortable at any point, you have the right to stop. On the other side, if you see someone you are interacting with being uncomfortable, you need to check in with them to ensure they are enthusiastic about the activity, whatever it may be.
In the early years, students should be taught how to affirm and respect personal boundaries, using non-sexual examples like whether to share their toys or give hugs. It is also important they learn about public and private body parts and the importance of using correct terminology.
In later years, lessons should consider more intimate or sexual scenarios. This also includes consent and how it applies to the digital space.
Older students need to learn sexual activity is something to be done with someone, not to someone. Consent is a critical part of this process and it must be freely given, informed and mutual.
Consent isn't about doing whatever we want until we hear the word "no". Ideally we want all our sexual encounters to involve an enthusiastic "yes".
But if your partner struggles to say the word "yes" enthusiastically, it is important to pay attention to body language and non-verbal cues. You should feel confident your partner is enjoying the activity as much as you are, and if you are ever unsure, stop and ask them.
Often this means checking in regularly with your partner.
Young people also need to know just because you have agreed to do something in the past, this does not mean you have to agree to do it again. You also have the right to change you mind at any time — even partway through an activity.
The most recent Australian survey of secondary school students highlighted that more than one-quarter (28.4%) of sexually active students reported an unwanted sexual experience. Their most common reasons for this unwanted sex was due to pressure from a partner, being intoxicated or feeling frightened.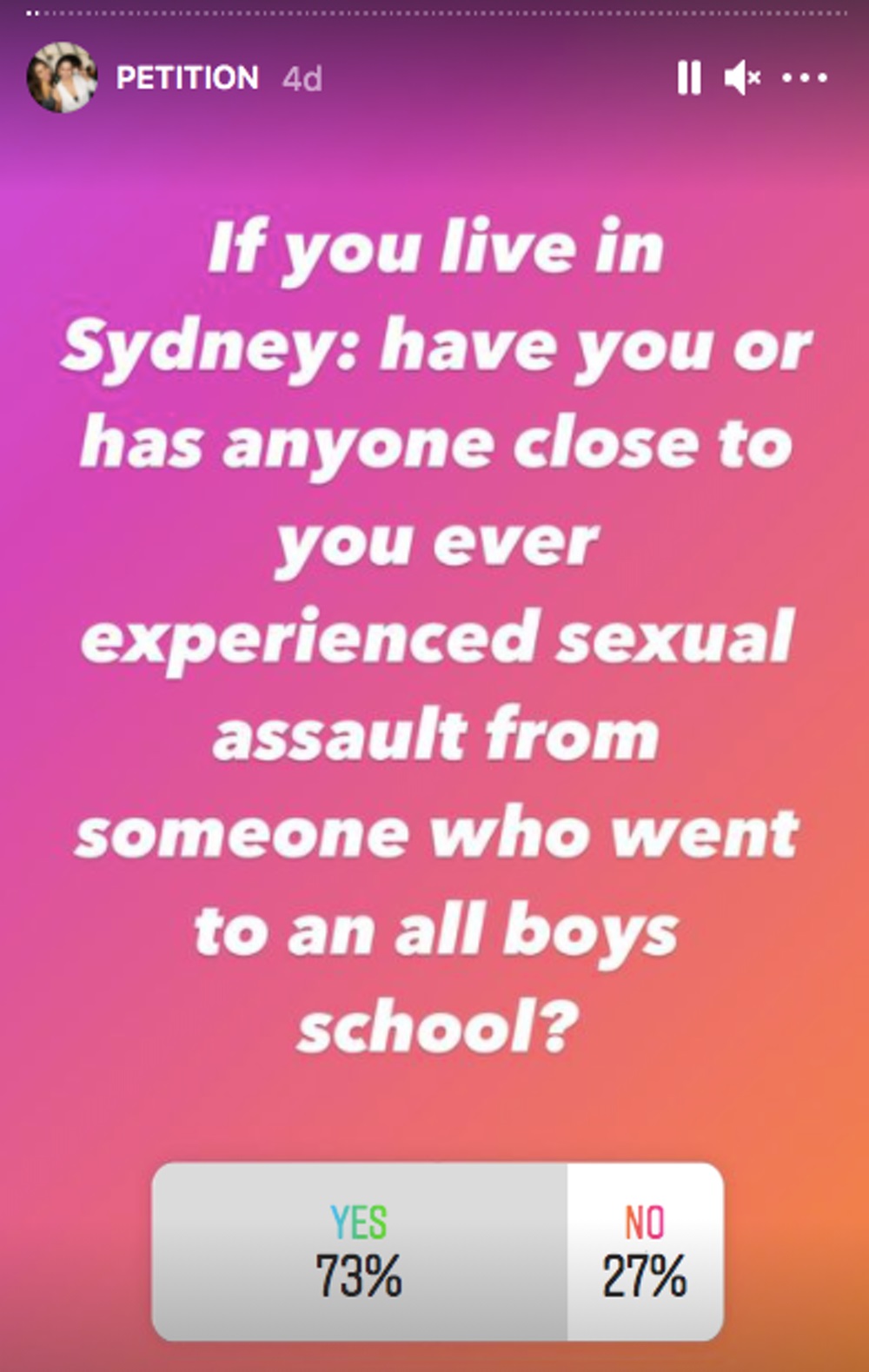 Chanelc Instagram Screenshot

We should be careful not to oversimplify the issue of consent. Sexual negotiation can be a difficult or awkward process for anyone — regardless of their age — to navigate.
Some academics have called for moving beyond binary notions of "yes means yes" and "no means no" to consider the grey area in the middle.
While criminal acts such as rape are perhaps easily understood by young people, teaching materials need to consider a broad spectrum of scenarios to highlight examples of violence or coercion. For example, someone having an expectation of sex because you've flirted, and making you feel guilty for leading them on.
When it comes to sexual activity, we should be clear that:
although the law defines "sex" as an activity that involves penetration,

other sexual activities may be considered indecent assault

a degree of equality needs to exist between sexual partners and it is coercive to use a position of power or methods such as manipulation, trickery or bribery to obtain sex
a person who is incapacitated due to drugs or alcohol is not able to give consent
wearing certain clothes, flirting or kissing is not necessarily an invitation for other things.
We should also challenge gender stereotypes about who should initiate intimacy and who may wish to take things fast or slow. Healthy relationships involve a ongoing and collaborative conversation between both sexual partners about what they want.
Consent
A partner who actively asks for permission and respects your boundaries is showing they respect you and care about your feelings. It also leads to an infinitely more pleasurable sexual experience when both partners are really enjoying what they are doing.
It is important that lessons for older students focus on the positive aspects of romantic and sexual relationships.
They should encourage young people to consider what sorts of relationships they want for themselves and provide them with the skills, such as communication and empathy, to help ensure positive experiences.
More information about consent:
Sexual assault: what can you do if you don't want to make a formal report to police?
February 26, 2021
by Georgina Heydon, Associate professor; RMIT University, Nicola Henry; Associate Professor & Vice-Chancellor's Principal Research Fellow, RMIT University, Rachel Loney-Howes; Lecturer in Criminology, University of Wollongong, Tully O'Neill; Teaching Specialist (Criminology), The University of Melbourne
The alleged rape of former Liberal Party staffer Brittany Higgins has raised many questions about how sexual assault gets reported.
Members of the Morrison government have repeatedly stressed the appropriate response to allegations of sexual assault is to go to the police.
Another former staffer Dhanya Mani, who alleges she was indecently assaulted while working in NSW state politics, says she received a similar response from senior Liberal figures.
In both cases, the complainants did not want the police involved at the time of their first disclosure. Higgins initially spoke to police in 2019, but then withdrew her complaint, because she felt it would put her career in jeopardy. Mani says she did not want to go through the police process because it would be "traumatising […] it doesn't empower us".
Sadly, these women's experiences are all too common. Many survivors feel they will not believed or taken seriously by police. For some, the experience of giving a statement is retraumatising and stressful.
Survivors also express concern about how their workplaces and colleagues may respond, especially if the alleged offender is well-known.
We are currently researching anonymous and confidential options for reporting sexual assault in Australia.
It is important people know that making a formal complaint to police is not the only avenue. While it is clear the criminal justice current system needs substantial improvement, we also need to identify alternative ways survivors can be heard.
Alternatives to a formal report
There are many alternative and informal ways that sexual assault survivors can — and do — disclose their experiences.
At the more informal end, they can tell a trusted friend, family member, colleague, GP, counsellor or psychologist. This enables survivors to commence the recovery process in a safe environment, where they can process their experiences, develop coping skills, tell their story and consider their different options.
Increasingly, survivors are also going online to tell their stories and receive support.
This includes platforms such as Reddit and Tumblr, where people post their experiences on particular message boards and others respond. Millions of survivors have also disclosed their experiences online using the #MeToo hashtag on Twitter and Facebook.
Informal options with police
Police forces in Australia still encourage formal reporting, but recognise the value of alternative options. There is some overseas evidence that informal reporting can improve rates of formal complaints.
In some states, police offer confidential, informal reporting options that do not count as official statements. The main purpose is to gather information about where crimes occur and adopt strategies to address emerging crime hot-spots.
In New South Wales, victims of sexual assault can fill out a form, which is available online and can be done anonymously. This form contains detailed questions about the offence, the offender and the victim, such as where the assault happened, what it it involved and whether the victim went to hospital.
NSW police say these reports can be used to "assist in other prosecutions" as well as working out crime prevention strategies.
Queensland similarly has an alternative reporting option, which police say can be an "extremely useful healing strategy". In the ACT, adult sexual assault survivors can report a sexual assault that occurred more than six months ago online.
Issues with alternative options
These alternative options are not designed to address the physical or mental health needs of survivors. They are more focused on police gathering useful information to try and either solve other assaults or work out patterns of crime.
The forms also include questions like "were you affected by alcohol or drugs?" and "what were you wearing at the time of the assault?", which criminologists regard as victim-blaming.
Giving survivors more control
Our research team is working with police and sexual assault support centres to identify the obstacles and opportunities for alternative reporting.
We want to find out how these can benefit police work without compromising the needs of survivors.
Models like this have worked in the past in Australia — although none are funded at the moment. Under this approach, users submit an informal but confidential report via a website. Information from these reports is then passed on to police, including detailed information about locations of alleged incidents, which could be used in crime mapping.
Users can include a phone number or email address so expert staff could contact them to arrange counselling.
What needs to change
So far, our work suggests alternative, informal reporting options may provide survivors with greater control over the outcomes of reporting. In particular, having a support service as a first contact, rather than police, may assist survivors in working out what their options are and providing them with greater agency.
Our research also suggests the design of forms can be improved to avoid leading or suggestive questions that might contaminate the survivor's story with false information.
Forms need to be based on good practice interviewing. This means the interviewee's story is told in their own words and open questions are prioritised over closed requests for specific information.
Lastly, there is no national standard to alternative reporting options around sexual assault. We need to make sure any uniform approach is carefully designed to protect survivors.
If this article has raised issues for you, or if you're concerned about someone you know, call 1800RESPECT on 1800 737 732