October 10 - 16, 2021: Issue 513
Nina Curtis Sails in Grand Prix for First Time in Cadiz - australia wins spain grand prix - SailGP returns to Sydney Harbour this December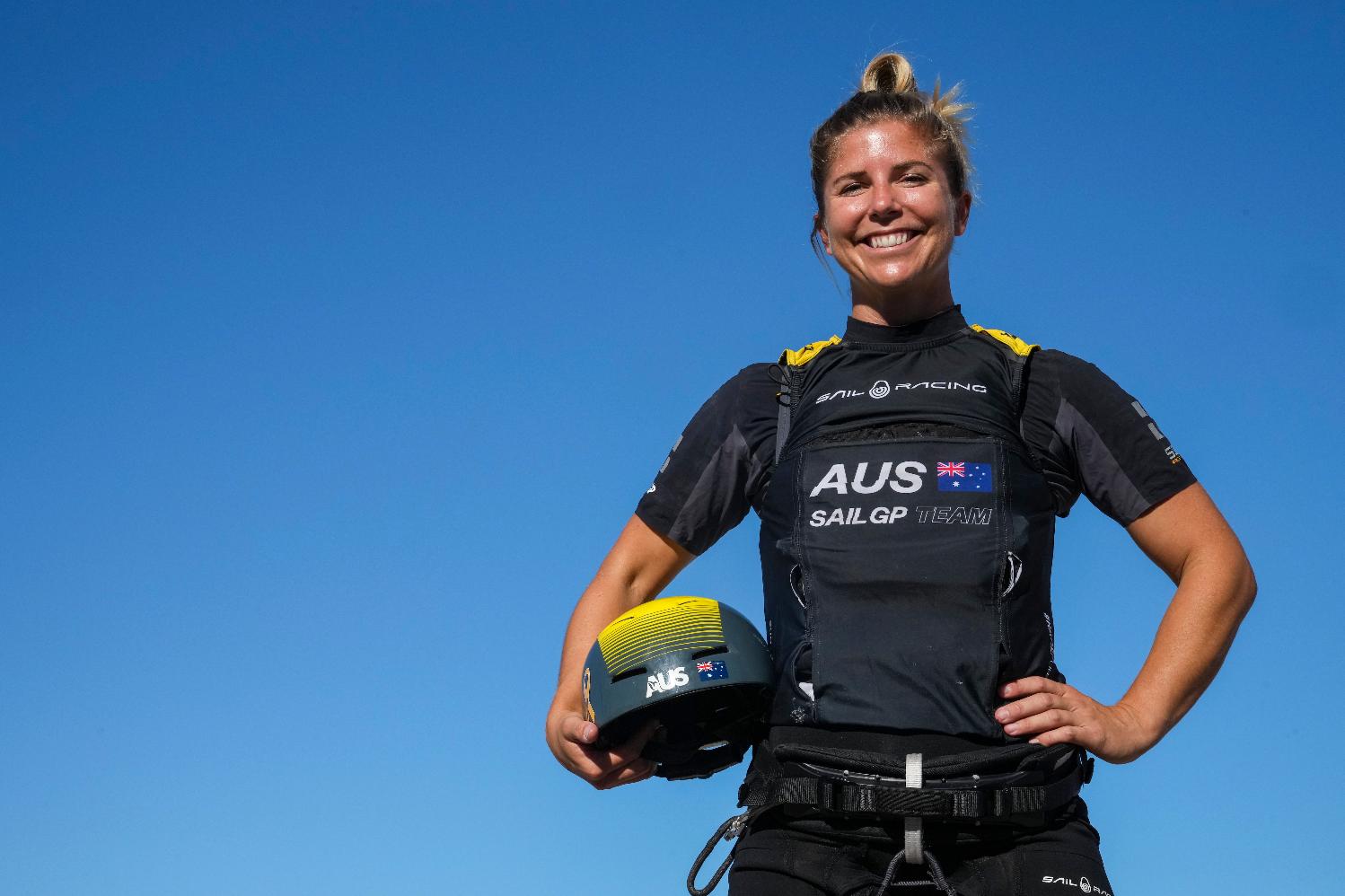 Image: Nina Curtis of Australia SailGP Team. The SailGP women's pathway program athletes are gearing-up for adrenaline-fueled racing in Cadiz for the first time ever after SailGP introduces new six-athlete configuration for upcoming Spain SailGP on October 9-10 to accelerate gender equity on its championship. Spain SailGP, Event 6, Season 2 in Cadiz, Andalucia, Spain. 6th October 2021. Photo: Bob Martin for SailGP.
October 10, 2021
Tom Slingsby's crew have secured their spot on the top of the leaderboard, following the first day of racing at the Spain Sail Grand Prix.
The Australian Team were able to navigate through shifty light wind conditions that many teams struggled to combat, topping the leaderboard, with Jimmy Spithill's USA team and dark horse Denmark rounding out the top three heading into Sunday's two fleet races.
Slingsby commented on the results saying, "We're stoked to come away with three consistent results, especially after coming last in St Tropez. If I were to put it down to one thing, I'd say we were starting really well, leading the pack at the start lines of two of our three races today."
Today's racing also marked a historic moment for SailGP as athletes from the Women's Pathway Program raced onboard the F50s for the first time. Australian Olympic Silver Medallist, Nina Curtis demonstrated her elite ability as a sailor, seamlessly jumping into tactician and grinding roles on board the Australian's flying F50 catamaran.
Australian Driver Tom Slingsby was impressed with Nina's debut performance, commenting, "Nina really helped us with tactics today and she helped me make better calls. We are a stronger team with her on board."
Curtis said, "It's pretty incredible and what a team to be able to debut with, I'm so honoured to be on board and racing with these guys. It was a big learning curve, and I managed to tick off a few weaknesses I had in the day before. Every minute I'm on these boats I'm learning something new, which is awesome."
Slingsby and his crew will now turn their sights to race day two, which will see all eight teams compete in two fleet races, before the top three teams compete in a final podium race.
Commenting on the forecasted weather conditions Slingsby said, "we are expecting gusty winds, it's going to be a tough day, probably plenty of carnage and we need to keep out of that trouble. Our focus is to lock in two good races so we can get to the final podium race."
Tomorrow's racing will air live on Fox Sports and on Kayo Sports at 1:30 am AEST.
The sixth event of the season includes six athletes onboard all F50s for racing – a first for the global league – resulting in the league's Women's Pathway Program athletes racing onboard for the first time in SailGP.
With the addition of a new crew member as a new standard and light-wind configuration, Curtis and her fellow WPP athletes are now able to gain the valuable experience needed to race the high-tech, high-speed flying F50s.
Curtis commented on the news saying, "myself and all of the other WPP athletes are so excited that we'll be racing this weekend and gaining the invaluable experience from being on board. It's awesome news for not only SailGP but the sport as a whole and is an important step in what we are trying to achieve with the WPP program, which is to drive gender equity in the sport."
Tom Slingsby, Driver for the Australian Team, added, "We have been huge advocates of getting Nina and the women on board during racing, and we are really excited for this opportunity for her and our team."
We've been really focused on fast-tracking Nina's training and development and I'm looking forward to seeing her apply that in a racing environment. We think she will be a great addition and only strengthen the Australian team."
Tom and the team will be looking to climb the Season 2 standings at the Cadiz Sail Grand Prix this weekend, after major technical issues in St Tropez saw the team drop from first to third place in the overall leaderboard.
"Look, we had some technical issues in St Tropez but even with those technical issues, we didn't adapt well to them. We need to get some consistency because if we keep on this sort of trajectory, we could lose a place in the final match race in San Francisco."
"Our expectation is to make the grand final race in San Francisco and I don't shy away from that, we're here to win. We're not here to make up the numbers, it's sort of the Australian way, we're here to stand on top of the podium and anything less is not good enough in our eyes."
"We need to do well in this final event of the European leg, before we head to Australia where I feel our team is really comfortable, particularly with the stronger breezes", Slingsby added.
Off the water, the Australian SailGP Team remains in third place in SailGP's new Impact League, a world-first integrated second leaderboard created for all eight international teams, where the teams are rewarded for the positive actions they make to reduce their overall carbon footprint and help accelerate inclusivity in sailing. The team has been working closely with its Race For The Future partner Parley For The Oceans to maximise its positive impact and climb up the Impact League leaderboard too.
The Cadiz Sail Grand Prix aired live on Fox Sports and on Kayo Sports this Sunday 10 October at 1:30am and will be available to view on Monday 11 October at 1:30am AEST. Kayo Sports are offering fans free access to both the live and replay racing, via it's Kayo Freebies offer.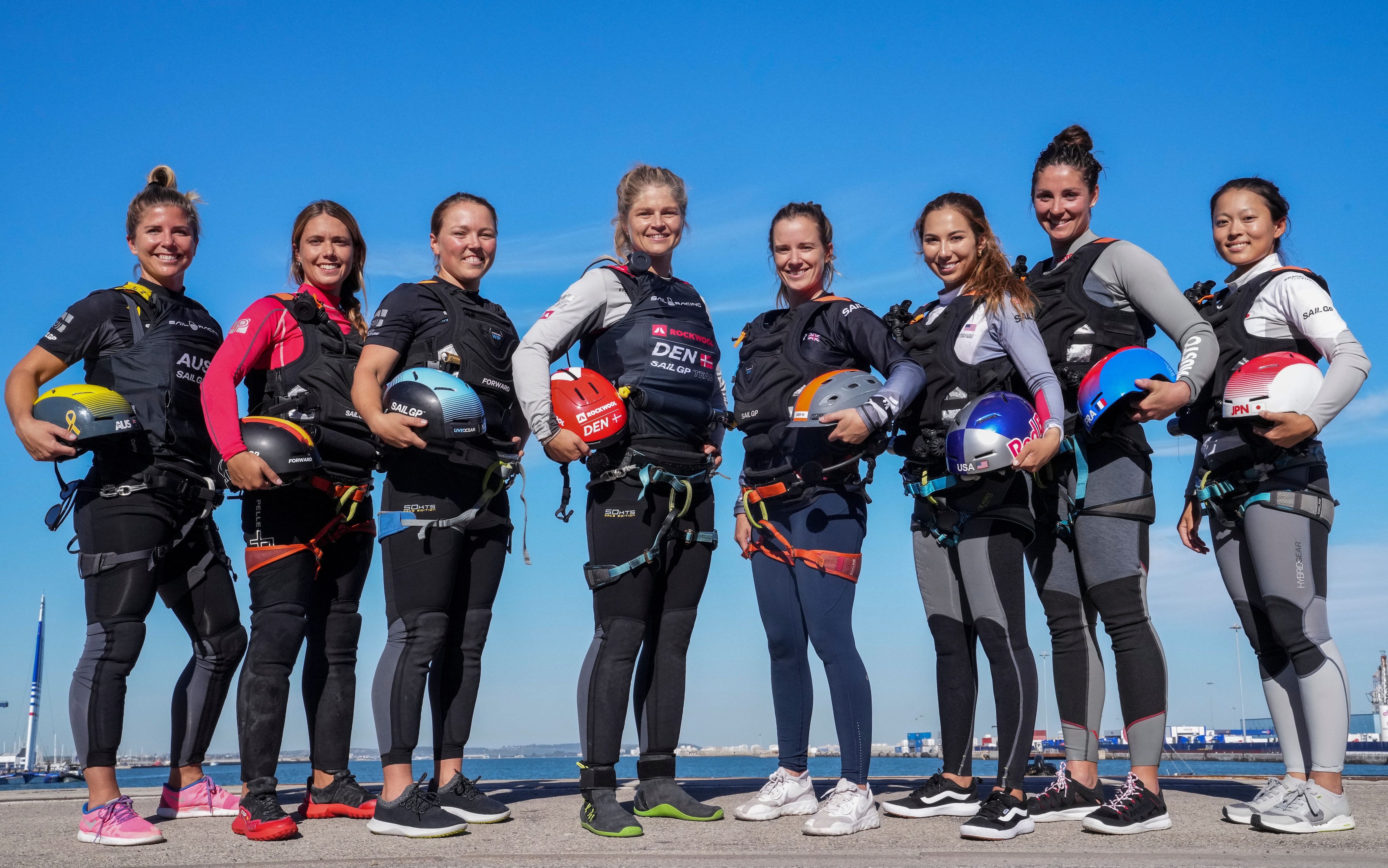 The SailGP women's pathway program athletes are gearing-up for adrenaline-fueled racing in Cádiz for the first time ever after SailGP introduces new six-athlete configuration for upcoming Spain SailGP on October 9-10 to accelerate gender equity on its championship. From left to right: Nina Curtis (AUS), Andrea Emone (ESP), Liv Mackay (NZL), Katja Salskov-Iversen (DEN), Hannah Mills (GBR), CJ Perez (USA), Amelie Riou (FRA) and Sena Takano (JPN). 6th October 2021. Photo: Bob Martin for Sail GP
For fans of SailGP the great news is the Australia Sail Grand Prix is the ninth event in the global championship's second season calendar. SailGP will return to the iconic Sydney Harbour on December 17 and 18, 2021, following the European stage of Season 2 which takes place in Italy, Great Britain, Denmark, France and Spain.
The Australia Sail Grand Prix forms part of the league's expanded second-season roster that features nine events in iconic harbours around the world.
Each of SailGP's eight teams race in identical 50-foot flying catamarans which produces incredibly close racing. The teams are made up of the sport's best athletes, including Australian Olympic gold medallist and Season 1 Champion Tom Slingsby. Slingsby will go head-to-head in Sydney against seven national teams from Denmark, France, Great Britain, Japan, New Zealand, Spain and the United States of America.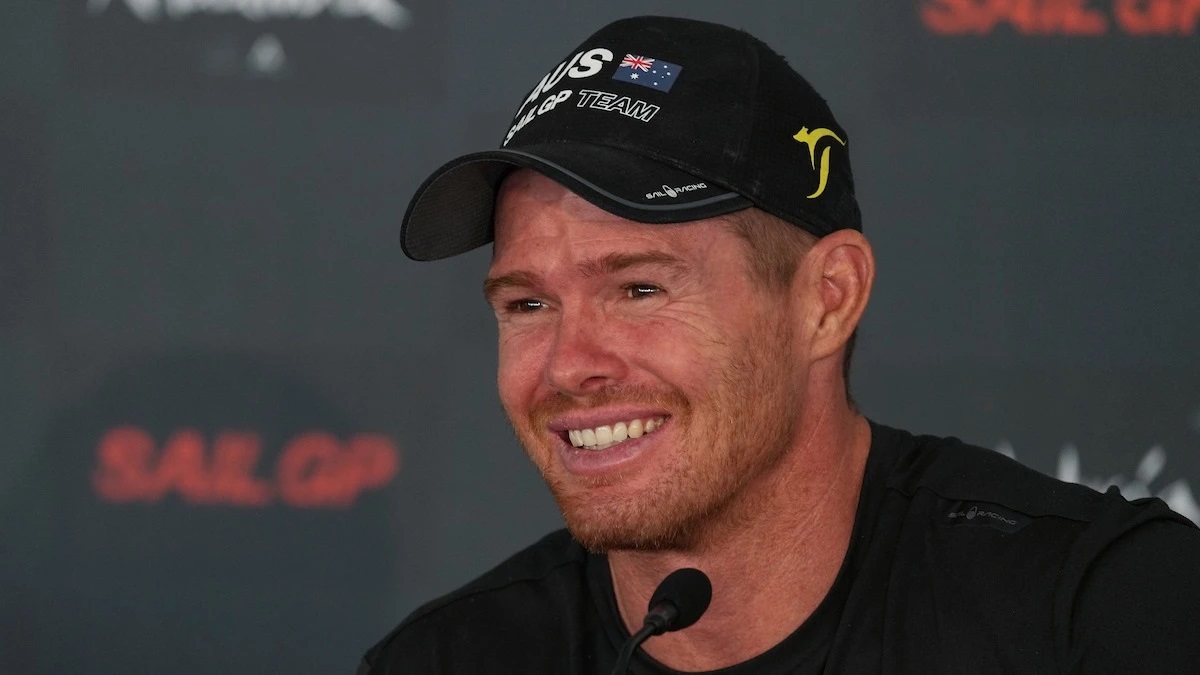 Slingsby said: "Having eight F50's lined up and racing on Sydney Harbour is going to be a pretty spectacular sight for fans and with the calibre of sailors we have on these boats this year, we can expect action-packed racing. We lost to Ben Ainslie's British team at last year's Sydney event so we are focused on getting revenge and winning the event for Australia in front of a home crowd."
More than 25,000 people representing 22 nations turned out to watch Slingsby and the Australia SailGP Team compete at their home event on Sydney Harbour in February 2020, which was the only event that took place before the 2020 season was postponed, due to the COVID-19 pandemic. Overall, the stand-alone event reached 39 million people worldwide. A total of $29 million was spent in relation to the 2020 Sydney event with a total economic impact of $26.6 million.
The NSW Government, through Destination New South Wales, will join as the Official Host Venue Partner of the Australia Sail Grand Prix I Sydney, in Season 2. Together, SailGP and the NSW Government, will showcase Sydney as a world-class destination for leisure and business travel, with a focus on driving domestic visitor growth and expenditure.
Minister for Jobs, Investment, Tourism and Western Sydney Stuart Ayres said in June: "Events such as the Australia Sail Grand Prix will see participants and spectators flock to Sydney, delivering an economic boost to our city, and helping rejuvenate NSW's major events industry, following the crippling effects of COVID-19.
"Furthermore, the event enhances our city's reputation as Australia's premier sporting destination, once again showcasing Sydney on a global stage to prospective international visitors and sporting fans. In 2019, the inaugural SailGP season attracted a worldwide broadcast audience of 257 million across five events, as well as over 133,000 spectators."
Crown Sydney will serve as Official Hotel and Entertainment Partner for the 2021 event. A defining landmark located in the heart of the harbor, the new premier venue will host SailGP's VIP Adrenaline Lounge guest program.
A range of fan experiences will be on offer for the event providing Australian fans with a front row seat to witness the most technologically advanced catamarans ripping through Sydney Harbour at breathtaking speeds of up to 100 kilometres per hour (km/h). Away from the racing, Barangaroo – Sydney's sparkling waterfront precinct – will host the SailGP Village, offering exciting programming for fans. Port Authority of NSW will join the event as an Official Partner, working with SailGP to facilitate team bases, to be hosted in the heart of Sydney Harbour at White Bay.
After Sydney, SailGP will head to New Zealand in January 2022, followed by San Francisco, which will host the Grand Final on March 26-27, where the champion of Season 2 will be determined in a single $1 million winner-takes-all final.
Tickets for fan experiences at the Sydney Sail Grand Prix are now open. Visit SailGP.com/Sydney for more information.
ABOUT SAILGP
SailGP races for a better future, championing a world powered by nature. The sport's pinnacle league, SailGP features national teams battling in short, intense races at iconic stadium-style venues across the globe, building to the grand final – and sailing's top prize of US$1 million. The high-tech, high-speed action features sailing's best athletes racing in identical supercharged F50 catamarans, flying at electrifying speeds approaching 100 kp/h / 60 mph. Visit SailGP.com for more information.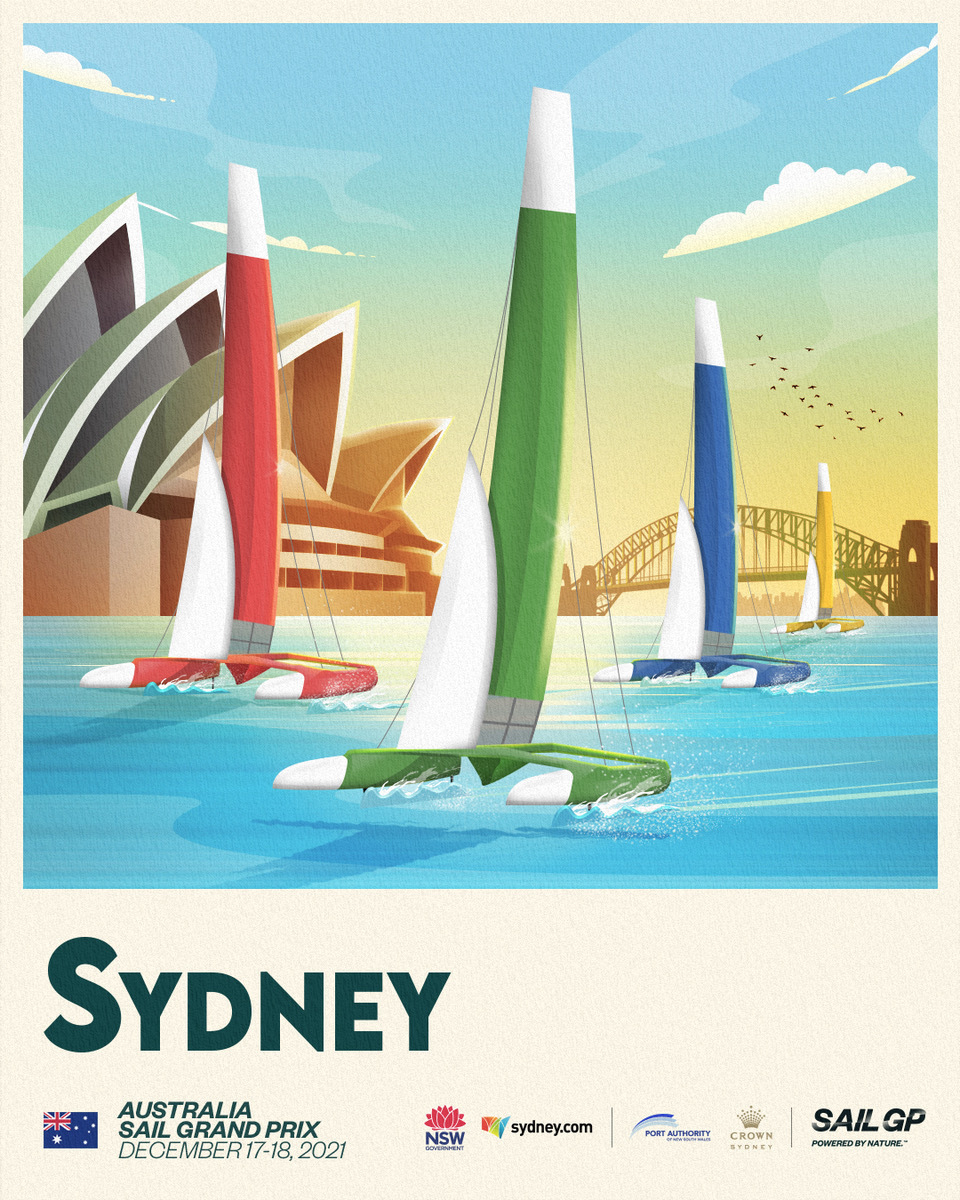 Australia win spain sail grand prix - spanish f50 seriously damaged, great britain capsize during final
October 11, 2021
A dramatic afternoon in Cadiz ended with Australia winning the Spain Sail Grand Prix to return to the top of the SailGP Season Championship ahead of their home event in Sydney.
The Aussies, who have now won three events this season, beat the United States and Great Britain in the winner-takes-all Final, aided in part by the Brits' early capsize which ended their race just seconds after it began.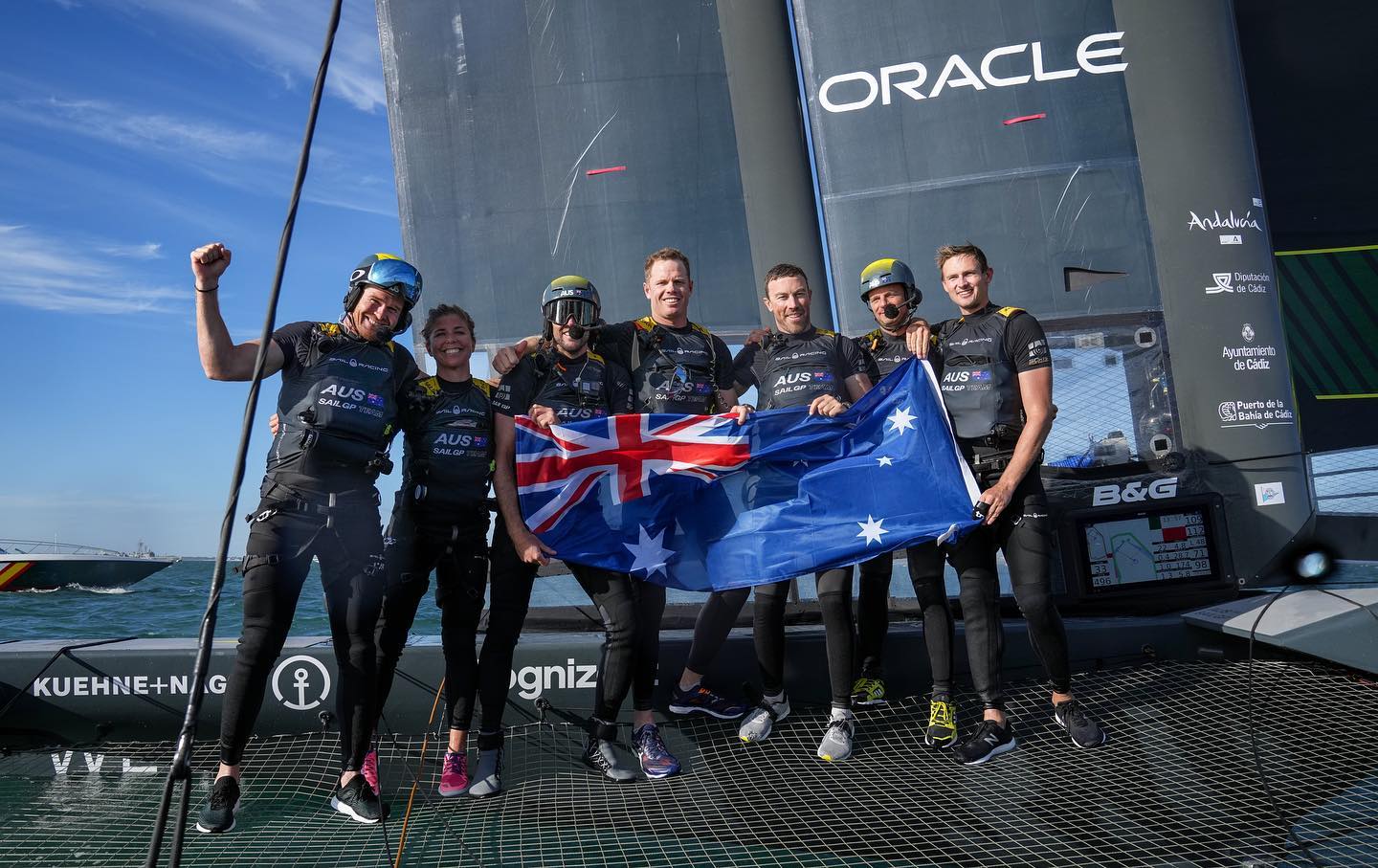 The windy conditions in Cadiz claimed not only Great Britain, but also the event hosts themselves - with Spain ruled out the entirety of Sunday's racing due to a capsize in practice which caused major damage to the F50 Victoria.
Despite the fleet containing only seven boats rather than the usual eight, the racing was as dramatic as ever as the strong winds made manoeuvring tricky and also resulted in an event top speed of a remarkable 96.3 km/h set by Tom Slingsby's Australia.
The Aussies preceded their win in the Final by claiming victory in the last fleet race of the day, the team's only fleet race win of the entire weekend. But some fine consistency - they never finished lower than fourth in any race in Cadiz - was the cornerstone to Australia's performance and event win - a win which returns Slingsby's team back to the top of the overall leaderboard.
The United States, runners-up in Cadiz after a disappointing showing in the Final, sit second in the Season Championship, level on points with Japan in third. Great Britain, who claimed eight points despite their capsize in the event decider, sit a further four points back in fourth.
New Zealand, who won the opening race on Day 2 in Cadiz, ended the event in fifth place - the same position they currently sit in the overall rankings. This victory marked Peter Burling's first ever race win in SailGP, as the Kiwis' only other win came in Taranto while Arnaud Psarofaghis was driving their F50 on an interim basis.
Spain's unfortunate pre-race capsize condemned the hosts to an unfortunate seventh place finish, dropping behind a Danish team who failed to replicate their impressive Race Day 1 form on Day 2.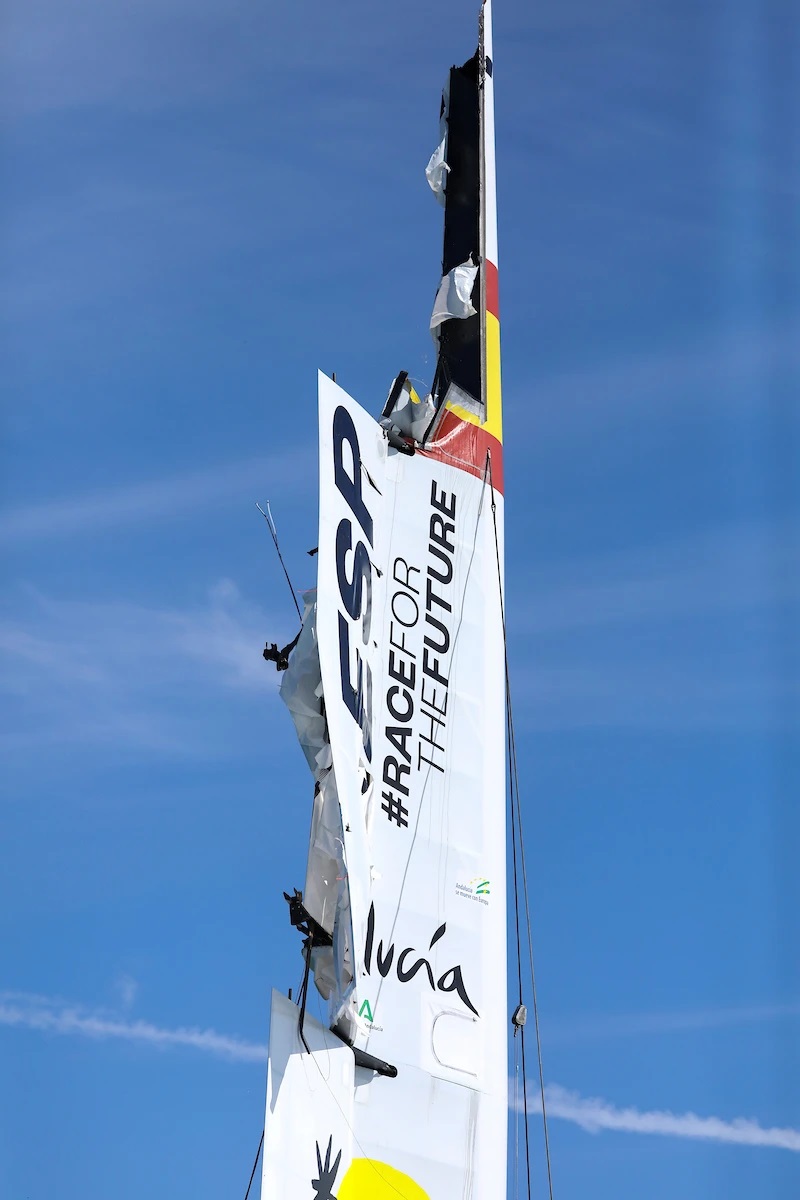 Nonetheless, despite missing two races across the weekend, Spain still finished ahead of France. New Driver Quentin Delapierre had few expectations for this event given he has had just a week's worth of training on the F50, and two last place finishes on Race Day 1 seemed par for the course.
But Delapierre's potential did shine through during Sunday's racing, as he coped well with the strong winds to power France to a fourth place finish in the final fleet race of the weekend - perhaps hinting at a brighter future for the struggling French team.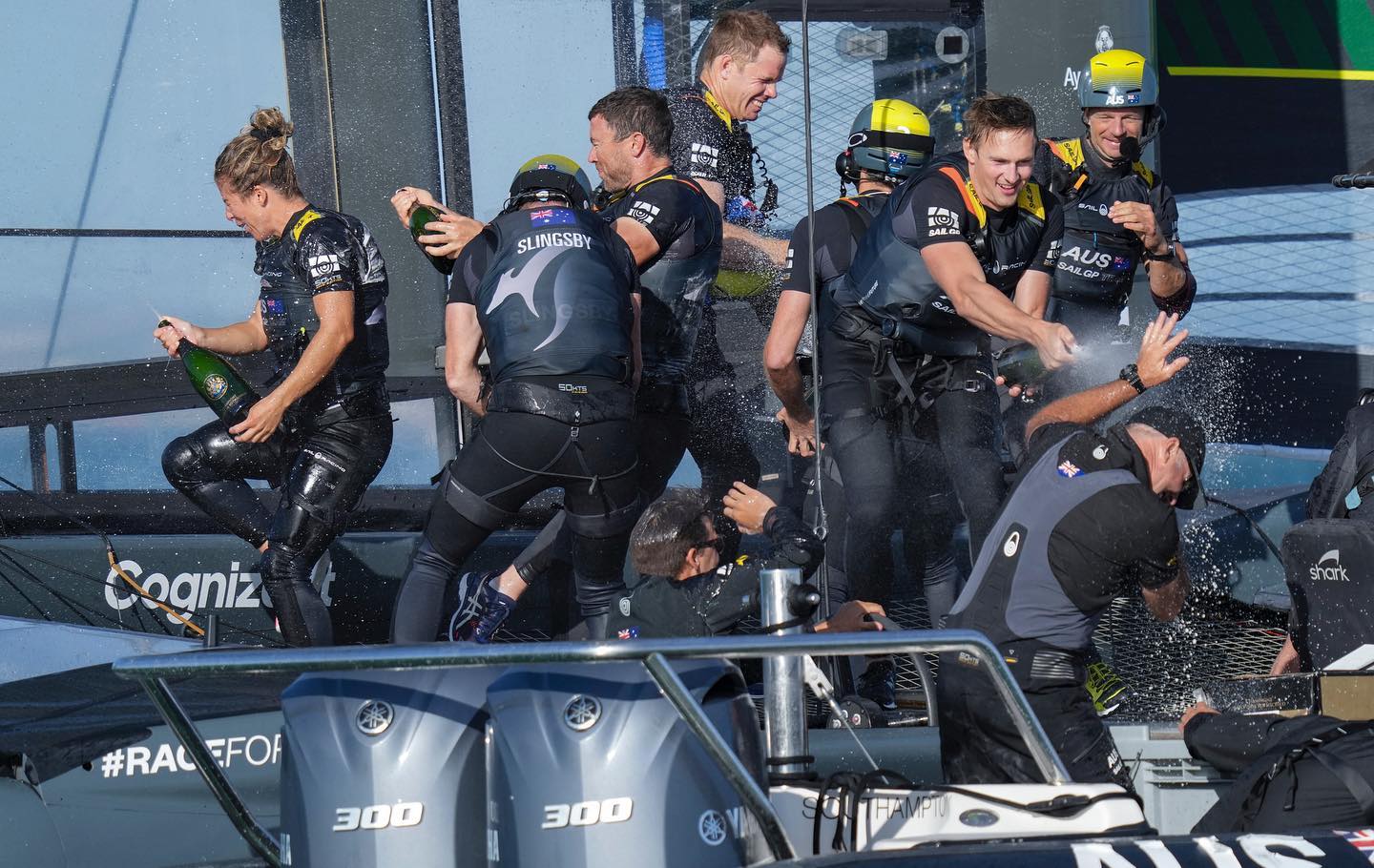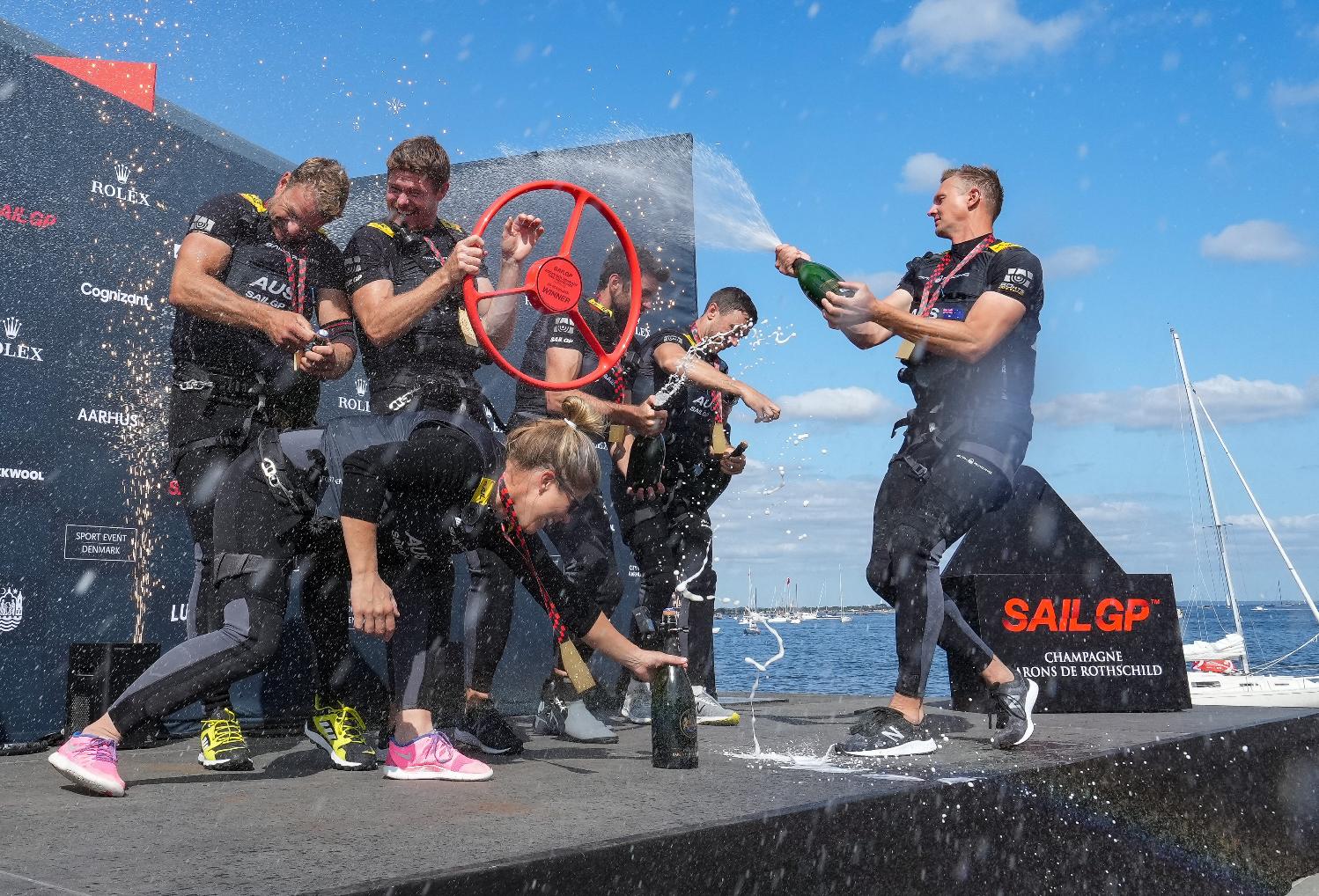 Australia SailGP Team spray champagne as they celebrate their win in the final race on Race Day 2 at Denmark SailGP, Event 4, Season 2 in Aarhus, Denmark 21 August 2021. Photo: Ian Roman for SailGP.