October 23 - 29, 2016: Issue 286

Next Phase For The Farr 40s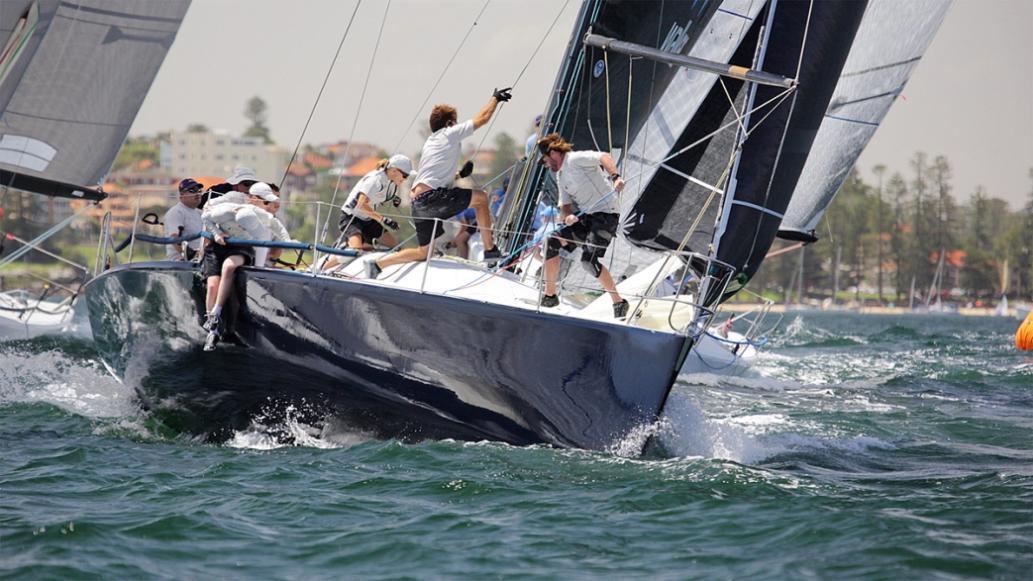 Kokomo at Australian Championships 2016 photo by Beth Morley
Next Phase For The Farr 40s
Farr 40 2016/17 Australian Open Series, six regattas between October 2016 and March 2017 on Sydney Harbour, Pittwater and at Newcastle
The enduring Farr 40 class is moving into another phase of a 20-year lifespan in Australia following on from Sydney hosting the international fleet's last
world championship
.
For the upcoming Farr 40 2016/17 Australian Open Series pointscore starting October 22-23, 2016 the Australian field is more level than ever, with the majority of teams competing in the Corinthian division making for a fun and close summer season of racing over six events.
Melbourne is adding its weight to the fleet via the two Robs - Rob Pitts and his Double Black crew and the newest owner, Rob Davis and his Nutcracker co-owner, Andy Baker.
Acting Australian Farr 40 association president Gordon Ketelbey says, "It's going to be more rewarding for the amateur crews and those owners who might have previously found it depressing always being in the back half of the fleet.
"Six regattas are in the program, four host clubs are signed up and we have approval from the national body Australian Sailing to now race offshore in a controlled environment. Weekend series will now be made up of a day inshore and a day offshore, weather permitting, providing a wide range of conditions and learning opportunities."
Class stalwarts Kokomo (Lang Walker), Estate Master (Martin Hill) and Jeff Carter (Edake) are returning for another season along with regulars Exile (Rob Reynolds) and Zen (Gordon Ketelbey). Joining them from Sandringham Yacht Club are the two Victorian owners, one fresh to Farr 40 one design racing.
Commodore of Sandringham Yacht Club Rob Davis and his boat partner Andy Baker have signed Nutcracker up to take on the dominant Sydney fleet. Eighteen months into owning what was Voodoo Chile, the pair say they are ready to line up with the best in the business though prospects are sensible.
"We have no expectations for Sydney other than we know it's going to be a pretty big learning curve," Davis acknowledged. "We've only competed in club races and have never racked up next to other Farr 40s other than Double Black; we'll be happy to just get around the course."
On the class Davis added, "In its purest form the Farr 40 is simply a lovely design and a pleasure to sail. It still offers the best true international one design racing in its size category and there is a terrific wealth of local knowledge and experience in Australia and excellent access to people, gear and information at a reasonable cost."
Both Victorian teams will keep their boats in Sydney for the 2016/17 Farr 40 Australian Open Series that will play out on Sydney Harbour, Pittwater and for the first time off the port of Newcastle and within the harbour.
For the 2017/18 season there is talk of taking the fleet south and linking up with an established event like the Festival of Sails, to spread the program among the owners' hometowns and be part of a bigger event with its atmosphere and race management logistics already in place.
The season about to commence includes a number of piggybacks onto existing events, namely the Sydney Short Ocean Racing Championship in November and Middle Harbour Yacht Club's second major event, the Sydney Harbour Regatta in March.
Farr 40 2016/17 Australian Open Series dates
22-23 October 2016
MHYC One Design Trophy
MHYC
26-27 November 2016
Sydney Short Ocean Racing Championship (SSORC)
MHYC
17-18 December 2016
Pittwater One Design Trophy
RPAYC
21-22 January 2017
Newcastle One Design Trophy
NCYC
11-12 February 2017
NSW State Title
MHYC
4-5 March 2017
Sydney Harbour Regatta
MHYC
24-26 March 2017
National Championships: John Calvert-Jones Trophy
RSYS
By Lisa Ratcliff/Australian Farr 40 media
Kokomo In Control After Farr 40 One Design Trophy Season Opening Day
Farr 40 One Design Trophy, October 22-23, 2016 on Sydney Harbour organised by Middle Harbour Yacht Club
A guest helmsman and rock star team have finally broken Kokomo's shackles and at the half way point of the season opening One Design Trophy they are in control of the Farr 40 fleet.
Lang Walker's Kokomo has competed sporadically over the last few years while Walker focused on his health. Today on Sydney Harbour Steve Barlow, who is a Farr 40 owner himself and well-rehearsed in the class, got the 2016/17 Kokomo program off to a promising start with two wins, a second and a fourth.
"Richie [Allanson] invited me on Lang's boat as Lang had his wife's 70th birthday to celebrate and I was more than happy to accept," Barlow said after racing. "I haven't steered a tiller boat for five or six years. There are some pretty big names on the boat making it all happen, and they are great blokes."
Martin Hill, skipper of the second placed Estate Master, agreed their time in close company with Kokomo was "a real rumble. All the boats were really close; Kokomo and us are just that bit more familiar in these boats and got a jump on the others."
David Chapman is Estate Master's tactician for the Farr 40 season and he and Hill are teammates in an Etchells campaign, giving the master and commander plenty of time for relationship building. Mitch White and Gordon Maguire rounded out Estate Master's top crew. "Experience makes the difference," Hill added.
The fleet and Middle Harbour Yacht Club's race management team had planned to head offshore for day one, a new option for the 2016/17 season, however parametres dictate no offshore racing when a Bureau of Meteorology strong wind warning is in place. In the end PRO Phil Yeomans and the seven crews never saw much more than 18 knots and at times the breeze was low as nine, from the SW and finishing up out of the sou'east.
Gusts in the upper range caught Zen (Gordon Ketelbey) and Rob Pitts (Double Black) out and cost them a spinnaker each. Double Black in fact crossed the finish line with two halves of its torn spinnaker independently flying.
Zen is third overall and leading Corinthian boat and third to fifth place are tied on 18 points.
There is a gale warning in place for the Sydney coast on Sunday 23 which means another inshore day for the remaining four races.
By Lisa Ratcliff/Australian Farr 40 media
Racing Abandoned At Farr 40 One Design Trophy
Day two of the Farr 40 One Design Trophy brought a secondary surge of high winds associated with a cold front and low pressure system to the south and the cancellation of all remaining races leaving Kokomo the victor based on Saturday's four race results.
Principal Race Officer Phil Yeomans spent an hour being tossed around on Sydney Harbour in wind against tide and continued to monitor the breeze strength back ashore at Middle Harbour Yacht Club on Sunday October 23, 2016 as crews waited for the ruling.
When a very nasty SSW gust came through Yeomans and president of the Australian Farr 40 Association, Gordon Ketelbey, made the decision.
"The pin was pulled when we saw 34 knots; everyone was happy they didn't have to go out and ruin their boats," Yeomans said.
Ketelbey added, "Wind against tide would have been bouncy and wet, and extremely testing. We looked down the coast to Wollongong and conditions weren't petering out, in fact they were getting stronger. It would have been a sailmakers' delight with spinnakers tearing and boats bending and breaking. Farr 40 Owners usually agree to pull the plug at 25 knots; with a fair seaway and tiller steerage downhill these boats are a big handful and it becomes dangerous."
Saturday's pointscore stands and at the trophy presentation Lang Walker's Kokomo, helmed by Steve Barlow in Walker's absence, beat Martin and Lisa Hill's Estate Master into first overall by one point.
"We didn't even have to go sailing to be winners!" Barlow said. "The crew is thrilled to start the new season off so positively. Lang has been a long-term supporter of the Farr 40s and we'll be very happy to present him with the trophy."
Gordon Ketelbey's Zen finished third overall and first Corinthian boat among a tight bunch similar in performance, which will make for a thrilling 2016/17 summer of class racing across five regattas before the closing National Championship - John Calvert-Jones Trophy late-March 2017.
At the end of next month the class will join the MHYC Sydney Short Ocean Racing Championship and three weeks later the Royal Prince Alfred Yacht Club will host the fleet's next standalone event, the Pittwater One Design Trophy December 17-18.
By Lisa Ratcliff/Australian Farr 40 media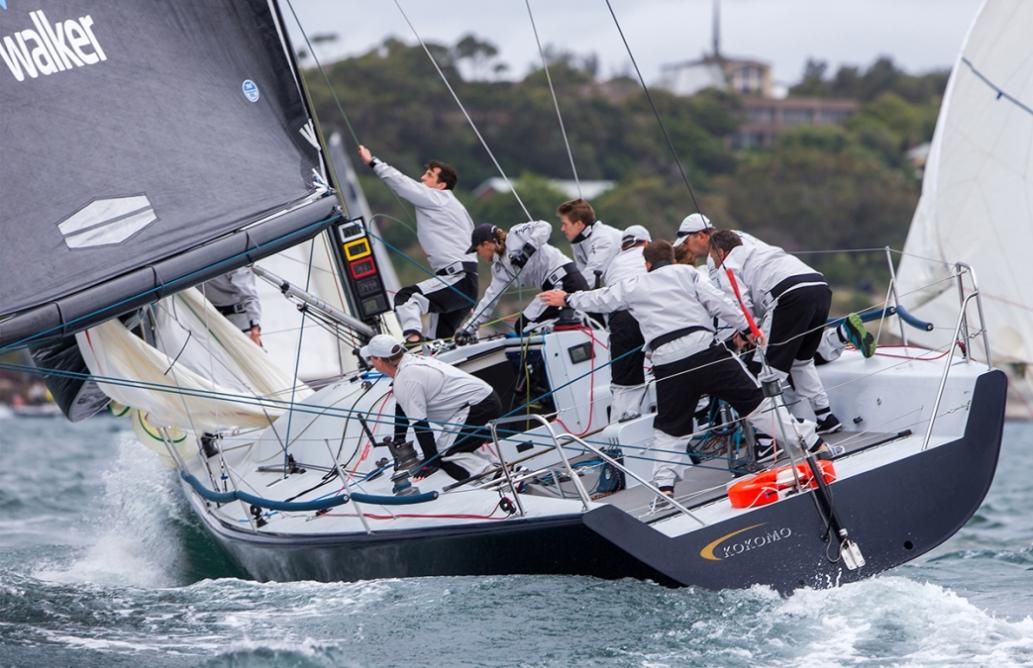 One Design Trophy leader Kokomo - photo by Crosbie Lorimer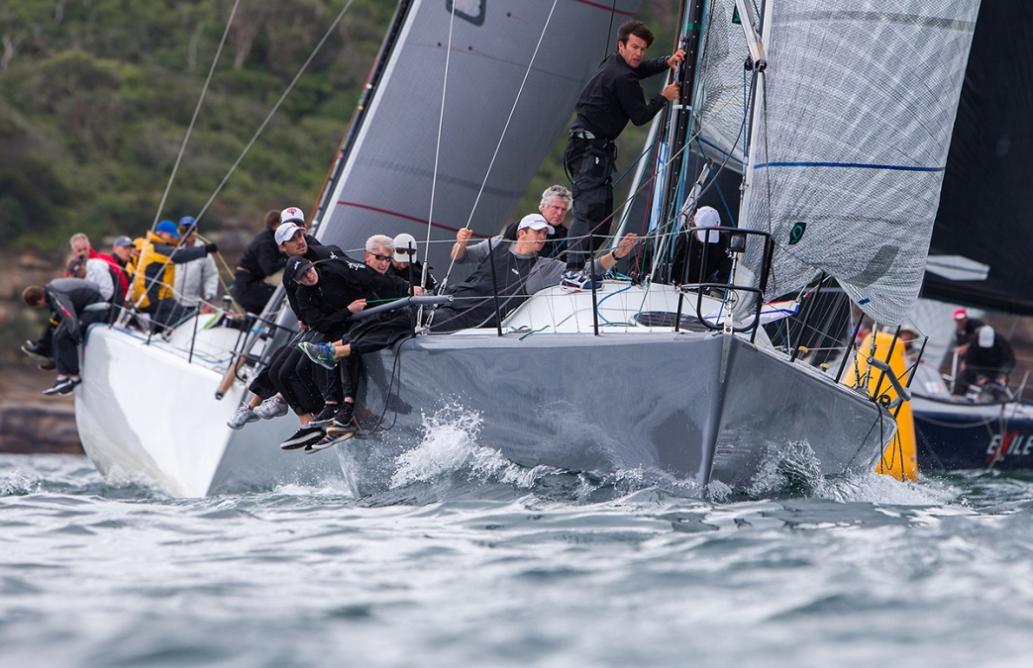 Estate Master OD Trophy
MHYC
2016 - photo by Crosbie Lorimer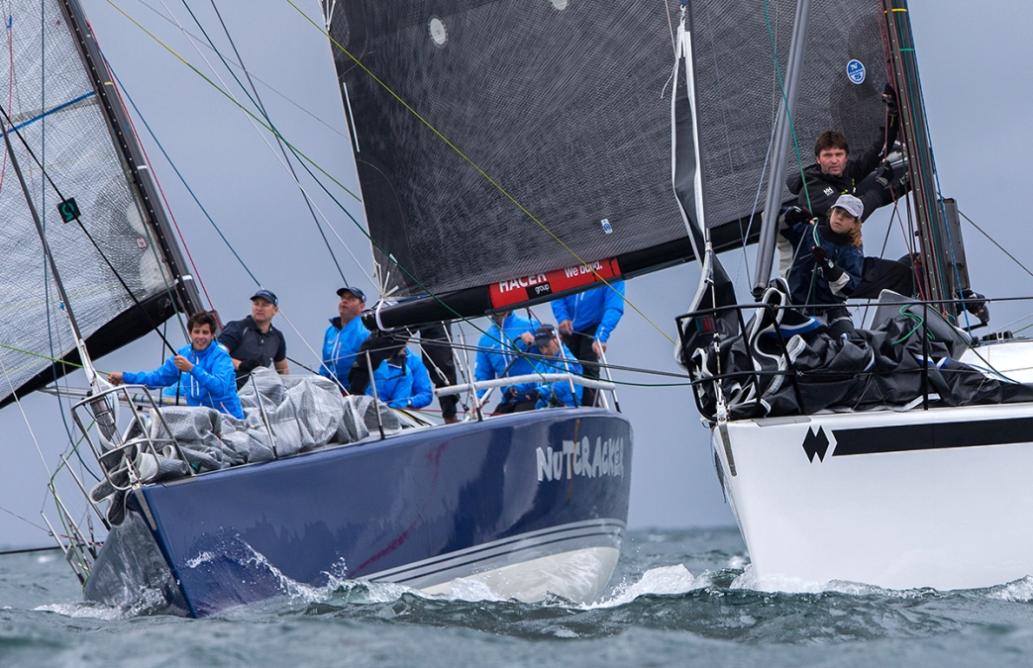 Nutcracker & Double Black OD Trophy MHYC 2016 -
photo by Crosbie Lorimer