June 16 - 22, 2019: Issue 409
Newport SLSC Presentation Evening 2019
by Jan Proudfoot

In 2019 we decided on Shaking Up our Annual Awards with a New Venue, 'Mingle' Meal and After Parties. The Glen Street Theatre was a great venue for this format. For guests who wish to continue and celebrate the season in style, there was an 'after party' at The Park House, Mona Vale. An alternative 'after party' for our Under 18s and their parents was held at in the Glen Street Theatre foyer with a silent disco and drinks.
Instead of a sit down dinner this year we went for canapes upon arrival then awards part 1 in the theatre, interval with more canapes and drinks then awards part 2. Everyone was so much more engaged with this format because they weren't being distracted with food, and service of this. The feedback has been very positive.

We hired the Singing Sharks and Life Savers on stilts to be our roving entertainment in the Glen Street Theatre foyer.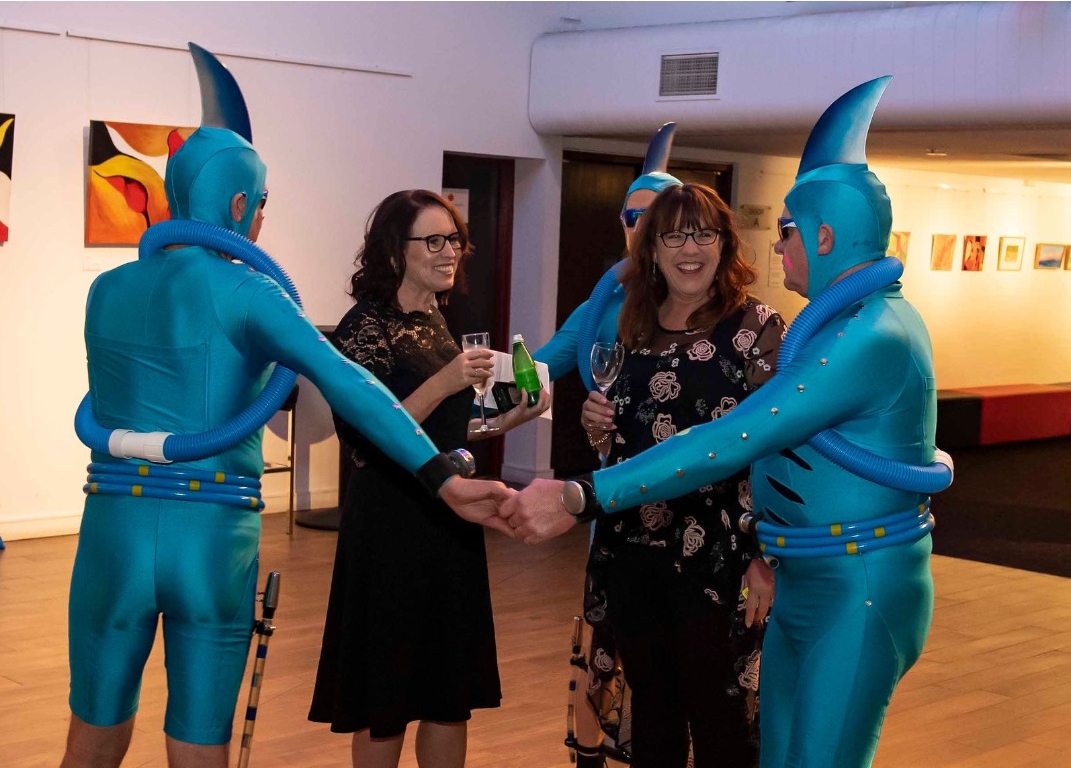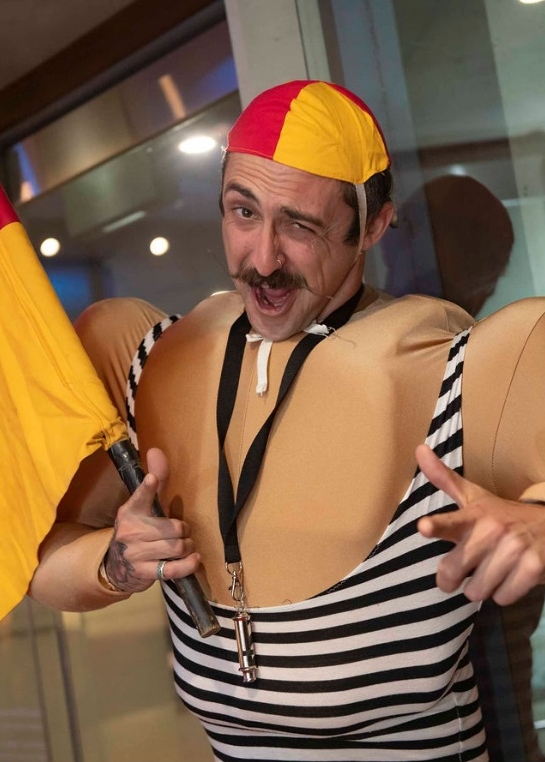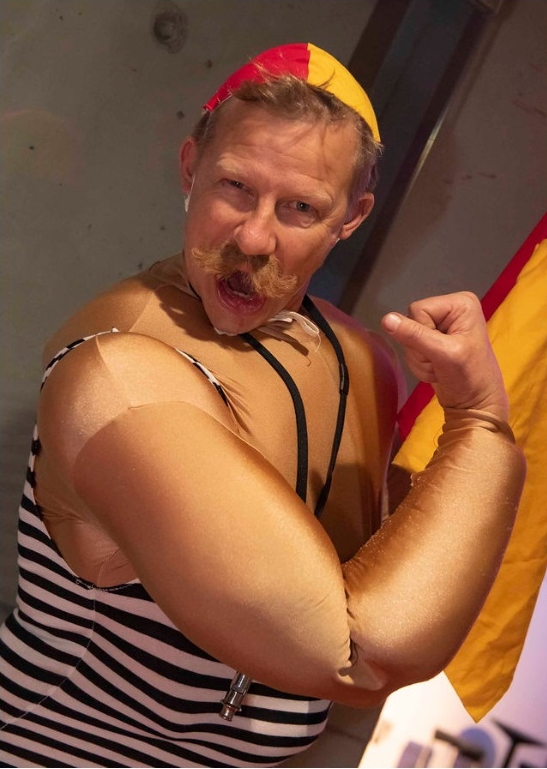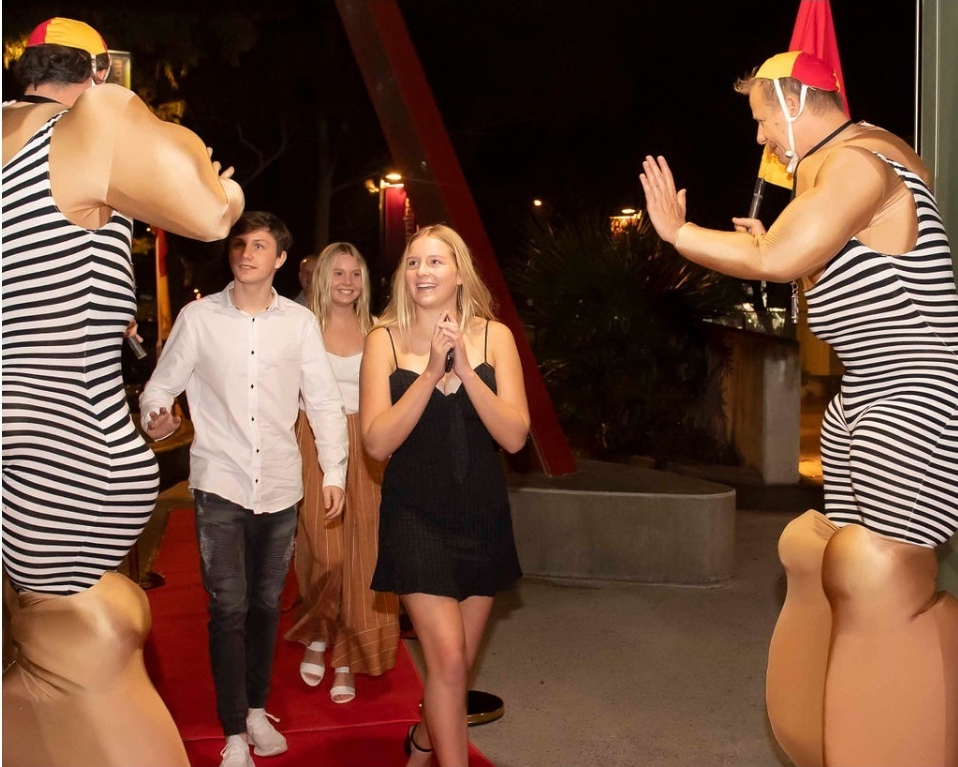 This is event is where we celebrate all of our lifesaving and competitive achievements that occurred during the previous season.
Rob Emerson, President of Newport SLSC's Presentation Night 2019 Address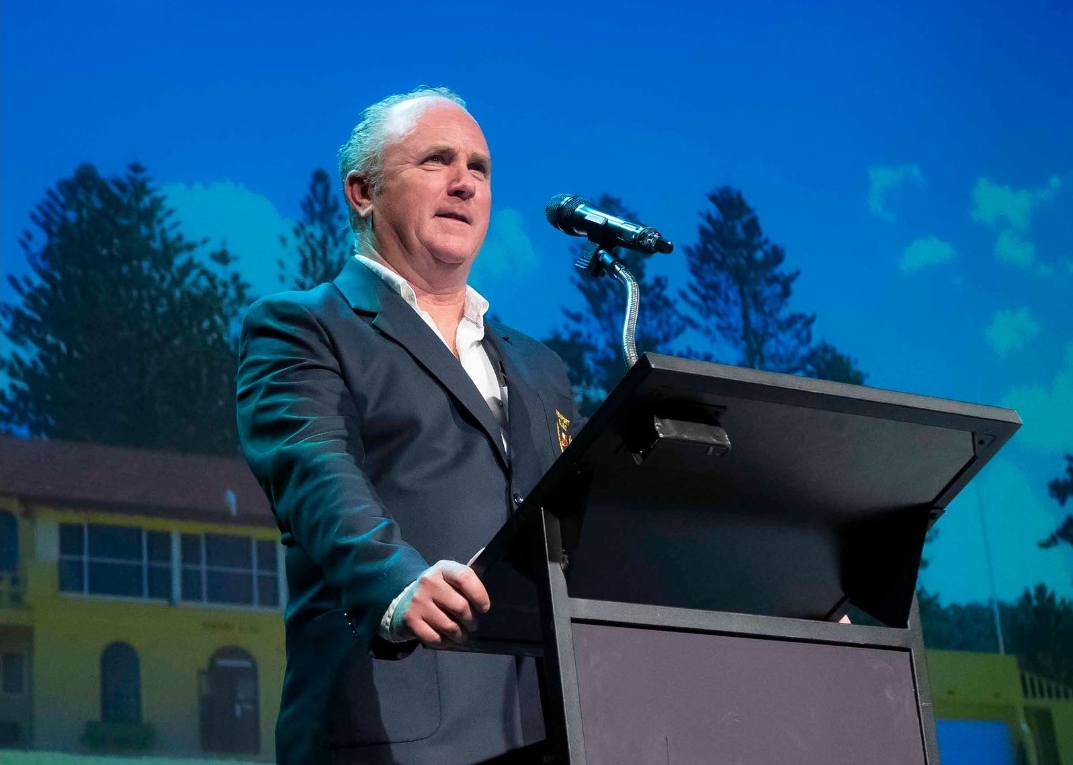 Newport SLSC President rob Emerson
Welcome everyone to the Newport SLSC presentation evening the celebration of the season just past in our Club's 110th year.

110 years is a significant milestone.
When I became the President of the Club some time ago, Life Member Michael King pulled me aside and advised me "that the surf club is bigger than any of us individually and we are all simply caretakers of this great and long-standing institution in a moment of time. He went on to say it is our responsibility as current members to progress the club towards continual improvement and ensure it is in good shape for the caretakers that will follow down the track to continue its legacy". Wise words
In 110 years the number of people that have come before us in Newport SLSC Club to make the Club the success it is today is very humbling and whilst much remains the same, certainly our primary objective of vigilance and service remains a constant, a lot has also changed.
In 1909 when the club was established it had 16 foundation members, today we enjoy a membership of over 1,000 people and an active patrolling membership of 400.
Women have always had a proud tradition at Newport SLSC being involved in surf lifesaving since the beginning, however this year 43% of our patrolling surf lifesavers on the beach are women.
In 1909 when the Club was established there was no nippers at that time, this year 40% of our membership are under the age of 16.
From the inception of the Australian Championships in 1915, It took the Club 87 years to attain 19 Australian Champions on our honour board, tonight we are awarding 19 additional new Australian Champions from the Championships just passed.
From a minnow to a powerhouse of surf sports Newport has become.
And whilst our development and growth continue, we remain in a building that was built at the height of the Great Depression in 1933 for a 1930's Surf Club probably never imagining where the Club would be today, but more on that later.
It really has been a fantastic year for the club.
However, before I go on, I would like to acknowledge and welcome some of our special guests:
Nipper Champions
Emma Carrol and Lex Raffles who will be assisting with the presentations
Politicians
Jason Falinski, Federal Member for Mackellar
Rob Stokes, NSW Member for Pittwater & Sophie Stokes
Northern Beaches Council Deputy Mayor, Sue Hein
Northern Beaches Council Pittwater Ward Councillor, Ian White
Tracey Hare-Boyd, SLS SNB Deputy Branch President
Life Members
Gary Cook
Ian Crutch
Craig Holland
Jack Holland
Bernie Howard
Michael King
Tonight, is a celebration.
A night when we should all enjoy the company of our friends and club mates, marvel at the achievements of our fellow members and revel in the success that we as a Club have achieved this year.
Tonight, in our own company we can sit back and feel very content that Newport SLSC has again been very successful by any measure.
Top of the success list without any doubt and most importantly our beach patrols through the leadership of our Club Captain Jess Menzies, have been well organised, well-resourced all season, the calibre of the Newport lifesaver on our beach remains very high and the magnificent record of no lives lost at Newport Beach during a Newport Patrol remains intact for our 110th season.
Once the season started, our dedicated trainers and instructors, of which there are many, led by Chief Instructor Guyren Smith trained 36 people in achieving their bronze medallions and 21 of our young patrollers in their Surf Rescue Certificate along with other additional surf lifesaving awards identified in your programs, a significant achievement by our trainers and congratulations again to our new surf life savers many of you are here tonight and to everyone that took on an extra award this season congratulations.
Our IRB Captain was again very busy organising, training new drivers and crewman and I doubt there is another club on the northern beaches that has more qualified IRB operators or better equipment than Newport. Well done Brendan and his team.
Matt and his very organised and dedicated nipper committee again had a standout year this year with 350 kids on the beach each and every Sunday learning about surf safety and having fun.
What could be more important than "Waterproofing our communities' children" as the Late and great Tim Francis would describe it so aptly.
The Nippers are our Club's future so well done to all involved in making this program the fantastic success it is.
And they had some great competition success also, the pinnacle being the State championships where our relatively small team of 38 kids achieved 2nd place on the overall point score for the second year in a row.
Overall Newport had 15 medallists with 19 individual medals, and medals in 10 team events. Some of the outstanding athletes were Mitch Morris (7 Medals), Jake Morris (6 medals), Bailey Clues (6 medals), Kimberley Doyle (5 Medals) and Conner Maggs (5 Medals). Tomorrows surf sports superstars.
What a program of events we ran as a club this year!!! A huge congratulation to the whole of the Newport membership for getting behind these events, we were all outstanding.
We started the season with our annual boat carnival where Newport dominated in the large surf.
SLIDE (Water Carnival) we again successfully hosted and dominated the Newport water carnival???
Pool to Peak Ocean Swim another great event for the year, well done to John and his organising committee
We hosted the Interstate Championships that showcased our club and our members so superbly to all from across Australia that attended.
Cancer Council fundraising dinner held at our new sponsor the Park House
As a club we have also this year continued our objective to position our Club to be the communities Club.
Our primary purpose will always be as a surf lifesaving club however with 1000 members we can do more, and I am very proud of the club's efforts this year off the beach which include:
Reaching out to the Syrian refugees within the northern beaches community and running a community day at the Club to talk to them about rips and surf safety. The day was a significance success and as much about welcoming these refugees into our community and social inclusion as it was about surf safety.
Operating the bar at the club on both Friday and Sunday evening and advertising regularly to our local Newport community to encourage our whole neighbourhood to come along and join us.
And we now have many people attending that I am sure would never utilise the beach otherwise, but really look forward to their weekly social outing to the surf club to listen to music and have a drink in a safe and friendly environment. Breaking down social isolation is a significant issue on the northern beaches, and we can make a difference.
When one of the fathers of the Newport Plus Board Riders Club tragically passed away from a heart attack the Club's response through Guyren and Nick Carrol was to train the young Newport Plus surfers in CPR to provide them the skills to hopefully prevent a further tragedy. Most of these young surfers will never join our Club but we can still make a significant difference.
Mental Health Issues amongst our communities youth seems unfortunately to be an epidemic and when a tragedy occurs as we have again experienced again this year in our Newport community, I am proud that the club reaches out into the community to ensure at the worst of times our young community members regardless if they are members of the surf club or not are coping with the grief.
I am proud of the partnership we have formed with the Veteran Affairs Association that will hopefully see returned servicemen and their families being offered opportunities through surf lifesaving at our Club to assist and support them effectively assimilating back into the community.
I am proud that the Academy this year partnered with the Cancer Council to raise much needed funding for this worthy cause that touches so many of us.
And we had our challenges
When we this year after so many years (7 years) of false starts with the process of preparing a Development Application and obtaining owners consent for the long awaited and needed extension to our Club house faltered once more the Building committee and I were exhausted and frustrated and we were on the verge of giving up.
Understanding our frustration, it was Rob Stokes who arranged a meeting with Michael Regan the Mayor and officers of the Northern Beaches Council and the surf club building committee to get the program back on track and once again progressing.
So fingers crossed hopefully we will see a development application lodged within the next couple of months for the surf club building works that we need to achieve, Thankfully I can report that if development approval is attained the Council has generously offered to find the funding of the significant construction costs to not burden the club. So thank you Northern Beaches Council in advance.
And in competition again Newport kicked some massive goals, Newport the giant of surf sports in NSW
The season kicked off with 4 of our Newport Elite representing us in the extreme sport of long-distance paddleboard racing of the Molokai Paddleboard World Championships in July 2018.
Newport's Fletcher Davies teamed up with a mate to claim 3rd in the 12′ Stock board division. The two raced to raise the profile for teenager mental health awareness.
Inspirational Maddie Spencer finished 3rd in the individual Unlimited division in 6 hrs 18minutes and Isaac Smith teamed up with Hugh McAlpine and won their team division in the 12' Stock board division
Not to be outclassed by board paddlers Ollie Signorini claiming 1st overall in the 3.8 km Waikiki Rough Water Ocean Swim and Sheridan Probert 2nd in her age group and 16th Female in over 700 starters.
Capping off the International theme one of Newport's favourite sons Max Brooks made his debut in the Green and Gold to represent Australia in Japan at the Sanyo Bussan Cup. Well done mate.
Our IRB racing team continues to grow, giving more depth and allowing representation in more events, which for the first time included open female events this season. This growth also allowed the team to compete in the 16 person IRB relay, a major contributor to getting sixth at the state championships.
Newport finished in 4th place at the 2018 National Pool rescue championships, August 2018. That a Youth squad relatively new to the sport can achieve a top 5 result in Open company is an amazing effort. Special mention goes to Mitch Morris who collected 5 golds at the event.
In the Coolangatta Gold short course Emily Doyle took out 1st place in the Open Female event, an outstanding race while Zack Morris came away with 3rd. Nick Carroll represented the old blokes and secured the 4th place in the 50+ Male Short Course.
Newport took a 23 strong squad to the Lifesaving World Championships in Adelaide in November 2018 made up of 14 opens and 9 youth competitors. Plenty of podium finishes including 3 Golds, 2 silver and 7 bronze. Gold went to Blake Drysdale in the Open Male Flags, Ollie Signorini in the Open Male Swim and Zach Morris in the Youth Ironman. Our Silver Medals were claimed by Jackson Borg in the Open Ironman and Jake Lynch in the Open Male Sprint. Maddie Spencer got Bronze in the Open Female Board and Emily Doyle got 2 Bronze, in the Youth Female Swim and Ironwoman.
At Worlds, our Master's crew on the sand also featured with Ted Smithies, Marty Lynch, Stephen Hatch and Tristan Conn amongst the medals.
Once again, our representations in Branch and State teams were a highlight.
The Sydney Northern Beaches InterBranch team included 19 Newport Members
The NSW State Open Team included six Newport members Madison Spencer, Jackson Borg, Max Brooks, Mitchell Trim, Jake Lynch, Blake Drysdale, and the NSW 2019 Interstate Youth Team included four young Newport guns, Madison Louw, Emily Doyle, Zach Morris, and Hugh McAlpine.
In the inaugural Youth Pathway Cup, the NSW Team included, Katelynn Doyle, Kimberley Doyle, Bailey Clues, Jake Morris, Mitchell Morris, and Joel Piper. So well done to all of you.
At the televised Ocean6 series we had some great results finishing second overall on the point score behind a Queensland club.
In the Nutrigrain Ironman Series, we had 4 in the top 20 with Max Brooks leading the way in 11th Emily Doyle in 16th Jackson Borg in 17th and Zach Morris in 19th, fantastic effort.
Our championship season was stacked with individual and team highlights. This season at State and Aussies we collected 354 medals from our team of 116 competitors, 80% of the medals from team events which remains our priority.
Our First Aid, Champion Lifesaver and Patrol Competition team coached and lead by Phoebe Savage made up roughly 10% of Newport's competitors but typically earnt 15% of Newport's points this Season.
At the NSW State Championship, we retained first place in the open point score for the 6th consecutive year.
And then to the Aussies held in large, testing and sometimes heartbreaking conditions there were many many highlights.
My personal key highlights include:
Aussies Medal Haul

Gold 44
Silver 15
Bronze 15
Grand Count 74
Max Brooks winning the Open Ironman at the Australian Championships. Previously he had won the event in the under 17s, and under19s. He is a fantastic Newport champion and even more, you could not meet a better bloke. Congratulations Max super proud of you.
19 new Australian Champions that will be presented with their numbered caps tonight, so exciting
At the Youth Aussies, our U14 males won every individual race including claiming 1st, 2nd, 4th and 5th in the Ironman. Mitch Morris finished the carnival with 5 gold medals, extraordinary.
Blake Drysdale claimed his 3rd consecutive Aussie Gold in the open beach flags.
Our under 17 male ski relay of Braden Newling, Finn Askew and Zach Morris winning Aussie gold and undefeated for the whole season.
The Under 19 female swim team of Emily Doyle, Jami Prowse, Lexi Harrison and Madison Louw winning gold and were simply awesome.
And in the Boats our U23 Women the Thunder won Aussie gold in the under 23 division, the first women's Australian Gold medal from a surfboat event in our club's long and distinguished history, congratulations.
So, another successful year

It takes an enormous effort to keep our club successfully operating and without the significant work that a lot of people perform which is often behind the scenes we would clearly not function as successfully as we do today.
So, to the
Management Committee
The Nippers Committee
The building committee
The sponsorship committee
The Club's Board of Surf Sports
The Life members and Honours committee
And the Ocean Swim Committee
Thank you on behalf of the whole membership.
To the Newport Kinghorn Surf Racing Academy Board again congratulations and thank you for an excellent year, you have been the best and enjoyed it the most
To all our sponsors and John and Jill Kinghorn, thank you we are indebted to you
And finally, whilst all this success is fantastic for the Club and makes it pretty easy for a season highlights speech.
The real value and success of our Club is our members and the contributions you all make to the community, the club and each other.
Whether you are a member of the flat whites, a knacker, a patrolling member, a nipper, a social member, an athlete, an official or just someone who enjoys a beer at the bar or many of these things, whatever the value you add, it is the collective of all our member's contributions that is our real value and what makes Newport SLSC great.
As this is my 7th and last year as the President of Newport SLSC I need your indulgence to make a few thank you's.
I would like to take the opportunity of publicly thanking my wife Julie for her patience and support throughout these years, like all things worth doing there has been a considerable amount of time and energy invested in the surf club which results in less time at home with Julie and the family so thank you.
To Jack Holland my Deputy President who is also standing down, thank you Jack you have done a great job for the Club, nothing asked of you was ever to hard or too much and we all owe you a sambuca tonight.
To Rob Barkley …………
Great effort and thank you again to Matt for your service as the nipper chair your contribution has been invaluable and you leave very big shoes to fill. Literally.
Congratulations again to all, history will judge but I think the Club is in good shape for the future, it was the best year ever!
This season was another no lives lost on Newport Beach for us. You can watch our 14 talented patrol teams in action, like you've never seen them before, right here! :
Top 10 Patrol Hours:
Chloe Van Dam 88.00
Marvin Smith 81.50
Jessica Menzies 76.25
Peter Probert 66.00
Nathan D Doyle 62.50
Lauren Budd 62.42
Brendan Menzies 62.00
Andrew Thomson Ko 61.75
Oscar J Smith 58.25
Jeremy Paul 56.25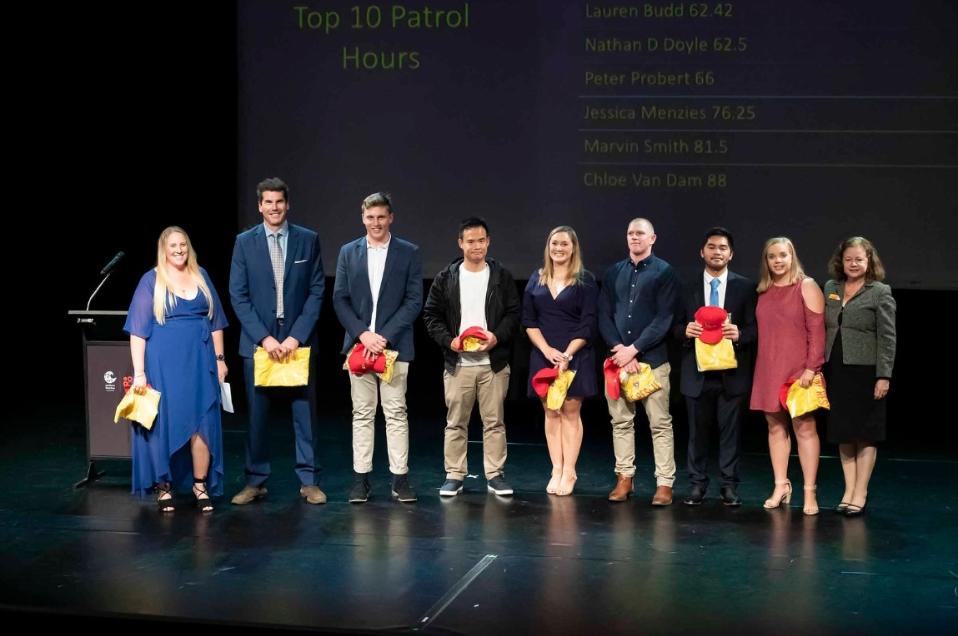 100% Patrol Attendance for 2018-2019 Season:
James Allen
Bob Allo
Rob Barkley
Scott Bridges
Naomi Bronier
Edward Bruce
Lauren Budd
Leanne Budd
Brett Budd
Karen Burns
Samuel Capell
Eric Crooke
Gary Dixon
Nathan D Doyle
Brendan Doyle
Thomas Doyle
Gemma Eastwood
Mark Fletcher
John Greenhill
Natasha Grice
Bernard Howard
Ellis James
Ben Matthews
Analiese Melbourn
Brendan Menzies
Kieran Menzies
Jess Menzies
Hamish Michie
Stephen Middleton
Francois Nila
James Oxenham
Jeremy Paul
Peter Probert
Jan Proudfoot
Jake Reneman
John Ringrose
Phoebe Savage
Oscar J Smith
Marvin Smith
Guyren Smith
Matthew Tancred
Andrew Thomson-Ko
Chloe Van Dam
Zach Van Dam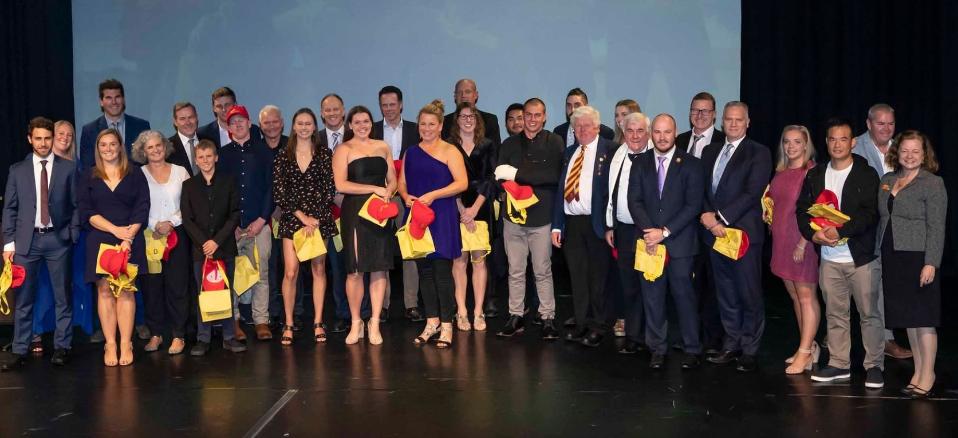 2019 Aussies Caps
Among the awards presented this year were those handed out by Pittwater MP, the Hon. Rob Stokes. Rob presented a framed cap, these are given to a competitor when they win their first Australian Championship (Youth & Opens).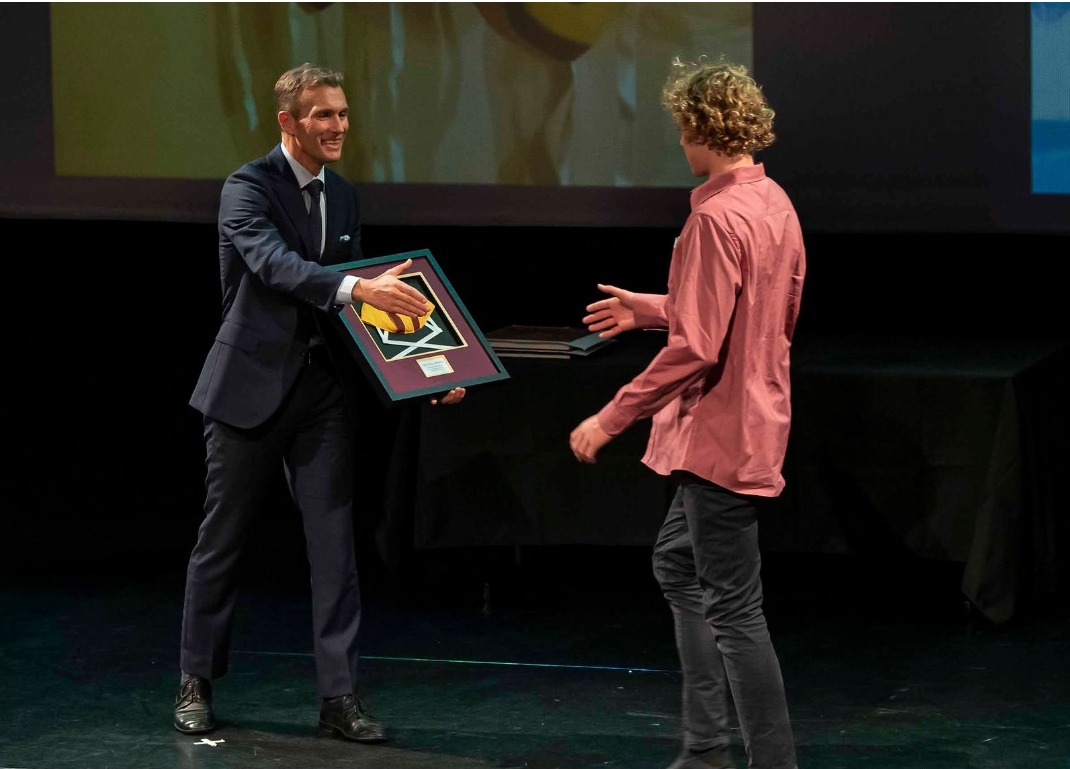 This year we gave out 19 caps (64-82). Including:
64 Mitchell Morris 2019 U14 Male Surf Race
65 Kimberley Doyle 2019 U14 Female Surf Race
66 Jake Morris 2019 U14 Male Board Race
67 Analise Kibble 2019 U15 Female Surf Team
68 Katelynn Doyle 2019 U15 Female Surf Team
69 Jodie Louw 2019 U15 Female Surf Team
70 Bailey Clues 2019 U15 Mens Surf Team
71 Lee Melbourn 2019 U15 Mens Cameron Relay
72 Brandon Bartlem 2019 U15 Mens Cameron Relay
73 Jami Prowse 2019 U19 Female Surf Team
74 Emily Doyle 2019 U19 Female Surf Team
75 Lexi Harrison 2019 U19 Female Surf Team
76 Abby Ballesty 2019 U23 Female Surf Boat
77 Meagan Barr 2019 U23 Female Surf Boat
78 Tara Doyle 2019 U23 Female Surf Boat
79 Claudia Harris 2019 U23 Female Surf Boat
80 Analiese Melbourn 2019 U19 Female Rescue Tube Rescue
81 Braden Newling 2019 U17 Male Ski Relay
82 Finn Askew 2019 U17 Male Ski Relay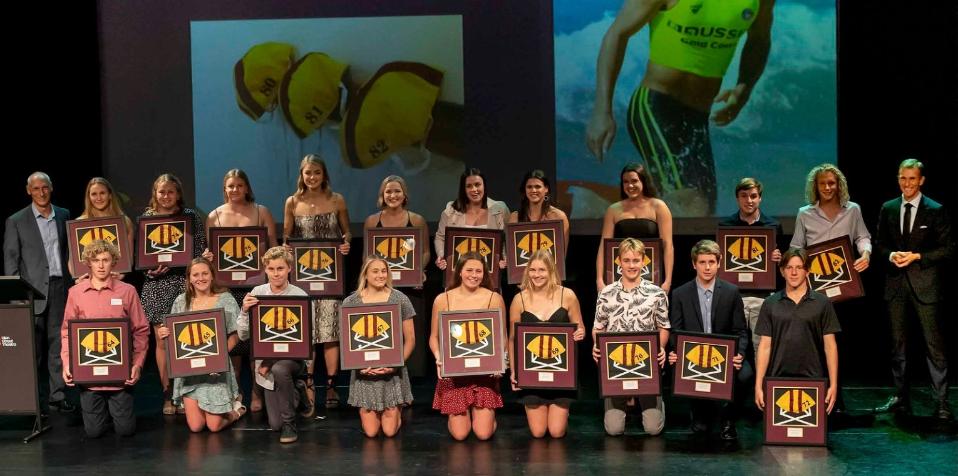 Rookie of the Year - Sam Capell!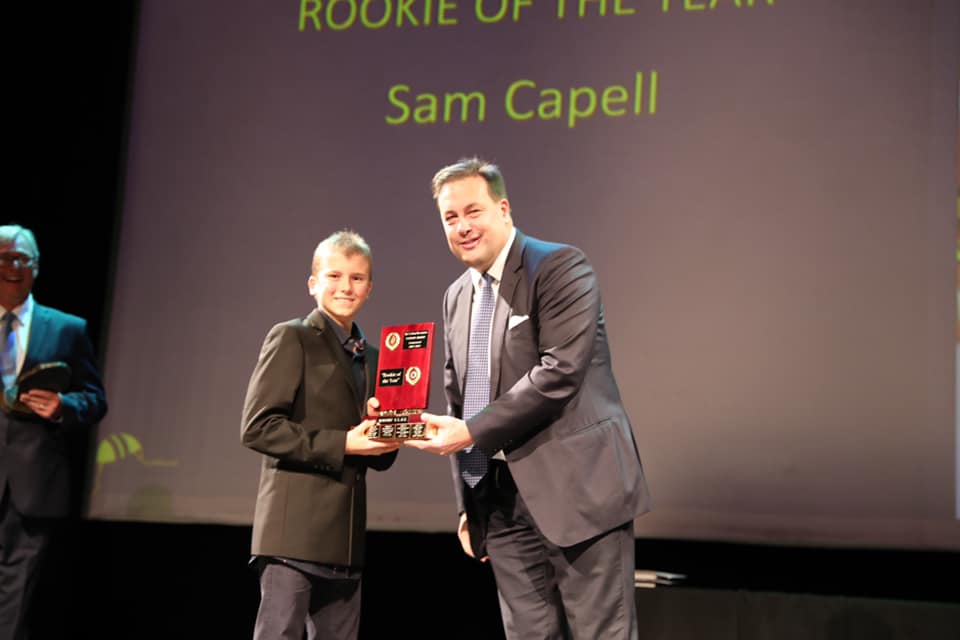 Our thanks to MP for Mackellar Jason Falinski for his attendance to present club members with their hard earned awards this season.
Our winners of the 2019 Major Awards aka the Bernies

Our Committee Member of the Year is Rudi Valla. Congratulations Rudi!
Here are the winners of our other 7 Bernies: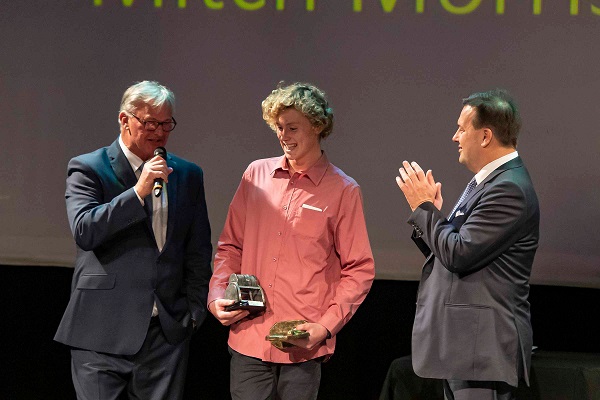 Mitch Morris, Junior Competitor of the Year with host Ian Hanson OAM and Jason Falinksi, Member for Mackellar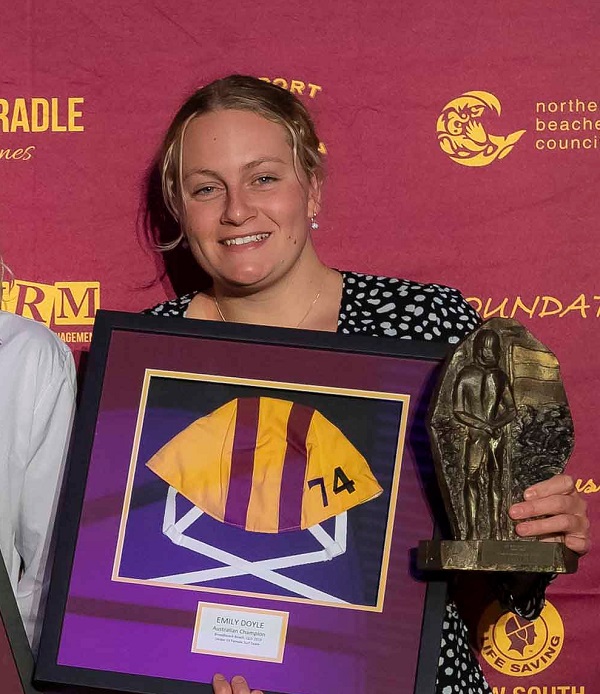 Emily Doyle, Competitor of the Year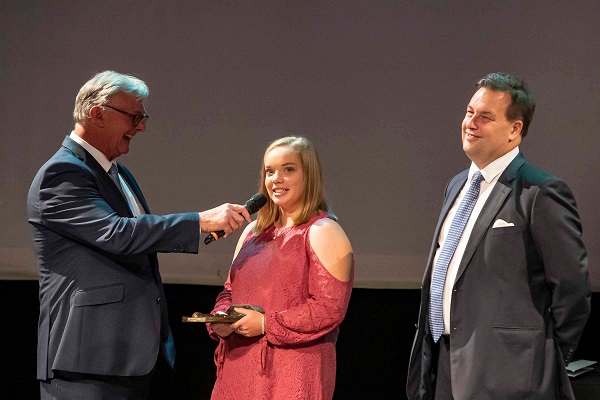 Chloe Van Dam, Junior Clubman of the Year with host Ian Hanson OAM and Jason Falinksi, Member for Mackellar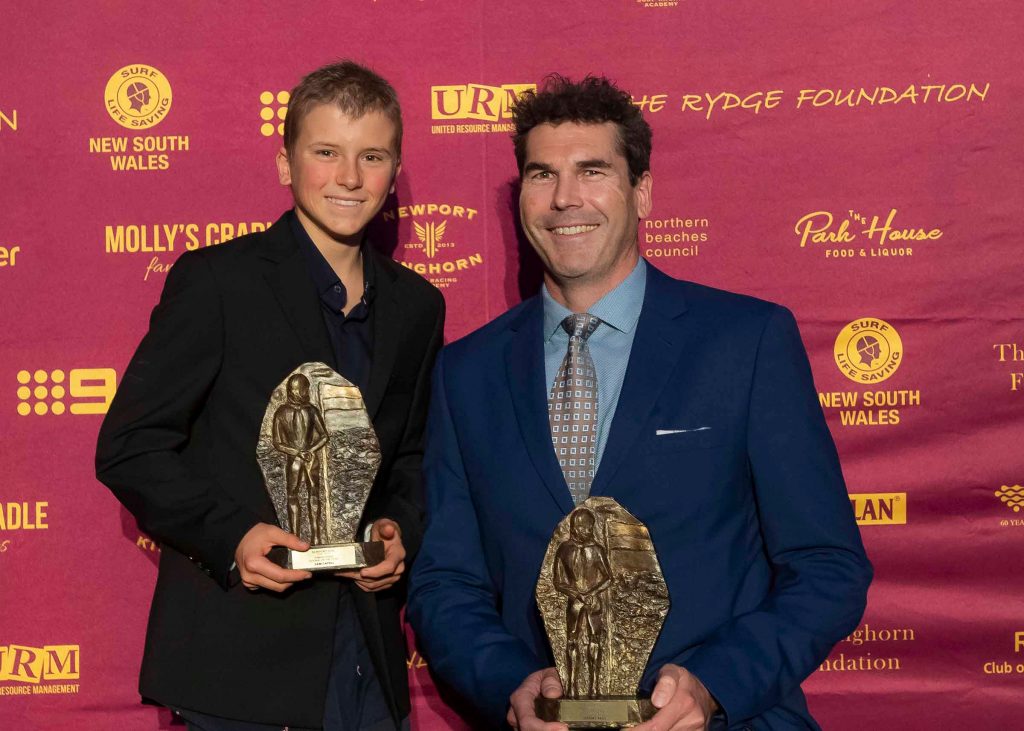 Sam Capell, Rookie of the Year & Jeremy Paul, Patrolling Excellence Award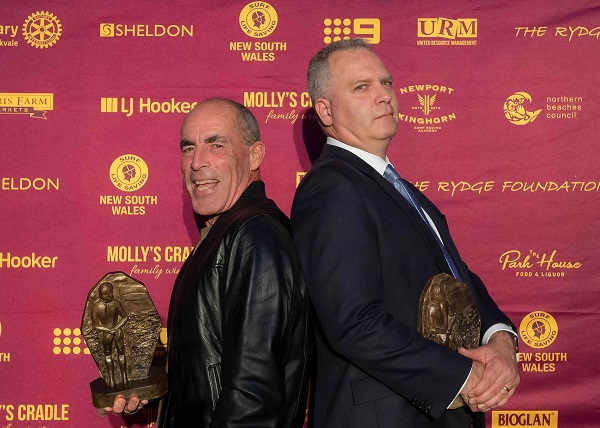 Nick Carroll, Club Person of the Year & Hamish Michie, Best New Member
What is a Bernie?
A new tradition started last Friday night (7 June) at our Annual Awards Celebration in the Glen Street Theatre. Our major award winners all took home a "Bernie". The Bernie is a sculpture by local artist, Victoria Norman. Victoria used the lifesavers' motto "Vigilance & Service" as inspiration during the creation. The sculpture has been given the nick name "Bernie" in honour of our Life Member and legend Bernie Howard who has just retired from patrolling after 25 years!
Please enjoy all the images from our Annual Awards Celebration last Friday night at Glen Street Theatre.
We hope to see you for an even bigger and better celebration in 2020!
Images by photographer Anthony Burns from Homepix.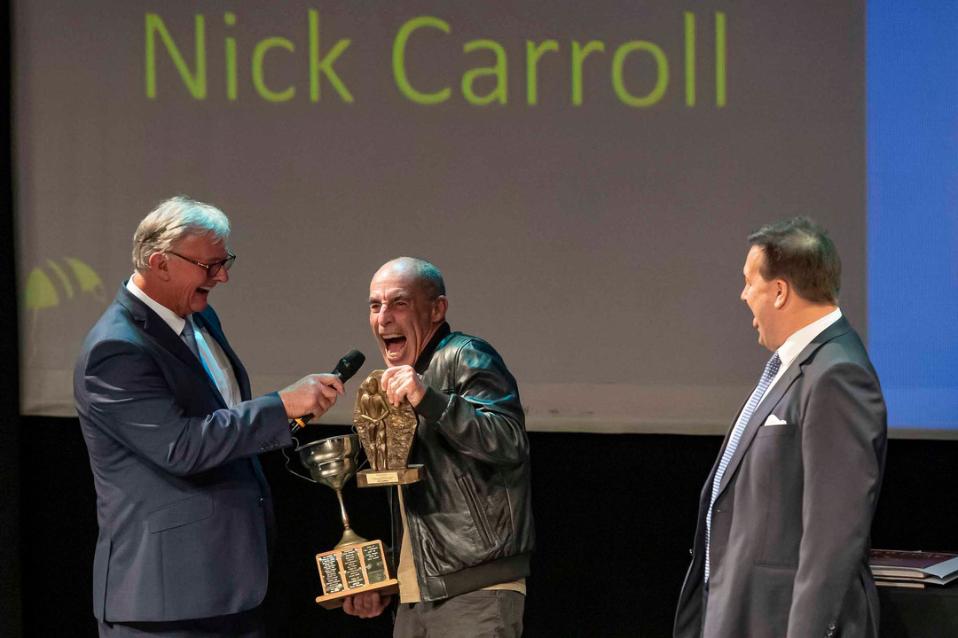 Nick Carroll, Club Person of the Year
Newport SLSC's 2018-19 Competition Season
Boats, boards, skis, surf swims, ironman, beach sprint, beach flags and first aid competition. Edited by Lachlan Smithers.