August 12 - 18, 2018: Issue 371
Newport SLSC 109th Annual Report - 2017/2018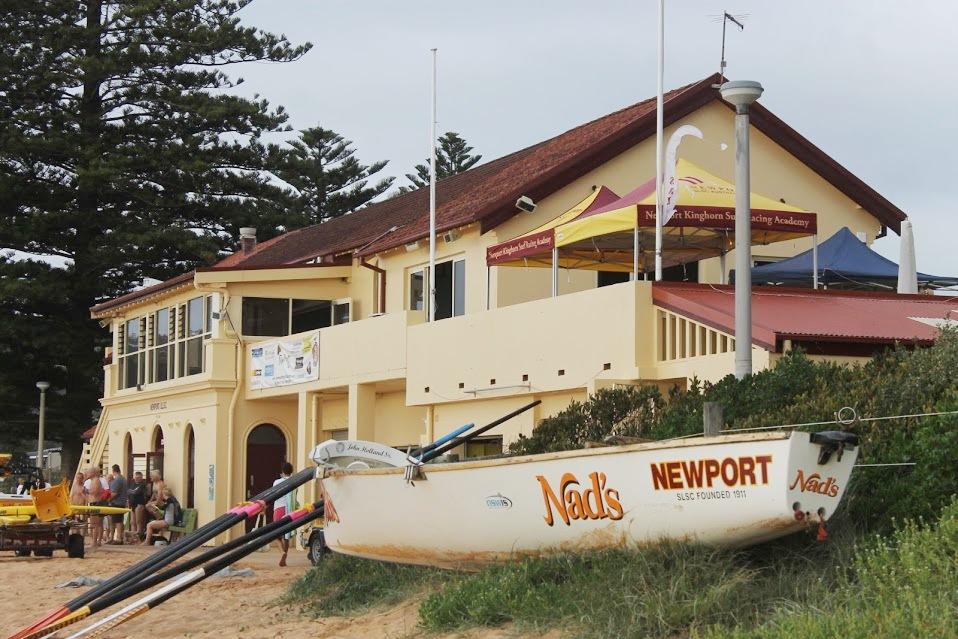 Newport SLSC's AGM was held on Sunday, 29 July. The club has one new Life Member, two new Distinguished Service members and four new Outstanding Service members. Congratulations to Rob, James, Ted, Glen, Matt, Guyren and Jan.
Life Member
Rob Emerson
Distinguished Service
James Brooks
Ted Smithies
Outstanding Service
Glen Borg
Matt Halakas
Guyren Smith
Jan Proudfoot
President's Report
It is my pleasure to present the 2017/18 Annual Report of the Newport Surf Lifesaving Club, our one hundred and ninth year of patrolling Newport Beach.
A season that again has ensured through our well attended and effective patrols we have achieved our primary objective of "No lives lost at Newport Beach during a Newport patrol".
It has been another fantastic season for our Club probably the best season ever and as a Club we have excelled across all aspects of Surf Lifesaving. Some of our season highlights include:
Under the guidance of our new Club Captain Jess Menzies, our patrolling strength and exceptional standard of patrols remains to ensure that Newport Beach is a safe environment for our local community and all beach visitors. To all the Newport patrolling members thank you for your vigilance and service, your efforts have been outstanding, and your community dedication is greatly appreciated.
Our instructors have done another magnificent job again this season under the guidance of our Chief Instructor, Guyren Smith. This season 51 people successfully completed their Bronze Medallions, which is a fantastic effort. Further to this, 43 young members completed their Surf Rescue Certificate and have joined our patrols.
Congratulations to all our trainers.
As a Club we had another busy year running events and we successfully hosted the Newport Surf Boat Carnival, Newport Water Carnival, The Newport SLSC Social Golf Day, The Sports Lunch, the Barefoot Ball fundraiser for the Club and Cystic Fibrosis Community Care and the Pool2Peak Ocean Swim that again was an enormous success with a record number of swimmers participating.
Significant congratulations this season must go to Matt Halakas and his Junior Activities Committee, age managers and volunteers. Our Nippers programme continues to be a remarkable success with almost 400 children this season oining Newport, having fun and most importantly learning about surf safety and surf life saving each Sunday.
Earlier this year we partnered with the Pittwater Friends of Soibada and introduced a scholarship programme for two of our young Bronze Medallion Trainers & Assessors to travel to East Timor with the Pittwater Friends of Soibada to provide first aid training. Newport trainers Jess Menzies and Lauren Budd went to East Timor earlier in the year for a great and challenging life experience undertaking a few First Aid clinics for the benefit of the local community of Soibada.
The current pressing need for improvements to the Club House facilities and desperate need to increase storage space was significantly advanced this season, with our Local Member Rob Stokes providing $100,000 of State Government funding to undertake the required Development Application and associated planning studies for the implementation of the Club's Masterplan vision of
which we are most grateful.
Further following initial positive discussions with Michael Regan, the Mayor of the Northern Beaches Council, the Council has now appointed an Architect to progress the Club's Masterplan to the required Development Application and this work is currently positively progressing.
As a Club we are indebted to Rob Stokes and Michael Regan for the valuable and significant assistance they have both provided us this year in progressing the Club's vision for the Clubhouse facilities, again thank you Rob and Michael.
As a club we achieved immense success again in competition and some of the highlights included:
For the first time in our history some of our Newport Nippers travelled to the Australian Pool Lifesaving Championship held this year in South Australia. Our small team came 7th overall and broke two Australian records in the process.
Again, as a first in our Club's long history Newport was crowned the winner of the Overall Branch Championship Point Score that includes a combination of Nippers', Open's and Master's branch results.
Newport 1st in the Open Point Score at the NSW Championships for the 5th consecutive year
Newport Nippers 2nd at the NSW Age Championships, the best result for our junior team in the history of the Club and an awesome achievement
Newport 2nd in the Open Point Score at the Australian Championships
Newport Winner of the Handicap Point Score at the Australian Championships
Additionally, at the Sydney Northern Beaches' Branch Awards presentation evening, Newport SLSC won several awards including:
» Most Outstanding Club: 5th place
» Kieran Menzies: Support Services Award
» Adrian Hill: Raymond Matthew Brown Radio Operator's Award
» Sydney Northern Beaches U19 Male Surf Boat Premiership
» Sydney Northern Beaches Reserve Male Surf Boat Premiership
» Sydney Northern Beaches Branch Championship's Overall Point Score Champions
» Zach Morris was awarded Youth Athlete of the Year
» Adrian Hill's contribution to surf lifesaving was acknowledged with Adrian receiving Life Membership of Sydney Northern Beaches Branch.
I would also like to take the opportunity to acknowledge this years Newport SLSC award winners, they are all wonderful Club members who have contributed significantly to our Club's success and are all well deserving of this recognition.
Michael Hill Memorial Trophy – Clubman of the Year – Scott Newey
Paul Stevens – Junior Clubman of the Year – Marvin Smith
Hans Trumm OAM – Award for Patrolling Excellence – Chloe Van Dam
Peter Dawson OAM – Best New Member – Elaine Krek
Tom Guthrie – Rookie of the Year – Geordie Smith
John Holland Snr – Committee Member of the Year – Matt Halakas
Competitor of the Year – Zach Morris
Tim Francis Junior Competitor of the Year – Joel Piper
Newport SLSC is a now large Surf Lifesaving Club that takes a significant effort from many our volunteer committee members to ensure we continue to operate successfully, so on behalf of the whole membership I would like to thank all those that have served the Club so selflessly this year on the following committees, your contribution is greatly valued.
Management Committee
The Junior Activities Committee
The Building Committee
The Sponsorship Committee
The Club's Board of Surf Sports
The Life Members and Honours Committee
The Ocean Swim Committee
To the Newport Kinghorn Surf Racing Academy Board again congratulations and thank you for an excellent year where you have again lived up to your mantra, be the best and enjoy it the most.
On behalf of all the Newport SLSC members I would like to thank the generosity of all our highly valued sponsors without their assistance our Club would not be the successful Club we are today.
This year we also received acknowledgement that Jill and John Kinghorn will continue to support the Newport Kinghorn Surf Racing Academy for a further seven years and we are grateful beyond words for this very generous and significant contribution to our Club. The commitment to future funding will see the Club continue to build on our magnificent competition success and allow the Club through the Academy to continue to provide our young members interested in competition the opportunity to be the best that they can be. Thank you to Jill and John Kinghorn for continuing to believe in and invest in the Academy and our Club members, we sincerely
appreciate your generosity.
So again, for the success of the season just past I congratulate and thank everyone of our members that spent time on patrol, represented our club in competition, undertook an additional award, nurtured our Nippers, trained new members, coached our athletes, worked at a social function or just bought a beer over the bar; you have all contributed to the success of our Club, it has been a
very good year for Newport SLSC.
Rob Emerson
Full Newport SLSC 2017-2018 Annual Report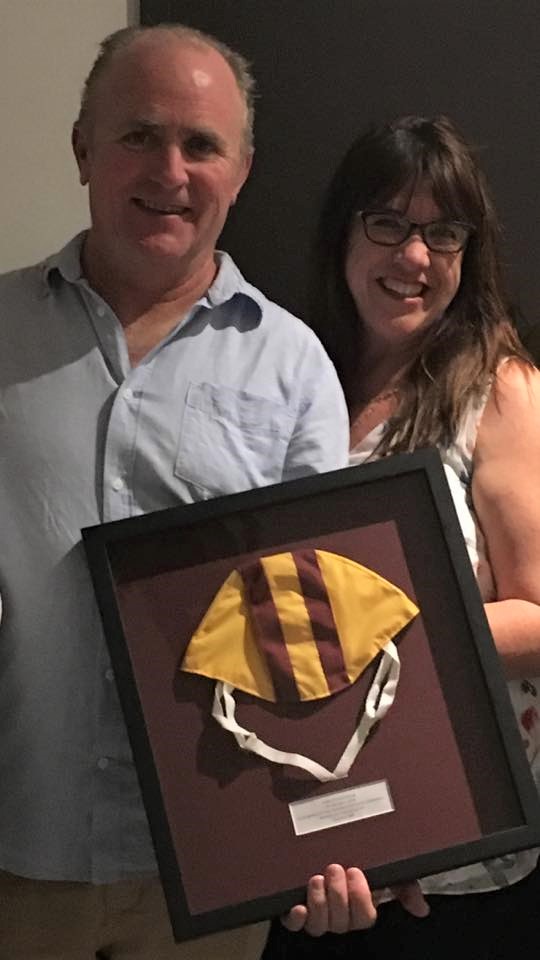 Rob Emerson and wife Julie. Life Member of Newport Beach SLSC