February 5 - 11, 2023: Issue 570
New Avalon Beach Mural Celebrates Local Flora And Fauna Still Present - Laments That Now Gone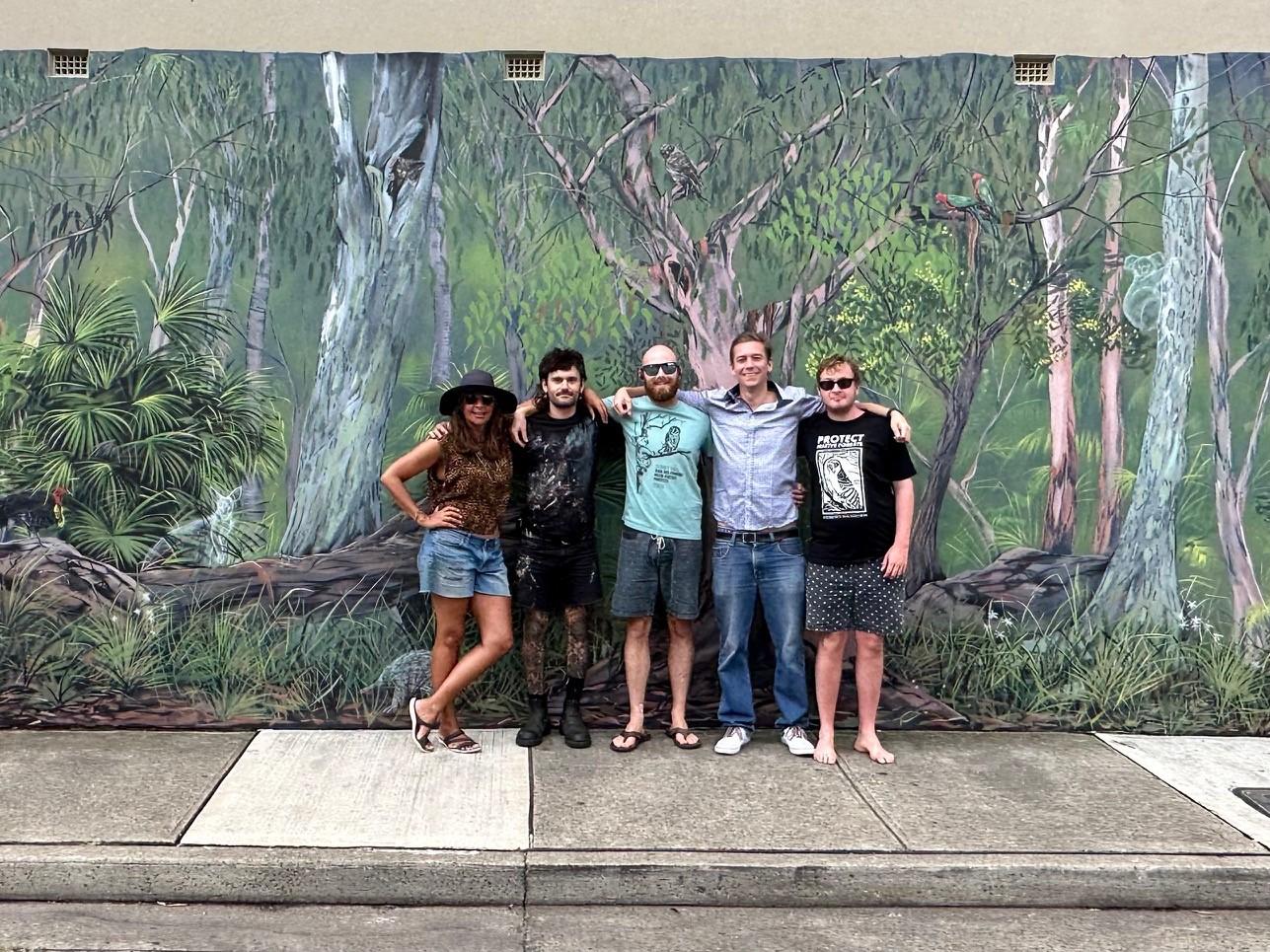 L to r: organiser Jasmine Hopcraft, Mural Artist Daniel Hend, Tom Borg Mc Gee, WIRES wildlife rescuer and carer, Cristo Tracy, General Manager at Avalon Beach RSL, and Jayden Walsh, Ecologist
In mid January 2023 Jasmine Hopcraft spotted a post by Daniel Hend on 'Avalon Whats On' - one of the numerous community forums for residents on Facebook. Daniel was letting people know he was driving from Tasmania up to the Gold Coast muraling as he went.
''If you are interested in a mural I may be able to come to your town/city to complete one as I journey northward.'' Daniel said
''Looking forward to create some new murals, catching up with old mates and making some new ones.''
Daniel, born in 1994 Mullumbimby, was taught by his father Len Hend how to paint traditional landscapes as a child.
''I've since practiced with various mediums in an array of styles, and have progressed into a multi-faceted visual artist.''
''The works I produce extend from fine surrealist pieces and surreal felt tip drawings to vivid impressionist landscapes, native flora and fauna pieces, and murals from a few square meters to over 300 square meter pieces.
Since 2013 I've held numerous successful exhibitions, won competitions, raised money for multiple charities, participated in and employed for numerous live painting events, and painted countless murals across the country from Queensland and NSW to Victoria and Tasmania.''
Ms Hopcraft sprang into action and organised a fundraiser, explaining,
''The Avalon RSL have enthusiastically came on board and agreed that he can paint an amazing Australian Bush landscape on their wall in Bowling Green Lane (opposite the carpark). It 's under the Centenary Cockatoo emblem.
The project was estimated to cost approximately $4k and the RSL kindly agreed to put in $1k. So we needed $3k - which I was sure we can do based on the enthusiastic comments from the community on his work.
I think it is really important to celebrate our beautiful tree canopy and celebrate our stunning gum trees.'' Jasmine said
The mural features local flora and fauna with a focus on Avalon's Angophora and Spotted Gum forest to help foster a culture of appreciation and preservation of these majestic trees and ensuing wildlife in the community.
A focused art installation of this kind contributes to the reinvigoration of our community's enthusiasm for fostering a culture of appreciation and preservation of the majestic gum trees and ensuring wildlife remain in our local lived environment.
By the community contributing their own money they are demonstrating that they are proud of where they live and willing to work together to protect its beauty.''
Jasmine kicked in the first donation herself and then everyone tumbled their coins and notes in.
The mural was informed by local Ecologist Jayden Walsh, who has a vast knowledge of what is here. Tom, Jayden and Daniel walked through Stapleton Reserve in Avalon to get inspiration and share knowledge of what is still here and what we have lost due to the human impacts on this place of those who moved in and cleared trees, erected fences, introduced exotic weeds, foxes and domestic pets.
You will see Avalon's koalas, now gone, are part of the mural as ghosts. Similarly a swamp wallaby, once prolific here, and an echidna, are also ghosts.
Still present wildlife is vividly coloured and celebrates nocturnal residents such as possums and powerful owls, and those who fill our days with songs and their own individual natures as they make their 'rounds' or ptarols through this place - bush turkeys 'gobbles' alike large chickens on the ground, king parrots wink and chirrup at us from tree limbs, a kookaburra's cobalt wing feathers sparkle at us from among the similarly sparkling blue-green eucalypt trees - the pale salmon and deep reds of the angophoras, the bangalows, bush rocks, flannel flowers and heathland grasses knit through leaf mulch, a wattle is in bloom - the green shadows go deeper, invite you to gaze in where there is glowing lights.
Daniel commenced the work in late January, completing it earlier this week, seventh of February 2023.
Jasmine shared progress photos to keep everyone up to date.
What a great community - what a great effort by Jasmine, Daniel, Jayden, Tom and all who crowd funded this art work.
And now the community has another great mural - one of several that now brighten the walls of the Avalon Beach village shopping precinct.
Those progress photos and their details: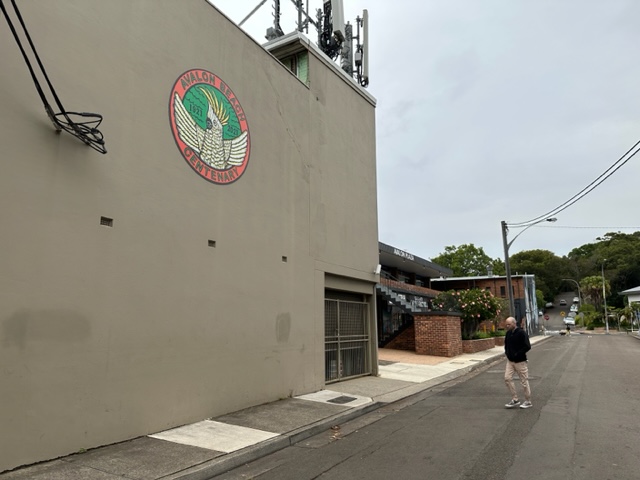 the 'canvas'