June 5 - 11, 2022: Issue 541
Narrabeen Bushwalkers on the Central Coast
by Robyn McWilliam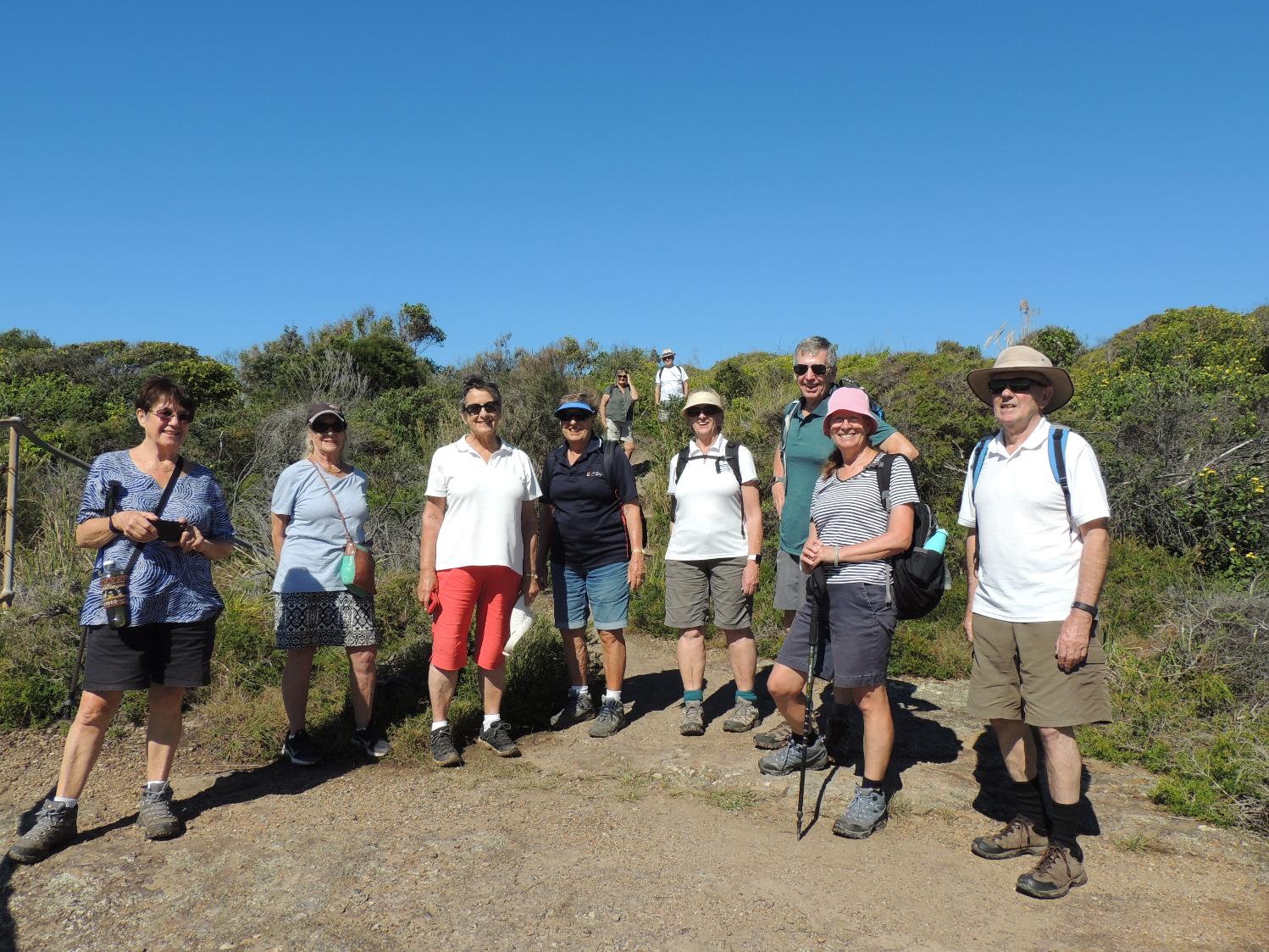 In early April the Narrabeen Bushwalkers drove north to Norah Head for a short stay on the picturesque Central Coast. A break from Sydney's dreary weather for bush and beach walks was welcomed by our group.
Meeting in Caves beach at the southern end of Spoon Rocks Road in splendid sunshine, we set off on the coastal track to Pinny Beach in Wallarah National Park. Undulating on the sandy track, we stopped to observe a pinnacle of land stretched out into the shimmering ocean. A lizard posed beside the trail.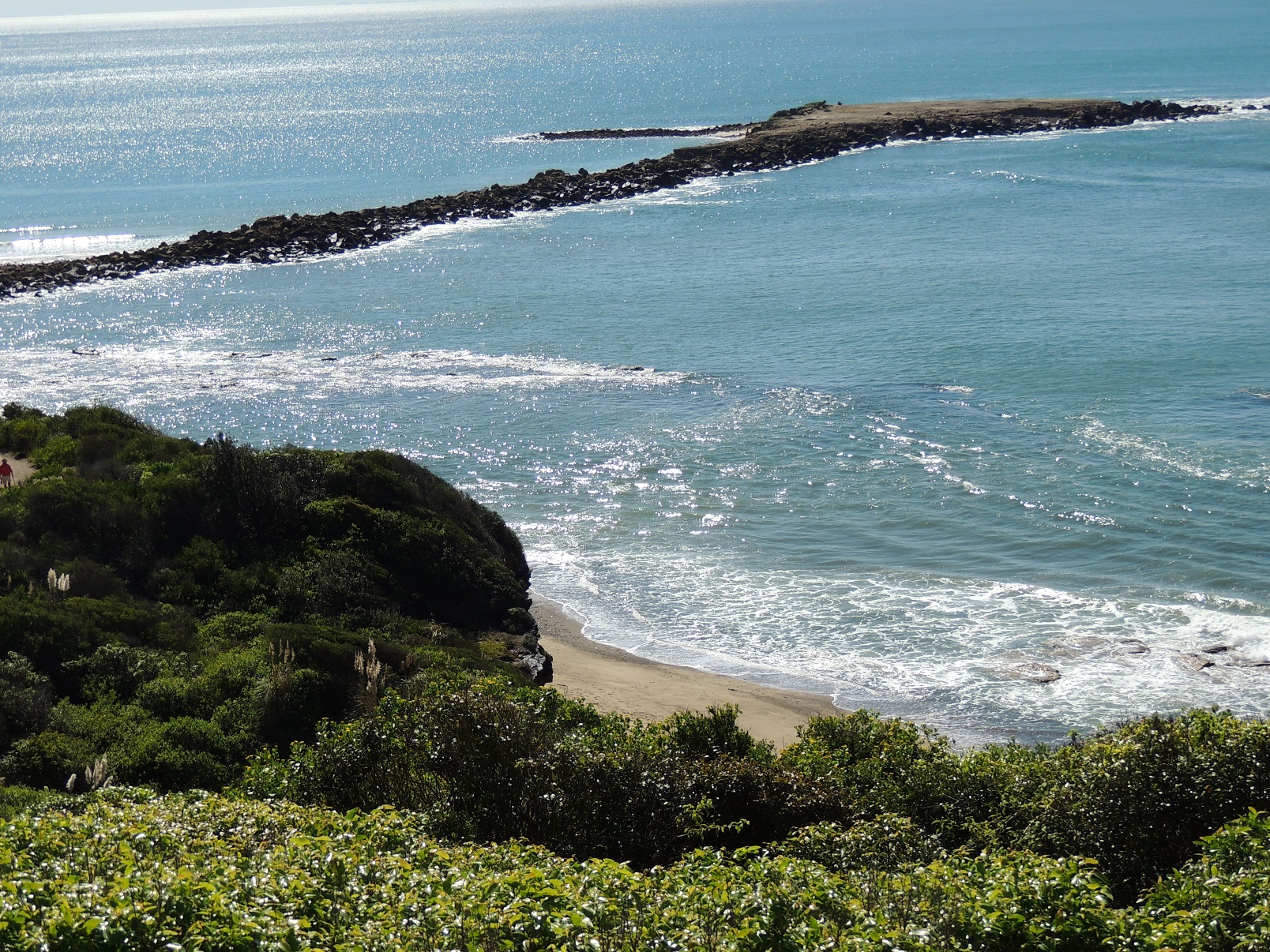 Pinnacle of land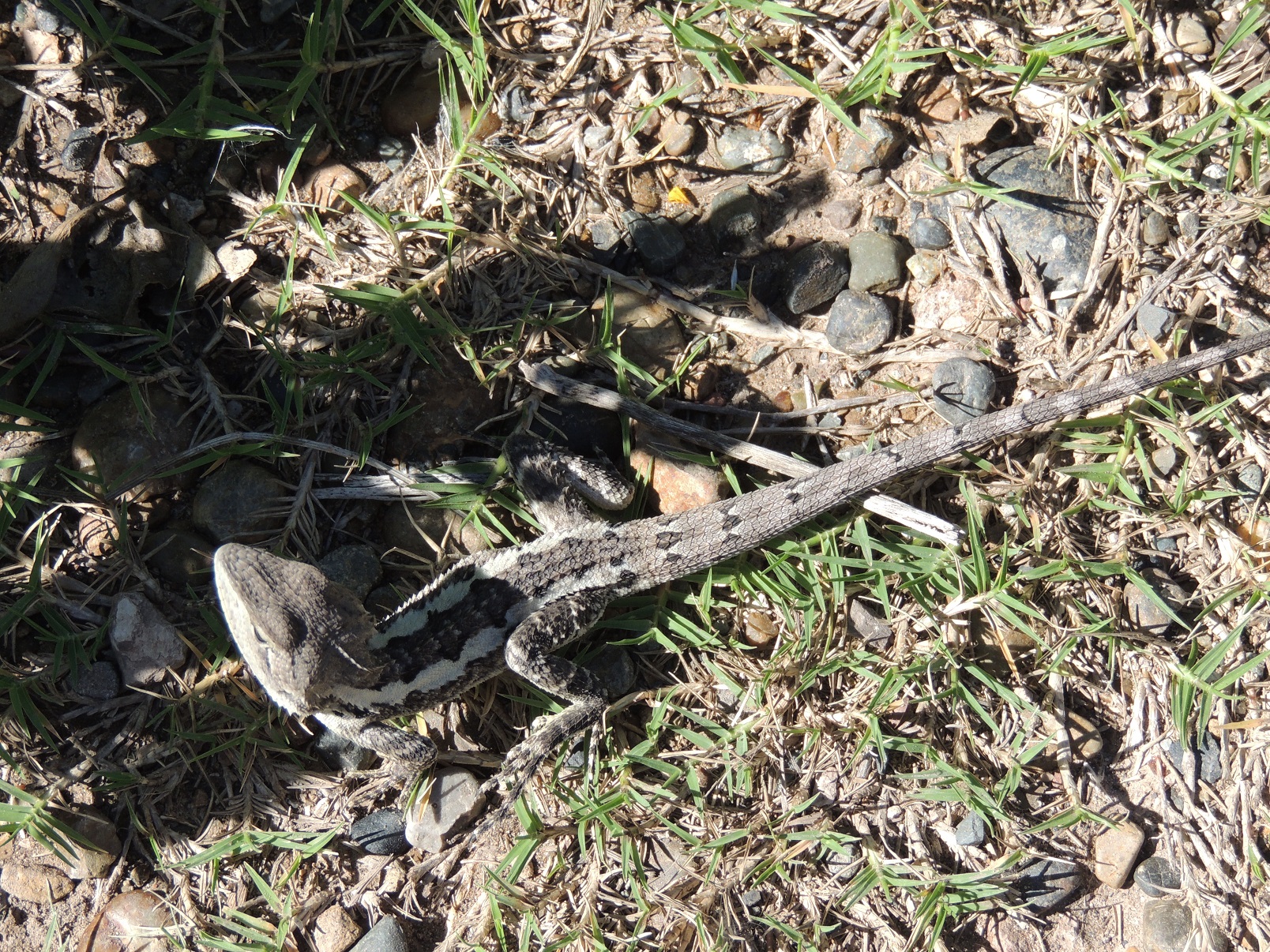 posing lizard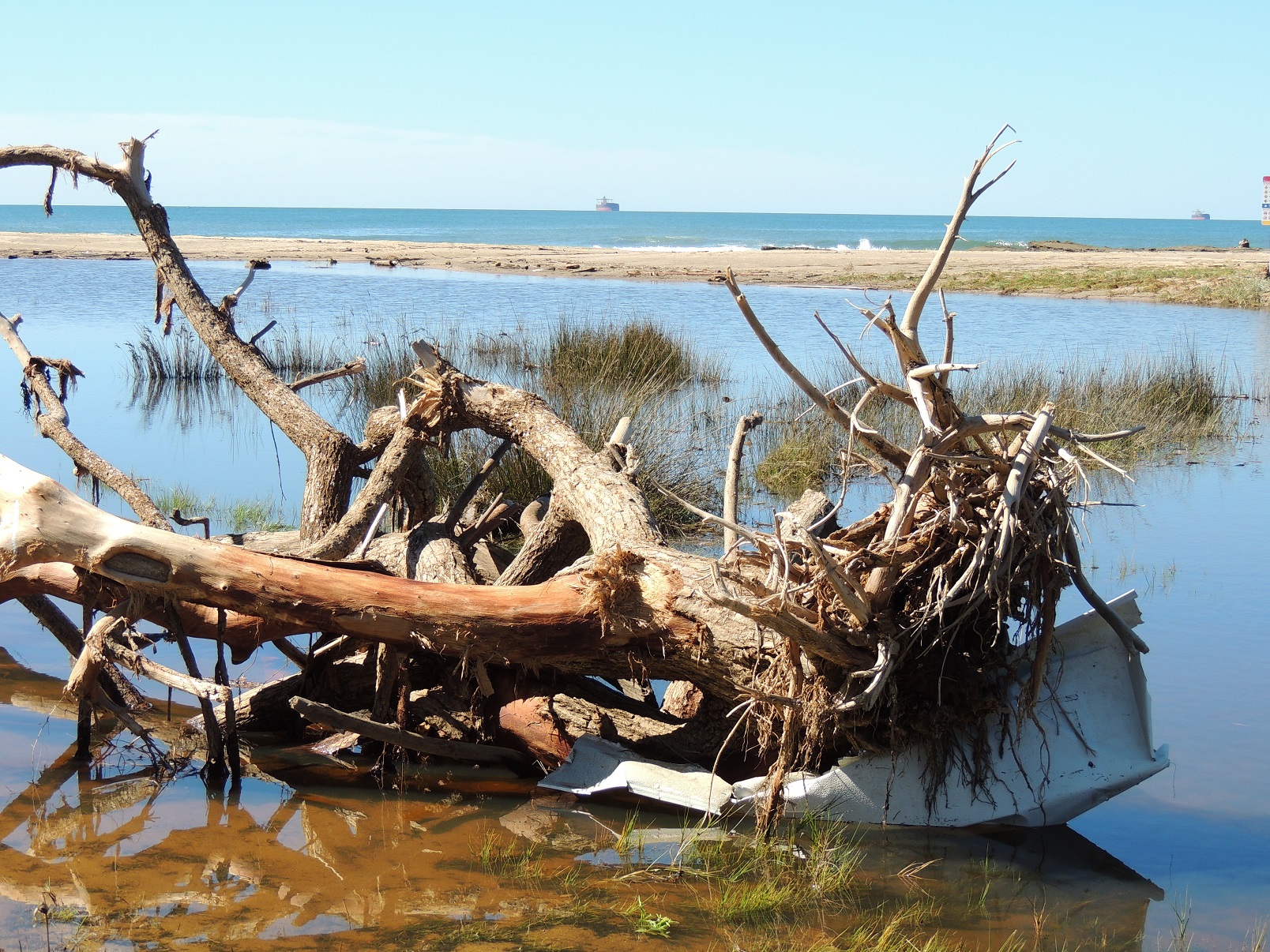 driftwood with debris
At the far end of the beach an erosion-carved headland dominated. Due to a recent deluge the bridge was impassable but we found a track to the beach then rejoined the path. A banksia in flower, yellow above its serrated leaves, lit up the bush.
Driftwood had trapped washed down rubbish behind the lagoon. The green fronds of a cabbage tree palm caught my eye. We passed a salmon-trunked angophora, its wavy branches reaching skyward. In low lying areas we saw paperbark trees displaying multiple soft layers. I explained to an English couple that Aborigines used them to line coolamons, timber-carved baby carriers.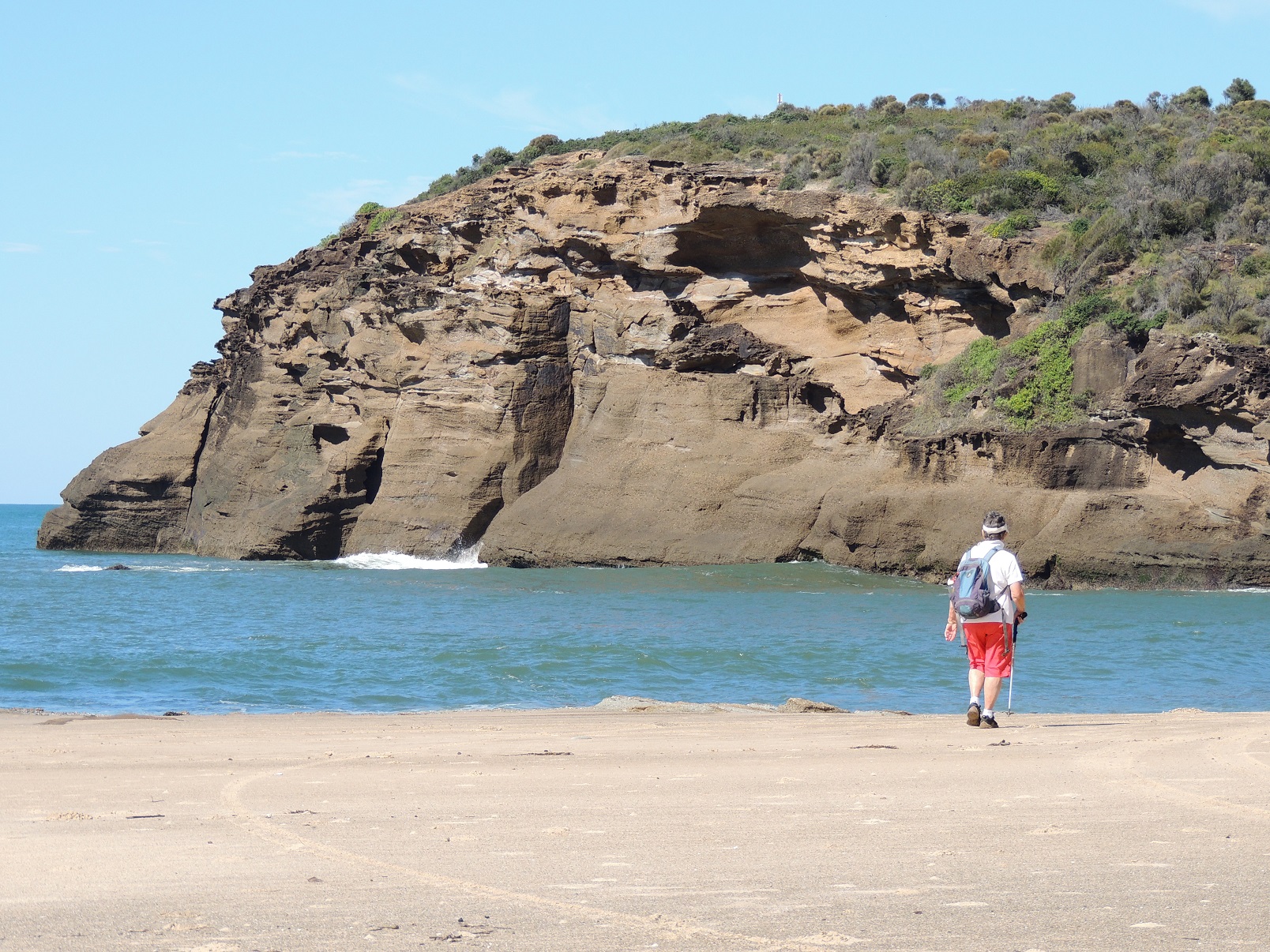 erosion-carved headland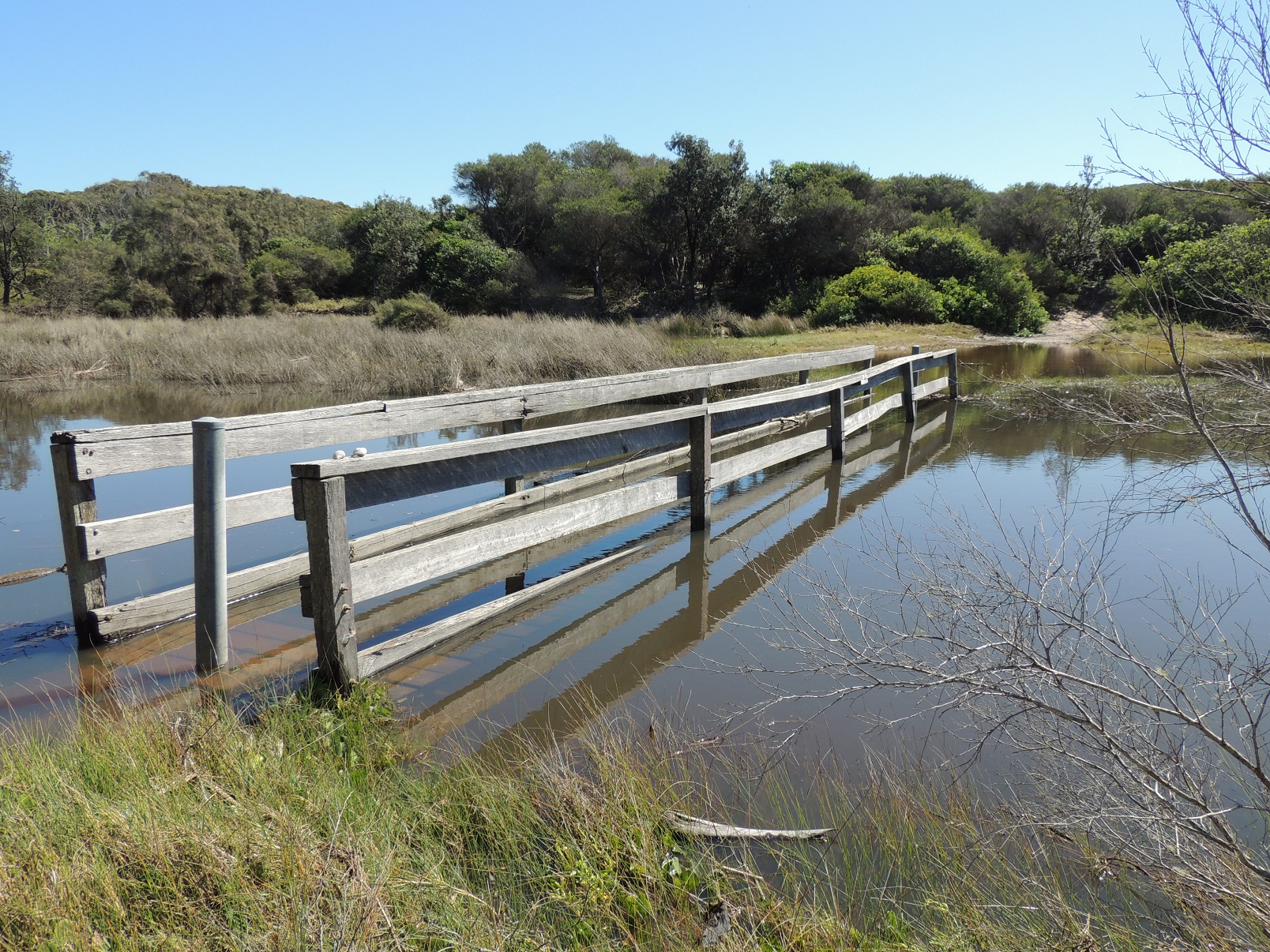 a flooded bridge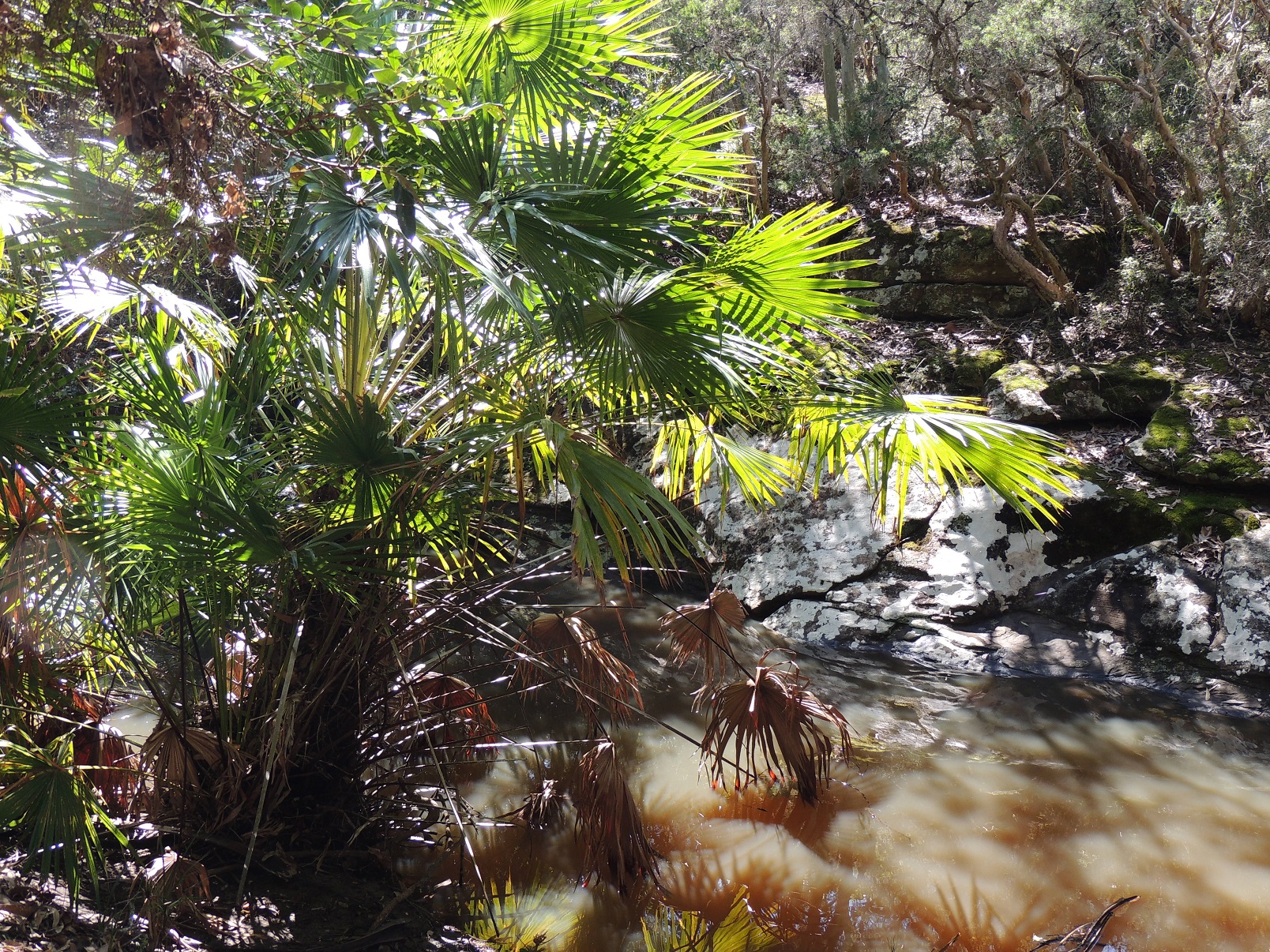 cabbage tree palm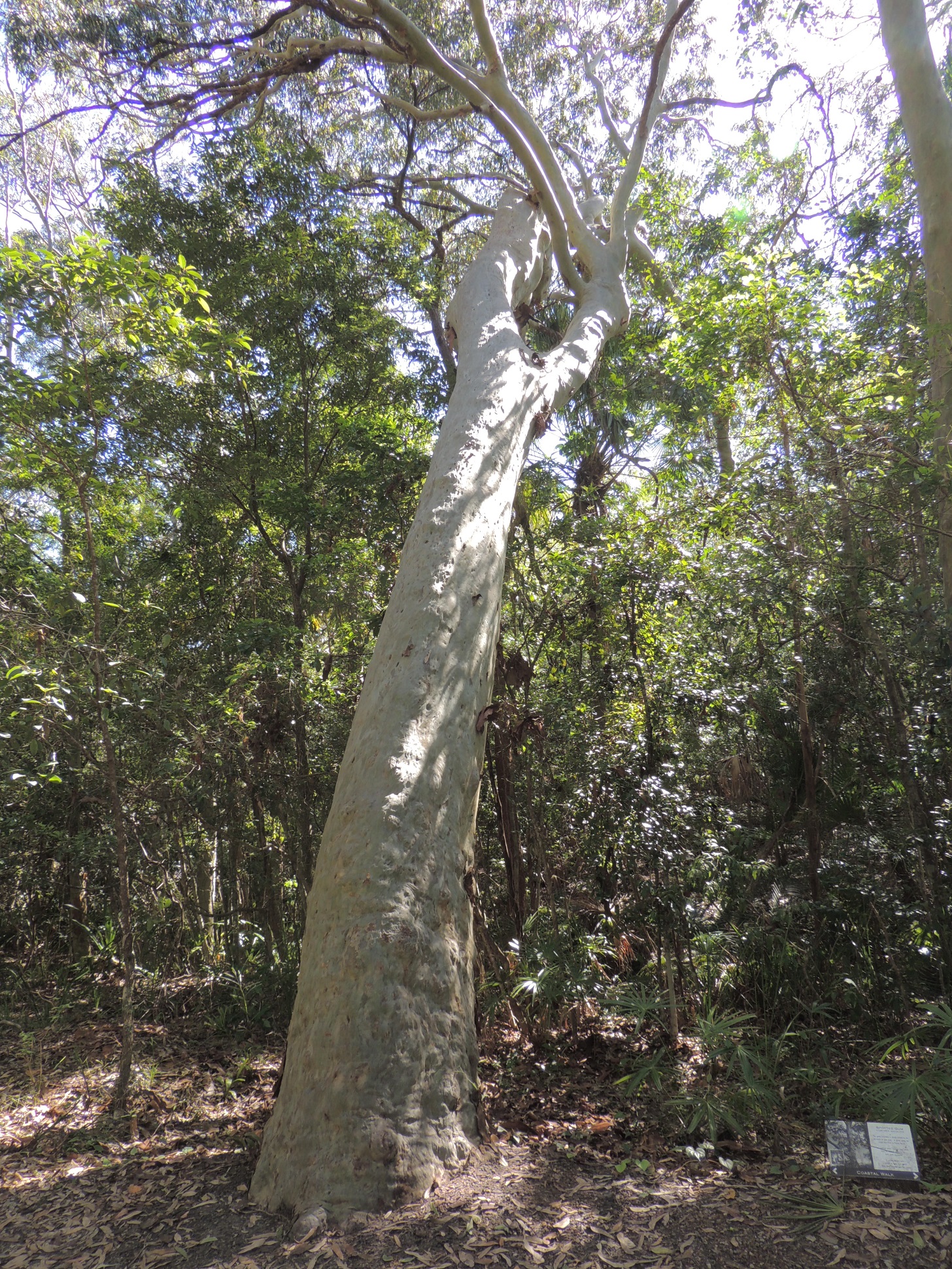 a leaning eucalyptus
Our five-kilometre walk was a great getting-back-to-nature experience. On the beach we rested, listening to the waves, watching them break over the rock platform sending up flurries of spray.
On Tuesday we walked from the caravan park through a littoral rain forest to Soldiers Beach. The track was soft under foot, we passed tea-tree-stained puddles and a couple of flannel flowers late in bloom. Eventually, we emerged onto a deserted beach. A lone fisherman cast his rod from a rock platform. Though the seas have subsided, waves break spilling foam.
Next day a drive to the south end of Evans Road, Canton Beach led us into an area where we did a loop walk incorporating the Wetland Trail, Burrawang Track and the Redgum Trail. This was a fabulous forest walk in filtered light. It is in the Wyrrabalong National Park where several lookouts reveal the expanse of Tuggerah Lake.
Sights along the way included: banksia cones, orange fungi on a log and heaps of healthy cycads. I told the English couple how May Gibbs had created characters out of the Australian bush such as the big bad banksia men and Snuggle Pot and Cuddle Pie. A bit like Beatrix Potter did in the Lake District.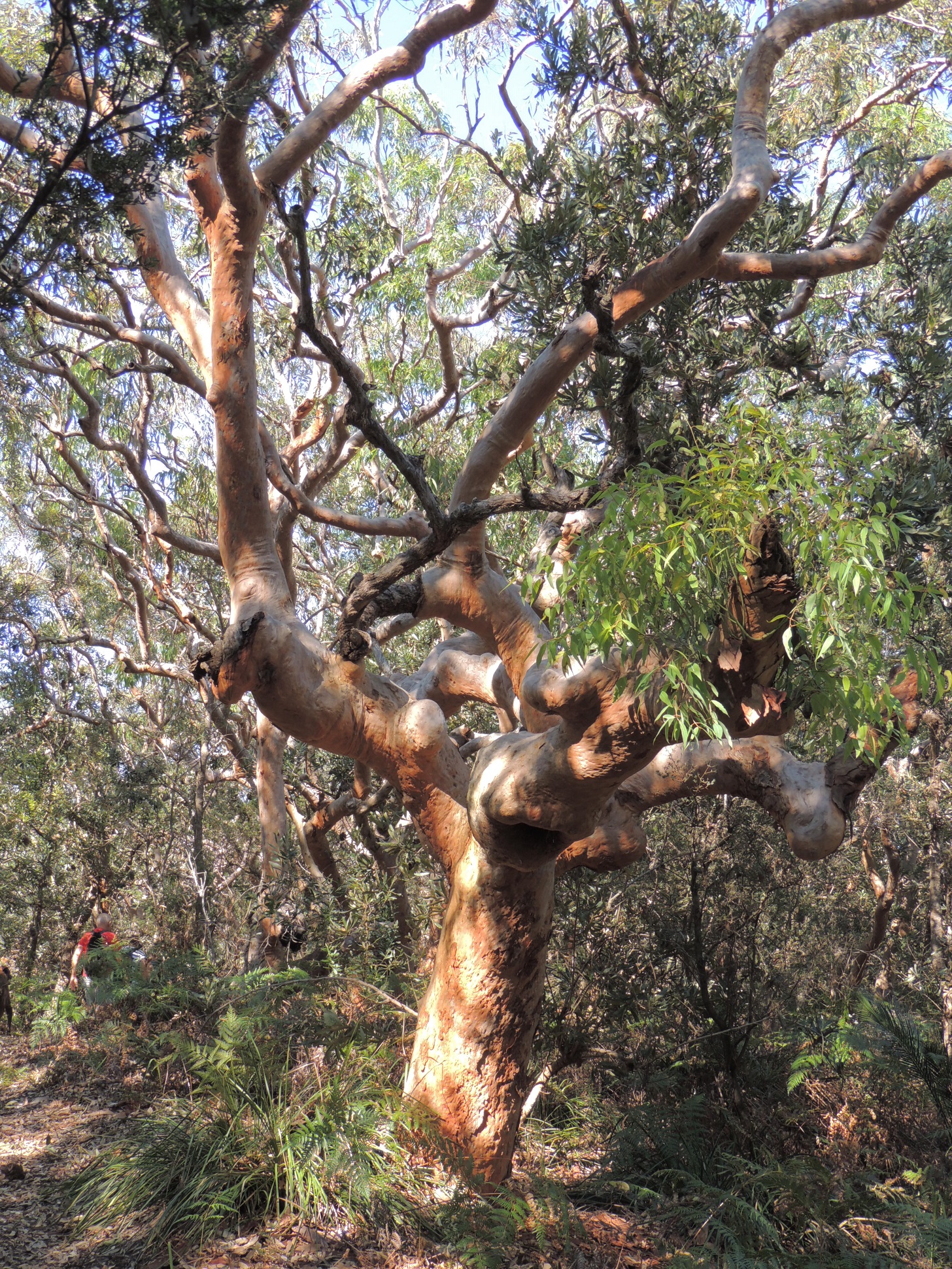 wavy angophora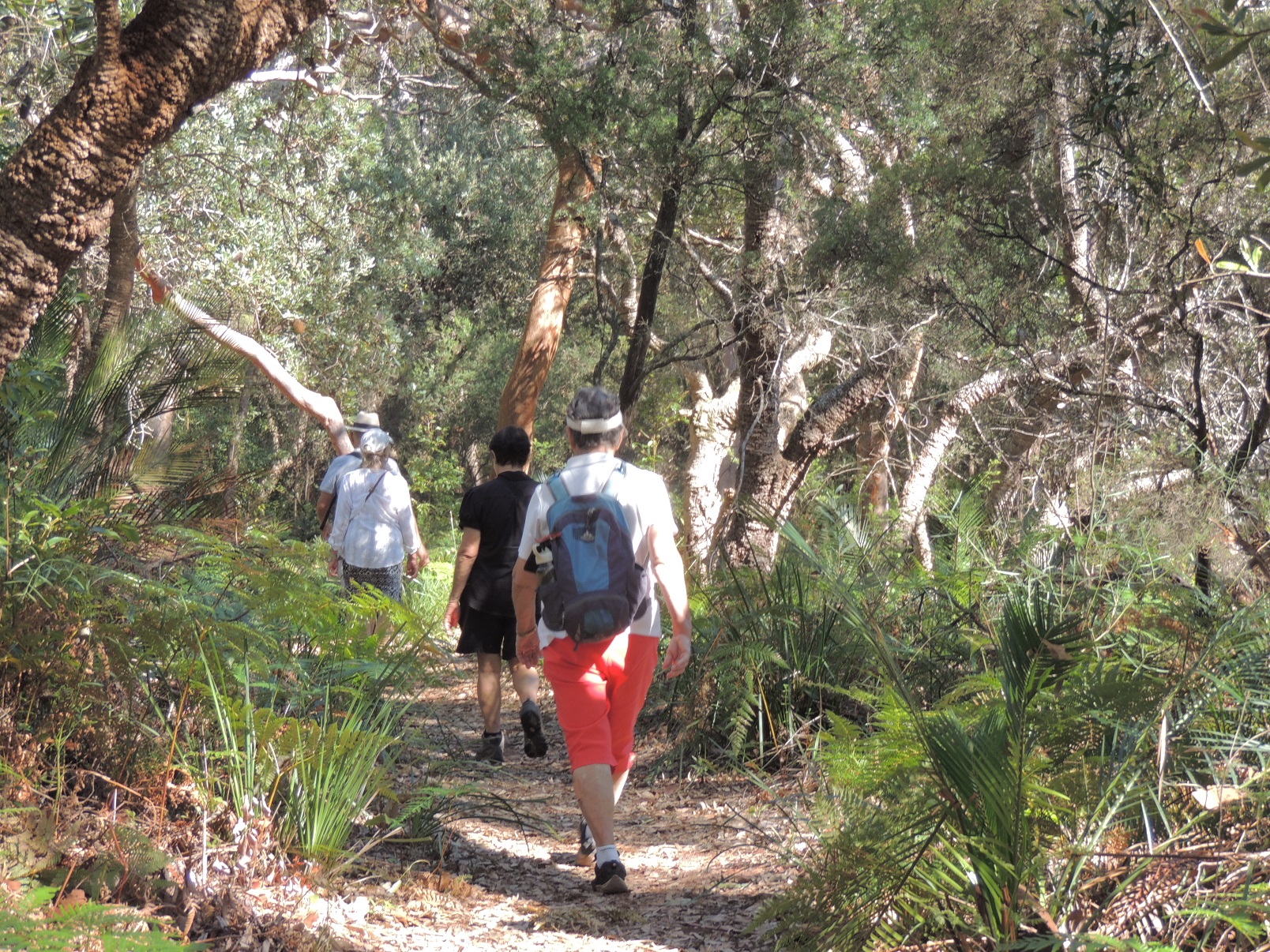 Wetland Trail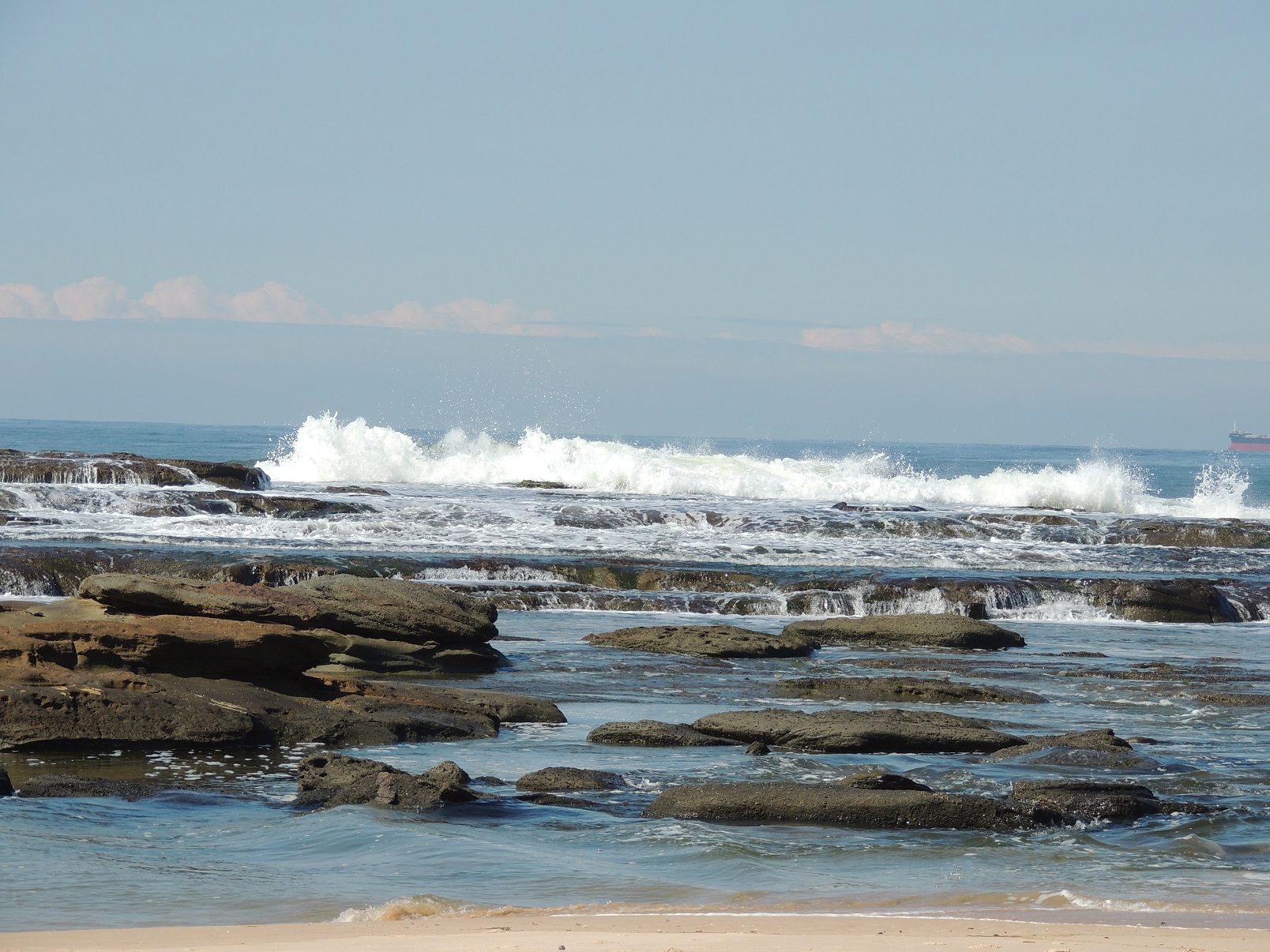 wave spilling over rock platform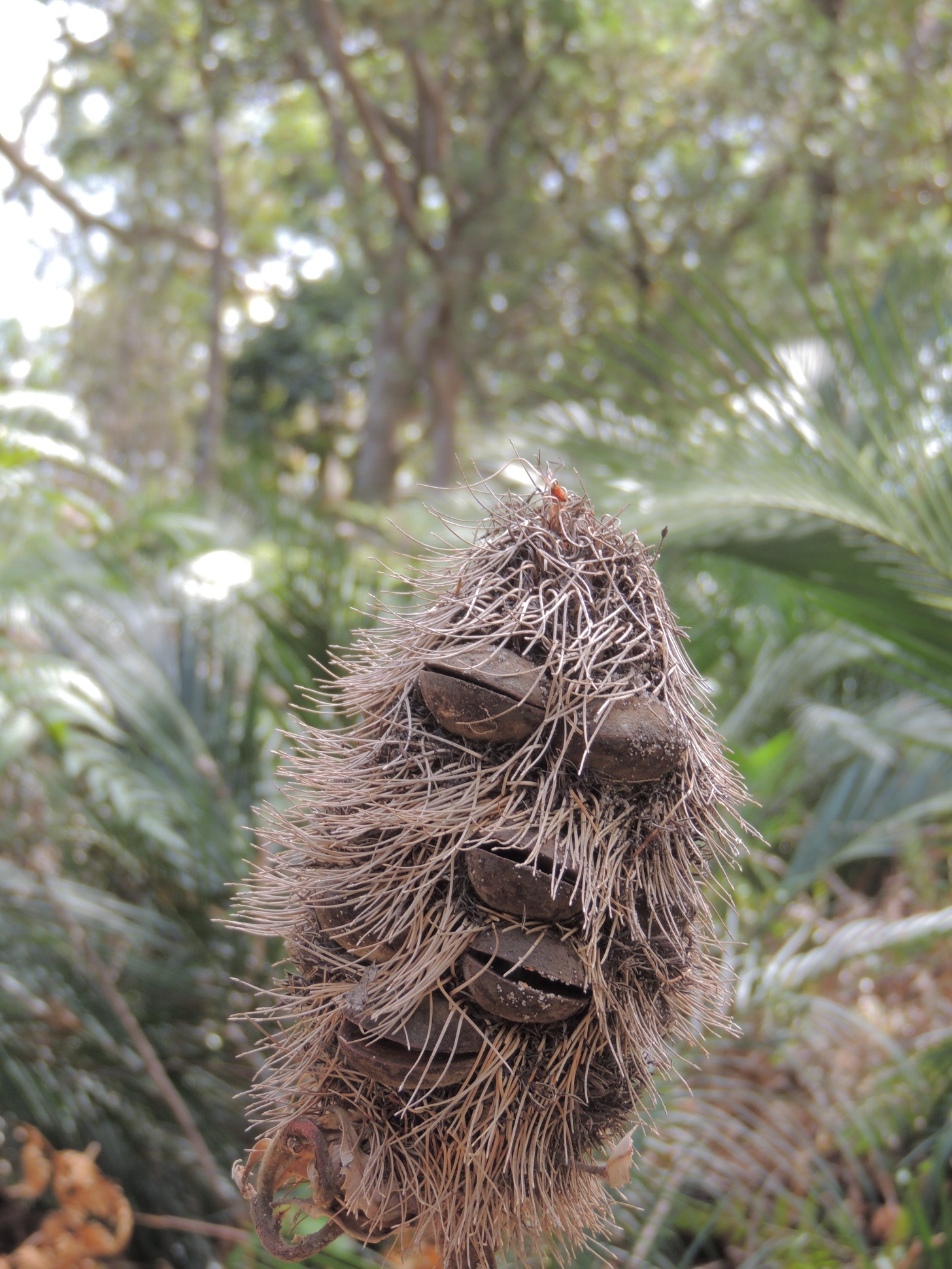 cone that inspired big bad banksia men
These walks were the highlight of our stay. On the last day we started a flat walk around Lake Budgewoi but twenty minutes in, rain drops spattered the water. Dripping wet, we made it back to our cars.
While the weather held, we enjoyed our usual happy-hour drinks, a trivia quiz and a boules championship. What a delight it was to discover new bushwalks only an hour and a half from the Northern Beaches. Hopefully, you too may tackle these walks.
Photos by Robyn McWilliam, 2022