June 26 - July 2, 2022: Issue 544
NSW residents urged to get free flu shot + COVID-19 transmission in the community remains very high: get a booster if you are due to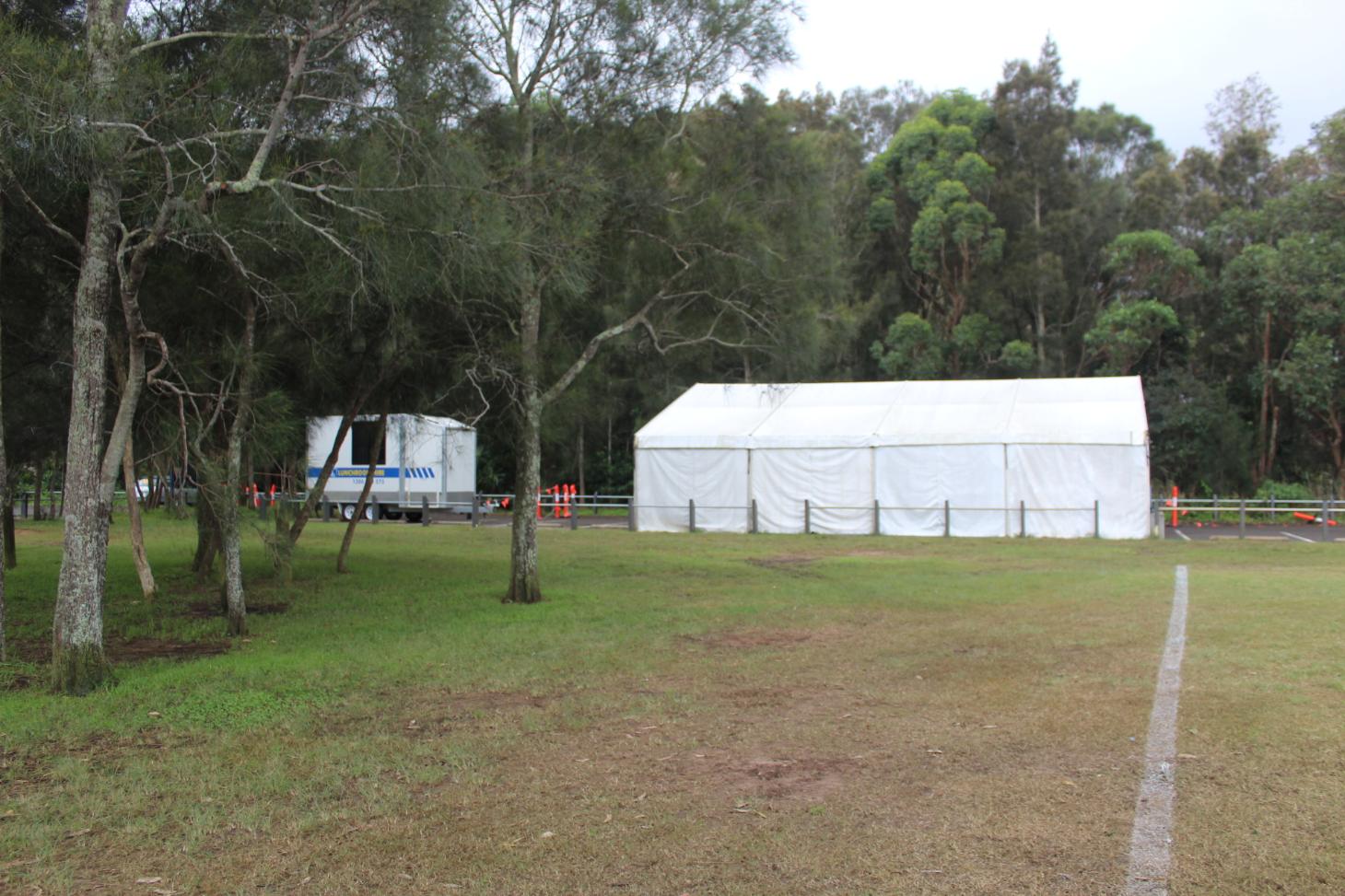 Careel Bay Soccer fields drive-through Covid Test clinic
NSW residents are being urged to take advantage of the free flu vaccines available for all until the end of June as another 211 people were admitted to hospital with the flu in the week ending 18 June.
So far this year, more than 1,300 people have been admitted to hospital in NSW, following almost 9,400 presentations to emergency departments with influenza-like illness.
NSW Chief Health Officer Dr Kerry Chant said it's not too late to book in for a free influenza vaccine, which will provide you with vital protection during winter.
"I want to remind people the flu vaccine remains free for all NSW residents for another seven days, so please book in now to take advantage of this important initiative to boost immunity levels," Dr Chant said.
"The vaccine is the best way to protect yourself, your loved ones and your community from the harmful effects of influenza. I want to thank everyone who has already come forward to get their jab, but there's still work to be done.
"Influenza immunisation rates aren't where they need to be. Only about one in three people in NSW have received their influenza vaccine this year and we really need to see that number go up, especially among vulnerable groups such as young children and older people who are most at risk of severe illness.
"We are anticipating a surge in influenza activity right through winter and into spring, so it's not too late to get vaccinated. There is plenty of stock available at pharmacies and GPs, so please book in today."
Free flu vaccinations are available to all NSW residents over the age of six months until 30 June 2022, to boost immunity for the winter season. This is especially important if you are at higher risk of severe illness from the flu.
From 1-30 June 2022, free flu shots are available at:
GPs for everyone aged 6 months and over
Pharmacies for everyone aged 5 years and over.
Little things that can make a big difference when it comes to curbing the spread of viruses this winter. We can help reduce the risk to ourselves and others by:
staying home if we're unwell, taking a COVID-19 test straight away and self-isolating
wearing a mask indoors or wherever we can't physically distance
getting together outdoors or in large, well-ventilated spaces with open doors and windows
practicing good hygiene by washing or sanitising our hands often
taking a rapid antigen test to test for COVID-19 before visiting vulnerable loved ones or going to large gatherings and events
staying up to date with our vaccinations – for both flu and COVID-19.
For information on flu vaccination, visit Vaccination in NSW
New report shows impact of Omicron outbreak
The new COVID-19 Omicron variants— BA.4 and BA.5 — are set to overtake the previously prevalent BA.2 variant in coming weeks, the NSW Health respiratory surveillance report states.

NSW Health's Covid-19 data to 4pm June 24, 2022 shows there have been 6, 356 cases in our Local Government Area (LGA) in the past four weeks.
There are 96,231 Active cases in NSW, 1,453 admitted to hospital, 45 in intensive care, 15 requiring ventilation and 21 deaths in the 24 hours to 4pm June 24, 2022.
The NSW Health respiratory surveillance report states COVID-19 transmission in the community remains high with a slight increase in the number of notified cases in the week until June 18 [Issued June 23 2022]. Reported rates of COVID-19 are likely to underestimate true incidence in the community due to a decrease in PCR testing and the use of self-reported rapid antigen testing (RATs).
PCR testing for COVID-19 has increased, with 180,762 PCR tests reported in the week until June 18, a 0.8% increase compared to the previous week. The proportion of PCR tests that were positive for COVID-19 has increased from 11% to 13%.
506 people with COVID-19 were admitted to hospital and 47 were admitted to ICU. The seven-day rolling average of daily hospital admissions decreased to an average of 72 daily admissions from 78 last week and ICU admissions increased to an average of seven daily admissions up from six last week. Hospital admissions include people with COVID-19 who are admitted for other reasons.
There were 77 COVID-19 deaths reported to June 18, 2022. Of these, all were eligible for a third dose of a COVID-19 vaccine but only 56 (73%) had received a third dose. Five of the deaths reported were in people aged under 65 years.
The Omicron variant (B.1.1.529) is currently the dominant COVID-19 variant circulating in the NSW community, with BA.2 the predominant sub-lineage. The proportion of specimens likely to be either the BA.4 or BA.5 sub-lineage has increased substantially to around 31% compared to 23% at the end of the previous week.
The BA.4 and BA.5 sub-lineages have a growth advantage over the BA.2 sub-lineage. There is no evidence of a difference in disease severity but this is being closely monitored. The timing of any increase in COVID-19 infections as a result of the BA.4 and BA.5 sub-lineages will depend on a combination of factors, including the growth advantage, immunity levels in the population, and environmental and behavioural factors (e.g. social mixing, isolation when unwell). It is expected that BA.4 and BA.5 will become the dominant strain and will likely be associated with an increase in infections in the coming weeks.
A new Report from NSW Health states patients continued to receive high quality care and the majority of emergency department attendees were seen on time during the peak of the Omicron outbreak from January to March 2022 ­­- one of the most challenging quarters on record in NSW.
High numbers of COVID-19 cases state-wide presented serious challenges due to complex presentations and admissions to hospitals and many staff being unavailable due to being exposed to or contracting the virus in the community or at work.
NSW Health Secretary Susan Pearce said the latest Bureau of Health Information (BHI) report highlights some of the impacts of this unprecedented period for the public health service.
"I want to thank all our staff throughout the state for their incredible efforts to keep the community safe and deliver high quality care during one of the most challenging periods of the pandemic. The work they have done – and continue to do – to care for the people of NSW is remarkable," Ms Pearce said.
During the first quarter of 2022, there were 734,704 attendances at NSW emergency departments (EDs). Despite significant pressures on the health system, the majority of ED patients (70.5 per cent) started treatment on time and almost eight in 10 patients (78.6 per cent) were transferred from ambulance to ED staff within the 30-minute benchmark.
"We acknowledge the Omicron COVID-19 outbreak had an impact on the timeliness of care provided in our hospitals and by NSW Ambulance during this most challenging of quarters," Ms Pearce said.
"We have never seen a period like it before, from the huge volume of COVID-19 cases to the thousands of furloughed staff, and I want to thank the community for their understanding and patience as we faced the many challenges that came our way. "
Ms Pearce said EDs across NSW remain under significant pressure due to high numbers of COVID-19 cases and now a surge in flu cases, which are also causing ongoing staff unavailability.
"Our local health districts are addressing these challenges in several ways, including increasing bed capacity in hospitals where possible; ensuring all available clinical staff are deployed to the care areas with the highest demand, and improving the timeliness of discharge for patients," Ms Pearce said.
Ms Pearce said patients in EDs are always triaged and seen according to the clinical urgency of their condition. During very busy times, those with less urgent conditions will experience longer wait times when there are large numbers of seriously unwell patients being prioritised for emergency care.
"We are asking the community to support us in our efforts to make sure those who need emergency medical care receive it as quickly as possible by saving ambulances and emergency departments for saving lives," Ms Pearce said.
"If an illness or injury is not life-threatening, we encourage people to visit their GP or call Healthdirect Australia on 1800 022 222, which is a 24-hour telephone health advice line staffed by registered nurses to provide fast and simple expert advice on any health issue and what to do next."
In response to the Omicron outbreak, non-urgent elective surgery requiring an overnight stay was suspended from 10 January 2022 in public hospitals across NSW and resumed in a staged manner in February.
Despite this necessary pause, 38,493 elective surgeries were performed across the state and almost all urgent elective surgeries (99.1 per cent) were performed on time. Public hospitals also performed more than 20,000 emergency surgeries during the quarter, which are not included in the BHI report, but are often the most critical surgical procedures.
"We understand how upsetting it can be having a surgery delayed. NSW Health remains committed to ensuring those procedures that were delayed so that we had the capacity to respond to the challenges presented by the COVID-19 pandemic are performed as soon as possible," Ms Pearce said.
Patients due to receive non-urgent elective surgery who have been impacted by the restrictions are encouraged to seek medical attention should they experience a change in their condition so they can be clinically reviewed and re-prioritised to a more urgent category if required.
In 2020-21 the NSW Government provided an extra $458.5 million to fast-track elective surgeries and $80 million was provided as part of the 2021-22 NSW Budget.
The NSW Government has committed more than $4 billion to the NSW health system to manage the impacts of the COVID-19 pandemic since March 2020.
A record 10,148 full-time equivalent staff will be recruited to hospitals and health services across NSW over four years, as part of the NSW Government's 2022-23 Budget. The $4.5 billion investment includes a $1.76 billion boost for NSW Ambulance to recruit 2,128 new staff and open 30 more stations.