November 6 - 12, 2016: Issue 288
NSW Premier's Reading Challenge Adds 200 Books To Library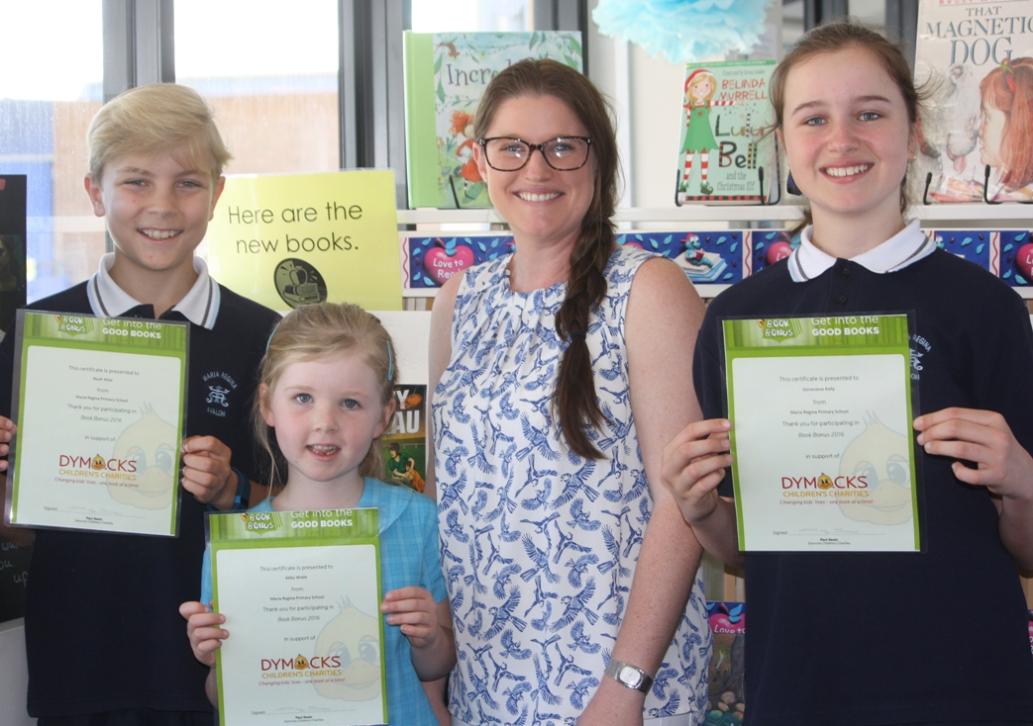 Maria Regina Catholic Primary School students Noah Wise, Abby Webb, Librarian Mrs Alexis Conn and Genevieve Kelly - photo supplied
Abby Webb (Kindergarten), Genevieve Kelly (Year 6) and Noah Wise (Year 6) participated in the NSW Premier's Reading Challenge and also entered into the Dymocks Book Bonus 2016 charity which ran from February to 29 August 2016, under which sponsors could donate funds.
Donations by sponsors enabled new books from Dymocks to be supplied to the children's school, Maria Regina Catholic Primary School, Avalon to the value raised PLUS new books to be supplied to selected NSW schools in need, to half of the value raised.
Altogether the students read 144 books with Abby reaching her goal of reading 100 books!
Their sponsors donated a total of $3,780.10 which amounted to 200 new books for Maria Regina (plus new books to the value of $1,890.05 to schools in need in NSW).

Because of the outstanding efforts of these three students Maria Regina was ranked in 3rd place. AMAZING !!!
The Top 5 schools were
1. Fort Street Public School
2. Marrickville Public School
3. Maria Regina Catholic Primary School Avalon
4. Marrickville West Primary School
5. Biraban Public School
Well done Noah, Abby and Genevieve - what an outstanding effort for yourselves, your school and your fellow students in another school or schools somewhere.
Now, after all that reading, perhaps you can tell us a story?