October 10 - 16, 2021: Issue 513
NSW Ministry October 2021: Premier Dominic Perrottet
Also included; John Barilaro Statement, Andrew Constance Statement, Dominic Perrottet Media Statement On The Election Of NSW Nationals Leadership Team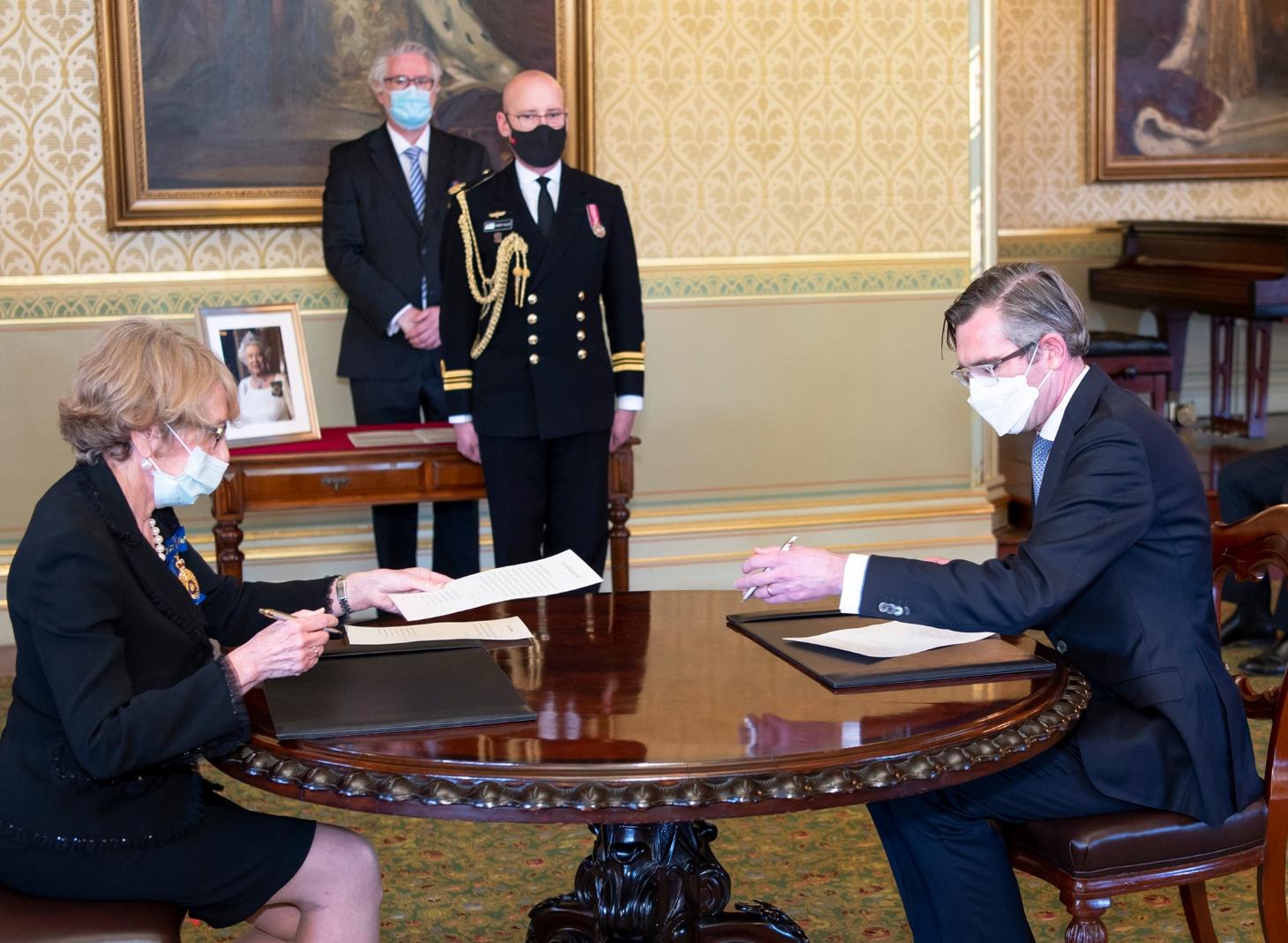 Her Excellency the Honourable Margaret Beazley AC QC, Governor of New South Wales, swearing in The Honourable Dominic Francis Perrottet MP, Premier of NSW on Tuesday October 5th, 2021
Dominic Perrottet statement
October 5, 2021
I want to start by acknowledging the events of the last few days have been difficult for a lot of people - and I think we all understand why.
Unexpected change can bring uncertainty and sometimes that can feel unsettling.
But as hard as it may be, we all have a duty to keep going.
Today begins a new chapter in the story of NSW. One that we will all write together.
I am honoured that my colleagues have asked me to help write that chapter as Premier - and I thank them for the confidence that they have put in me.
The first thing I want to do is acknowledge and pay tribute to my predecessor Gladys Berejiklian, whose strong and steady leadership has seen us through so many challenges.
Everyone would agree that her hard work, tireless dedication, and total commitment are second to none.
She's been an inspiring role model for many - especially women and migrant communities and - that's just one of the reasons why there's been such an outpouring of support over the last few days.
It is my hope that I will continue to live up to the strong leadership Gladys has shown throughout this pandemic.
Secondly, I'd like to acknowledge and congratulate my Deputy, Stuart Ayres, who's long been a fighter for Western Sydney - and that's where the heart of this government will be.
Thirdly, to my wife Helen and our kids: without your love and support I simply would not be here today.
Being Premier is a great honour - but I want to be clear that the job I have committed to today is not just to lead NSW, but to serve the people of our State.
Today is not about us, sitting in Macquarie Street, it's about the 8 million people who call our great state home.
For the past 18 months together we have been battling the storm that is COVID-19.
Some have lost their lives. Many have lost their livelihoods. So many sacrifices - big and small - have been made by so many for so long.
Not being able to leave our homes, not being able to go to work, not being able to see our loved ones.
Parents having to work and homeschool at the same time. Many have missed weddings, many have missed funerals, and the opportunity to say goodbye to their loved ones.
These sacrifices are never easy and we know they have taken a huge toll - physical, financial, and psychological.
In our regional communities, this has also come on the back of droughts, floods, and fires.
You don't get to choose the times in which you live - and this is one of the most challenging times the people of our state have ever faced.
But NSW has never shied away from a challenge. And we're rising to this one as well.
For long months, we have fought the good fight - helped by the quality of our health care, and our strong economic foundations that have kept people in jobs and business in business.
And now, while there are still more challenging days to come, there is light at the end of the tunnel - thanks to the way our community has responded.
We want NSW to bounce back, stronger, safer, and more successful than ever before.
To get back to the life we love and the freedoms that we hold dear. As a former Treasurer, I know that a strong society needs a strong economy.
That's why our first priority will be to continue the plan we have started - keeping people safe, opening up the economy, and securing our recovery.
Up until now, all of our Liberal leaders have been infrastructure premiers - building roads, rail, schools, and hospitals for communities right across our State.
That won't change with me.
But I'll also be a family premier - focusing on how we can make life better for working families - living the Liberal values of opportunity, aspiration, and hard work.
The true strength of NSW is in its people. Our tradies, working mums and dads, small business owners, community groups, and frontline workers - our teachers, nurses, doctors, paramedics, firies, and police.
Our state is a rich tapestry with a rich heritage - from our proud First Nations people to those who have come here from every corner of the globe.
No matter who you are, where you've come from, or what you believe, it is the greatest privilege of my life to represent and serve all of you.
I know how big the challenge ahead is - but I love NSW - and that is the passion that will fuel me and my team.
A stable, united government is vital to getting on with the work we have begun, so there will be no cabinet reshuffle until we are through this challenge.
Our team will bring the energy and the experience to get our safely open state, and then take it to the next level.
We live in the best state in the best country in the world, and together, we will make it even better.
NSW Ministry to deliver safe, strong recovery
October 6, 2021
Premier Dominic Perrottet has announced a new NSW Cabinet team to continue the Government's work to keep people safe, open up the economy and secure a strong recovery.
Premier Dominic Perrottet has announced a new NSW Cabinet team to continue the Government's work to keep people safe, open up the economy and secure a strong recovery.
Mr Perrottet said minimal changes had been made to Cabinet, to ensure stability and continuity for the people of NSW as the state rapidly approaches it's reopening targets.
"Despite the challenges of recent days, our Government has not stopped working for the people of NSW, and the Ministry sworn in today will hit the ground running."
"Our undivided focus is getting the people of NSW back on their feet, getting kids back in school, people in jobs and businesses open, so we can reclaim the freedoms we have all had to sacrifice for so long."
A small number of necessary changes in Ministerial portfolios include the appointment of Paul Toole as Deputy Premier; Matt Kean as Treasurer and Minister for Energy and the Environment; and Rob Stokes as Minister for Planning and Public Spaces and Minister for Transport and Roads.
"This is a team with the energy and experience to lead our state out of lockdowns to a safe, strong, successful recovery, and then get back to building a better future for NSW, Mr Perrottet said."
The new Cabinet was sworn in at Government House today.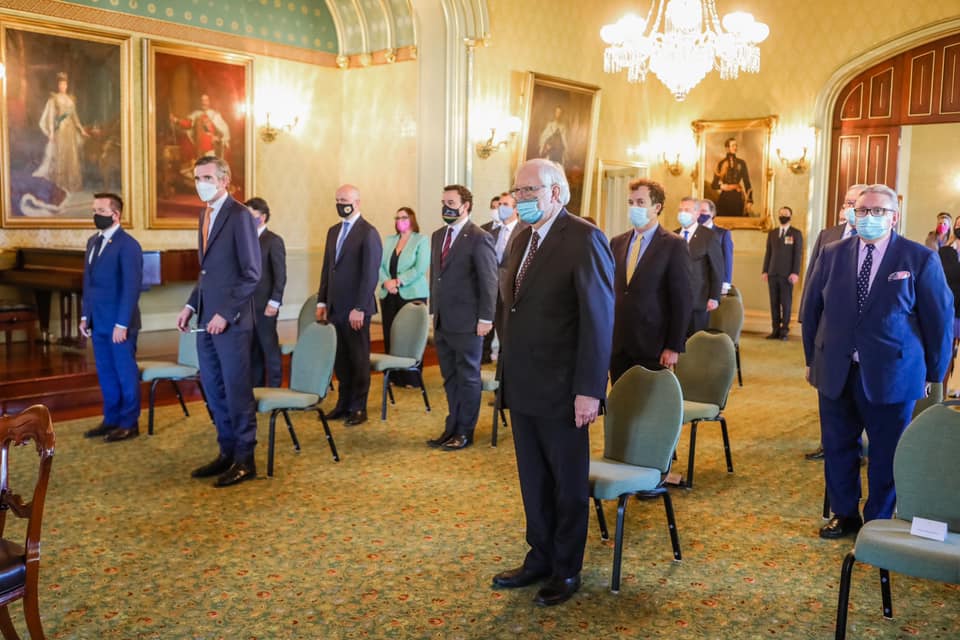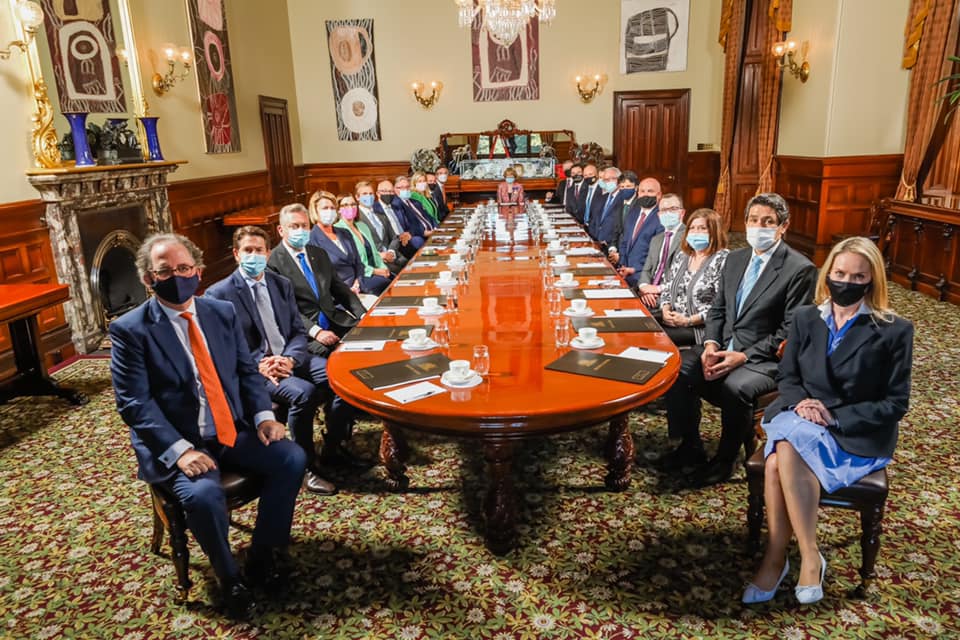 NSW Cabinet Ministers
The Honourable Dominic Francis Perrottet MP
Premier
The Honourable Paul Lawrence Toole MP
Deputy Premier
Minister for Regional New South Wales
Minister for Regional Transport and Roads
The Honourable Stuart Laurence Ayres MP
Minister for Jobs, Investment, Tourism and Western Sydney
Minister for Trade and Industry
The Honourable Bronwyn Taylor MLC
Minister for Mental Health, Regional Youth and Women
The Honourable Matthew John Kean MP
Treasurer
Minister for Energy and Environment
The Honourable Donald Thomas Harwin MLC
Special Minister of State, Minister for the Public Service and Employee Relations, Aboriginal Affairs, and the Arts
Vice-President of the Executive Council
Leader of the Government in the Legislative Council
The Honourable Mark Raymond Speakman SC MP
Attorney General
Minister for Prevention of Domestic and Sexual Violence
Leader of the House in the Legislative Assembly
The Honourable Damien Francis Tudehope MLC
Minister for Finance and Small Business
Leader of the House in the Legislative Council
The Honourable Bradley Ronald Hazzard MP
Minister for Health and Medical Research
The Honourable Robert Gordon Stokes MP
Minister for Planning and Public Spaces
Minister for Transport and Roads
The Honourable Victor Michael Dominello MP
Minister for Customer Service
Minister for Digital
The Honourable Sarah Mitchell MLC
Minister for Education and Early Childhood Learning
The Honourable David Andrew Elliott MP
Minister for Police and Emergency Services
The Honourable Melinda Jane Pavey MP
Minister for Water, Property and Housing
The Honourable Adam John Marshall MP
Minister for Agriculture and Western New South Wales
The Honourable Anthony John Roberts MP
Minister for Counter Terrorism and Corrections
The Honourable Shelley Elizabeth Hancock MP
Minister for Local Government
The Honourable Kevin John Anderson MP
Minister for Better Regulation and Innovation
The Honourable Dr Geoffrey Lee MP
Minister for Skills and Tertiary Education
The Honourable Natalie Peta Ward MLC
Minister for Sport, Multiculturalism, Seniors and Veterans
The Honourable Alister Andrew Henskens SC MP
Minister for Families, Communities and Disability Services
Dominic Perrottet media statement on the election of NSW Nationals leadership team
October 6, 2021
On behalf of the NSW Liberals, I welcome the election of Paul Toole as leader of the NSW Nationals and as Deputy Premier, and Bronnie Taylor as the party's deputy leader.
In electing Paul Toole to lead their party, the NSW Nationals have sent a strong signal that the NSW Liberals and Nationals will continue to build a better future for the bush with energy and optimism.
As a loyal deputy in the NSW Nationals to departing Deputy Premier John Barilaro, Paul knows what it takes to lead, and I want to again thank John for his service to the people of NSW.
Paul is a fighter and a pragmatist who has a strong track-record of delivering for regional and rural NSW, most recently as the Minister for Regional Transport and Roads.
He has been a strong voice within the Government and has stood up for regional farming communities in times of drought, flood and fire, and is a staunch advocate for investing in new opportunities for people in the bush.
I have worked closely together for many years with Paul, and I know he will bring a steady hand to our efforts to get NSW safely back open and on the path to recovery.
Bronnie Taylor has been a powerhouse and worked tirelessly as Minister for Mental Health at a critical time, ensuring vital support is there for people who need it in the aftermath of drought, bushfires and the pandemic.
In Bronnie the NSW Nationals have elected the first female deputy leader of the party in more than 100 years, and she will continue to be a voice for progress within the Government.
As we emerge from the pandemic, we have an unprecedented opportunity to strengthen our regions and make them even more attractive places to live, work, run a business and raise a family.
I look forward to working with Paul and Bronnie to lead a strong and united Liberals and Nationals Government with the energy and experience our state needs to come through this challenge stronger on the other side.
Secretary of department of premier and cabinet
October 7, 2021
NSW Premier Dominic Perrottet today announced the appointment of Michael Coutts-Trotter to the role of Secretary of the NSW Department of Premier and Cabinet.
Mr Coutts-Trotter has had a distinguished career in the NSW public service, having led five agencies since first being appointed as a department head in 2004, including the Department of Education and his current role as Secretary of the Department of Communities and Justice.
"I am very pleased Michael has agreed to head the Department of Premier and Cabinet at this critical time, and I am looking forward to working closely with him as we continue to build a better future for NSW," Mr Perrottet said.
"Michael's dedication to serving the people of NSW is something I have long admired, he will bring tremendous experience, humility and energy to what is a very important and challenging position."
As previously announced, Tim Reardon is stepping down from the role of Secretary in October, with plans to return to the private sector.
Mr Reardon has led the state's 400,000 strong public service during three of the biggest challenges in the state's history – a severe drought, the recent bushfire crisis and the COVID-19 pandemic.
"I would like to thank Tim for an outstanding decade of service with the NSW Government. He has led significant change and reform in his position of Secretary of Transport for NSW and in his current role," Mr Perrottet said.
The current Secretary of the Department of Planning, Industry and Environment, Mr Jim Betts had been due to take over from Mr Reardon.
The Premier also thanked Mr Betts for his understanding in the change of direction.
John Barilaro statement
October 3, 2021
As we emerge from lockdown, we must embrace this time as a new beginning for our State, and welcome the opportunity it presents for a refresh. I have decided now is the right time for me to hand the reins over to new leadership, and resign as Deputy Premier of NSW.
Serving as Deputy Premier of NSW, as Leader of the NSW Nationals and as the Member for Monaro has been the honour and privilege of a lifetime.
As the Member for Monaro some of my proudest moments include delivering five new schools; Jerrabomberra, Googong, Bungendore, Jindabyne and the School for Special Purpose co-located at Karabar.
The iconic Snowy Mountains Brumby was saved when I legislated the Kosciuszko Wild Horses Heritage Bill 2018 and we will continue to find a balance between protecting the Brumbies and protecting the most sensitive wilderness areas of the Park through the Kosciuszko Plan of Management.
Not to mention the exciting Special Activation Precinct for Jindabyne and the Mountains, which means we will see the Snowies gain even more popularity as a year-round tourism destination.
However it is the little things, and the beautiful people I've met, of whom I now call friends, that have made being the Local Member so special. Nothing is closer to my heart than the big hug and smile I received from Rosie Schenker when I delivered a renal unit at Cooma Hospital, so she no longer had to make long trips to Canberra.
To the people of Monaro, thank you for this honour.
In my time as Deputy Premier I experienced first-hand, alongside the communities of NSW, the effects of prolonged drought, the worst bushfires in living memory, severe storm and flood disasters and a 1-in-100 year global pandemic, and it was a privilege to work with our communities to endure and recover from those challenges.
I hope those communities could see my genuine and tireless effort to be there for them, especially as the Minister responsible for Disaster Recovery, a role I will never forget. I shared hugs, shed tears and brought hope for many.
My number one focus has always been to make regional NSW the best place to live, work, play and raise a family and to achieve that I proudly delivered the $4.2 billion Snowy Hydro Legacy Fund, the $2 billion Regional Growth Fund and the transformational Special Activation Precincts. These are record investments, which bring a sense of pride back into our towns.
To make sure regional communities are always at the heart of decision making in government, the Department of Regional NSW was born, and so too was the NSW Government's Regionalisation Strategy which has herald a new era for the NSW Public Service in the bush.
The Future of Coal Statement and the Future of Gas Statement have given regional communities certainty around land use and job security, which NSW has craved for a generation, finding a balance between agriculture, the environment and the resource industry.
We thought 2020 was challenging, and then 2021 kept those challenges coming, but throughout these times, the resilience shown by the people of NSW has been truly inspiring.
I was entrusted by the Premier, as an original member of the COVID Crisis Committee, to be the architect of the roadmap out of lock down in both 2020 and 2021, and it was a responsibility that I did not take lightly, but I considered essential, to deliver hope and certainty not just for NSW, but for the Nation.
I have worked with three of the Liberal Party's hardest working Premier's in Barry O'Farrell, Mike Baird and particularly Gladys Berejiklian who steered this State through some of its darkest days.
The next Premier has big shoes to fill, but I wish them well and the best of luck, I will be cheering from the sidelines and I am excited for what is ahead under their stewardship.
My deepest and genuine gratitude goes to my NSW Nationals, our grassroots members, and particularly my Nationals colleagues who I have served alongside, for entrusting me to lead the Party and ensure our communities were heard.
People are sometimes quick to write off the National Party, but it's the Nats in Government who are, and always will be, the praetorian guard of common sense.
National's Leaders have led that guard, and I am proud to be in their company. Now I am passing on that honour.
Finally, thank you to my family for allowing me to have such an incredible opportunity and for their sacrifice.
I will be calling a Party Room meeting for this Wednesday 6 October where I will formally resign as Leader and call for a ballot for a new Leader.
Following that, I will work with the Speaker and the Electoral Commission in relation to a by-election for the seat of Monaro.
Thank you and farewell.
Andrew Constance Statement
October 3, 2021
After almost 20 years serving in the NSW Parliament, today I have made the decision to nominate for local preselection for the federal seat of Gilmore.
There has been a lot of speculation over the past few weeks, but I will be resigning as Transport and Roads Minister this week and as the Member for Bega by the end of the year.
I am very conscious of getting our community out of Covid lockdown and working alongside our small businesses to rebound as strongly as we can.
I want to thank my incredible Ministerial team, led by Stuart Wallace and Ann Lewis, and my wonderful electorate office staff, some of whom have been with me since the very beginning.
Like so many of us, I am heartbroken for my long-time friend Gladys Berejiklian. By retiring from State Cabinet and NSW Parliament, I will provide an incoming leader the opportunity to fill this position.
Gladys has been an amazing leader on both a personal and broader community level. Her care and support during Black Summer, in which we worked so closely together, is something that is very dear to my heart.
Gladys is one of the best Premiers we have ever seen. I hope she bounces back as strongly as possible, because I know we have not seen the end of her yet.
During my almost two decades in state politics, and ten and a half years as a Cabinet Minister, I have had the privilege of serving as Minister for Disability Services, the State's Treasurer, as well as Infrastructure, Transport and Roads Minister.
I am very proud of being part of the team which launched the National Disability Insurance Scheme to provide support to some of our most vulnerable community members. I have also had the privilege of working on some of the biggest road and rail projects in the nation's history, including the duplication of the Princes Highway and Sydney Metro.
During my time as Treasurer I worked closely with Premiers Gladys Berejiklian and Mike Baird to free up billions of dollars through the leasing of poles and wires, which has turned NSW into a much better place for our community.
Whilst the party is looking to a new direction at a State level, I do not want to walk away from serving my local community. I will continue representing my community on key local issues, such as the new hospital developments, and ensuring the community is listened to on vital projects such as the Milton Ulladulla and Moruya Bypasses.
I love our region, its people and I could not be more proud to continue to serve. From Black Summer to the pandemic, we are the strongest and most resilient communities that you will ever see.
It has been the greatest honour serving you in NSW Parliament for almost twenty years and I plan to continue my work on a federal level.