March 21 - 27, 2021: Issue 488
NSW Masters Surf Life Saving Championships 2021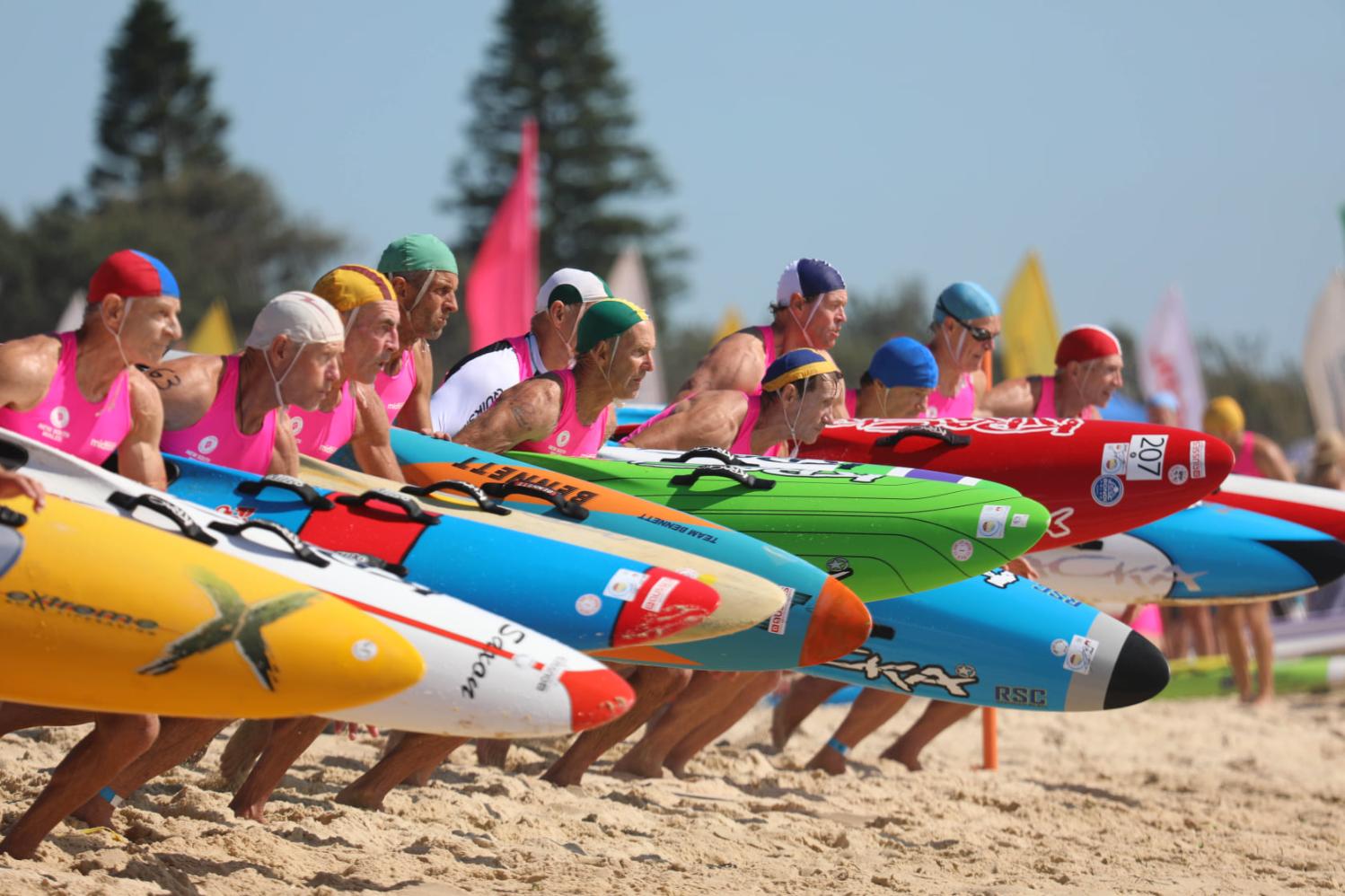 Masters states 2021 Photo by Shane Abrahamson
More than 800 of the state's fittest and fastest Masters competitors braved both scorching sun and squalls of rain to show they've still got what it takes after a big two days at the NSW Masters Surf Life Saving Championships, proudly supported by Your local club, at Swansea Belmont.
Surf athletes from 30 and 75+ showed that age is no issue, racing in events including board, swim, ski, ironperson, beach sprints and beach flags.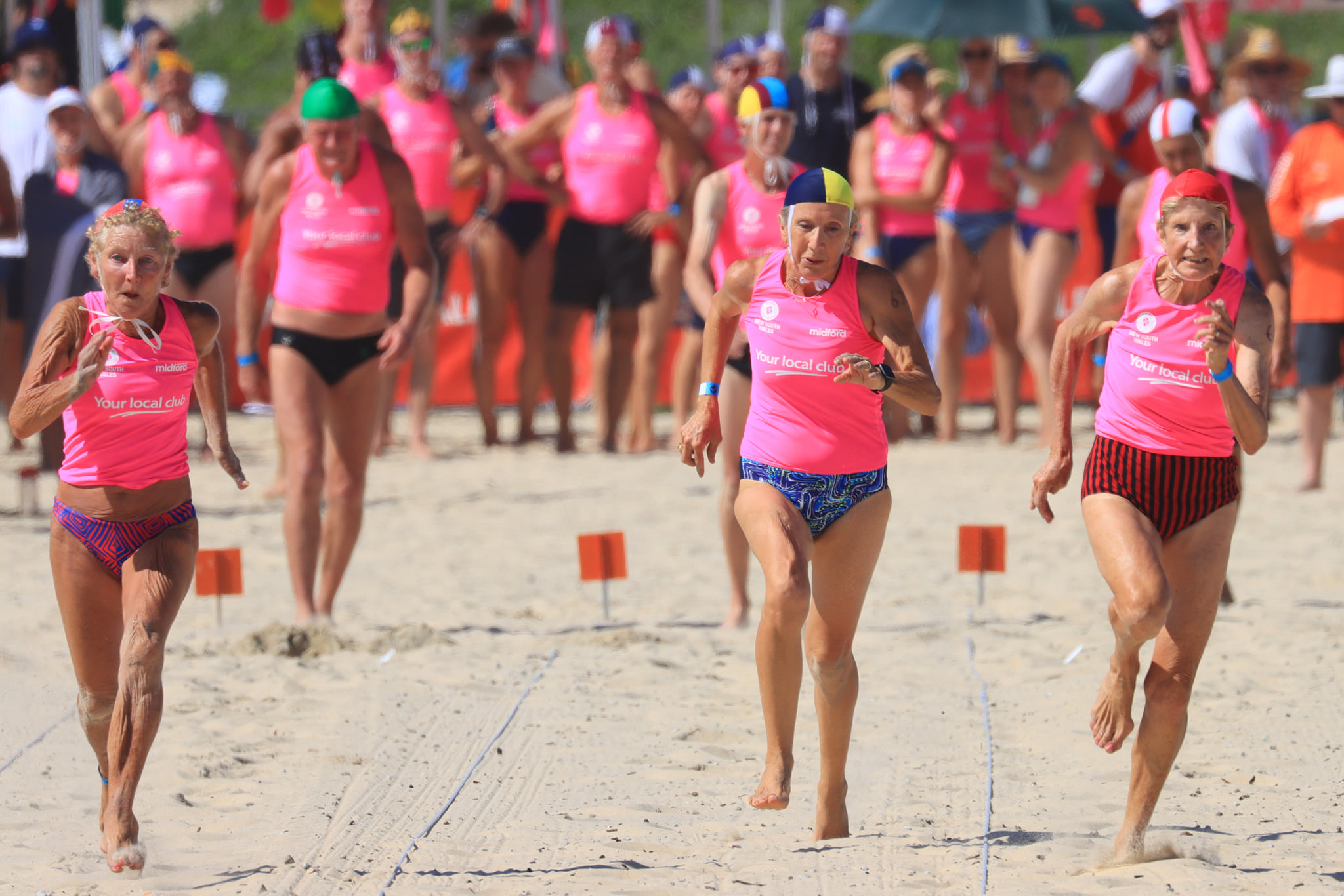 Bondi Surf Bathers Life Saving Club emerged victorious again to take out their fourth championships in a row. A carbon-copy of last year's overall results, Bondi led the way, followed by North Bondi and Manly, with a smattering of points still to come when the Masters surfboat competition is held on March 19.
Bondi's depth of skill across all disciplines, beach and water, and across every age division saw the blue and white quartered caps clock up the points throughout both days of competition.
Seasoned professionals including Cyril Baldock (75+ Yrs), Jan McCloskey (75+ Yrs), Carolyn Macauley (65-69 Yrs) and Noelene Young (60-64 Yrs) were familiar faces, while in the younger divisions competitors on the podium included Laura Thurtell, Louise Santos, Richard Campbell, Dori Miller and Simon Nothling. Numerous entrants from Bondi in the Masters Lifesaving events also helped gain valuable points, with places in the Champion Lifesaver competition.
Bondi SBLSC President Brent Jackson said he was proud of the team's efforts and he thanked all the officials and carnival organisers who made the Championships happen, despite the challenges of Covid.
"Our team prides itself on everyone having an opportunity to participate and the real win for us is in the camaraderie of our team and the enjoyment gained from challenging ourselves in the surf," said Jackson.
Bondi's Dori Miller Surf (Sports Director and English Channel crossing Queen) moved up to the 50-54 age group this season. "I don't think the competition gets easier being at the bottom of the age group again (laughs) it's a different group of friends, I am the young one but I don't feel young. The legend in the surf and swim took home five State Titles this weekend in the Female Surf Race and Tube Race, Board Rescue with Louise Santos, as well as the 110 Years Taplin Team and 150 Surf Teams events.
"As soon as it was announced there was going to be a State Championships event we just locked it in and said we're going," said Miller. "This year we've gained a lot of new competitors from Bronze squads and members who want to try something new. For the State Championships, the aim was to get as many people engaged in some part of the competition as we could to come along, have a go and have fun. Everyone loves being part of the team. We love training and love to have things to train for.
The Bondi team also did well in the lifesaving events said Miller. "We were really happy to have some competitors enter in the Champion Lifesaver and the Patrol Competition this year. The best thing about them is they can involve people who have a range of different skills. You don't have to be a fast swimmer or runner to be part of the State Champs team, you can be involved in any way," she said.
While there was daylight between them in the pointscore, neighbouring club North Bondi SLSC ended in second place, demonstrating what some healthy rivalry will do to improve performances when it counts.
Ross Langbein (35-39 Yrs) was always one to watch on the sand, taking out the Beach Flags and Beach Sprint double and helped the Beach Relay team to a gold medal.
Scott Thompson (55-59 Yrs) proved unbeatable in the Ironman, Ski, Board and Surf Races, and the Board Rescue with Jamie Verco.
Amy Somes surprised herself by winning the 50-54 Yrs Ironwoman race, showing she has obviously been taking some training tips from daughter and Nutri-Grain Ironwoman competitor Lizzie Welborn.
Always highly competitive, lifesavers from Manly LSC teamed up to take third place in the overall pointscore. Most of their points came from water events with competitors particularly strong in many of the ski races and relays.
Jen Spencer (40-44 yrs) won both the Female Board and Ironwoman. Anne Lemon (70-74 yrs) took out both the Board and Surf Races and the premier team event, the 110 Yrs Taplin Relay was won by Marc Pasques Villalba, Mark Seymour and James Stewart.
Other clubs enjoyed some outstanding performances, despite being unable to field big teams.
Surf veteran Larry Brook from Port Macquarie SLSC has been competing at State Championships since 1966, when he was with the Bondi surf club. He's still going round the cans, adding another two golds to his hefty swag of medals in the 70+ Surf and Rescue Tube Races.
Meegan Hoare from Coffs Harbour SLSC had her eyes firmly set on the prize, taking out the 30-34 Yrs Ironwoman, Surf and Board Races.
Central Coast clubs Shelly Beach, North Avoca and Umina all secured spots in the top 10, while Terrigal's hopes were well-founded in Hayden Smith and Paul Lemmon. Lemmon made it look too easy with clean wins in every individual water event in the 50-54 year division except the Ski Race. Smith in the 35-39 years was able to secure four golds, including the Ironman.
Newport's Nick Carroll was applying all his own training and race tips correctly, pulling off wins in the 60-64 Yrs Ironman and Surf Race and a second in the Board.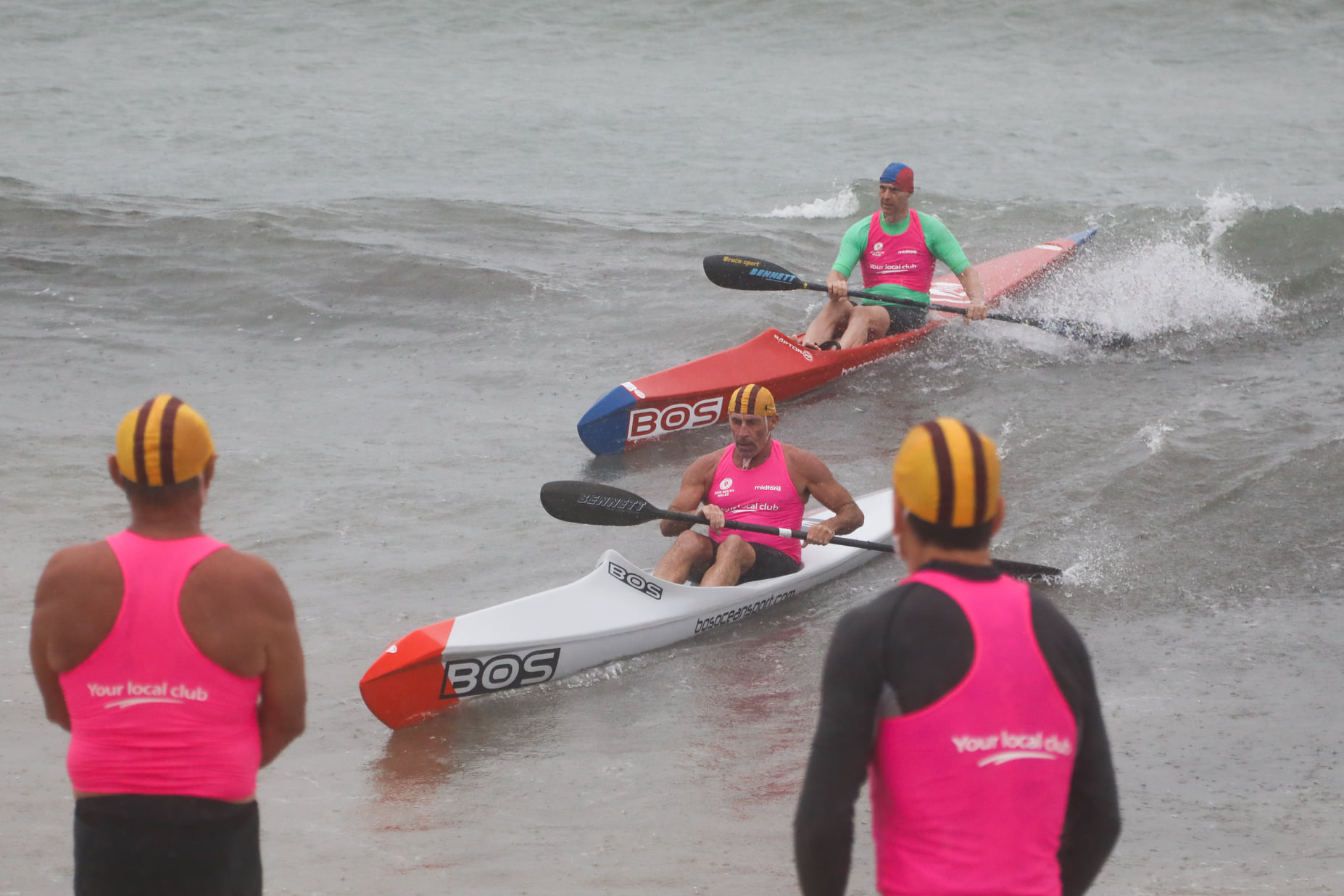 Chad Poland from Nowra-Culburra flew the flag for the South Coast as always. Despite a sporadic training regime while in the US for much of last year, he helped himself to silvers in the 34-39 Yrs Surf Race and Rescue Tube events and a bronze in the Ironman.
Bulli secured gold and silver in the 150 Yrs Ski Relay with Michael Locke's prowess on the craft also giving him a first in the Single Ski race (50-54 Yrs).
Despite the lack of a large cheer squad, Darren Drewsen from Broulee Surfers SLSC ran down all starters on the hot beach track to take out the 45-49 Yrs Beach Flags.
The 2021 NSW Surf Life Saving Championships, proudly supported by Your local club, concludes next weekend with three big days of action in the Surf Boat Masters and Opens competition at Swansea Belmont SLSC.
TOP 20 OVERALL POINTSCORE;
(excluding Surf Boat results)
2021 NSW SURF LIFE SAVING CHAMPIONSHIPS - MASTERS AND MASTERS LIFESAVING CHAMPIONSHIPS RESULTS AND POINTSCORE

Bondi Surf Bathers LSC, 581
North Bondi SLSC, 365
Manly LSC, 287
Coogee SLSC, 218
Shelly Beach SLSC, 142
Queenscliff SLSC, 139
North Avoca SLSC, 109
Palm Beach SLSC, 108
Umina SLSC, 107
Tacking Point SLSC, 106
Newport SLSC, 103
Thirroul SLSC, 96
The Lakes SLSC, 92
Stockton SLSC, 85
Terrigal SLSC, 83
Redhead SLSC, 82
Cronulla SLSC, 81
Wanda SLSC, 74
South Maroubra SLSC, 72
North Entrance SLSC, 70
Also scoring points:
22. Freshwater SLSC 60
24. Mona Vale SLSC 53
25. Collaroy SLSC 52
26. North Curl Curl SLSC 45
27. Avalon Beach SLSC 43
33. Warriewood SLSC 31
40. Narrabeen Beach SLSC Inc 19
45. Whale Beach SLSC Inc 11
48. Dee Why SLSC 8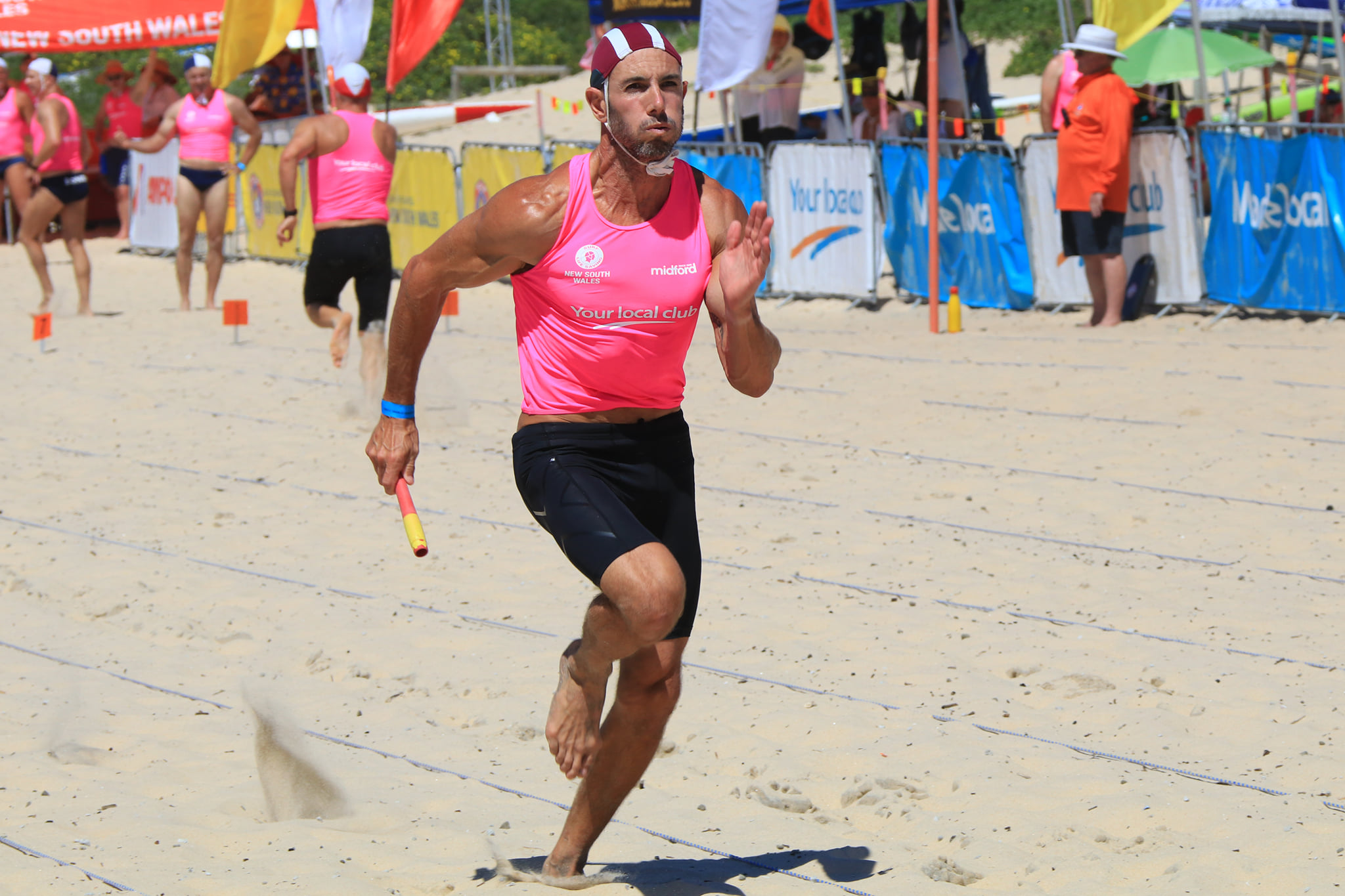 40-44 Male Beach Sprint; 1st: Stephan Hatch, Newport SLSC, 2nd Iain Archer, Warriewood SLSC 5
Iain Archer, Warriewood SLSC - SLS NSW photo
130 yrs min. Female Surf Team - 1st; Rebecca Capell, Amanda Lehman, Janet Proudfoot, Newport SLSC - Photo Amanda Lehman, SLS NSW Photo

Report by Surf Life Saving NSW