July 10 - 16, 2016: Issue 271
NSW IRB Championships 2016
Pittwater IRB Teams Among the Medals at NSW IRB 2016 Championships
Another successful weekend of IRB racing at the NSW State IRB championships for Newport SLSC who walked away with a few medals!
- 3rd in the 35+ tube rescue (Matthew Edwards, Guyren Smith and Keelan Smith)
-2nd in the Novice Mass Rescue (Keelan Smith, Matthew Edwards, Siobhan Cooper, Melisse Cooper)
- 3rd in the Novice Rescue (Keelan Smith, Matthew Edwards, Melisse Cooper) Plus 5 teams making finals!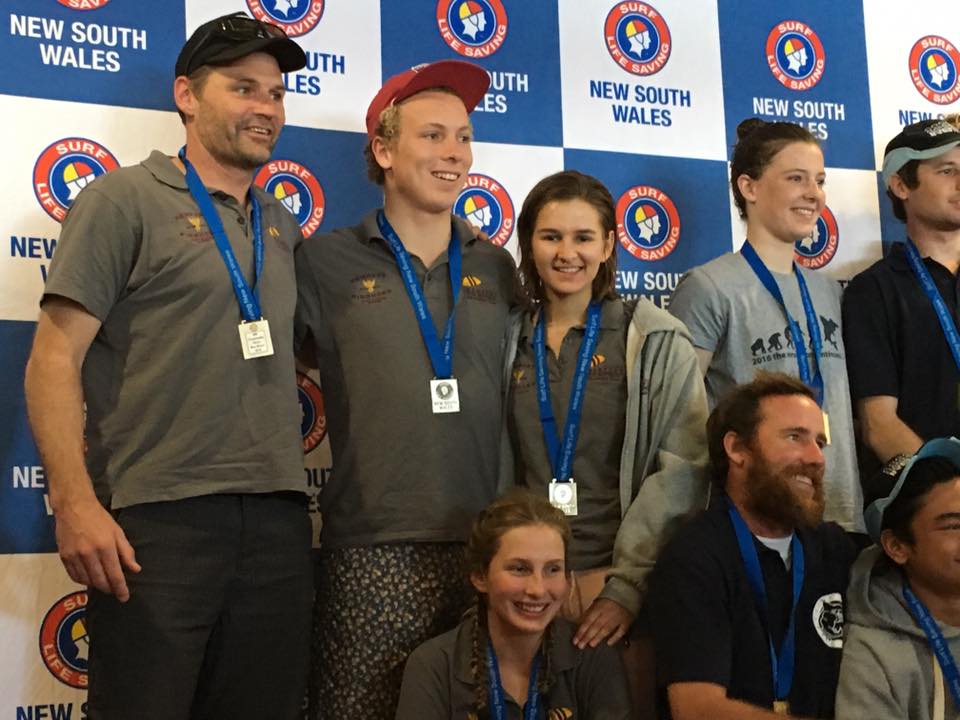 Newport SLSC - 2nd in the Novice Mass Rescue
Bungan Beach SLSC, finishing 8th in the top 10 this year, had some great results too
They won 2nd in Under 23 Mixed Tube IRB Bungan Beach SLSC Inc Stacey with the crew of Kyle Bermingham, Amber Clark and Aidan Clark. Bungan also finished 4th in Under 23 Mixed Rescue, Team Stacey again, and then won a further 2 points, finishing 5th in the Under 23 Mixed Teams IRB. Team Flying Bunghole, crew: Kyle Bermingham, Joshua Bryden, Amber Clark, Aidan Clark, Matthew Crago, and Nicholas Fewtrell.
Congratulations to members of Avalon Beach SLSC as well, Matt Mayall and Blake Taggart with patients Amelia Barber and Melissa Hall, who came 3rd in the SLSNSW State Inflatable Rescue Boat Championships at Mollymook in the Under 23 Mass Rescue event.
Avalon Beach SLSC's team had some great results with Todd Barber and Zac Dale coming Fourth in the Novice Rescue event, and in the 35+ teams event, Pete Carter Jason Dale, Alan Moran, Alan Mahn also came 4th in a very close finish. Great work by all.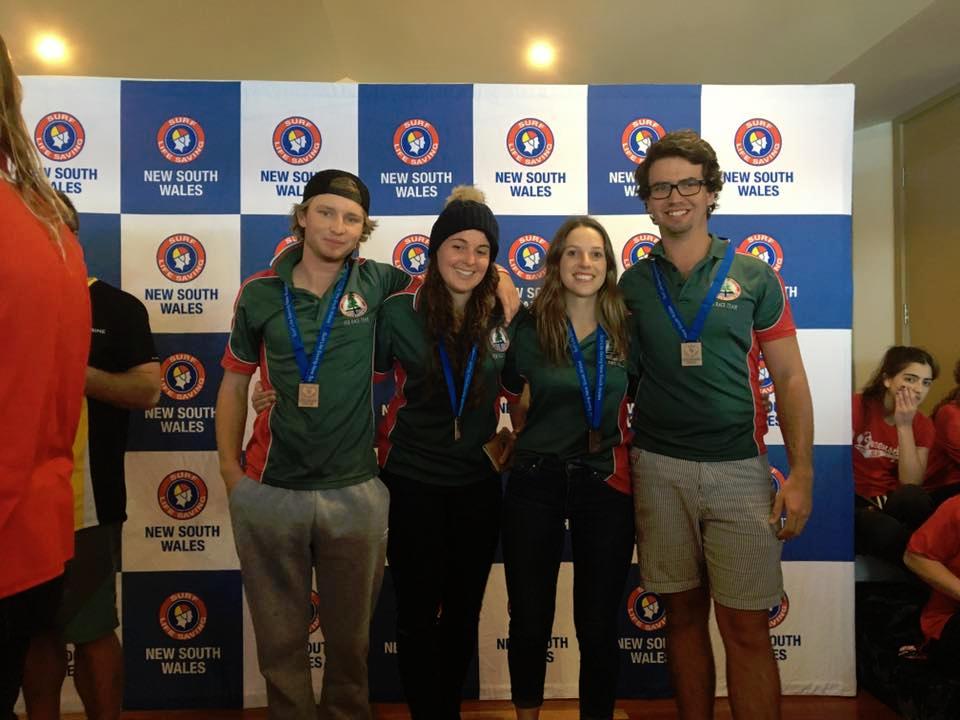 Avalon Beach SLSC - Bronze in the Under 23 Mass Rescue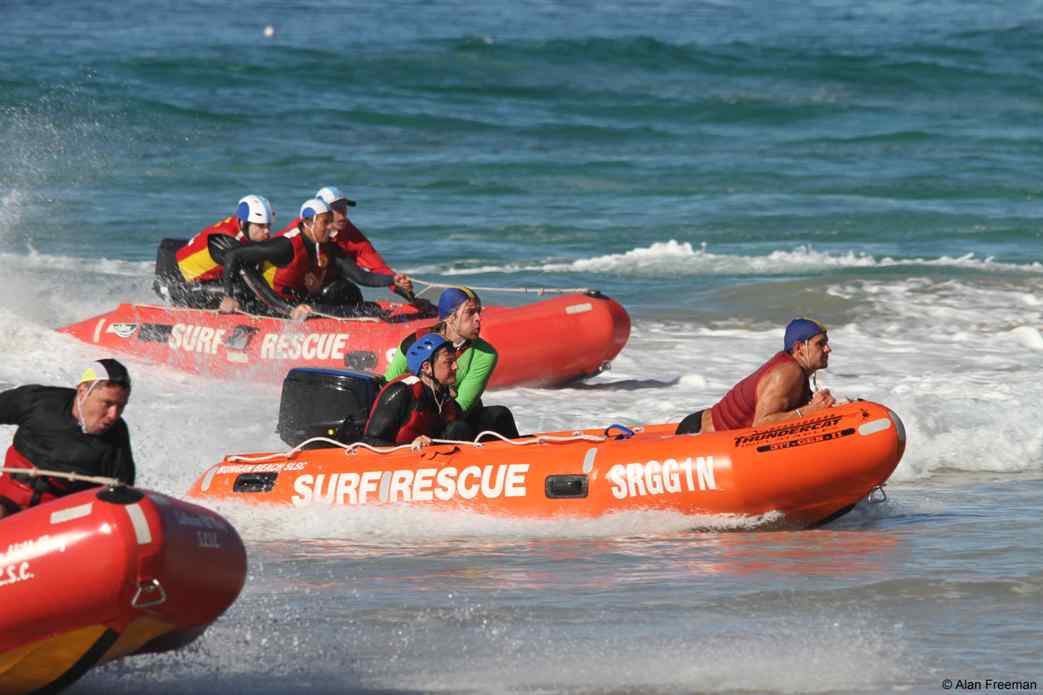 Bungan Beach SLSC IRB Team - Photo by Alan Freeman
Kiama Downs Break NSW Champs Drought
Tuesday 5 July 2016 - By SLS NSW
After an impressive Premiership Series win, the South Coast club was able to continue their form into the NSW Championships to beat Caves Beach and end the Hunter club's 11 year reign on the title.
"Our State Championships curse has been lifted," said Kiama Downs IRB Team Manager Steven Guy.
Despite Kiama Downs winning by 17 points ahead of their main rivals, Caves Beach, every race was closer than expected with a host of clubs picking up medals.
"The racing throughout the whole weekend was really tight. In the Premiership, we dominated the rounds pretty convincingly but in the Championship a lot of competitors came out of the wood work which was great to see and made it interesting," Steven Guy said.
Kiama Down's Open Male team did the clean sweep winning all four gold medals, while their Under 23s finished with two gold and the Over 35s took home a gold medal in the Rescue event.
"Most of our medals from the weekend actually came from our B teams so it's a good indicator of the depth we have as a club," Steven Guy said.
"Having two or three teams entered in each event is what gave us the edge over our opposition."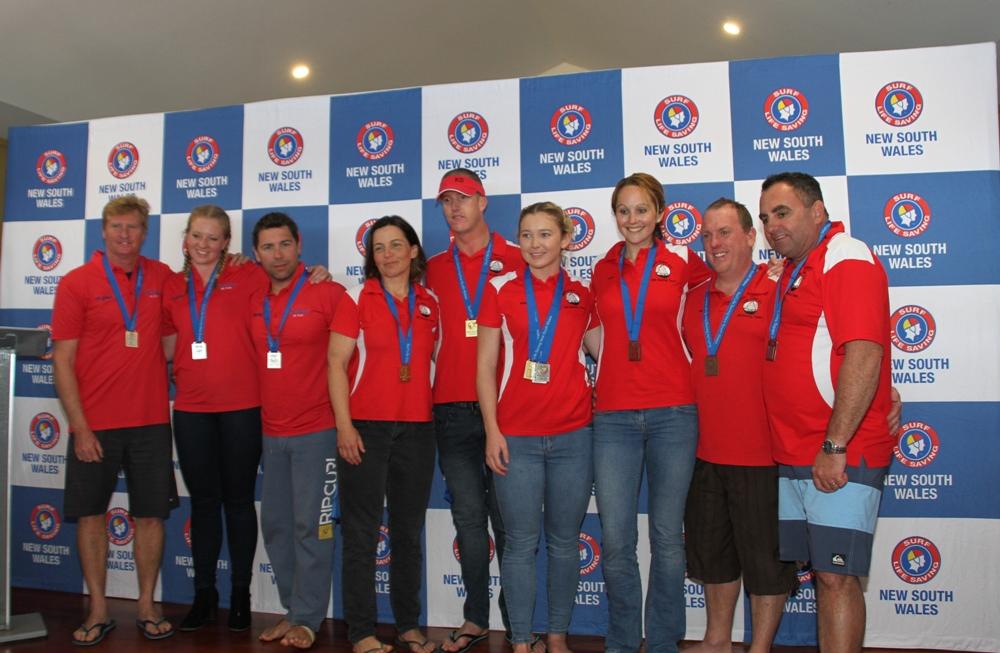 Kiama Downs - State Champions 2016
In other results, Caves Beach won the Open Female Rescue and U23 Mixed Tube while third placed Catherine Hill Bay crossed the line first in the 35+ and U23 Mixed Teams. Newcastle surprised their field and finished on top in the 35+ Mixed Tube.
Thirroul's Open Female team continued their outstanding form over the weekend, blitzing their opposition in the Mass, Tube and Teams events.
Coogee's Novice team, By Default, cruised to victory in both their events making it two starts and two gold medals in the Mixed Mass and Rescue. South Maroubra picked up a gold medal in the 35+ Mixed Tube.
Shoalhaven City Council Assistant Deputy Mayor, Allan Baptist OAM presented the medals and plaques to the winning teams and clubs after the Championships concluded on Sunday afternoon.
The focus for NSW clubs now turns to the Australian Championships coming up at Mollymook later this month as well as the Interstate Championships. The NSW team was announced yesterday afternoon with a strong contingent of 34 surf lifesavers selected, including two members of the Kiama Downs team.
"Having the State Championships at Mollymook has certainly been a good warm up for us to get a feel for the conditions. Hopefully we can all do our fellow NSW surf lifesavers proud," Steven Guy said.
"We came second at Aussies last year behind North Burleigh SLSC who are going to be very hard to beat but if we can pull off a few wins it would be good to finish in a similar position again."
Surf Life Saving NSW Sports Manager, Rob Pidgeon says he's very thankful to Mollymook SLSC and Shoalhaven City Council for hosting a great event.
"The conditions were on our side over the weekend and Mollymook proved once again to be a fantastic host for such events," Rob Pidgeon said.
"Congratulations to Kiama Downs SLSC, they thoroughly deserve their victory and we wish all our NSW crews the best of luck at the Australian Championships."
The Interstate Championships kick off on Friday 22 July with the Australian Championships beginning in the afternoon and continuing over the weekend at Mollymook SLSC.
Results
2016 NSW IRB Championships Finals Results
Top 10 Club Pointscore
1 Kiama Downs SLSC 79
2 Caves Beach SLSC 62
3 Catherine Hill Bay SLSC 29
3 Queenscliff SLSC 29
4 North Cronulla SLSC 27
5 South Maroubra SLSC 26
6 Thirroul SLSC 24
7 Woonona SLSC 17
8 Newcastle SLSC 10
8 Bungan Beach SLSC 10
9 Forster SLSC 6
9 Avalon Beach SLSC 6
10 Newport SLSC 4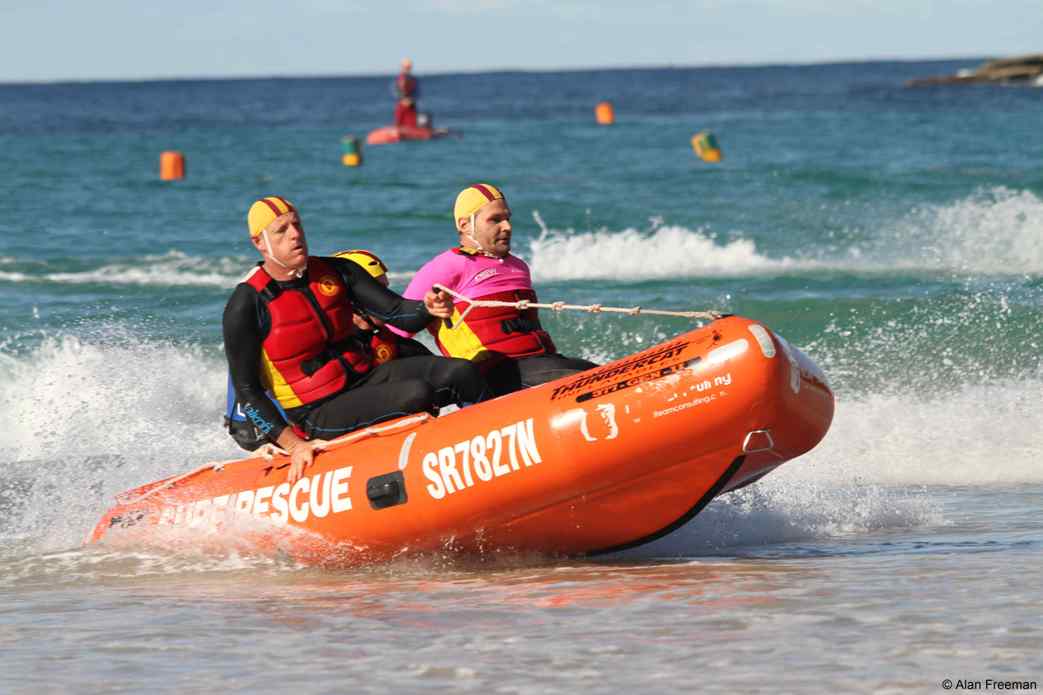 Newport SLSC in action - photos by Alan Freeman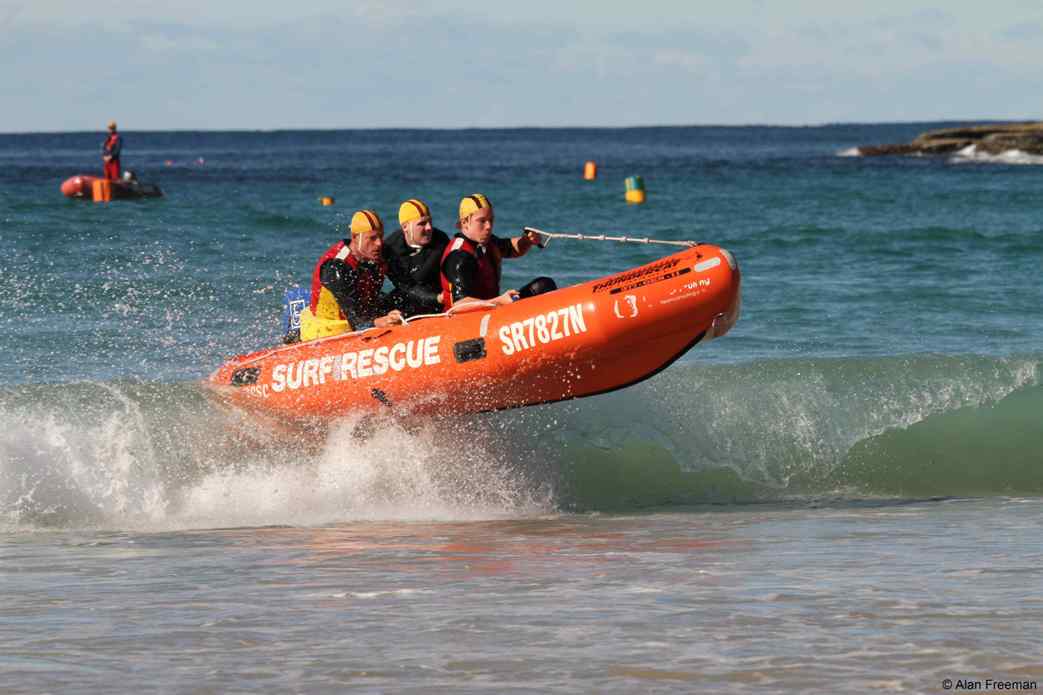 NSW Announce Young IRB Interstate Team
Sunday 3 July 2016 – By SLS NSW
A strong team of 34 surf lifesavers will be representing NSW at the 2016 IRB (inflatable Rescue Boat) Interstate Championships at Mollymook later this month.
NSW will be looking to turn their form around from previous years with a bunch of new faces being selected to face the best athletes from across the country on Friday 22 July 2016.
NSW IRB Interstate Head Coach, Steven Robson says it's a great challenge for the squad.
"We're definitely trying to improve where we've missed out on the last couple of years and will be looking at pushing the top states," Steven Robson said.
"They've all done the hard work and they know what they've got to do but they've also got to have fun because it's just racing at the end of the day."
A big advantage for the NSW team is having both the NSW and Interstate Championships at Mollymook SLSC, which will give the team great confidence leading into the event.
Another plus for NSW having the home beach is the ability to select a development squad. The 16 competitors chosen are part of the NSW team, however their points don't contribute to the final point score.
"It's great to get the development team into the high performance arena that is Interstates racing at an earlier stage to make their performances lift to a higher level," Steven Robson said.
From the total squad of 34 athletes, Sydney Branch make up 12 while Hunter has 11 representatives, five from the Illawarra, three from Sydney Northern Beaches, two from South Coast and Bronte Bagala is flying the flag for the Central Coast.
The NSW team was announced after the 2016 NSW IRB Championships concluded at Mollymook with Kiama Downs SLSC doing the double and finishing on top ahead of Caves Beach and Catherine Hill Bay.
The 2016 IRB Interstate Championships will be held at Mollymook SLSC on Friday 22 July, which will be followed by the Australian IRB Championships on 23 and 24 July.
NSW Team
Jacob Black (Catherine Hill Bay)
Max Gazzard (Catherine Hill Bay)
Rhianna Kevill (Catherine Hill Bay)
Vivienne Rickets (Caves Beach)
Mitch Lobston (Caves Beach)
Liam Kleyn (Caves Beach)
Kaitlin Isabella (Kiama Downs)
Matt Lewis (Kiama Downs)
Joel Eaton (North Cronulla)
Danielle Herman (North Cronulla)
Elissa Hughes (North Cronulla)
Kane Hughes (North Cronulla)
Kate Janssen (North Cronulla)
Corey Lewis (North Cronulla)
Addison Lewis (North Cronulla)
Bridgette Lockhart (Thirroul)
Emma Lockhart (Thirroul)
Daniel McGowan (Thirroul)
Development Team
Madeleine Grinly (Catherine Hill Bay)
Caitlin Williams (Catherine Hill Bay)
Jacob Davies (Caves Beach)
Gabrielle Grieves (Caves Beach)
Oliver Kleyn (Caves Beach)
Tristen Muscat (Elouera)
Joshua Muscat (Elouera)
Felicity Hasset (North Cronulla)
Andrew Selosse (Queenscliff)
Harrison Yandle (Queenscliff)
Elliot Yandle (Queenscliff)
Codie Wem (South Maroubra)
Bronte Chadwick (South Maroubra)
Bronte Bagala (Terrigal)
Nathan Bow (Woonona)
Benjamin Clarke (Woonona)
Photo: The 2016 NSW IRB Interstate Team at Mollymook SLSC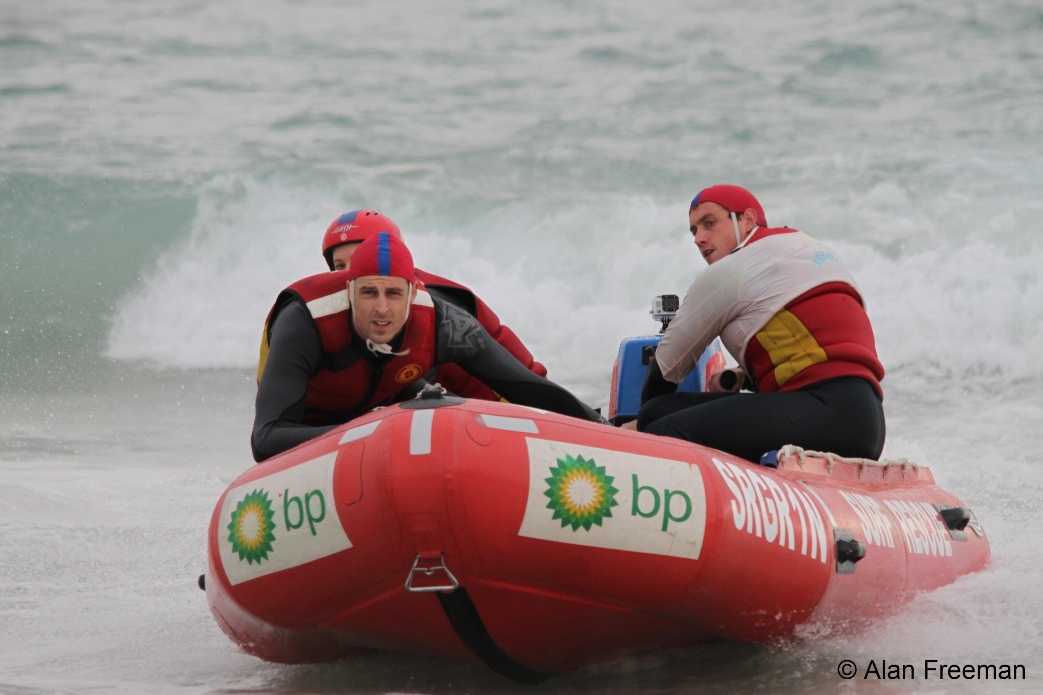 Queenscliff SLSC in action - photo by Alan Freeman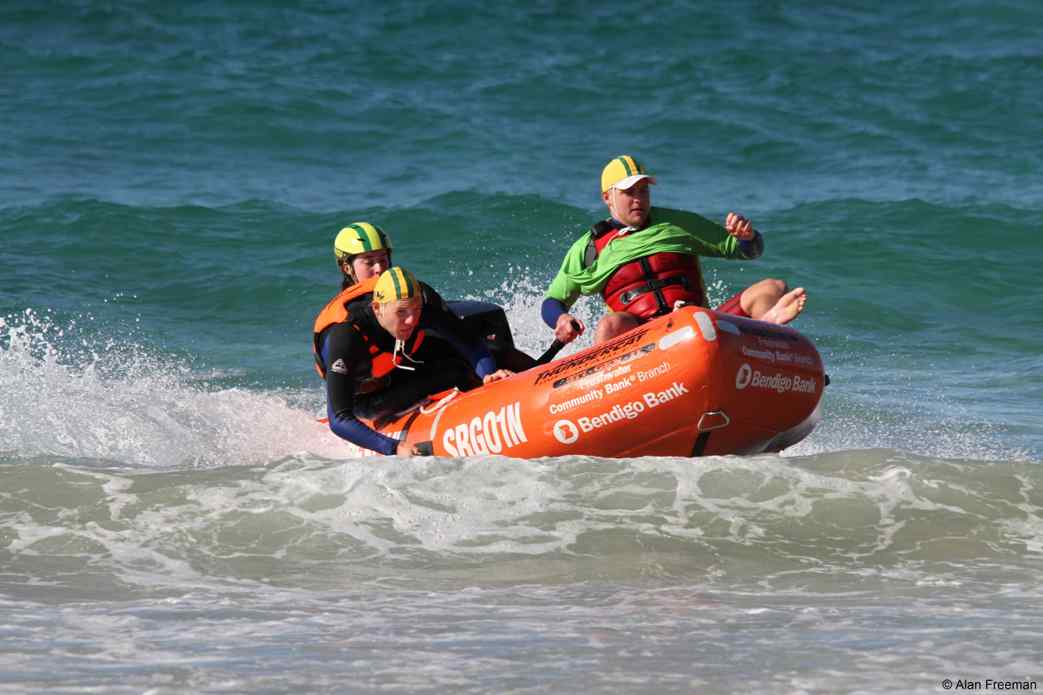 Northj Curl Curl in action - photo by Alan Freeman