September 27 - October 10, 2020: Issue 468
Launch of COVID safe summer plan by nSW State Government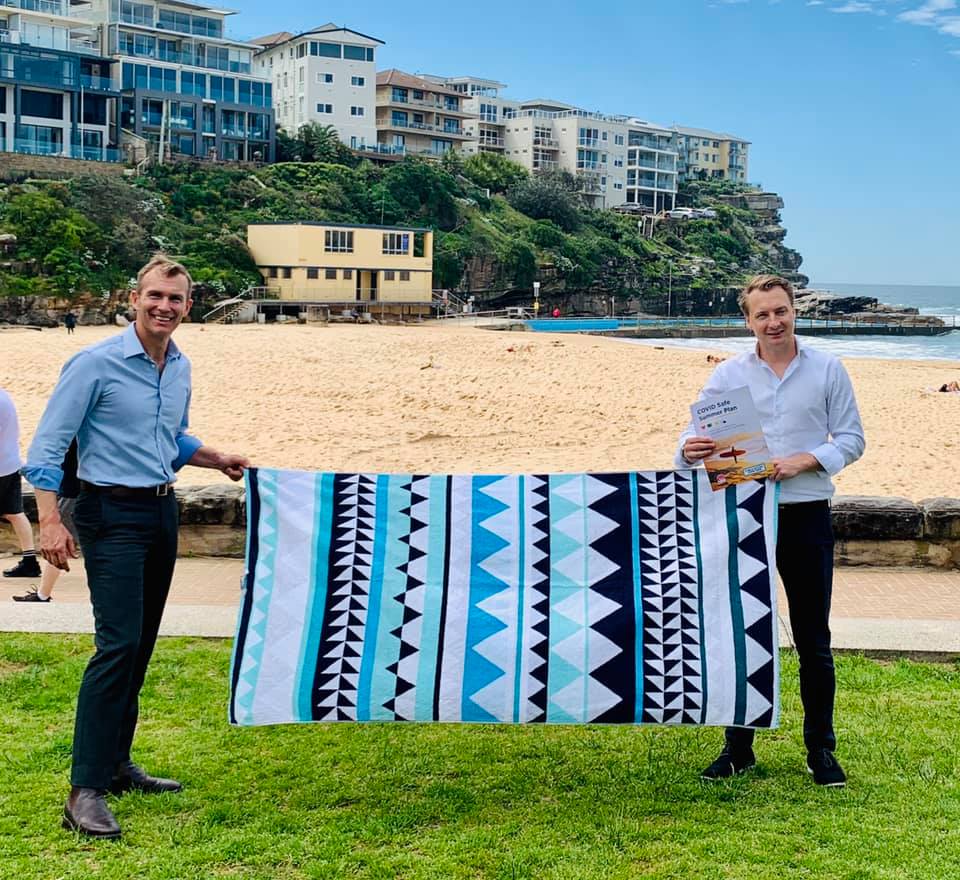 A new plan will ensure NSW residents can get out and about this summer in a COVID-safe way, while keeping the economy moving.
Premier Gladys Berejiklian, Minister for Planning and Public Spaces Rob Stokes, Minister for Customer Service Victor Dominello, Member for Manly James Griffin and NSW Chief Health Officer Dr Kerry Chant outlined the NSW Government's new COVID Safe Summer Plan on Monday September 21st.
The Plan supports local businesses by encouraging more outdoor dining in the lead up to the Christmas-New Year period and throughout the summer months.
It also provides clear instructions to help keep COVID under control as residents enjoy the warmer months.
"We know how much our community loves fresh air, beaches and parklands, but we will all need to do that a bit differently this summer," Ms Berejiklian said.
"The COVID Safe Summer Plan encourages the community and local businesses to take advantage of our glorious warm weather while using public spaces safely.
"In NSW we are continuing to try to get the right balance between keeping the State open for business, while keeping control of the virus."
The Plan has five pillars which will help support the current public health orders, rules and regulations:
Marking out safe distancing in our parklands and highly visited public spaces from the beginning of October

Encouraging all beachgoers to 'Keep a beach towel length between you' (1.5 metres) and anyone not from the same household
Running a COVID Safe summer program of events in our parklands and public spaces
Encouraging local businesses to take advantage of outdoor dining
Partnering with councils on a 'new local' campaign, to showcase alternative public spaces for the community to enjoy.
Mr Stokes thanked local councils who are already keeping the community safe as the warmer months arrive.
"Our councils are leading the way, by trialling approaches on their beaches like changing parking arrangements and creating safe swimming areas so that beaches remain safe and welcoming places for the community," Mr Stokes said.
"Sydney is the greatest parkland city on earth, and the pandemic has emphasised how important it is for our well-being that we all have access to public spaces and parklands. This plan ensures a common-sense approach."
Mr Dominello said COVID safety must be the priority of every citizen and business owner this summer.
"While summer is a time to get out and about and spend time with friends and families, we cannot be complacent because we are still in the midst of a pandemic. We must all remain vigilant and look out for each other," Mr Dominello said.
"We need people to continue to do the simple things. Whether it's maintaining good hand hygiene, keeping physical distance, wearing a mask in public places where physical distance can't be maintained and using digital check-in solutions such as the Service NSW app – these behaviours are now part of the new normal. We can't afford to drop our guard over the summer months."
Mr Griffin said NSW will lead the way in showing the world how to still enjoy the summer while remaining COVID Safe.
"We don't need to retreat indoors this summer – we just have to do things a little differently so we can enjoy places like the Northern Beaches and stay safe," Mr Griffin said.
Dr Kerry Chant said outdoor activity was inherently safer than indoor activity.
"People need to remember to stay home, isolate and get tested if they have symptoms, always practice good hand hygiene and maintain one and a half metre social distancing," Dr Chant said.
Access the COVID Safe Summer Plan
COVID Safe Summer Plan (Download PDF: 906kb)
COVID Safe Summer Plan
1. Marking out safe distancing in our parklands and popular open spaces
Our State-owned parklands and public open spaces remain open to the public, unless advised otherwise. The health and safety of visitors and staff is vital and gardens and parklands teams are implementing measures to protect the community.
From September onwards, First Fleet Park in The Rocks, Tumbalong Park in Darling Harbour, Murray Gardens and the Crescent amphitheatre in Parramatta Park will be marked to aid physical distancing, with more locations in the Centennial Parklands, Royal Botanic Gardens and Sydney Olympic Park to come before summer.
2. Promoting a Keep a towel length between you campaign
This summer we are asking beachgoers in NSW to keep a towel length between themselves and other beachgoers. We're asking everyone to heed Public Health Orders to ensure the community remains safe. If a lifeguard, beach ambassador, volunteer surf life saver, park ranger or police officer asks community members to move on due to overcrowding, they should obey those instructions.
Many of our beaches and parks are managed by councils and they are leading the way with best practice. They're working with Surf Lifesaving clubs to designate swimming areas and issue regular broadcasts across patrolled beaches. Councils have moved swiftly with initiatives including deploying Beach Ambassadors and ranger patrols, installing signage and Variable Messaging Signs promoting awareness of Public Health Orders and providing support to local business.
You can do your bit too: the length of a beach towel is a good guide for the minimum safe physical distance of 1.5m you need to keep between you and others. The NSW Government will be working with councils to spread this simple beach message—Keep a towel length between you.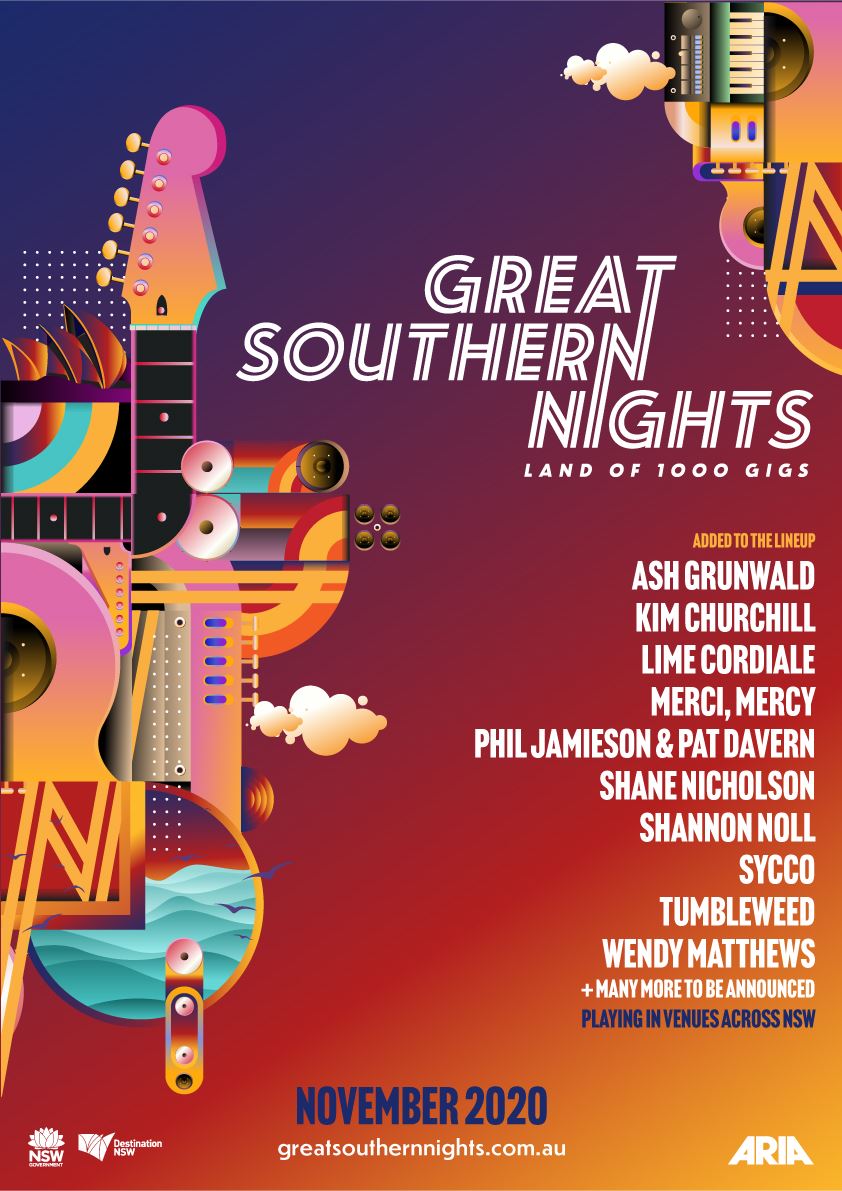 3. Delivering a COVID-Safe summer program of events in our parklands and public spaces
NSW is an incredible destination, and major events play an important role in showcasing an area, supporting local economies and engaging the community. A range of events and initiatives will encourage safe use of public spaces over summer, including:
• A series of activities across our state significant places, parks and gardens in The Festival of Place, a 365 day celebration and series of programs and activations encouraging people to be outdoors, active, and re-discover, explore and celebrate our diverse public spaces.
• Establishing a Ministerial taskforce on major events, supported by a central portal where event organisers can go for advice on how to stage COVID-Safe events.
• Great Southern Nights will deliver 1,000 COVID-Safe gigs across live music venues across Greater Sydney and Regional NSW this November, including performances by artists including Jimmy Barnes, Birds of Tokyo and Missy Higgins.
4. Supporting local businesses in high streets, plazas and precincts
We encourage councils and local businesses to take advantage of outdoor dining. In most cases, outdoor and footpath dining for cafes and restaurants doesn't require planning approvals if the relevant standards are met.
In response to COVID-19, the NSW Government has enabled mobile food trucks to operate on any land at any time, with landholder permission, meaning there are more places you can enjoy a meal outdoors. We are also investigating how to make it easier to run outdoor markets.
All businesses should register as COVID-Safe through nsw.gov.au, and make use of resources available such as a COVID-Safe check in via a QR code.
Resources are available for councils and local businesses who want to learn more about offering outdoor dining to patrons. The NSW Government is working to make this an even simpler more streamlined process so that we can support our local cafes and stay safe.
Street initiatives across NSW will allow restaurants, bars, cafes and other retailers to have customers spread out into the street, through the NSW Government's Streets as Shared Spaces program.
Since July, a temporary road closure of George Street in The Rocks has operated as a vibrant public space 24/7, showing how pilot projects can support local businesses to continue operating.
5. Working with councils
We urge the community to follow the advice of council rangers across NSW to ensure Public Health Orders are respected and the community remains safe. Encourage the community check in with your website to plan their trip in advance as there may be a range of restrictions in place, for example, pre-booking is needed at some of our most popular camping areas in our beautiful National Parks.
Councils, along with National Parks and Wildlife Service, manage a range of public spaces and they will be innovative and responsive in encouraging use of their beaches, parks and waterways.
The NSW Government is collaborating with councils on:
Sharing of COVID-Safe Summer guidance for public spaces, highlighting best practice and useful resources, including ready-reckoners to share with the local community on using beaches safely
Promotion of a 'New Local' campaign, which raises the profile of alternative local public spaces and encourages the community not to overcrowd popular public spaces
For more information on the COVID-Safe Summer Plan, visit: dpie.nsw.gov.au/premierspriorities/great-public-spaces
For more information on Council's Summer Plan for our beaches visit: Promoting COVID-Safety On Our Beaches This Summer: Council's Plan for When, Why and How Beaches May Be Closed - provisions will be in place for parking options for Volunteer Lifesavers to ensure continuity of the lifesaving service.
Related Announcements made this week:
School, sport and music restrictions relaxed
September 24, 2020
More families can attend community sports, music ensembles and school camps can proceed, and a modest increase dancing at weddings is allowed under new COVID-19 safety rules.
Health Minister Brad Hazzard and Education Minister Sarah Mitchell said the latest easing of restrictions around school and community life is due to lower case numbers.
"While we are by no means out of the woods, low case numbers give health authorities the confidence to allow mums and dads back onto the sideline," Mr Hazzard said.
"NSW Health has also given the green light for up to 20 people in the official wedding party to take to the dance floor, where previously only the happy couple were permitted."
Education Minister Sarah Mitchell said the updated health advice comes as NSW schools prepare for a two-week break before returning for the final term of 2020.
"Everyone is committed to providing a safe environment for children, students and staff and these changes will ensure COVID-safe celebrations can happen," she said.
"Schools have done an incredible job, and it's exciting to see things returning closer to normal. However, we need to stay vigilant."
Changes to Term 4 school guidelines include:
Community Languages Schools Program will recommence face to face learning
interschool activities can recommence on September 26 2020 where there is a COVID-19 Safety Plan in place
playing wind instruments, singing and chanting is permitted with strict restrictions
Year 6 formals and graduations are permitted
high school formals are permitted from 12 November 2020 to limit any HSC disruption
Kindergarten orientation, Year 7 transition, excursions and camps can resume with strict guidelines.
Musical ensembles can also resume, as long as players keep a 1.5 metre distance from one another, or three metres for players of non-reeded woodwind instruments.
Acting Minister for Sport Geoff Lee said the changes to community sport will be a welcome relief for parents.
"From this weekend, more than one parent may now attend community sporting activities if physical distancing of at least 1.5 metres can be maintained between people that are not from the same household," Mr Lee said.
"We know the last few months has been hard on families who want to see their kids score a try or kick a goal on the weekend.
"I would like to thank all the parents and volunteers in community sport for their commitment to following the guidelines to help keep our community safe."
Accommodation facilities and overnight event organisers should develop and implement a COVID-19 Safety Plan. All carpooling should continue to be avoided.
There is no restriction on school holiday travel within NSW for people who live within the state however, anyone who is unwell should defer travel plans and get tested.
Capacity increase for entertainment venues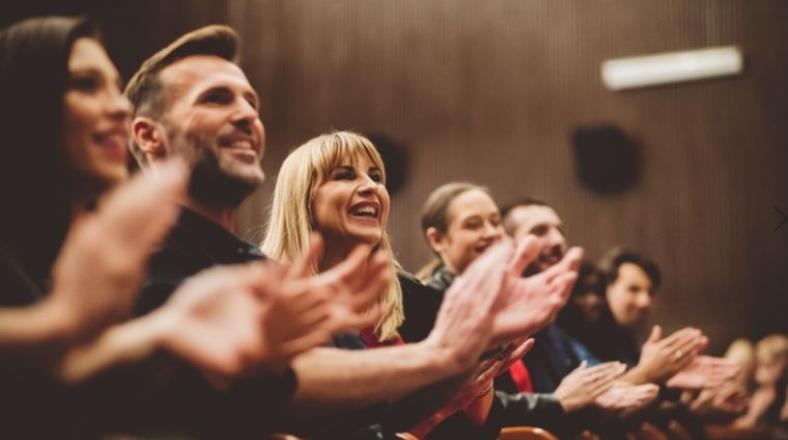 September 25, 2020
From Monday 28 September 2020, theatres, cinemas and concert halls across NSW will be able to increase capacity up to 50%.
The relaxed restrictions will mean:
corporate events and function centres can host up to 300 people. Venues can only increase capacity following the one person per four square metre rule.
theatres, cinemas and concert halls can sell seated tickets at 50% capacity, to a maximum of 1000 tickets.
Entertainment venues must have COVID Safety Plans in place and follow the public health orders.
The new changes will provide an economic boost to hundreds of theatres, cinemas and concert halls.
For some venues, this will mean they can reopen their doors for the first time.
Minister for the Arts Don Harwin said this is a major step forward to recovery for the performing arts sector.
"It's a win for jobs, it's a win for our theatres and it's a win for communities across NSW," Mr Harwin said.
Extra financial support for tenants and landlords
September 25, 2020
A six-month extension will be put in place for NSW residential tenants and landlords experiencing financial hardship during COVID-19.
The tenancy moratorium will be extended to support residents impacted by COVID-19.
The extension will:
prevent landlords from evicting tenants for loss of rental payments, unless they have attempted to negotiate rent reductions in good faith
allow tenants to apply to the NSW Civil and Administrative Tribunal to end fixed term agreements in certain circumstances
stop landlords or agents listing financially impacted tenants on a database if they cannot pay rent on time
extend the 90-day minimum period of eviction notice landlords must give to tenants
extend boarding house eviction notice periods.
Over 50,000 NSW residents have accessed information regarding their tenancy since the introduction of the moratorium in April 2020.
Minister for Better Regulation Kevin Anderson said the measures have provided much needed support to tenants.
"As the impacts of COVID-19 are ongoing, we intend to extend the measures until March 2020, which will allow more time to return to normal," Mr Anderson said.