June 23 - 29, 2019: Issue 410
NSW IRB Premiership Won & State Team Announced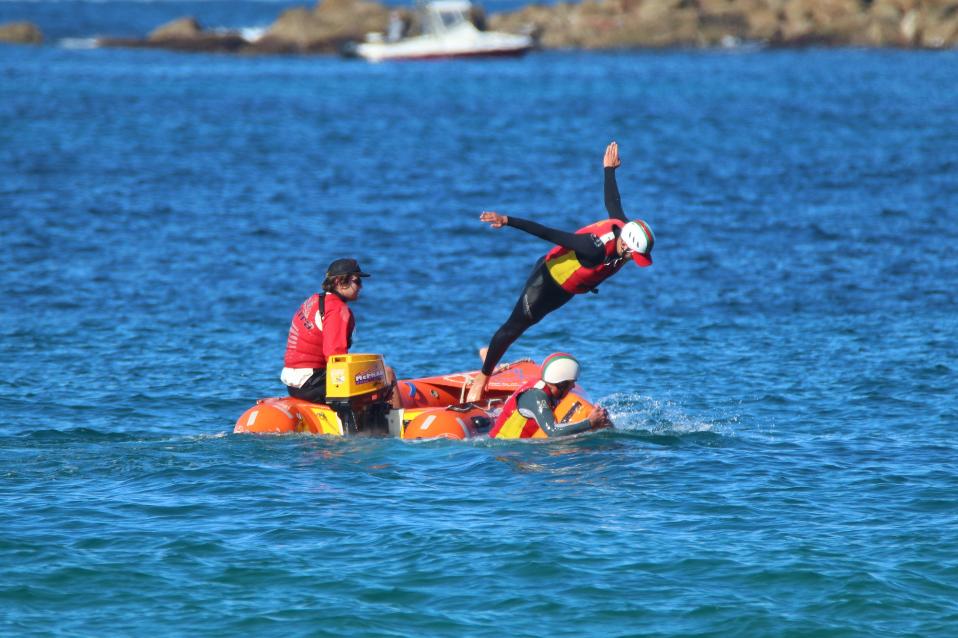 Avalon Beach SLSC at Round 4 of 2019 IRB Premiership
The 2019 Sharkskin NSW IRB (Inflatable Rescue Boat) Premiership wrapped up at Caves Beach over the weekend of Jun 15-16 with Kiama Downs SLSC taking out the final point score after winning all four rounds.

Conditions were perfect in the Hunter for round four as 320 surf lifesavers from 21 clubs lined up for the last round.
The pressure was on the two leading clubs with host club Caves Beach SLSC working to defend the Premiership title against rivals Kiama Downs SLSC.
Steve Strong of Kiama Downs SLSC said his team had a score to settle with Caves Beach after they took the Premiership off them in 2018.
"We have a good rivalry with Caves but the competition is coming from everywhere it's great. Queenscliff, Terrigal, North Cronulla, there are so many clubs developing so fast we've got to stay on our toes.
"It really comes down to skill and speed these days and it's a really good sport to be part of," said Strong.
Kiama Downs SLSC Win 2019 Sharkskin NSW IRB (Inflatable Rescue Boat) Premiership

The South Coast team held their game throughout the final weekend to take out the final point score with 40 points ahead of their Hunter rivals.
"We work really well as a team, we're really strong and have so much depth and we have a lot of fun together," said Kathy Foster. "When you have so much fun doing a sport like this winning is a bonus."
Caves Beach SLSC IRB veteran Scott Bryant said the season had been great for his team. "The premiership season has had great conditions and run at great venues. It's getting better every year. We love racing here at our own beach too.
"We have a very young team jumping in on the back of some big history, living up to big expectations. They keep getting better and better and they're going to be a real force to reckon with."
Despite coming second to Kiama Downs, the Caves Beach crews are already looking towards the State Championships at Cape Hawke where they hope to bring home their 12th title.
At the conclusion of the Premiership Surf Life Saving NSW announced the 2019 NSW IRB Interstate representative team.
The 20-strong team is made up of the top IRB racers in the state. They will be led by some of the most experienced and technical managers who will aim to take the title from Queensland.
Competitors named in the state team come from clubs that have landed in the top four teams over the Premiership season. The selected members from Kiama Downs SLSC, Caves Beach SLSC, Terrigal SLSC and North Cronulla SLSC will represent their state at the Australian Championships at Cudgen Headland on 10-14 July.
Charlie Phillips of Terrigal has made the Interstate team for the first time after a number of top results over the Premiership series.
"I've been racing for three years now. I only started competitively driving this year and have been going really well in both the Under 23 and Open divisions. I'm really proud and happy to make the NSW team. I've been working really hard and everything has come together. I can't wait to start training with the team."
Surf lifesavers have been using IRBs as in-shore rescue craft for 50 years in 2019. They continue to be one of the best forms of surf rescue equipment to negotiate waves and save lives.
Used on the beach during the patrol season and prepped for racing in the offseason, the IRB promotes advanced skills and rescue techniques for lifesavers. IRB racing allows drivers and crew to refine speed, accuracy and efficiency under pressure, aspects that are crucial to perform a successful rescue.
NSW Interstate Team
Mitchell Lobston Caves Beach SLSC
Luke Warzecha Caves Beach SLSC
Liam Kleyn Caves Beach SLSC
Oliver Kleyn Caves Beach SLSC
Elke Wallace-Smith Caves Beach SLSC
Nathan Foster Kiama Downs SLSC
Jordan Dusmanovic Kiama Downs SLSC
Blair Joynson Kiama Downs SLSC
Bradley Honey Kiama Downs SLSC
Rhianna Kevill Kiama Downs SLSC
Aidan Hazell Kiama Downs SLSC
Kirsty Honey Kiama Downs SLSC
Kathy Foster Kiama Downs SLSC
Kate Janssen North Cronulla SLSC
Lillian Hassett North Cronulla SLSC
Felicity Hassett North Cronulla SLSC
Elissa Hughes North Cronulla SLSC
Charlie Phillips Terrigal SLSC
Josh Stephens Terrigal SLSC
Bronte Bagala Terrigal SLSC
Team Managers
Damien Woods Bondi SLSC
Nixy Krite Bondi SLSC
Steve Strong Kiama Downs SLSC
Greg Heard Queenscliff SLSC
2019 NSW Interstate Team
Race formats in the 2019 Sharkskin NSW IRB Premiership Series included:
IRB Rescue
IRB Mass Rescue
IRB Teams Rescue
IRB Rescue Tube
IRB Relay
There are four events with 118 races over the day and a half of competition running from heats through to finals. The divisions range from Rookie division (first year driving / over 18 years old), Under 23 Male and Female, Open Male and Female, Over 35s and Over 45s.
*2 November 2019 also marks the 50th anniversary since IRBs were introduced to Surf Life Saving.
Competing Clubs
Avalon Beach SLSC, Bondi Surf Bathers, Coogee SLSC, Forster SLSC, Helensburgh-Stanwell Park SLSC, Kiama Downs SLSC, Maroubra SLSC, North Avoca SLSC, North Cronulla SLSC, Newcastle SLSC, Nobbys SLSC, Newport SLSC, Ocean Beach SLSC, Queenscliff SLSC, South Maroubra SLSC, Stockton SLSC, Terrigal SLSC, Thirroul SLSC, Umina Beach SLSC, Woonona SLSC, Caves Beach SLSC.
Final Premiership Point Score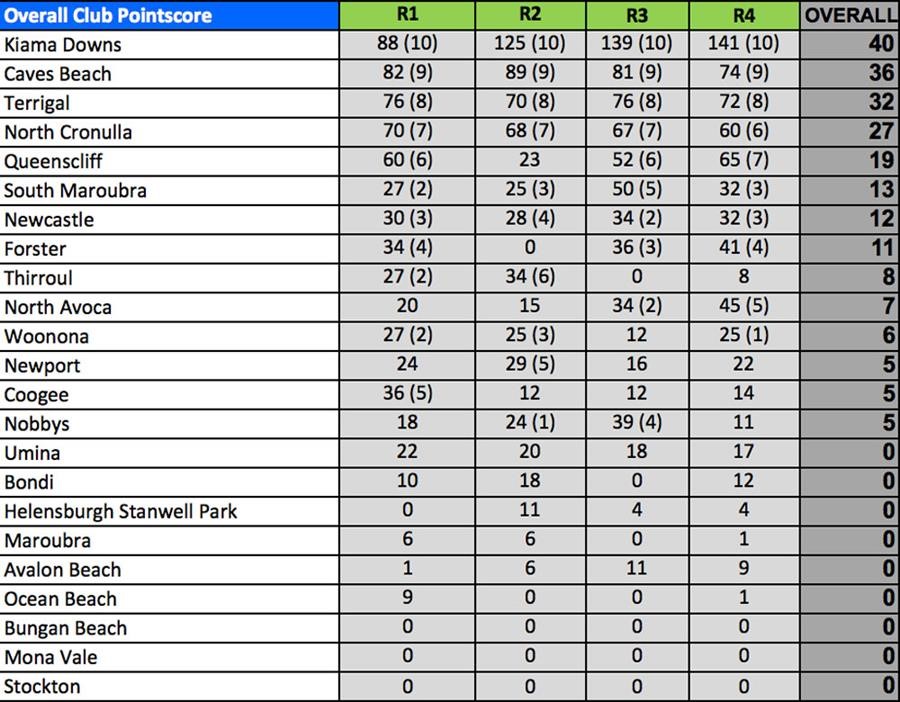 Report by Surf Life Saving New South Wales, photos by Richard Black