September 30 - October 13, 2018: Issue 378
New fence at royal far west manly set to connect beach and bush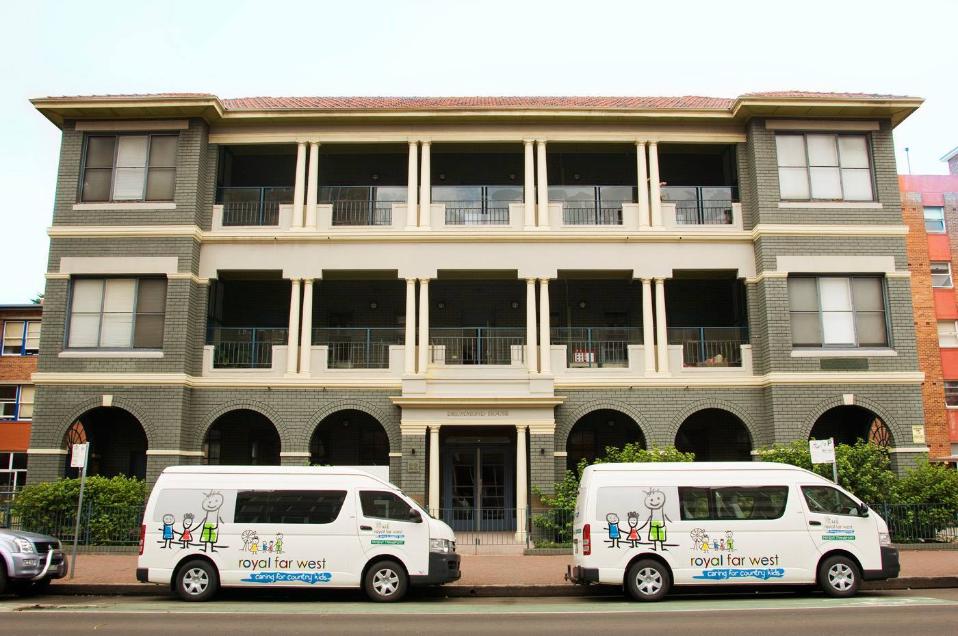 Royal Far West brings new meaning to Manly streetscape
From late October 2018, country families seeking help at Royal Far West's (RFW) Manly-based Centre for Child Health and Learning ('CCHL') will be greeted with a striking Aboriginal art streetscape – telling stories of place and people, connecting the past with the present and bringing the bush to the beach as the 94 year-old charity enters a ground-breaking new phase.

The two works, titled "Healing Connections - Coast to Country" and "Wirnpa – Back to Country" are custom-designed to celebrate the upcoming launch of the CCHL. The new fence spans close to 37 metres with artwork that brings to life a story of healing and connections: between country, coast, waters, lands and skies.
The iridescent blue gold laser cut metal fence will wrap around the CCHL building from RFW's Drummond House accommodation on Wentworth Street and out on to the South Steyne Manly Beachfront.
Yaegl women artists and cousins Frances Belle Parker (Northern Rivers, NSW-based) and Jessica Birk (Northern Beaches, NSW-based) have collaborated on the fence design - their work will feature on the 33 metres of fence in Wentworth Avenue - along with West Australian indigenous artist Andrea Pindan - whose work will feature on the 3.7 metre beach front portion of the fence - to create a unique visual narrative for Manly locals, as well as families and children visiting the Centre.
"The fence will represent the richness and diversity of our island continent; the design will celebrate the lived histories of this place (RFW) – a place of belonging, a place of healing and a home away from home," said Jessica Birk.
Jessica spent a large part of her childhood at RFW where her mum, Lois Birk, has worked as an Aboriginal Liaison Officer.
"It was always a home away from home for me. There were often kids travelling without all of their family members, and Mum would become that substitute family member for them," Birk explained.
Frances Belle Parker also holds a personal connection to RFW, having done work experience at RFW's on-site school, inspired by her maternal aunt, Aunty Lois Birk.
Frances said, "Royal Far West is a place of healing. To me, it means that families can come here, be listened to, feel safe and supported while receiving the help required.
Our vision is for the fence to celebrate the long history of Royal Far West, and its unique role as a place of healing."
The full length of the image created by Jessica, Frances and Andrea is woven together by pattern and line that represents a journey of healing; connecting imagery that reflects the diversity, beauty and strength of people and place.
Andrea Pindan, a Walmajarri artist from Bawoorrooga about 100 kilometres west of Fitzroy Crossing in Western Australia, also emphasises the healing power of place that inspired the fence design. This artwork honours the deep friendship between Marninwarntikura Women's Centre and Royal Far West, working together to develop new ways to strengthen and support the children and families of the Fitzroy valley.
Frances Belle Parker was one of five artists picked to project their artwork onto the Opera House sails for Badu Gili last year. Frances came to prominence when she won the prestigious Blake Prize in 2000, making her the youngest ever winner and the first Indigenous recipient. Since this time Frances has been a finalist in the NSW Indigenous Parliament Art Award and the Telstra National Aboriginal and Torres Strait Islander Art Award.
Jessica Birk was recognized as QANTAS Young & Emerging Indigenous Artist of the Year back in 2009 and has undertaken various commissions including for the Royal North Shore Hospital Cancer Care Centre. RFW's Artistic Director/Project Manager for the Heritage & Art project, Mika Nishimura says, "It was very important for me to select the artists who are not only great artists, but who can also create images that speak to both Aboriginal and non-Aboriginal children and families in the theme of RFW representing a place of healing.
"Working with Andrea Pindan has certainly taught me what it's like to reach out far beyond NSW. Andrea lives without any telephone connection, so I could only send "word of mouth" via the bush telegraph to get Andrea to work on this fence project. It's been a privilege for us to be able to share Andrea's story about what's important to Walmajarri people about their place of healing."
The new fence will draw a connection between the bush and beach. and It will reflect RFW's 94-year history of helping both Aboriginal and non-Aboriginal children and families across rural and remote Australia, as far as 3000kms away in Fitzroy Crossing Western Australia.
Royal Far West CEO, Lindsay Cane said: "Many of our families identify as Aboriginal families. More than 25% of the children we support are Aboriginal kids. They inspire us and enrich us,; they bring a wonderful dimension to our service and to the local community. Some of these children have never been to the city before. This fence honours and respects the many people who have walked on our site here in Manly, who have contributed in some way and left their gifts and memories. It honours the land on which RFW sits, as well as the bush, the beach and the connection between the two, and it speaks of a place of healing and respite".
The laser cut out metal fence featuring the artists' designs is being built by Di Emme and is set for installation in late October.
RFW's state-of-the-art Centre for Children's Health and Learning is set to be officially be opened on December 17, 2018. The charity is hoping to have most of the construction work done ahead of a potential royal visit by Prince Harry in October, who would be following in his grandmother's footsteps, Queen Elizabeth, who toured the Manly site in 1970.
On a yearly basis, Royal Far West sees thousands of children from rural and remote areas, through either its face-to-face Paediatric Developmental Program in Manly, or by beaming into schools and clinics in remote areas via telecare. The children helped by Royal Far West are treated for a wide range of health issues including intellectual and speech delays, ADHD, Autism, behavioural difficulties, disabilities mental health and other complex issues.
______________________________
About Royal Far West
Royal Far West is a charity organization that has been providing health and education services to children living in rural and remote Australia for 94 years.
Royal Far West works in partnership with regional and rural families and their local health and education providers to complement existing services within their communities.
Royal Far West is one of only two charities that the Country Women's Association fundraises for.
http://www.royalfarwest.org.au/
Key Facts:
Children in remote Australia are five times more likely to suffer developmental problems compared to city children. This gap is widening as the impact of the drought continues to grow



One in three country children are unable to access the health services they need

The effects of disproportionate levels of disadvantage are compounded due to poor access to appropriate services, such as rural allied health services and Paediatricians

The economic costs of high childhood developmental vulnerability have a huge potential impact on Australian GDP growth and national wealth