November 11 - 17, 2018: Issue 383
Champion Casey Shatters NBI's Pittwater Paddle SUP Record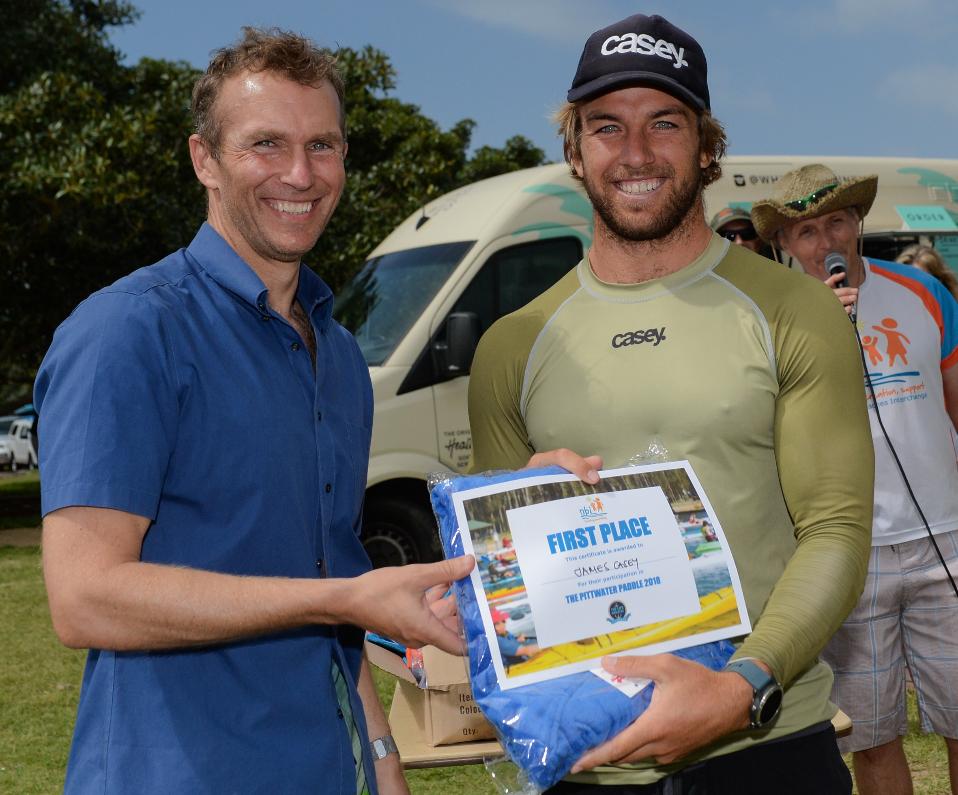 Pittwater's MP, Rob Stokes and James Casey - photo by Volunteer Photography
Australian Stand-Up-Paddle champion James Casey not only shattered the Pittwater Paddle fastest course time by 4.5 minutes, but it was the first time a SUP has beaten the entire field in the annual 8.4km race organised by disability support organisation Northern Beaches Interchange.
An ideal spring morning with light winds and flat seas greeted competitors in the NBI's primary fundraising event which starts from the beach at Winnererremy Bay, Mona Vale, and takes the main group around Scotland Island and back. The second option of the 3.6km route to the island and return proved just as popular.
Casey, a first-timer at the NBI Pittwater Paddle who competes internationally and finished third in this year's gruelling 51km Molokai 2 Oahu ocean event, was pushed hard around the scenic racetrack by another Pittwater Paddle first-timer, Chris Wilson, in his debut Ski race.
"Normally skis fly past me" Casey said back on shore. "I tried to hold the ski off as long as I could, Chris caught me when I was almost around Scotland Island but I figured we started at the same time and maybe I could hold on so I jumped on his wash, sprinted across the sand bar when he went around, and managed to get him. I'm looking forward to next year already!" Casey added.
Winner of the Prone Paddle event, Mona Vale SLSC's Luka Monnock satisfyingly beat his paddle coach to the finish, among other challengers, and Charles Adams proved too strong in the Kayak event. Double SUP honours went to Jason Kennett and Brett Barber and father and daughter duo of Guyren and Geordie Smith won the male and female Ski sprint respectively.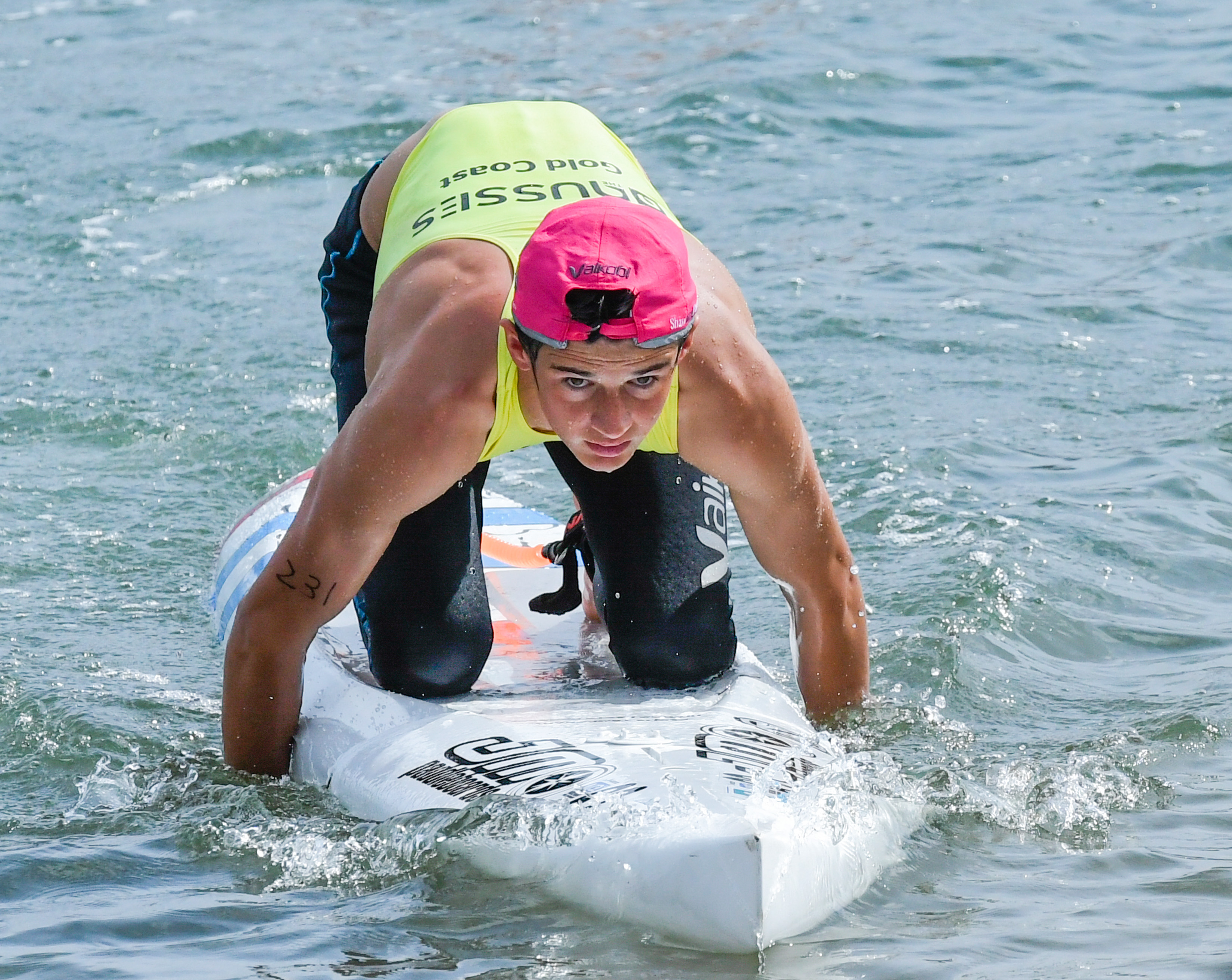 Luka Monnock - photo by Volunteer Photography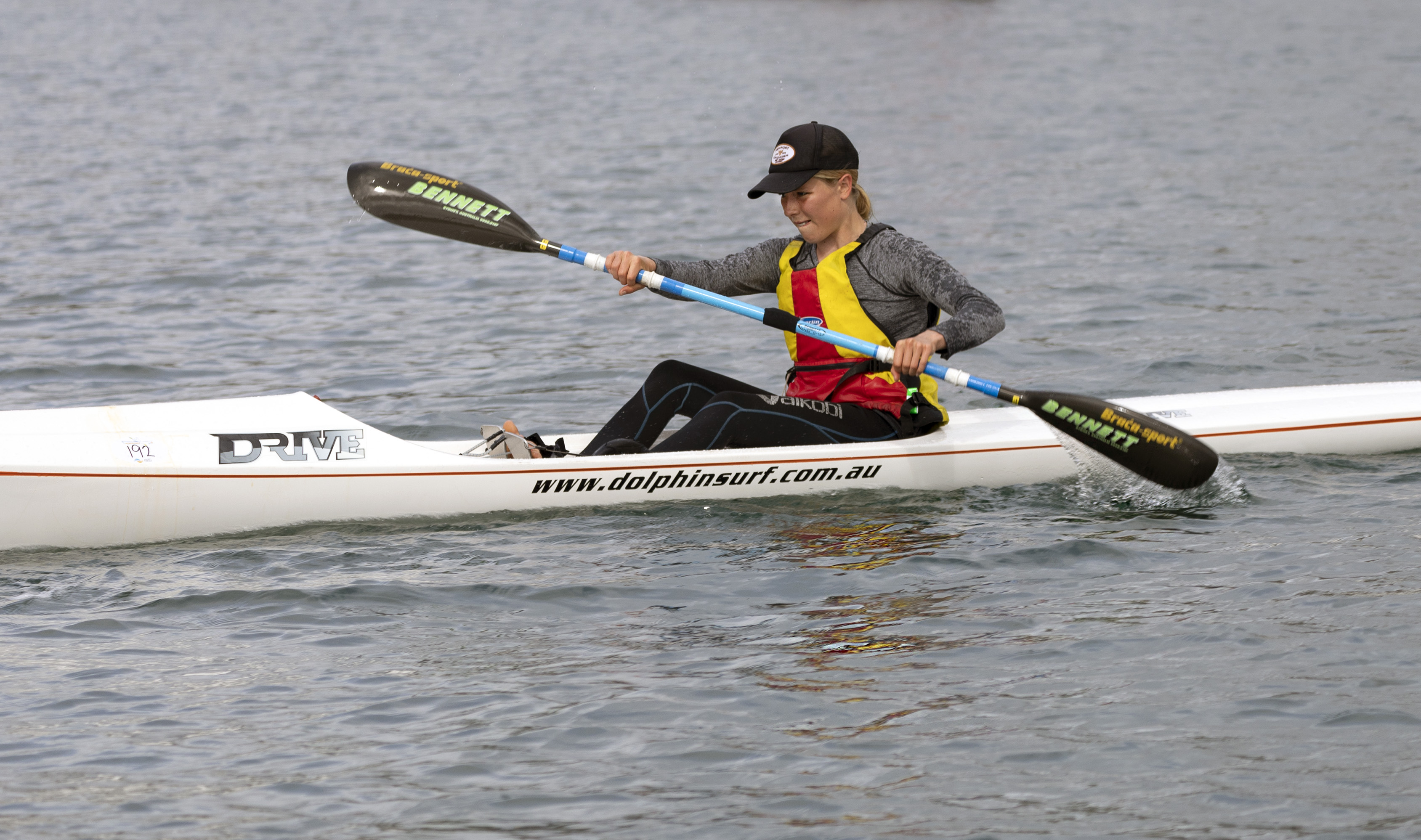 Geordie Smith female ski sprint winner- photo by Maryan Heffernan, Volunteer Photography

For the Hon. Rob Stokes, being part of Pittwater Paddle is about getting his race fitness and experience up for the bigger surf club carnivals over the summer. "It's a great race and a great course around Scotland Island; there's something for the elite and the hackers like myself, there's something for everyone. Being part of the event is the ideal way to support NBI, a great cause."
Ashore there were plenty of activities for competitors and shore supporters; jumping castle, coffee and ice-cream van, sausage sizzle and try paddling thanks to major sponsor Hobie Dealer The Life Aquatic at Mona Vale.
Pittwater Paddle organiser and NBI's operations manager David Trundle added: "the 2018 Pittwater Paddle was a great day out on the water with a mixture of familiar and new faces coming together in a community event to raise funds for NBI.
Conditions were perfect and those looking for competition got it while for others it was a more leisurely paddle around beautiful Pittwater. The event was made possible by an incredible team of volunteers and special thanks to The Life Aquatic, Barbecue in the Hills, Park House Hotel, ICMS, Lejen Marine, Balmoral Watersports and Whip van Sprinkle."
Video highlights thanks to Bob Fowler https://youtu.be/GBuSAL15XCY
Full results and further information www.pittwaterpaddle.org.au
By Lisa Ratcliff