November 13 - 19, 2022: Issue 562
Monika's DoggieRescue 2023 Calendar is available now: a History of the DoggieRescue Calendar
Compiled by Roland Briefrel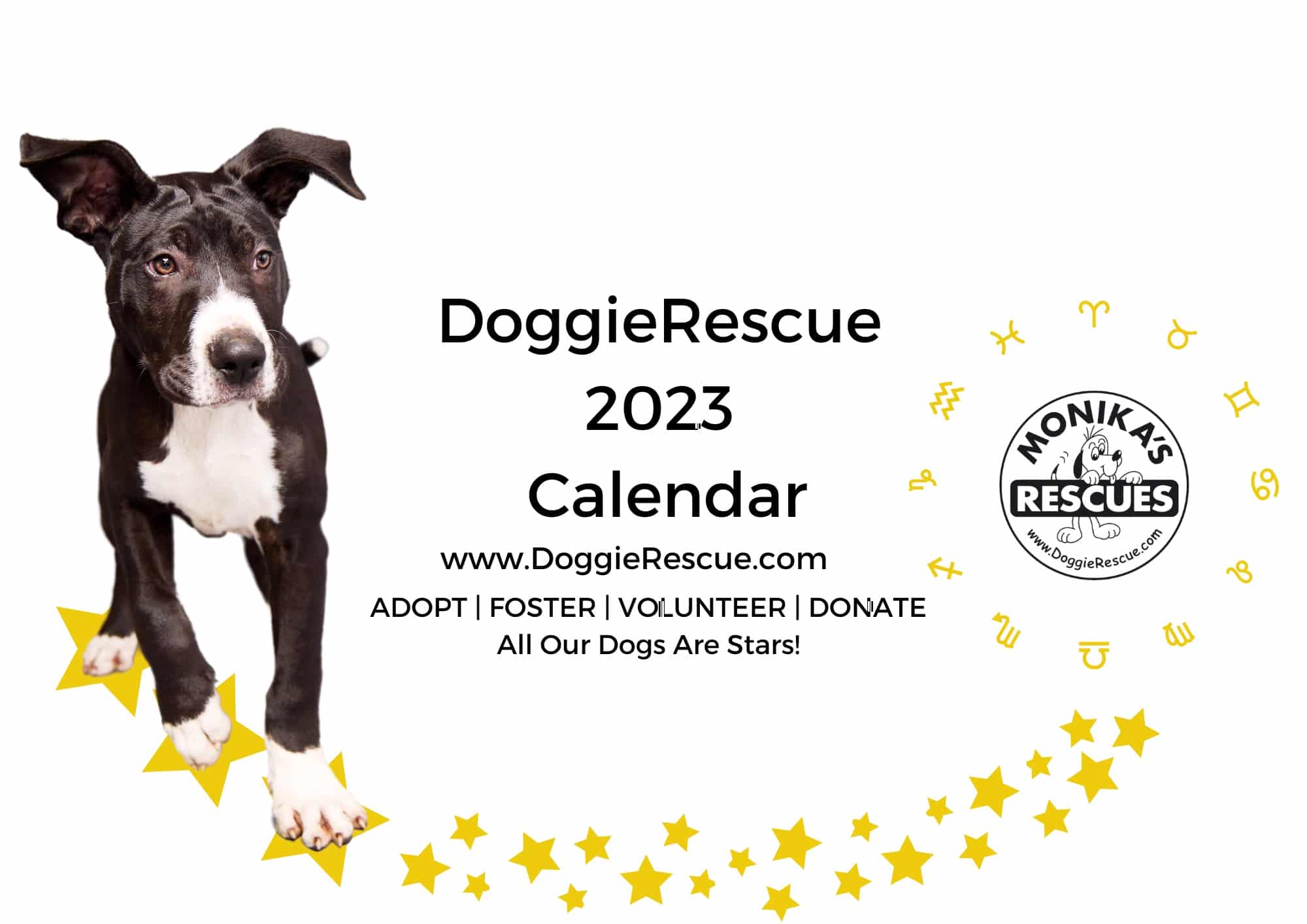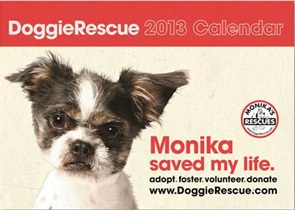 DoggjeRescue Calendar was imagined in 2005 between Lori Wong and Monika. At that time DR was operating out of several locations including Harbord and Drummoyne. The plan was to create the calendar from photo entries submitted to a Calendar Competition of past adopted dogs, to be printed for the following year 2006.
The hope for the Calendar was to raise much needed funds and increase adoptions for Doggie Rescue just prior to Christmas/New Year, which saw Monika inundated with unwanted dogs.
Long before DoggieRescue became a charity, Monika, together with early volunteers, was the only person privately rescuing dogs as a 'No Kill Shelter'. The financial burden and stress were enormous.
Lori reached out to like-minded people with skills to help and an excellent team of volunteers assembled.
Most importantly, Task 2 for artwork and graphics, were were deeply inspired by their adopted DR dog, Dweezil (pictured at right), who became their office mascot, and Fuller from Focus Press, who for years printed the calendar, and Libby Gates of Photoblitz, the DR photographer for the Calendar and many others, were involved in post-production. Generously, all services and paper were provided a no cost to DoggieRescue, so every cent raised went to the dogs.
Unfortunately, due to recent hard times, the services and materials are no longer free, and this has had a flow-on effect on the production of the calendar.
services and materials are no longer fee and this 2016 DoggieRescue Calendar with adorable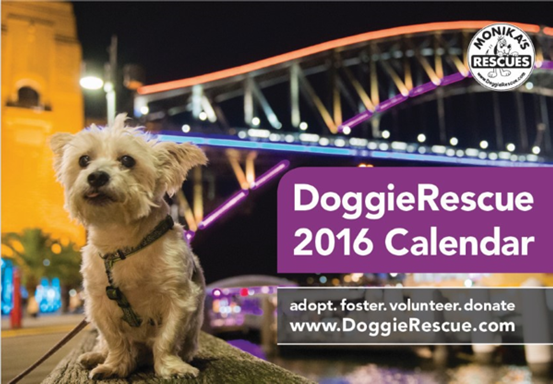 The 2016 DoggieRescue calendar with adorable Maeko featured on the cover.
A selection of DoggieRescue Calendars from over the years
Initially the photo entries for the DR Calendar Contest were stow in coming but these were the days before Smartphones and instead, paper photos were sent. The quality of these hard copy photos was variable to say the least and it was a struggle to put the Calendar together. However, with each year, word began to spread and contest entrants started flooding in for the Calendar and the coveted front cover, which from the second year onwards, featured the beautiful faces of our adopted dogs.
The competition was powering Calendar sales and the Calendar went on to become a great success.
Over the years, the DR Calendar has been an important fundraiser and a spotlight on the plight of unwanted pets. Thanks to new Volunteers, it is still in existence and long may it continue.
It is one of the best ways of supporting DoggieRescue at its most stressful time of year, Above is the 2006 DoggieRescue Calendar which was the first calendar published.
Our world is an ever-changing environment, morphing through economic crises, recession, climate change, natural disasters, wars and other human catastrophes and there are countless non-profit groups that help humans in need. But as humans, we share this planet with other species who we depend on for many things, which means we have a responsibility to our fellow creatures as well. This is what Monika and her team at DR do, so let's continue to assist in this fine work by continuing to support the DOGGIERESCUE CALENDAR annually.
From, THE BUILDING OF A NO-KILL SHELTER: DOGGIERESCUE.COM (PT 15), Compiled by Roland Briefrel. Our thanks to local Kevin Case photographer, who does a lot of hard work and great supporter.
The 2023 DoggieRescue calendar is available now at: doggierescue.com/2023-doggierescue-calendar-pre-orders
If you place your order now you will get it before Christmas and, as gifts, these bring a smile to the face of those to whom they have been given every day of the year – just like the darling dogs waiting for great homes at Monika's DoggieRescue.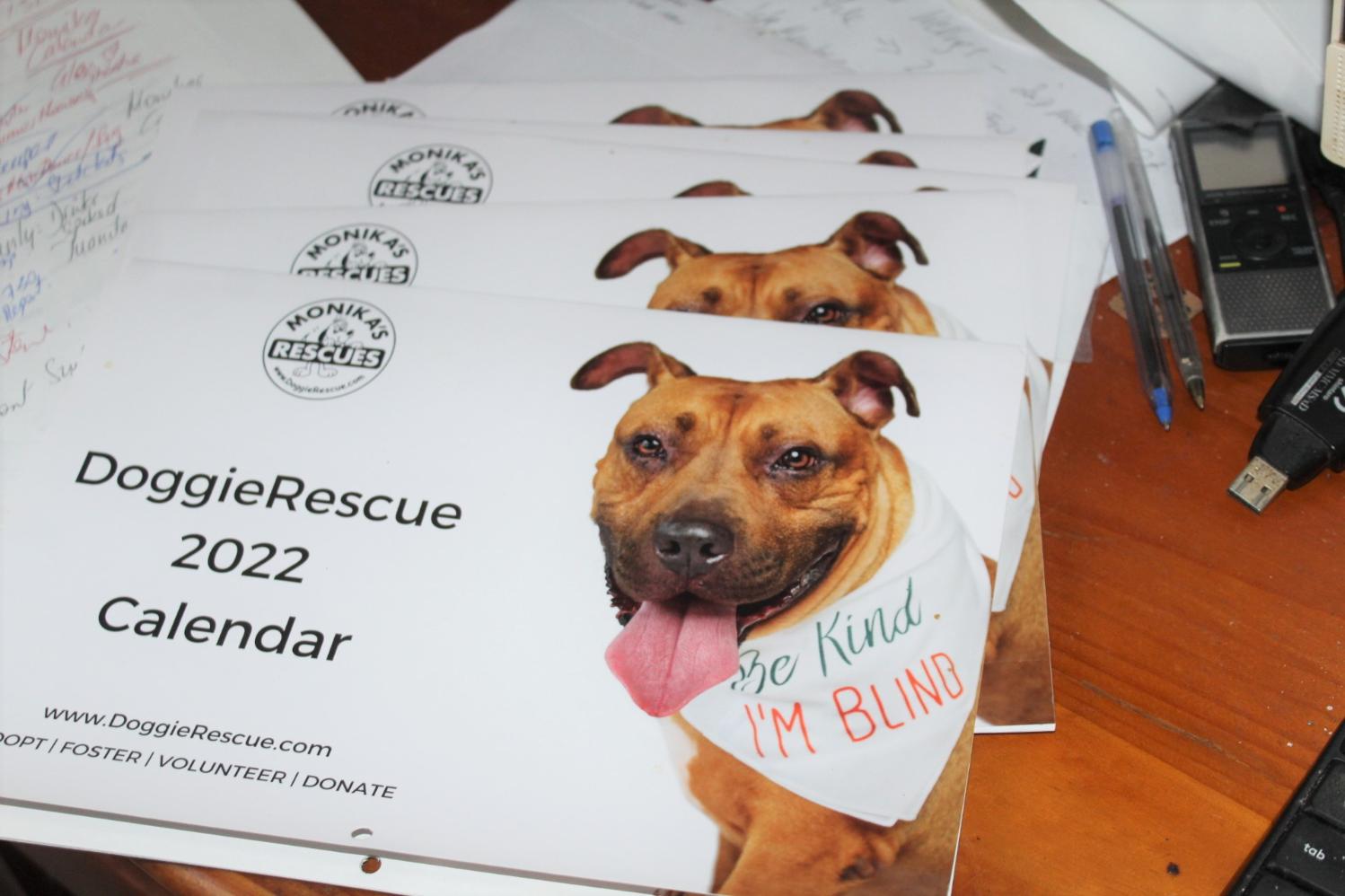 some of the Pittwater Online News Monika's DoggieRescue calendars for family and supporters from last year - we've ordered another batch for Christmas gifts this year too.
Other ways you can help Monika's Doggie Rescue
Adopt a Dog
Please do not support the commercial trade of animals. Save a life. Visit www.DoggieRescue.com for details on all animals available for adoption, including photos and bios for each one.
Join the Life Saver
Program Our Life Saver Program commenced in 2009 and these monthly donations help save lives, for more information please go to www.DoggieRescue.com/lifesavers All donations over $2.00 are tax deductible.
The Husky Story
In December 2021 a number of Animal Rescue Groups joined forces in a mass rescue of nearly 100 mixed-breed Huskies from a hoarding situation in country NSW. DoggieRescue played a large part in this by agreeing to take in a large number of Huskies and Husky crosses to our Ingleside shelter.
When the huskies arrived they were underweight, malnourished and scared. We slowly built bonds with them so they learnt to trust our kennel hands and volunteers, some came out of their shells quicker then others. Autumn & Denali have been attending events representing DoggieRescue and enjoying being centres of attention! They feature as the June 2023 Calendar pups.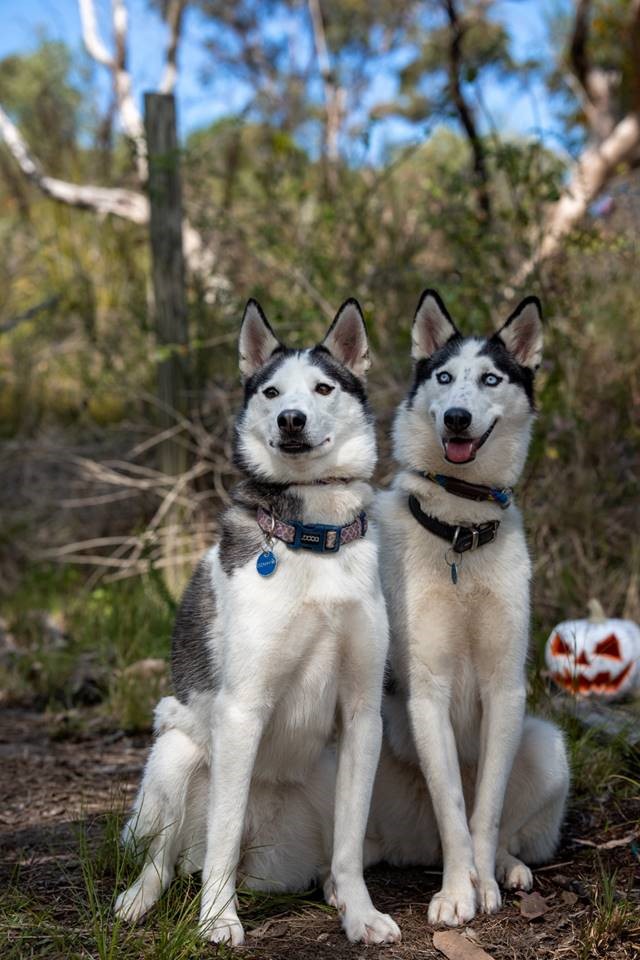 Autumn & Denali

Others like Coconut, Jango & Ranger are still shutdown and nervous but even they are slowly learning the shelter routine. With regular meals, attention and exercise their condition has improved.
As the calendar goes to print we have successfully rehomed three of the thirty huskies we took in. If you wish to help the huskies please consider becoming a Help a Husky Life Saver. You can find out more about how your monthly donation can help these dogs on our website. Visit: doggierescue.com/join-our-help-a-husky-life-saver-program
Become a Foster Carer
DoggieRescue relies on the support of our wonderful network of foster carers. If there is room in your heart and your home to offer temporary refuge to a dog, please call us now!
Every dog placed in foster care means we are able to save another from a pound but also importantly it is incredible to see the change that foster care makes to a lost, frightened or abandoned dog.
Become a Volunteer
We rely on volunteers, and there is a variety of animal care, customer service, events and specialised tasks just waiting for you! Call 02 9486 3133 or email info@doggierescue.com to find out more about volunteering.
Make a Donation
With our shelter at Ingleside, our operating costs are formidable and we are completely dependent on private donations. Our veterinary and food bills are colossal! You can make a one off or regular contribution through the donations page on our website. All donations over $2.00 are tax deductible.
Monika Biernacki, founder of DoggieRescue has dedicated her life to the cause and established DoggieRescue.com as a registered charity, in 2001.
"DoggieRescue developed from small beginnings saving one or two dogs at a time from the local council pounds. I became aware of the desperate plight of homeless dogs and just how few have any prospect of survival. The majority were young and healthy and would have made loving family pets. We are a No Kill organisation, committed to giving as many of these dogs as we can a second chance at life".
DoggieRescue wishes to thank The Dogs Pyjamas for the photos in this calendar; Spotpress Pty Ltd for printing this calendar and Jen Barbour for designing the calendar.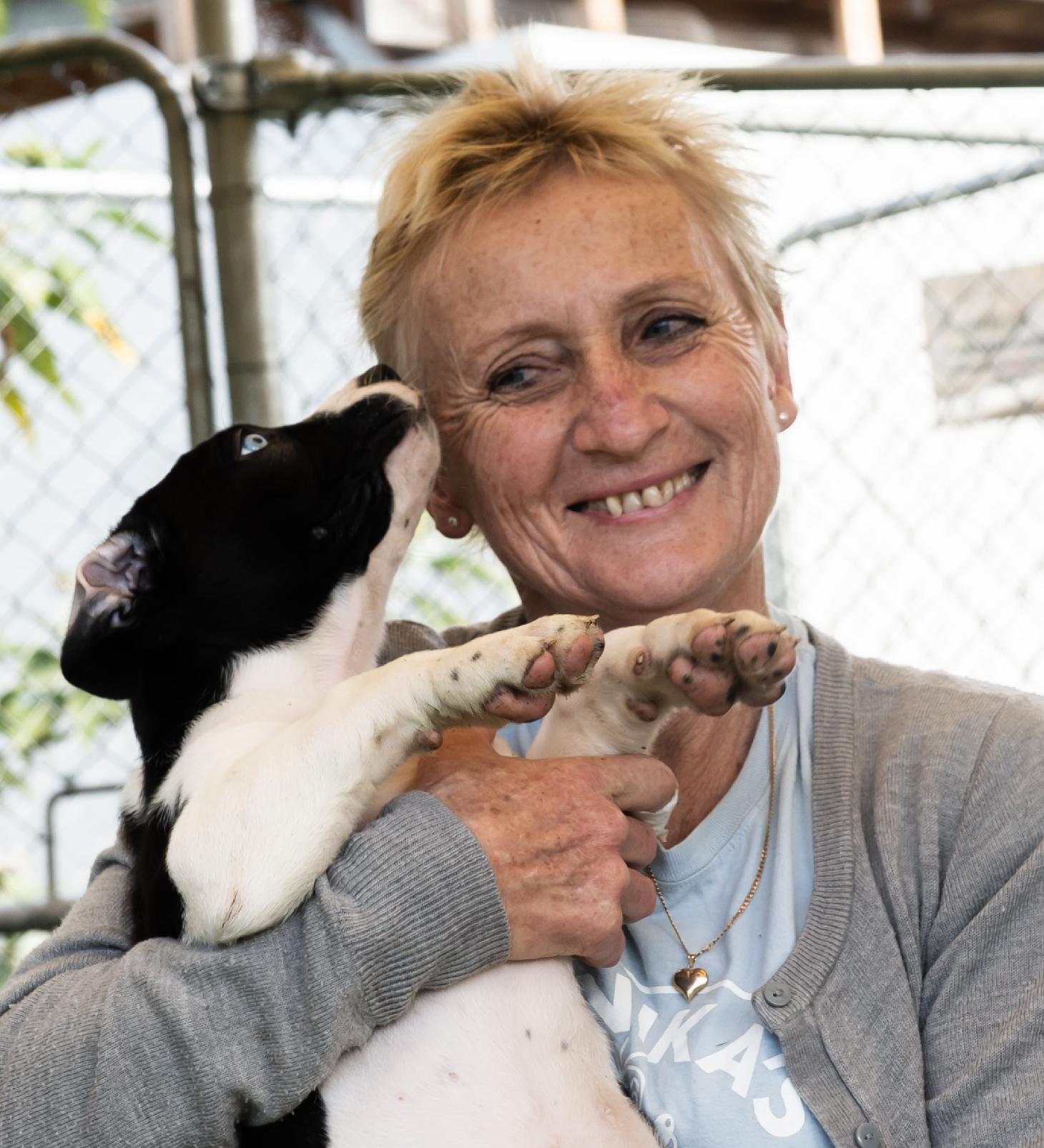 Ferrero and Monika Biernacki OAM - photo by Michael Mannington, Community Photography