January 27 - February 2, 2019: Issue 391
Hospital Protest and S*H*A*M* Mobile Hospital Coming to Pittwater in February
The return of full emergency and other acute services at Mona Vale Hospital will be the focus of community action in February, with a protest meeting planned and a mobile hospital tent - dubbed S*H*A*M* - coming to Avalon.

Save Mona Vale Hospital chairman Parry Thomas urged the whole community to attend the protest meeting at Pittwater RSL Club, on Tuesday February 5, from 7 to 9pm.
"With an election coming up, this is an opportunity for everyone to come along and let the government know how we feel about the state of hospital services on the Northern Beaches," Mr Thomas said.
"It's only if you continue to support this that we can recover our emergency, surgery maternity and other acute services."
Mr Thomas said the meeting would also provide the latest news on local hospital services and the Save Mona Vale Hospital campaign.
A NSW Nurses and Midwives' Association representative and NSW Greens Health spokeswoman Dawn Walker will speak at the forum.
Also invited are Pittwater MP Rob Stokes, Labor Health spokesman Walt Secord and Northern Sydney Local Health District chief executive Deborah Willcox – but they have yet to confirm their attendance.
Later in the month, the Mobile Army Surgical Hospital tent, based on the Korean war television comedy-drama M*A*S*H* series, will be set up in Avalon's Dunbar Park as S*H*A*M* headquarters.
S*H*A*M* organiser Chris Sadrinna, a former Home and Away star, said the event from February 15 to 17, will give the community a chance to share their stories and concerns about the closure of acute services at Mona Vale Hospital.
Mr Sadrinna invited all northern beaches residents to come down and join in the fun, which would include local bands, activities such as pregnant egg and spoon races and a real tank for kids.
"It's a corroboree of the community with storytelling at its heart," Mr Sadrinna said.
"We hope people will come to air their grievances because doctors and nurses can't speak out about the problems we're now having with the hospital system.
"We need to know what's going on so that there can be some sort of accountability and the problems can be fixed."
A wall of words will be created from the hospital stories and, at the end of the event, organisers will compile them and create a communique to be sent to NSW Premier Gladys Berejiklian and NSW Health.
Mr Sadrinna said he was inspired to arrange the mobile hospital station after he was unable to secure appropriate treatment at a local hospital for his two-year-old daughter suffering a serious illness in December.
Visit: Hospital Nightmare Continues on the Northern Beaches: Toddler sent home ends up on drip at RNSH - more in Pittwater Pathways video below

Mona Vale Hospital Public Protest Meeting
Hosted by Save Mona Vale Hospital Committee
Tuesday, February 5, 2019 at 7 PM – 9 PM
The Auditorium, Pittwater RSL Club
82 Mona Vale Road, Mona Vale
The Save Mona Vale Hospital Committee is hosting a Public Protest Meeting so the community can voice their concerns about not having a hospital on the coastal strip and to find out how they can help to have Mona Vale Hospital's Emergency, Surgery and Maternity Departments reopened.
"NSW health statistics from the last available year showed that 143 people needed resuscitation on arrival at Mona vale Hospital, another 4,700 needed medical attention for life-threatening conditions within 10 minutes and another 12,000 within half an hour. We know that many of these patients would not have survived the trip to Northern Beaches Hospital at Frenchs Forest."
Furthermore, 20 local GPs have signed a statement saying they believe lives will be at risk now that Mona Vale Emergency, Surgery, Maternity and other acute services have closed."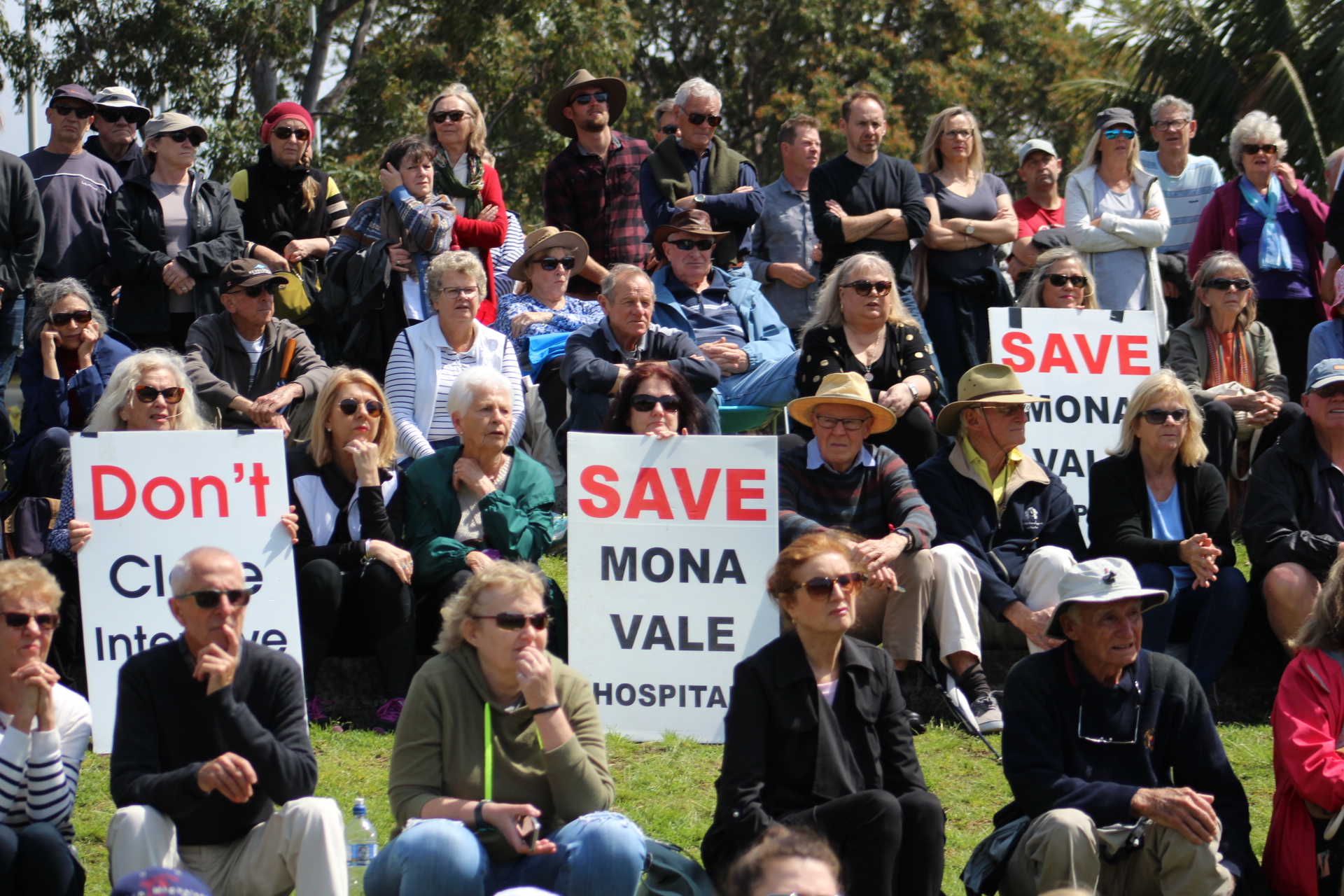 S*H*A*M
Feb 15 at 1 PM – Feb 17 at 8 PM
Do we need to pitch a Mobile Army Surgical Hospital on Dunbar park to take care of ourselves?
For three days in February we are creating an event for people to come down and share their stories about the new private Hospital that has replaced Mona Vale Hospital, the good the bad and the ugly. Come on down and make fake blood, face painting, pregnant egg and spoon races, local bands and a Tank for the kiddies!
Write your story on the postcard notice board or tell us your story on video! Dr.s and nurses have been gagged and are not willing to share stories for fear of being fired! We need to know the issues! There needs to be accountability so the problems can be fixed! Please come down and have your voice heard.