September 29 - October 12, 2019: Issue 423
Questions raised over asbestos removal at Mona Vale Hospital + Local Doctors Address Upper House Inquiry into northern beaches hospital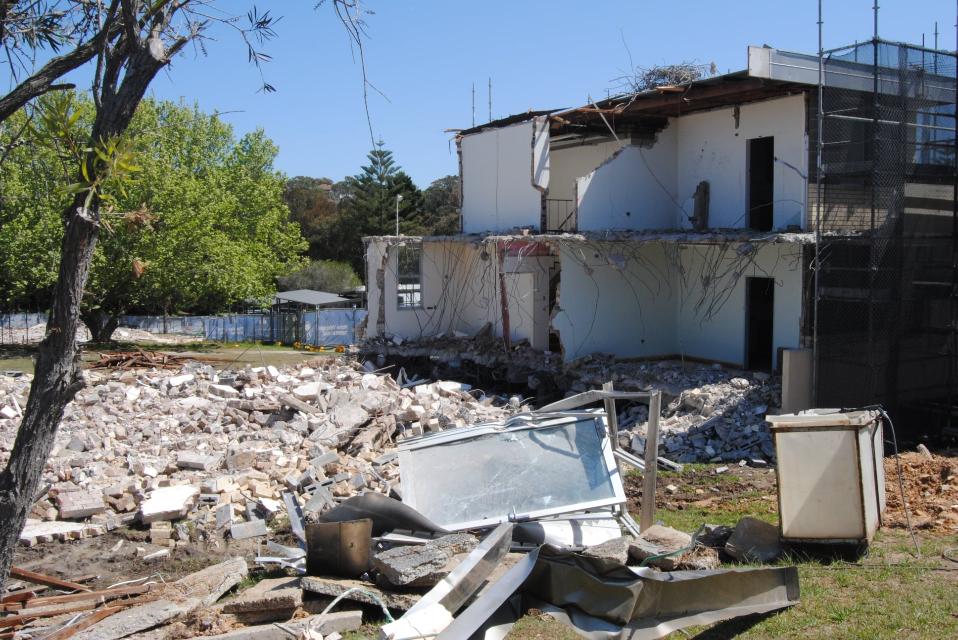 MVH Demolition photo taken on Saturday September 28th, 2019 by and courtesy of Mona Vale resident Mark Horton.
Saturday, September 28, 2019

Pittwater residents are concerned that asbestos is being removed from Mona Vale Hospital without following the proper safeguards.
Save Mona Vale Hospital chairman Parry Thomas said that buildings at Mona Vale Hospital which contain asbestos are being demolished without notice given to local residents.
A letter sent to residents on July 2nd 2019, informed them that construction would start on the redevelopment of the Mona Vale Hospital Campus beginning the week of July 8, 2019 but made no mention of asbestos removal.
"Like any building site, there will be some noise and dust, however, we will make every effort to keep this to a minimum," the letter from NSW Health Infrastructure said.
Mr Thomas said that the hospital buildings earmarked for demolition have been fenced off for weeks and the hospital's nurses' quarters have now been pulled down.
"Everything about this demolition shows a complete contempt for the community," Mr Thomas said.
"Most people expect their neighbours to let them know when they're removing asbestos - to give you a chance to at least close the windows.
"But the government appears to be carrying out these demolitions without giving due notice.
"The fact that this is occurring whilst a parliamentary inquiry is being carried out into our local hospitals and despite concerted long-term opposition from the community shows the level of disregard local politicians have for our community."
The buildings being riddled with asbestos and not 'fit for purpose' has been stated as the reason the 55 year old hospital needs to be completely demolished. However, other hospitals (Liverpool, Camden, Bowral, RPA) have had asbestos removed without the need for a demolition of the structures, and many have been updated and upgraded and remain open.
The NSW Government's CODE OF PRACTICE - HOW TO SAFELY REMOVE ASBESTOS, AUGUST 2019 requires Limiting access, displaying signs and installing barricades, and 4.2. Indicating the asbestos removal areas, states 'You must use signs and barricades to clearly indicate the area where asbestos removal work is being performed' and 'You must place signs in positions that indicate to people where the asbestos removal work area is and you should ensure they remain in place until removal is completed and a clearance certificate has been issued. '
The NSW Legalisation, Work Health and Safety Regulation 2017, Part 8.6 Clause 452 states 'so far as is reasonably practicable, that the asbestos is removed before the demolition is commenced'. When asbestos is removed from a residential building it is a requirement that those in the immediate vicinity are informed that this will take place, and when this will start and when it will be finished.
The NSW Upper House Inquiry into Northern Beaches Hospital and its impact on Mona Vale Hospital began on June 6, with the second hearing taking place on Monday this week, September 23rd.
The Inquiry heard more experiences about hospital and ambulance services on the Northern Beaches from doctors, with long-time defenders of public medical services from Pittwater amongst the witnesses.
Local GP Dr. Suzanne Daly reported a case from last week in which a grandfather was doing CPR on a toddler at Bilgola while waiting for an ambulance for 35 minutes "until it was almost too late" – describing ambulance waiting times as a "lottery". Dr Daly said she is fearful for the future of local residents given the peninsula has so many beaches, surfers and rock fishermen – with the closest hospital now so far away.
Richard Royale, Interim Chief Executive Officer, Northern Beaches Hospital in response to a question by Ms Cate Faerhrmann during the first hearing, 'Did the contract require the closure of acute services at both Mona Vale and Manly hospitals simultaneously with the opening of Northern Beaches Hospital?' confirmed that 'yes, they did.'

Surgical Prof. at RPA and Pittwater resident Richard West AM, catalogued the shortcomings of hospital arrangements, saying his main concerns were: the lack of medical services at NBH including treatment for cardiac disease, thrombolysis (clot-busting drug treatment for strokes), major trauma and urgent surgery for children; downgrading of services at Mona Vale Hospital; lack of ambulances and long waits for them in the Pittwater area.
Professor West also condemned the lack of transparency over availability of services and the fact that some services at the NBH are available to private patients only.
"They have a public/private model run by Healthscope," he said. "This model has failed in the past and is failing again at the NBH."
Professor West said the NSW government should revoke Healthscope's role, upgrade the facility to "Level Six", ensure public and private patients can access equal treatment and re-upgrade Mona Vale Hospital.

Director of Medical Services at the Northern Beaches Hospital Dr Simon Woods stated in both the first and second Hearings that some treatments were referred elsewhere, and specifically during the second hearing that stroke treatment was centralised around a small number of hospitals due to its complexity.
"It states in the contract ... we are precluded from (performing) thrombolysis.
"If we did it, we would be in violation of the contract."
Other GPs appearing included Dr. Elana Roseth, who told of a patient labelled "Not for resuscitation" without consultation with him or his family, who was allowed to die. Dr Roseth went through a list of problems with the new hospital including a lack of communications with GPs, particularly a failure to send them patient discharge summaries, meaning local doctors sometimes have no idea of what illness a patient has experienced and treatment received for it at NBH. This included patients with serious issues ranging from heart attacks to suicide attempts.
Another local GP, Dr. Caroline Rogers was concerned about the increased cost for services at the NBH, with patients telling her they have been pressured to use the private system there, and told the services they required were not available in the public system. The loss of outpatients clinics that existed at Mona Vale and Manly Hospitals – including cardiology and neurology – meant that patients are now forced to seek paid consultations with specialists in their rooms.
Dr Woods stated in the first hearing that he had read in the submissions that concern had arisen around a number of services which were thought by the local community to be publicly funded outpatient services that previously existed.
"In fact, what we have learnt is that there were some services which were provided on a bulk-billing, private, fee-for-service basis by independent doctors based at those hospitals to the community and to referring general practitioners. It looked like these were publicly funded outpatient services. They were not, and they did not form part of the contract that we have been asked to fill." Dr. Woods stated.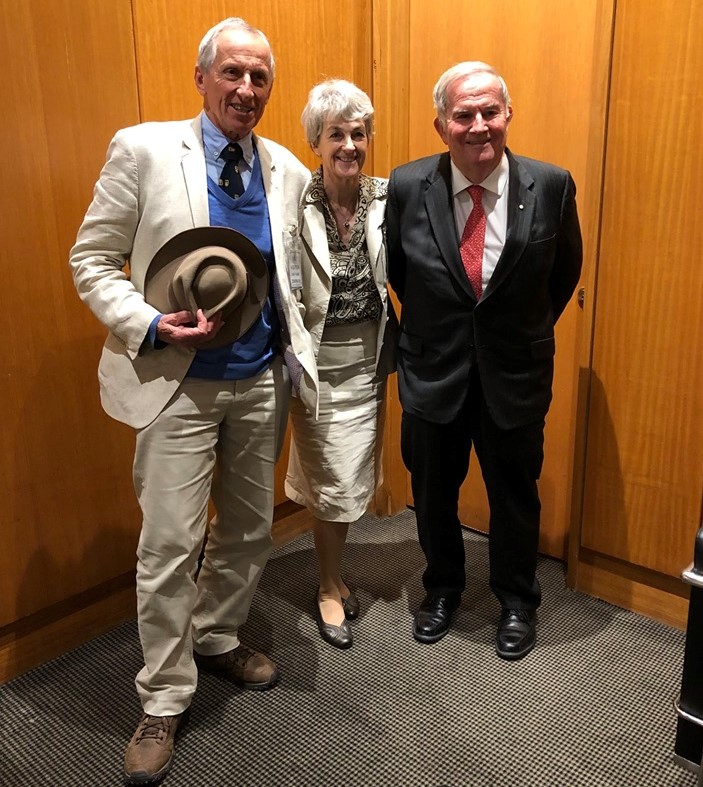 Dr.s King and Daly and Professor West at Second Public Hearing - photo supplied
Historian and Pittwater resident Dr. Jonathon King, also appeared as a witness at the second Hearing. Dr. King stated the NSW government is showing contempt for the inquiry by proceeding to demolish buildings at Mona Vale Hospital while hearings are taking place. Dr King called for the demolition to stop, and repeated the community's concerns that the Northern Beaches Hospital is too far away. He asked the committee to tell the government that residents want traditional public hospitals for medical treatment.
Many residents now understand that - for public patients only - many procedures routinely carried in all other public hospitals are specifically excluded in the contract the Northern Beaches Hospital has with the NSW government. Even as this Issue comes out people are still confirming that their personal experience at the new hospital means the closure of Manly and Mona Vale hospitals, along with their being offered to private 'co-existing' medical providers, there is now no true public hospital anywhere on the northern beaches.

MVH Demolition photos taken on Saturday September 28th, 2019 by and courtesy of Mona Vale resident Mark Horton.