July 26 - August 1, 2020: Issue 459
Mona Vale Hospital saga continues as COVID second wave builds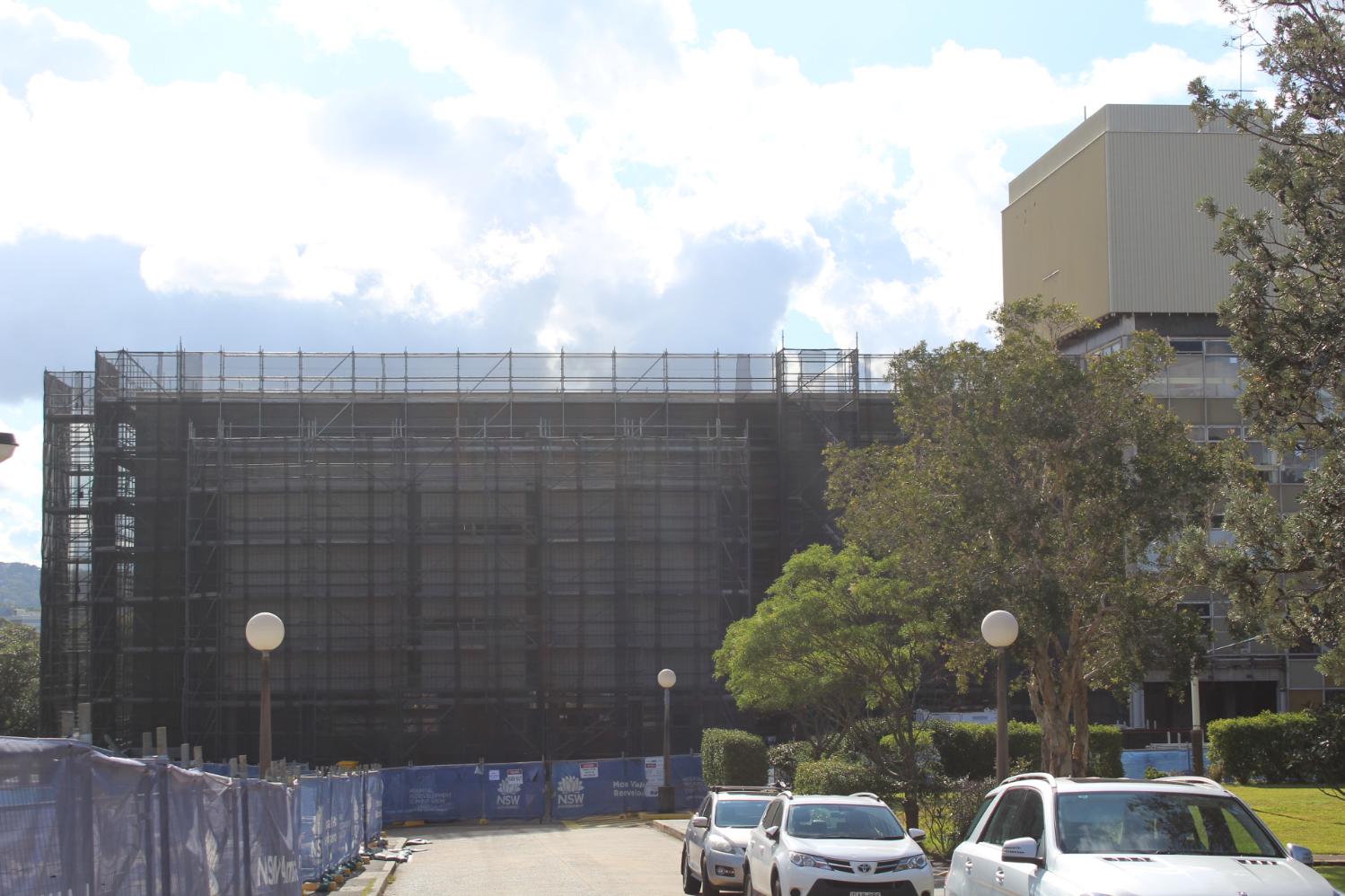 Mona Vale Hospital main building, July 13, 2020 - photo by A J Guesdon

By Miranda Korzy
Many have watched the saga of Mona Vale Hospital unfold since calls for a new hospital on the Northern Beaches began at the turn of this century. After a tortuous path involving politics, promises and planning, the Northern Beaches Hospital opened as a private facility in 2018 - also contracted by the NSW government to treat public patients. However, at the same time the government condemned Mona Vale Hospital's main wing and ancillary buildings to demolition due to the presence of asbestos.
As a result, all acute services at Mona Vale Hospital - including emergency, maternity and surgery - were closed in October 2018.
Demolitions then began last year with service buildings and the nurses' quarters, and in recent months moved to the main building. That was despite widespread public opposition and a pre-COVID-19 recommendation in February by the NSW Upper House Inquiry into the Northern Beaches Hospital that the building be saved and state government reopen acute services at the hospital.
Since those decisions were implemented, we have entered the world of the COVID-19 pandemic, which highlights the need for health infrastructure like hospitals. In Victoria, which has recorded 139 deaths from the virus, a second wave of infection has broken with cases surging in recent weeks. According to the federal health department, between July 16 and 22, more than 2,300 cases were reported, an increase from 1,654 cases the previous week. On Saturday, another 300 infections were confirmed.
With infections spreading to NSW from Victoria after their quarantine debacle, our state recorded another 15 cases yesterday (between 8pm July 23 and 8pm July 24), bringing the total of active cases to 140. As well as numbers rising, clusters around the state have appeared - including at the Crossroads Hotel at Casula, Thai Rock restaurant at Wetherill Park, church services in south-west Sydney and the Soldiers Club at Batemans Bay. Another serious worry is that there is no known source for 10 cases of the virus confirmed in NSW over the past two weeks.
Not surprisingly, NSW Health on Thursday recommended all Local Health Districts raise their COVID risk level to amber, that is moderate.
NSW Health Secretary Elizabeth Koff said the increase in community transmission and use of appropriate personal protective equipment (PPE) were a key focus, and the safety of patients and staff the department's priority.
"This requires all health workers wear a surgical mask if they are within 1.5m of patients. Patients are also required to wear a mask, where possible," said Ms Koff said in a statement.
"… I want to emphasise that mask use supplements, but is not a substitute for, other precautions such as hand hygiene and physical distancing."
(In line with this, the public can check NSW Health's COVID infection risk guidelines online. See http://www.cec.health.nsw.gov.au/__data/assets/pdf_file/0008/595754/COVID-19-Infection-Prevention-and-Control-Response-and-Escalation-Framework.pdf)
On the Northern Beaches, only a few coronavirus infections have been recorded in recent months, with two confirmed during July – one at Warriewood and one at Frenchs Forest. Another was recorded in the Forestville - Killarney Heights area.
Despite this, and the fact that Northern Beaches Hospital has had no COVID-19 cases for weeks, it is following the health department advice to increase their infection control measures. A spokeswoman told Pittwater Online News yesterday that the hospital had implemented the new measures by 8am on Friday.
Since then, any staff member going within 1.5 metres of a patient must don a mask and patients in shared rooms or close to others also have to wear one. Only one person is allowed to visit a patient at a time, their temperature is taken on entry to the hospital and they are also required to wear a mask – either supplied by the hospital or their own.
Most of us would welcome the health department and NBH's caution. What some find surprising is that, in this situation, with a pandemic surging across NSW and confirmed cases from around the world reaching a total of 15,296,926 - including 628,903 deaths (as reported to the World Health Organisation), the NSW government would continue knocking down buildings at Mona Vale Hospital.
Save Mona Vale Hospital chairman Parry Thomas this week said that construction workers have now opened up big holes in the ground floor of the main building and cloaked its western wing in a black material, which prevents the public from seeing inside.
"However, Pittwater still faces a potential second and serious wave of COVID-19 and the question remains: would we have enough hospital beds to cope with it in Pittwater," Mr Thomas told Pittwater Online News.
"All of the current cases of the coronavirus in NSW sprang from the failure of quarantine in Victoria and the Crossroads Hotel at Casula (in south-western Sydney).
"At a time like this, Pittwater residents should have access to an isolation ward equipped to treat COVID patients at Mona Vale."
SMVH has fought for 20 years to save all services at the hospital including: presenting a petition with more than 12,000 signatures to Parliament; participating in and making contributions to two Upper House Inquiries that have considered hospital requirements for the Northern Beaches; and many rallies and protests.
Other questions also persist about the presence of asbestos at MVH. How much asbestos was actually present in the hospital? Has it all been removed? How is it that another hospital at Port Kembla, with identical architect and builder and opened in 1965, could be refurbished without concerns about the deadly material? Would it have been possible to renovate the Mona Vale building, removing the asbestos, as was done to its maternity and paediatric wards – as in many other hospitals around the state?
Approached this week for comment on some of these issues, Wakehurst MP Brad Hazzard referred Pittwater Online News to NSW Health. A spokesperson sent Pittwater Online News a copy of a flyer that had been distributed to staff and neighbours previously informing them of the asbestos work at the hospital. However, it did not explain when the work would be undertaken - giving them an opportunity to close windows against dust and fibres as most of us would expect from our neighbours. Neither do patients appear to have been informed – with those in rehab opening windows during recent months – as witnessed by Pittwater Online News.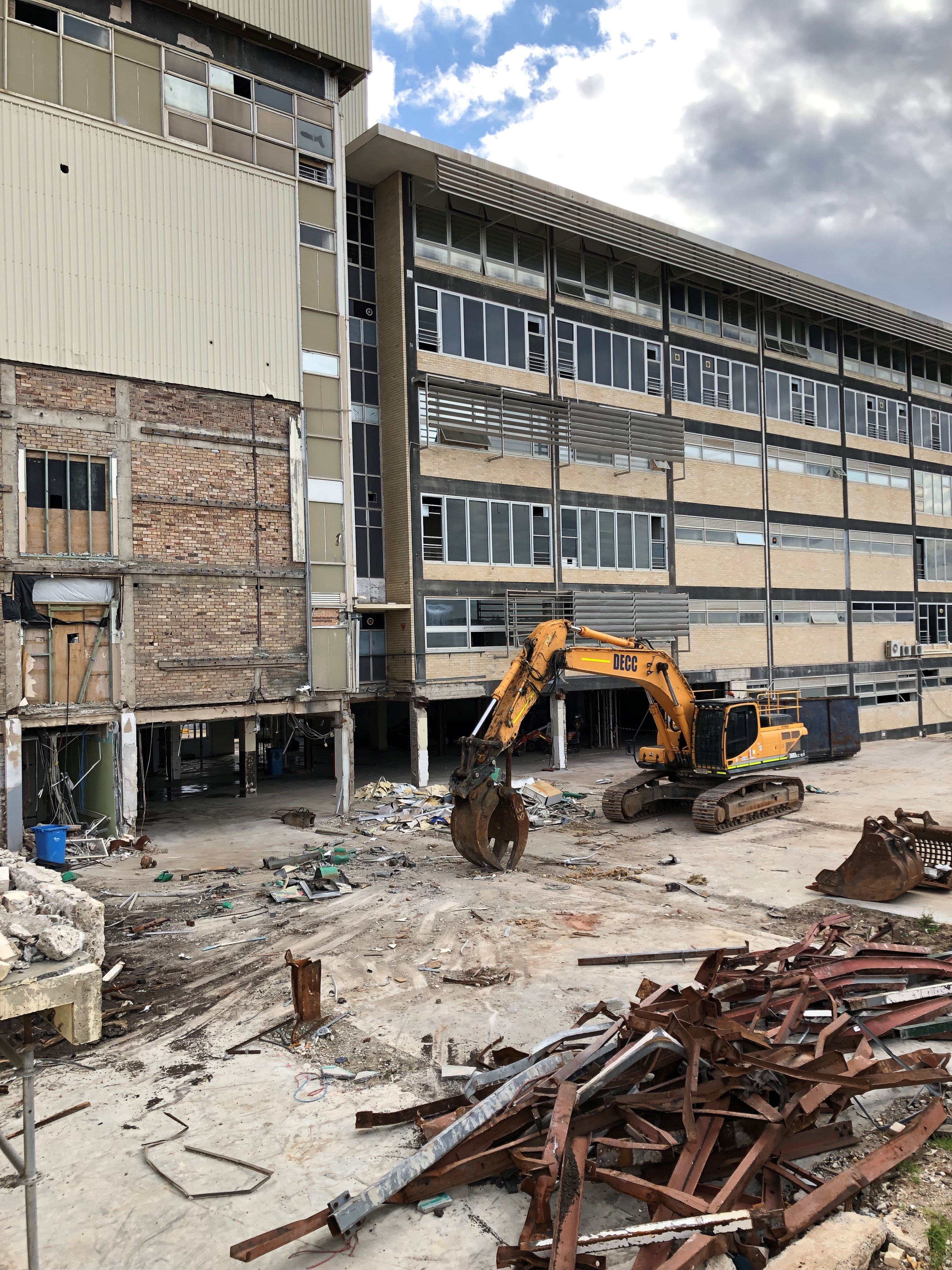 rear of Mona Vale Hospital in June 2020 - author's photo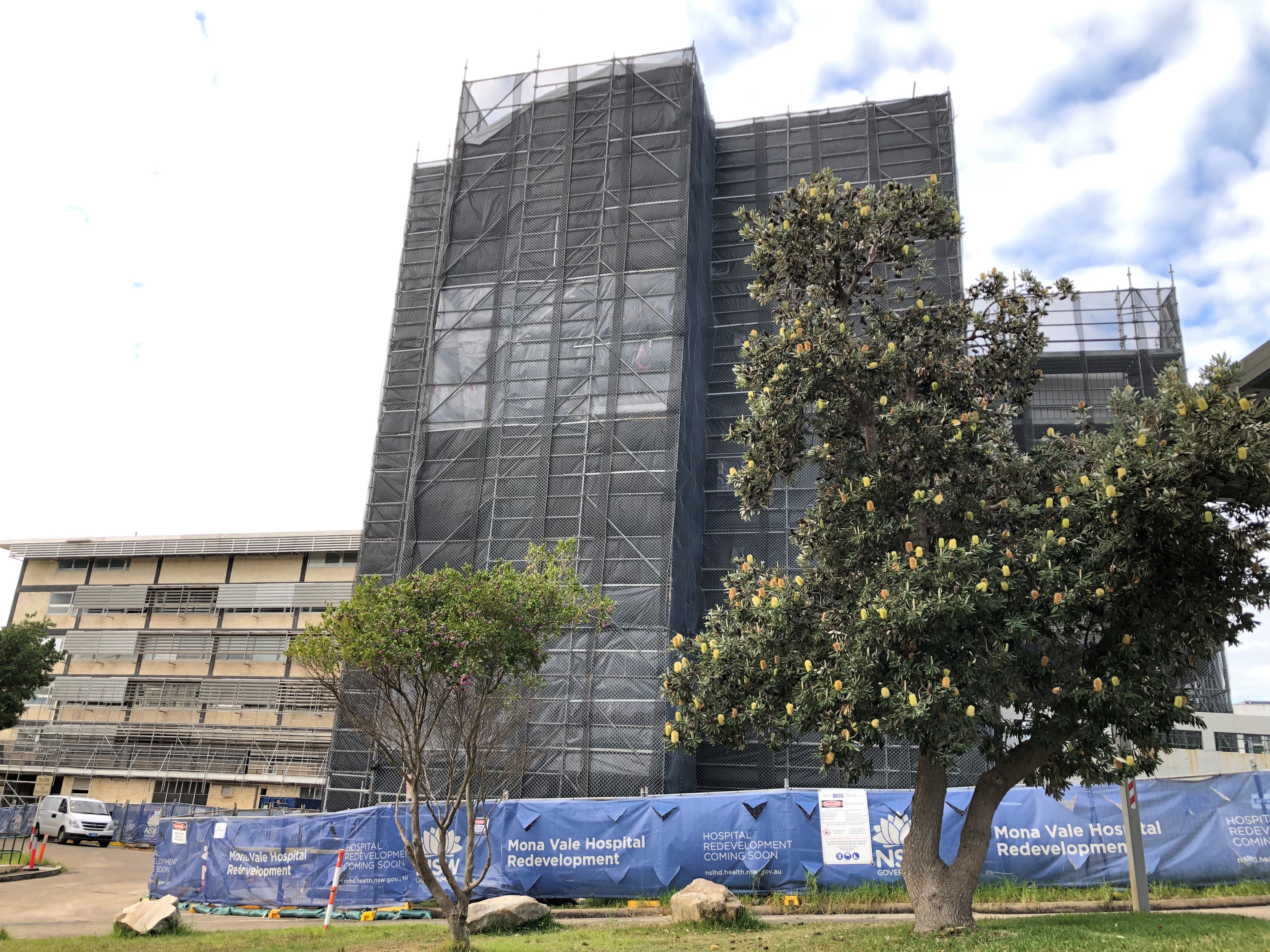 rear of Mona Vale Hospital in June 2020 - author's photo

A NSW Health Infrastructure spokesperson said the demolition complied with strict environmental and planning controls required for all NSW Health construction projects.
"Air monitoring was put in place as soon as asbestos was identified during the demolition," the spokesperson said in a statement for Pittwater Online News.
"The community can be assured safety remains the highest priority at all times.
"Removal of asbestos is managed in line with NSW Government regulations and in strict accordance with all health and environmental regulations.
"The workers responsible for managing asbestos are licenced professionals, experts in asbestos management."
However, the work has some way to go, with the spokesman saying demolition will not be completed until late 2021.
Mr Thomas, from SMVH, responded that the lack of transparency about the removal of the hazardous material is shocking. Asbestos removal signs have not been clearly visible at the hospital during the work so far - apart from two small ones on the building itself that have been removed.
"The NSW government told us that asbestos was the reason it's being pulled down but they haven't told anyone about when asbestos removal is or was happening - staff, local residents or others in the community," Mr Thomas said.
"The building is supposed to be riddled with it but there are no signs.
"There's no protection for staff, no protection for patients and no protection for members of the public.
"They've had howling gales but patients in the nearby rehab ward have not been advised to keep their windows closed.
"Frankly, we're sick of getting the mushroom treatment over the site. They only reveal snippets of truth that they want to promote.
"I consider that they have zero integrity and zero honesty – resulting in zero credibility."
Question marks also exist as to how much asbestos was present at MVH.
On June 25th, 2010 Mr. Hazzard received answers to questions he'd put in parliament asking what areas in the Manly and Mona Vale Hospitals had asbestos, what reports had been done during a 15 year period to review the level of asbestos at these hospitals, and what the cost of removal of the asbestos would be.
In September 2010 Mr. Hazzard asked the then NSW Health Minister and Deputy Premier the Hon. Carmel Tebbutt MP how did they justify asbestos still being at the Mona Vale Hospital facilities. The reply was that regular reviews were undertaken, a major asbestos audit for Mona Vale Hospital was conducted in July 2010 and had provided recommendations including air monitoring requirements. Priority areas for asbestos removal had been identified and a progressive removal strategy was being undertaken.
Reports on asbestos at Mona Vale Hospital have been completed in 2000, 2003-2007, 2009 and in July 2010.

However, asked by hospital protesters outside his office in December 2018 if the state government still intended to carry out the demolition, Mr Hazzard responded: "Absolutely not", qualifying this by saying: "There are parts of it with asbestos.
"I haven't seen anything on that … but if there's asbestos, there might have to be reparations".
At the same session of Parliament in 2010, then Minister for Health answered Mr Hazzards Question.
"The draft Northern Sydney Central Coast Area Health Service Asset Strategic Plan 2010 estimates that the cost for removing the asbestos materials would be $2 million for Manly Hospital and $5 million for the wards at Mona Vale Hospital," the Hon. Carmel Tebbutt MP replied on September 20, 2010.
This begs yet another question: are residents getting value for money with the demolition of buildings at Mona Vale Hospital?
Instead, the NSW government has rapidly refurbished space at Royal North Shore Hospital for the residents of the North Sydney Local Health District (to which Pittwater belongs) in response to the COVID-19 pandemic, the NSW Health Infrastructure spokesperson said.
"The new inpatient unit, which includes capacity for over 50 additional beds, was constructed in just over six weeks and will enable the District to treat any increase in patients that may occur as a result of the COVID-19 pandemic," the supplied statement reads.
However, perhaps with this new highly contagious virus for which there is no vaccine, it's time to reconsider the location of isolation wards. Mona Vale and Manly – along with many other coastal hospitals – were built next to the ocean and its cleansing breezes, in line with the former practice of using isolation to achieve infection control.
As one Pittwater local observed this week, it's a tragic irony that as Pittwater prepares for a second wave of COVID-19 and a palliative care unit overlooking the waves at MVH approaches completion, that the hospital's chapel has also just been torn down.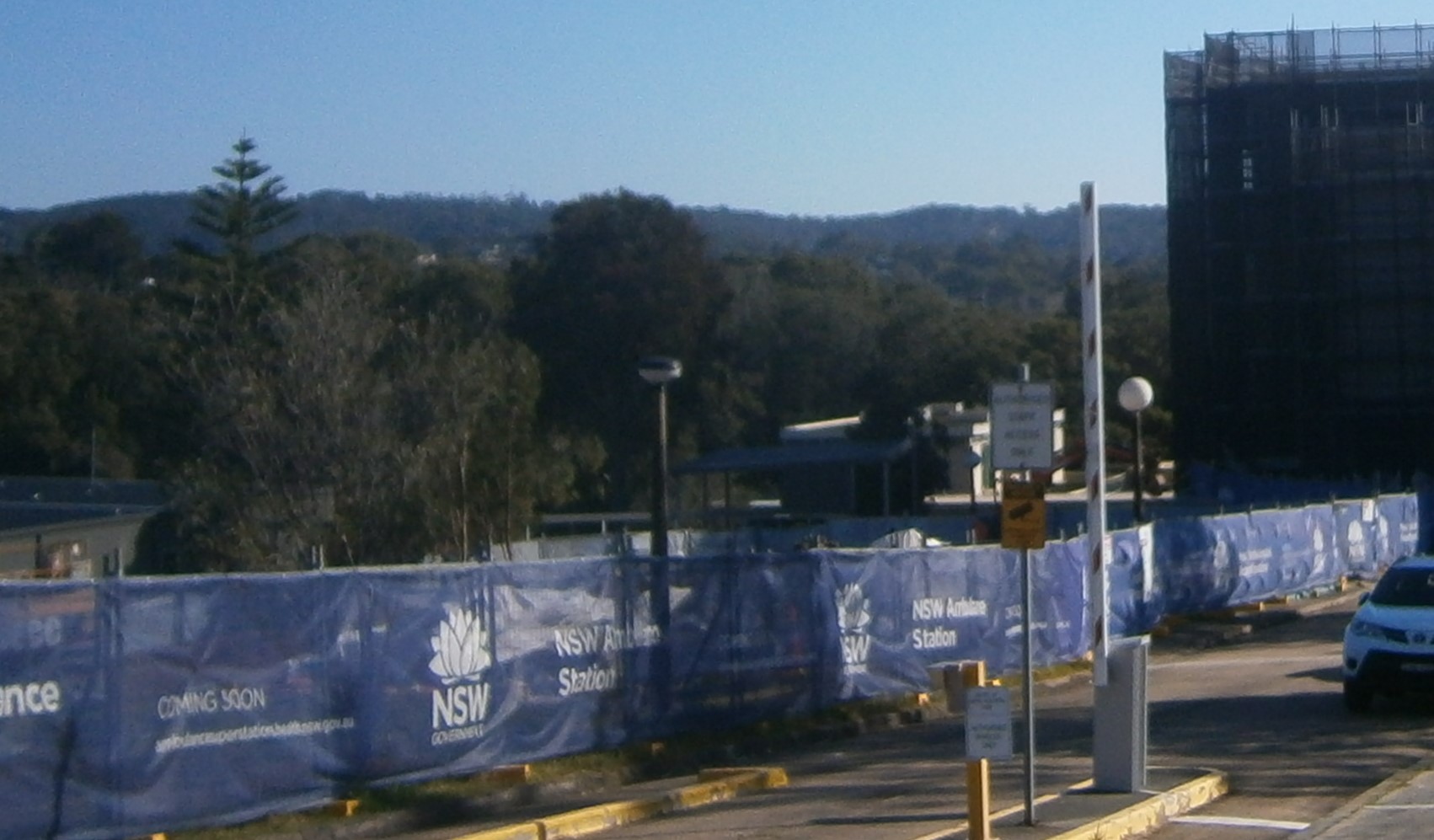 Mona Vale Hospital Chapel demolished - photo taken July 24, 2020 and supplied by Mark Horton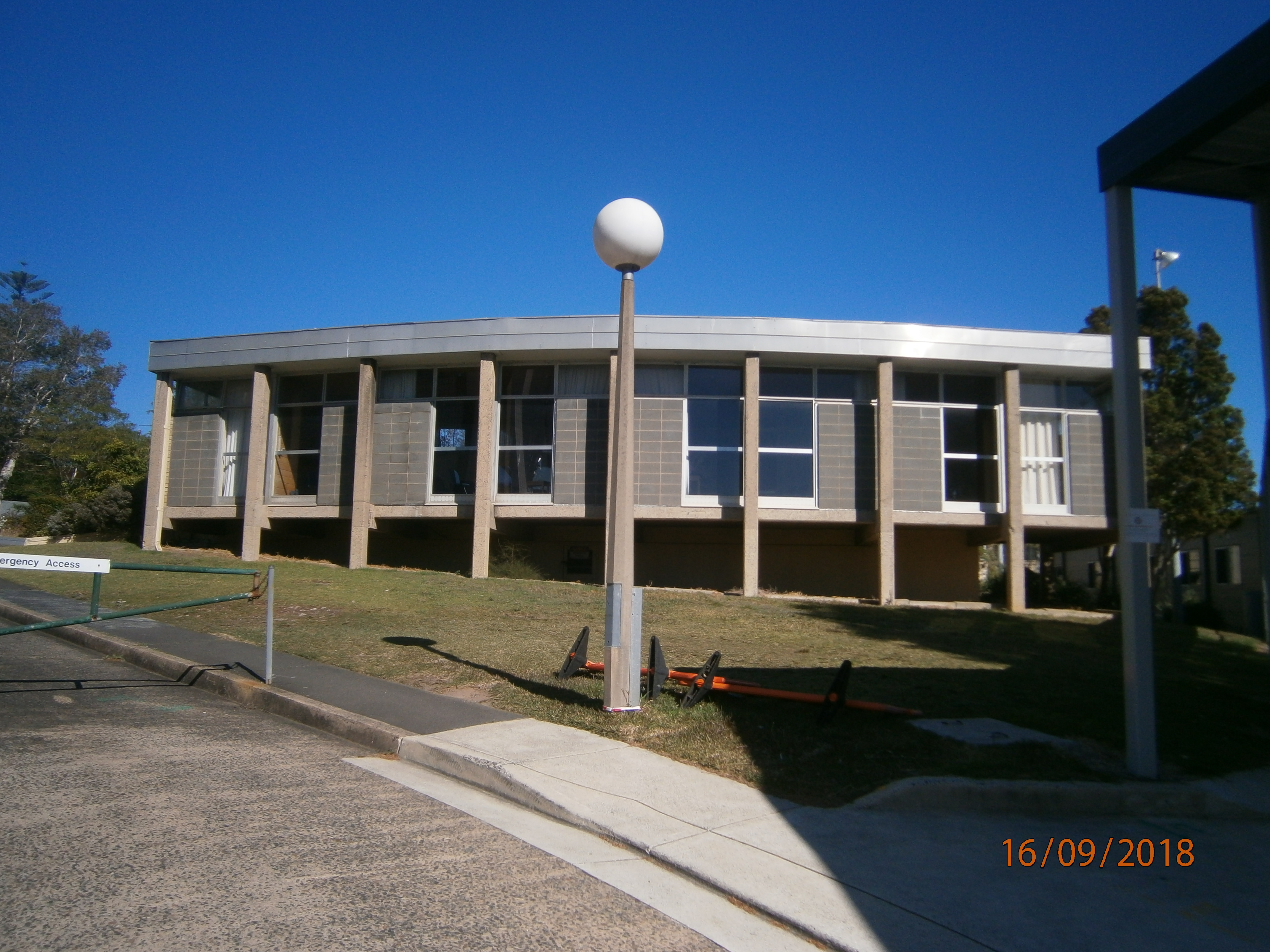 Mona Vale Hospital Chapel in October 2018 - photo by Mark Horton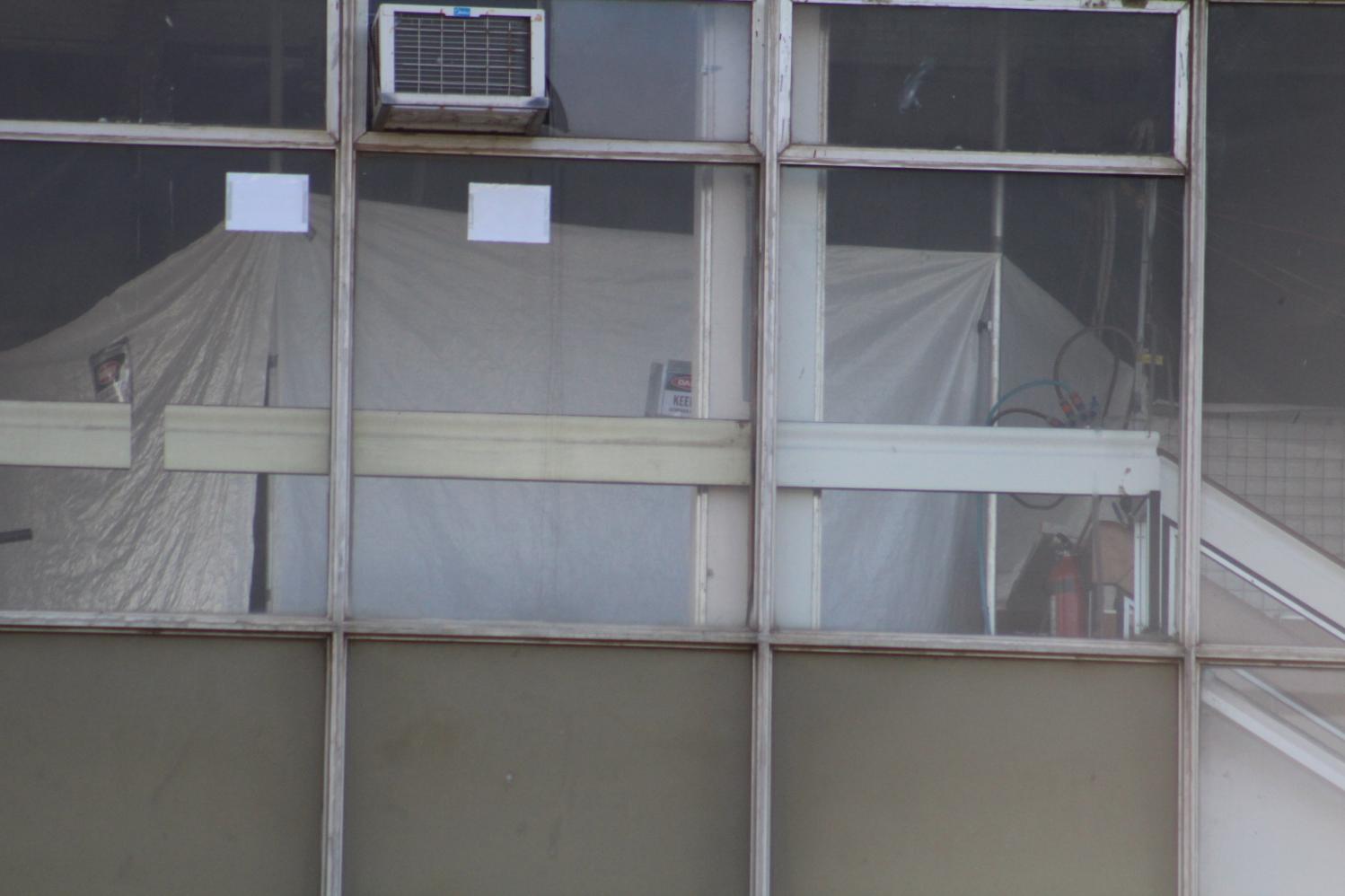 Sealed areas are where asbestos removal is taking place - phtoo taken July 13, 2020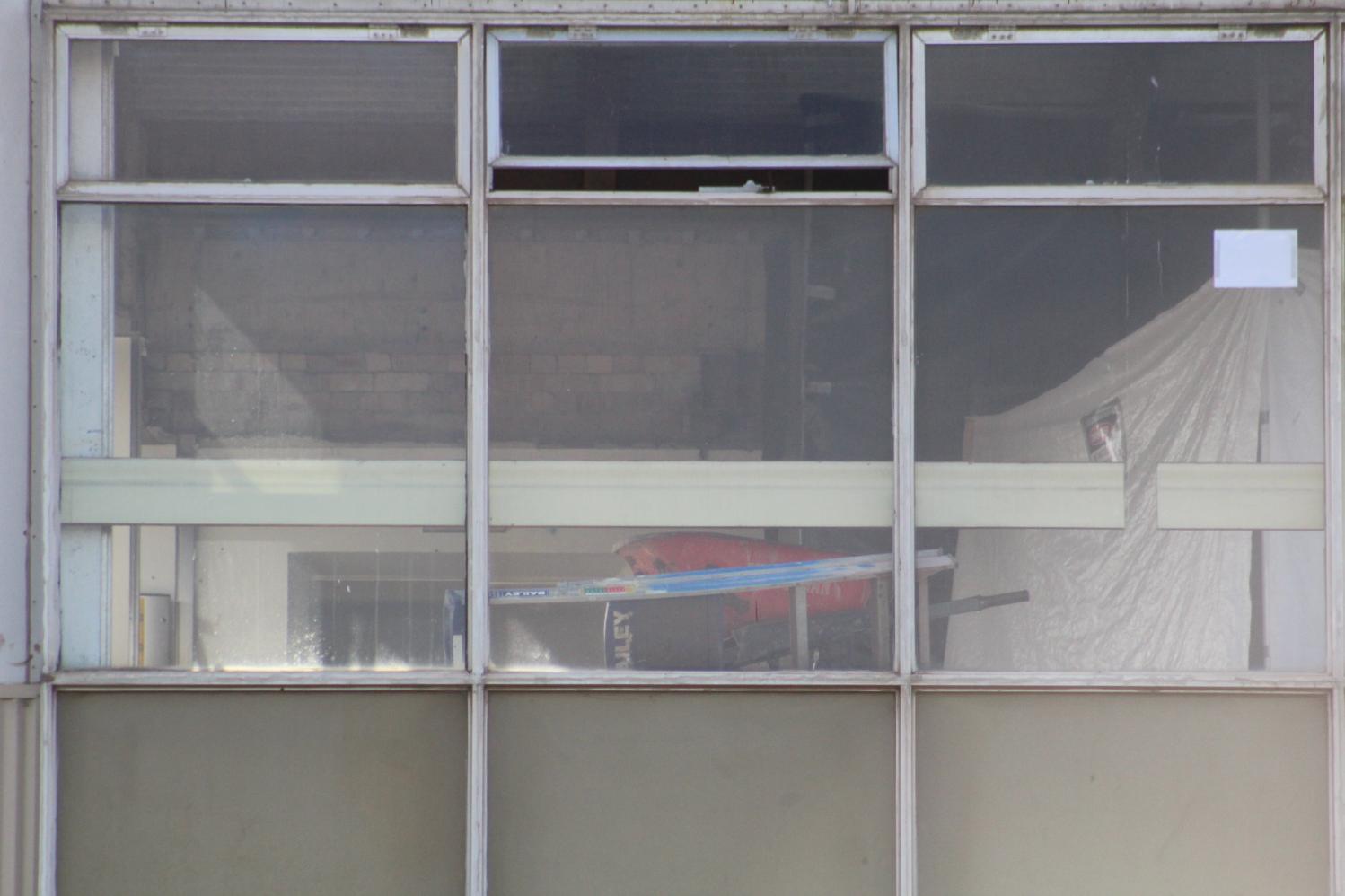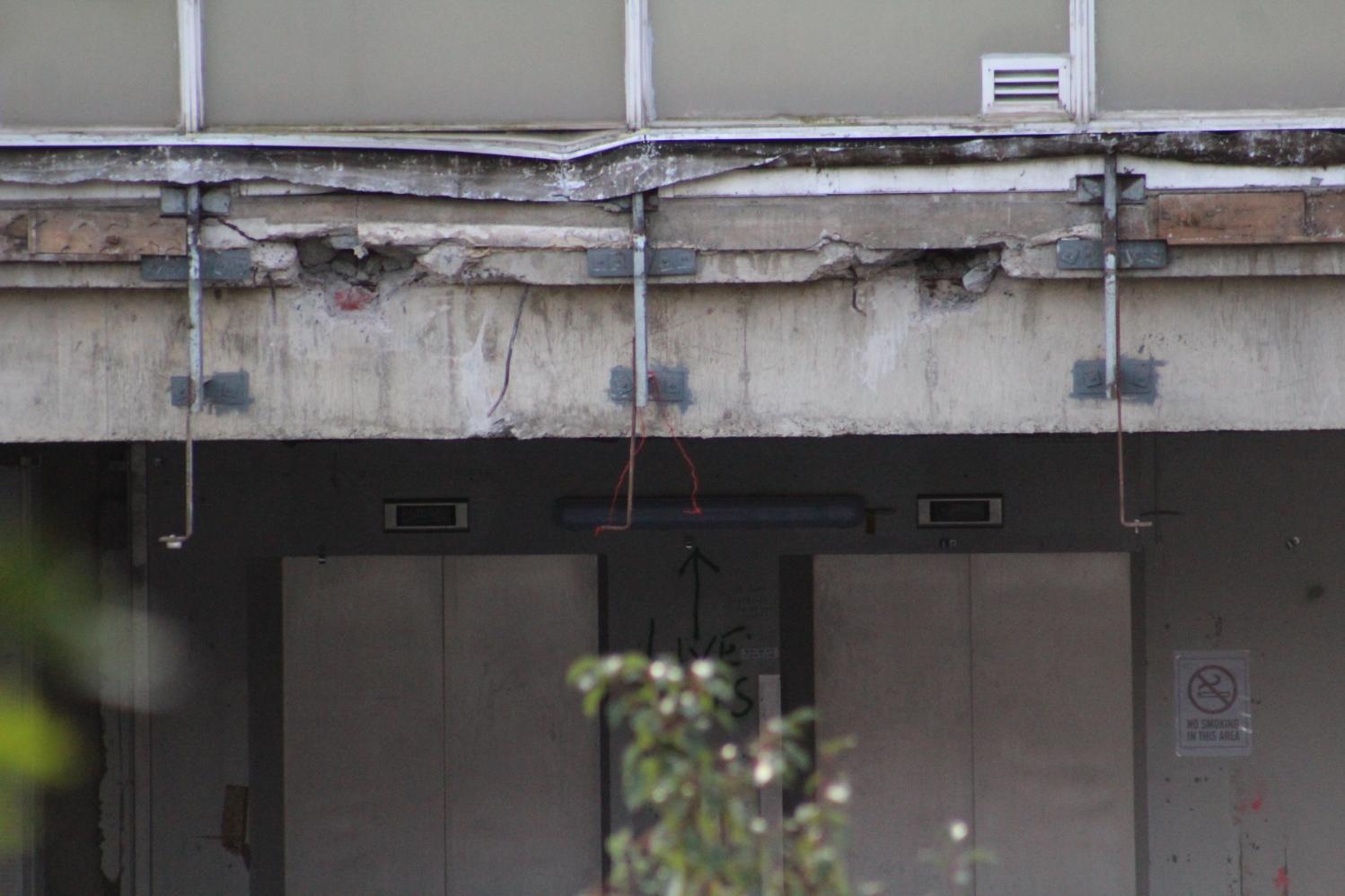 Facade of building face near original entrance doors - photo taken July 13, 2020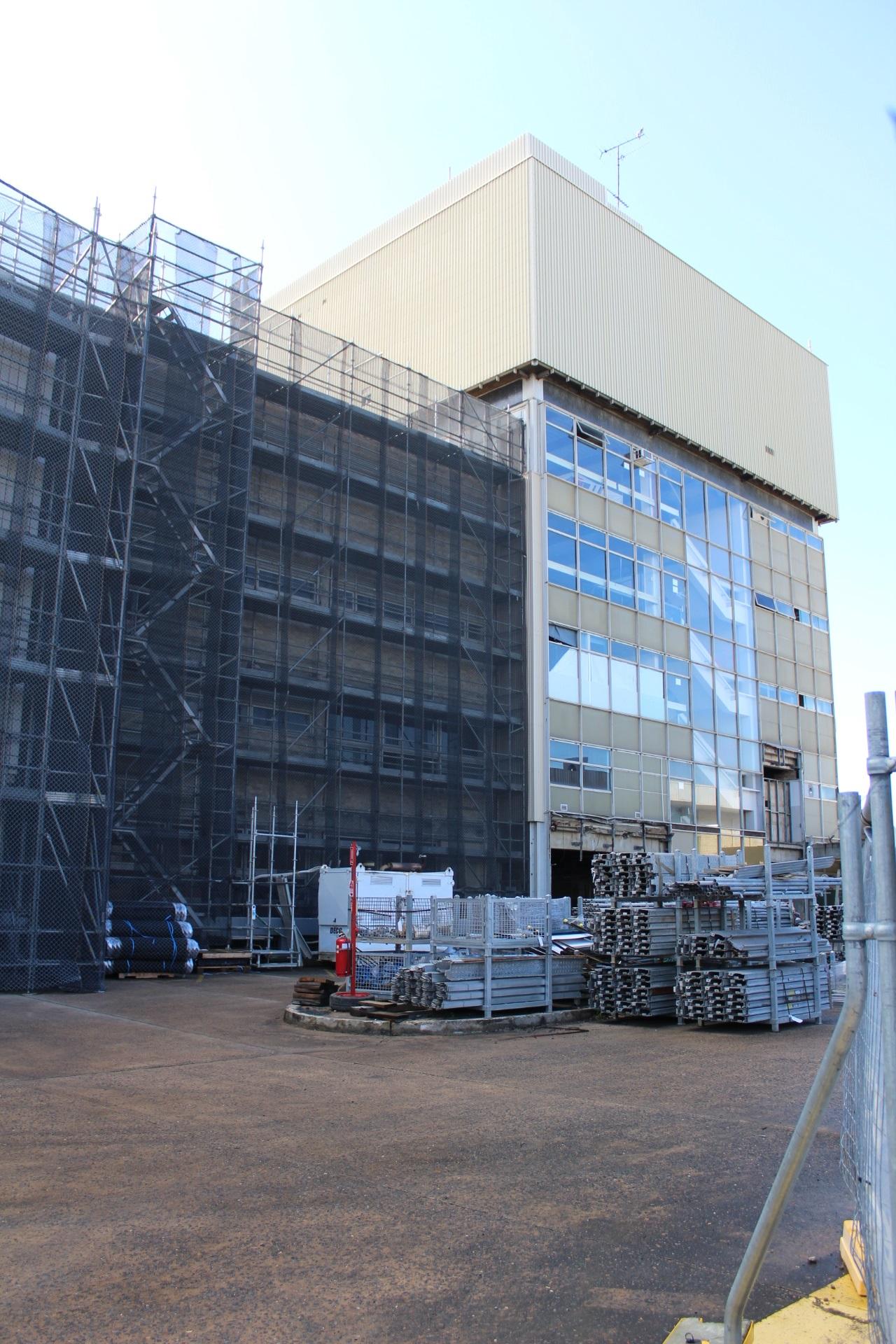 photo taken July 13, 2020