September 6 - 12, 2020: Issue 465

Miniature Books of Verse – A Romantic Tradition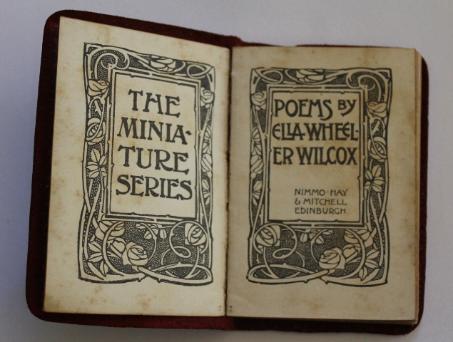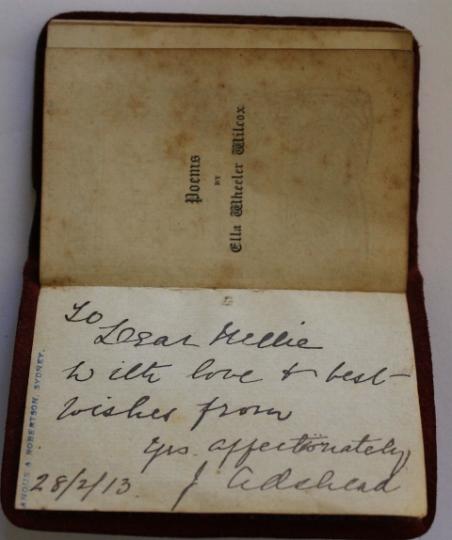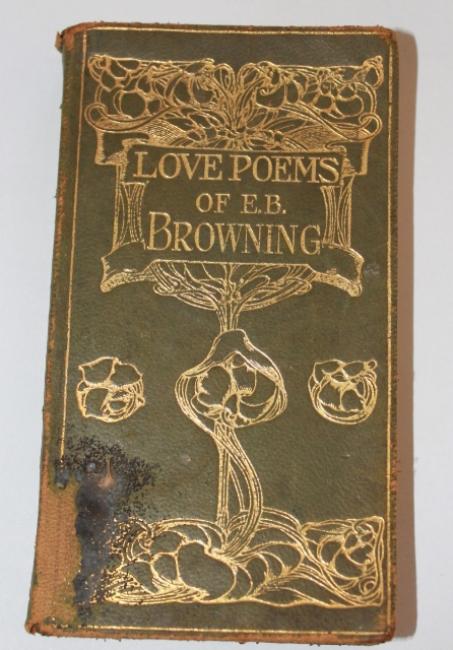 Penning a love poem to your intended or adored one is as almost as old as love itself. During the 18th and 19th century a tradition evolved of giving your sweetheart a little pocket book of verse, named 'miniature books' so she, or he, may refer to your good thoughts, warm love, and perhaps steamy passionate intentions, in any hidden place or while pausing from a tramp across the wilds. The two samples here, both over 100 years old, are lovely family heirlooms held now by a Pittwater Online staff member, which tell in their inscriptions of whom they were given to, of romance that blossomed into marriage and the eventual manifestation of those whose hands touch them now.
Perfect for Spring, these little tokens are referred to again and again as the air sweetens with flowers blooming and the weather warms, inspiring light hearts.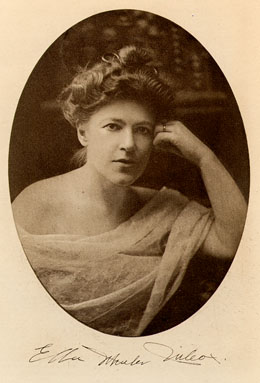 The first is the Poems of Ella Wheeler Wilcox, published in 1910 by W.P. Nimmo, Hay, and Mitchell of Edinburgh. Ella Wheeler Wilcox (November 5, 1850 – October 30, 1919) was an American author and poet. Her best-known work was Poems of Passion. Her most enduring work was " Solitude", which contains the lines: "Laugh, and the world laughs with you; Weep, and you weep alone". Her autobiography, The Worlds and I, was published in 1918, a year before her death. Ella Wheeler was born in 1850 on a farm in Johnstown, Wisconsin, east of Janesville, the youngest of four children. She started writing poetry at a very early age, and was well known as a poet in her own state by the time she graduated from high school. In 1884, she married Robert Wilcox of Meriden, Connecticut, where the couple lived before moving to New York City and then to Granite Bay in the Short Beach section of Branford, Connecticut. The two homes they built on Long Island Sound, along with several cottages, became known as Bungalow Court, and they would hold gatherings there of literary and artistic friends. They had one child, a son, who died shortly after birth. Not long after their marriage, they both became interested in theosophy, new thought, and spiritualism.
The other is Love Poems of Elizabeth Barret Browning Including The Sonnets from the Portuguese, published and copyrighted 1902 by John Lane, London and New York. John Lane (14 March 1854 – 2 February 1925) was a British publisher. Originally from Devon, where he was born into a farming family, Lane moved to London in his teens. After entering the London book trade he became co-founder of The Bodley Head, originally a firm that dealt with antiquarian books. They later went into publishing. Lane is mainly associated with publishing controversial and audacious texts, especially for a small, sophisticated audience. Examples are the periodical The Yellow Book (1894 - 1897) and Lane's Keynote Series, which included contentious material such as Grant Allen's novel The Woman Who Did (1895), Victoria Crosse's immediate reaction to it, the novel The Woman Who Didn't (1895), and H.G. Wells's novel about his affair with Amber Reeves, The New Machiavelli (1911).
On 13 August 1898, John Lane married Annie Philippine King, the widow of Tyler Batcheller King and the daughter of Julius Eichberg. Annie Lane was author of To Thee, O Country (national hymn) and of the books Brown's Retreat, Kitwyk (published by John Lane in 1903), The Champagne Standard, Talk of the Town andAccording to Maria. John Lane's nephew, Allen Lane, founded Penguin Books.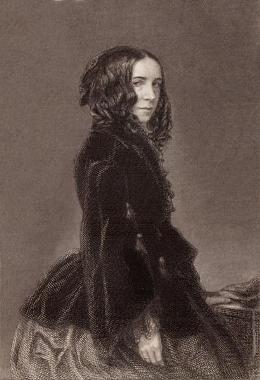 Elizabeth Barrett Browning (6 March 1806 – 29 June 1861) was one of the most prominent poets of the Victorian era. Her poetry was widely popular in both England and the United States during her lifetime. A collection of her last poems was published by her husband, Robert Browning, shortly after her death. Barrett Browning's first known poem was written at the age of six or eight, "On the Cruelty of Forcement to Man". When grown and living in London John Kenyon, a distant cousin, introduced her to literary figures including William Wordsworth, Mary Russell Mitford, Samuel Taylor Coleridge, Alfred Lord Tennyson and Thomas Carlyle. Her 1844 volume Poemsmade her one of the most popular writers in the country at the time and inspired Robert Browning to write to her, telling her how much he loved her work. He had been an admirer of her poetry for a long time and wrote "I love your verses with all my heart, dear Miss Barrett" praising their "fresh strange music, the affluent language, the exquisite pathos and true new brave thought". Kenyon arranged for Robert Browning to meet Elizabeth on 20 May 1845, in her rooms, and so began one of the most famous courtships in literature. He had a great influence on her writing, as did she on his: two of Barrett's most famous pieces were produced after she met Browning, Sonnets from the Portuguese and Aurora Leigh.
The courtship and marriage between Robert Browning and Elizabeth were carried out secretly as she and her siblings were convinced their father would disapprove. Six years his elder and an invalid, she could not believe that the vigorous and worldly Robert Browning really loved her as much as he professed to. After a private marriage at St. Marylebone Parish Church, they honeymooned in Paris. Browning then imitated his hero Shelley by spiriting his wife off to Italy, in September 1846, which became her home almost continuously until her death.
"Portuguese" was a pet name Browning used. Sonnets from the Portuguese also refers to the series of sonnets of the 16th-century Portuguese poet Luís de Camões; in all these poems she used rhyme schemes typical of the Portuguese sonnets. The verse-novel Aurora Leigh, her most ambitious and perhaps the most popular of her longer poems, appeared in 1856. It is the story of a female writer making her way in life, balancing work and love. The writings depicted in this novel are based on similar, personal experiences that Elizabeth suffered through herself. The North American Review praised Elizabeth's poem in these words: "Mrs. Browning's poems are, in all respects, the utterance of a woman—of a woman of great learning, rich experience, and powerful genius, uniting to her woman's nature the strength which is sometimes thought peculiar to a man".
Much of Barrett Browning's work carries a religious theme. She had read and studied such famous literary works as Milton's Paradise Lost and Dante's Inferno. She says in her writing, "We want the sense of the saturation of Christ's blood upon the souls of our poets, that it may cry through them in answer to the ceaseless wail of the Sphinx of our humanity, expounding agony into renovation. Something of this has been perceived in art when its glory was at the fullest. Something of a yearning after this may be seen among the Greek Christian poets, something which would have been much with a stronger faculty". She believed that "Christ's religion is essentially poetry—poetry glorified.". She explored the religious aspect in many of her poems, especially in her early work, such as the sonnets. She was interested in theological debate, had learned Hebrew and read the Hebrew Bible.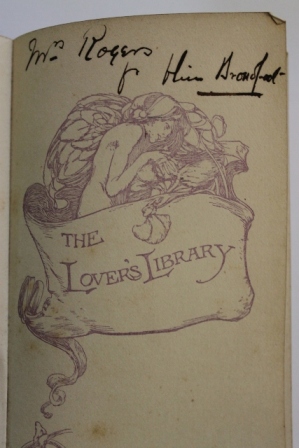 Although miniaturisation of reading material has been an on-going process since the Babylonians were in business around 1500 BC, the present definition of a miniature book is any book that is less than about 3 inches in width or length or less then these dimensions. Miniature books, usually prayer books, appeared in Europe during the Middle Ages. They were tiny in order to be easily carried and also so they could be concealed from prying eyes. By the 19th century, books in general had become more affordable and miniature books came into vogue. As with earlier eras, they were prized because they were portable. Napoleon Bonaparte was known to have assembled a miniature library that accompanied him on his conquests around Europe.
During the 19th and 20th centuries, books from almost every genre were available as miniatures, including classic fiction, dictionaries, bibles, prayer books, and other non-fiction works like fishing guides where the user was out and about. Publishers also began producing miniature libraries for children, specially designing the books to be more comfortably held in small hands. Many are bound in fine Moroccan leather, gilt and contain excellent examples of woodcuts, etchings, and watermarks. The one here of Ella's poems is bound in red velvety leather.
As printing and binding techniques improved, book makers displayed their skills by creating even smaller books with increasingly intricate and beautiful bindings. Today it is possible to find miniature books smaller than half an inch featuring gilt and intricate designs. Although these two 102 and 110 year old versions will only fetch around $40US in Collector's markets, their value is beyond measure in their content and as a representation of family history and the love therein.
References
Elizabeth Barrett Browning. (2012, October 25). In Wikipedia, The Free Encyclopedia. Retrieved from http://en.wikipedia.org/w/index.php?title=Elizabeth_Barrett_Browning&oldid=519734631
Ella Wheeler Wilcox. (2012, August 8). In Wikipedia, The Free Encyclopedia. Retrieved from http://en.wikipedia.org/w/index.php?title=Ella_Wheeler_Wilcox&oldid=506359143
Ella Wheeler Wilcox. (2012, August 8). In Wikipedia, The Free Encyclopedia. Retrieved from http://en.wikipedia.org/w/index.php?title=Ella_Wheeler_Wilcox&oldid=506359143
John Lane (publisher). (2012, September 14). In Wikipedia, The Free Encyclopedia. Retrieved fromhttp://en.wikipedia.org/w/index.php?title=John_Lane_(publisher)&oldid=512303576
Miniature Books: 4,000 Years of Tiny Treasures by Anne Bromer.
Miniature Book Society: www.mbs.org/
Pictures
EB Browning: Elizabeth Barrett Browning, Engraving September, 1859, by Macaire Havre, engraving by T. O. Barlow. From Elizabeth Barrett Browning's Poetical Works, Ninth Edition, Volume I of V: London, Smith, Elder & Co., 15 Waterloo Place, 1871. EB Browning is 55 in this picture.
Ella Wheeler Wilcox (http://ellawheelerwilcox.tripod.com/) by Rosicrucian Fellowship's esoteric students.