April 3 - 9, 2022: Issue 533

The daughters of Peter Akehurst are renowned in Avalon Beach SLSC and the whole area for their sunny dispositions, hard work and service to our community. They're also well known for passion for surf sports and supporting the same through a variety of roles.
Peter Akehurst is a Life Member of Avalon Beach SLSC, having served the community for over 45 years on the beach and in educating the next generation in surf safety and IRB's, his passion. Peter has been at various times, Club Captain, Secretary, Chief Instructor, IRB Driver, Trainer, Team Manager, Mentor and for many years organised the Club's annual Interclub Warren Mitchell IRB Competition. A modest man, who shies away from publicity, the name Peter Akehurst and Avalon Beach SLSC have been synonymous at times. The Club recognised his significant role in and work for the club by naming a Surf Rescue IRB "DIGGER" (his surf club nickname) in his honour in 2017.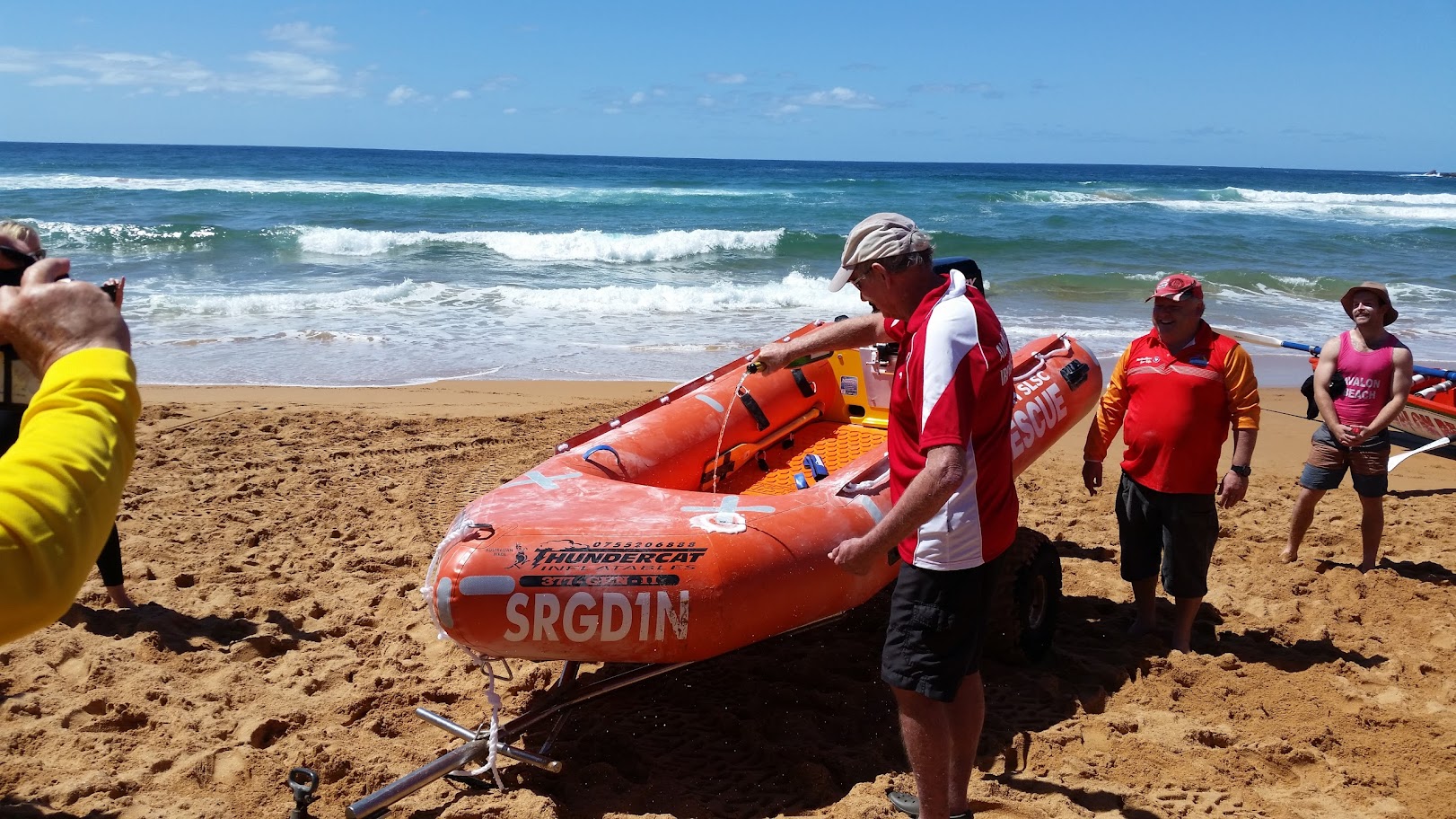 Launch of IRB 'Digger', Nov 12th,2017. Photo courtesy Roger Sayers OAM
His daughter Melinda, mum to gorgeous children, and wife of previous President of Avalon Beach SLSC, Ashley Cardiff, prefers surf boats. When Melinda is not rowing she's on the beach working as an Official, a role she has fulfilled for the Surf Life Saving Sydney Northern Beaches Branch (SLS SNB) for some years. This year Melinda will also take on duties as an Official at the Australian Surf Life Saving Championships being held in Queensland, her first outing as an Aussies Official.
Surf Life Saving Sydney Northern Beaches Branch on Officials and Water Safety, states:
Officials play an important part within our organisation and are integral to the ongoing delivery of our sport. Without officials, SNB would simply be unable to deliver carnivals through the season.

To ensure that we can efficiently and safely run all SNB carnivals, we have a quota system in place that requires all participating clubs to fulfil officials and water safety positions at events. The quotas for Junior Activities carnivals is a ratio-based formula which correlates to the number of competitors attending from each club, and is based on the actual entries for each carnival.

In recent years, SLSA Surf Sport Officials training has moved under the umbrella of the National Officiating Accreditation Scheme (NOAS), which covers over 80 different sports throughout Australia and is managed by the Australian Sports Commission (ASC).

There are four levels for officials to obtain under the NOAS pathway –

SLSA Core Official

Core Officials work with entry level participants in a club surf sport environment (recreationally or competitively). Participants will generally be non-bronze proficient. A Core Official can officiate at Branch & State Carnivals in the positions of Judge, Timekeeper, Marshall, Recorder.

SLSA Technical Official

Technical Officials choose to fulfil specific officiating role(s) and who work with participants (non-bronze proficient, Surf Rescue Certificate qualified or bronze proficient) who are actively competing in a club / branch / state surf sport competition environment. Technical Official roles may include: Marshall, Starter, Check Starter, Recorder, Timekeeper, Finish Judge.

SLSA Senior Official

Senior Officials choose to fulfil specific senior officiating roles and who work with athletes competing in state/national surf sport competition environments. Senior Official roles may include: Chief Judge, Referee, Area Referee, Sectional referee, Course supervisor. The Senior Official is also a mentor to other core and technical officials and can facilitate NOAS training workshops in their nominated roles.

SLSA Performance Official

Performance Officials have been identified as leaders within their chosen field. These officials are talent identified as a part of either the NHP Program or as experts outside this particular program. Each member of this group will be supported with an Individual Official Performance Plan (IOPP) which will facilitate SLSA's high performance officials to be at the cutting edge of surf sport officiating at the highest level (national / international). Each Performance Official will be required to attend a biennial Performance Officiating Workshop.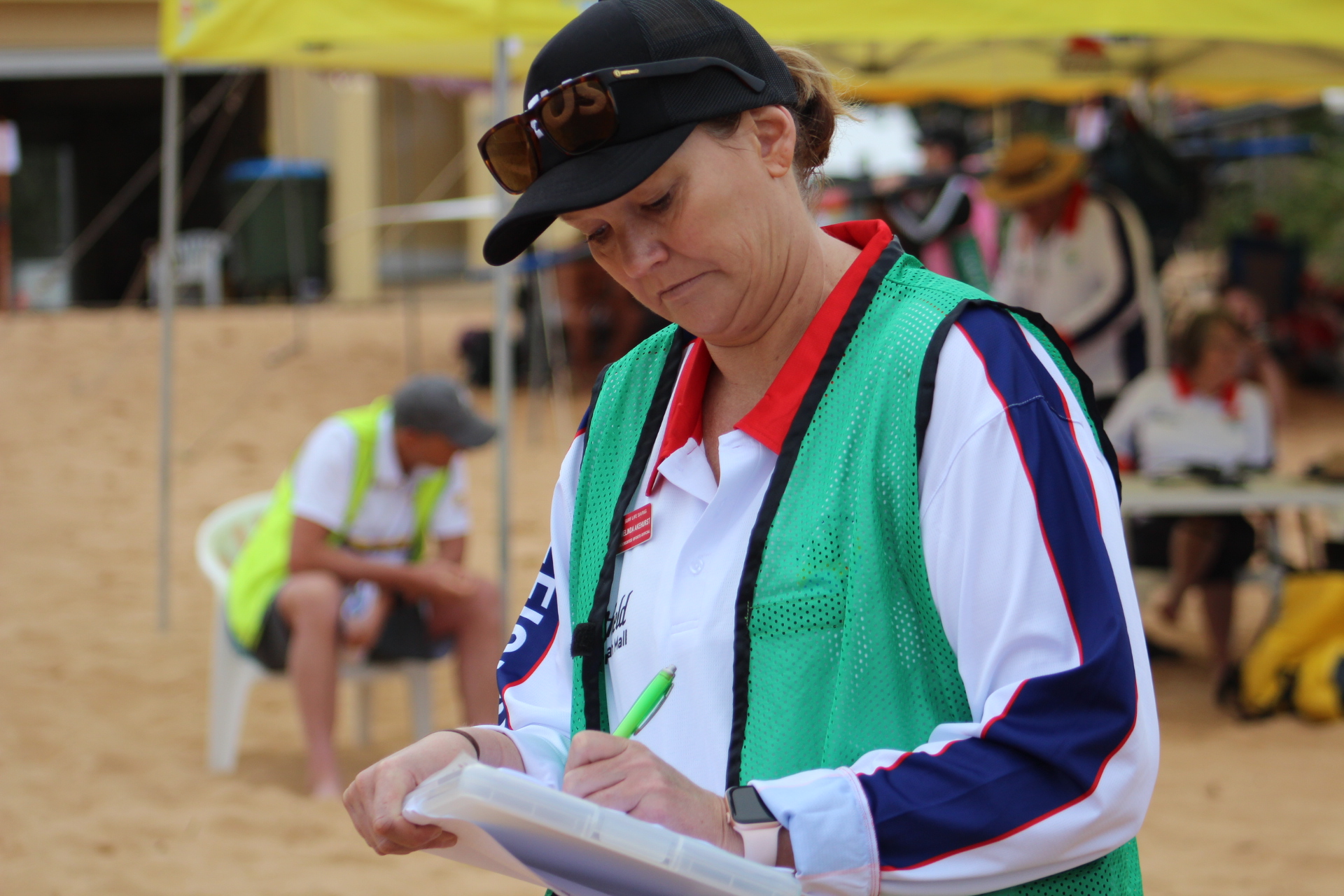 Avalon Beach SLSC's Melinda Akehurst, on the beach on Saturday November 20th, 2021 when Newport SLSC hosted hosted their 22nd surfboat carnival as part of the current day Surf Life Saving Sydney Northern Beaches boats premiership for the 2021/2022 Season
The Aussies is an annual event where members from Australia's 314 Surf Clubs come together to compete in more than 480 beach and ocean events. It is the largest event of its kind, only comparing the likes of the Commonwealth Games.
Following the announcement that the 2022 and 2023 Australian Surf Life Saving Championships will be swapped between Perth and the Gold Coast, everyone is heading north instead of west.
Aussies 2022 Dates: 2 April – 10 April 2022
2022 Location: Broadbeach SLSC, North Kirra SLSC and Kurrawa SLSC
Melinda, alike her sisters, has also fulfilled various roles at Avalon Beach SLSC as well as in other community groups, and right along our peninsula.

This weekend many of us not going north will be keeping an eye on what's happening in Queensland and cheering on Team SLS SNB. To get you in the mood a few insights from a local champion.
You're going to the Aussies again this year Melinda – how are you getting there?
We're driving, Ashley and I, and we haven't been on a holiday for a long time so we're going to stay up in Queensland for a week afterwards.
Not towing a surf boat then?
Not this time, last year we towed the ASRL trailer with Nick Sampson (in his car), and broke down halfway, so not towing anything this year.
You have been to a few Aussies over the years – which has been your favourite destination?
I actually quite liked going to Perth and was disappointed it wasn't going to be there this year. Steph and I, one of my fellow crew members, were looking forward to driving the boat across the Nullarbor. So, we'll put that on hold for next year.
They're all different. The Sunshine Coast is great, Kurrawa can be a bit tricky, you've got the double break there it just depends on the surf conditions on the day.
This year is also the first year I'm being an Official up there. Once competing finishes I go into Official mode for the Open Carnival in the boat section, so that will be good.
What's involved in being an Official – will this be similar to what occurs at the local carnivals?
They're pretty much the same. I like doing marshalling which allows you to be on the ground and mixing with all the different crews. You also get to see the racing up close as well whilst marshalling. I don't like being on a finishing tower as sometimes the boats crash in to it and you get knocked over.
At Aussies it's the same job but just more people involved, so a bit more to do I'd expect.
You're rowing with North Steyne this year?
I am; our crew couldn't get it together this year – we had a few injuries, some withdrawals, and then we were going to have a year off, then we decided to just go for a bit of a fun row which ended up with Steph and I transferring to North Steyne. From there we were suddenly back in carnivals again.
What is the name of your North Steyne crew?
We are the North Steyne Penguins.
Where are you training?
That's one of the good aspects of rowing with North Steyne as we're not just training at Clareville and Palm Beach. We've been to Clontarf, we've been to Little Manly and Shelly Beach, Fisherman's - and so have seen all parts of the Northern Beaches.
So who's the sweep and who are crew?
Dave Maguire is sweeping us, and we have his wife Katie who was also formerly part of the Avalon Beach Antiques. We also have a new girl, Bastien, from Bronte, that's her home club and she does more travelling than us, and Steph and I.
North Steyne SLSC says:
The North Steyne Penguins, swept by David Maguire, formed in October 2021 to row Masters and Reserve Women's races. Together the crew brings an impressive combined 52 years racing experience to the club. Kate Munro at stroke has been a North Steyne member for 20 years and has previously rowed at Avalon. Steph Stoddard in second stroke and Melinda Akehurst in second bow, joined North Steyne joined from Avalon and both officiate as well as row. Bastien Wallace in bow, has transferred from Maroubra.



Going back to the beginning, you started as a Nipper at Avalon Beach SLSC?
I did – I started when I was 4 and continued on through to the Senior Club. I was a swimmer and did a lot of the swim races, even got to go to New Zealand to compete plus I did a lot of the ocean swims with my Dad.
My dad, Peter Akehurst, who is a Life Member at Avalon, was into the IRB's. He got my sister Sally involved in this but I went to the dark side and started rowing with Rick Millar, much to his disgust. I had to break the news to him that I wouldn't be following the family into IRB's as I actually liked surf boats. He didn't talk to me for a while, but he got over it.
The first Womens Boat Crew for Avalon was with myself Karen Fisher, now Karen Robinson, Michelle Hall, and Rachel Pike. We didn't have names back then – it was just Avalon Red and Avalon Green.
I think Rick really liked it – we had pink glittery oars, which the boys would carry down the beach for us.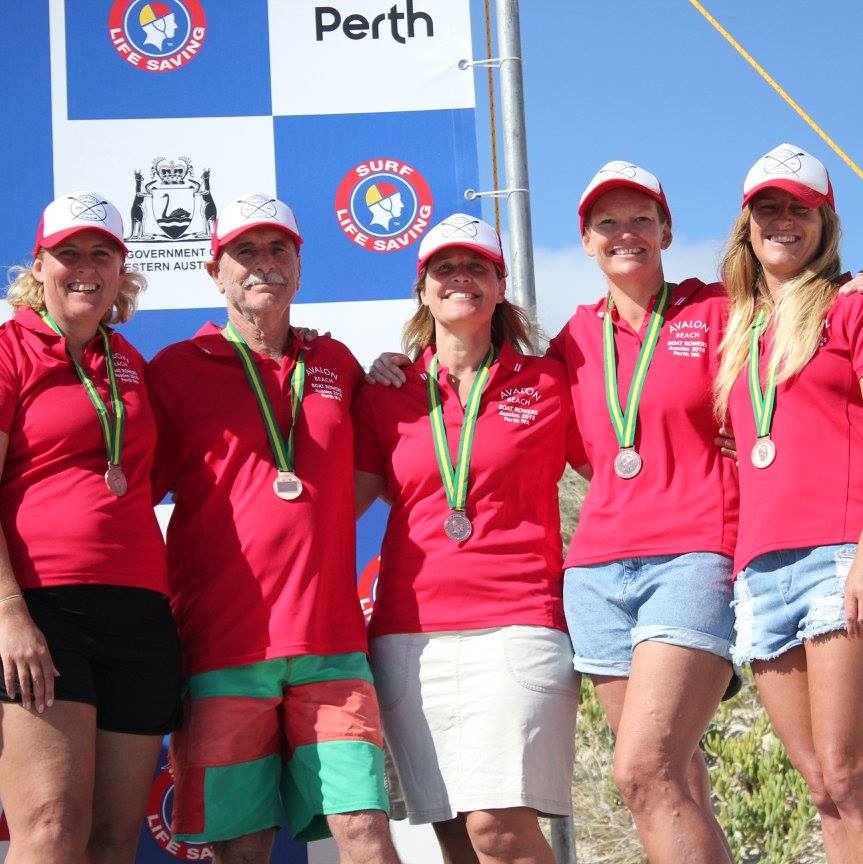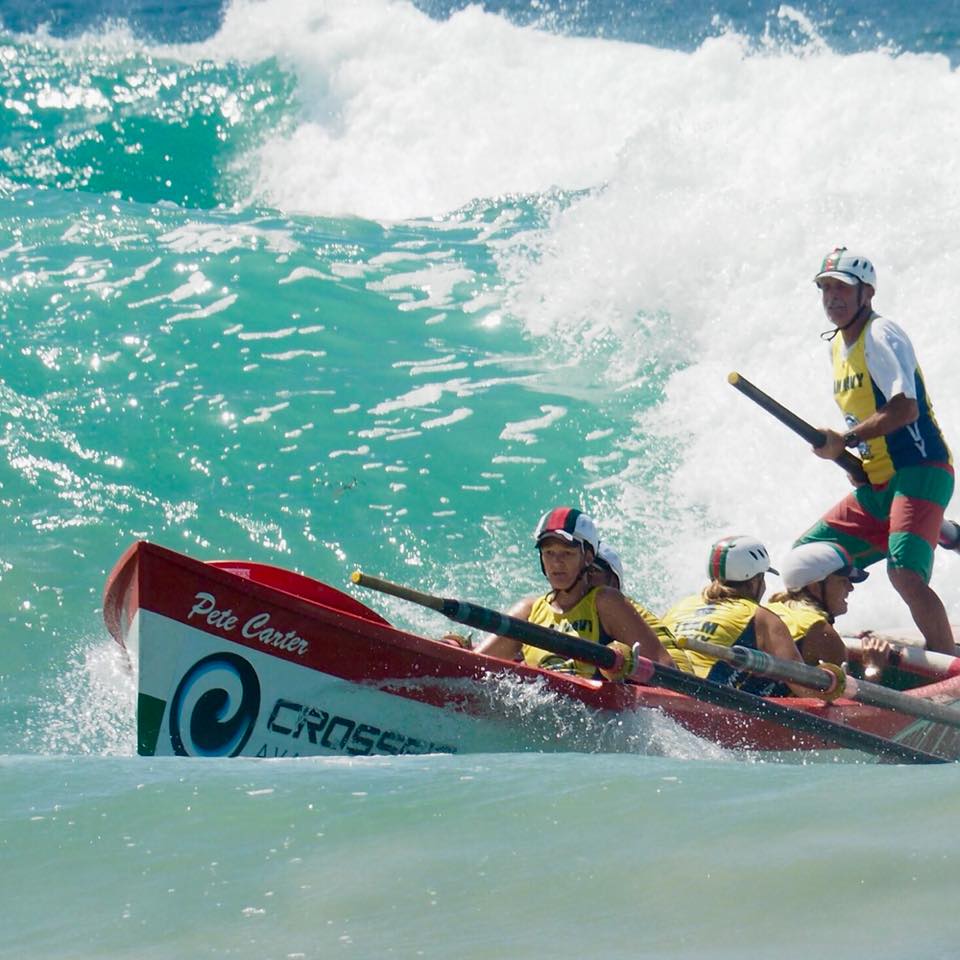 Melinda's at the Australian Masters 2018 at Perth, 160 yrs min Female Surf Boat, Avalon Beach SLSC's DB's (with Rick) - Bronze Medal!

You have taken on a variety of roles within the Avalon Beach SLSC, and have served as the Club Captain?
Yes; my other sister, Nicole, was actually the first female Club Captain. When we moved back from Cromer Ashely joined the club before me, then I happened to run into Rick at the shops and next thing you know I'm training at 4.30 am again.
Did you meet your husband Ashely through rowing?
I did, he was a Dee Why boy, and we met on the beach.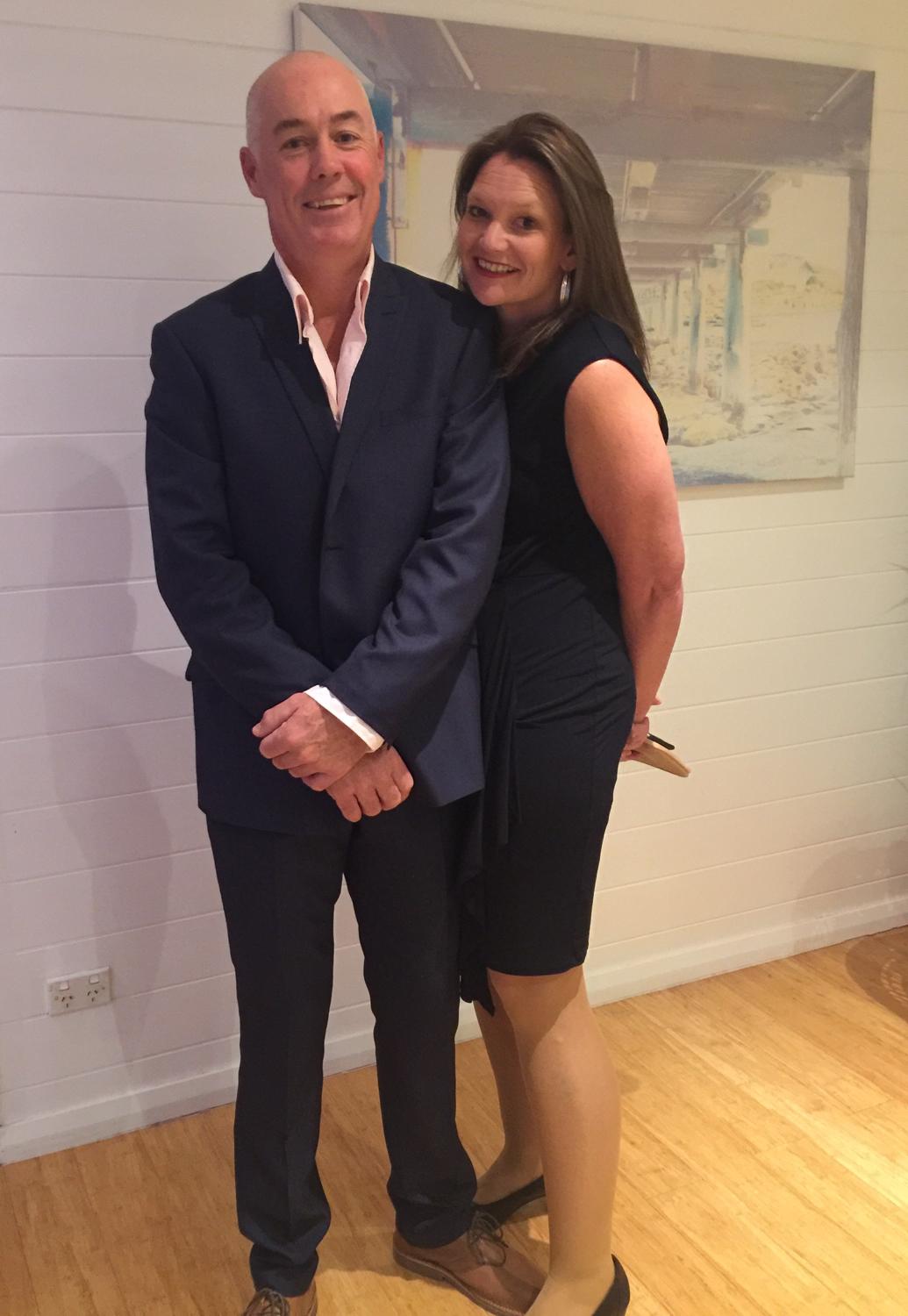 Melinda and Ashley
Clearly surf life saving has given a lot to you – but what would say are the three highlights, apart from your husband?
It's funny, none of our kids have taken up being a member of a surf cub – they always say it's our time away from them, and we're quite happy with that.
It's the friendships that you make along the way – not just within your own club but now as an official I've got to meet lots of other people on the beach and have a chat with them.
These become lifelong friendships – so that's a pretty great thing.
It also, and I say this because I manage a retirement village; it teaches you how to remain calm in an emergency. When you're constantly on the beach and things happen the training kicks in and you respond to what needs to be done and how it needs to be done. I've taken that into my role now – you remain calm, you asses the situation and how best to respond to that. Those skills actually set you up for life; you're always constantly doing your doctors' A, B, C, D.
You have a high-powered job, children and a home to run, you work as a volunteer official and row. How do you maintain a balance and do it all?
I don't know – I think I'm just built that way, I have always been better when busy. I did 5 years as the Avalon Women's Soccer Vice President before coming back to the Surf Club and getting back into rowing. I swam competitively for most of my life, my Mum always said that was her way of keeping me out of trouble, and had my alarm set for 4.23am most days so now getting up at 5am to row is a bit of a sleep in, although rowing in the dark is quite sketchy at times – so you get training over and done with and then go to work then come home and deal with family and walk the dogs.
Melinda Akehurst - the Pat Ford trophy for 'Services to Avalon Soccer club by a woman', 2016

Our children have learnt about commitment and resilience, recently my youngest had a medical emergency with one of her friends and her first thought was "what would Dad do" and she took charge of the situation. They are also an extended part of the Avalon Beach boaties team and have come away to carnivals, sometimes as a punishment.
As much as they don't admit it, I think they are pretty proud that us oldies are still rowing.
So why surf boats? If you're not in one you're on the sand making sure a carnival goes well – where does it come from?
Aside from being a great way to improve fitness it is the banter in the boat at training that I love. You spend a lot of time together training and that is usually when someone does something stupid that you end up laughing about for the rest of the session. The previous two years, God love him, we had Matt Mayall sweep us. He was taking four premenopausal women and he, as a 24 year old, not married boy, he certainly learned a lot. (laughs). I remember he didn't turn up for training one Sunday morning after he had a big night and lets just say he never did that again.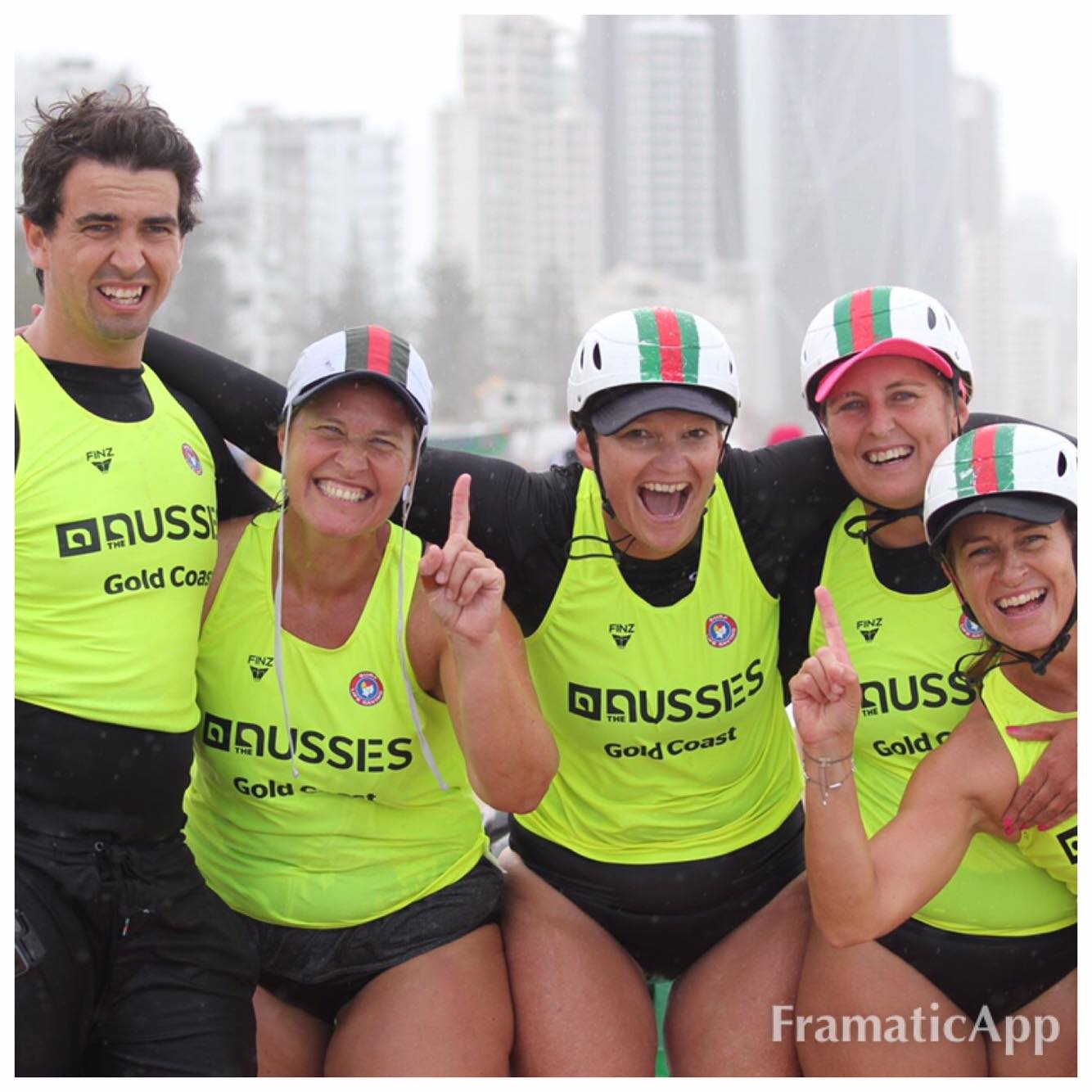 Aussies 2019 180 yrs min Female Surf Boat, Avalon Beach SLSC's DB's - GOLD!; Matthew Mayall, Stephanie Stoddard, Shannon Fletcher, Amanda Dale, Melinda Akehurst

My team mates give me grief because I hate rowing in the wind and chop and don't particular like the huge waves as I have gotten older. What I love is a nice beautiful sunny day, glassy seas, maybe a 3 foot wave – that's my ideal. I don't like the big messy stuff and I know some people absolutely love that but not me. I love the training, I love the racing, I love being out in the elements, and a nice medium sized wave back in.
I'm fortunate that I've had good sweeps, those who don't take risks, and a lot of sweeps tend to not take as many when there's women in the crew, whereas the men they go for that wave no matter what. I know Matt always worried about hurting the Mums.
I am really loving seeing all the girls that were part of the first women's rowing coming back into the sport and competing in Masters.
Did you see that wave Nathan Wellings and the Pinkies caught back in at this year's ASRL?
Oh my God; how good was that?! Their race before that was even better though.
They were really lucky to get through – coming into the beach they went sideways and then Tommy and Matt pulled it around managing to stay on the wave. They are such a good crew – they've been rowing together so long that they just gel.
That's the good thing about surf boat rowing; if you have rowed together for years you can just jump back in and it all comes back naturally. I rowed for many years with Kath Johnson and sisters Stacey and Eliza Bryant I am pretty sure if we hopped back in we would row together like we did back in the day, you get used to how your teams mates row.
Yourself and Ashley demonstrate that in being part of so many surf boat events and clubs right along the peninsula. It's nice to see a couple doing a lot for not just their own clubs but getting involved in supporting other clubs too – and you have done so for a while. It's like what happens at the Aussies, only with you two and your families, it's all year round.
Yes; Ashley's dad is actually a Life Member of Dee Why SLSC, and then there's my dad – so I've bought him over and now he is an Avalon member through and through. When I am not rowing I will always be an Official and support the team. Last year we even started Officiating at IRB carnivals in winter – very cold.
There are a few couples from the Northern Beaches clubs who officiate – Jeff Hewitt and Jenny Drury, Megan and Mark Hayward, Janine and John Fahey now there's Mel and Ash Cardiff!
Ashley is enjoying stepping down from being President and he took on the role of Director of Surf Sports, which is a bit less pressure. He also needs to be busy or he's bugging me!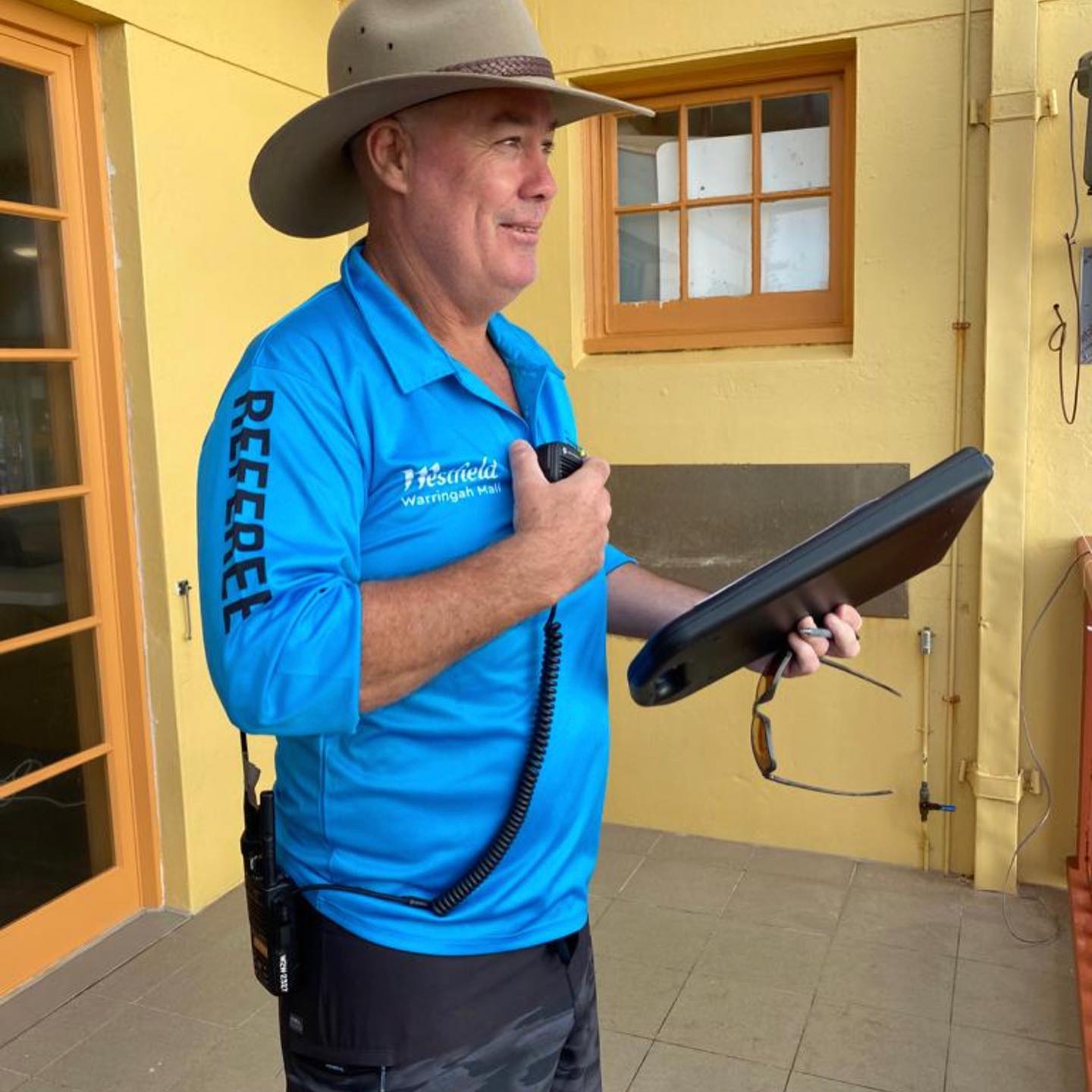 Ashley at the North Steyne Australia Day carnival, January 23, 2022.Photo: North Steyne SLSC
What are your favourite places in Pittwater and why?
Clareville and anywhere on Pittwater – that's where we've always trained mostly and also where I took my children when they were little and my mum took us as kids. Mum can't actually swim so Clareville suited her - she hates me telling people that but weirdly all three of us ended up being good swimmers.
What is your 'motto for life' or a favourite phrase you try to live by?
Something my dad said to me years ago; Better off regretting something you did say than something you didn't say.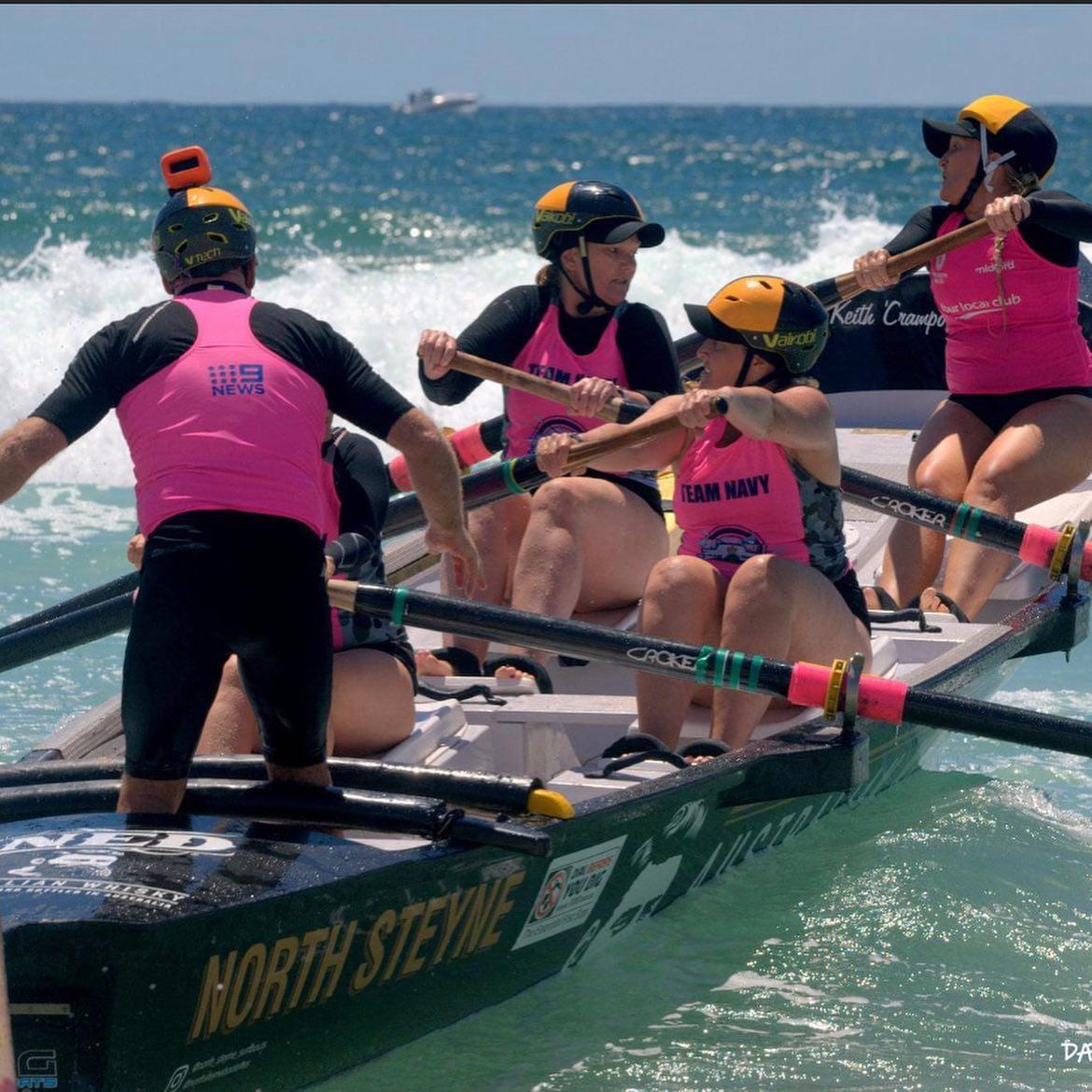 The North Steyne SLSC's Penguins were in amongst it in January 2022 long weekend.
Photo courtesy Darryl Bullock/ North Steyne SLSC