March 25 - 31, 2018: Issue 353
Melbourne Osaka Double Handed Yacht Race – Main Start Sunday Includes Nexba Racing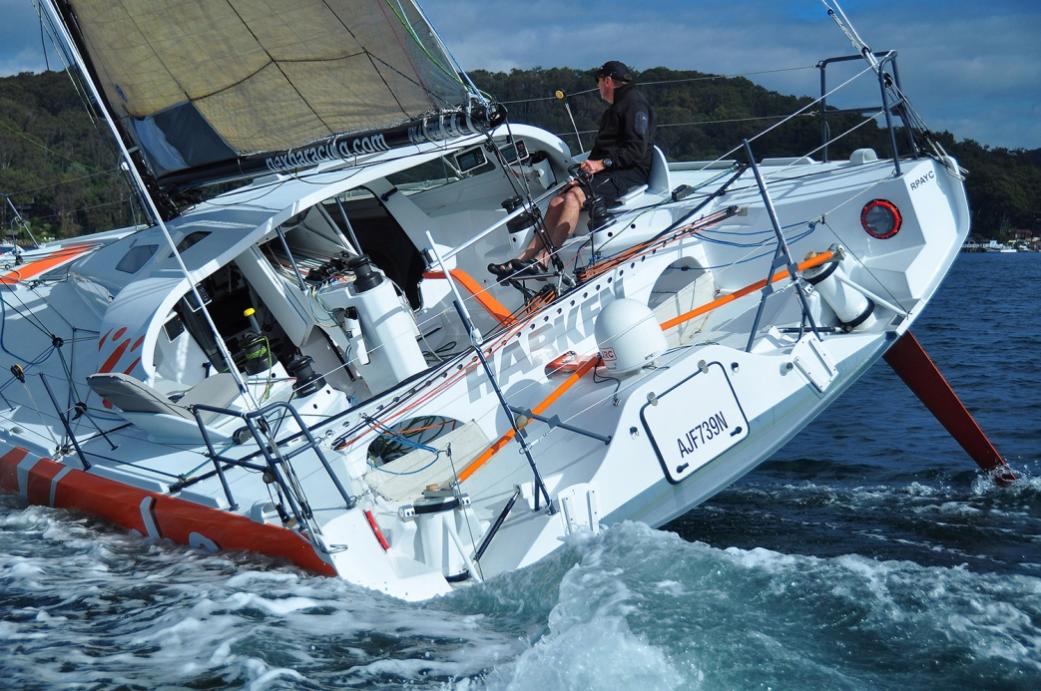 Class 40 Nexba with John Bacon at the helm- photo by Bob Fowler - Visit: Nexba For Melbourne To Osaka Double-Handed Crusade by Lisa Ratcliff

Sydney based John Bacon and one of his core MC38 and Melges crewmates David Sampson have linked up for their first Melbourne to Osaka Double-Handed Race in 2018, an epic 5,500 nautical mile ocean adventure aboard Bacon's Class 40.
Designed by the French foiling guru Guillame Verdier and built in 2013 by FR Nautisme, the Class 40 was lightly raced in America until Bacon made his purchase late 2016 and had the boat shipped from Newport Rhode Island. It arrived in Sydney in March and was immediately rebranded in the striking orange of Nexba, the team's major commercial sugar-free drink partner, and spent time at McConaghy Boats having the systems optimised.
The boat was relaunched at Newport's Royal Prince Alfred Yacht Club in April 2017. You can track them during their Melbourne to Osaka odyssey via their spot tracker. Melbourne Osaka Cup 2018: Double handed 5,500nm yacht race between Melbourne, Australia and Osaka, Japan
Sundance Marine Melbourne Osaka Double Handed Yacht Race – main start Sunday
Single-handed round the word sailors Jessica Watson and Ken Gourlay will be among those who will farewell 30 sailors from Australia and Hong Kong on Sunday March 25th when the Sundance Marine Melbourne Osaka Double-Handed Yacht Race fleet of 15 faces starter's orders off Portsea Pier in Victoria.
Queenslander Watson and Tasmanian, Gourlay, are special guests aboard the imposing Tallship, STS Young Endeavour, the start vessel for the 5500 nautical mile race. David Beck, Chief Executive of race sponsor, Sundance Marine, will do the honours and fire the start cannon at 2pm. Aboard too are 22 young Australians, part of the youth crew undertaking a 10 day voyage from Melbourne to Eden.
In a role reversal, Gourlay will see his son Tristan (Force Eleven) off in this long race. In 2007 it was Tristan seeing his dad off and welcoming him home – the first Tasmanian and fastest and oldest Australian to sail around the world single-handed.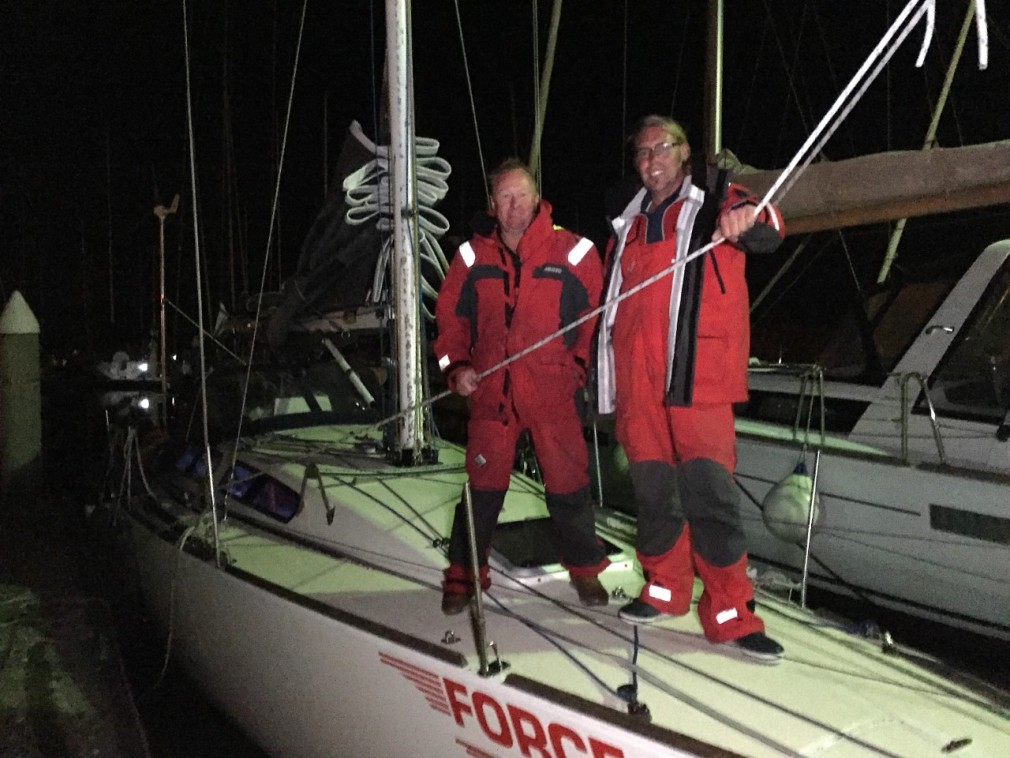 Tristan Gourlay (right) and Jamie Cooper arrive Melbourne on Force Eleven - Ian MacWilliams photo

Commenting on start conditions, George Shaw from the Melbourne Osaka organising committee said: "According to the Bureau of Meteorology, strong north-westerlies and big waves are expected for the start. Our competitors will get a good work out very early in the race."
Entrants for Sunday's start are: Nexba (John Bacon/David Sampson, NSW), Red Jacket (Annette Hesselmans/Gerald Snyders, NSW), Runaway (Daniel Turner/Tom Crabb, SA), Spirit of Downunder (Lawrence and Tim Ford, Vic), Utopia (John Fletcher/Steve Evans, Qld), Allegro (Adrian Lewis, Glenn Scheen, Vic), Elektra (Chris Wilson/Geoff Graham, Vic ), Force Eleven (Tristan Gourlay/Jamie Cooper, Tas), Maverick (Rod and Tyson Smallman, Vic), Kraken (Todd Giraudo/David White, WA), Mister Lucky (Mark Hipgrave/Rohan Wood, Qld), Lord Jiminy (Chris Barlow/Paul Roberts, Vic), Matrix Reloaded (Bill Gray/Aaron Haigh, Vic), Blue Water Tracks(Grant Dunoon/Sue Bumstead, Vic), and Surfdude (Steve Ho/John Bankart) from Hong Kong.
While many competitors are Melbourne-Osaka first-timers, all are experienced offshore sailors. Among the 'old hands' are John Bankart who competed in 2003 and 2007; Tom Crabb (2007), Lawrence and Tim Ford (1999 and 2013); Bill Gray and Aaron Haigh (2003) and Paul Roberts (2013).
Having said that, Mark Hipgrave may have the upper hand having previously raced solo long-term both in Australia and overseas. He and Rohan Wood have also put in miles together. The pair has the added advantage of two other Jeanneau Sun Fast 3600's to pit themselves against, including Todd Giraudo (Kraken) who has a wealth of double-handed racing experience.
At the end of the day, the race is anyone's for the taking, as each competitor has something to offer. It is a long way to the finish line and handling the different conditions thrown at them will be a major factor, as will minimising damage and being able to work together as a team.
"Locals and holidaymakers are welcome to come out and cheer the crews off. They will be treated to a show with the Roulettes acrobatics display and the Royal Australian Navy's famous jazz quintet is aiming to provide a great send-off with their music," said Shaw, who will be on Portsea Pier providing live commentary for spectators.
"For those unable to make it to the start, the race can be followed daily via the tracker, Facebook and the weekly Race TV updates on the official site."
Rupert Henry's Chinese Whisper will be the final boat away in this staggered start race on April 1. Representing NSW, the Judel/Vrolijk 62 is a grand prix racing machine and Henry and Greg O'Shea are expected to give the race record a crack. The record of 26 days 20 hours 47 minutes 6 seconds has been held for 23 years by the 50ft downwind flyer Wild Thing (Grant Wharington/Scott Gilbert).
First away in the race was Morning Star (Joanna Breen/Peter Brooks) on March 15, followed by The Edge (David Kenny/Paul Schultz) and Bartolome (Keiichirou Morimura/Maskazu Omote) on March 19.
Morning Star has eaten up 647 nautical miles, almost abeam of Sydney and heading east, with Bartolome and The Edge 275 and 288 miles astern respectively. The latter two are on different race tracks, with the Japanese boat hugging the coast while The Edge has taken an early leg out to sea.
The Sundance Marine Melbourne Osaka Double-Handed Yacht Race is co-hosted by the Ocean Racing Club of Victoria, Sandringham Yacht Club and Japan's Hokko Yacht Club. Entries represent Victoria, Western Australia, South Australia, Queensland, NSW, Tasmania, Hong Kong and Japan.
For all information on the Melbourne Osaka Cup 2018, please go to: http://melbourneosaka.com/
For Japanese readers: http://melbourneosaka.com/ja/home-ja/
By Di Pearson, SMMOC media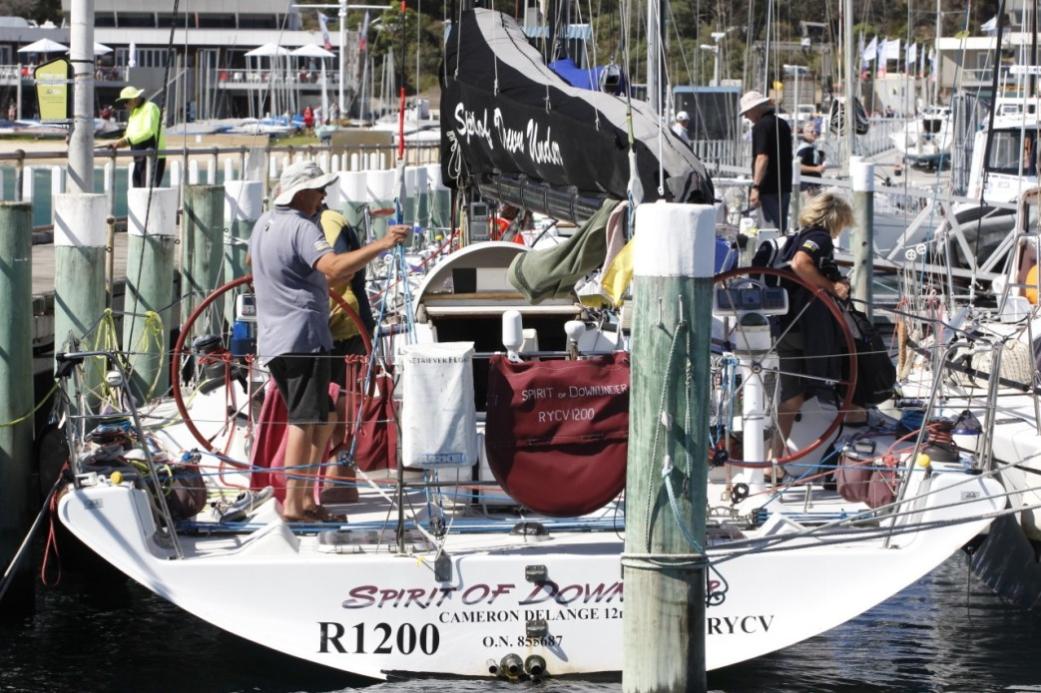 Spirit of Downunder crew make final preparations - Kevin Manning photo