March 12 - 18, 2023: Issue 575
Max Weston wins Noosa longboard pro 2023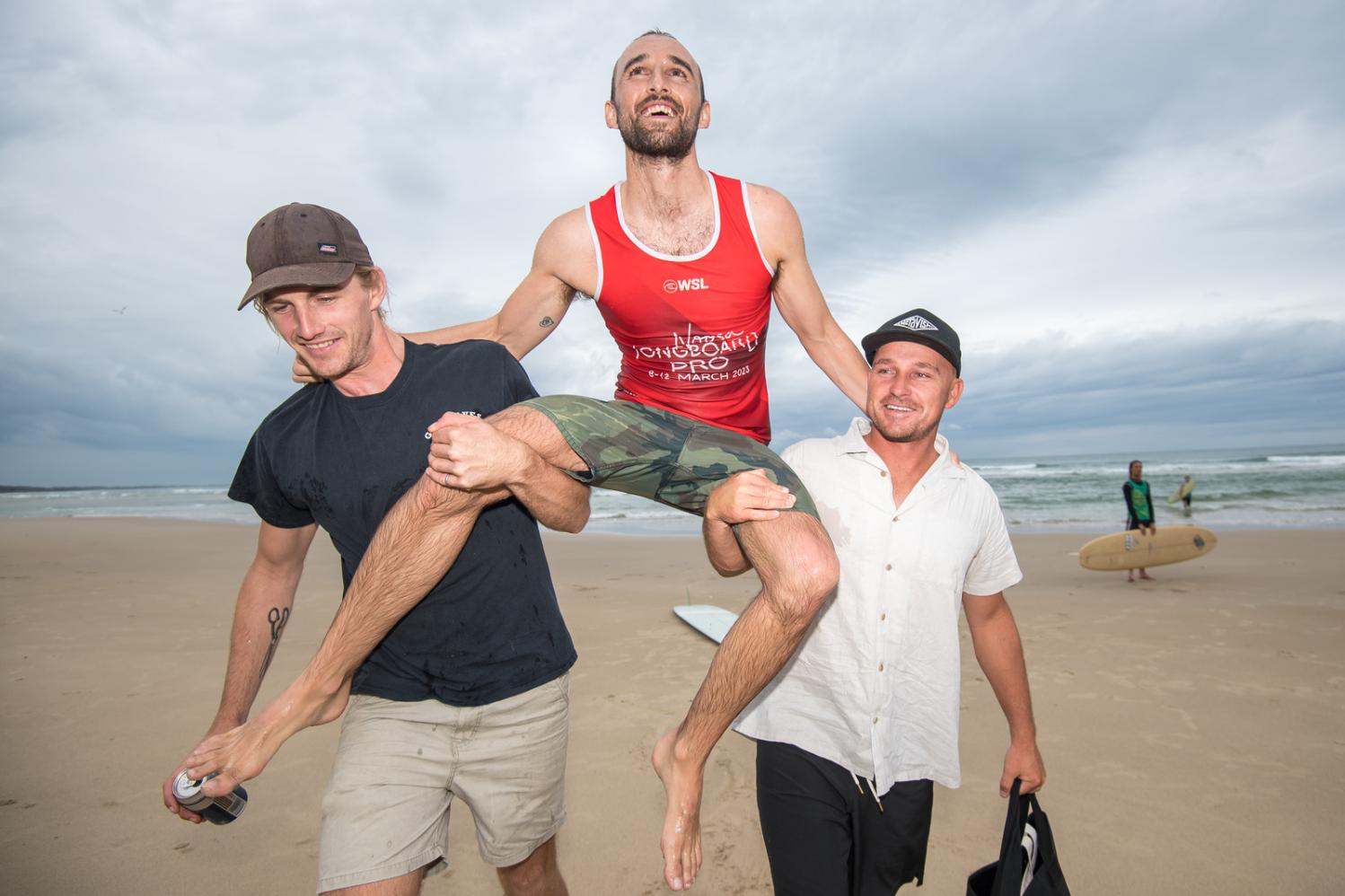 Max Weston being chaired after his win. Photo: WSL / Dave Gleeson
Avalon's Max Weston, a Chemical and Biomolecular Engineer in his 'other life', won the Noosa Longboard Pro, World Surf League (WSL) Longboard Qualifying Series event (LQS) on Friday March 10th, setting himself up for a good boost as a lead into the 2023 Manly Longboard Classic, to be run May 4th to 5th.
The opening day of competition at the Noosa Longboard Pro., March 9th, saw the men's Round of 16 run in super fun waves at Sunshine Beach, one of the epic backup locations for the Noosa Festival of Surfing. Eight heats were run in one-to-two foot surf as some of the countries best put up excellent scores to book a spot into the Quarterfinals.
Heat 1 and Heat 3 saw two of the standout perfromances as Jack Roberts and Max Weston both found long, winding right handers that offered multiple nose-ride and turn sections, each securing excellent rides in the eight-point range. Weston, 8.77 was the highest single ride of the day.
Landen Smales was another competitor to find his way into the excellent rides, winning his heat with the second highest two-wave total of the day, with a 14.57 combination. Smales looked at home in the low-tide conditions, riding his nose through sucky, shallow sections.
Bowie Pollard was another standout on Day 1, displaying his smooth confident style on the nose. Pollard progressed into the Quarterfinals and reminded everyone why he is a name synonymous with longboarding in Australia.
On Friday the WSL reported Mason Schremmer (HAW) and Max Weston (AUS) have claimed victory at the 2023 Noosa Longboard Pro, World Surf League (WSL) Longboard Qualifying Series event (LQS). The event, which runs as part of the iconic Noosa Festival of Surfing, concluded in clean one-to-two foot surf at The River Mouth, North of Noosa Main Beach.
Hawaiian competitor Mason Schremmer has been residing in Noosa while she studies abroad and has become comfortable calling the place home. This was obvious today as the stylish young natural footer cruised to victory, posting the highest heat total in every round she surfed. Schremmer has been turning heads in the longboarding scene for a while now, but today's result was her breakthrough win as she looks to take it to the best on the 2023 World Longboard Tour, which will commence at Bells Beach this August.
"I've been here in Noosa for a few years now, and the community has been so welcoming, so it is so cool to win an event here," Schremmer said.
"The Noosa Festival is a really big deal in the longboarding world. It's been around for so long, and I've wanted to come and compete here since I was really young, so to come here and achieve this is really cool. It's also my first ever WSL win which is so good considering I've been working at it for a while now."
Similarly to Schremmer, Pittwater local Max Weston came into the Noosa Longboard Pro searching for his first major event win, and from his first heat of the day, the silky smooth natural footer looked destined for the win. Weston posted the highest two-wave total of the event in his Semifinal, only to start the Final on the backfoot. Sitting in third and needing a change of tact, Weston found back-to-back long rides, weaving, cross-stepping and nose-riding to the beach to earn a mid-range heat total of 13.70 (out of a possible 20), which was enough for the lead and eventually the win.
"I'm super stoked with this win; it's definitely the biggest of my career," Weston said. "We've had really fun waves the whole time and a range of different conditions, so it's been a perfect event, and we've been able to do everything. The aim is definitely to get onto the World Tour – all the waves on there sound awesome, especially for a natural footer. This is the perfect start, so I can now look forward to Manly."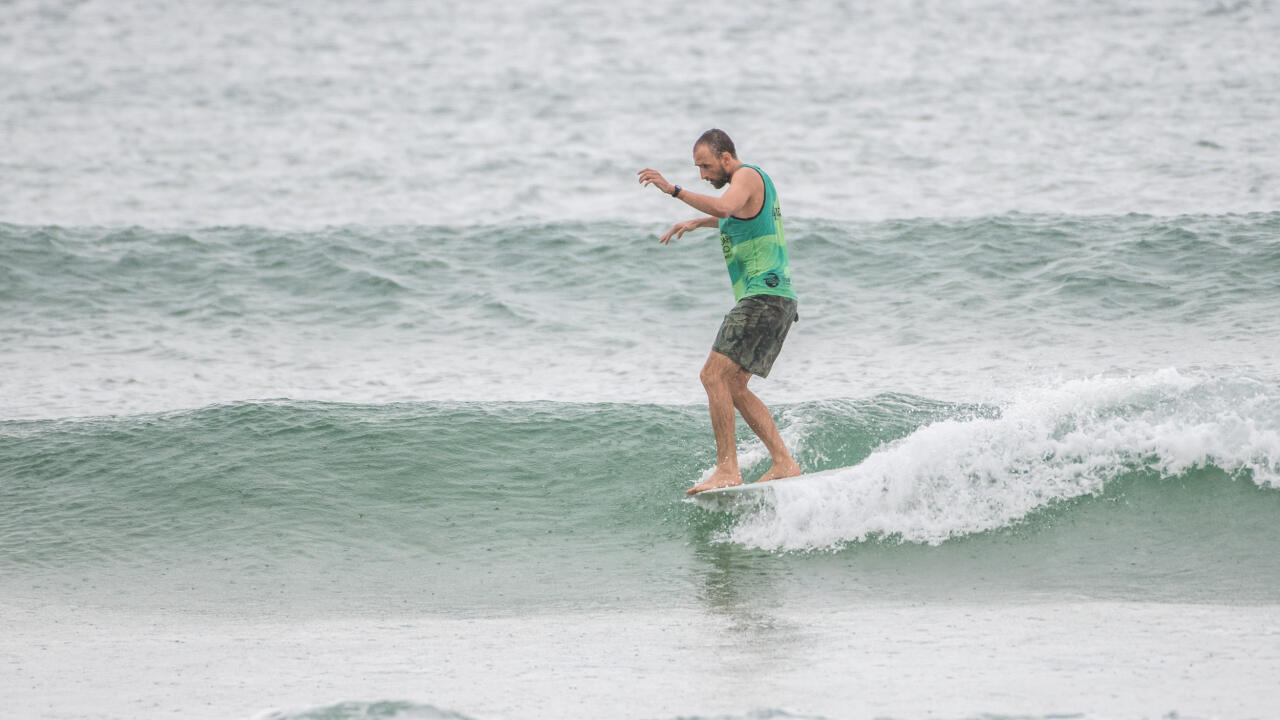 Max Weston. - Credit: WSL / Dave Gleeson

In the Final, Weston overcame Clinton Guest (QLD), Dallas Rogers (Shelly Beach) and Landen Smales (Noosa), who finished second, third and fourth, respectively.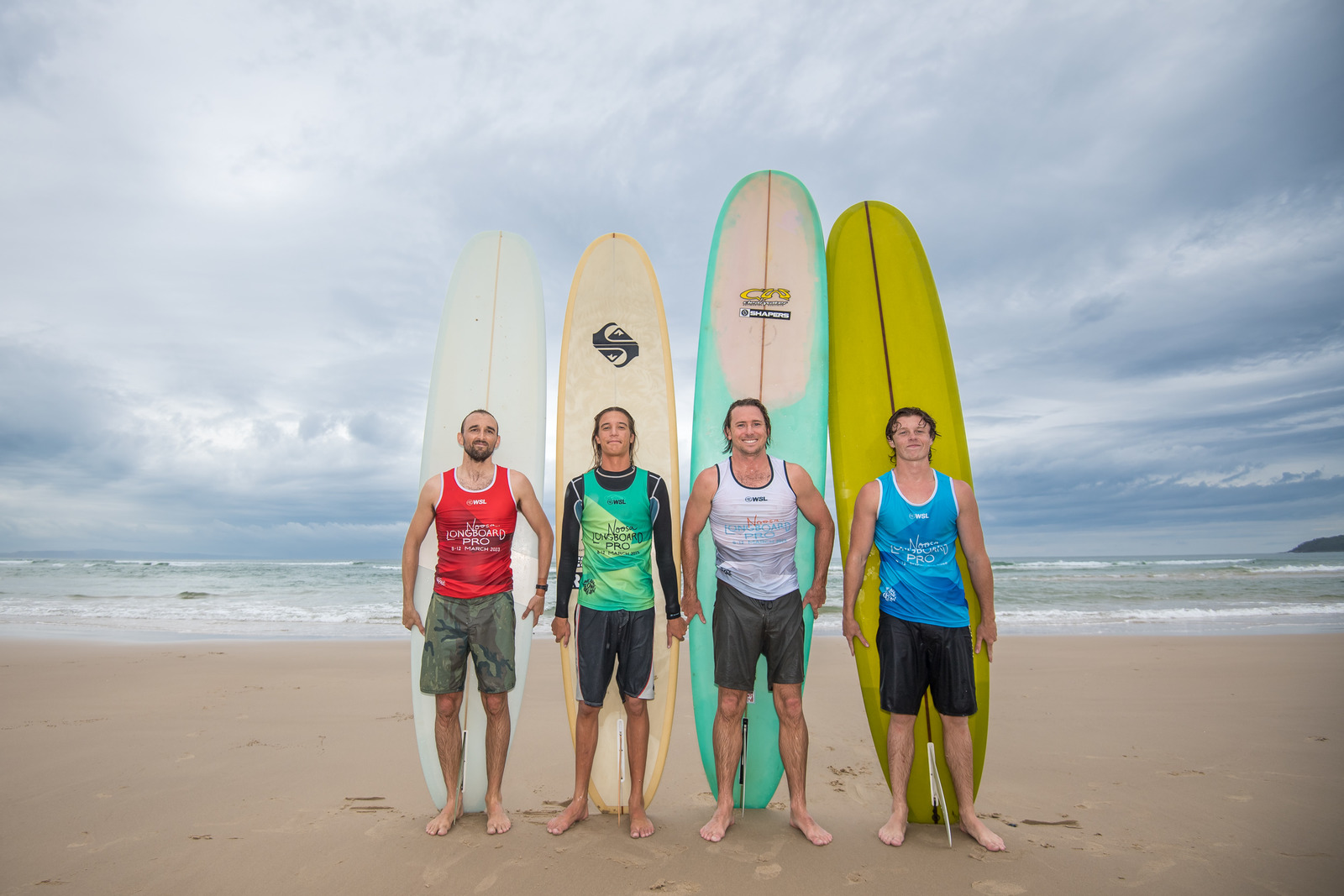 Men's Finalists at the 2023 Noosa Longboard Pro [L-R], Max Weston, Landen Smales, Clinton Guest and Dallas Rogers. Credit: WSL / Dave Gleeson
Finishing behind Mason Schremmer in the women's was Sierra Lerback (USA), Kathryn Hughes (Moffat Beach) and Roisin Carolan (Byron Bay) in order of position.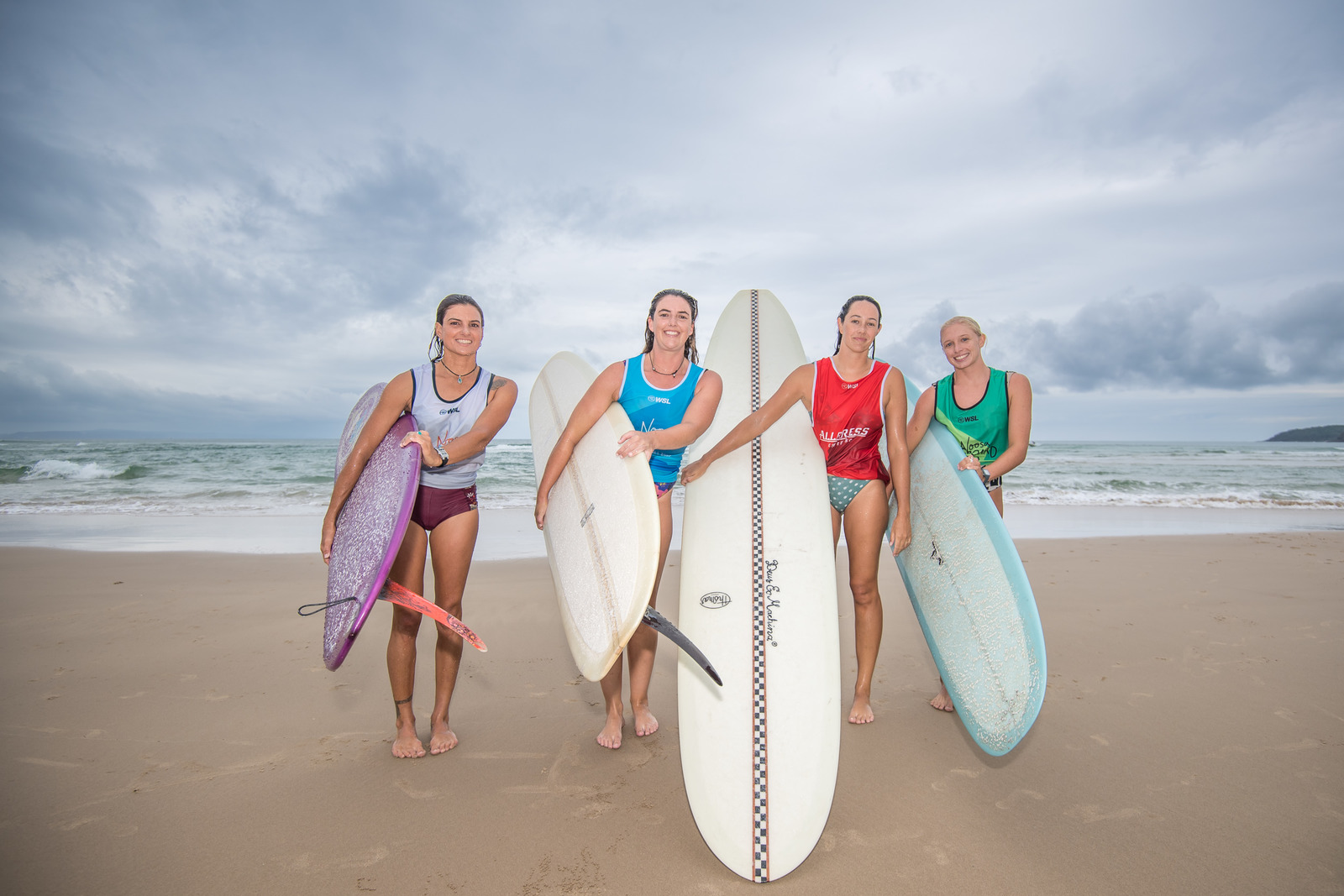 Women's Finalists at the Noosa Longboard Pro. Credit: WSL / Dave Gleeson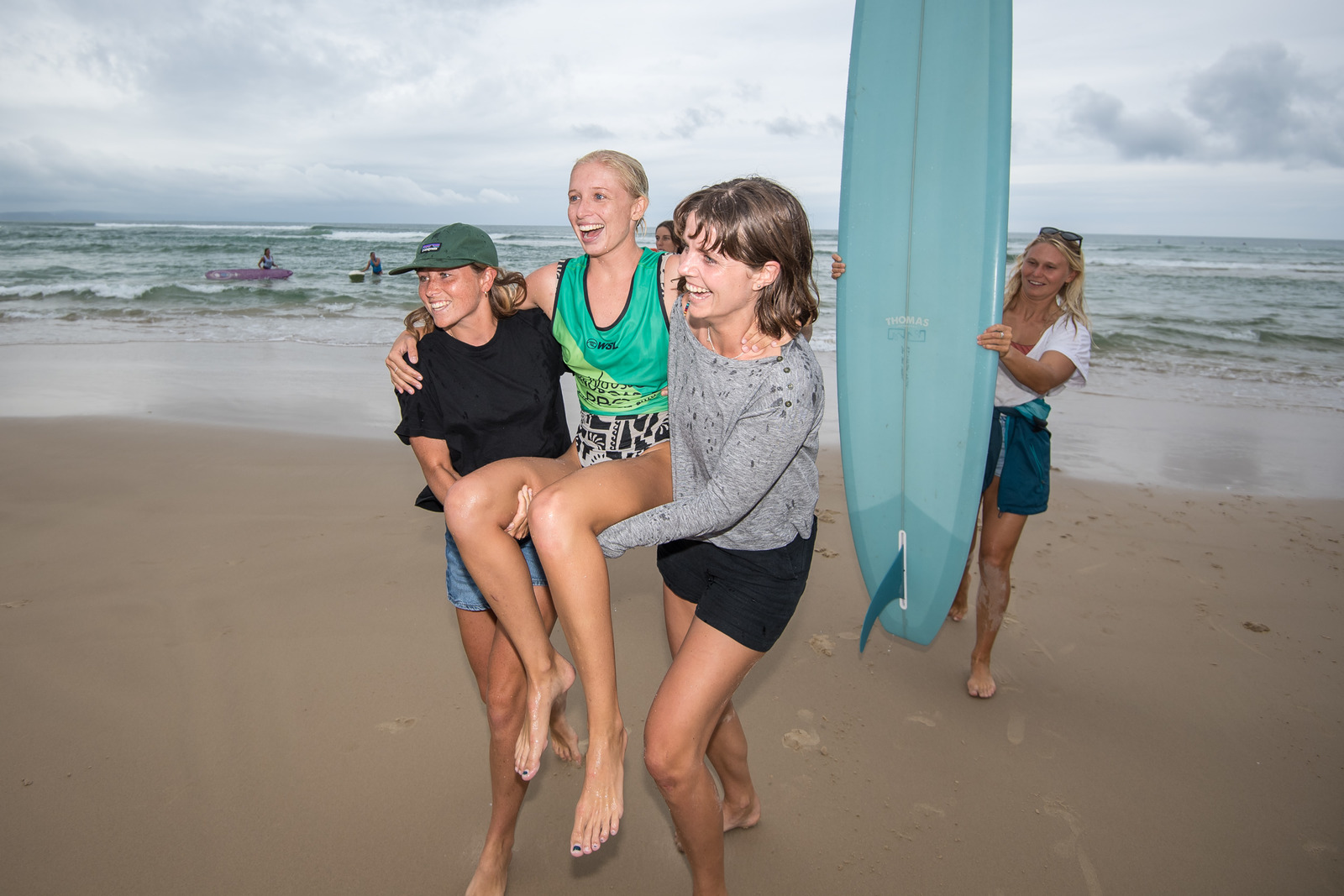 Mason Schremmer being chaired after her win. Credit: WSL / Dave Gleeson

The Noosa Longboard Pro attracted over 50 of Australia and Oceania's best longboarders, who are all on the hunt for qualification points as they look to book a spot on the 2023 WSL Longboard Tour. After the two LQS events, first Noosa and then Manly, first place on the men's and women's rankings will earn a spot on the four-stop Longboard Tour.

The talent pool amongst Australian longboarders is the inspiration behind the addition of the Manly Longboard Classic which is expected to see over 60 of the region's best up and comers battle it out for qualification points. Both the Manly and Noosa Longboard Pro will have 1000 QS points on offer for the winners of each event.

The 2023 Noosa Longboard Pro LQS event runs from March 9 - 12, 2023. For more information and results, please visit WorldSurfLeague.com.
About the WSL
The World Surf League (WSL) is the global home of competitive surfing, crowning the undisputed World Champions since 1976 and showcasing the world's best surfers on the world's best waves. WSL is comprised of the Tours and Competition division, which oversees and operates more than 180 global competitions each year; WSL WaveCo, home of the world's largest high-performance, human-made wave; and WSL Studios, an independent producer of unscripted and scripted projects.
For more information, please visit WorldSurfLeague.com.