November 11 - 17,2018: Issue 383
Maserati takes the chequered flag in Act 5 and the MC38 2018 season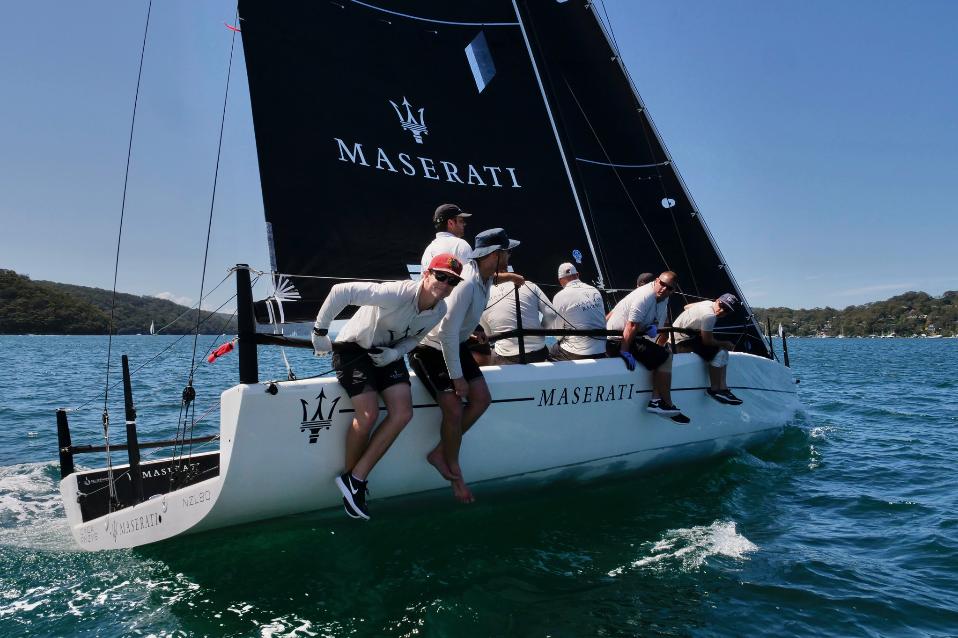 2018 MC38 champion Maserati (Neville Crichton) - photo by Tilly Lock Media
Event: MC38 2018 Season Act 5, November 11, 2018 on Pittwater hosted by the Royal Prince Alfred Yacht Club

A tricky Pittwater shone, the MC38s sparkled and Neville Crichton's Maserati cleaned-up the class' closing seven-race Act 5 by a monumental 12 points, plus sealed the five-round season pointscore.
A frustrating stop-start beginning to day two of the MC38 2018 Season's Act 5 included a general recall in light NE winds, a course reset to ENE then that race blown off by the Royal Prince Alfred Yacht Club's race management team. The fleet then returned to the NE start line for the race five completion followed by a postponement and a relocation back to Morning Bay on Pittwater's western shore for the easterlies that eventually locked in for races six and seven, and built nicely to 11-14 knots.
Act 5 video by Tilly Lock Media
All crews paused at 1100hrs in the start line vicinity for a minute's silence marking Armistice Day, the idea of Ginger's guest helmsman Martin Hill, the Etchells class' latest world champion. Hill found himself in familiar company, his winning Etchells crewmate Julian Plante a regular strategist for long-time MC38 owner Leslie Green who was absent.
Guest Maserati helmsman Tom Quick from the Farr 40 class, steering for owner Neville Crichton, and the key decision makers Ben Lamb, tactician Joe Turner and mainsheet Doug McGain, made sound choices picking the shortest path around the two-lap course to finish boat of the day, regatta victor and season champion.
Turner said "most boats missed at least one of the regattas this season but Neville was adamant he wanted his boat there, regardless of whether he was or not. The first regatta for 2019 is in February and we'll be on the start line for the nationals in March – we can't wait."
"This team was fantastic bringing in someone who hasn't stepped on an MC38 before," Quick acknowledged of his first-ever MC38 experience. "They are a very light boat, very responsive and weight dependent. I absolutely enjoyed it and the gusts are exciting. I'm pretty focused on the 40," Quick added, smiling, in response to the obvious question on whether he's considering buying into the exciting one design class.
Ginger finished second overall in the Act 5 final standings and Steve Barlow's Lightspeed placed third on a countback.
Best scored boat across the five acts spanning May to November 2018 and sailed between Pittwater and Sydney Harbour was Crichton's Maserati. Marcus Blackmore's Hooligan finished second overall and Ginger third.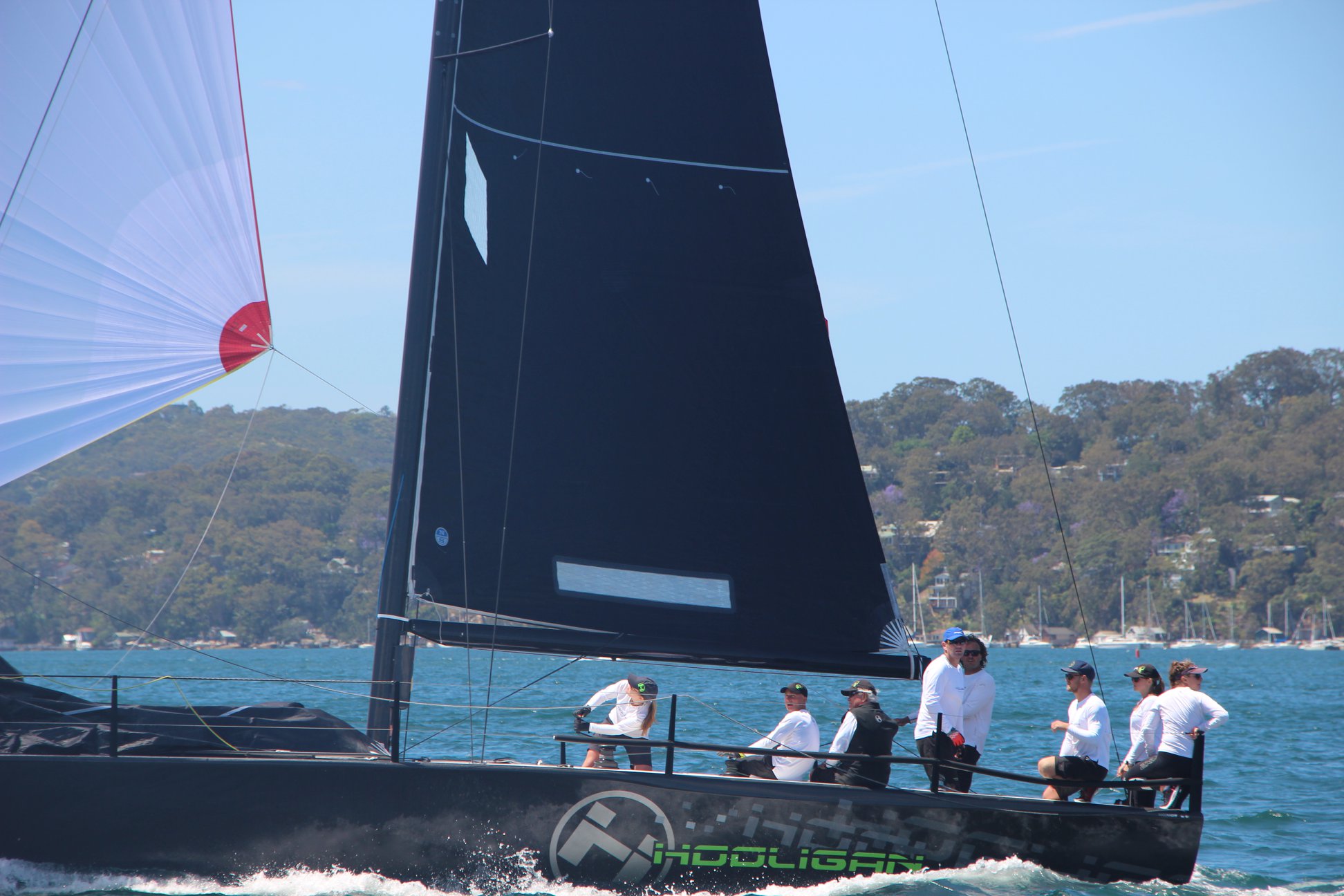 Hooligan - Act 5 on Pittwater - photo by RPAYC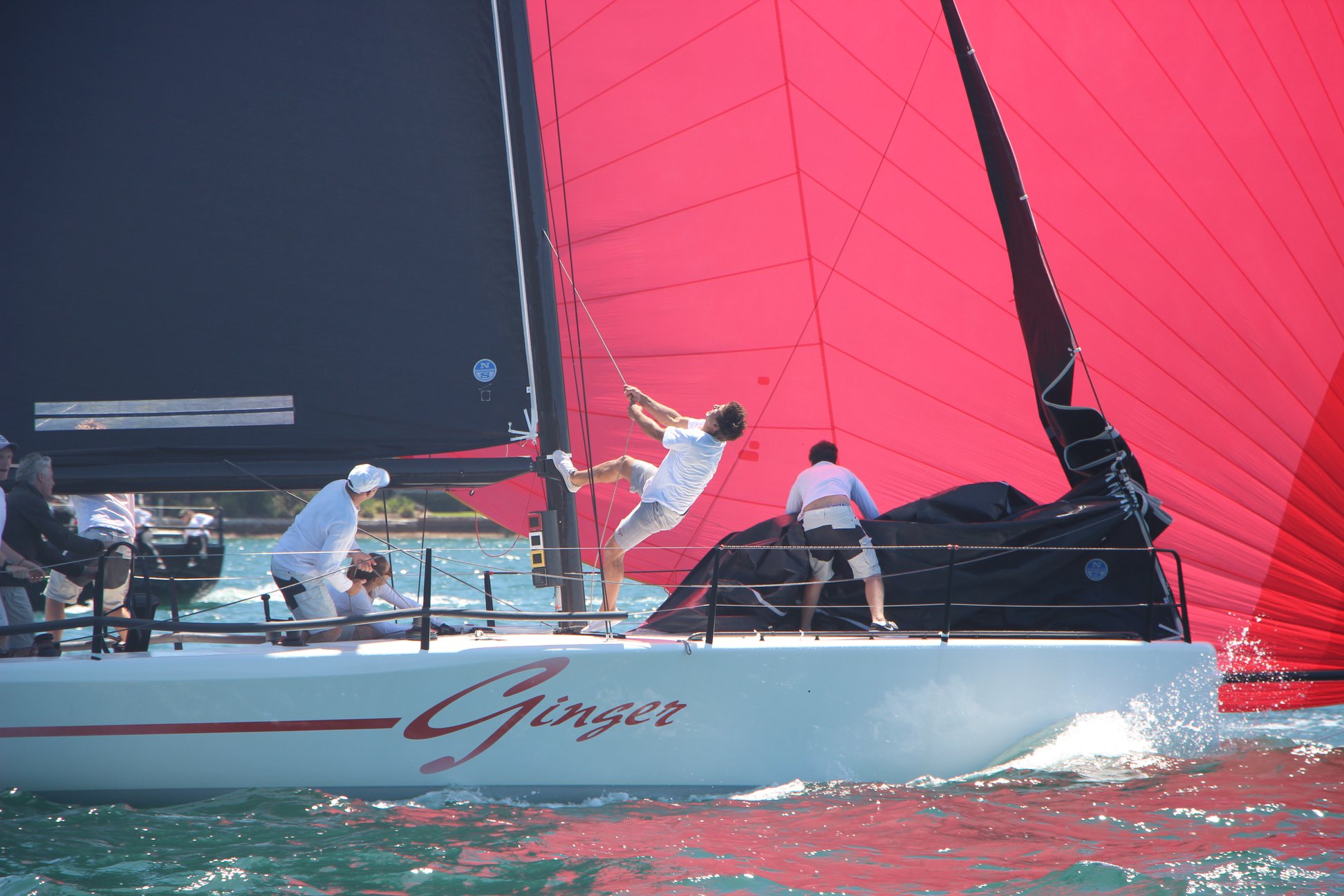 Ginger - Act 5 on Pittwater - photo by RPAYC

Fourth in the season pointscore and worth noting is the latest fleet addition, Shaun Lane and Quentin Stewart's Lazy Dog which pushed hard at the final Pittwater series. Twice in race six in a matter of seconds the Middle Harbour Yacht Club team drew the attention of on-water umpire Erica Kirby and her rarely-pointed red flag.
"It's time on the water with a great crew," Lane said back at the host club. "The armoury is coming in for the nationals; we are ramping up!" the skipper warned.
More women have joined the class over the years and the majority of MC38s are running with mixed crews. For Act 5 there was a significant representation of youth sailors across the fleet, including multiple female RPAYC Youth Development sailors on John Bacon's Dark Star.
Chris Way's Easy Tiger again had their regatta cut short due to a breakage, this time a stanchion failed which sent the boat and crew back to the club not long after the start of race six.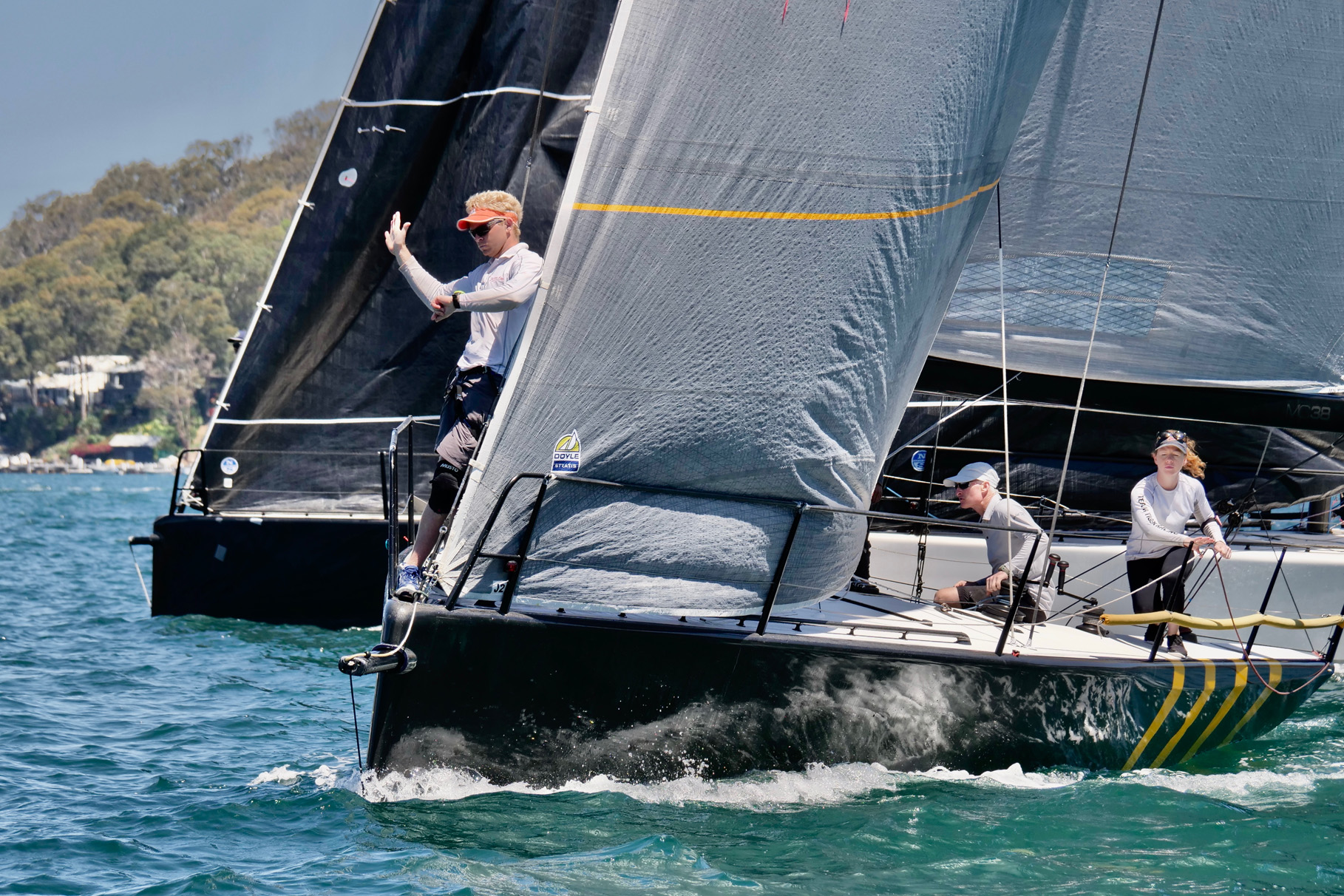 Chris Way's Easy Tiger Act 5 - photo by Tilly Lock Media

MC38 on Facebook Instagram mc38aus
by Lisa Ratcliff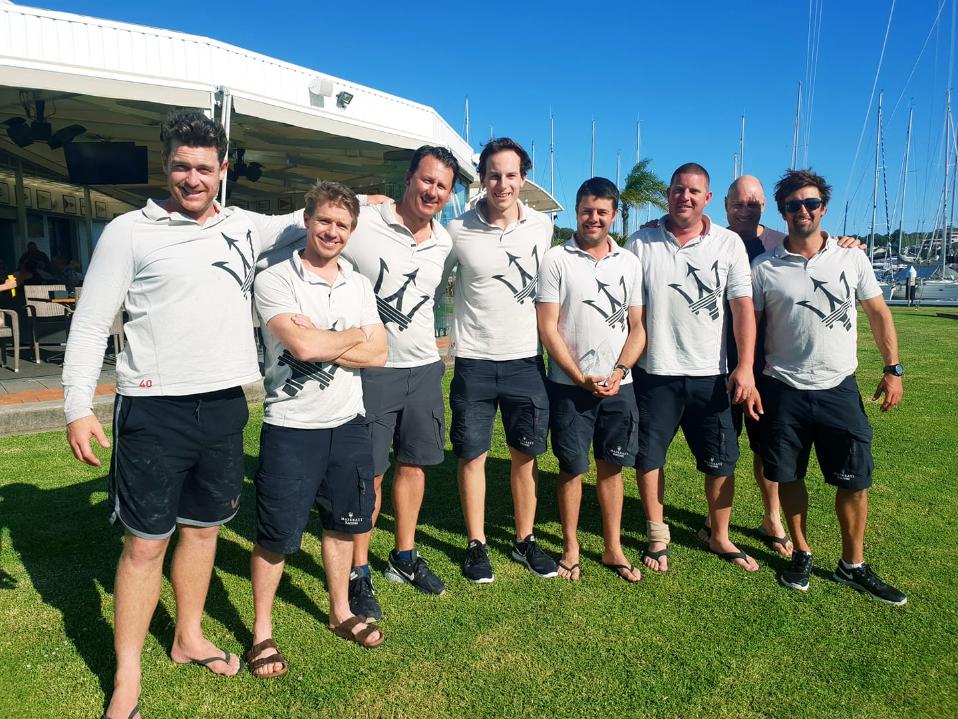 Congratulations to team Maserati, boat of the day, Act 5 winner and 2018 MC38 season CHAMPION - photo by RPAYC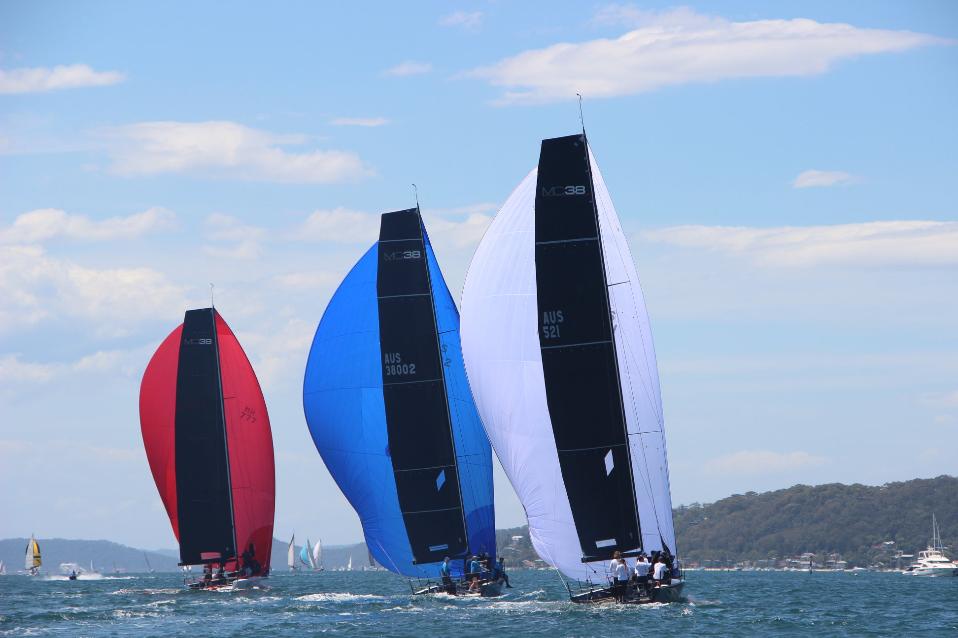 MC38's Act 5 on Pittwater - photo by RPAYC