December 4 - 10, 2016: Issue 292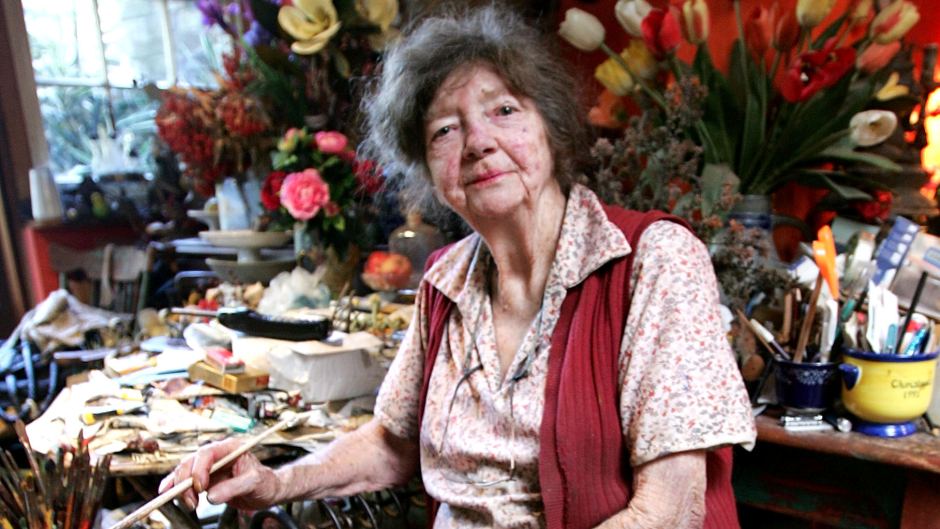 Margaret Olley's Legacy
by Robyn McWilliam
The Tweed Regional Gallery is an ultra-modern building of glass and concrete atop a hill. Inside is a viewing area over verdant paddocks to Mount Warning's recognisable peak on the horizon. The addition of the Margaret Olley Art Centre in 2014 is a must-see attraction.
Margaret's family bought a property on the Tweed River just north of the Condong Sugar Mill in 1931. Aged eight, she rowed her brother and sister across the river to catch the bus to the local primary school in Murwillumbah.
She went on to become Australia's most eccentric still-life artist. Her home in Duxford Street, Paddington was her studio. At 88, she continued painting until the day before she died on 26 July 2011.
Before that she requested her home and contents be offered to the Tweed Regional Gallery. In November 2011 her art trust contributed $1 million to the purpose-built extension.
Parts of the house are set up in the gallery. Through relocated original doors and windows, the visitor can now peek into Margaret's living/dining area, the Yellow Room and kitchen to view her eclectic mix of objects gathered from around the world. Added to these are flowers, fruit, ornaments and jugs which became the subjects for her colourful artworks. What an impressive effort to move all her treasures.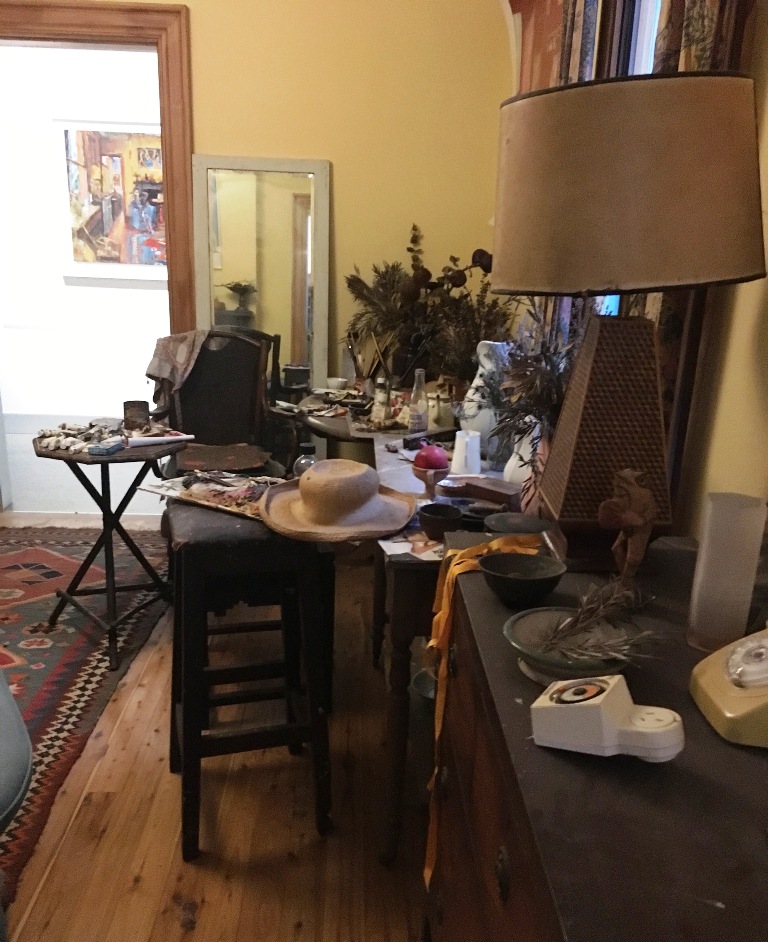 The Yellow Room
Her obsession with objects fuelled her life's art. Margaret gathered items and composed them on a new tablecloth. When the natural light was right she'd prop on her stool, lean the smooth Masonite board she preferred on her lap and begin. From the 1970s onward, using acrylic and oil, she transformed the shapes into her well-renowned paintings.
Brushes sprout from jars and twisted tubes of paint are on display in all rooms. Art and living were inseparable. Many of Margaret's interiors were like theatrical illusions as if to transfix the moment. At times she'd wander into her jungle of a garden, selecting some plant to add to her composition.
Her mother's large dining setting is the centrepiece of the living room. Margaret's reputation as a good cook was well known and the table was cleared for many a hospitable lunch. Artist friends and the likes of Clive James and Barry Humphries dined with her. One colleague and friend, Ben Quilty won the 2011 Archibald Prize with his portrait of Margaret. In 1948 she was the subject of another win by William Dobell. She refused to clean her chaotic kitchen in the latter years causing visitors to say they had already eaten.
Dining room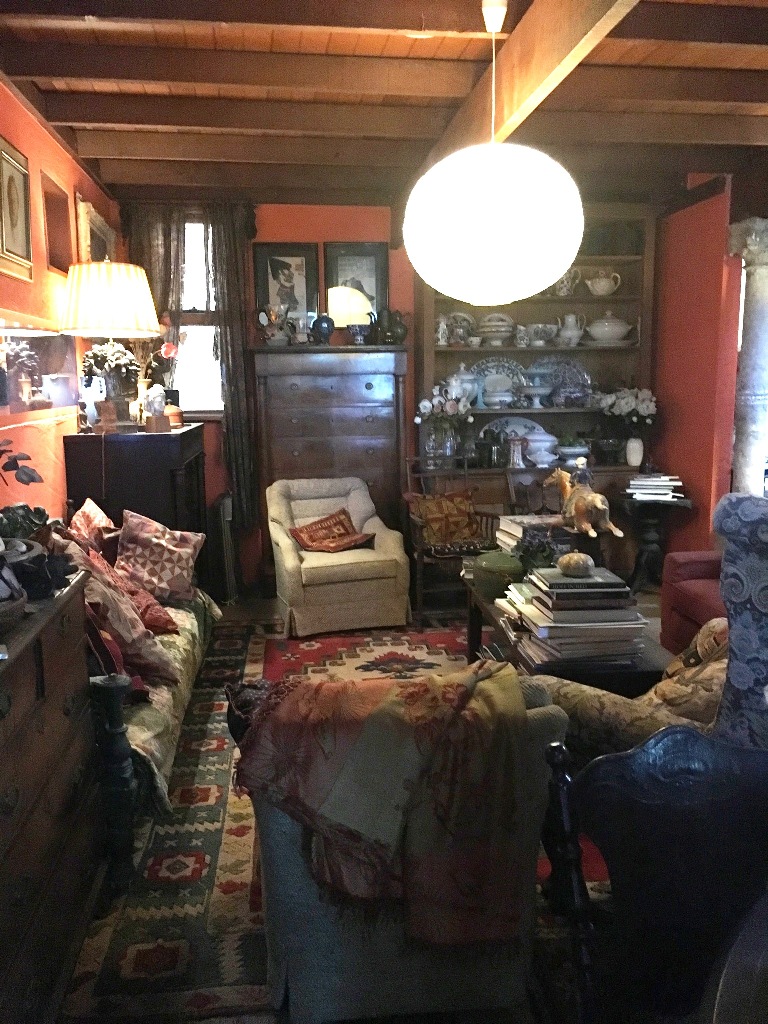 Living Room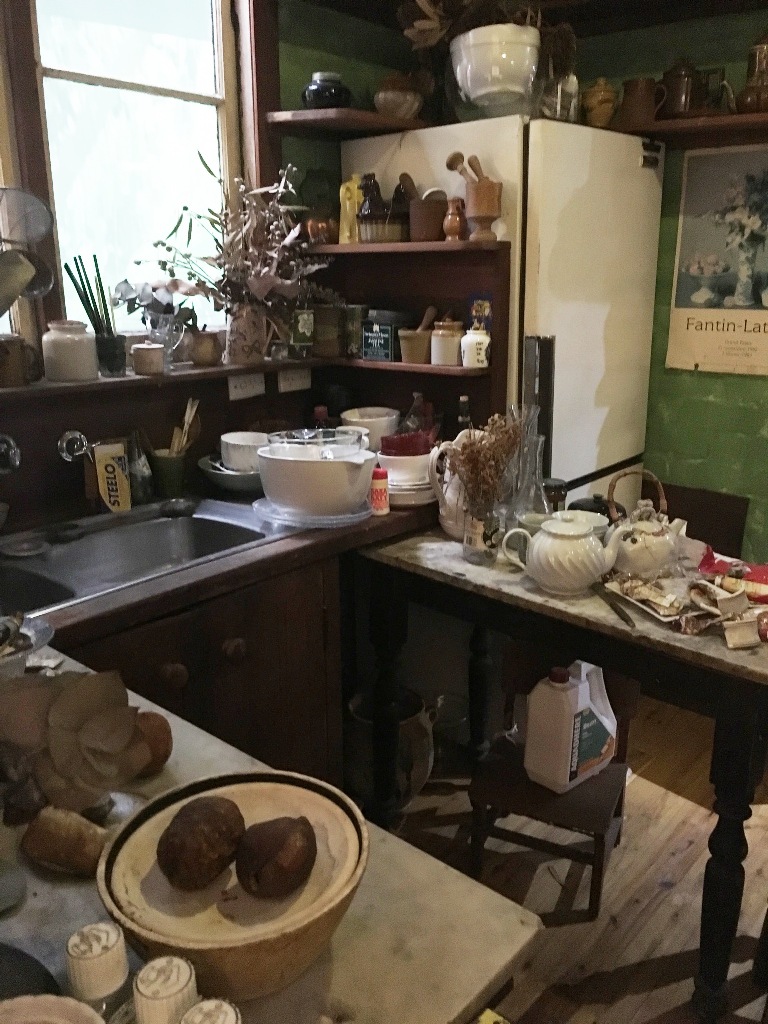 Kitchen
The exhibition, The Mystery of Things, running from February to August 2016 featured works by Margaret Olley and David Strachan. David's still lifes often show mystical faces. Tragically, he was killed in a car accident in 1970. Margaret's works such as Lemons and Oranges 1964, White Still Life 1977 and Hawkesbury Wildflowers with Lemons 1971 were on display. Margaret donated the jug with its blue band in this last painting to the gallery.
In the grounds is the Nancy Fairfax Artist in Residence Studio. Margaret mentored young artists and advanced their careers through purchasing works for collections. Some artists are chosen for residencies and work in the gallery. If the studio is available others stay on a fee-paying basis.
Margaret completed a number of self-portraits. One she painted in 2001 was gifted to the Tweed Regional Gallery by her estate. It depicts a reflection of her in a mirror in the Yellow Room at Duxford Street in her ubiquitous straw hat she often wore when painting.
The image of Margaret Olley lives on in her art and the prize-winning paintings of her. The gallery's recreation of her living and painting environment has to be the best in the country. Culinary delights and the stunning view await in the café. Don't bypass the Margaret Olley Art Centre!
'Hawkesbury wildlflowers and Lemons' - 1971 - Margaret Olley
Tweed Regional Gallery
and Margaret Olley Art Centre
2 Mistral Rd,
South Murwillumbah
Phone: (02) 6670 2790
Article and photographs by Robyn McWilliam, 2016