November 13 - 19, 2022: Issue 562
Manly Warringah Vawdon Cup 2022 Champions
Touch is a variation of rugby league with the tackling of opposing players replaced by a touch. As touches must be made with minimal force, touch is therefore considered a limited-contact sport.

The Vawdon Cup is a weekly representative competition conducted by NSW Touch Association. With teams representing affiliates such as Manly-Warringah, Penrith, Parramatta, Cronulla, Easts, Wollongong and Central Coast as well as everywhere in between, Vawdon Cup puts you up against some of the best players in the Country.
Games are played throughout the Sydney Metropolitan area catering for Open, Senior and Youth divisions. The competition normally has 12 rounds and a final series.
Games are played weekly on a Friday night with two Sunday double headers.
The competition is still split into skill-based divisions so even a beginner has a place to get started. Manly Touch has fully accredited coaches in charge of each squad which will help improve players knowledge and skills. Trials and training usually commence in early June each year.
Players must be a minimum of 15 years of age to play in the Opens Divisions and must be between 13 to 17 years of age to play Youth League.
Touch Football has over 400,000 registered members and an additional 500,000 children participating in school programs and related activities, or through their local clubs - the Avalon Bulldogs, for instance, runs a Summer Touch Footy comp which runs from October to December each year. This places the sport among the top participant based, organised sports in Australia.
New South Wales Touch Football (NSWTA) is the official body for the sport and it is the role of the organisation to develop and grow the sport of Touch Football in this New South Wales.
The first formalised Touch Football competition was South Sydney Touch Association in 1968. Touch Football continued to grow and during the 70`s it took hold in the country areas. The first country competition was Wagga Wagga Touch Association in 1973 with the first women's competition officially starting in Ballina in 1975.
The New South Wales Touch Association was constituted in 1972 and at that point there were six competitions and approximately 1500 players.
As at 2015 the number of registered players across New South Wales had reached over 110000 and over 150 affiliated competitions.
About Manly Warringah Touch Association
MWTA encourage and have participants and volunteers from all walks of the community. MWTA provides one of the largest touch competitions in Sydney. Participants compete in both the Junior and Senior Competitions.
The Senior Competitions are held year round during Spring, Summer, Autumn and Winter months. The Junior Competition is held during the months of September thru to mid-December. Player's ages range between U/9 – U/17's in the Juniors and U/20 – over 50's in the Seniors. There are three divisions in the MWTA Senior Open Competitions: Men's, Women's and Mixed. In our Junior Competition we conduct Boys and Girls Divisions in the following age groups: U/9, U/11, U/13, U/15 and U/17.
NSW Touch - Vawdon Cup Results 2022
Girl's Youth League 1 Championship
Northern Beaches Renegades
6 Penrith Panthers 4 (
Player of the Final Brooke Bosland Northern Beaches Renegades
)
Girls Youth League 2 Championship Hills Hornets 4 Cronulla 1 (Player of the Final Shah Wakely Hills Hornets)
Boy's Youth League 1 Championship Western Suburbs 6 Wollongong Devils 5 (Player of the Final Joesph Matta Western Suburbs)
Boy's Youth League 2 Championship Hills Hornets 7 Bankstown 3 (Player of the Final Logan Bubb Hills Hornets)
Women's Division 1 Championship
Manly Warringah
6 Eastern Suburbs 4 (
Player of the Final Chloe Butcher Manly Warringah
)
Men's Division 1 Championship Parramatta 10 Bankstown 9 (Player of the Final Luke Osbourne Parramatta)
Women's Division 2 Championship
Manly Warringah
4 Ryde Eastwood 3 (
Player of the Final Kataraina Withell Manly Warringah
)
Men's Division 2 Championship Ryde Eastwood 8 Wollongong 7 (Player of the Final Ben Stevanovic Ryde Eastwood)
Division 3 Championship St George 3 Cronulla 2 (Player of the Final Jaimie Phipps St George)
Men's Division 3 Championship Peninsula 10 Penrith 6 (Player of the Final Kieran Diamond Peninsula)
Men's Division 4 Championship Balmain 7 Appin 6 (Player of the Final Dane Ryan Balmain)
Women's Premier League Championship
Manly Sea Eagles 5 Defeated Canterbury Bulldogs 4 (Player of the Final Laura Peattie Manly Sea Eagles)
Men's Premier League Championship Penrith Panthers 10 Defeated Central Coast Dolphins 9 (Player of the Final Tjadyn Ashby Penrith Panthers)
1st Penrith Panthers 119pts
2nd Western Suburbs 99pts
3rd Manly Warringah 95pts
1st Penrith 190pts
2nd Western Suburbs 128pts
3rd Manly Warringah 126pts
Lisa Neal Shield (Minor Prems Women's)
Owen Lane Shield (Minor Prems Men's)
Central Coast Dolphins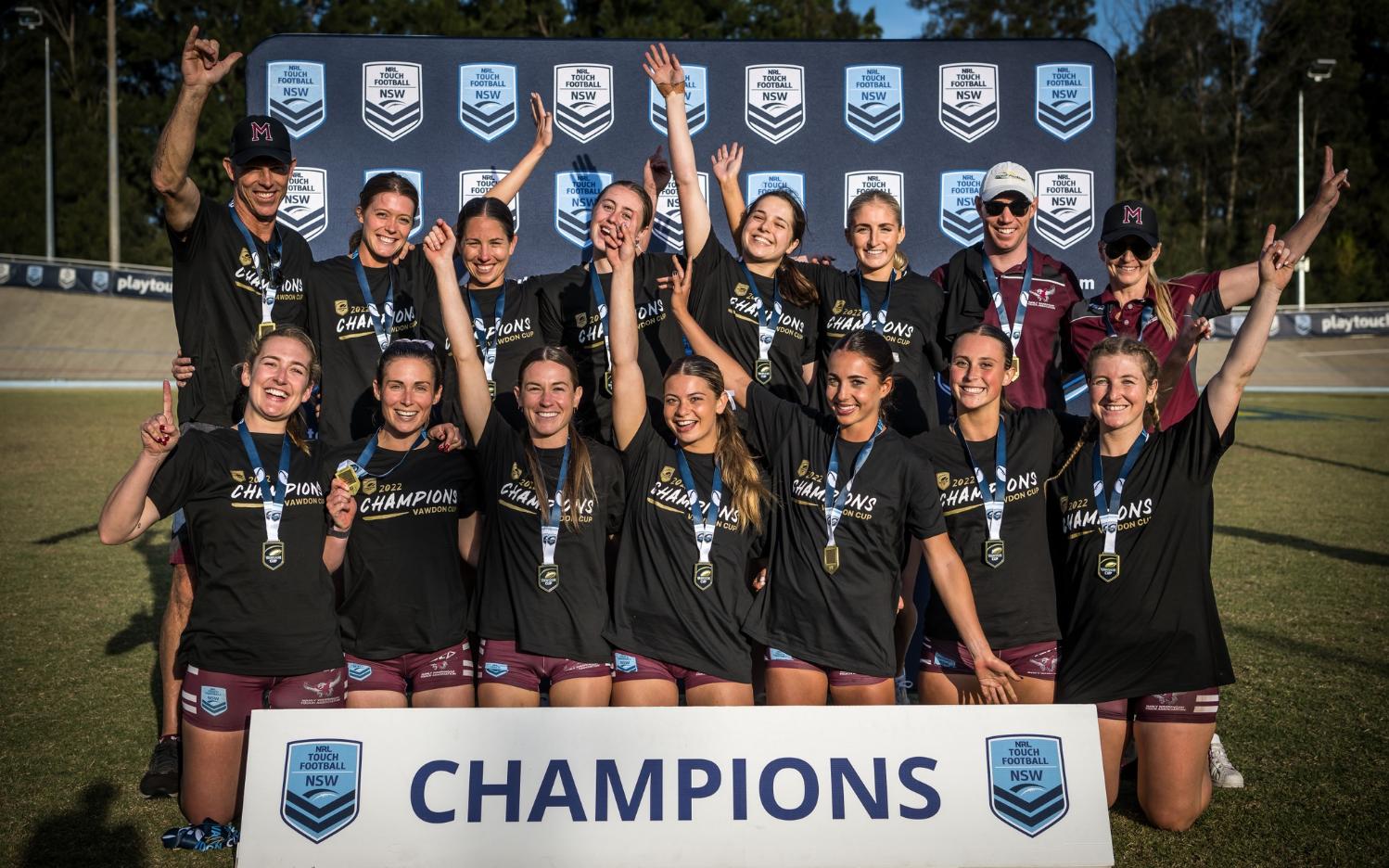 2022 Vawdon Cup Women's Premier League Champions - Manly Sea Eagles. Photo: New South Wales Touch Football