June 27 - July 10, 2021: Issue 500
Manly Warringah Kayak Club Team Report:
2021 Paddle Australia Canoe Sprint Championships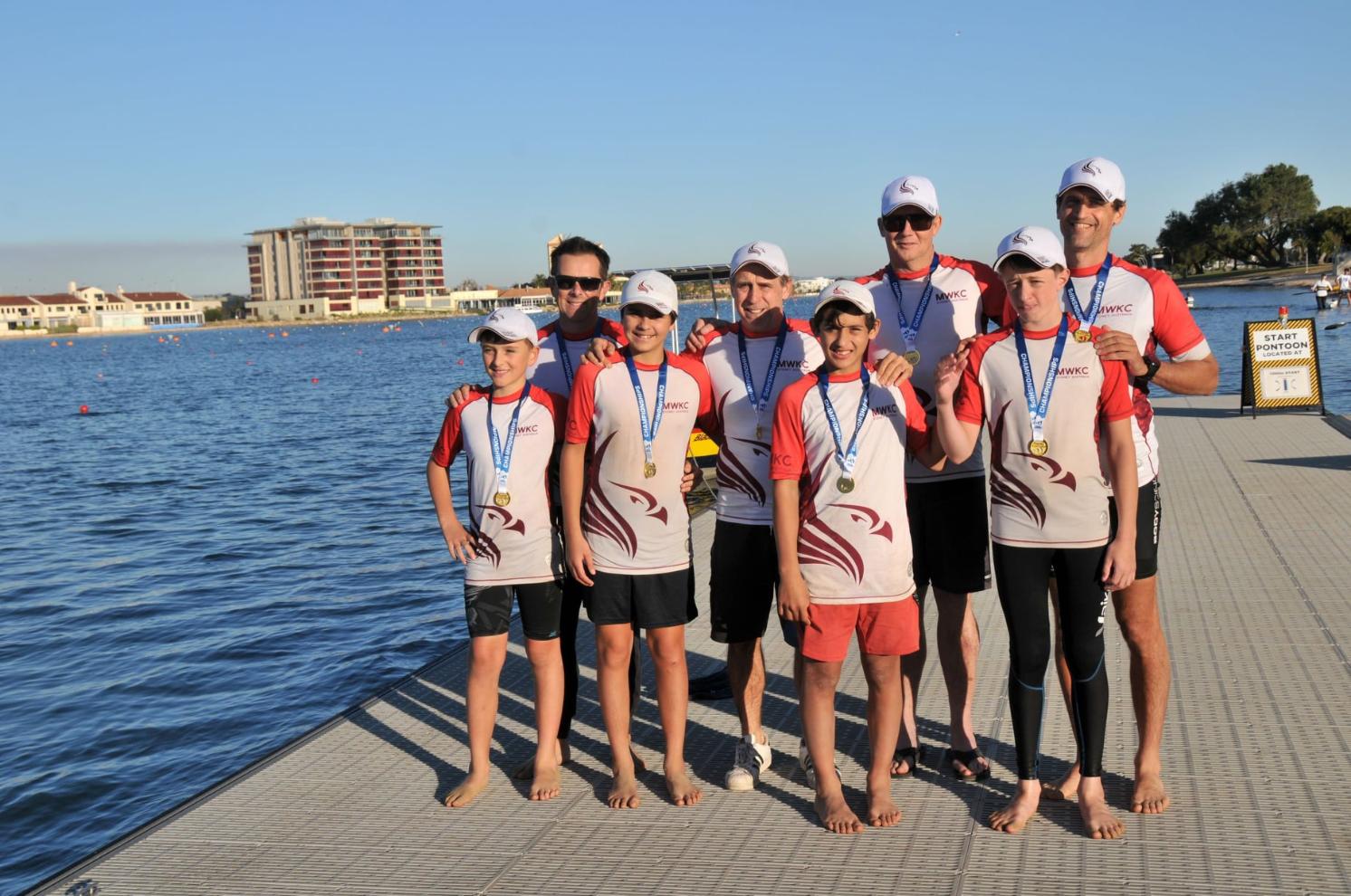 photo by David Hipsley, MWKC
By Turia Mako

The 2021 Paddle Australia Canoe Sprint Championships took place at West Lakes (Adelaide) from Wednesday May 19th to Sunday May 23rd.
Originally slated to be held in the New South Wales capital at the Sydney International Regatta Centre, Adelaide threw the Championships a lifeline after being forced to relocate due to recent floods causing an algae outbreak and poor water quality at the facility.
The event was more than just the Olympic and Paralympic events on offer, with Paddle Australian inviting the whole paddle community to take part across canoe, kayak, ocean ski, surf ski, outrigging and stand up paddle boarding.
With limited opportunities for the Australians to compete internationally, the Olympic and Paralympic teams will be looking to put their training to the test.
For those in our area, all eyes were on the members of the Manly Warringah Kayak Club. The club had outstanding results and won 23 Gold medals, 5 Silver and 5 Bronze medals.
Travelling Team
Phoenix Athletes
Brandon Bartlem
Charli Munro
Charles Kelly
Elizabeth Tyson
James Euers
Kira Beuzeville
Jessica Tyson
Lachlan Stokes
Makayli Byrne
Oliver Oudhof
Sam Ruban
Under 12/14 Athletes
Jacob Mako
Mate Eles
Max Mako
Tom Maker
Coaches
Andras Eles (parent + VET)
Brett Worth – Head Coach
David Hipsley
Turia Mako (parent)
Viliam Mako (parent & VET)
VET Athlete
Parents
Brett Beuzeville
Bryce Munro
Chris Maker (VET)
Deidre Oudhof
Gareth Stokes
John Tyson
Mark Byrne (VET)
Nick Ruban
Steve Euers
Terese Ruban
Tuesday 18th May
The trailer was packed to capacity with 2 K4s, 7 K2s and 19 K1s. It left the club at about 4pm with Viliam and Andras at the helms. They made an overnight stop in Wagga Wagga. Also on the road was Nick Ruban and Gareth Stokes. According to Andras, the morning was amazing, the road was straight, the drive was long, they saw lots of emus. Viliam and Andras is grateful to those that called to check on them.
Wednesday 19th May
The Byrne and Tyson, a party of 5 were the first to arrive in Adelaide. They scouted the site and reported back. They were joined by the rest of the Phoenix and junior athletes and some parents, with Lachlan Stokes last to arrive at 8pm. The trailer crew arrived at around 6pm, exhausted. It was Woolies roast chicken, salads and bread for dinner.
Everyone were booked into the Discovery Holiday Park in Semaphore which is about 3km from West Lakes.
Thursday 20th May
With everyone racing before 9am, it meant an early morning for all. Everyone was up and ready to go by 6.45am. I was very impressed by the venue. The best thing that morning was the water was glassy and there was zero wind. It was a bit chilly but nothing beyond unbearable. Despite it being a cloudy day, the athletes in my opinion had the best racing conditions.
Boats were unloaded with excitement and camaraderie. The Chantel Meek K4 needed a good wash after being in a cover that is disintegrating. Note – a new boat cover needs to be purchased.
It was good to see all the athletes run through their warmup routine that Spencer put together which included a 1km easy paddle, dynamic stretching and then back on the water for the race.
Brett, our Head Coach arrived this morning. We were happy at his arrival as he took on some of the challenging tasks with the officials. Brett said "all requests to the organisers for changes were accepted via an email to Duffy". Our team continued to grow with the arrival of veteran athletes Jannion Di Tommaso and Chris Maker.
At the end of the day, all boats were loaded and strapped to the trailer to prevent damage from people tripping over it or from unexpected weather changes – a task that became a daily routine.
Highlights
MWKC earned it first gold medal in under 14 boys K4 500
Gold for Tom Maker Under 12 500
Lost a gold medal with our first and only DSQ when the K2 used by Tom Maker & Axel Tan in the under 12 500 was underweight – a mistake that everyone was sure to never repeat. An NWIS made the same mistake and lost their gold.
All under 18 boys progressed to K1 1000 B Final.
3 K2 crews progressed straight to finals from heat: Under 16 K2 500 of James/Lachlan, Under 18 K2 200 Kira/Charli, Under 16 K2 200 Makayli/Elizabeth - pretty awesome.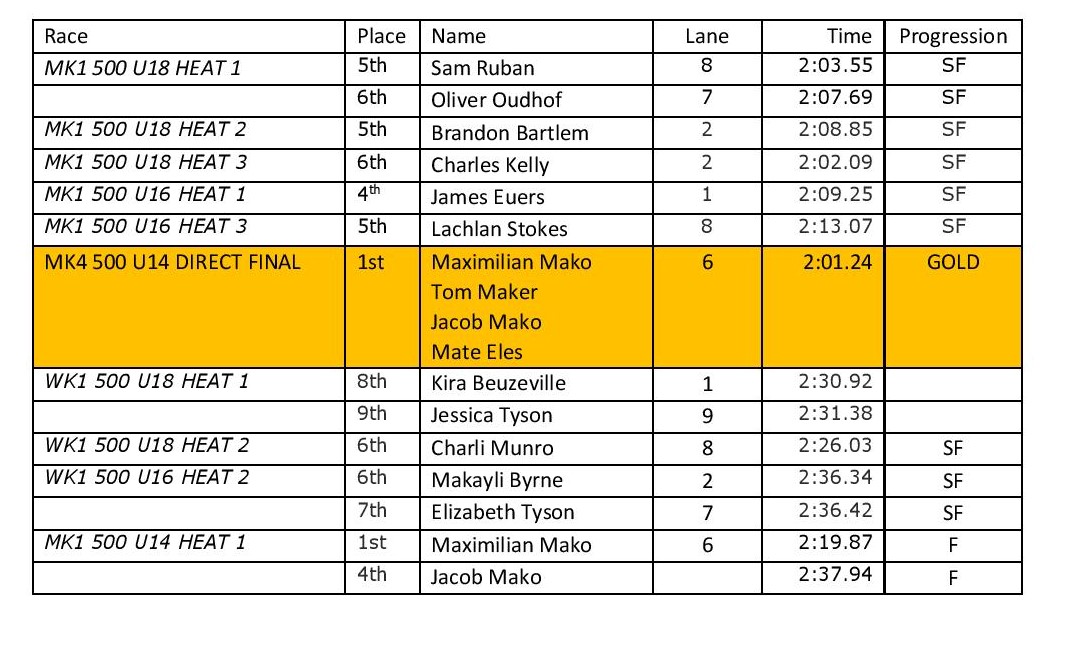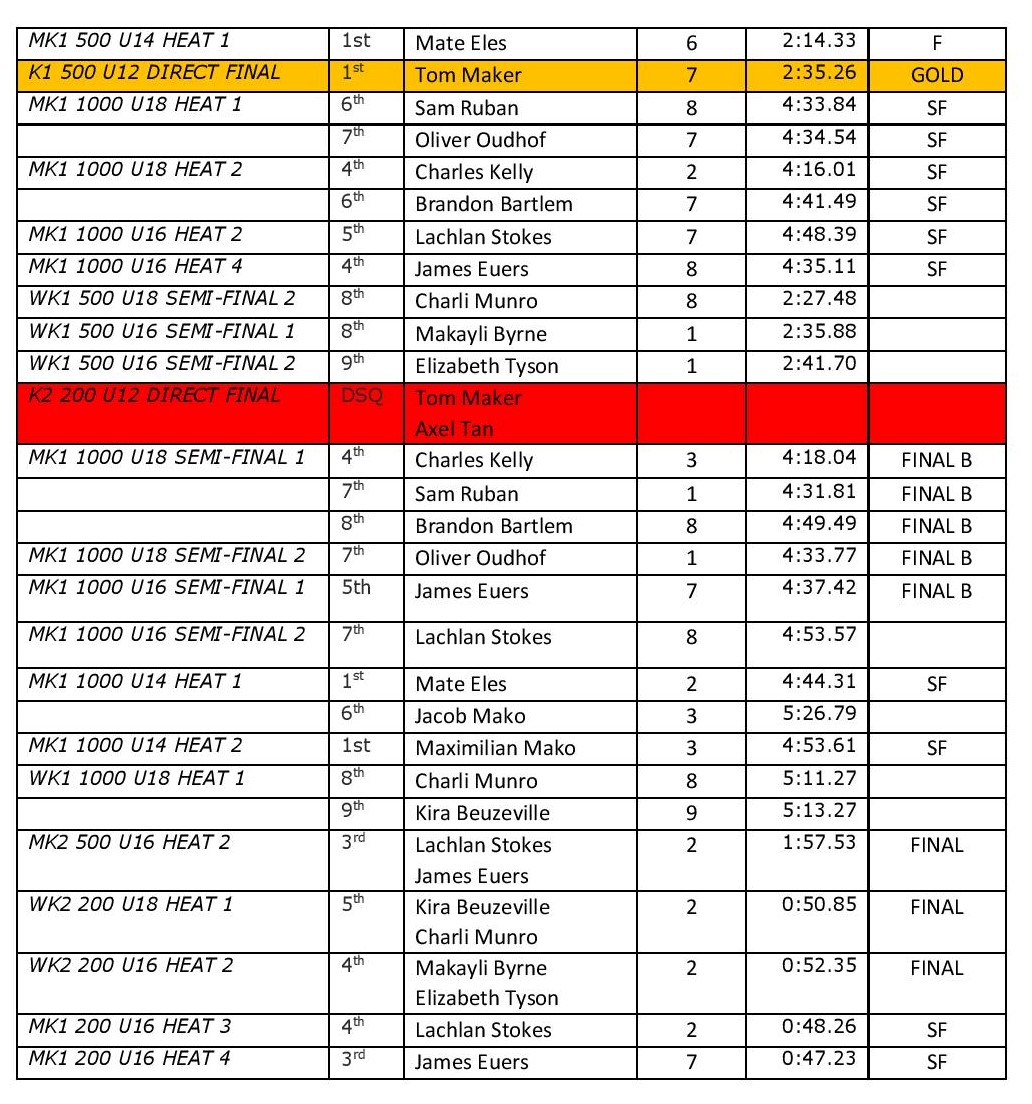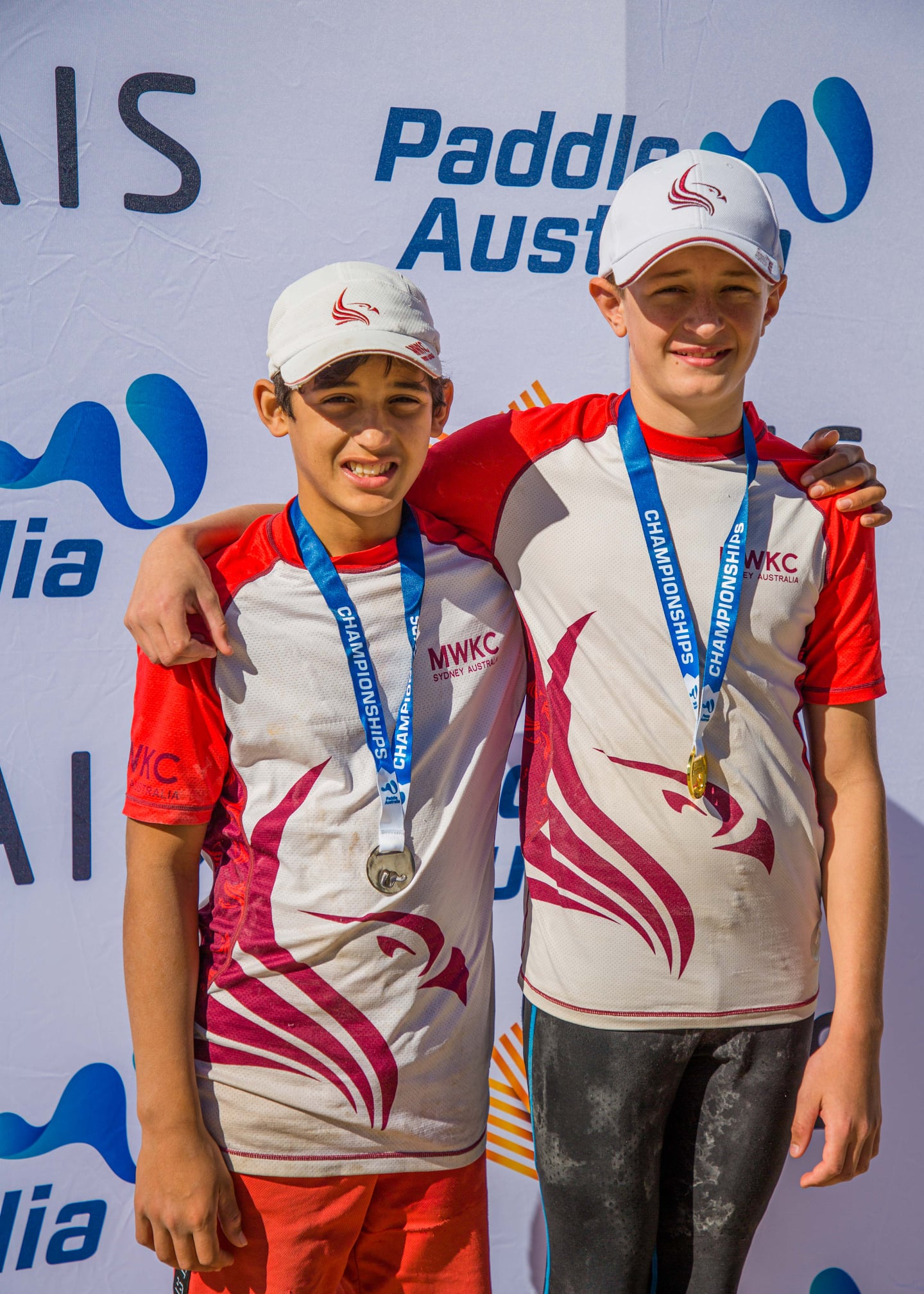 Friday 21 May
Another early start with Lachlan and James scheduled to race early for the under 16 500 semi-finals. Training session for the mixed K2 crews for under 14 and 12 were organised by the various Eles, Maker & Mako dads, trying out different K2s. We had confirmed female crews prior to close of registration from Currumbin Creek QLD, Illawarra NSW, Cobram-Baroonga VIC. A K4 was borrowed for the VET crew, it was buzzing.
There was a light tailwind in the afternoon which saw some fast times being set. K4 200 for VET and under 14 were delayed when the under 14 crew were called in to don on life vests. Life vest requirements for SA, as we discovered is '12 and under' which is different from NSW 'under 12'. Note: Check life vests requirement for each state prior to regatta. We are thankful to Team Queensland for supplying the vests for this race. We sourced three from SAIS for the rest of the regatta.
In one race our k4 boys were warned for taking too long to come to the starting gates. A bit of a mix up but Brett explained to them "when everyone is in the gates the starter will start them and if you take too long you will be disqualified".
Brett Beuzeville joined the team.
We were able to have a team dinner at the Semaphore Surf Life Saving Club. The portions were huge, the atmosphere was great – it was nice to eat with everybody.
Highlights
2 Gold for Mate Eles Under 14 K1 500 & 1000. Silver & Bronze for Max Mako.
Another first for MWKC with a DNF for Tom Maker & Axel Tan in the under 12 K2 200. They were ahead in their category but fell in less than 20 metres from the finish line.
2 Gold for Tom Maker under 12 K1 1000 & 200
James/Lachlan progressed straight to final from their heat for the under 16 K2 200.
Dads' vs Sons in the MK4 200. Gold for both under 14 & VET team.
Silver for under 18 Phoenix boys Brandon, Sam, Oliver & Charles in MK4 200.
Gold for VET female Jannion Di Tommaso in K1 1000 & 200.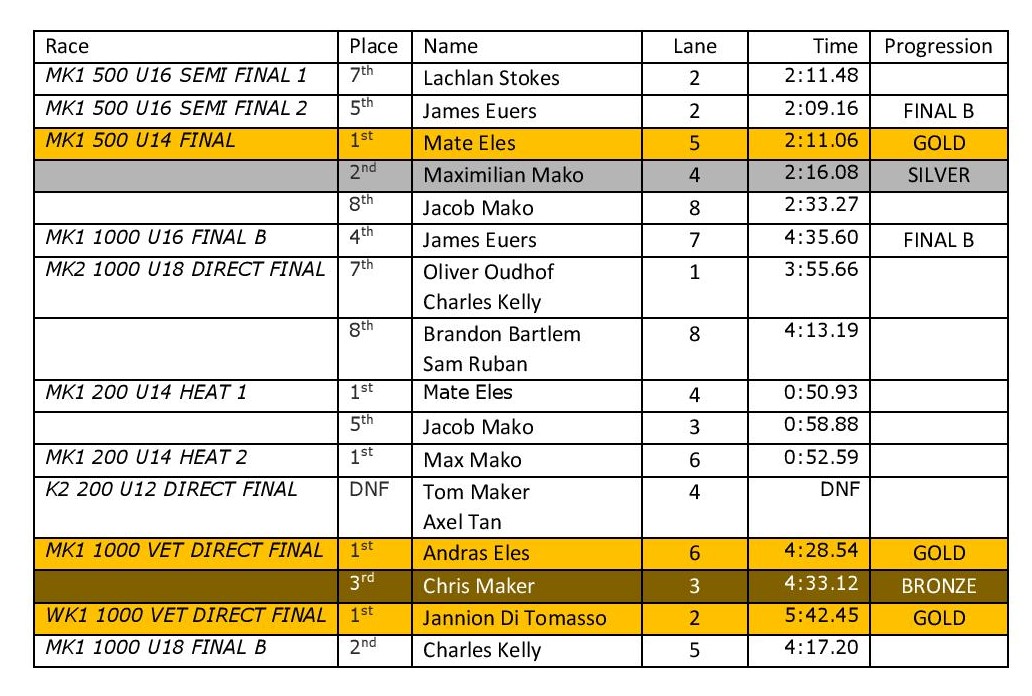 Saturday 22 May
Lots of gold medals were added to the MWKC tally. There was a bit of side head wind which made times slower. The under 18 girls were heard saying that they were flying.
Bryce Munro joins the team as well as the 2 Eles girls.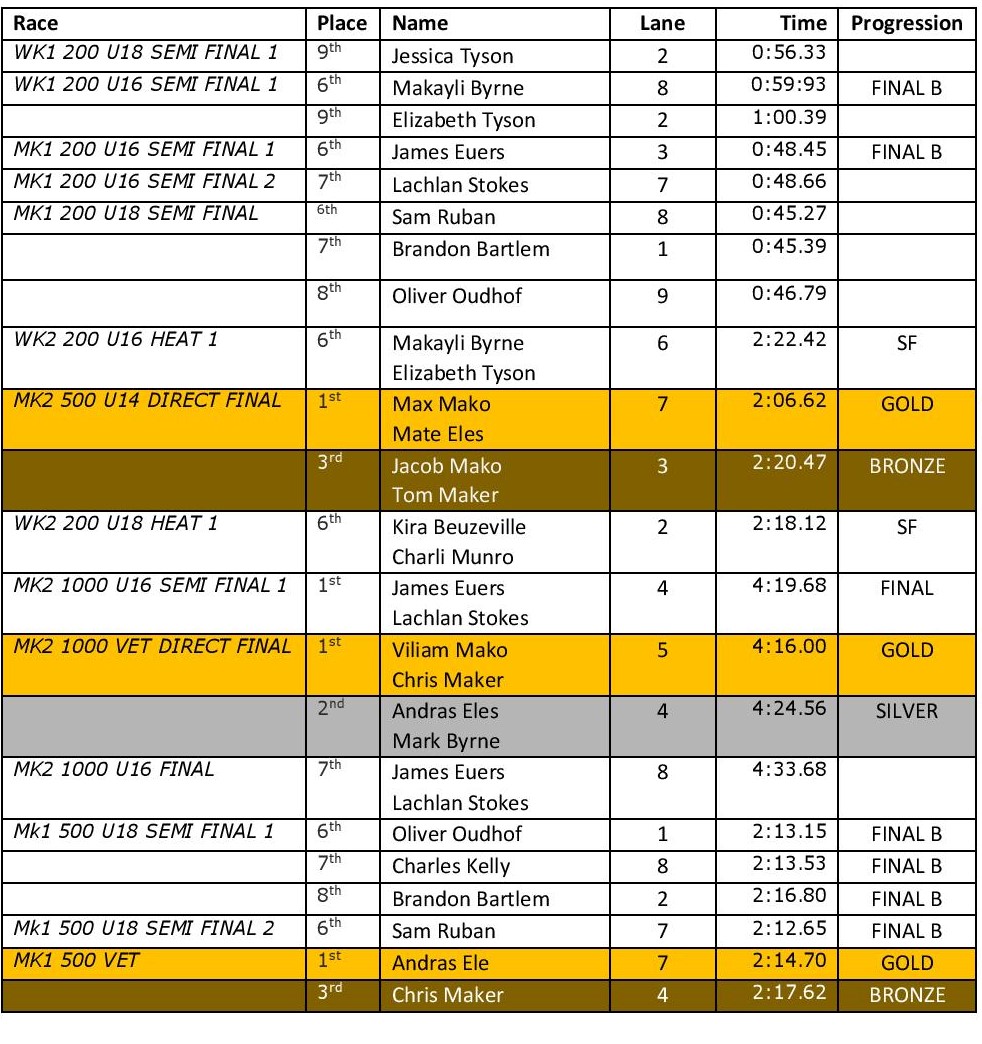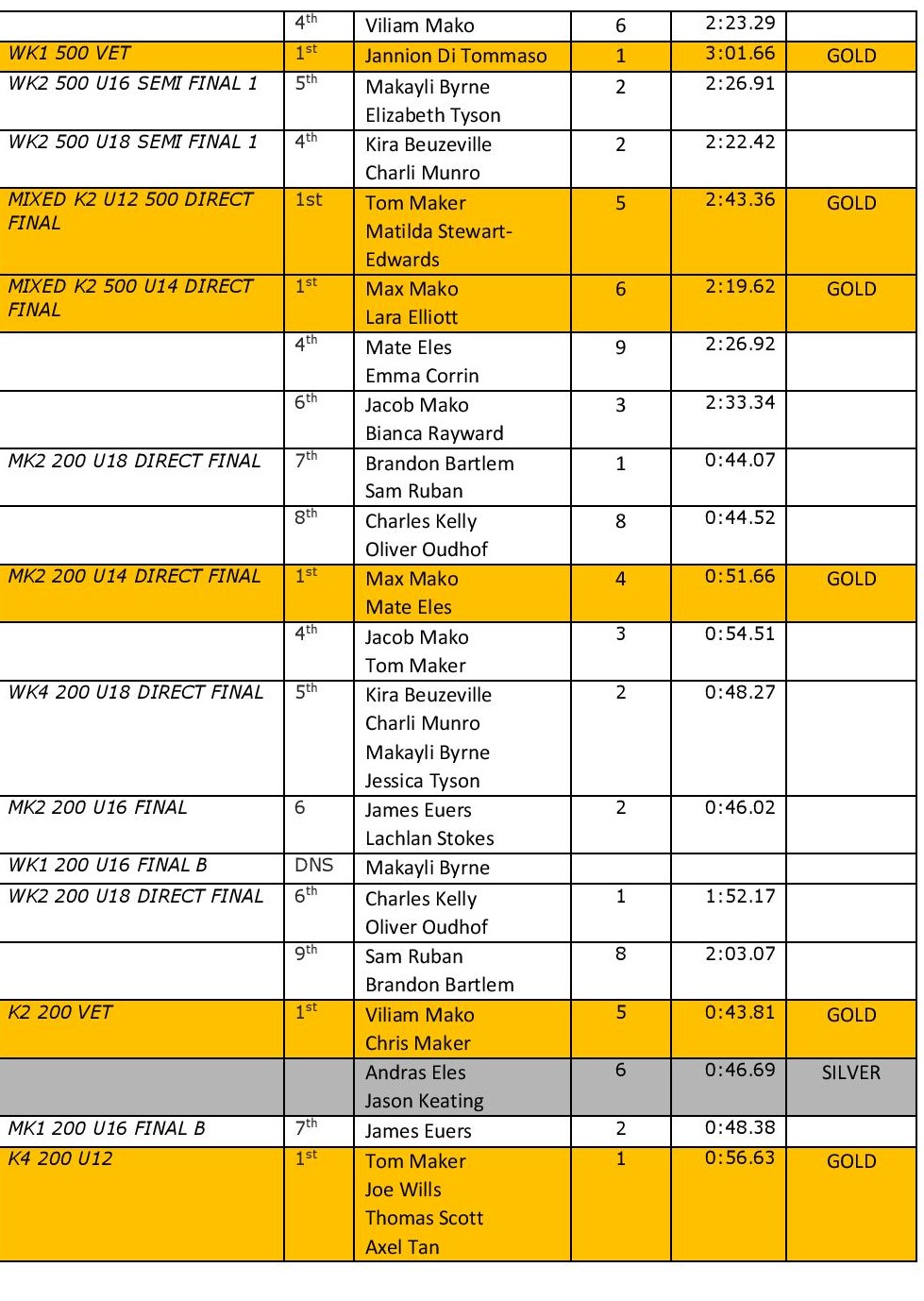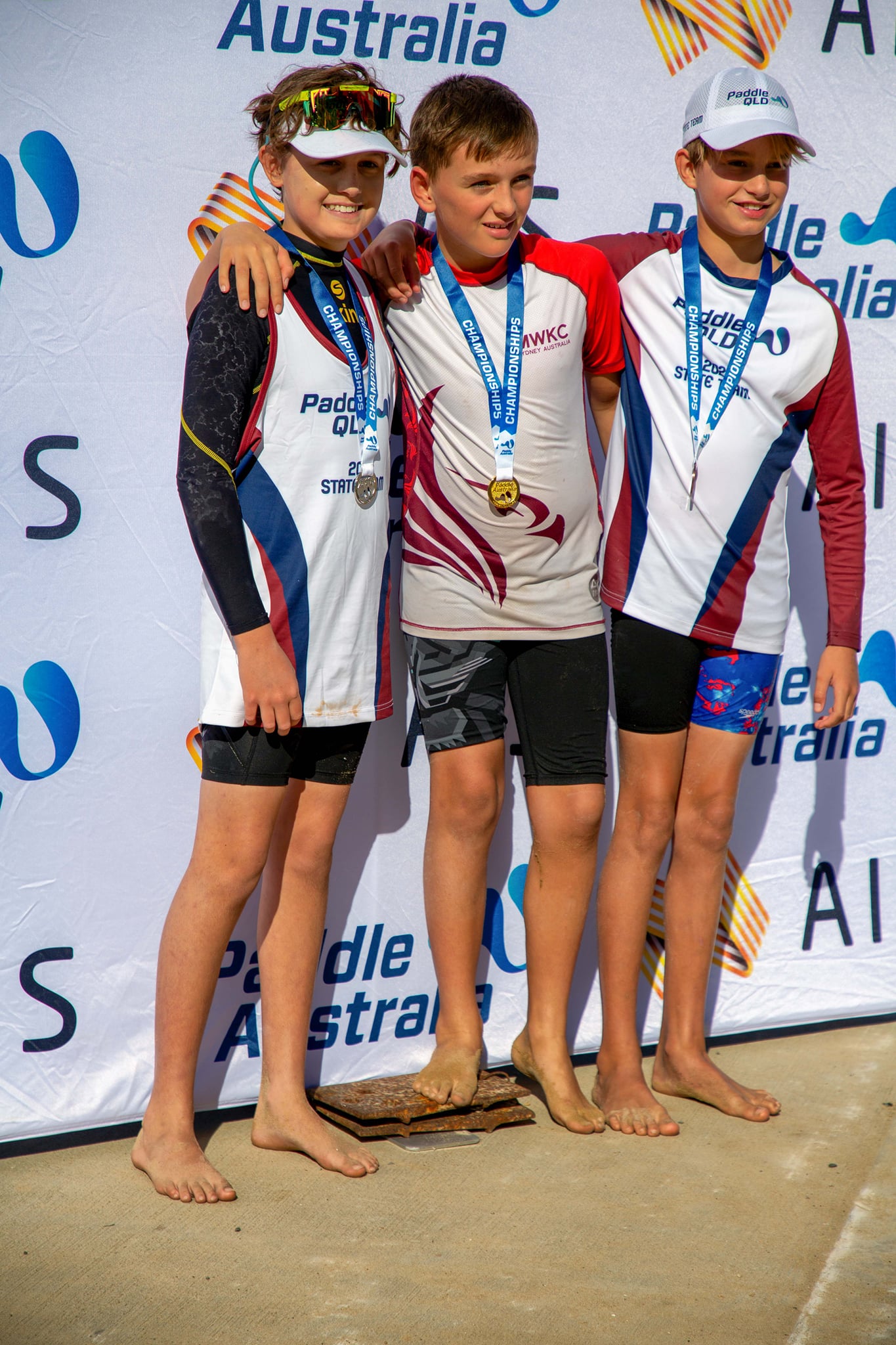 Sunday 23 May
There was strong headwind this morning. It was all final 500 races today for our team. All under 18 boys raced in the b final. Despite a strong headwind, all under 18 boys & James set the fastest time for each of their 500 – very impressive achievement.

Under16 boys raced in the final of the K2 & K4. Both under 18 girls and boys raced in the K4 finals. It was an exciting day of team racing.
Those who were done packed. K1's and K2s were washed, covered and strapped onto the trailer as they came off the last race. Bryce was able to leave with the trailer by 1pm.
Sydney Northern Beaches invited us to share lunch with them. Chicken wrap, Anzac biscuits, pikelets, bananas, apples, and various juices were on the menu.
Two of our juniors hopped into a K4 with Olympians Kenny Wallace and Andrew Trim. There was also a session with the Olympians where athletes were able to get up close and ask questions. Our athletes were overly impressed and came back with lots of signatures.
Most athletes and parents caught a flight back to Sydney in the afternoon. The Mako stayed for an extra day and the Eles for 3 days to enjoy the rest of Adelaide.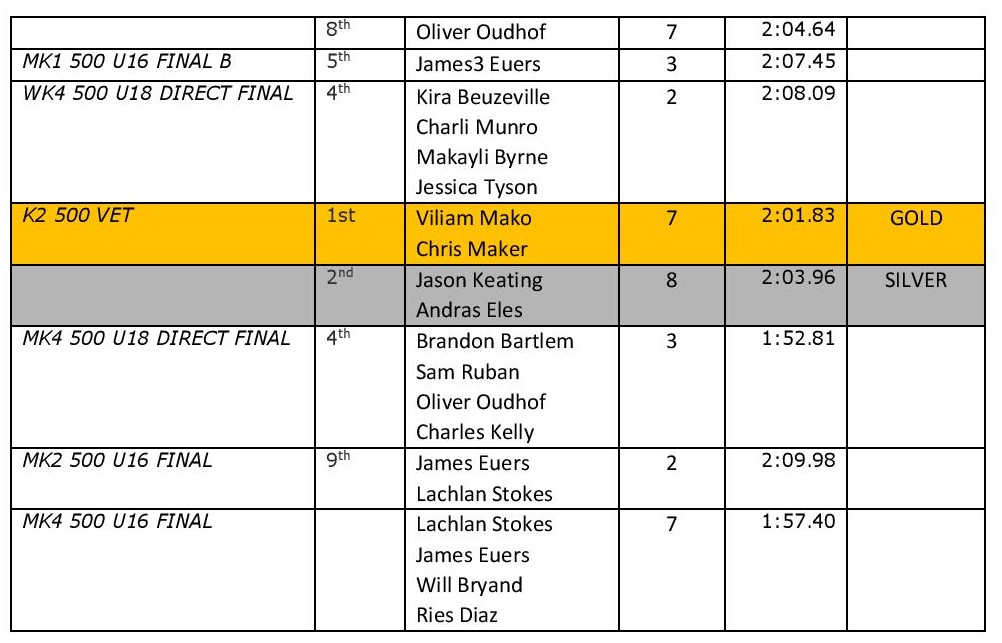 Conclusion
The regatta was well organised and run on time. Races were missing or moved around but nothing that the organisers or athletes could not manage. It was important to use the phone to get the latest schedule. We had started with a daily printout, but these often became obsolete half-way through the day.
This was the first National sprint for all athletes apart from Mark Byrne. It was also the first time that any of our competitors had used a starting gate. The kids were apprehensive at first but got used to it quite quickly.
A word from our Head Coach; "On the whole, I was impressed by all our paddlers in their attitude and behaviour throughout the regatta. More importantly our K4 crews look and performed really well. All our paddlers timing and technique held together in racing. This holds good for the future."
A word from our Coaching Coordinator; "I think the attitude and sportsmanship of the team was incredible and the Club should be proud of all their achievements. I would add that several clubs were delighted to see a strong and competitive contingent from MWKC, including Phil Jones Paddle Australia CEO."
On behalf of the team, I want to extend our gratitude to the MWKC Board and all its members for encouraging and supporting us. Requests for boat covers and spray skirts were answered – thank you Brett W, Annie, Teresa H, Geoff H, Pieter and David H.
A huge thank you to our Head Coach, Brett Worth for all his time, his calm manner in handling crisis and his experience and knowledge in organising sessions, programs, and trainers for our athletes.
Thank you to our Coaching Coordinator, David Hipsley for accepting our invitation to join us in Adelaide. He was involved in the early days with the under 12 and 14 crew. He took on another role as team photographer.
Thank you to all the parents for supporting the kids and the club and for being there. Bryce Munro for loaning his car to tow the trailer. The Dads Viliam, Andras and Bryce for sharing the drive to Adelaide and back. Final thank you to all our athletes for making us proud.
Next stop Perth in 2022. Looking forward to it.
Phoenix Program Seeking Expressions Of Interest At Manly Warringah Kayak Club
Applications are invited for the second year of the MWKC Phoenix Programme on Narrabeen Lake. This Programme is designed to deliver athletes into State and National Pathway Programs.
At this stage the Club has set target dates for athlete testing as Wednesday 28 July and Sunday 01 August, but it may be subject to change (such as weather events) so please contact us to confirm.
If you are interested in applying for the Programme, please send an email to our Head Coach, Brett Worth at brettworth36@hotmail.com and provide the following details;
Athlete Name
Athlete DOB
Brief summary of paddling experience (if any)
Brief summary of other sporting interests / achievements.
If you would like to speak with someone prior to applying you can contact;
Brett Worth, MWKC Head Coach 0466 599 423 Peter Grimes, MWKC President 0418 221 042
Details are available at this link: www.mwkc.org.au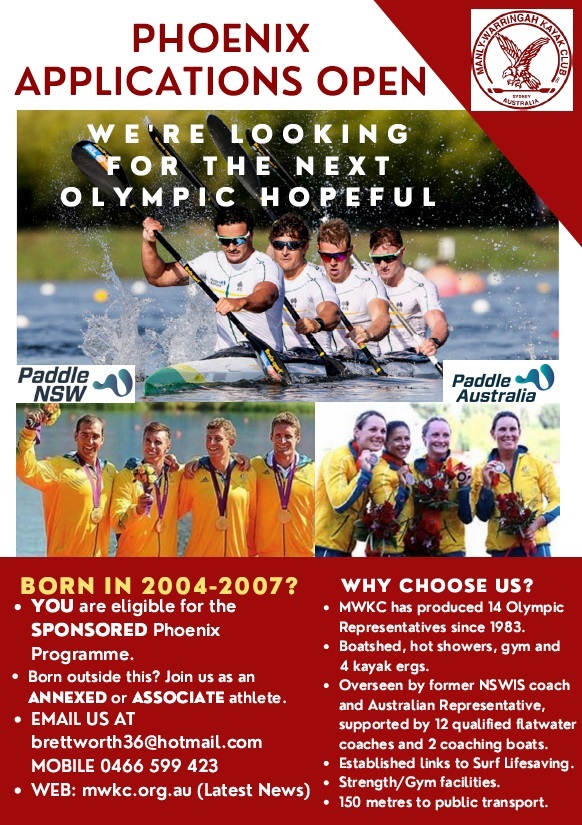 This is Team MWKC, they won 3rd place club at the Australian Canoe Sprint Championships in Adelaide.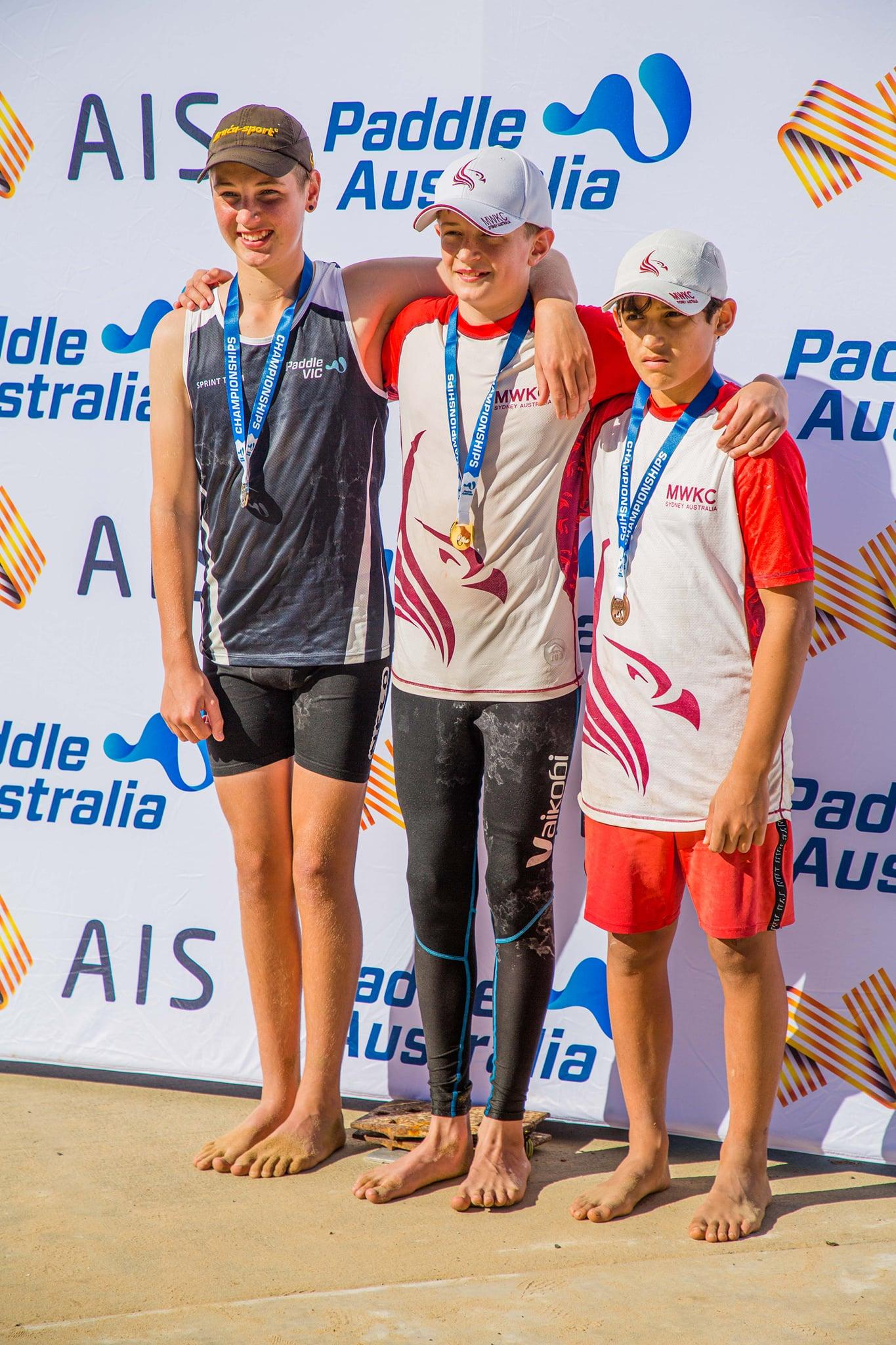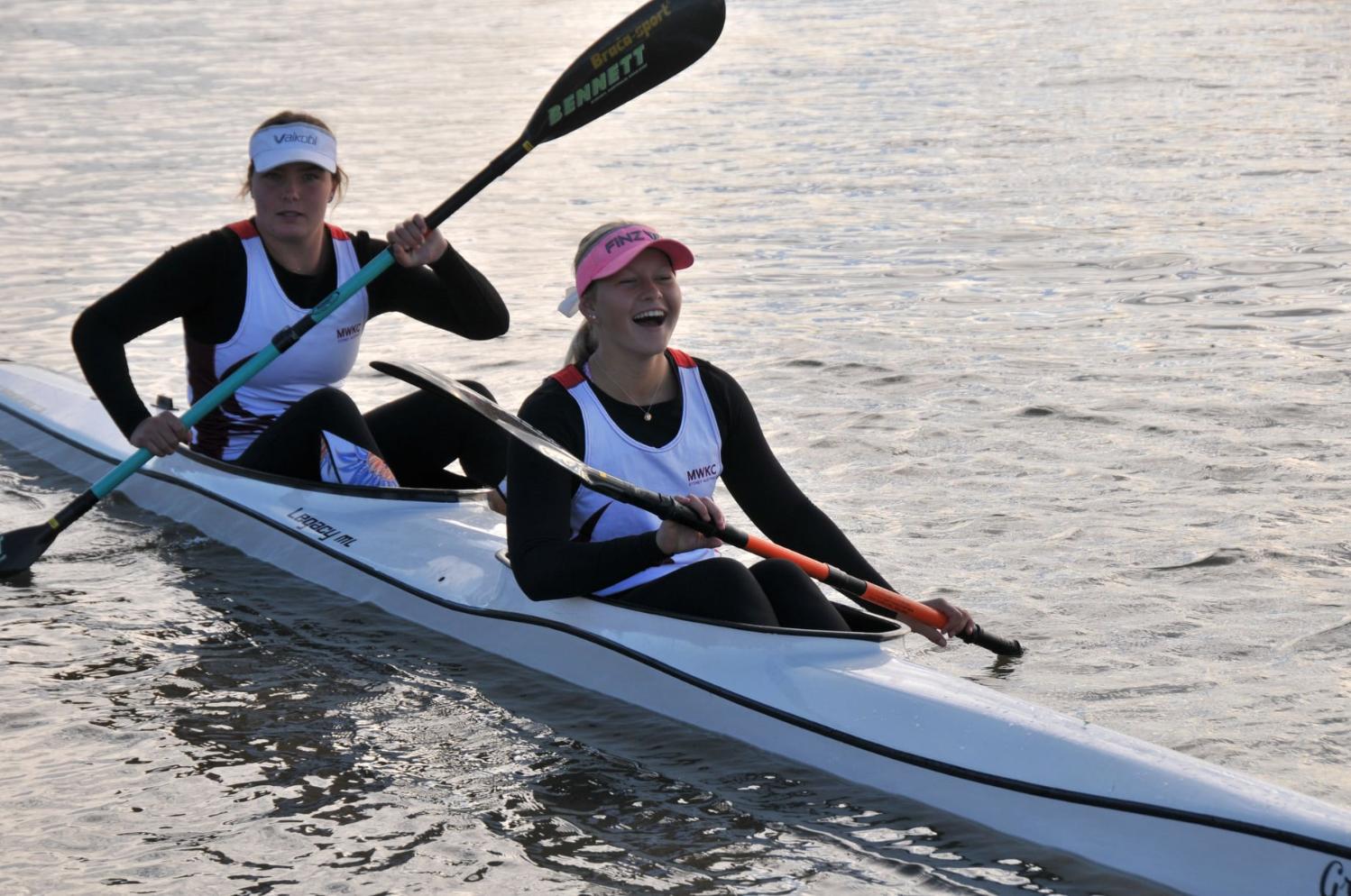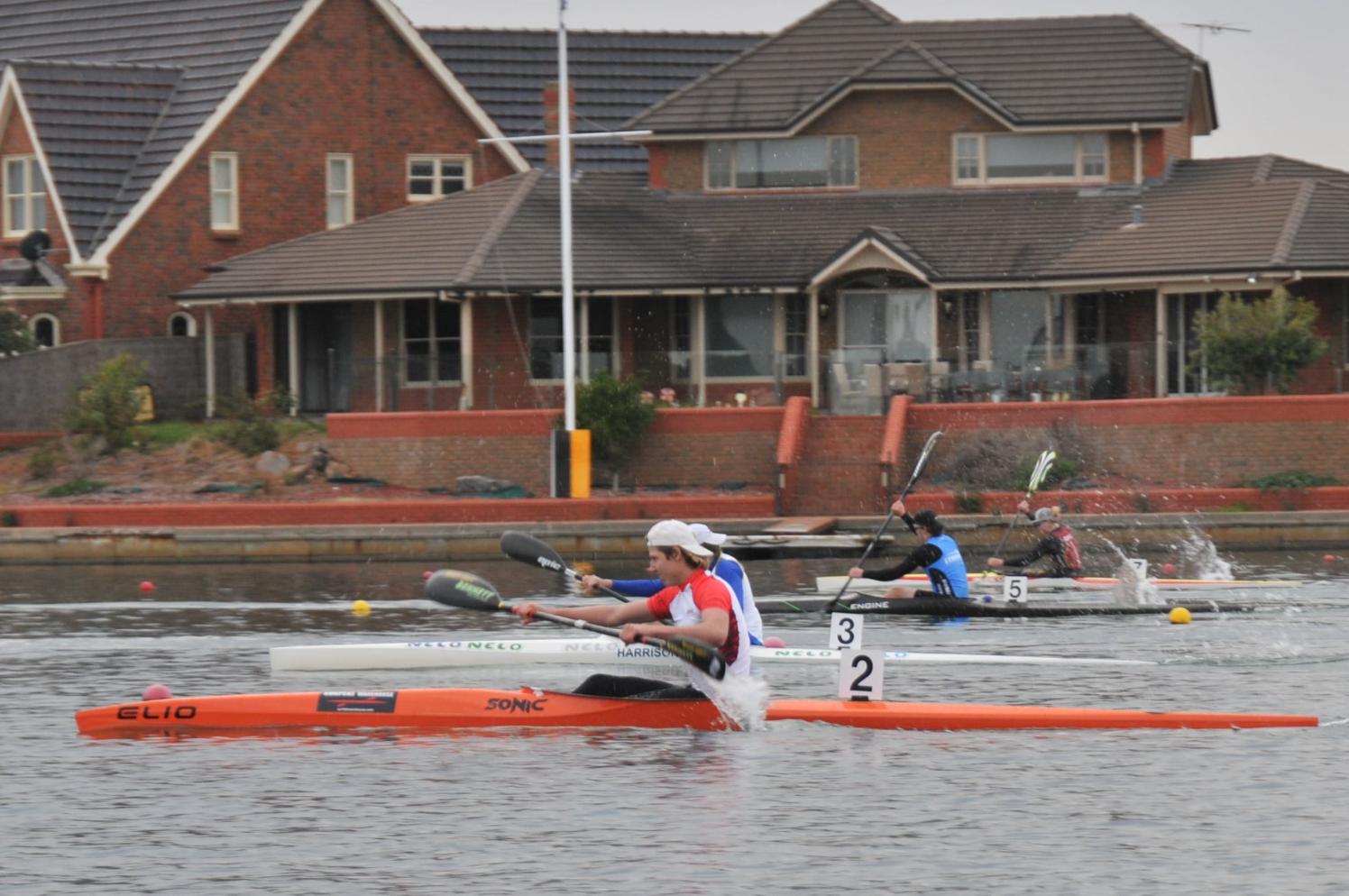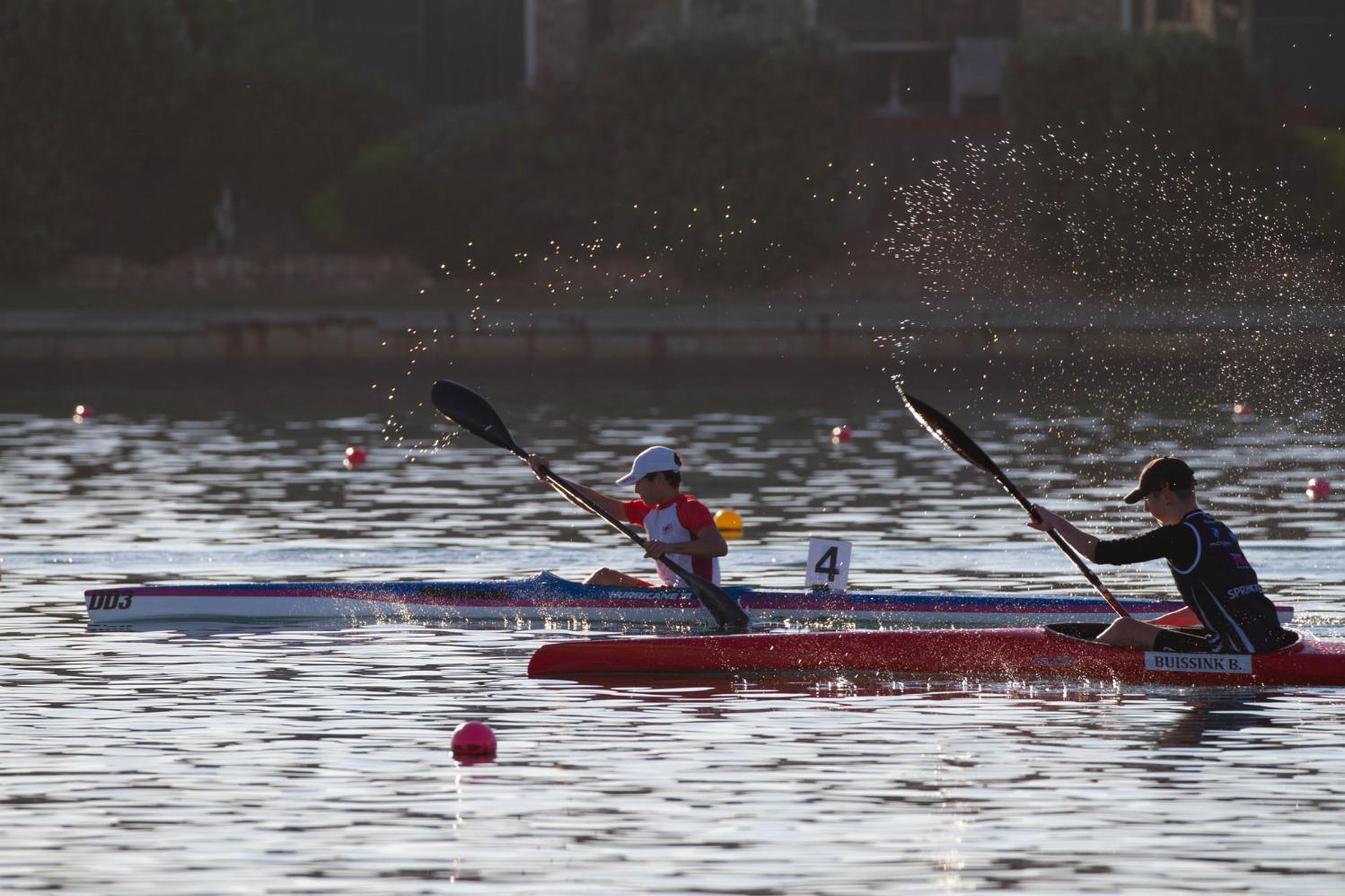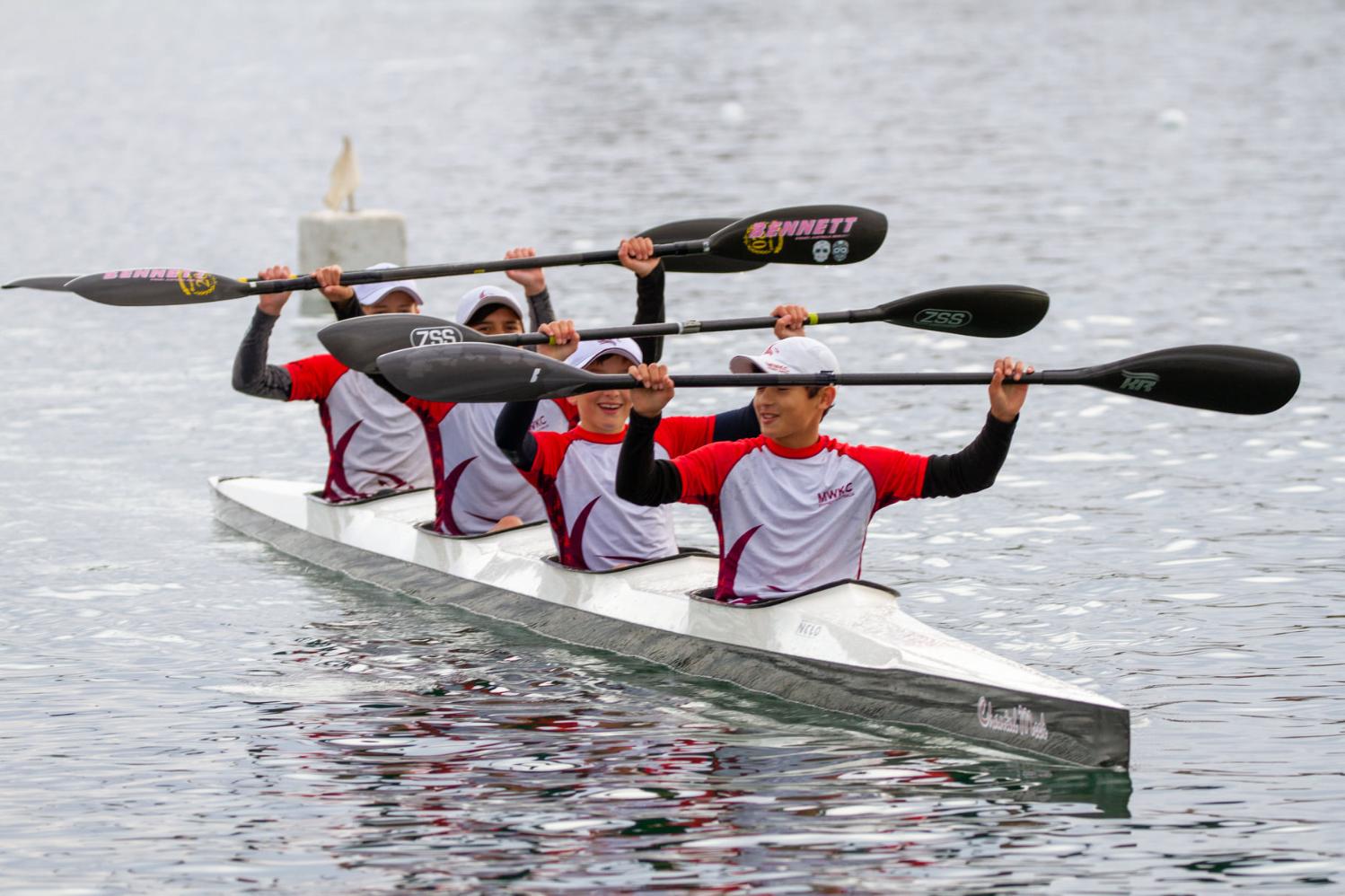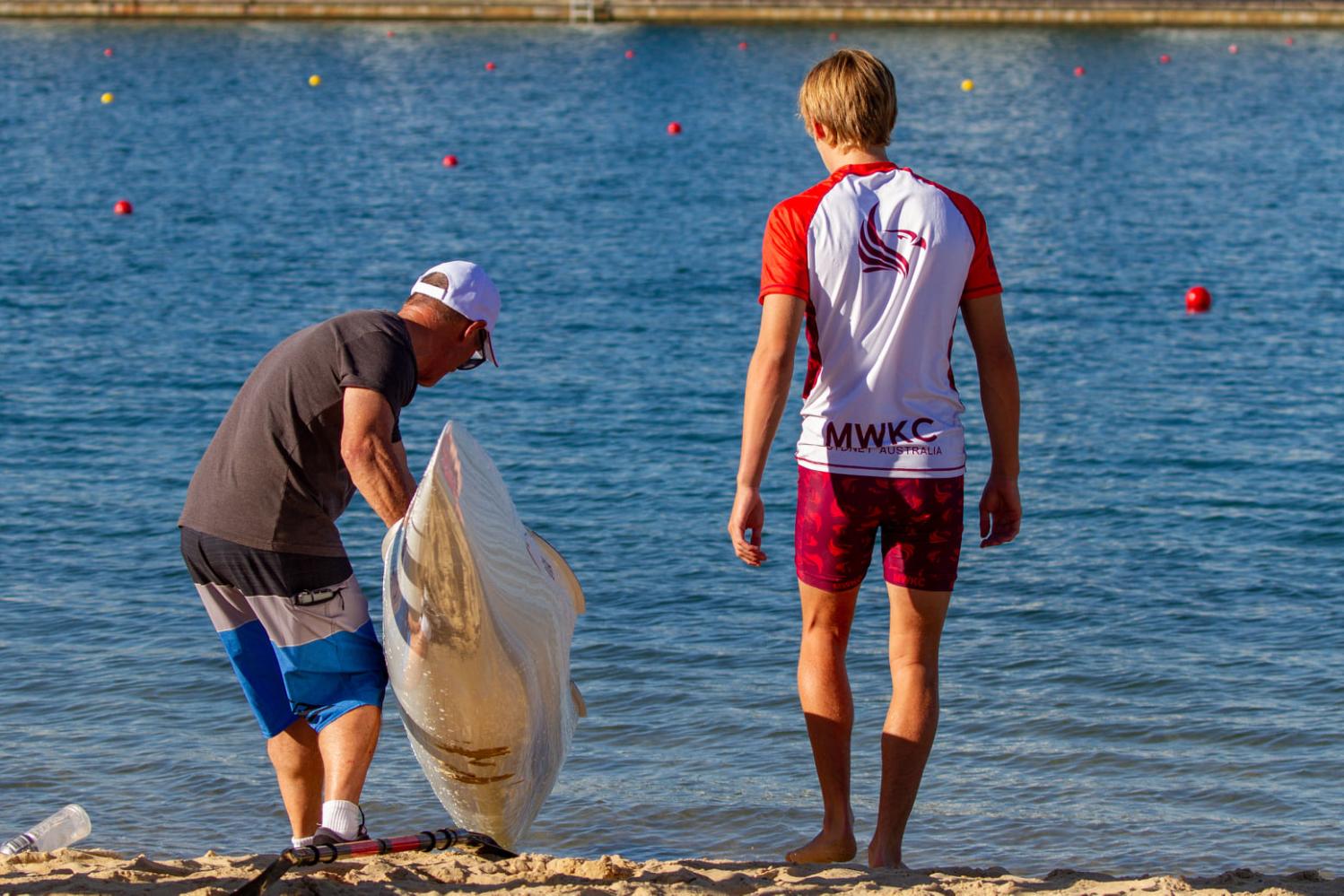 Photos: David Hipsley, MWKC