October 14 - 20, 2018: Issue 379
MAG&M exhibition celebrates Australian figurative artist Robert Dickerson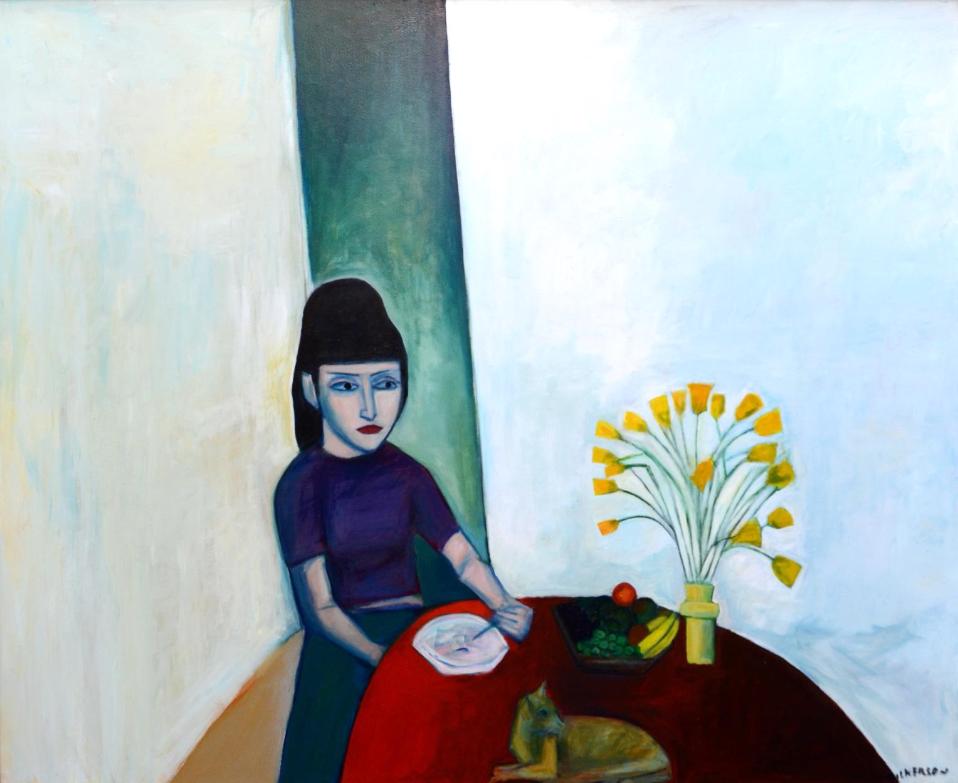 Robert Dickerson, Yellow tulips, 1997, acrylic on canvas
Manly Art Gallery and Museum (MAG&M) is delighted to host an exhibition of paintings and graphic works by the late Australian artist Robert Dickerson AO (1924-2015).

The exhibition, Against the Tide, celebrates Dickerson's significant contribution to figurative art in Australia.
In collaboration with the Dickerson Gallery, Against the Tide brings together paintings, studies and graphics sourced exclusively from private collections.
MAG&M joint curator for the exhibition Ross Heathcote said the exhibition includes unseen works from a long and remarkable career of one of Australia's most recognised figurative artists.
"Dickerson's self-developed and persistent style is unique. He often painted individual human subjects as isolated or singular characters within the cityscape.
"His desire to paint people and situations from everyday life has resulted in a body of honest and socially realist works.
"His works are striking and his honest portrayals of subjects have a deep impact on his audience, winning him extensive representation in many prominent public and private collections," Mr Heathcote said.
Against the Tide echoes the title of Jennifer Dickerson's book on the life and work of Dickerson. Jennifer Dickerson (widow of Robert) has been a close consultant on the exhibition.
The exhibition is co-curated by Sam Dickerson, son of Robert and director of the Dickerson Gallery.
A self-taught painter, Robert Dickerson was a founding member of The Antipodeans art movement in the 1950s, which included fellow famous Australian artists, Charles Blackman, Arthur Boyd, David Boyd, John Brack, John Perceval and Clifton Pugh.
He was still painting into his nineties when he passed away in 2015.
For more information, please go to Council's website.
Exhibition dates: 19 October– 2 December 2018
Exhibition opening: Friday 19 October 2018, 6 - 8pm by artist Nicholas Harding
SPECIAL EVENTS PROGRAM
Sydney Chamber Music Festival 2018: Figuratively Speaking
Friday 26 October – Sunday 28 October
A series of five concerts inspired by the artworks of Robert Dickerson, developed by Sydney Chamber Music Festival Artistic Director Bridget Bolliger and supported by the Australian Elizabethan Theatre Trust.
For more details, please see Council's website.
Poets Paint People
Sunday 11 November, 2 – 3pm
An hour of poems read by three poets (Les Wicks, Brooke Emery and Jennifer Dickerson) surrounded by the paintings of Robert Dickerson.