April 28 - May 4, 2019: Issue 402
Mackellar Climate Election Candidates Forum at mona vale
With broad-scale land clearing still going on, despite the fact we can now count every tree, and politicians making announcements that they will further the fracking of Australian lands or pass
dodgy water rights
for HUGE coal mines that no one wants on the eve of announcing the polling date, citizens have grown weary of the political 'she'll be right mate' stance taken by those who stand to represent us and are asking for some definite answers on where they stand on restoring their own integrity in protecting our environment - and frankly, it doesn't look good, which is bad news for the rest of us.
On April 16th Mosman Art Gallery was filled for Stop Adani Warringah's Candidates Forum and they are running another this week - hopefully those who were unable to speak to their electorate last week may find time this week. Details are posted on their Facebook page.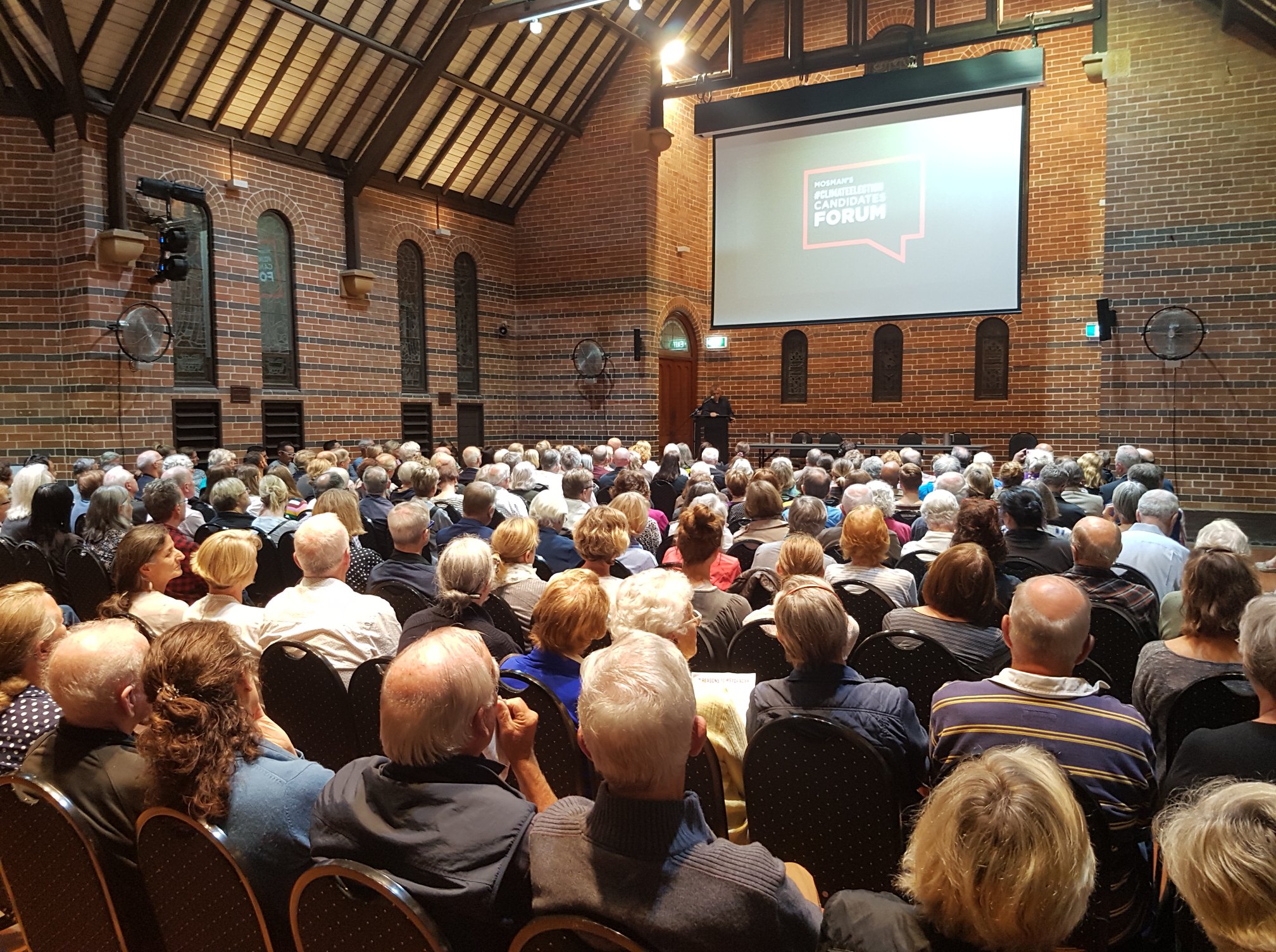 Photo by Stop Adani Warringah
On April 17th Stop Adani Mackellar also hosted a forum to find out where Mackellar candidates stand on what many are dubbing the 'Climate Election'. An audience of more than 100 locals, including Northern Beaches Mayor Michael Regan and Pittwater Councillor Ian White, gathered at the lively forum to hear from election candidates.
Incumbent representative Jason Falinski, Mackellar's Liberal MP, was unable to attend due to prior commitments, nor did the Sustainable Australia, United Australia Party or Christian Democratic Party (Fred Nile Group) candidates provide answers to the questions asked.
Alice Thompson (Independent), Prudence Wawn (The Greens) and Declan Steele (Labor) did participate.
The standout for the evening for many attending this forum was Alex Butler, 13, in Year 8 at Barrenjoey High School. This young lady presented undeniable truths and also makes it obvious that if we want to take some stress off the generation that so much funding is going towards to make them fell less uncertain and less fearful of the future then Australian politicians need to stop approving big black holes over fatter bellied luncheons while taking an insulting 'let them eat coal' stance.
All these young Australians are asking is that we let them inherit the world we did; be able to walk outside and gaze up the trunk of a five thousand year old tree or drink water, straight from a stream.
Denial is a river that was sold off last year and has run very very dry... Although the phrase 'get the lead out!' is what voters are telling pollies the fact is many are stating they'd rather they left the lead, and the coal, and the coal seam gas, where it is.
But how do you get the incessant slap across the voter's face of mortgage fear dollars during election spiels to metamorphise into statesmanship and stateswomanship?
Alex said:
"I, along with many young people, am worried about the future of the planet and how this will effect our lives in the years ahead.
We are in a climate crisis and nobody in power seems to be doing anything about it.
It's become a political tool but this is our lives.
I'm obviously underage and therefore can't vote. I do not get a say in who runs my country and the decision that directly affect my future.
Most of you, however, can vote so speaking to you now is the closest thing I can get to casting a vote for my future.
I recently skipped school to protest for climate action (lots of applause). This was frowned upon by many people – particularly those in government.
Well let me describe why I did this and furthermore why my parents allowed me to venture into the city on a perfectly normal Friday afternoon.
Firstly, I would not have needed to skip school if climate change was being acknowledged and acted upon by those in power.
This unfortunately is not the case. The people in power are not creating positive change, so to have our voices and heard, myself and a few thousand others had to break the rules to demand climate action.
As I'm not old enough to vote, we can only make a difference by collecting in large numbers and showing what we believe. We are simply fighting for our future.
Our future is not worth individual economic or political gain. To dumb it down, without the planet, economic or political gain is worthless.
Our futures are being sacrificed for some individuals' slight advantage – so some people in countries like Australia can live in luxury without thought of who picks up the pieces later.
Fortunately, the majority of people in this room know what I'm talking about.
Unfortunately, there are still people who will vote on the 18th of May who will be disregarding scientific fact or wilfully neglecting the impacts their decisions will have on the lives of future generations.
Honestly, I can't believe we are still discussing this matter. It is ridiculous that people refuse to see the obvious, the kind of politicians and government who either don't accept the science, don't care or are too spineless to embrace the truth.
Still our current government is approving coal mines at the expense of promoting new industries in renewable energy.
I travelled around the North Pacific last year and saw firsthand physical and social evidence of the impacts of climate change. Islands are being swallowed by water and those in power are not taking the necessary action to stop it happening.
People currently running this nation say they love their children above all else. Yet they are risking the health and safety of this planet, and therefore their future, for money and power.
I am here representing the thousands of youth who are not able to vote. I implore you to make the correct decision when you vote on the 18th and do anything in your power to share the knowledge given to you today with your friends, family and community.
Thank you.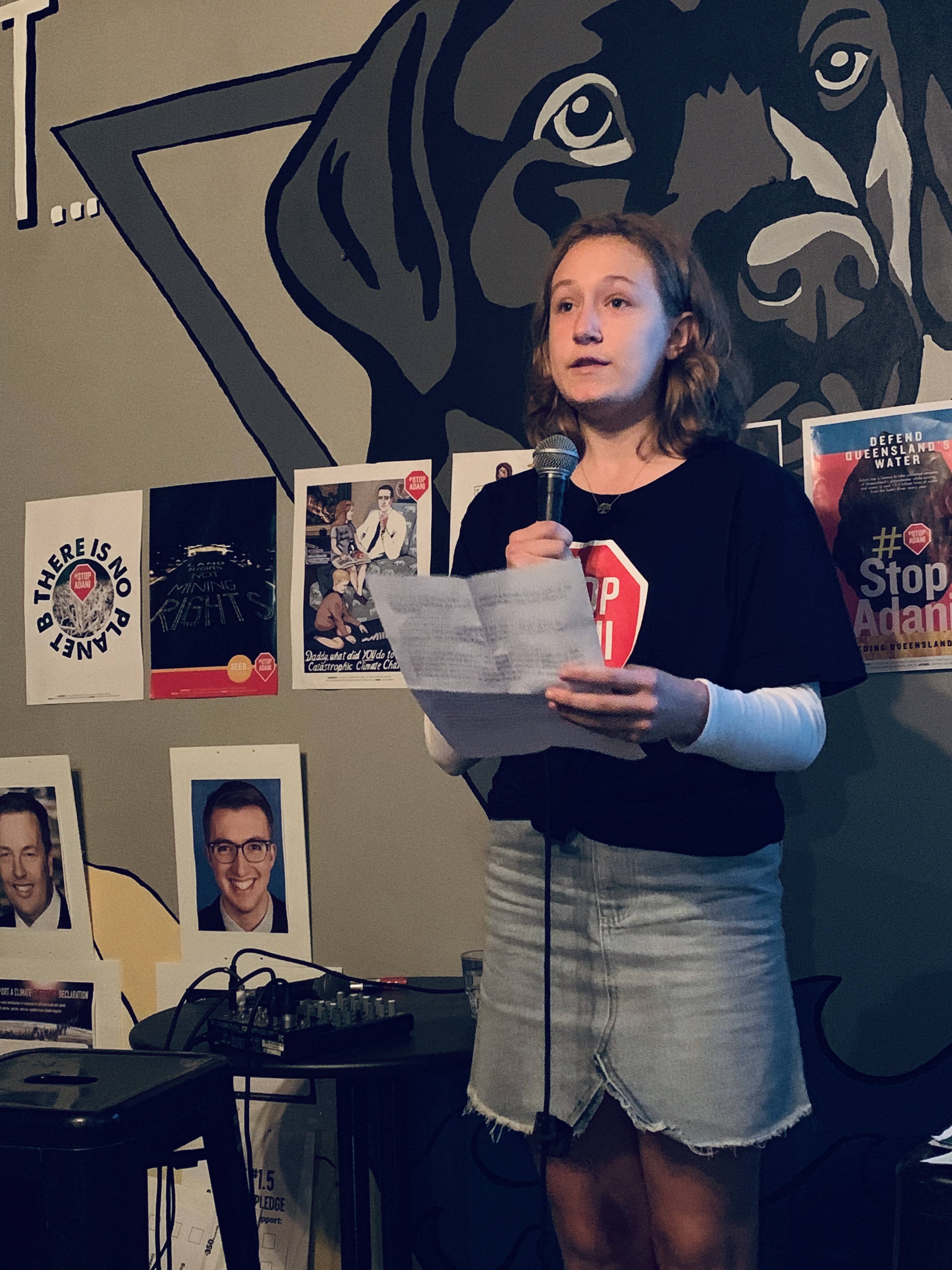 Alex Butler
The Stop Adani Group states the thermal coal mine - planned for the Galilee Basin inland from the Great Barrier Reef - would be one of the biggest in the world and intensify the effects of climate change.
Greens candidate for Mackellar Pru Wawn and Independent candidate Alice Thompson presented speeches based on questions provided to them in advance. Labor candidate Declan Steele, who was unable to attend the forum due to work commitments, sent a pre-recorded video with his answers.
After taking questions from the floor, candidates were also invited to support a declaration of a climate emergency and pledges supporting:
No new fossil fuels anywhere, starting with stopping Adani
100 per cent renewable energy by 2030 and
agreeing to a follow up meeting with the Mackellar Stop Adani group.
Mr Steel was not presented with the pledge because of absence. Ms Thompson signed up to the first and last points, but said she could not support the second because of her pragmatic approach. However, Ms Wawn committed to all three points, saying the document represents Greens' policy.
Their answers, as provided, run below.
ALICE THOMPSON, INDEPENDENT CANDIDATE FOR MACKELLAR
Speaking at the Stop Adani candidate's forum in Mona Vale, Wed. April 17th
Do you accept that climate change is a serious and urgent issue?
The more carbon we produce, the worse the impacts. That's why it's time to stop debating if climate change is real and do something.
We need to draw a line in the sand on fossil fuel projects like Adani. Opening up vast reserves of coal is completely in conflict with our objective to reduce emissions.
Jason Falinski MP knows that this community overwhelmingly wants climate action. But he's comfortable enough to ignore our wishes and not show up to this forum because he thinks we'll vote Liberal anyway.
Jason Falinksi will never support real action on climate while he reports to a party that's been hijacked by the right wing of the party.
I'll keep whichever party that forms government accountable for strong, urgent action on climate change.
Do you accept that Australia needs to move beyond fossil fuels, including the fossil fuels that we use here and the fossil fuels that we export. And if so, how do you propose we do this?
We do need to move beyond fossil fuels. This requires domestic action to decarbonise our economy.
We are dealing with a global carbon budget so we also have to consider our fossil fuel exports. It's only a matter of time before our trade partners start to.
We must transition to clean energy and phase out fossil fuels including exports as soon as we humanly can. But we need to do it responsibly because fossil fuel exports add $54 billion to our economy and provide 47,000 jobs. We need leadership from government and a plan.
Part of this plan has to be supporting coal workers and their communities who are impacted by this policy. Because we don't leave people behind, and in the new economy people are our greatest resource, not a lump of coal in the ground.
Before the election, will you commit to review Adani's approvals? Or, call on your party to review Adani's approvals?
I'll call on whichever party wins government to review Adani's approvals because there serious questions on the process which need to be looked at closely.
But the bottom line is even if Adani pass approvals they can't be trusted to keep their promises. Adani has appalling record of environmental performance around the globe and has already breached approval conditions on Abbots Point coal terminal.
Adani pay next to no tax or royalties, are damaging our environment and the reef while catalysing catastrophic and potentially irreversible climate change. It is not in the national interest for this project to proceed.
We should be aware there is also fossil fuel exploration happening just off our coast here. I can't imagine a future with oil or gas rigs off the Northern Beaches. We should fight to stop Adani but don't forget this battle on our own shores. We've got to stop this before it's too late.
Where do you stand on the School Strikers demand that Australia transition to 100% renewables by 2030?
On current policy we will achieve almost 50 per cent renewables by 2030.
This says we can and should be more ambitious. And we should listen to the strikers who will be affected by the decisions we make today.
We also have to listen to the experts. And we have to get things right as we transition our economy and energy network to a clean future.
If elected I will be pushing for the very highest and achievable clean energy target and the least cost, most effective mechanism to get us there.
To provide the certainty and stability that investment needs, we need a bi-partisan energy plan. The renewable target needs to be higher than 50 per cent - but if it's under 100 per cent, I'll bank that, and keep fighting for higher targets the next day. We need to move forward after a decade of paralysis on energy.
DECLAN STEELE- LABOR CANDIDATE FOR MACKELLAR
Do you accept that climate change is a serious and urgent issue?
Absolutely. The scientific evidence for it has been conclusive for years. And recently, it's become readily observable; heat and other weather records have been breaking with depressing regularity.
Do you accept that Australia needs to move beyond fossil fuels, including the fossil fuels that we use here and the fossil fuels that we export. And if so, how do you propose we do this?
Yes; we must reduce our dependence on fossil fuels if we want any hope of combating climate change. We have a plan to do this: Labor will launch a massive investment in renewable energy and establish a federal Environmental Protection Agency. To reduce your own dependence on fossil fuels, we have a plan to increase uptake of electric vehicles. All federal funding for road upgrades will be conditioned on the provision of charging stations, government fleet cars will be 50% electric by 2025, and businesses will be eligible for tax deductions on the depreciation of their electric fleet cars, to make the jump to EVs easier.
Before the election, will you commit to review Adani's approvals? Or, call on your party to review Adani's approvals?
I'm afraid that's not something I or the party can readily do. We need to await Tony Burke becoming Environment Minister to understand the full scope and rationale of Melissa Price's decisions here, and if we were to vow to stop Adani from opposition, a court could throw out our decision on the grounds that Labor had pre-judged. That being said, I doubt regulators will let the Carmichael mine proceed in its current form. The environmental case for it is so flawed, and the economic case isn't enough of a counterweight.
I hope it brings you some comfort to know that Labor hasn't supported the Carmichael mine at all. The current Queensland government has repeatedly turned down requests from Adani for loans, regulation waivers, express approvals etc.
Where do you stand on the School Strikers demand that Australia transition to 100% renewables by 2030?
I think it's an admirable goal. It's fantastic to witness my generation rise up to demand that our environment and way of life be protected into the future and not sacrificed for short-term gain.
Their target is definitely optimistic, but far from unrealistic. There is no longer an economic case for new coal power. We've reached a point where renewable energy is cheaper, simpler to construct, and with battery storage, just as reliable. Labor's targets for renewable energy and emissions reduction are a floor, not a ceiling. I can't be as confident as I want to be that the 100% by 2030 goal will work but it's unquestionably within reach.
PRU WAWN - GREENS CANDIDATE FOR MACKELLAR
Do you accept that climate change is a serious and urgent issue?
I'd like to acknowledge that we are meeting tonight on Garigal land, and that sovereignty was never ceded.
This is important because it is Aboriginal people in this country who are feeling the effects of climate change most profoundly.
For some communities it is becoming too hot for them to live on their own traditional lands. For the Barkanji at Walgett there's no water left in their river.
I joined the Greens 18-years-ago because it was and still is, the only party committed to taking action, a people powered movement, that doesn't accept corrupting corporate donations against fossil fuels. With the Greens, I've travelled all over NSW to communities threatened by coal mines. From the rich soils of the Liverpool Plains, to Narrabri and the Hunter Valley to see for myself and campaign against the damage being done to aquifers, forests and farmland.
I've written a lot of submissions.
We're now on a trajectory towards 1.5 degrees (Celsius) of warming - we need to act decisively to keep our planet safe. We've got a realistic policy platform to tackle climate change. We won't sell out and can't be bought.
Do you accept that Australia needs to move beyond fossil fuels, including the fossil fuels that we use here and the fossil fuels that we export. And if so, how do you propose we do this?
Of course. Renew Australia is our comprehensive plan – fully costed by the Parliamentary Budget Office - which would end all mining, burning and export of thermal coal by 2030.
Included is support for households and business, solar and batteries, and the establishment of renewable energy zones. We know the best way to guarantee cheaper power is to set up a publicly owned grid, storage and retailer of renewable energy - Power Australia.
Because we can't just leave this all up to the market – it won't be fast enough.
Next we electrify everything. Like our cars and public transport and get a lot more efficient, so we don't actually need to use as much power. We will have to price carbon emissions.
And we will fund retraining for workers in the energy sector to transition them into the 170,000 green jobs that we will be creating.
Before the election, will you commit to review Adani's approvals? Or, call on your party to review Adani's approvals?
The Greens are the only party totally committed to stopping the Adani coal mine. Richard Di Natale has already called for a review of Adani's approvals and will be joining the Adani convoy over Easter.
Adani is already breaching the conditions of its licence by repeatedly releasing dirty water into the wetlands at Abbot Point. In Parliament, Greens Senator Larissa Waters introduced a motion calling for Adani's donations to the Liberals and One Nation to be returned - and for the Government to revoke all federal approvals for the mine.
The granting of Adani's water licence despite the CSIRO's serious concerns proves that the laws need to be overhauled. The Greens want to introduce stronger environment protection laws, with independent scientific assessments, to make sure risky projects like Asset Energy's offshore gas mine (offshore from the Northern Beaches, Central Coast and Newcastle), Equinor's oil drilling in the (Great Australian) Bight and Adani don't get approval.