June 16 - 22, 2019: Issue 409
Mona Vale Hospital Inpatient Palliative Care Unit Build Underway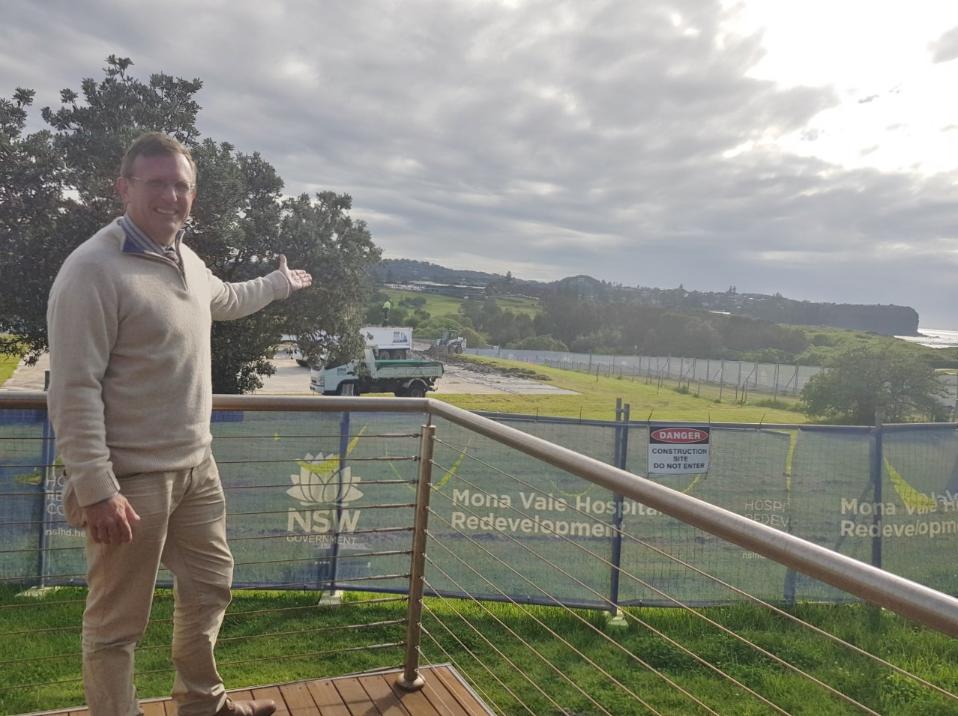 Dr Philip Macaulay, Northern Beaches Palliative Care Specialist, demonstrating the site with construction commencing. Photo by NBPC Social Worker Carolyn Robertson
The Winter 2019 Friends of Northern Beaches Palliative Care Newsletter headlines this week with
'We're Underway!'
in capital letters.
The article reads:
"We're underway" came the message from Rob Stokes' office. Construction has finally started on the goal, on the dream that has been almost thirty years in the making. Industrious shovels and trucks are removing the helicopter pad from which will emerge the inpatient Palliative Care unit where Northern Beaches patients with life-limiting illness may receive complete specialist care.
The quest began in October 1999 when NBPC founder, Dr John Doran, established the PC community service on the campus of MVDH. From the beginning it was his plan to include inpatient care but fruition was encumbered despite strong, loyal, ongoing support from the local community. At one time it was so near and yet so far—given then rescinded.
Our archives store the memory of a Manly Daily photo taken 21 February 1995 and the accompanying article that announced $2million for a 12 bed hospice. We cherish the image of Medical Director Dr Philip Macaulay leaping for joy at the news (heightened by the birth, only hours earlier, of precious daughter Sally).
Gratitude and exhilaration for the hospice were short-lived when the decision was revoked. But the dream was never extinguished. Meanwhile the original hospice trust fund, established in 1992, added clinic facilities to the existing service.
A precipitating move came in June 2014, when a motivated group of peninsular citizens formed the NBPC Inpatient Facility Working Group. Supported by Rob Stokes and Pittwater Council they began to lobby in earnest and eventually achieved NSW Health agreement to construct a ten bed Palliative Care unit attached to a ten bed specialist inpatient geriatric unit.
Recently Dr Macaulay returned to the Northern Beaches after decades of service to Sydney metropolitan PC hospitals. In the recent photo he demonstrates the bird's eye view of daily progress as the facility rises adjacent to the clinic.
Earlier this year an additional $10 million was allocated to ensure the design and fit-out will be of highest standard and comfort. Completion is anticipated in mid 2020. Then, embraced by the Northern Beaches culture, people will receive optimal specialist care beside the ocean and close to their loved ones at a time when togetherness is ultimately important. Dear ones will be near ones.
We express an endless amount of appreciation to all who, over thirty years, have contributed to this achievement.
Jo-Ann Steeves
BA, MMgt, FIML
President, Friends of Northern Beaches Palliative Care branch United Hospital Auxiliaries NSW Inc
Also in the Winter 2019 FONBPC Newsletter
COASTAL CONNECTIONS
Coastal Connections is a supportive group where patients of the Northern Beaches Palliative Care Service, their family and carers are welcome. These social meetings are helpful for connecting with others who understand, receiving encouragement and support, staying informed and enhancing well-being.
Delicious goodies are served at every meeting. Join us at NBPC 1.30pm to 3pm Wednesdays 26th June, 24th July and 28th August. Information molander@hammond.com.au.
CRAFT STALL
As the wind whistles and the rain falls to herald winter's approach we have cuddly beanies, blankets and other items to see you comfortably through the season. In the near future the Artists and Craftsmen of Pittwater will add their excellent work to our stall.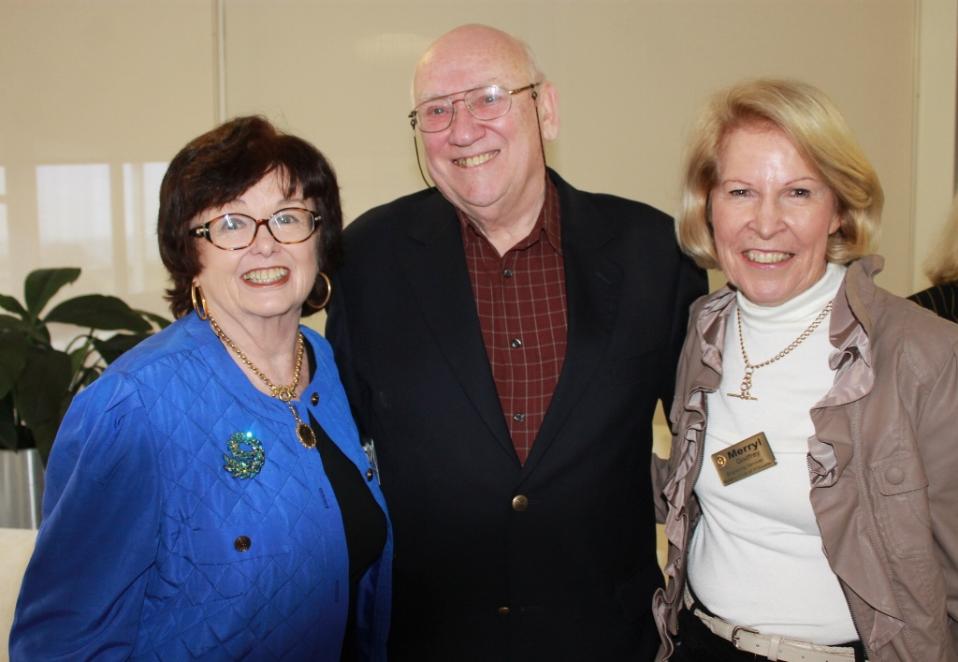 From issue 405 - May 2019:
WORK BEGINS ON NEW INPATIENT BUILDING AT MONA VALE HOSPITAL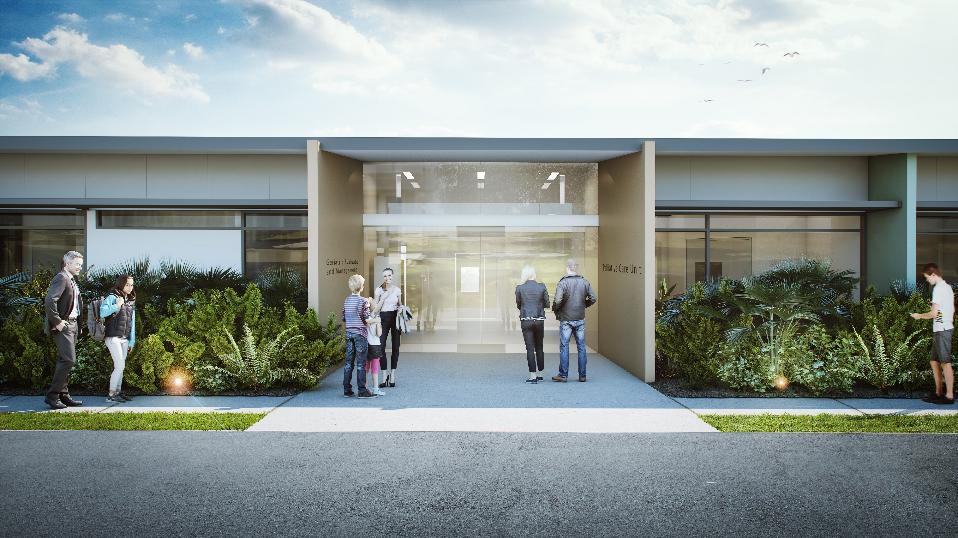 Artist's impression - New Inpatient Building Entry
May 14, 2019

Member for Pittwater Rob Stokes today announced work has commenced on the next new inpatient building at Mona Vale Hospital.
The new building will accommodate a specialist 10-bed inpatient geriatric medical unit and a dedicated 10-bed inpatient palliative care unit – the first of its type on the Northern Beaches.
The tender for the project has been awarded to Donnelley Constructions and work is expected to be completed in mid-2020.
The project will join other infrastructure works recently completed or planned at Mona Vale Hospital, including the construction of a new 10-bed inpatient drug and alcohol rehabilitation unit, a new support services building, renovations to the Urgent Care Centre building and the introduction of the hospital's first permanent ambulance station.
"This new building will be a major addition to Mona Vale Hospital," Rob Stokes said today.
"Various new buildings have been constructed at Mona Vale Hospital in recent years and this next one is among the most important.
"Our community has been lobbying for a dedicated inpatient palliative care unit for many years – so to see this project become a reality will be fantastic.
"There's currently a buzz of construction activity at the hospital with multiple infrastructure projects nearing completion and more about to get underway," Rob Stokes said.
Other infrastructure projects completed at Mona Vale Hospital in recent years include the new Community Health Services building in 2016, the Beachside Rehabilitation Unit in 2014 and the expansion of the palliative care outpatient building in 2012.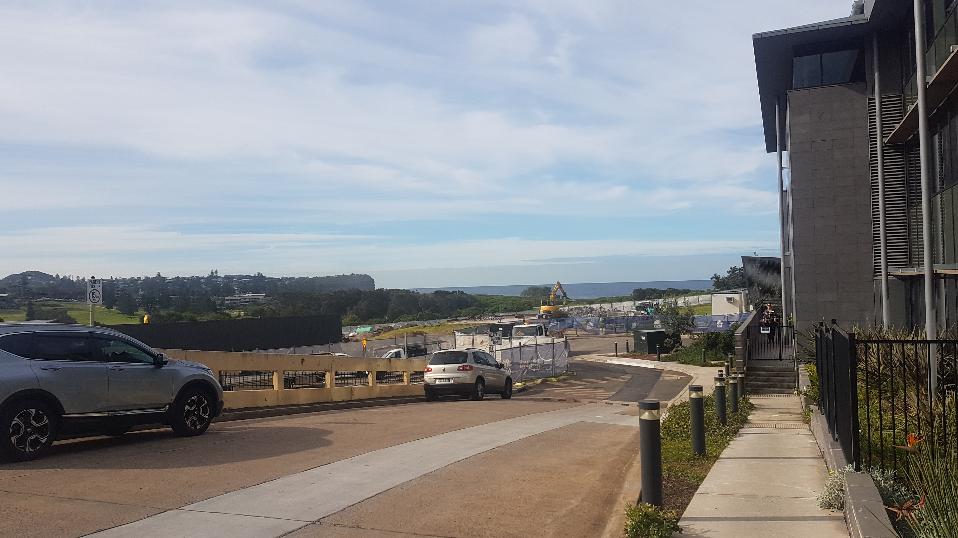 Mona Vale Hospital - New Inpatient Building Work Zone