September 30 - October 13, 2018: Issue 378
MRI MACHINE FOR NORTHERN BEACHES HOSPITAL: ACCESS TO LIFESAVING MEDICARE SCANS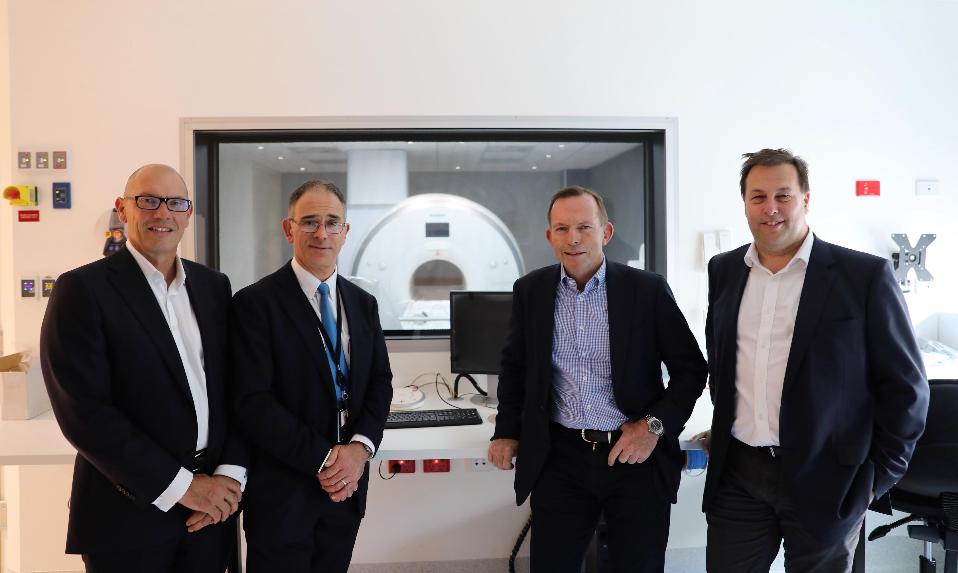 L-R Dean Lewsam Chief Executive Healthcare Imaging Services, Professor Alex Pitman Director of Imaging Northern Beaches Medical Imaging, Tony Abbott, MP for Warringah and Jason Falinski, MP for Mackellar.
Patients in the Beaches will now be able to access lifesaving scans for cancer, stroke, heart and other medical conditions with the Coalition Government announcing a new MRI licence for Northern Beaches Hospital.

Jason Falinski Member for Mackellar said the MRI machine is expected to benefit 4,000 local patients a year through a Medicare rebate and provide an estimated 5,500 services a year.
"This is the type of world class healthcare that will be provided in the Northern Beaches under a Liberal Government.
"In the last Federal budget we increased funding to NSW Hospitals by 29%, this is a firsthand example of that investment." Mr Falinski said.
Member for Warringah Tony Abbott said the new Northern Beaches Hospital is one of ten locations to receive Medicare subsidised MRIs from 1 November 2018.
"Of course the MRI is serving the new hospital which is only happening because of the NSW Liberal Government.
"I've been lobbying the minister for at least a year to get an MRI licence for the new hospital. I'm pleased that he's listened and that the Peninsula will benefit from Jason's efforts and mine.
"If you want a better local area, you sure need a strong local member who won't take 'no' for an answer," Mr Abbott said.
Dean Lewsam Chief Executive of Healthcare Imaging Services said today's announcement was a great outcome.
"The MRI licence at Northern Beaches Hospital is a positive outcome for 270,000 people of the Northern Beaches, who will now have access to affordable and accessible high quality MRI services.
"At Northern Beaches every imaging machine will be of the latest generation, and we will have a strong new team to deliver better clinical care to our patients in every imaging modality. The community will now have access to the very first 3T MRI on the Northern Beaches," Mr Lewsam said.
Minister for Health Greg Hunt said the Liberal National Government is helping Australians stay healthy and keeping down the cost of healthcare for families.
"Our plan for a strong economy means we continue to deliver record funding for essential services such as Medicare, public hospitals and life-saving medicines." Minister Hunt said.
"The Morrison Government is committed to providing high quality health services when and where they are needed.
"Not only will our new Medicare support ensure patients get better treatment and save money, it will also cut down the amount of time patients travel to get a scan."
A competitive public application process will also determine the location for a further 20 Medicare eligible MRIs and the government invites prospective facilities to apply for consideration.
The total of 30 sites to receive Medicare subsidised MRIs will provide more than 400,000 Australians access to lifesaving scans with a total $175 million investment from the Morrison Government.
Medicare spending is guaranteed and increasing every year from approximately $24 billion in 2017 18 to $28.8 billion in 2021 22.
The Liberal National Government has also announced an additional $2 billion investment in diagnostic imaging over the next decade.
We are retaining the bulk-billing incentive and indexing targeted diagnostic imaging services including mammography, fluoroscopy, CT scans and interventional procedures.
By contrast, Labor has only committed $80 million and not made any commitment to the re-indexation of diagnostic imaging rebates.
Per Media Release From Jason Falinski, Member for Mackellar, and The Hon Tony Abbott, Member for Warringah
Services to be offered from Northern Beaches Medical Imaging
The Emergency Department will be supported by a 24 hour emergency radiology service. In the main hospital, HIS will deliver a comprehensive Radiology, MRI and Nuclear Medicine service, treating both public and private patients. State-of-the-art medical diagnostic imaging equipment installed at NBH and community benefits:
MRI scans test for many musculoskeletal conditions, including knee, ankle and shoulder trauma; brain and spine conditions including stroke, tumours, sciatica and disc protrusions. MRI is expanding its capability into accurately pinpointing prostate cancer and breast cancer; finding secondary cancer deposits in the liver, diagnosing causes for infertility, staging cervical and rectal cancer, and accurately imaging complex cardiac malformations.

CT low dose scans creates two and three-dimensional images of different areas of the body, including internal organs, blood vessels, bones and joints for optimal clinical outcomes. An example of low dose cardiac CT scans will produce images of the coronary arteries to determine heart health.

Digital X-Ray and Digital OPG dental technologies will diagnose patients across all ages, with Specialist Paediatric Radiologist appointed to the team.

Interventional procedures: a high level of complexity in interventional procedures will be offered to patients, including tissue sampling for biopsy and steroid injections for pain relief.



Ultrasound services: support a broad range of patients to examine blood vessels, pelvis, musculoskeletal structures, and abdominal organs, as well as providing services to NBH's obstetrics and gynaecology patients.



3D Mammography, DEXA Scanning for bone density and body composition, and Nuclear Medicine services using SPECT CT services will be offered to patients.

All medical imaging equipment is installed at Northern Beaches Medical Imaging, located on the ground floor of the NBH. HIS are a leader in hospital imaging, the new Northern Beaches Hospital is set to become a flagship imaging centre.
About Healthcare Imaging Services
Northern Beaches Medical Imaging is part of Healthcare Imaging Services (HIS), a provider of quality diagnostic imaging services at more than 140 sites across Australia. HIS is part of the Primary Health Care Group, one of Australia's leading health care companies committed to quality, affordable and accessible health care services for all Australians.