March 31 - April 6, 2019: Issue 399
More Surfers Saving Swimmers Across The State: Surfers Rescue 24/7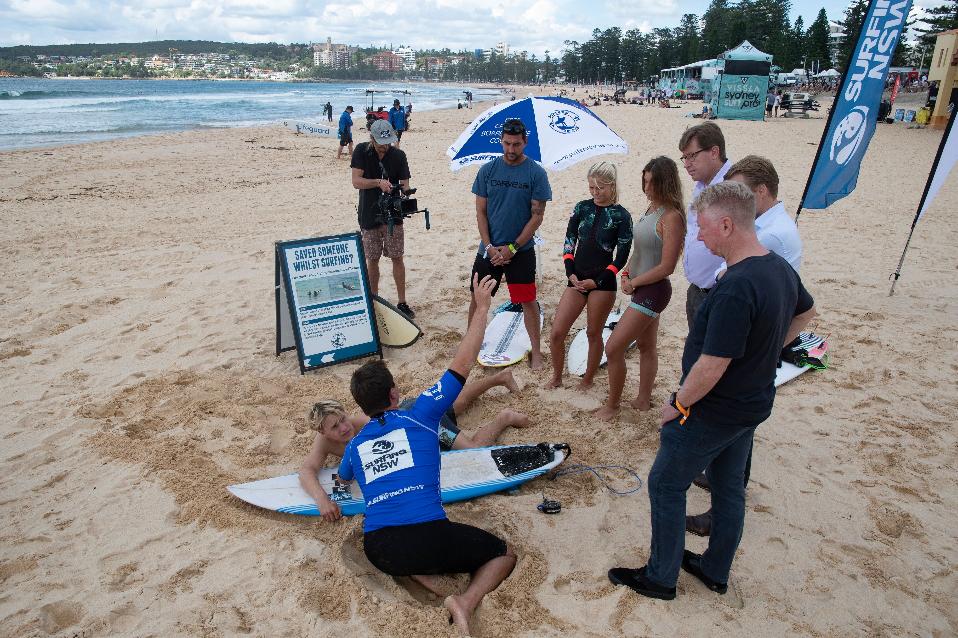 Surfers Rescue 24/7 demonstration. Photo by Ethan Smith / Surfing NSW
Thousands more surfers will be trained in life-saving board rescue methods and CPR under the Liberals and Nationals Government, thanks to new annual funding for Surfing NSW.
Last week, Emergency Services Minister Troy Grant said the NSW Government would provide $1 million over four years to expand the Surfers Rescue 24/7 course.
"We want our citizens and visitors to NSW to be able to enjoy our beautiful beaches safely, so we are taking an innovative approach," Mr Grant said last week.
"Surfers spend a lot of time in our oceans, so it makes sense to empower them to help prevent tragedies from occurring."
Mr Grant said Surfing NSW has already trained about 7,000 surfers, but this new funding would see around 10,000 more people put through the course over the next four years.
"I'm very proud of the Government's commitment to support Surfing NSW to equip board riders with lifesaving skills," Mr Grant said.
"With more than 400 recorded rescues to date thanks to this training, it's clear this course is saving lives."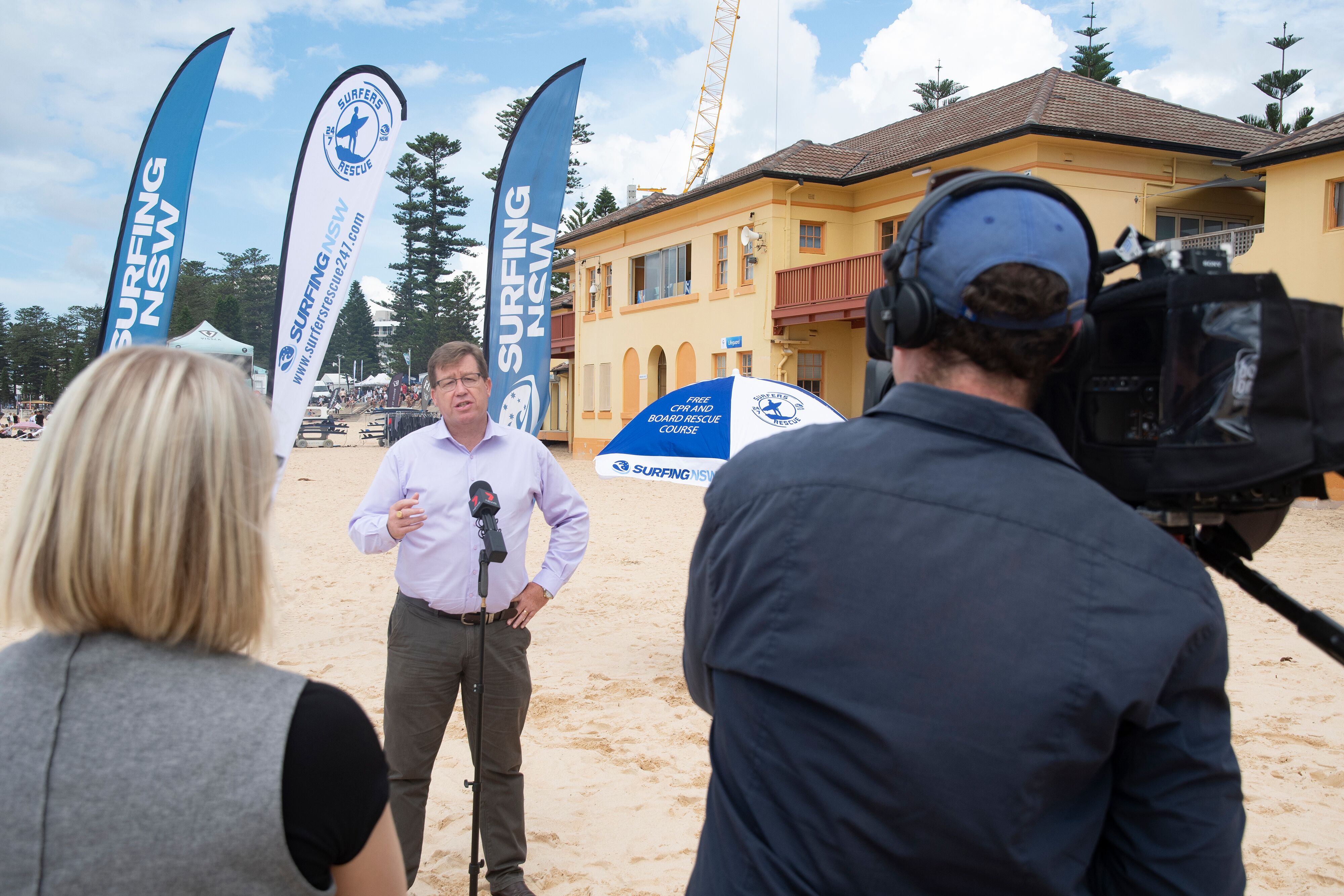 Emergency Services Minister Troy Grant at Manly last week (Mr. Grant has now retired from NSW Government). Photo by Ethan Smith / Surfing NSW

The course comprises two parts. The first is board rescue where surfers learn techniques to bring someone back to shore, followed by CPR training conducted by Surf Life Saving NSW.
Surfing NSW CEO Luke Madden said he is looking forward to continuing to build the rescue course further through a community of surf schools and boardriders clubs.
"With more than a million surfers in NSW, it is safe to say that board riders play a vital role in rescues when people get into trouble outside of patrolled areas," Madden said.
"Thousands of people have completed the course already and this new funding would mean we could reach even more through Surfing NSW's comprehensive network."
World champion surfer Mick Fanning has also thrown his weight behind Surfing NSW's program: "I'm really proud of Surfing NSW and the work they have done to make the Surfers Rescue 24/7 course available."
"Most of us that have spent our lives in the sea have been involved in helping someone in distress at some point or maybe needed help ourselves. It only takes a few hours and it could help you save a life, it might even be your own," Fanning said.
Pittwater MP Rob Stokes said, "This is a really practical initiative that's been proven to save lives,"
"Many local surfers spend hours each week in the water and they know the local conditions and risks better than anyone."
"Equipping more of our local surfers with CPR and water rescue skills will help make our beaches even safer for everyone."
"Surfers often help identify people in danger and play a key role in their rescue."
"Surfers naturally look out for others in the water – so it makes complete sense to help equip them with life saving skills," Rob Stokes said.
"This is a great partnership between Surfing NSW and Surf Life Saving NSW," Rob said.
The funding allocation for Surfing NSW is in addition to a $16 million boost for Surf Life Saving NSW, which has been announced by the NSW Liberal Government.
The program will be rolled out across a number of beaches in 2019. Visit surfingaustralia.com/states/nsw or surfersrescue247.com for more information.
by Surfing NSW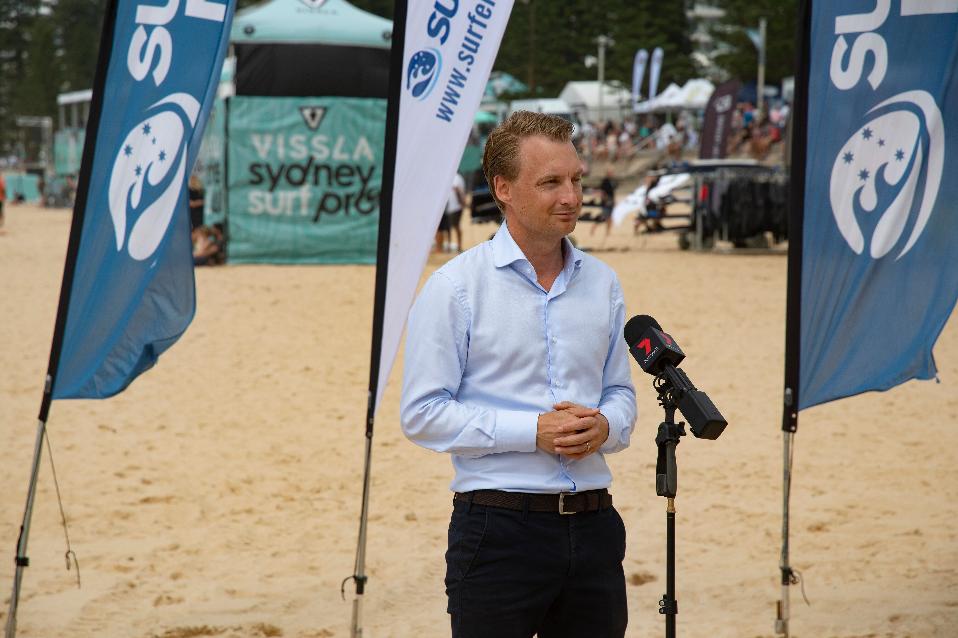 ABOVE: Member for Manly James Griffin joined Emergency Services Minister Troy Grant at the Vissla Sydney Surf Pro last week to announce that the NSW Government would provide one million dollars over four years to expand the Surfers Rescue 24/7 course. Photo by Ethan Smith / Surfing NSW