September 10 - 16, 2017: Issue 329
MC38 Winter Regatta Act 4, 2017

on Sydney Harbour hosted by Middle Harbour Yacht Club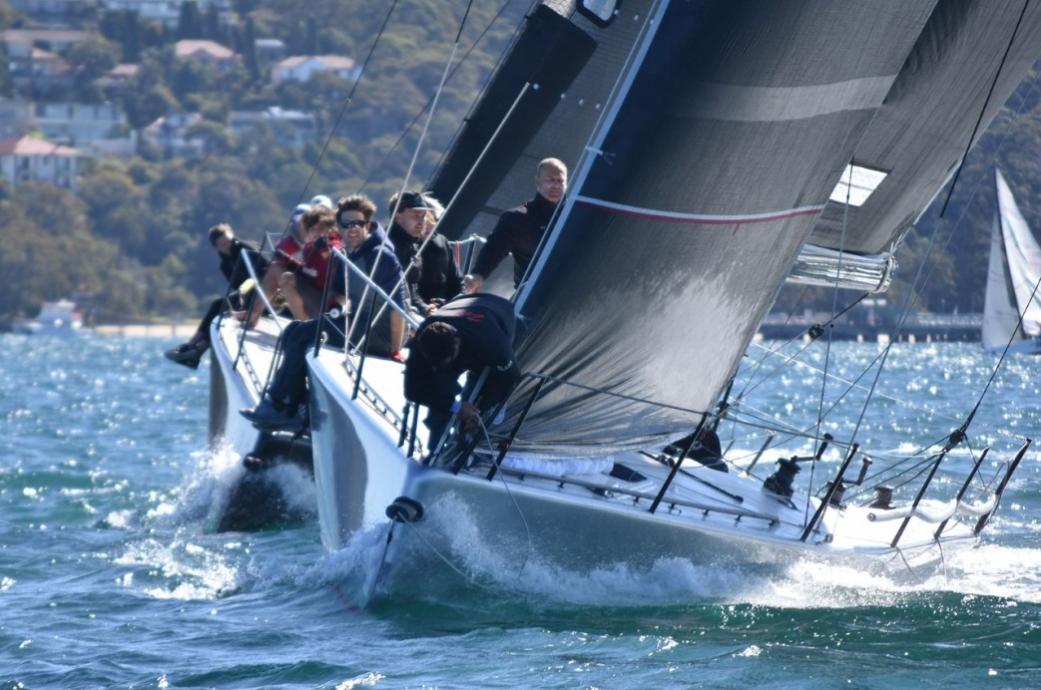 MC38 Winter Act4: Vino & Easy Tiger (behind) - photo by David Staley MHYC
Lightspeed bows out as Ginger consolidates winter pointscore
September 9, 2017
Event: MC38 Winter Regatta Act 4, September 9-10, 2017 on Sydney Harbour hosted by Middle Harbour Yacht Club
The loads on the MC38 fleet racing in 20-25 knots and big seas took their toll early on day one of one design class' Winter Series, Steve Barlow's Lightspeed suffering bow damage which finished their day prematurely, and ultimately their regatta.
"MC38 Lightspeed won't be sailing tomorrow, the damage to the hull is extensive and needs time to repair," Barlow said late Saturday afternoon after Lightspeed was fully assessed at Woolwich Dock having bowed out of race one without recording a finish.
Speaking on the blow-out coming into the first bottom mark when a 25 knot gust hit Barlow said, "I don't know what boat speed we were doing but we were in good shape at the time and bearing away with the gust. The bobstay was ok but the lateral force on the pole split the side of the hull when the pole protrudes out, and we ended up a bow sprit pole sheared in half. The loads on these boats in 20 knots and heavy seas is massive but I'm philosophical; these things happen. We are disappointed but look forward to the next regatta."
Leslie Green's Ginger is firm favourite to take out the four-part MC38 Winter Series pointscore, finishing ahead on points and the North Sails boat of the day thanks to Saturday's three wins. They lost the final race of the day to Neville Crichton's Maserati, steered by TP52 owner Matt Allen, and scraped into second place by two seconds over Chris Hancock's Vino.
Today was Allen's first crack at MC38 racing and the Australian Sailing president had this to say: "I still had my training wheels on downwind. It's quite a different boat to sail compared to the 52. It was good fun; it accelerates nicely and once you are in the grove you can make good gains."
Some of Allen's Ichi Ban crew joined their skipper, including longtime teammate Gordon Maguire on mainsheet. To their credit, the combination of two Maserati regulars plus guests never held back - in fact they were pressing so hard Maserati was pinged for being OCS at the race one start and eventually finished the day in second by just two points.
Middle Harbour Yacht Club's race officer Phil Yeomans reported plenty of action on Sydney Harbour between the MHYC, Sydney Amateur Sailing Club and the Royal Sydney Yacht Squadron's inshore club racing, Cruising Yacht Club of Australia's match racing event and the Manly 16ft skiffs.
"It was the usual manic harbour and everyone was talking on channel 72 at the same time!" Yeomans said. He and his team ran race one in a fresh sou'wester, shifting marks halfway through as the breeze went left. Races two to four were moved away from the swell at Sydney Heads and rolled out without any further adjustments in a sou'east breeze 10-12 up to 15kts.
Racing recommences at 1100hrs on Sunday September 9, 2017 and the forecast is for light and funky east to south-easterly winds in the middle of the day.
Three more races will tidy up the regatta and the class' winter season, and next month the MC38's 2017-18 summer pointscore will commence with a big fleet turn-out expected to sail out of the Royal Sydney Yacht Squadron October 14-15, including a Royal Prince Alfred Yacht Club youth crew.
Results
Facebook
by Lisa Ratcliff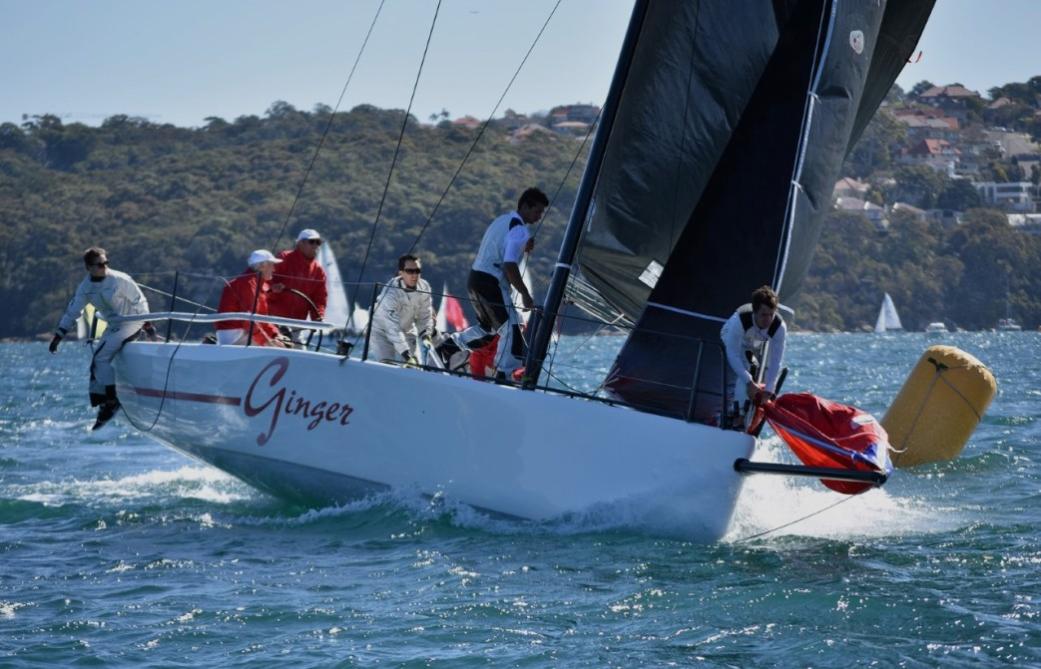 MC38 Winter Act4 MHYC Ginger day 1 boat of the day - photo by David Staley MHYC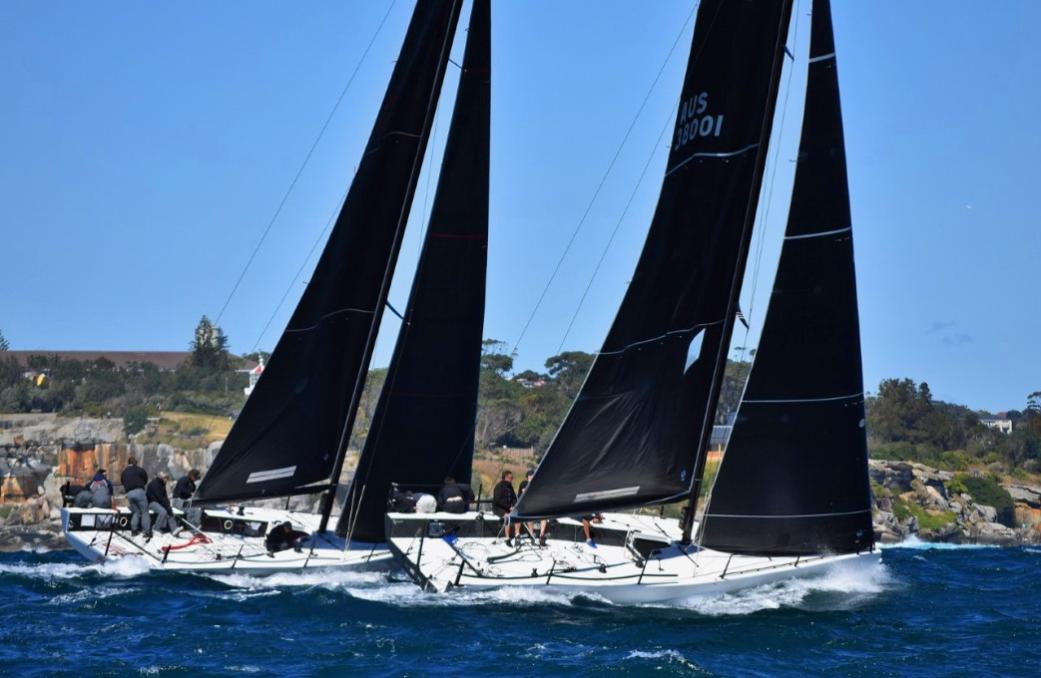 MC38 Winter Act4 MHYC Lightspeed & Vino pass South Head photo by David Staley MHYC
Ginger overcomes MC38 Winter Series challengers
10 September 2017
Event: MC38 Winter Regatta Act 4, September 9-10, 2017 on Sydney Harbour hosted by Middle Harbour Yacht Club
Cool spring easterlies and a sparkling Sydney Harbour back-dropped the final day of the MC38 Winter Series act four, which went to the dominant Ginger team led by the class Godfather - Leslie Green.
"We had a very successful regatta; seven races in two days and we won five and came second in two, which is not bad," Green said. "This crew are fantastic; we recover quickly if we make a mistake, and we don't make many, and everyone knows their job. And they are all really nice people.
"Having Col Beashel on board is a great honour….he's sailed at six Olympics! When he gives me the tip to go up or down he waves his hand like the King. And Julian Plante and Chappo [David Chapman] work so well together as strategist and tactician."
As the winner of three of the four stages of the Winter Series, Ginger also takes the pointscore crown.
There were plenty of shining moments for the Matt Allen-helmed Maserati. The crew was aggressive in the pre-start and once on the field tactician Joe Turner made some nifty calls which helped put Maserati into second overall by six points, and six points ahead of Chris Way's Easy Tiger in third.
Easy Tiger is the newest MC38 crew and Way says, "I think we are pretty comfortable where we are, we never thought we'd step in and win. Speed-wise we are getting there, we are happy with our starts and much happier with the main we used today plus we were at full weight having raced Saturday a man down." On the swag of equipment Way inherited he laughed: "I've got 28 sails from the previous owner, and no notes to go with them."
Like a few MC38 sailors, Way will now head overseas to compete in other class world championship - his is the Platu 25 title while others are making their way to the Etchells Worlds in San Francisco - but will be back for the MC38's first event of the Summer Series pointscore next month. "We'll all come back ready to rampage for the summer!" Way promised.
On Saturday September 9 Steve Barlow's Lightspeed ended up at the boat doctor requiring structural repairs and on Sunday afternoon Chris Hancock's Vino crew found cracking in the deck. Tactician Billy Merrington explained: "Where the mast goes through the hole in the deck there is some cracking at the front. We aren't sure when it happened; we noticed it on the last downwind. We hit some pretty big ferry waves downhill and the deck might have compressed a bit. The carbonologists have got some work to do."
On their day Merrington added: "It was a pretty tough day on Vino; we had a few good first beats and just couldn't finish it off. A few times we thought we were in a good spot and had to keep going to keep out of the way of the Manly ferry, which put us in the wrong spot. The other guys are sailing really well. Hopefully some of the regulars will return for the summer series, to strengthen the fleet again."
Middle Harbour Yacht Club ran an excellent series thanks to David Staley in the sailing office and race officer Phil Yeomans and his on-water team.
The MC38's 2017-18 summer pointscore will commence with the Royal Sydney Yacht Squadron run weekend on October 14-15, in conjunction with the J70 nationals. A big MC38 fleet turn-out is expected, including a Royal Prince Alfred Yacht Club youth crew on the loaned MC38 Lazy Dog, which is available to buy.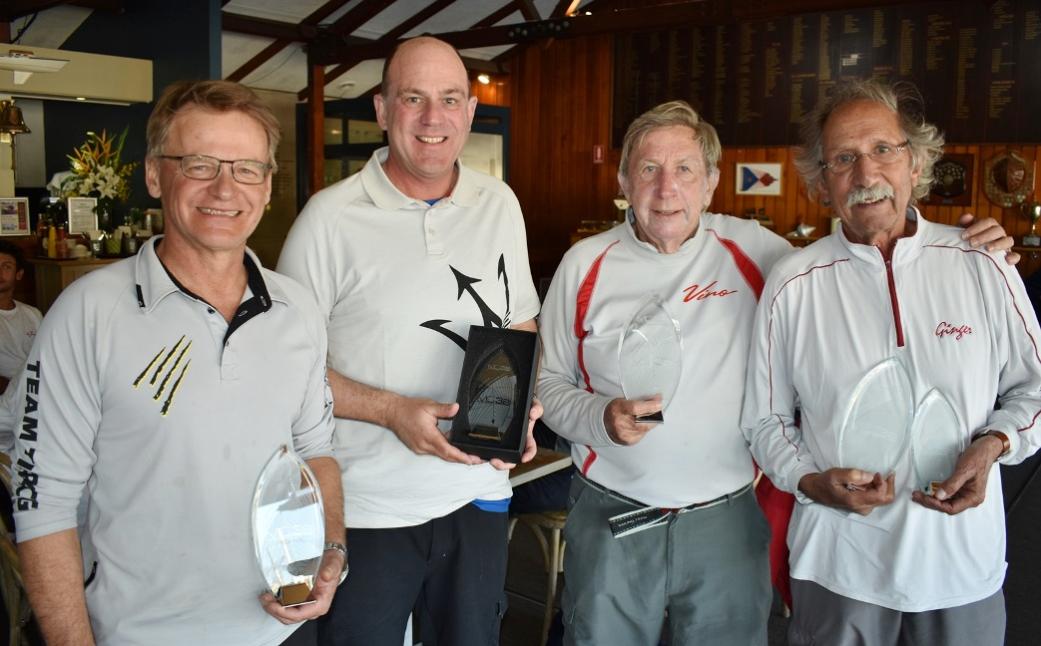 MC38 Winter Act 4 skippers Chris Way Matt Allen Chris Hancock Leslie Green - photo by David Staley MHYC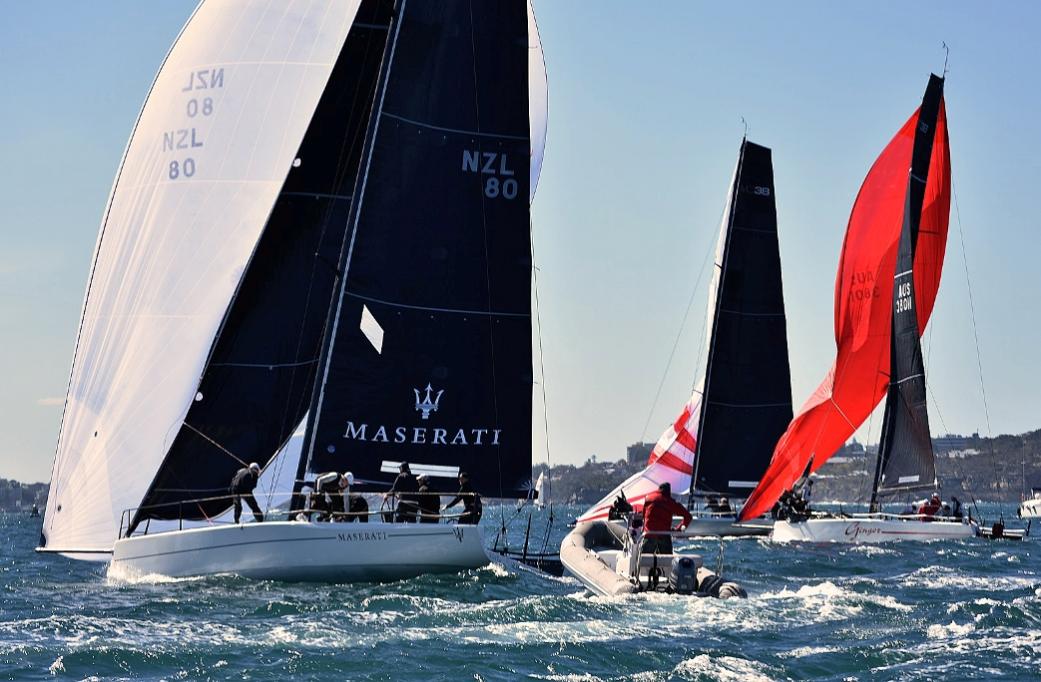 MC38 Winter Act4 downwind action
- photo by David Staley MHYC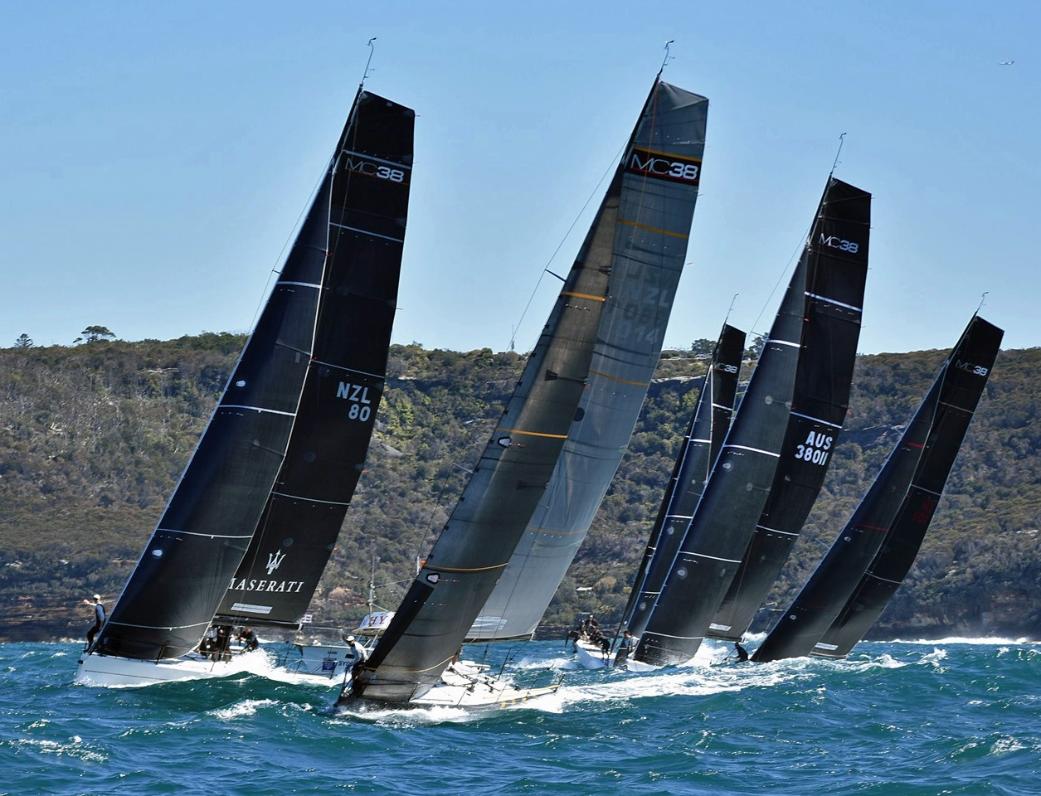 MC38 Winter Act4 fleet in swell - photo by David Staley MHYC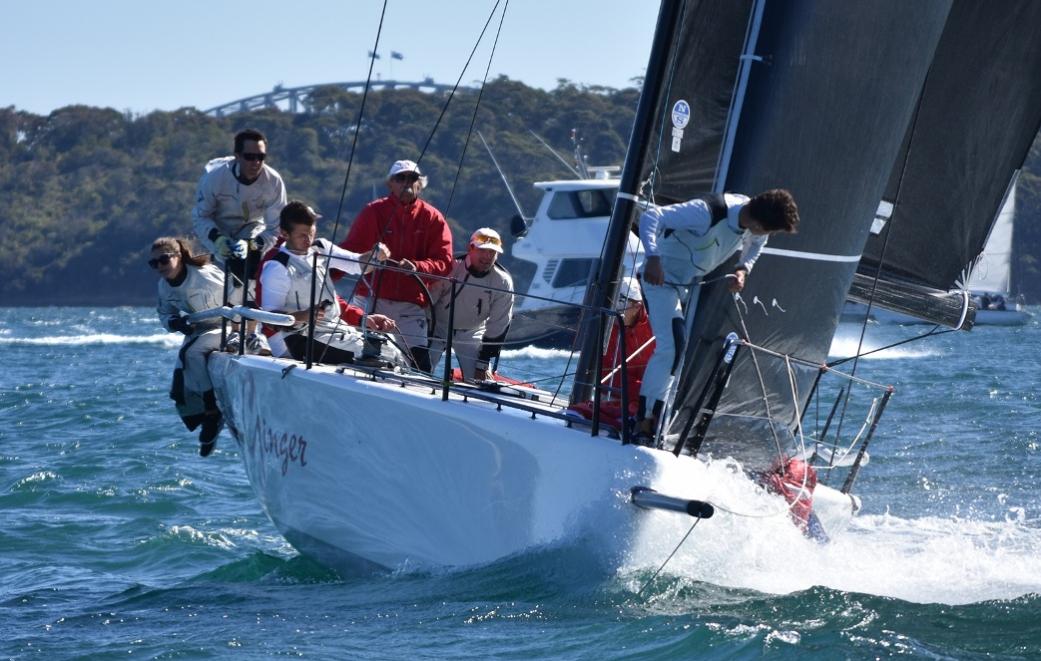 MC38 Winter Act4 & season winner ginger with Leslie Green on the helm
- photo by David Staley MHYC