July 16 - 22, 2017: Issue 321
MC38 Winter Regatta Act 3 2017 on Pittwater: hosted by RPAYC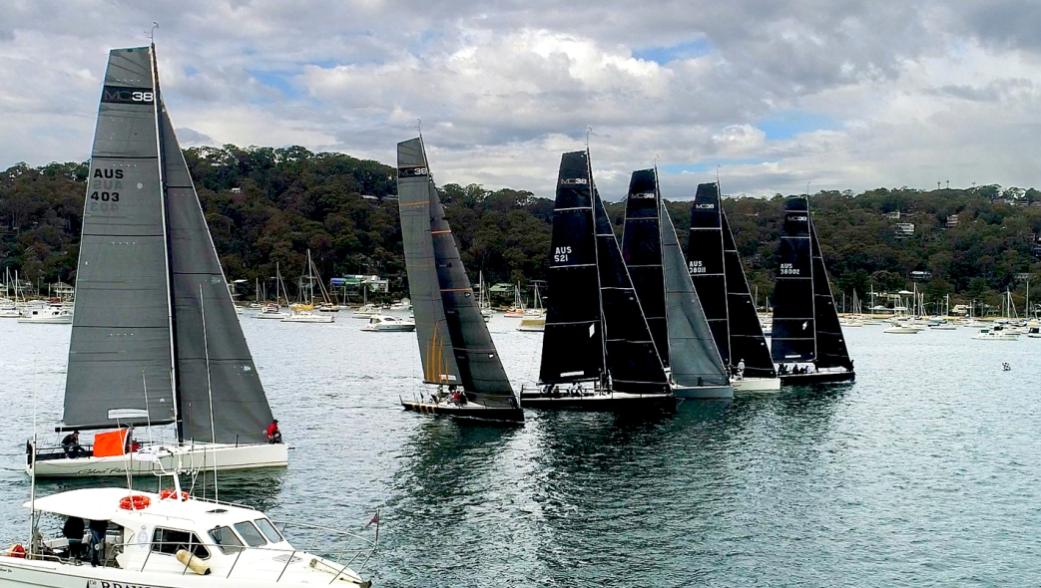 MC38 WS act 3 2017 start - photo by Bob Fowler
Flaky first day for MC38s in Winter Series act 3
15 July 2017
Event: MC38 Winter Regatta Act 3, July 15-16, 2017 on Pittwater hosted by the Royal Prince Alfred Yacht Club
For a flaky Pittwater day with barely enough wind to pull off the schedule, there was plenty going on in the MC38 Winter Series act 3.
Half the fleet sailed an incorrect course in the opening race in light sou'west winds and two of those ran out of time to be scored. There were a number of start OCSs and umpire flags raised, and early series leader, Chris Way's Easy Tiger, began famously with two wins on the trot then slipped to fourth overall due to spinnaker halyard issues and a resulting race three retirement.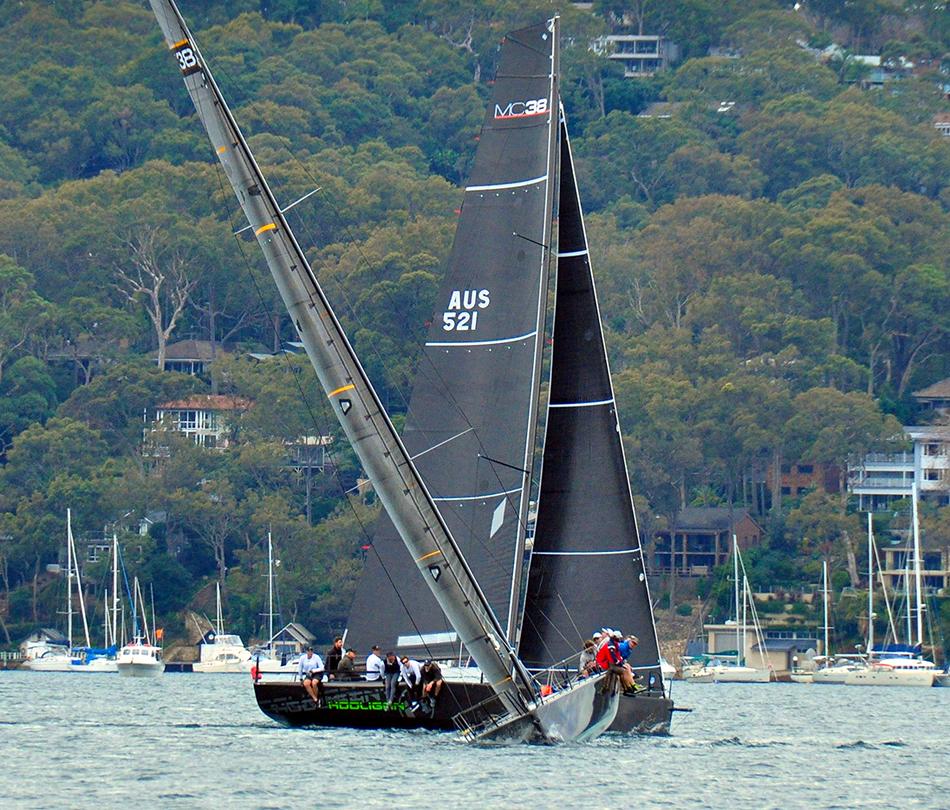 Easy Tiger & Hooligan behind - photo by Bob Fowler

Leslie Green's Ginger, helmed by Julian Plante, put in a consistent effort - three thirds and a second - to be two points in front of John Bacon's Dark Star at the end of racing in light winter northerlies on Saturday afternoon.
Colin Beashel, Ginger's technician, said the only printable description of their outing is "interesting". "Someone shook the pointscore up! We thought we'd won that first race but found out we'd done an extra lap; then we were OCS in races two and three but managed to recover.
"Pittwater in winter is certainly an interesting playground though it wasn't raining or too cold," the multiple Olympic sailor added, wanting to be upbeat.
Second overall thanks to consecutive top shelf bullets in races three and four is Dark Star, owner/skipper John Bacon saying, "We had a great second half after a scratchy start to the day. It's all on tomorrow."
Bacon recently announced his Melbourne to Osaka double-handed quest in 2018 with Dark Star crewman David Sampson.
Third overall is Ross Hennessy's Ghost Rider sailing for the host club race-managing part three of the four-part class series, the Royal Prince Alfred Yacht Club on the shores of Pittwater.
On-water umpire Erica Kirby took advantage of the slower pace in light airs, up to a maximum nine knots out of the south-west in race two, for her first day working with the MC38s.
The weak high pressure system currently over NSW is also set to influence Sunday July 16's program, west to south-westerly winds about 10 knots turning northerly in the early afternoon so again, the best MC38 action will be in the morning.
Three more races are slated but two will suffice given the light forecast says race officer Steve Merrington, who appreciated how testing Saturday's conditions were for crews.
Racing is set to resume on Sunday at 1000hrs.
The MC38 class is excited to announce that after chartering Lightspeed for a number of regattas, Sydney based Steve Barlow has purchased the boat to become a permanent part of the close one design family.
Results
Facebook

by Lisa Ratcliff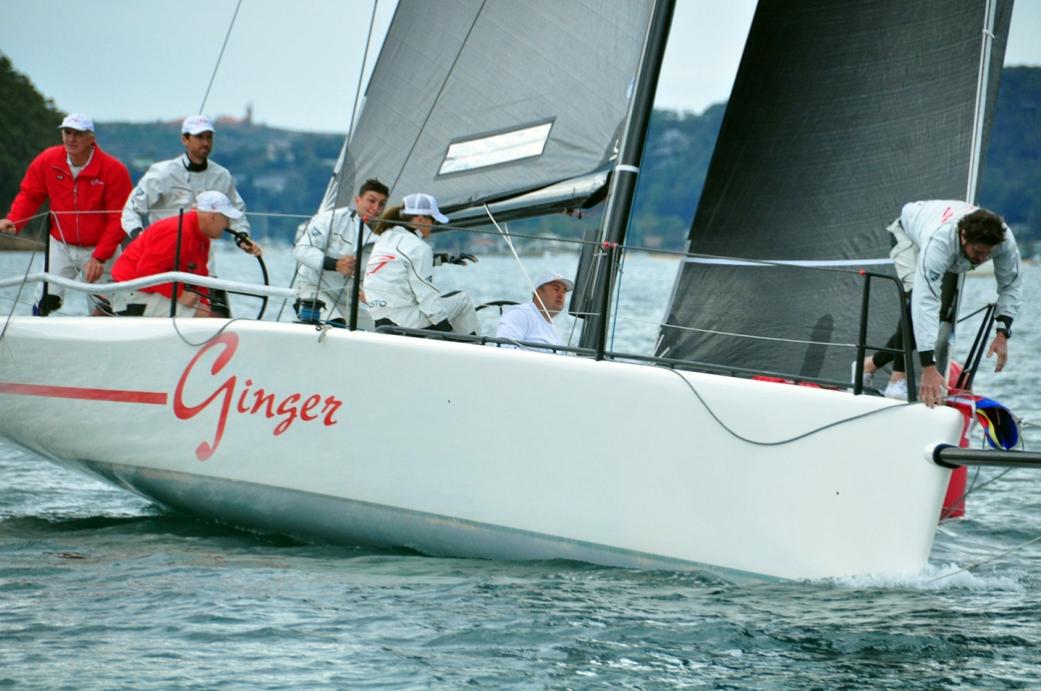 Ginger Julian Plante at the helm - photo by Bob Fowler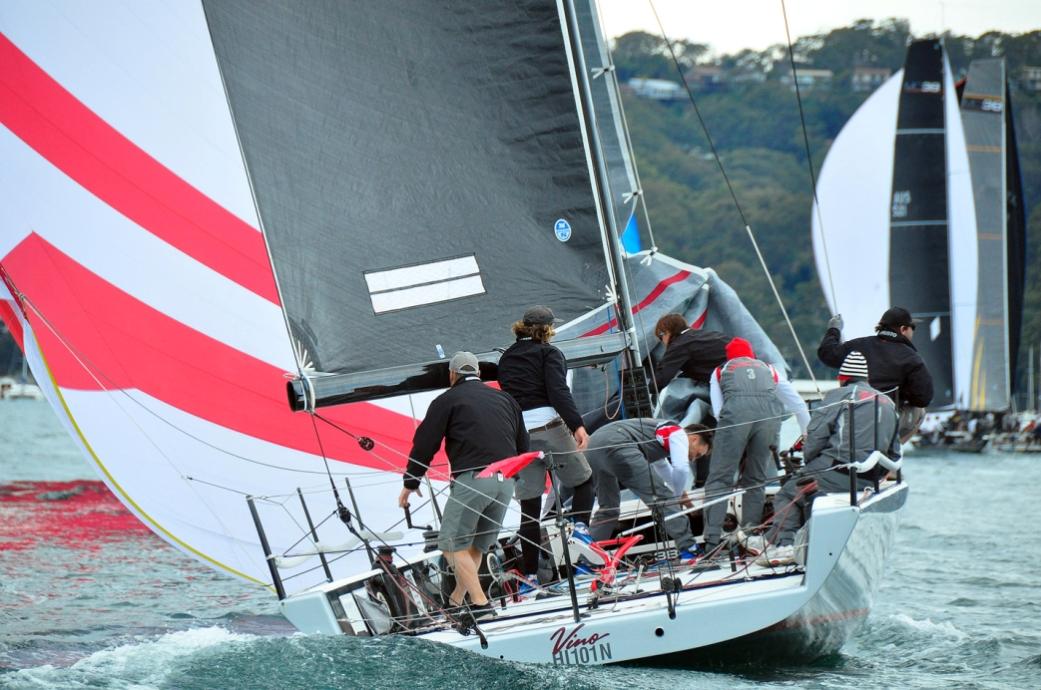 Spinnaker run for Vino
- photo by Bob Fowler
MC38 Winter Series act 3 to Ginger
16 July 2017
Event: MC38 Winter Series Act 3, July 15-16, 2017 on Pittwater hosted by the Royal Prince Alfred Yacht Club
In the absence of their divine leader Leslie Green, team Ginger consolidated and extended their MC38 Winter Series lead in another day of light winds on Sunday July 16, 2017, to clinch the third stage win by five points.
Marcus Blackmore's Hooligan switched gears and guest tactician Seve Jarvin made savvy calls in the two races in patchy WSW breeze to finish North Sails boat of the day and second overall, just a point in front of their RPAYC clubmates on John Bacon's Dark Star.
Back at the Royal Prince Alfred Yacht Club after racing, Ginger's helmsman Julian Plante said, "We had a good calm bunch and had the confidence in what we were doing to come back yesterday, and today. Both races today we didn't get around the first mark in great shape but we knew our turn would come and we stayed true to the plan.
"Light airs have been a bit of an Achilles heel and we've been working on it this winter. Today we found better speed and we had the confidence to play the percentages."
On Colin Beashel's vast knowledge of the Pittwater waterway and its nuances, particularly in winter, Plante added laconically, "He knows his way around out there. He's such a calm guy but decisive, and makes the right moves. You forget what he's done sometimes, he's so calm," Plante added, referring to Beashel's credentialed sailing past including six Olympic Games, a bronze medal and one of the winning America's Cup crew on Australia II in 1983.
Just back from Marstrand in Sweden and the second round of the World Match Racing Tour is Ginger's long-time bowman Matt Stenta, who is part of the DownUnder Racing team. "Next year we are aiming for a tour card and we've just bought two M32s; fingers crossed that helps our training for next year's tour," said Stenta. On sailing with the Ginger crew he added, "I'm just a massive sponge taking it all in from the greats".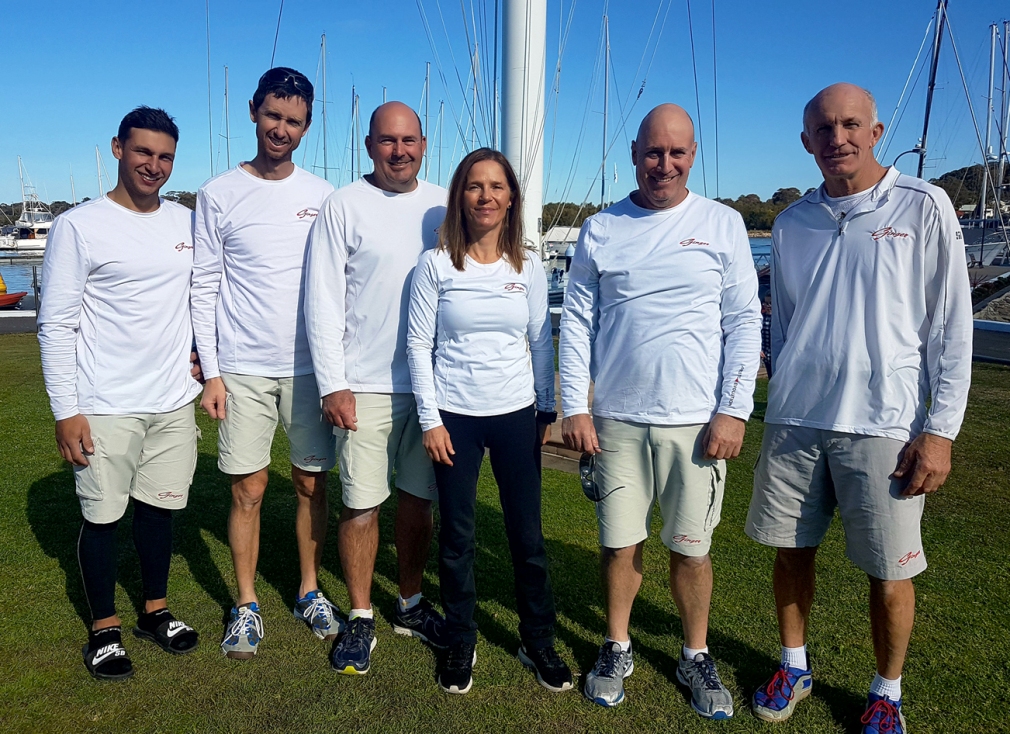 Winning Ginger crew - photo by Lisa Ratcliff
A first and a second in the two races - the second shortened at the second top gate as the breeze went into transition before eventually swinging to the north much later in the day -were enough to move Hooligan into the runner-up position. Peter Johnson helmed in Blackmore's absence and spoke highly of guest tactician Seve Jarvin.
On his first Hooligan outing Jarvin said, "We got off the start line well and the team did a really good job. The boat was fast and the sails went up and down nicely. Today you couldn't try to cover, you had to back yourself."
Monday morning at 6am, Jarvin and a number of other MC38 sailors will meet at the Royal Sydney Yacht Squadron for an early morning training session in preparation for the Etchells World Championship 2017 in San Francisco in September.
Ross Hennessy and Ghost Rider returned to MC38 class racing on Pittwater after an extended break and finished up fourth overall. "It's hard to get a consistent crew together," the skipper admitted. "We are trying to wind up, to get as good as the crews who have been together for a while."
The fleet will take a break in August, so many of the owners and crew can sail on other boats at Airlie Beach and Audi Hamilton Island Race Week, and return September 16-17 for the final act 4 of the MC38 Winter Series.
So far Maserati has scored one stage win and Ginger two.
Results
Facebook
By Lisa Ratcliff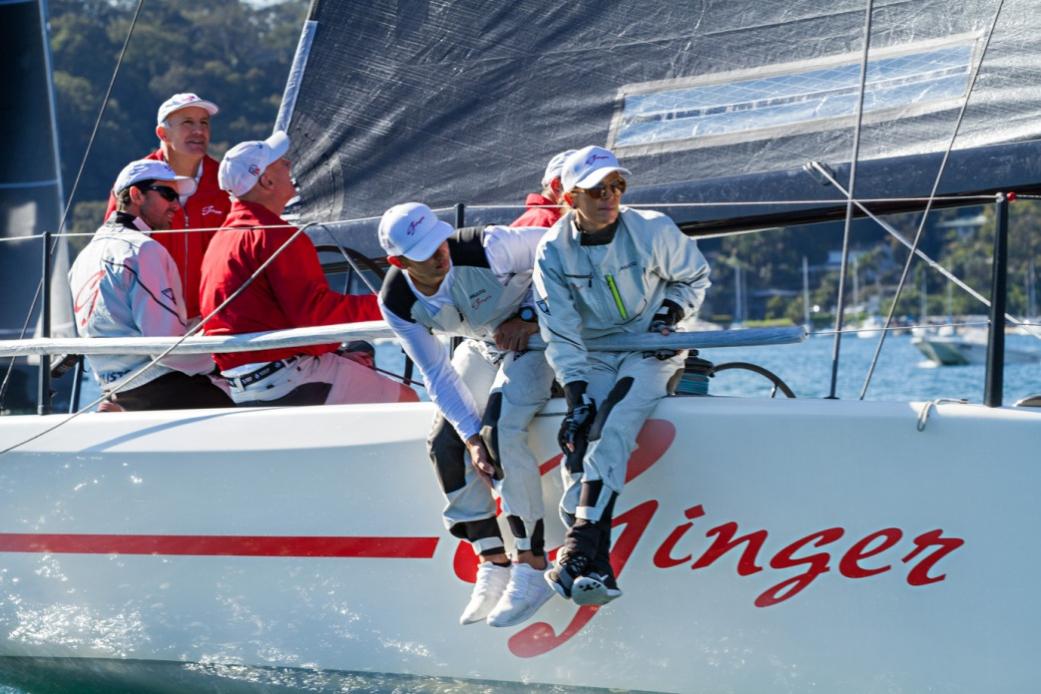 Act 3 winners Ginger - photo by KJT Sailing Photography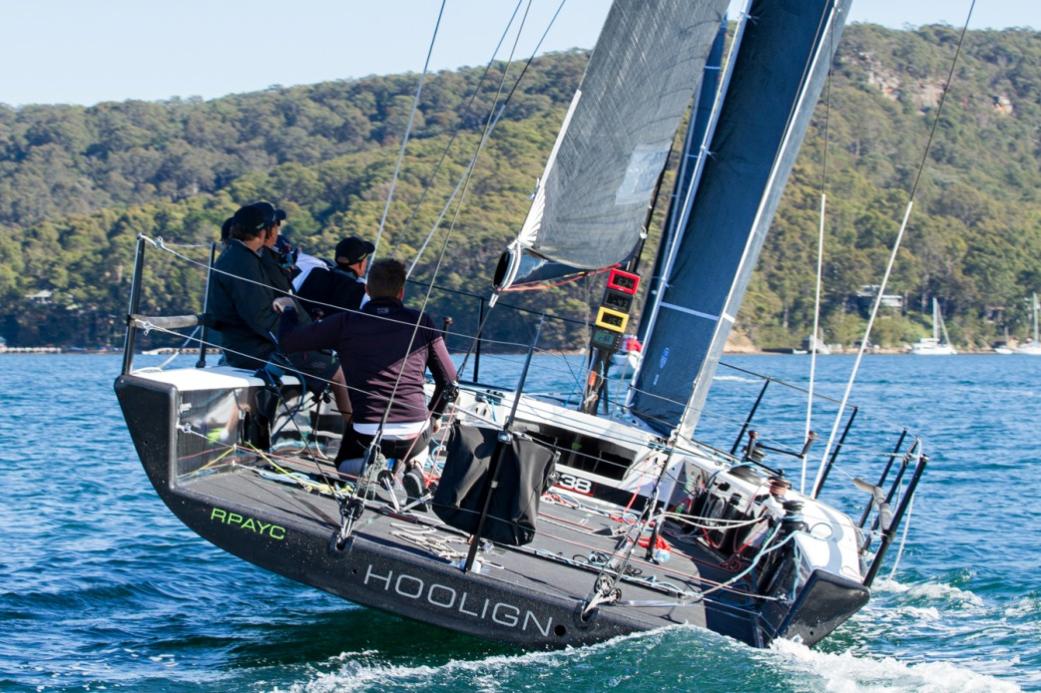 2nd overall act 3 Winter Series Hooligan - photo by KJT Sailing Photography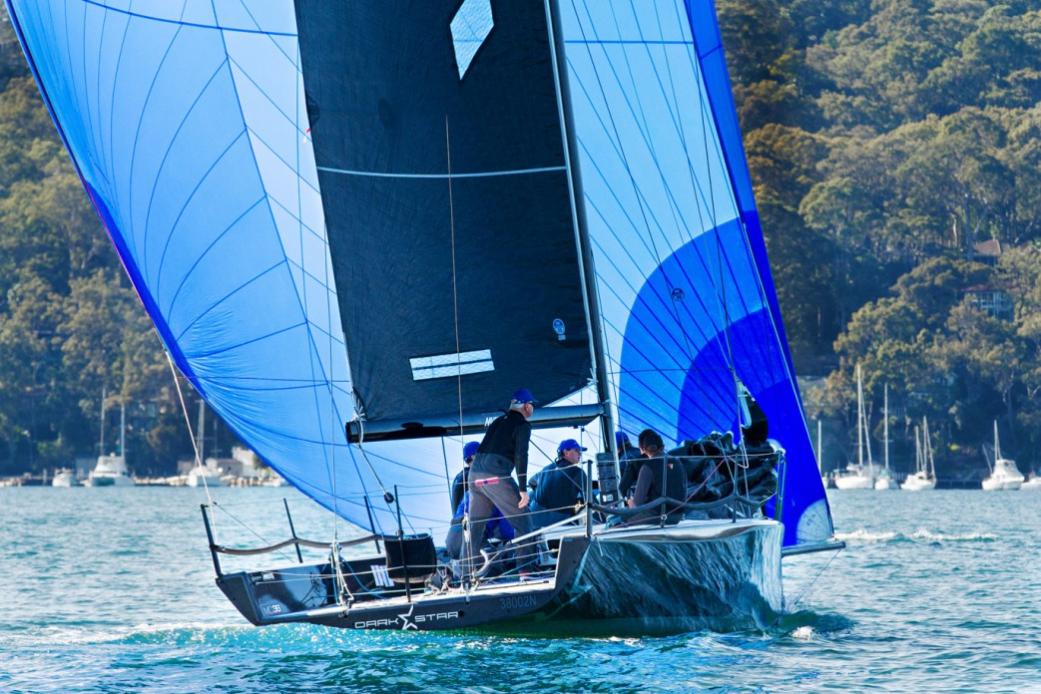 Act 3 winners Ginger - photo by KJT Sailing Photography