November 6 - 12, 2016: Issue 288

MC38 Summer Series Championship: Act 2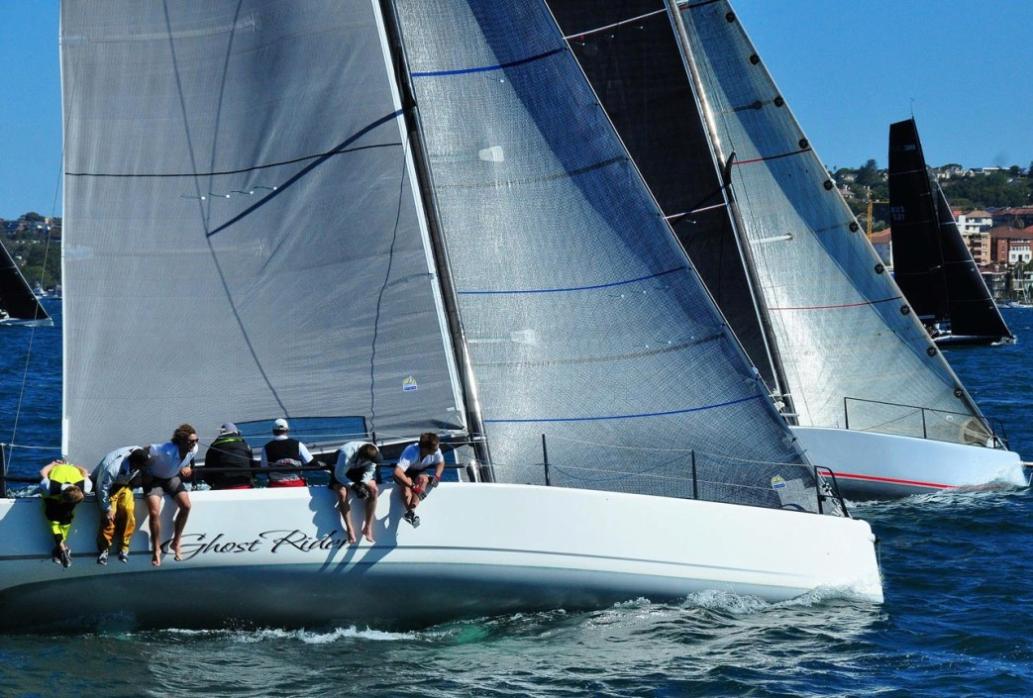 Ghost Rider: Act 2 day one - photo by Bob Fowler
MC38 Act Two Begins For Largest Ever Fleet
Event: MC38 Summer Series Championship Act 2, 5-6 November, 2016 hosted by the Royal Sydney Yacht Squadron.
Forty knot winds on Sydney Harbour on Saturday morning triggered the abandonment of a number of club events without a sail unfurled, and delayed the start of the MC38s second championship series for the largest ever turn-out.
Patience was finally rewarded mid-afternoon when Principal Race Officer Rob Ridley and his Royal Sydney Yacht Squadron team felt conditions were manageable enough. The west sou'west wind had settled into an average 18 knots with only the odd gust in the mid-twenties and the nine boats lined up, the most on one start line in the class' four-year history in Australia.
With guest helmsman Martin Hill on the wheel, race one went to Neville Crichton's Maserati from Leslie Green's Ginger. Race two belonged to Howard Spencer's heavy air specialists on Menace followed by Ross Hennessy's Ghost Rider, and Menace again pipped the fleet in race three's near-twilight finish.
On board Menace was New Zealand Nacra 17 Olympian Gemma Jones, now part of Thalassa Magenta Racing's all-women GC32 team. "It was so much fun, a different beast to what I'm used to", Jones said. "It's cool to work with such a big team; they all encourage each other." She played a trimming and "eyes out of the boat" role and speaking on Menace's early success she added, "It's cool to have a mixed team winning, and show it can work well."
At the close of the day's racing Menace holds a three point advantage over Maserati and Ginger is third overall.
Maserati's tactician Joe Turner said the crew and Hill, a long time Farr 40 owner/skipper, had one training day during the week that was nothing like today. "It felt like the last of Sydney's smokin' westerlies. Neville handed the wheel to Martin for the series and he brained it – 25 knots of wind, kites blowing up, the boat nose diving, 20-something knots planing downhill, a win in race one and we nearly cartwheeled! It was a baptism of fire."
Back at the RSYS a buzzing Hill said, "The boat was on fire!! Neville's got a great team, they kept the boat on its feet and we didn't get into mischief around the marks. I'll sleep just fine tonight".
Class president John Bacon has worked hard alongside the owner's group to develop a long-term calendar of mostly weekend events moving around different Sydney yacht clubs. He is elated to finally get the full active MC38 fleet together and thanked the three owners who couldn't make act two personally but elected a guest helm. "It was terrific to see Pete Johnson, Martin Hill and Steve Barlow out there driving – I hope they had a good time," Bacon said.
Peter Johnson made his driving debut steering Hooligan for Marcus Blackmore and Steve Barlow was back helming Kokomo.
Ridley set up a course between Steele Point at Nielsen Park, Vaucluse, and the top mark in the Rushcutters Bay area and though there were fewer fleets than usual zig-zagging the harbour, additional Navy boats moored up for exercises meant the RSYS race management team had limited space to play with.
Three more races are scheduled for tomorrow, Sunday November 6, and the forecast is west to north-westerly 15-20 knots shifting east to south-easterly 10-15 knots in the early afternoon. Race four is due to begin at 1100hrs.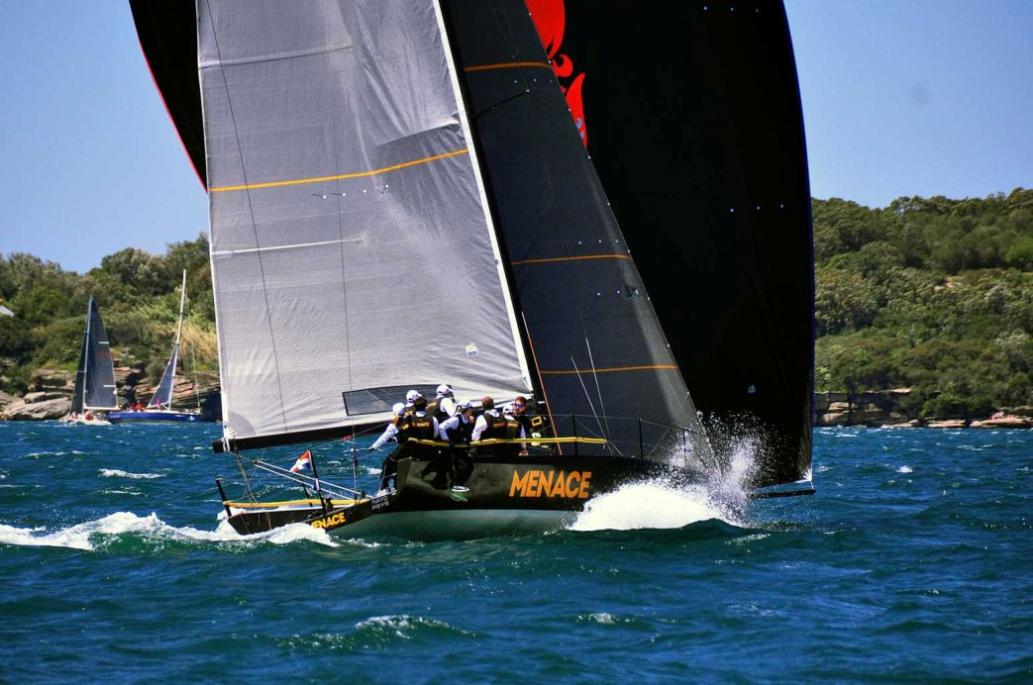 Act 2 pointscore leader Menace - photo by Bob Fowler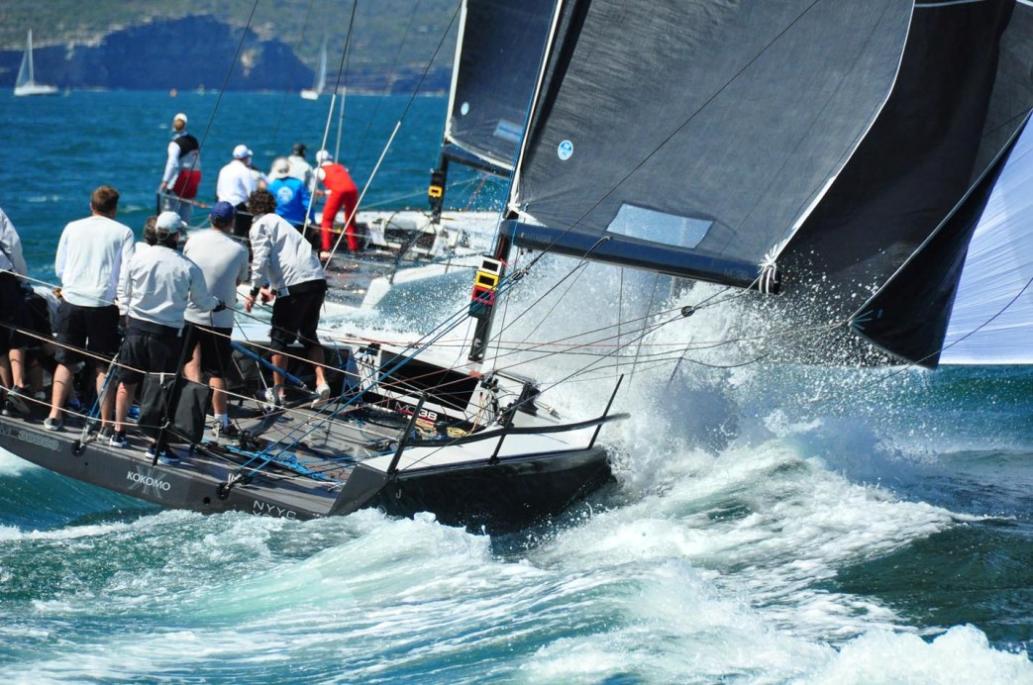 Kokomo downwind act 2 Sydney Harbour - photo by Bob Fowler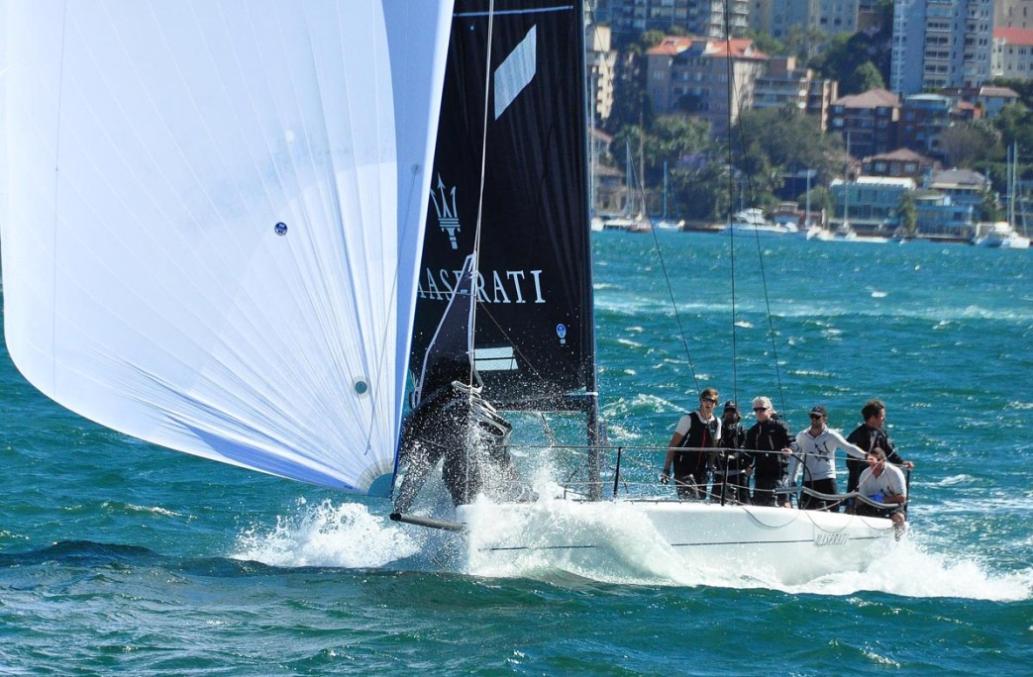 Maserati under kite - photo by Bob Fowler
Half-Baked Haka Not Enough To Hamper Menace
MC38 Summer Series Championship Act 2, 5-6 November, 2016 hosted by the Royal Sydney Yacht Squadron
Videos on the Facebook page
A half-baked haka on Neville Crichton's part-Kiwi MC38 Maserati wasn't enough to beat the full blooded New Zealanders on Howard Spencer's Menace who protected their MC38 Summer Series Championship overall lead with a second stage win.
Maserati carries both the burgee of the Royal New Zealand Yacht Squadron, New Zealand being Crichton's birthplace, and the Cruising Yacht Club of Australia in Sydney where he has lived since the 80s. Leading into the final of the six race series the crew held the series advantage and thought a crack at the haka might put some extra fire in the belly before going nose-to-nose with the talented Royal Akarana Yacht Club team.
The execution didn't quite go to plan, Maserati's poor start giving the Kiwis a whiff and from that point they were all over their nemesis, covering and tacking on top of them in classic match racing style.
Both top-scorers finished on 15 points, Menace's one additional win sealing the pointscore victory on the weekend of November 5-6, 2016. Day one began late on Saturday due to high winds. Day two began close to time in WSW winds averaging 18 knots gusting up to 26 then things went funky and light midway through race four. The breeze finally transitioned to the south-east 15-17 knots in race five and PRO Rob Ridley moved from Watsons Bay to Taylor's Bay, Mosman with the race six top mark just off Shark Island where a group of Opti juniors sailed wide-eyed when the nine MC38s cut through at speed.
Menace's tactician Ray Davies, a member of Emirates Team New Zealand America's Cup challenge, said, "It was fantastic racing. The standard has got a lot higher and it was great Maserati kept coming back at us… we tried to hurt them as much as we could. It was a fantastic weekend on Sydney Harbour at the high-end on Saturday, 22-28 knots, and today we knew the breeze would go left so we kept an eye out. When it came in we were on the left hand side and went from pretty deep to leading at the top mark.
"It was fantastic having nine boats out there. We keep saying MC38 racing is by far the best one design in Australasia and we hope the class can stay strong," Davies added.
Martin Hill, guest helmsman on Maserati, said his team knew Menace meant business leading into the decider. "They covered us and pushed us back to create the gap. Thanks to Neville for letting me drive this weekend, it's a fantastic boat and crew. To be able to step on to such a well prepared boat was an honour."
Third on 20 points was Leslie Green's Ginger and fourth in the fleet of nine, the largest turnout in class history, was Dark Star.
Among the new faces this weekend was Rio 2016 470 silver medallist Will Ryan on board Marcus Blackmore's Hooligan as tactician. Regular Hooligan crewman Peter Johnson helmed in Blackmore's absence.
"Marcus has been instrumental in our (he and Mat Belcher) 470 program and I've always talked with him about sailing with him; it was a shame he couldn't be on his boat this weekend. We got the cobwebs out as we were racing. I've never been on an MC38; they are sure bow-down and finicky, and so exciting. I'd really like to sail with Marcus, hopefully I'll be asked back."
There has been a reshuffle of the calendar and what was the third stage, February 18-19, is now slated to be the 2017 Australian class championship. The Royal Prince Alfred Yacht Club at Newport has offered to stage the national title on Pittwater, to the north of Sydney Harbour.
Leslie Green's Ginger is the three-time reigning MC38 class champion.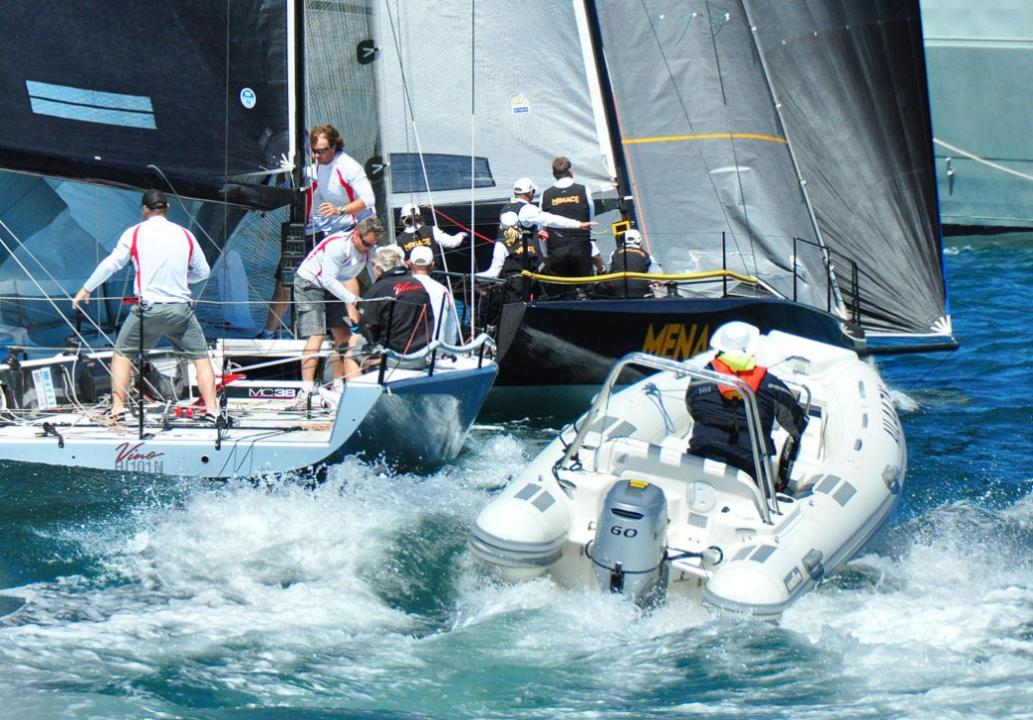 Vino, Menace and umpire Dave - photo by Bob Fowler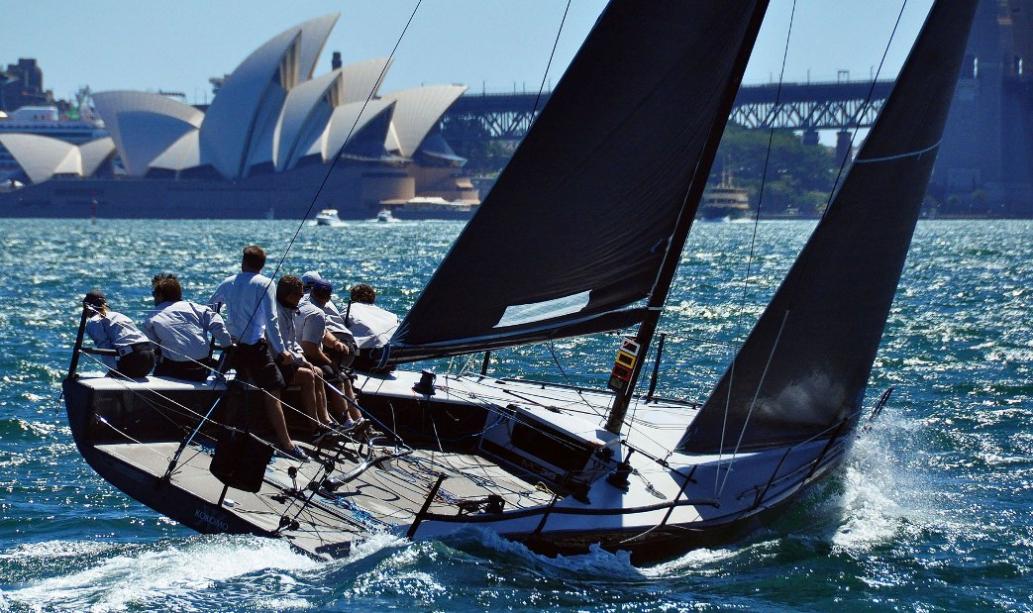 Kokomo and Sydney Opera House - photo by Bob Fowler