November 6 - 12, 2022: Issue 561
MC38 Australian Championship 2022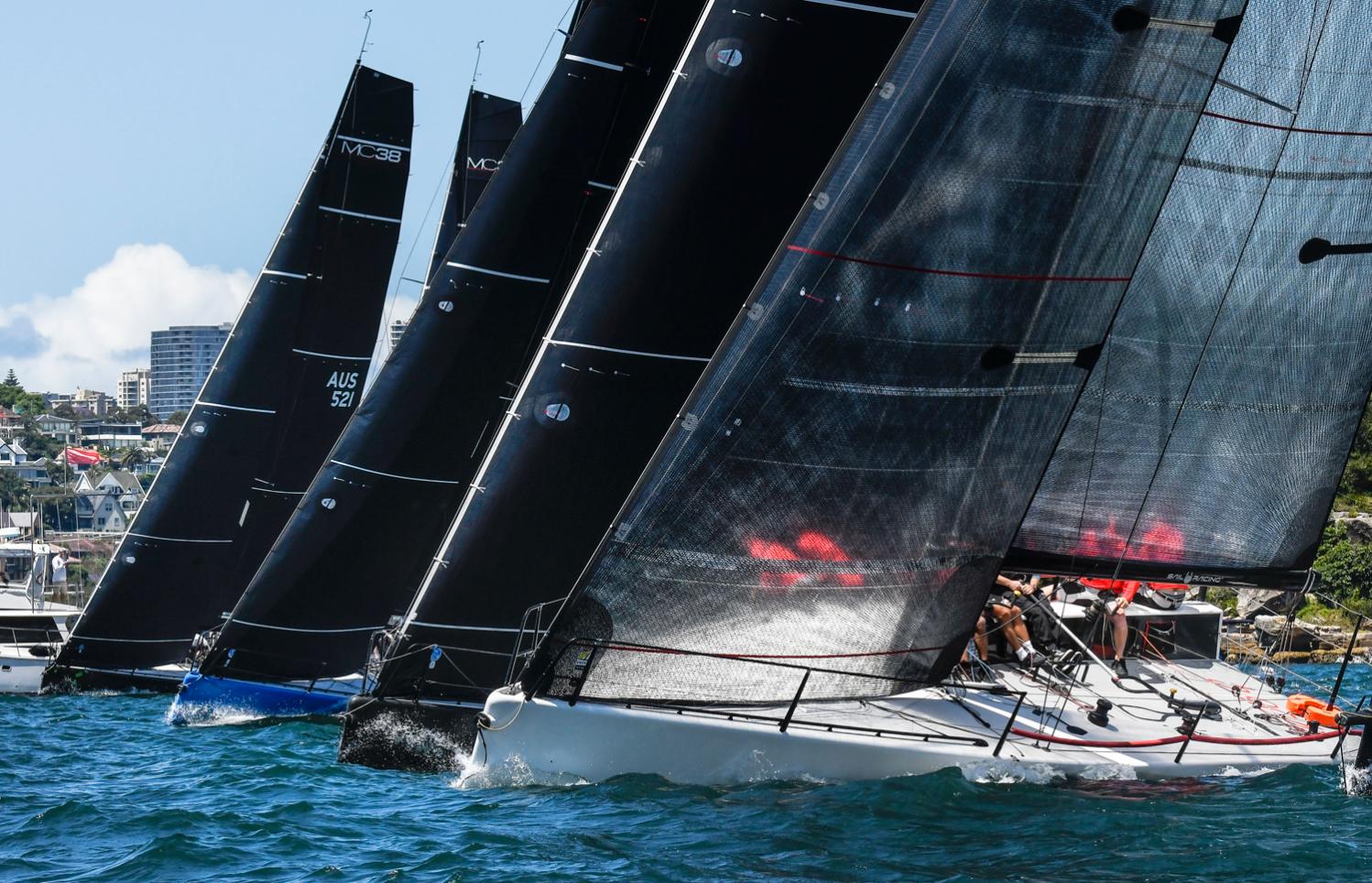 MC38 Australian Championship day 2 start on Sydney Harbour. Photo: Marg's Yacht Photos
Nine MC38s are vying for the class Australian Championship this weekend and a trophy trifecta is dangling in front of the defending champion, Shaun Lane and Quentin Stewart's Lazy Dog.
The national title will mark the end of another season of high-end one design racing with top results shared between Lazy Dog, Marcus Blackmore's Hooligan, Steven Proud's Swish, Indy Beck's InfoTrack and Leslie Green's Ginger.
The competition really took it to the Middle Harbour Yacht Club team of Lazy Dog across this year's lead up regattas, staged between Pittwater and Sydney Harbour, and they are plotting to spoil Lane and Stewart's championship three-peat.
Royal Sydney Yacht Squadron is regatta host for the premiere three-day series, November 4-6. Twelve races are scheduled on Sydney Harbour starting daily at midday, weather permitting.
Making their class debut at the national title is Katie Spithill and her all-female MC38 team on Leap.
The A-grade talent on Leap includes Spithill on helm, round-the-world and offshore yachtie Stacey Jackson and SailGP's Nina Curtis, another round-the-world campaigner. Olympic sailor Mara Stransky plus Juliet Costanzo and Jemma Hodgson, fresh from their clinical win at last weekend's Australian Women's Match Racing Championship on Sydney Harbour, jumped at the chance to be part of the first-ever all-female MC38 team.
"It's a great group and we are excited for the opportunity Christian has given us in lending his boat," said Spithill. "We are happy with the light forecast. From a physical point of view it's better for us as we'll race marginally underweight and as a new team pulled together from other classes on a new boat we'll be making it up on the fly."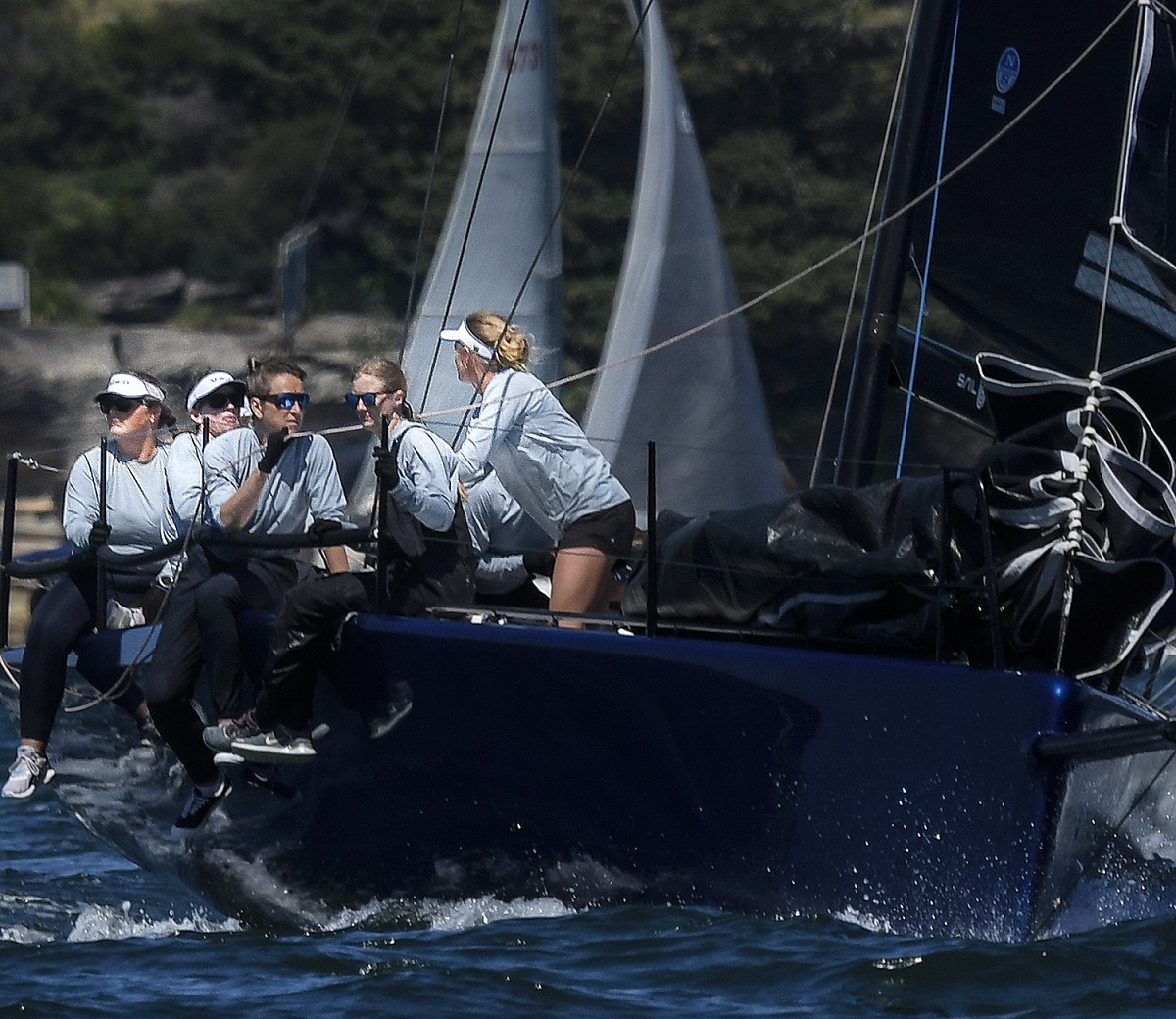 MC38 2022 Championship Katie Spithill and Crew. Photo: Lisa Ratcliff

MC38 Australian president Christian Beck says the 2022 MC38 Australian Championship is shaping up as a battle royale between Lazy Dog, winner of the last two Australian titles, and this season's top performers, who equally have multiple MC38 seasons under their belts.
"Amazingly, there were five different pointscore winners across six acts leading up to this weekend's nationals so it's wide open in terms of the favourite," says Beck.
"The final result will be well-earned and it will be great to connect with everyone socially before the class takes a break over summer and some owners and many of the crew turn to offshore events."
A second female skipper in Rachel Beck leads the Law Connect team.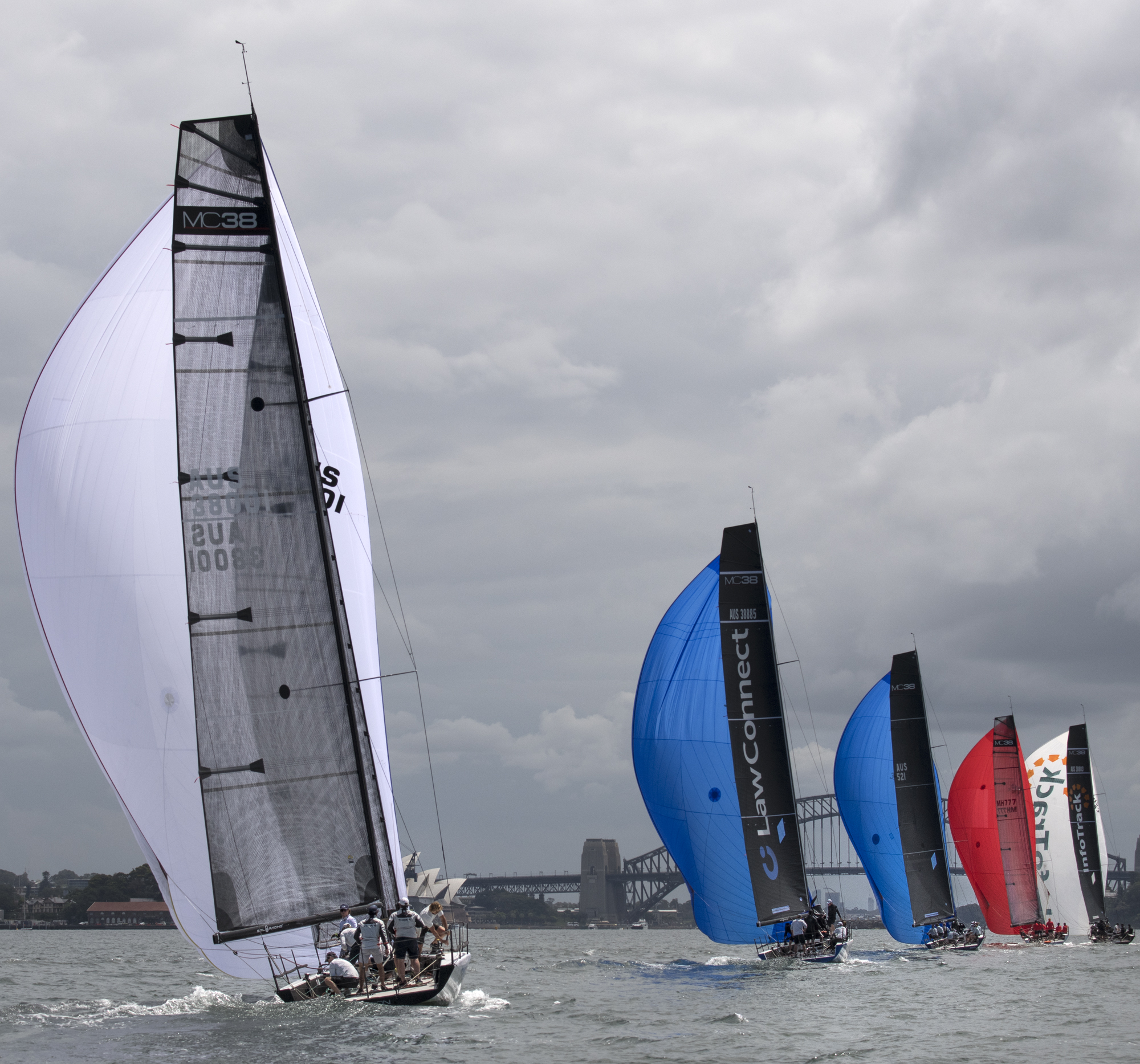 Day 1; moody Sydney Harbour 2022 MC38 Australian Championship. Photo: Marg's Yacht Photos

Day 2
Three wins from four starts for Shaun Lane and Quentin Stewart's Lazy Dog branded them the breakaway MC38 and boat of the day on day two of the class's Australian Championship.
In perfect spring conditions, the breeze ENE 10-15 knots on Sydney Harbour, Lazy Dog's crew found their mojo and rocketed up the placings to lead overall by five points with three races to go at the season-ending national title.
At the Royal Sydney Yacht Squadron late afternoon dock party Lane said "it wasn't all our way, but we came good and it's all on for tomorrow. We got our strategy right and picked better lanes than yesterday. It's very exciting out there."
Day two MC38 Australian Championship video by Tilly McKnight
Second MC38 is the Middle Harbour Yacht Club based Infotrack, skippered by teenager Indy Beck. "Everyone out there got it together on day two," the 15-year-old said. "The nationals do give the racing some extra energy but it's not very windy. I'd prefer 25 knots! Beating Lazy Dog is the goal but if we can't do that, I at least want to beat my dad [on Infotrack GO]."
Christian Beck's Infotrack GO scored boat of the day on day one, to the delight of Indy's 10-year-old sister Asha who was on board. The tables turned on Saturday and Indy enjoyed lauding it over his sister. It's a family affair for the Becks this weekend with Christian's wife Rachel helming Law Connect.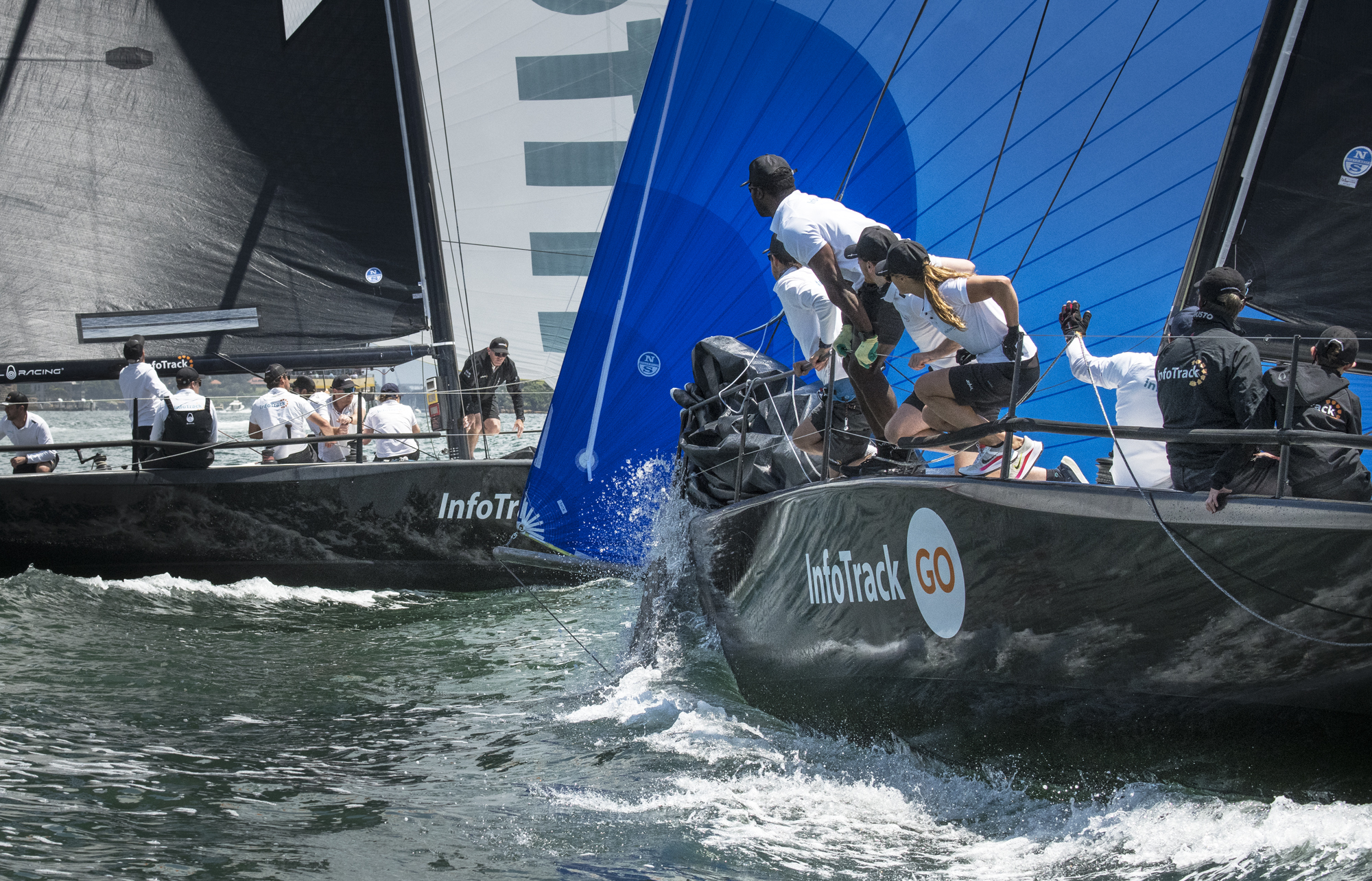 Infotrack and Infotrack GO (right) at MC38 Australian Championship 2022. Photo: Marg's Yacht Photos

Third on the scoresheet is Steven Proud's Swish, another MHYC boat. Just five points separates second to sixth place and from eight starts there have been five different winners, which is not unusual for the high-performance fleet.
Katie Spithill and her all-women crew on Leap are loving every minute of their first MC38 foray and getting plenty of support from owners in terms of concepts, ideas, and loaned sails.
"The other owners have been really supportive and welcoming and we're making progress every race. We usually get to the top mark in third or fourth place but need to work on our downwind speed," Spithill said. "Each race is a learning opportunity as we figure it out without breaking things we don't own! Most of the fleet is into their third or more season."
Two of Spithill's crew, Nina Curtis and Mara Stransky, attended Friday's Australian Sailing gala evening with both in the running for the coveted Australian Female Sailor of the Year title. Tokyo Olympic Laser Radial sailor Mara Stransky was crowned and back on Leap today focused on strategy and trimming. "We are stoked for her," Spithill added.
The final three races of the 2022 MC38 Australian Championship are due to start from midday on Sunday November 6 and will be livestreamed on the Facebook page: www.facebook.com/MC38Class
Insta: @mc38aus
Website: mc38racing.com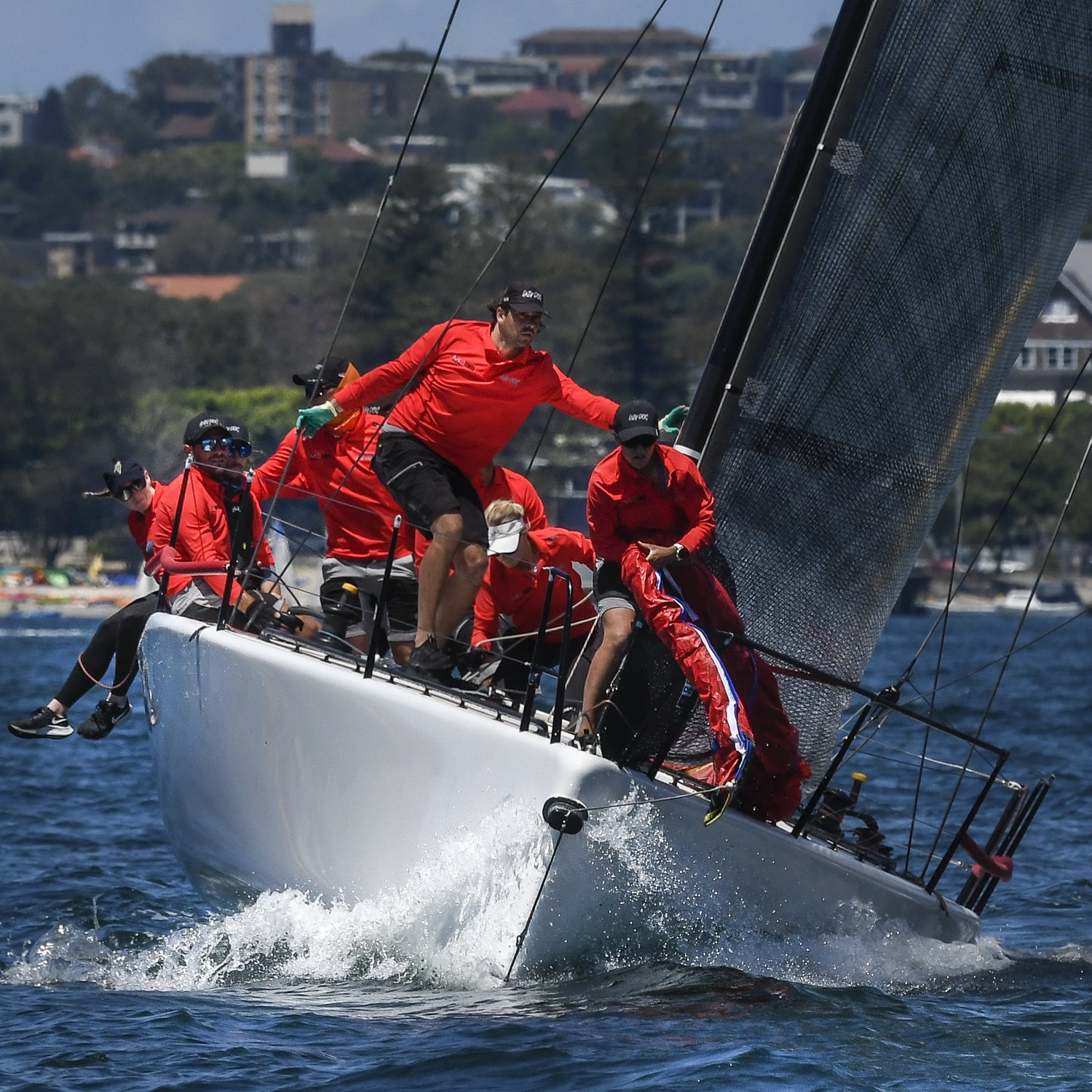 MC38 Australian Champ pointscore leader Lazy Dog. Photo: Marg's Yacht Photos

Triple MC38 Australian Championship crown to Lazy Dog
Sunday November 6 2022
Shaun Lane and Quentin Stewart's Lazy Dog is both 2022 MC38 season champion and three-time back-to-back Australian champion after sealing the national series on Sydney Harbour nine points clear of Steven Proud's Swish.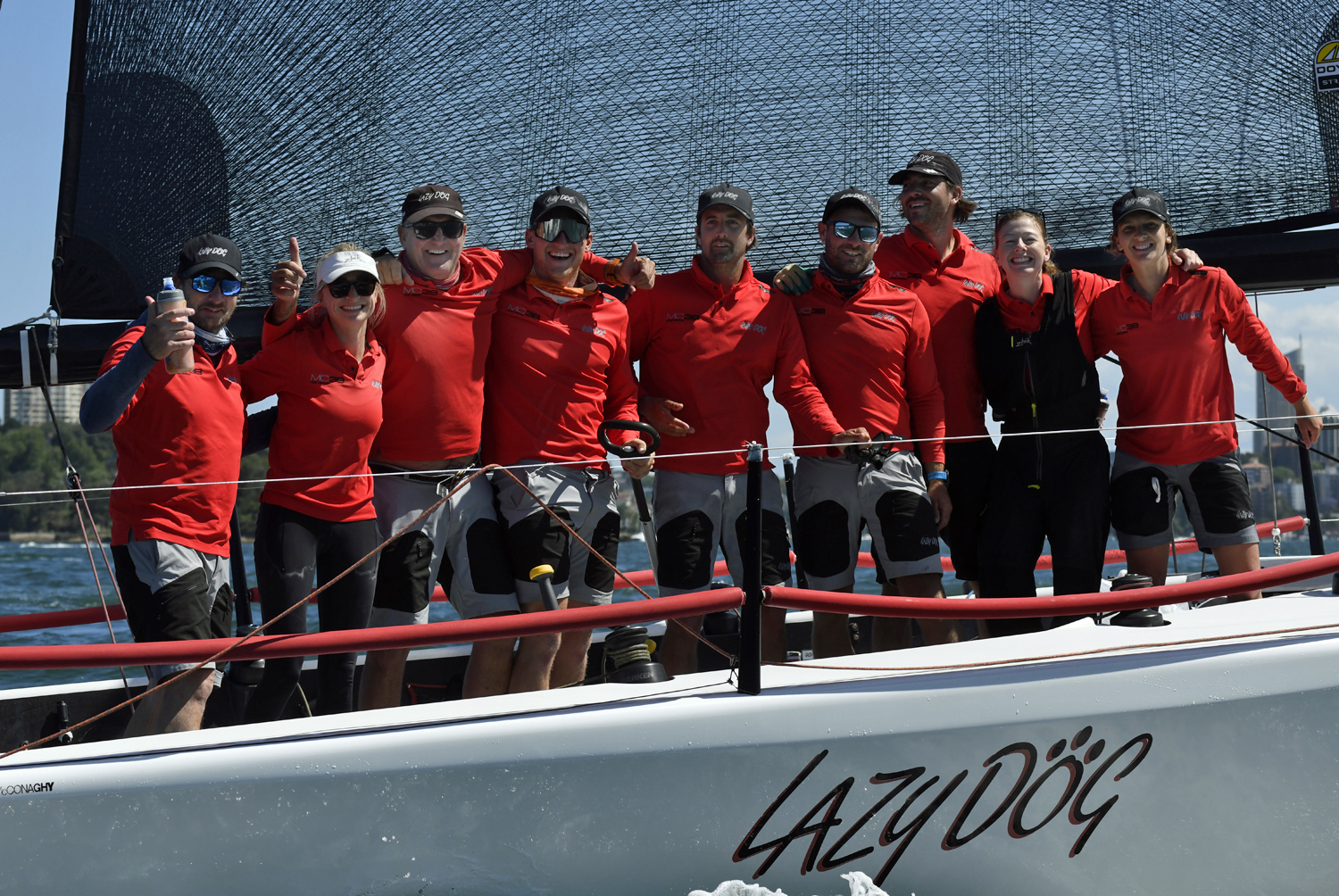 2022 MC38 Australian Champions Lazy Dog. Photo: Marg's Yacht Photos
"We had good teamwork by the end of what is our fifth class nationals," Lane said. "There was a good mix of results this season. What we did well was claw back from nowhere. Every race and every place counts in this fleet. The class is in great shape; there's nothing in the country like what we have built," Lane added.
With the championship victor settled at the end of race 10 on Sunday November 6, attention turned to Infotrack GO (Christian Beck), Infotrack (Indy Beck) and Swish in the battle for silver in the deciding two-lapper, from Taylors Bay, Mosman up to a top gate adjacent to Watsons Bay on the eastern shoreline.
A handy third for Swish and sixth for Infotrack GO reordered second and third place on overall standings while Ginger's late charge - bullets in race 10 and 11 - moved owner Leslie Green and his longstanding one design comrades into fourth overall, a point off third.
Final overall series pointscore.
Day three MC38 Australian Championship video by Tilly McKnight.
"Lazy Dog is always a tough boat to beat - coming into the regatta we thought we might have had a chance," Proud said. "We were fourth last year, so we are pretty happy. It feels good to be on the podium. Billy Sykes did a fantastic job putting our crew together and they all got on with the job. We kept the heat down this weekend, and it worked out for us."
On the number of MC38 seasons it takes to mount a top tier nationals campaign Proud added: "It takes a few seasons to get the moding right in these boats, particularly downwind. They are sensitive to trim and downwind heel. If you don't get it 100% right, three-quarters of the fleet will pass you."
Sydney staged a rare three days of perfect dry spring conditions, 8-13 knots of ENE breeze and sparkling sunshine for the 11-race no drop regatta that signals the end of another busy calendar of racing between the harbour and Pittwater. Nine MC38s competed at the championship and the high performance one design fleet is holding strong for 2023.
The class thanks the Australian Championship host club, Royal Sydney Yacht Squadron, and RSYS race officer Rob Ridley and his team, plus season hosts Middle Harbour Yacht Club, the Cruising Yacht Club of Australia, and the Royal Prince Alfred Yacht Club.
By Lisa Ratcliff