June 26 - July 2, 2022: Issue 544
MC38 Act 4 home club victory: June 2022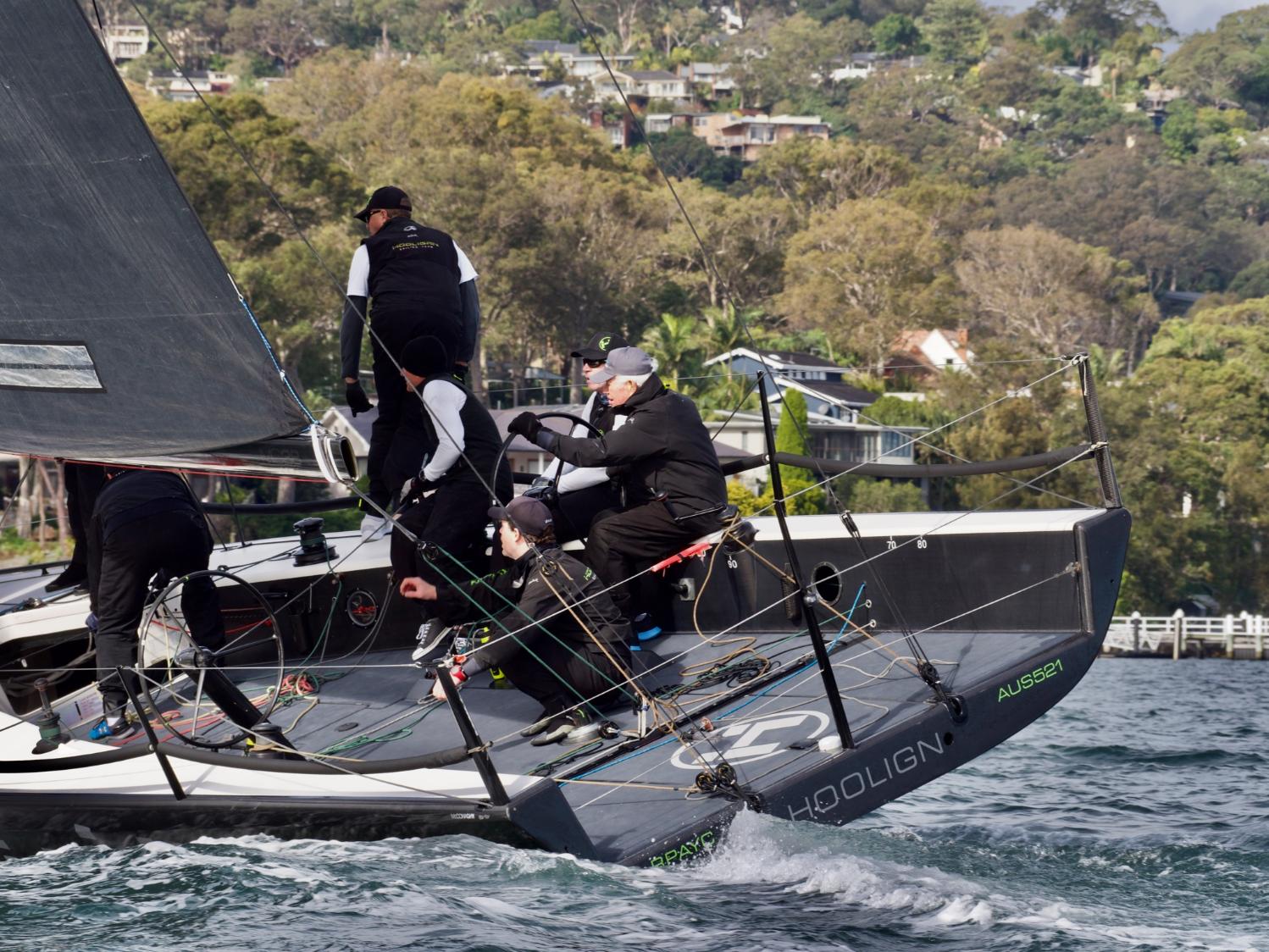 Act 4 overall winner Hooligan. Photo: Tilly McKnight
Event: MC38 2022 Season Act 4, June 18-19 hosted by the Royal Prince Alfred Yacht Club with racing on Pittwater
The 2021 MC38 season champion and home club team has taken their first scalp for 2022 on Pittwater by four points.
Marcus Blackmore's Hooligan, sailing for the Royal Prince Alfred Yacht Club, led the nine-boat fleet on day one and consolidated on day two, beating Steve Proud's Swish and the Indy Beck skippered InfoTrack on overall points.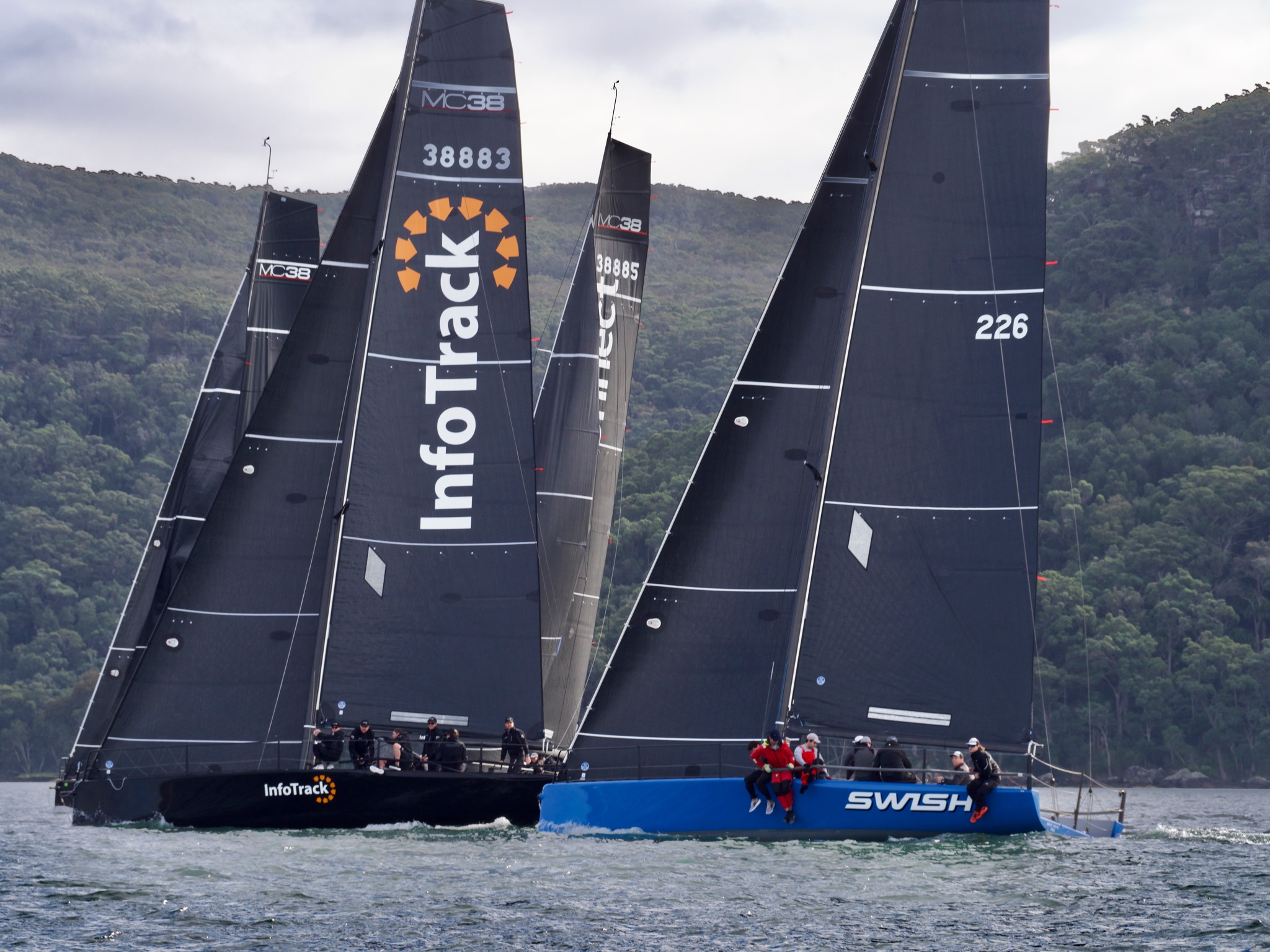 Act 4 start - InfoTrack and Swish. Photo: Tilly McKnight

"The racing was awesome; the level is as high as it's ever been," said Hooligan's tactician Ben Lamb.
Five different winners from seven races and the victor of last month's Act 3 placing seventh overall shows how quickly results can flip in this class.
Act 4 Full results
Sunday recap thanks to Tilly McKnight Media
On their success Lamb added: "We've been sailing as a team for a long time on various boats and it feels like we are a real unit. Marcus did an excellent job driving and leading us this weekend – it's a pleasure to be on board."
Saturday's gusty 15-23 knot winter sou'westers marked Ian Box's helming debut in the tightknit one design class. Thor's owner Matt Hanning had work commitments so Box, owner of the Middle Harbour-based XP44 Toy Box 2, stepped in.
"It's a fun boat to sail - very physical. You need the right team," Box said. "Yesterday we had plenty on while today was a whole lot easier – and I liked the nice flat water of Pittwater," added the yachtsman who is more familiar with the swell and chop of Sydney Harbour.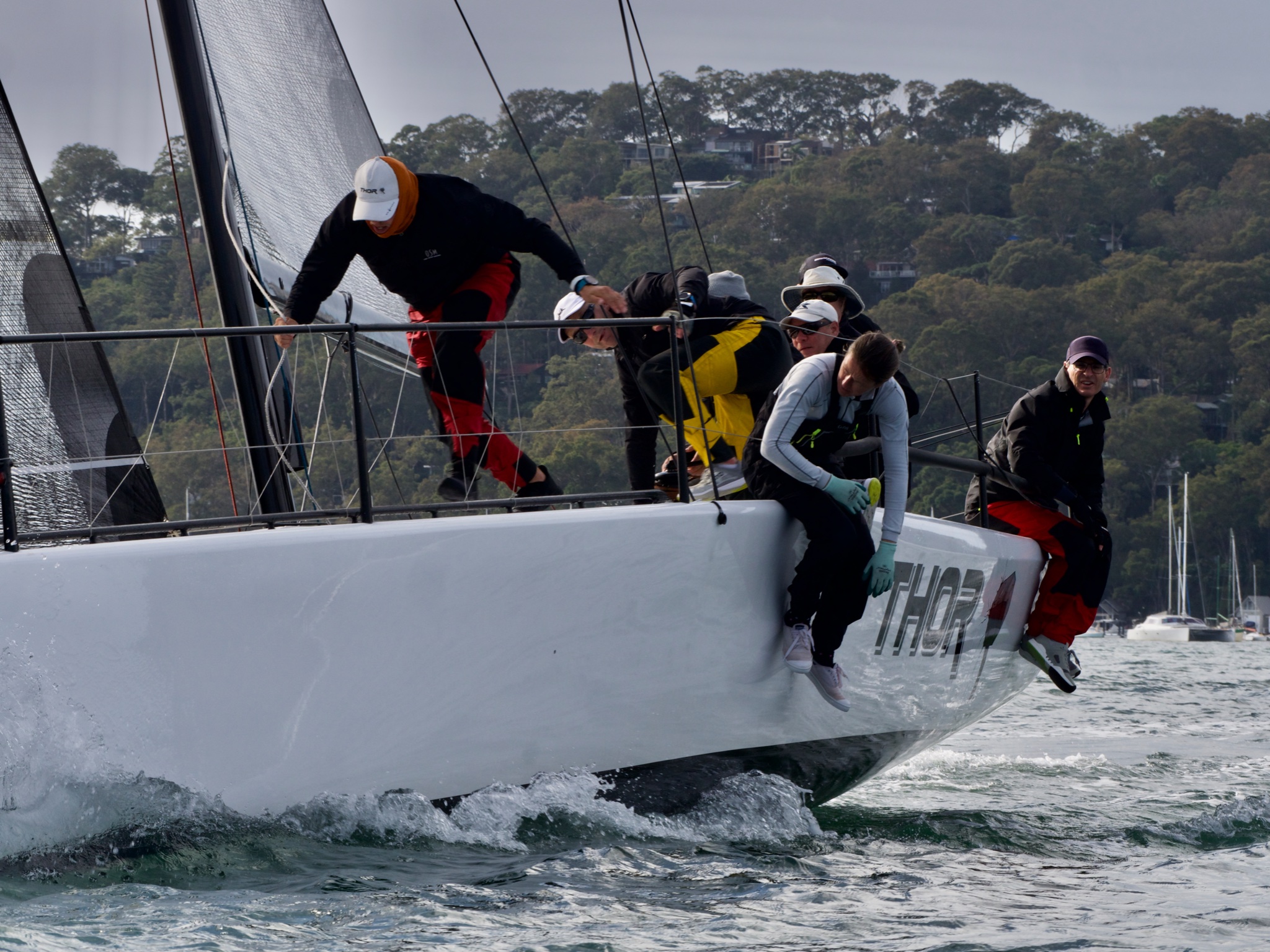 Thor skippered by Ian Box 4th overall. Photo: Tilly McKnight

Two MC38s fell foul on Saturday including Thor, a race three withdrawal after their mast was over-jacked.
Shaun Lane and Quentin Stewart's Lazy Dog retired from race two after losing their hydraulic mast jack, which also sprayed oil around the boat. "We had to bail out of that race and set up a jury rig, then we couldn't get full tension in the rig so we just hung in there for the rest of the day," Lane said. "It was fixed overnight and we picked up boat of the day on Sunday. We worked hard for that result – it wasn't a gift. The fleet is so compressed."
Proud's second-placed Swish team, with Billy Sykes calling tactics, is the benchmark for upwind speed according to Lamb. "Swish is sailing really fast and their set-up and upwind boat speed is impressive. Our next goal is to match them upwind."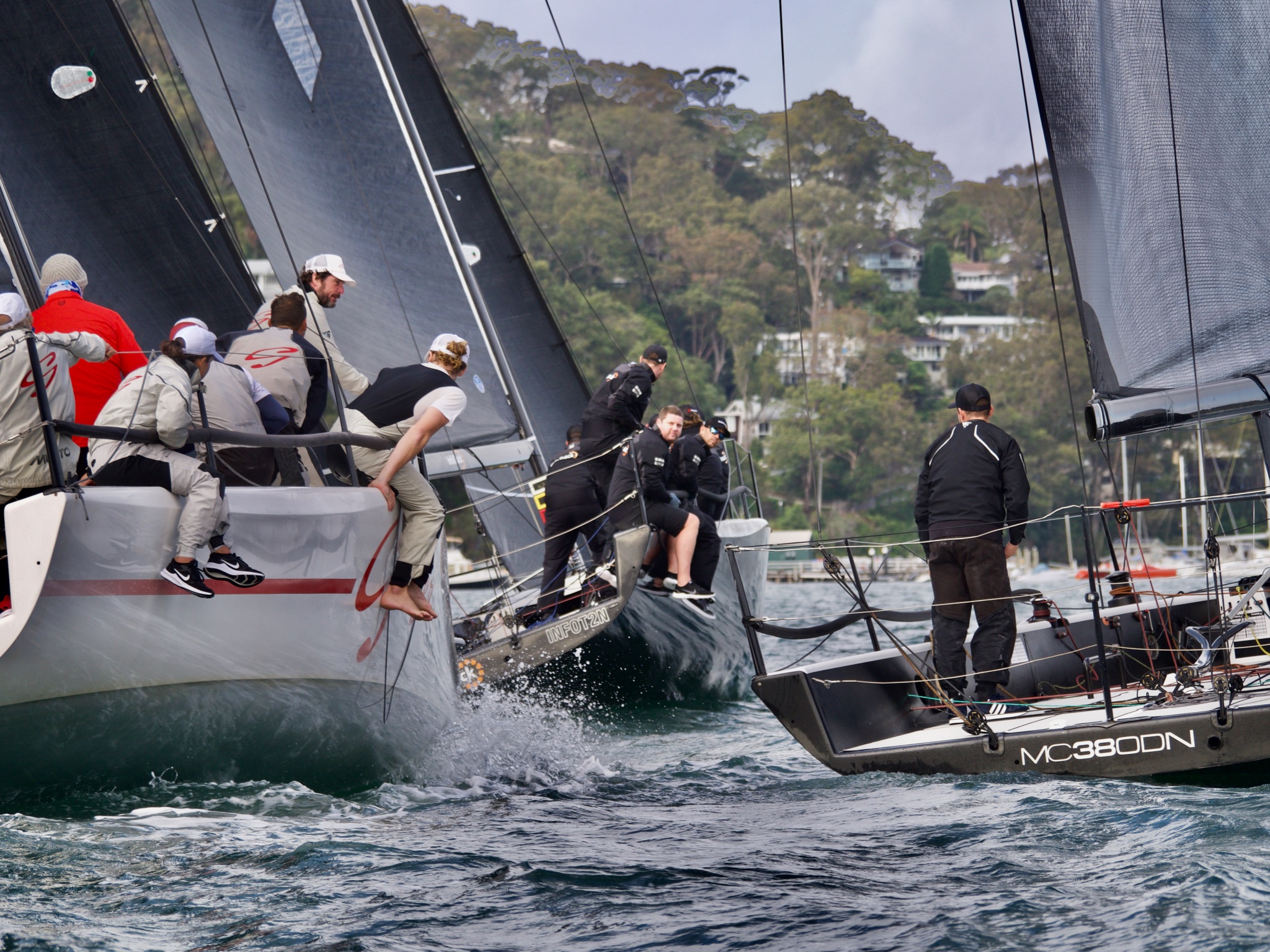 Compressed MC38 fleet. Photo: Tilly McKnight

Sunday's cool 6-10 knot southerlies changed the pace for the strong fleet but not the never-ending fight for placings. An incident at the top gate in the final race saw Ginger's bow sprit end up in Rapid Pay's cockpit, the two boats tangled briefly until crews separated them. Ginger was fouled by umpire Tom Spithill.
Middle Harbour Yacht Club will host Act 5 of the MC38 season July 23-24 on Sydney Harbour before some of the fleet are trucked to the Whitsundays for Hamilton Island Race Week, August 20-27.
The class's championship series will then resume from Middle Harbour Yacht Club the weekend of September 17-18.
Facebook page: https://www.facebook.com/MC38Class
Insta: @mc38aus
Website: https://mc38racing.com/
Report by Lisa Ratcliff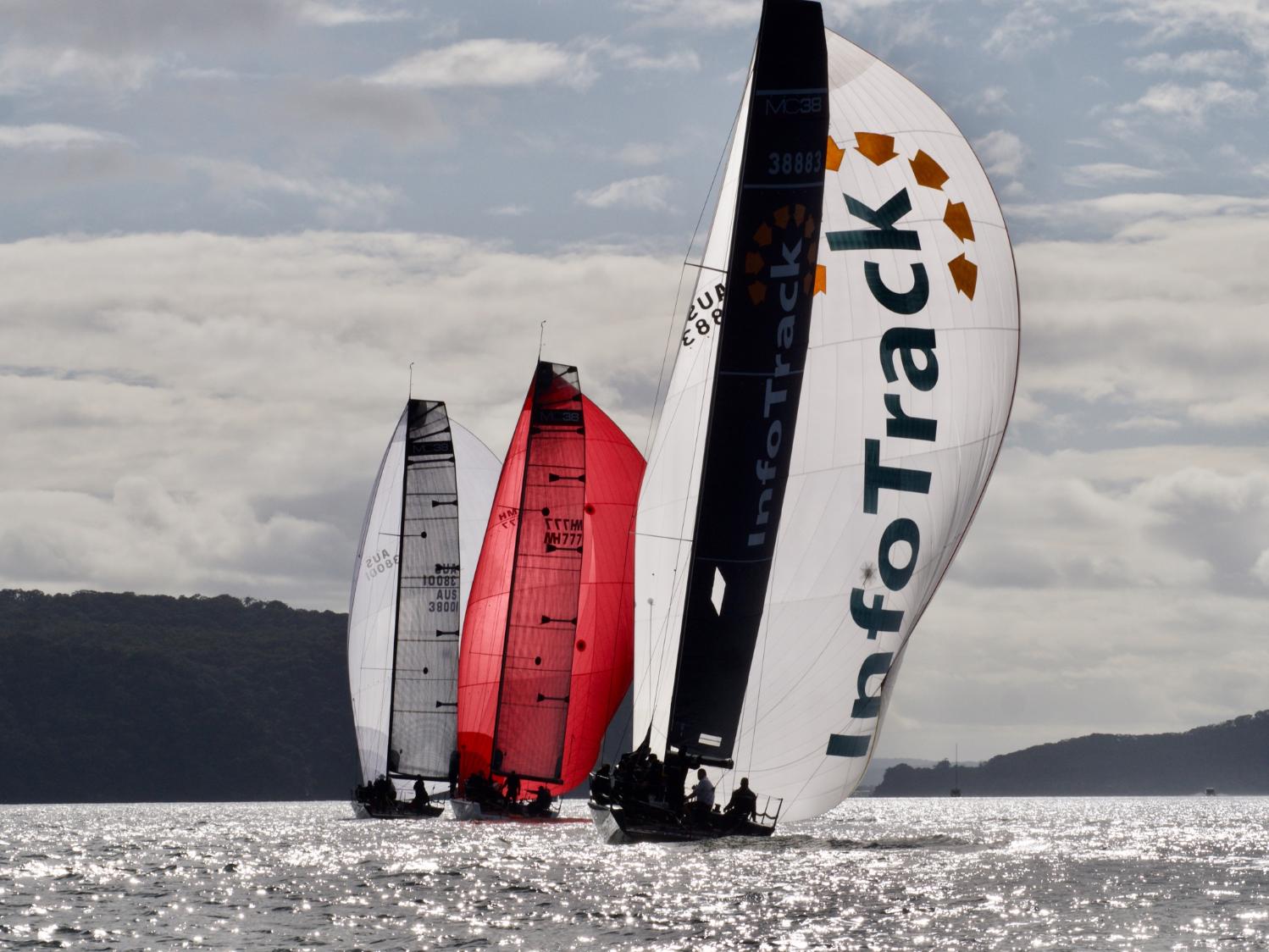 Act 4 on a moody Pittwater. Photo: Tilly McKnight