November 19 - 25, 2017: Issue 338
MC38 2017-18 Summer Series act 2 on Pittwater: hosted by The Royal Prince Alfred Yacht Club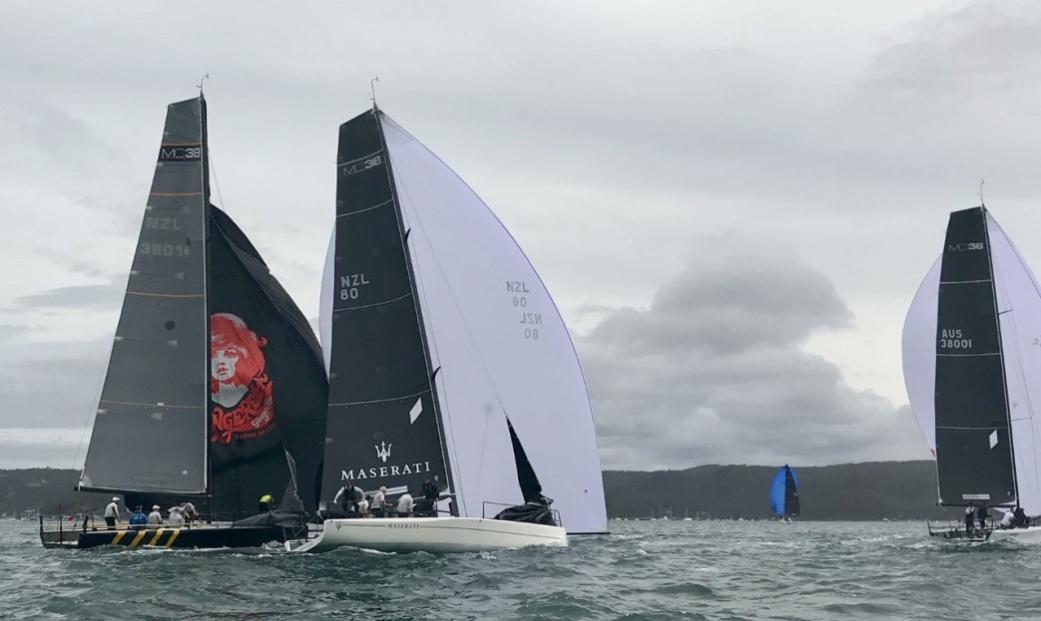 MC38 Summer Series act 2 day 1 Pittwater - photo by Tom Spithill
Hooley Dooley: Hooligan's MC38 Summer Series act 2 first day
November 18, 2017
Event: MC38 2017-18 Summer Series act 2, November 18-19, 2017 on Pittwater hosted by The Royal Prince Alfred Yacht Club
The MC38 Summer Series act 2 opening four races on a gusty grey Pittwater day threw some curly ones into the customary MC38 first-half pointscore.
Resounding North Sails boat of the day and series leader, Marcus Blackmore's Hooligan, has moved into a new performance sphere this season, coinciding with professional tactician Tom Slingsby supporting an already accomplished team.
Neville Crichton's Maserati was on par with Hooligan until the last race of the day when they went polar opposites; a third bullet for Hooligan and a last place for Maserati as "the wheels fell off" admitted tactician Joe Turner. Maserati shifted backwards, joining a three-way points tie with Steve Barlow's Lightspeed and Leslie Green's Ginger, and creating a handy six point buffer for the clubhouse leader.
Patchy Pittwater blew ENE up to 25 knots on the track just north of Scotland Island. "The breeze was anywhere between 15 and gusts of 25 knots and it was actually a really good day," Slingsby commented. "In the big puffs obviously you had to hold on, but in general it was perfect sailing for the MC38s; shifty, flatwater and surfing downwind. We had some good starts and Marcus had a lot of fun. He was right on the ball with his driving."
Slingsby wrapped up the Milson Silver Goblets Etchells regatta on Friday. A quick change of crew shirt and a few more bodies around him and he's part of the Hooligan program the next day. Late next week he heads to Melbourne to sail solo on a Finn at Sail Melbourne.
Speaking on the level of expectation on him these days compared to the program he's just come off - tactician for the defeated Oracle Team USA at this year's America's Cup – the quietly spoken redhead with an Olympic Laser gold medal and AC win in San Fran on his CV says it's a different state of play.
"The thing is I've always got high expectations on myself but yes, when you get off the water and you've had a bad day there's not 100 million people who have been watching. There might have been five or six spectators.
"I enjoy all this, I did it before the AC and long after the AC I plan to be doing this stuff around Australia. I'm trying to get in a lot of sailing."
Turner said today's conditions marked a big comeback to class racing for Crichton, who sat out the last few regattas though Maserati went out with guest drivers.
Chris Way is currently overseas and his boat, Easy Tiger, was helmed by veteran yachtsman Mike Green. Their best result was a second in the longer fourth race.
Three more races are scheduled for Sunday November 19 in a 12 knot easterly, the first due to start at 1100hrs under race officer Steve Merrington and his RPAYC race management team.
Results
Videos from day one posted on the class
Facebook page
.
By Lisa Ratcliff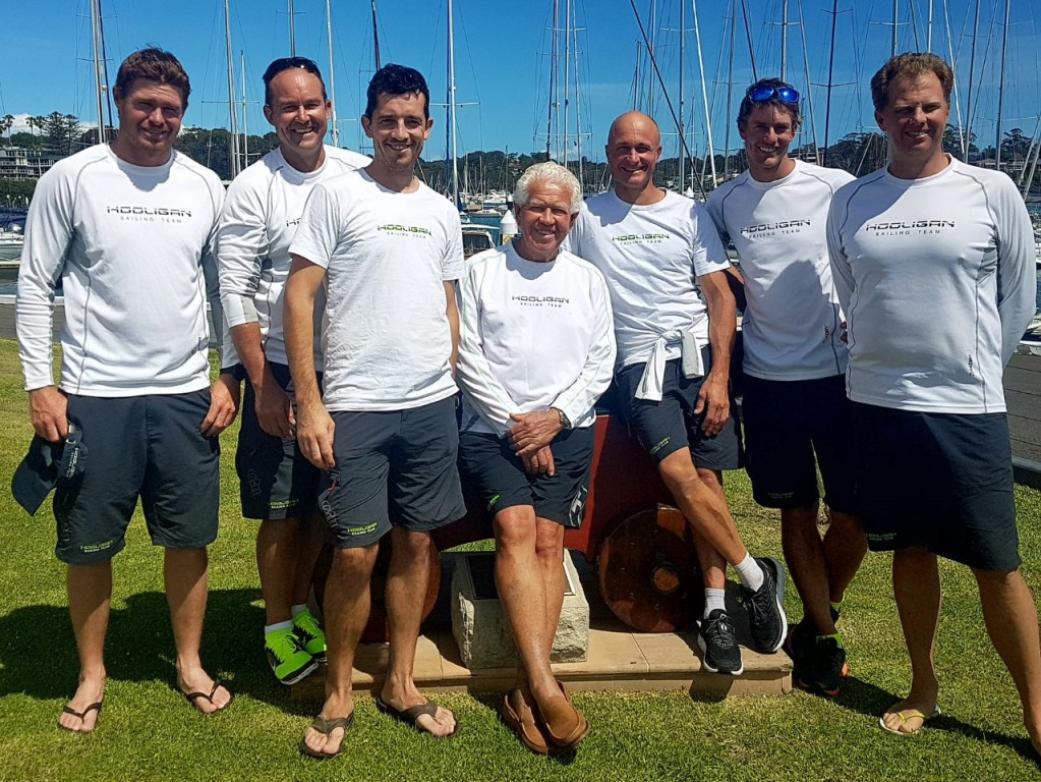 Winning Hooligan crew at RPAYC- photo by Lisa Ratcliff
Hooligan throws the monkey off its back
November 19, 2017
Event: MC38 2017-18 Summer Series act 2, November 18-19, 2017 on Pittwater hosted by the Royal Prince Alfred Yacht Club
Hooligan's unquestionable victory in the MC38 Summer Series act 2 and Steve Barlow's second overall with Lightspeed could mark a new chapter in the class' lifecycle, as the standard across the super competitive one design fleet continues to rise.
Marcus Blackmore recalled what he believes was his last regatta win, Audi Hamilton Island Race Week back in 2012 with his TP52 also called Hooligan. Now the monkey is off his back. "It's my first win in a long time and my first MC38 win after three years trying; it's very satisfying. Most of the crew have sailed with me for some time and that consistency helps a lot.
"It's a great pleasure to have Tom Slingsby at the back of the boat and Will Ryan on main," the skipper added. "It's intense sitting between two Olympians and having them both on my case. I had more on than the first settlers in 25 knots on day one. The class is more even now, and that makes for really good competition. I don't think there's any better one design racing than the MC38s."
At the trophy presentation Blackmore thanked class president John Bacon on behalf of the other owners for the effort he puts in behind the scenes to secure the host clubs, prepare the regatta documents, book the on-water umpires and respond to technical questions. "I'm sure we wouldn't have the class and the racing we do without John Bacon," Blackmore said to appreciative applause.
Easterlies 8 - 12 knots and tricky 30-40 degree shifts at the top gate of the windward/leeward course made it another tough day for the tacticians trying to read the wind. Highlights video by Tilly Lock
www.facebook.com/tillylockmedia/videos
"It was really shifty out there and Seve (Jarvin) was on it; he called some stuff I couldn't see on the water. I've never seen anyone who tries as hard," said a delighted Barlow of his tactician. "Seve just won the Silver Goblets in the Etchells and I've got Sam Newton (Oracle Team USA) doing main." On upping the ante in terms of his crew program Barlow said, "I've got some pretty good troops. I don't want to come last. If everyone else is doing it you've got to lift your game and have the best guys and gear, otherwise you are off the pace."
Lightspeed finished second on the rung, six points off the leader with Neville Crichton's Maserati third, five points from second and split by a countback with Leslie Green's Ginger in fourth overall at the end of seven races.
Prior to racing on Sunday November 19, the two new owners of MC38 Lazy Dog, Shaun Lane and Quentin Stewart from Middle Harbour Yacht Club, met the owner's group at the Royal Prince Alfred Yacht Club at Newport.
For the MC38 class president and owner of Dark Star, John Bacon, and his Dark Star and Melbourne to Osaka race compatriot, David Sampson, it was a hugely satisfying introduction. The pair purchased the boat from Puerto Rico, where it was sitting idle, and shipped it to Sydney prior to Cyclone Irma's devastating effect on the region, in particular its boating community. They banked on finding a new enthusiastic owner who would buy into the dynamic class and instead they've found two!
Lane is a bluewater and club racer who sold his share in a race boat and was looking for something competitive and fast when Stewart suggested looking at the MC class. Lane came across Lazy Dog and put the idea forward, and the response? "It sounded like a lot of fun," Stewart said.
"We aim to get out next weekend and then start working up," Stewart added. "We need to build a crew plus put time into a sail development program. It will take us six months to get the markings on the boat and understand the settings, but by the time the nationals come around in February we should have a boat and crew. In 12-18 months hopefully we'll be doing a good job."
The next time the class meets will be at their MC38 Australian Championship February 23-25 on Sydney Harbour.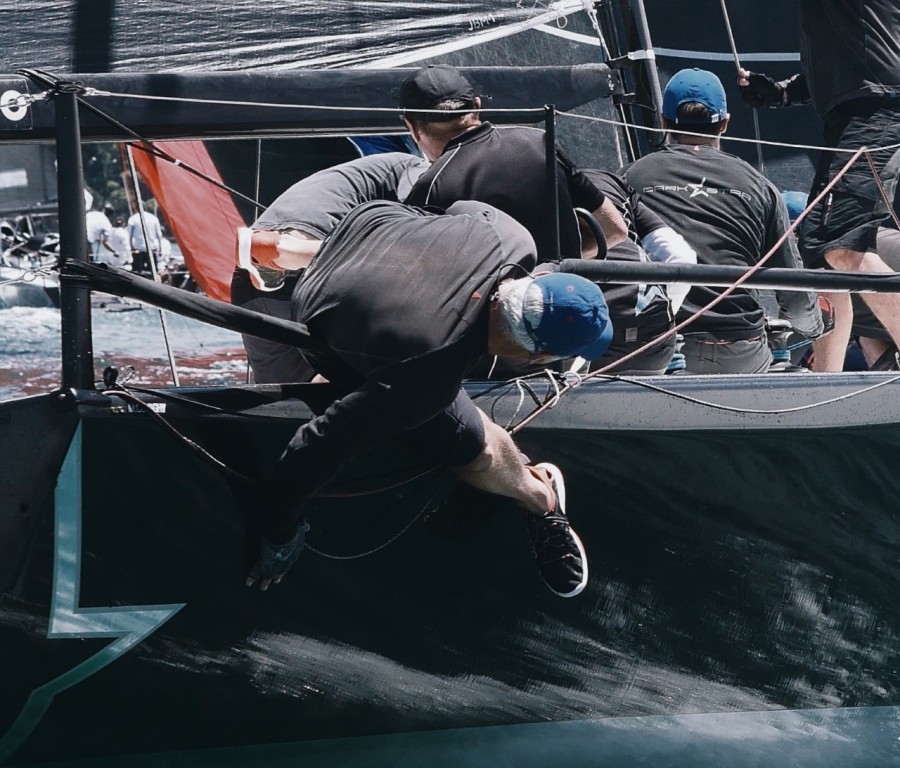 Cameron Miles hiking on Dark Star- photo by Tilly Lock

by Lisa Ratcliff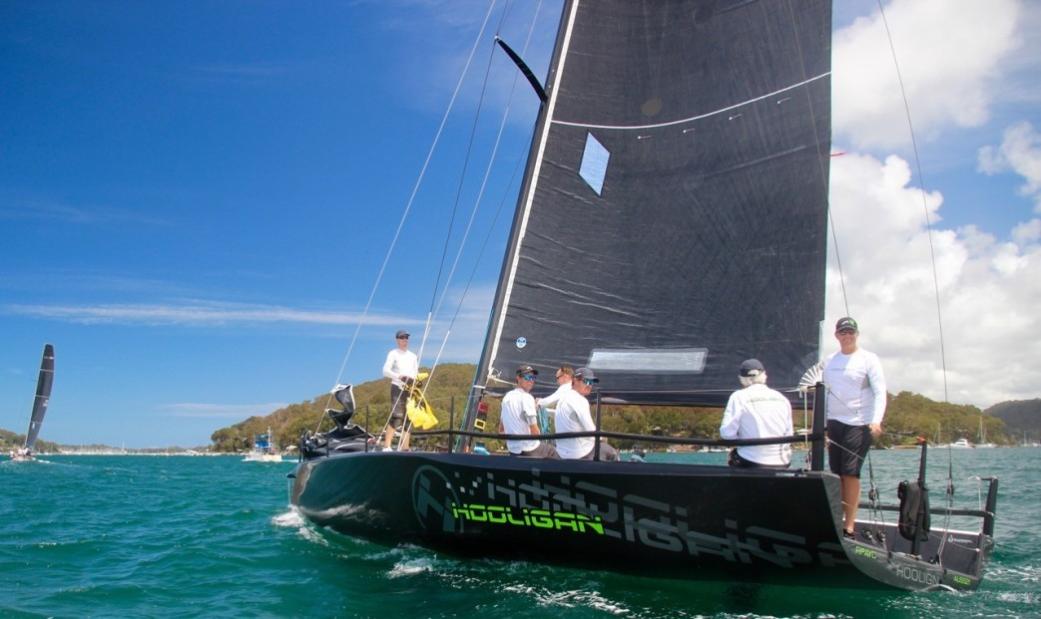 Hooligan takes the winner flag- photo byTom Vincent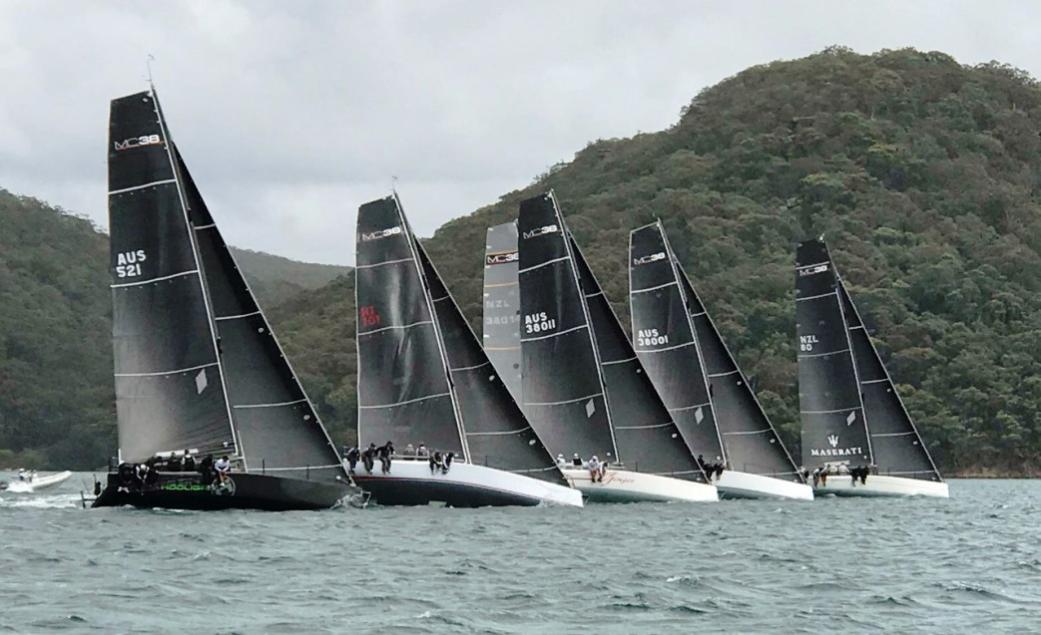 MC38 Summer Series act 2 day 1, Race 1 start on Pittwater - photo by Tom Spithill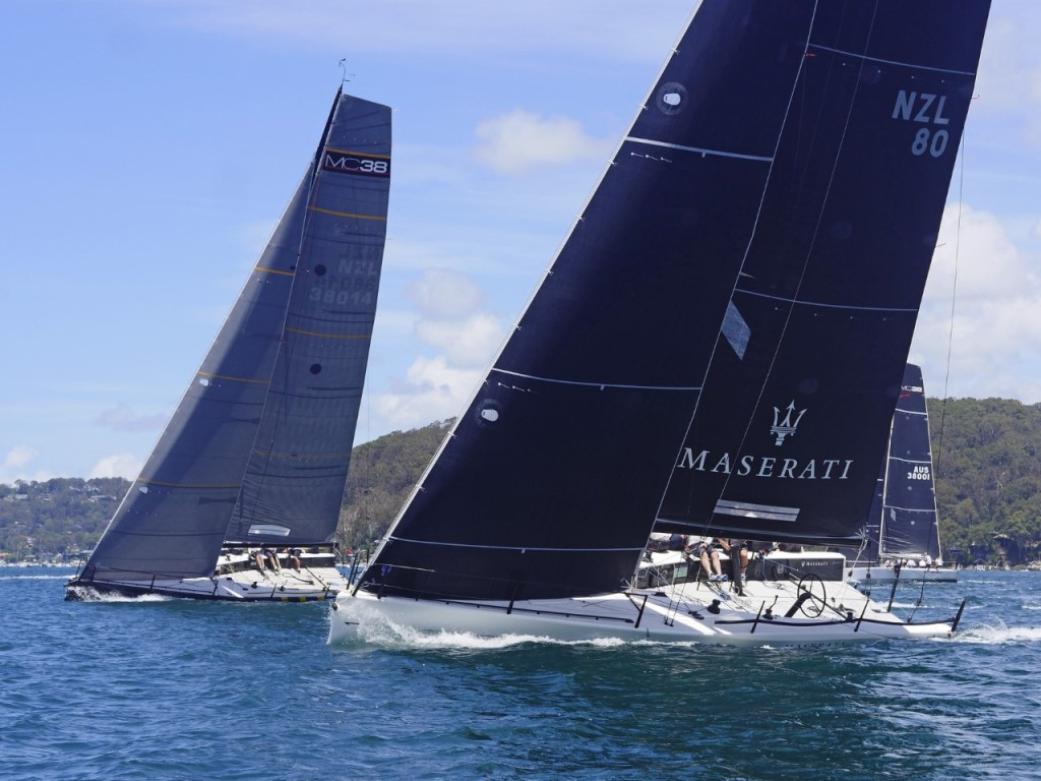 Maserati & Easy Tiger upwind day 2 act 2 summer series - photo by Tilly Lock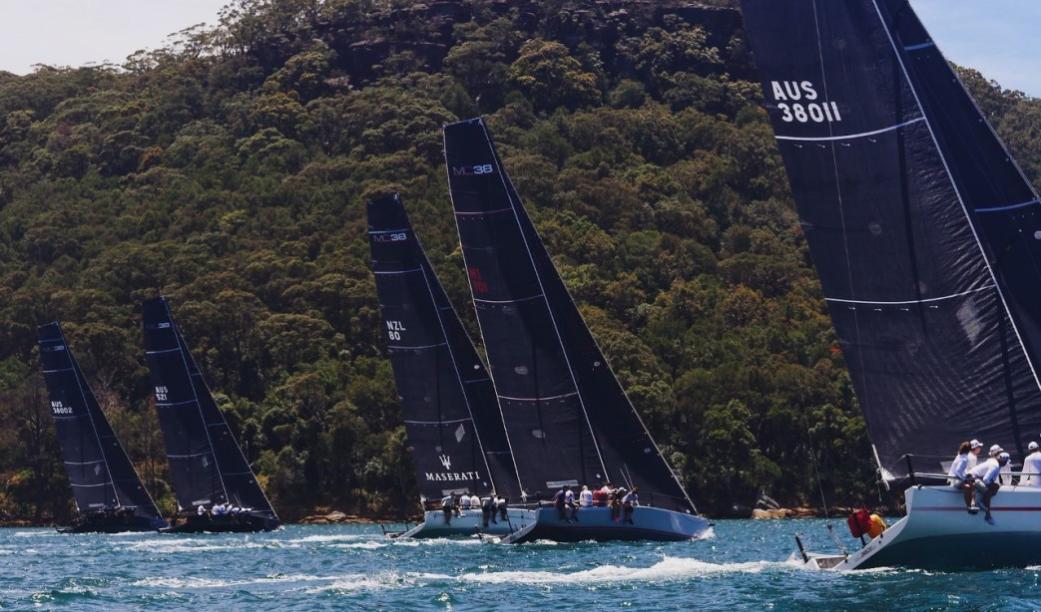 Fleet against the national park - photo by Tilly Lock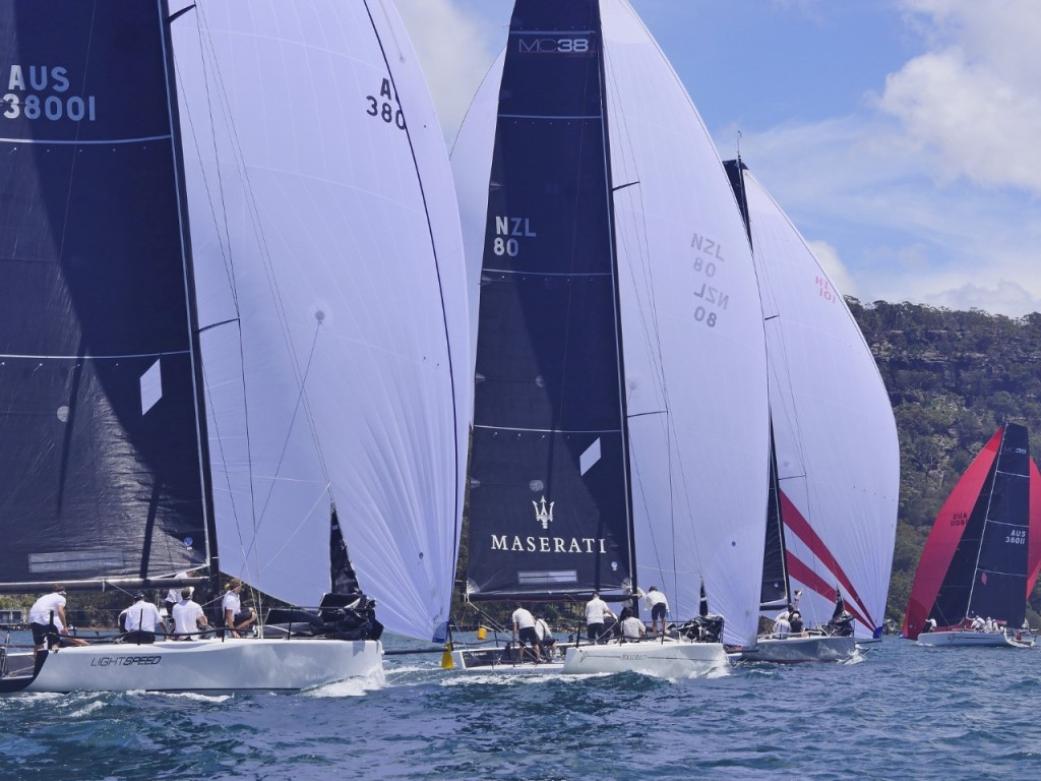 Finish in Morning Bay - photo by Tilly Lock