August 12 - 18, 2018: Issue 371
Masterplan funding for west esplanade precinct: Manly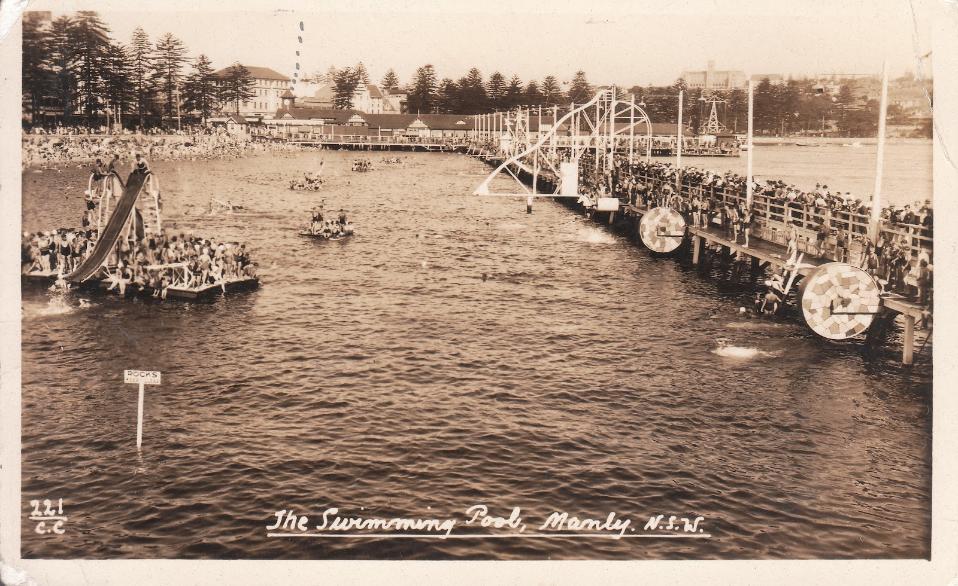 Thursday, August 9, 2018
Funding to support the Northern Beaches Council's development of a masterplan for the West Esplanade Precinct in Manly, including a feasibility study for reinstating the boardwalk and harbour pool, has been provided by the NSW Government, Member for Manly James Griffin announced today.
The project is one of 33 projects across NSW – two in total for Manly – that will share in $2.67 million in grants to provide for the upgrade, expansion, restoration or conservation of locally listed heritage items in towns and suburbs across NSW.
The funding is provided through the Heritage Near Me Activation Grants which target heritage items that are accessible to the public.
"I congratulate Council on their outstanding submission and am delighted to assist them with a $100,000 grant so they can develop their masterplan for the West Esplanade Precinct," Mr Griffin said.
"I understand the plan will include a feasibility study into reinstating the former boardwalk and harbour pool which graced our shores for many years."
The masterplan will also seek to rejuvenate the Art Gallery façade on West Esplanade to showcase Manly's history and heritage.
"I acknowledge the crucial role played by the Northern Beaches Council in managing our local heritage assets and I congratulate Deputy Mayor Candy Bingham who has championed this issue for many years.
"By encouraging the community to use and enjoy our important heritage assets and places we ensure they are valued and protected for future generations."
Northern Beaches Council Deputy Mayor Candy Bingham welcomed the funding for the masterplan.
"The harbour pool and boardwalk was an icon of Manly until it was destroyed by storms in 1974, and is fondly remembered by those of us who are old enough," Cr Bingham said.
"Reinstating a beautiful timber boardwalk connecting the two sides of the cove, from the Wharf to Federation Point, and creating an eco-friendly swimming area will be a real bonus for Manly locals and visitors alike."
Nearly $25,000 has also been provided to the Northern Beaches Council to improve physical and digital access to the historic Manly Cemetery, which includes replacing out-dated cemetery database records and maps with an online search including interactive digital mapping cross referenced to digital images of cemetery monuments for each grave site.
This year marks the third round of Heritage Near Me Activation Grants. Over the three years, a total of $8 million has been awarded to support 107 local heritage projects across the state.
To find out how recipients of previous Heritage Near Me Activation Grant rounds have been protecting, sharing, and celebrating their unique local heritage, go to www.environment.nsw.gov.au/heritage-heroes. To read more about the Heritage Near Me program go to www.environment.nsw.gov.au/heritage-near-me.
From the Office of James Griffin, MP for Manly
Extra
There have been a few schemes and shark-proof pools at Manly over the long long years. A few highlights prior to the 19974 'Sygna Storm' that destroyed the version spoken about above.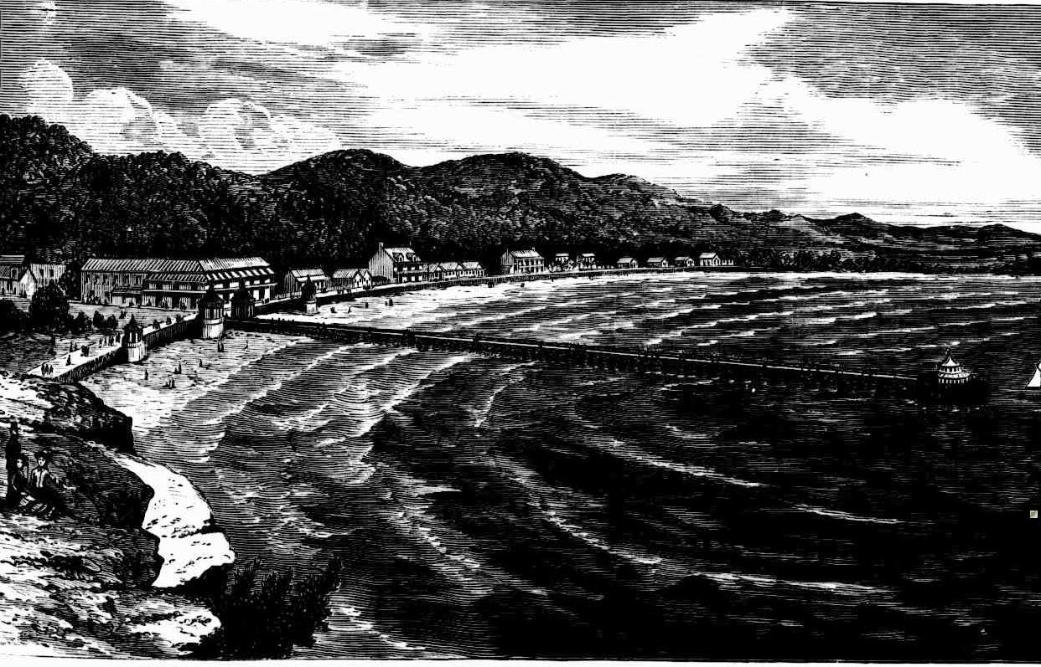 PROPOSED PIER FOR OCEAN BEACH, MANLY.
THE engraving on page 21 shews a design for a proposed Iron Promenade Pier for the Ocean Beach, Manly or Brighton ; this suggestion is made by Mr. F. A. Franklin, OE., as a practical, profitable and simple means of providing further for the recreation of the fast increasing number of visitors to this popular place of resort. And considering the comparative small cost of such an undertaking, with the expense of forming a permanent sea wall and esplanade of the same extent along the beach, there can be but little doubt in the minds of those acquainted with the subject, the scheme is worth the consideration of capitalists and those interested in Manly.
The pier shewn is about 1,000 feet in length extending beyond the broken water, is composed of iron through-out, the piles being of wrought-iron, having all submerged parts protected from the action of sea water, and resting on cast-iron screws 4 feet in diameter ; the piles would be secured longitudinally and. transversely with light iron bracing, reaching from low water level to underside of deck. The outer end of Pier being octagonal in form, gives a diameter of 150 feet, and a height of deck 20 feet above high water level ; from the small resisting surf ace of piles and bracing, the force of waves in ,the most severe easterly weather would have but little or no
effect on the structure.
The octagonal end of the pier would be provided with a comodious pavilion of handsome design, capable of accommodating a large number of persons, havingrefreshment and waiting rooms, band-stand, hot and cold baths, and all the latest improvements adopted by modern experience on the piers of the English and Continental watering places.
The ascertained annual number of visitors to Manly is 156,000, and it is estimated fully 70 per*cent, of these would use the pier, paying a small toll, which. together with the established system' in England of yearly and quarterly subscriptions from residents and visitors would produce a large interest on the cost of the pier besides paying for up-keep and salary of pier-master.
PROPOSED PIER FOR OCEAN BEACH, MANLY. OUR ILLUSTRATIONS. (
1878, April 20
).
Illustrated Sydney News and New South Wales Agriculturalist and Grazier
(NSW : 1872 - 1881), p. 21. Retrieved from
http://nla.gov.au/nla.news-article63334884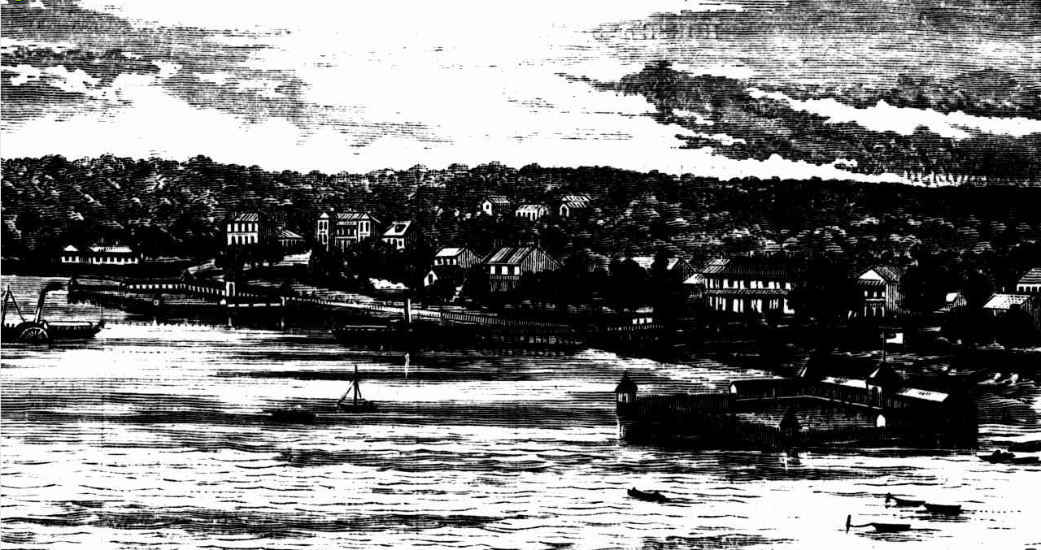 PROPOSED NEW BATHS, INNER BEACH, MANLY.
HINTS TO AGRICULTURISTS AND GRAZIERS. (1878, June 15). Illustrated Sydney News and New South Wales Agriculturalist and Grazier (NSW : 1872 - 1881), p. 20. Retrieved from http://nla.gov.au/nla.news-article63334973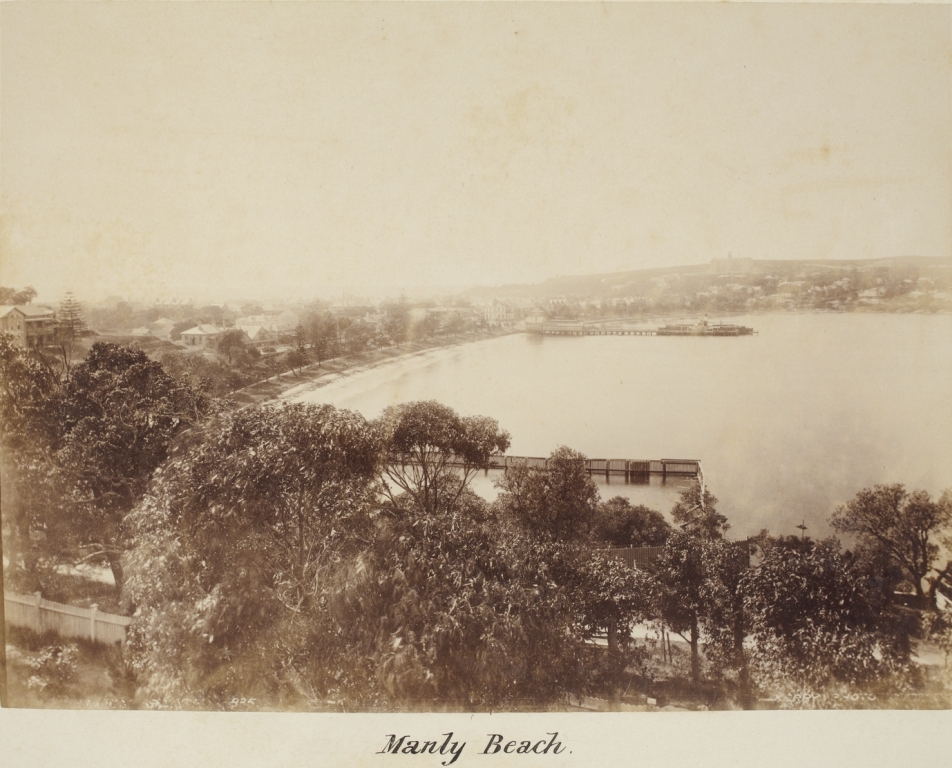 Manly Beach, circa 189? - from Picturesque New South Wales / Kerry & Co., Photo., Sydney. Digital Order Number: a5091010, courtesy State Library of NSW - Notye the 'shark proof' swimming pool!

VANDALISM AT BATHS

: MANLY COMPLAINT
Alderman Samuels stated at Manly Council meeting, last night that vandalism was rampant at Manly Baths. He said that, although the baths were still in the contractor's hands, hundreds of people were bathing there. Last Sunday over 200 people paid for admission. He understood that the council was not receiving any of the admission money, and would like to know who was. He had examined the portion where the club room is situated, and found that every pane of glass in the place had been smashed. Boys were kicking a football about in the room, no one was in charge. The Mayor stated that instructions had been posted up outside the baths warning bathers that they bathed there at their own risk. He promised to make a personal examination of the baths. VANDALISM AT BATHS (
1926, March 17
).
The Sun
(Sydney, NSW : 1910 - 1954), , p. 10 (FINAL EXTRA). Retrieved from
http://nla.gov.au/nla.news-article224058404
NEW MANLY BATHS:

work again held up more money needed
Owing to a dead-lock between the contractor and the architect, no work is being done at present at the Manly Baths," said Alderman Quirk, at the council meeting last night. The council decided to co-operate with the swimming club In making the official opening of the baths worthy of the occasion. The Governor will be asked to perform the opening ceremony after which the swimming club will take charge. The contemplated programme Includes the broadcasting of the official speeches, the attendance of the Manly Band, and the appearance of the sprint and distance champions, Messrs. Doyle and Christie, and the lady champions, Misses Couldwell and Pawley. Invitations will be extended to the residents and secretaries of all affiliated swimming clubs and the local sporting bodies to attend. On Thursday an Inspection of the baths will be made by the works committee, and the architect will be asked to attend.
NEW MANLY BATHS (
1926, August 25
).
The Sun
(Sydney, NSW : 1910 - 1954), , p. 2 (FINAL EXTRA). Retrieved fromhttp://nla.gov.au/nla.news-article222726577
CHARLTON TO SWIM AT NEW MANLY BATHS
The Manly Amateur Swimming Club has received a telegram from "Boy" Charlton, who is at Gunnedah, stating definitely that the champion will appear in an exhibition swim at the opening of the new Manly Baths next Saturday afternoon. After the carnival the swimmers will be entertained at the "Dungowan". CHARLTON TO SWIM (
1926, October 28
).
Evening News
(Sydney, NSW : 1869 - 1931), , p. 6. Retrieved from
http://nla.gov.au/nla.news-article117318755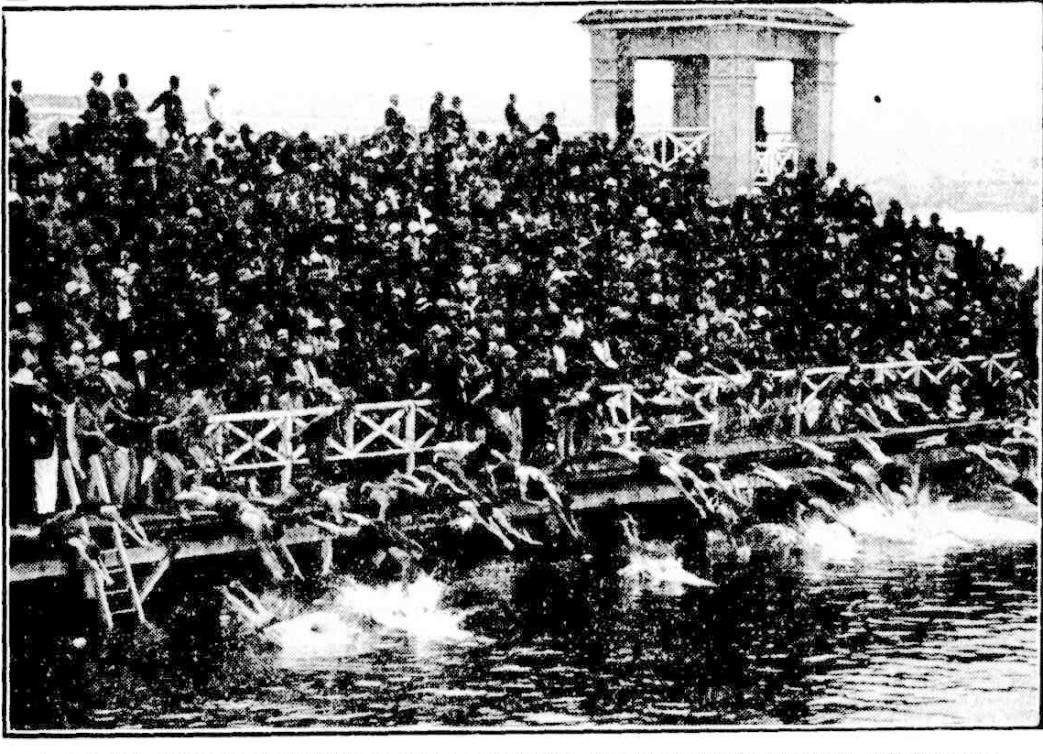 A LARGE CROWD WITNESSED THE OPENING OF THE NEW MANLY- MUNICIPAL BATHS ON SATURDAY. A PICTURESQUE FEATURE WAS THE PLUNGING OF 100
SWIMMERS INTO THE WATER AT A GIVEN SIGNAL. THE NEW MANLY BATHS. (1926, November 1). The Sydney Morning Herald (NSW : 1842 - 1954), , p. 14. Retrieved from http://nla.gov.au/nla.news-article16322835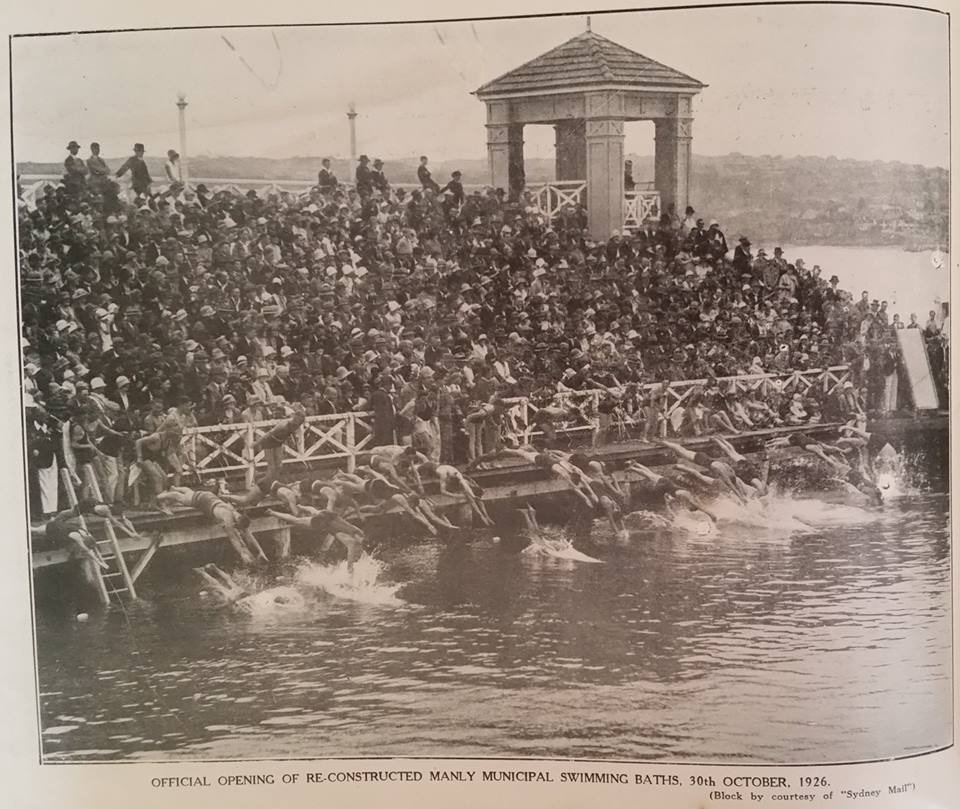 Above is the same image, broader, cleaner, as taken from the Jubilee Souvenir of the Municipality of Manly 1877 -1927 - courtesy Scott Lea, Old Sydney Album page on Facebook.
To celebrate the opening of the new Manly baths by the Mayor (Alderman Keirle) a swimming carnival was held yesterday. Alderman Keirle said that the baths had cost £12,000 to construct. NEW BATHS AT MANLY (
1926, November 1
). Daily Advertiser (Wagga Wagga, NSW : 1911 - 1954), p. 2. Retrieved from
http://nla.gov.au/nla.news-article145258931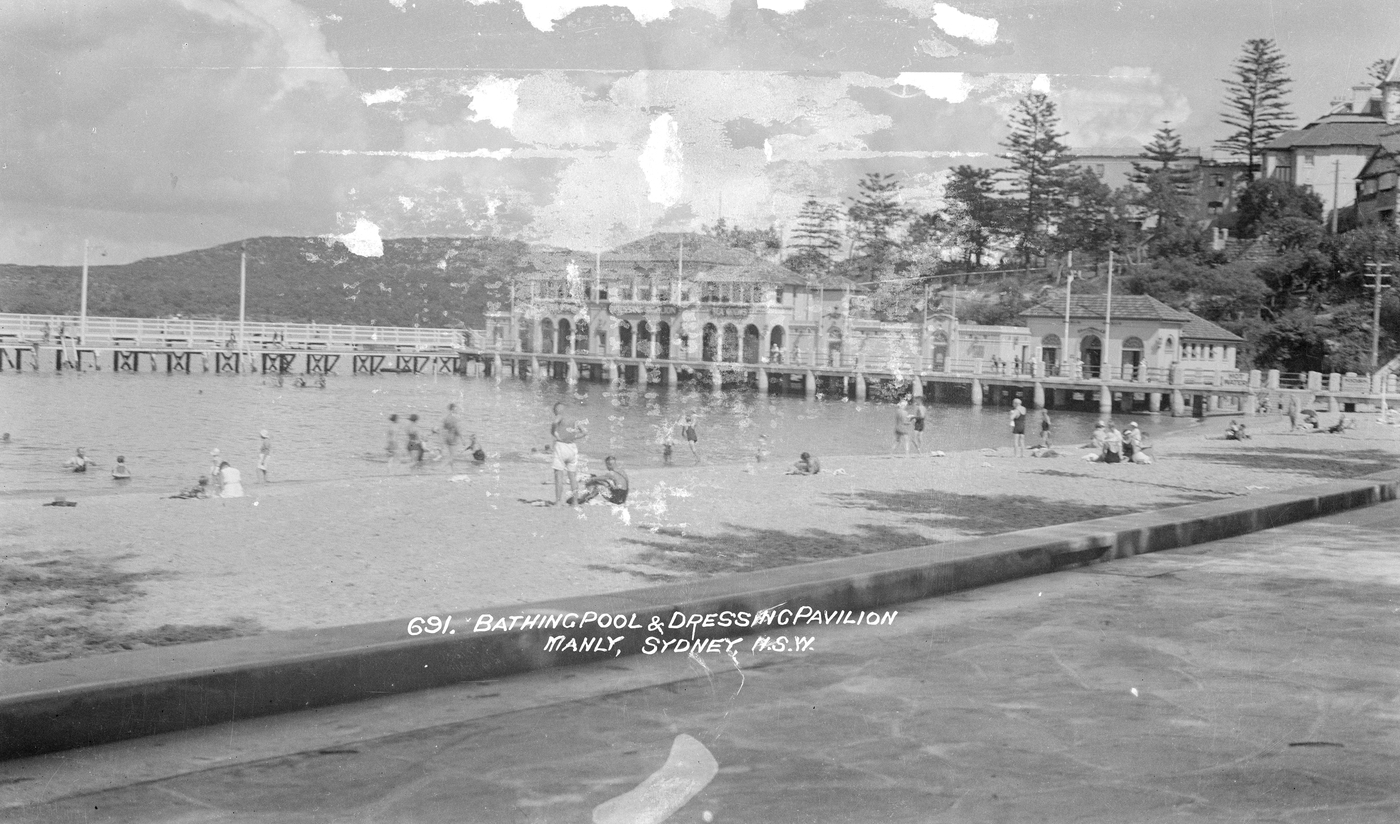 Samuel Wood - postcard photonegatives of Manly and Queenscliff, ca. 1928. Image No: a1470 Online, courtesy State Library of NSW
MANLY PIER PROPOSAL.
The Manly Municipal Council has before it a proposal, which was submitted by the Port Jackson and Manly Steamship Co, Ltd, for an enclosed shark-proof bathing pool and pier promenade at West Esplanade The plan pro-vides for an extension of the existing steamer pier in a northerly direction to a point near Fairlight Pool. On the pier, It is suggested, will be a refreshment kiosk, and from It will depend the shark-proof net. The pier will be about 12 feet wide. A picture of the pro-posed structure appears on page 12.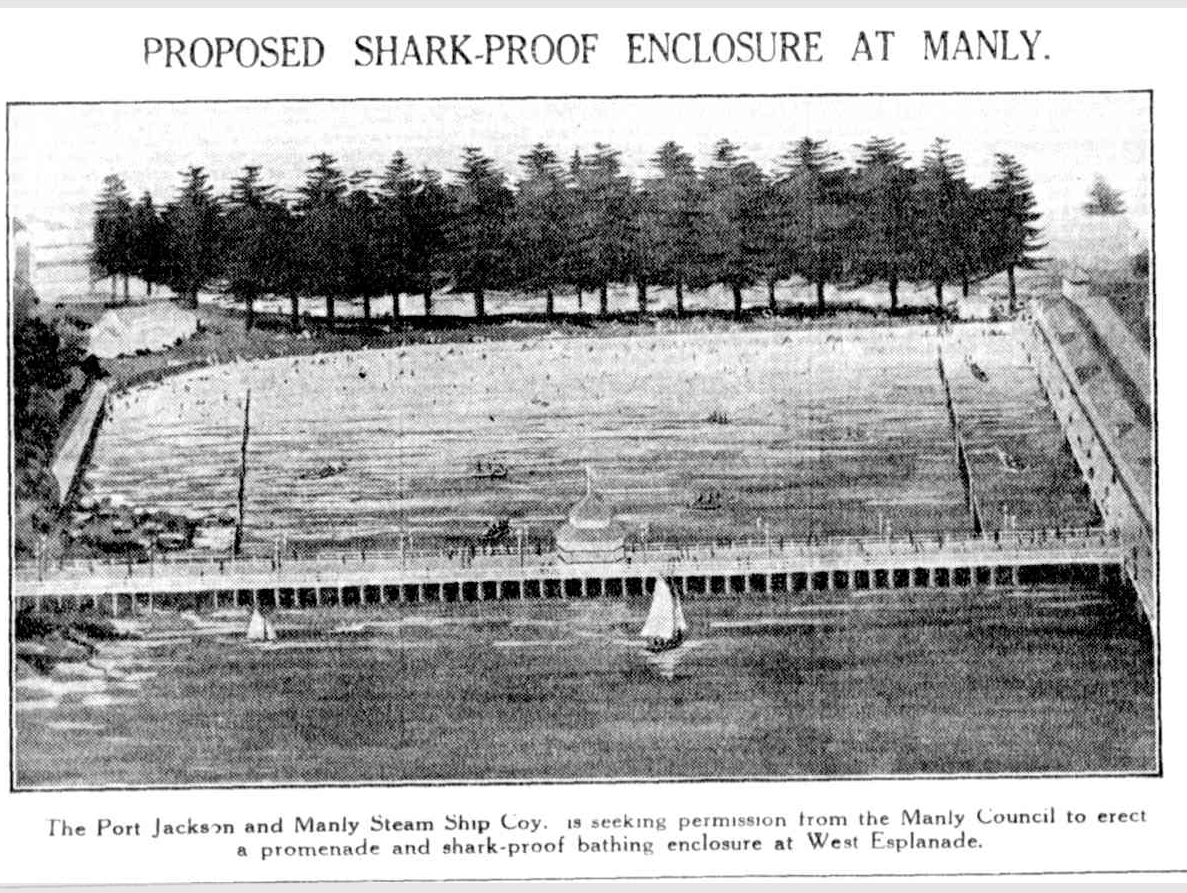 MANLY PIER PROPOSAL. (1931, September 17). The Sydney Morning Herald (NSW : 1842 - 1954), p. 4. Retrieved from http://nla.gov.au/nla.news-article16800178
Few word skirmishes took place then too but the proprietors promise to have it open by Christmas was fulfilled:
MANLY'S NEW POOL
The new Manly shark-proof pool, to which admission is free, was used by big crowds of holiday makers yesterday and today.
Up-to-date dressing accommodation will be available in the New Year, and to this an admission charge will be made. MANLY'S NEW POOL (1931, December 26). The Sun (Sydney, NSW : 1910 - 1954), p. 4 (LAST RACE EDITION). Retrieved from http://nla.gov.au/nla.news-article224280854
TO-DAY - TO-MORROW - SUNDAY.
MAKE EACH A GLORIOUS DAY AT
MANLY BEACH.
14 miles of unrivalled Harbour views-Across Sydney's Famous Heads-Surflng on the Cleanest Beach on the Coast-Picnicking under the cool, shady trees at Fairy Bower-Rock Pool Bathing for Kiddies.
NOW OPEN TO THE PUBLIC.
PORTION OF MANLY'S SHARK-PROOF ENCLOSURE-AN AREA 850 ft. LONG X 230 FT. WIDE IS NOW AVAILABLE FOR PADDLERS AND SWIMMERS ON THE CLEANEST, BRIGHTEST, AND BEST BEACH IN PORT. JACKSON.
ABSOLUTELY FREE-NO CHARGE.
MANLY BAND PLAYS ON OCEAN BEACH ON ALL HOLIDAY AFTERNOONS AND EVENINGS.
TO-DAY (New Year's Day) commencing 11.30 a.m., GRAND SURF CARNIVAL, ALUMNI CLUB, AT MONA VALE. A TEAM COMPRISING AUSTRALIA'S 8 CHAMPION SURF BOARD MEN, GIVE A THRILLING DISPLAY.
Dancing on the Pier this afternoon and evening. Steam Trains for Kiddles, Miniature Golf.
Steamers for MANLY BEACH leave No. 3 Jetty, Circular Quay, every 15 minutes.
FARES: ADULTS, 6d. CHILDREN, ONE PENNY.
(5 years and,under free.).
Advertising (1932, January 1). The Sydney Morning Herald (NSW : 1842 - 1954), p. 10. Retrieved from http://nla.gov.au/nla.news-article16830855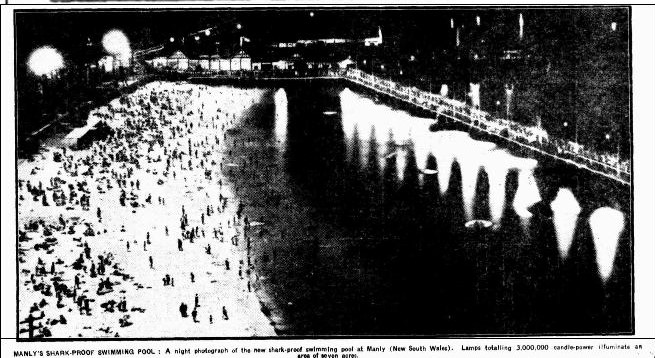 MANLY'S SHARK-PROOF SWIMMING POOL: A night photo graph of the new shark-proof swimming pool at Manly (New South Wales). Lamps totalling 3, 000, 000 candle-power on area of seven acres. Among the Public Schools DARLOT CUP AFTERMATH. (1932, December 22). Western Mail (Perth, WA : 1885 - 1954), p. 18. Retrieved from http://nla.gov.au/nla.news-article37693444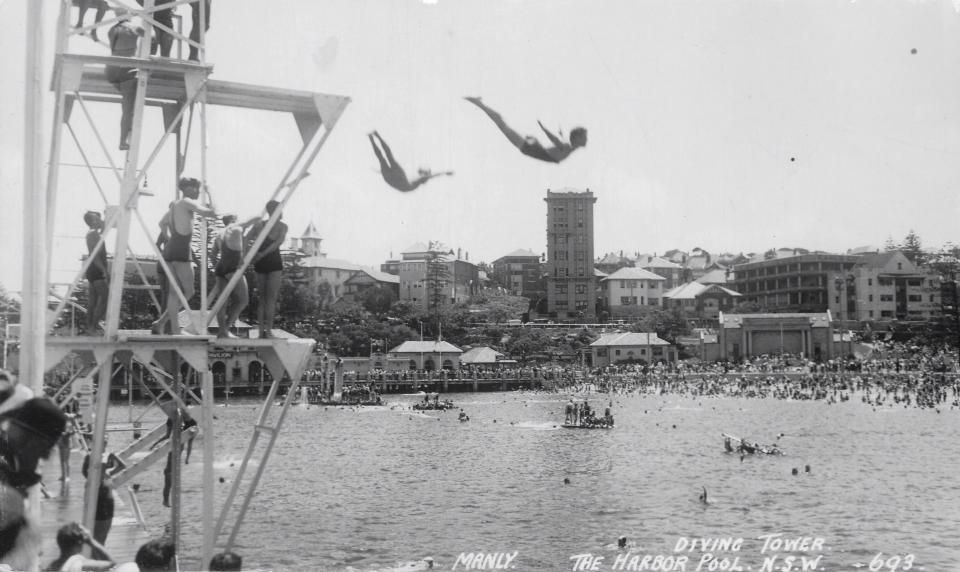 On Sunday 26th of May 1974 a storm alike that we experienced a few years ago recurred:
HOMES. BOATS, BEACHES WRECKED AS GALES LASH COAST. Four deaths in NSW storm (1974, May 27). The Canberra Times (ACT : 1926 - 1995), p. 1. Retrieved from http://nla.gov.au/nla.news-article110780141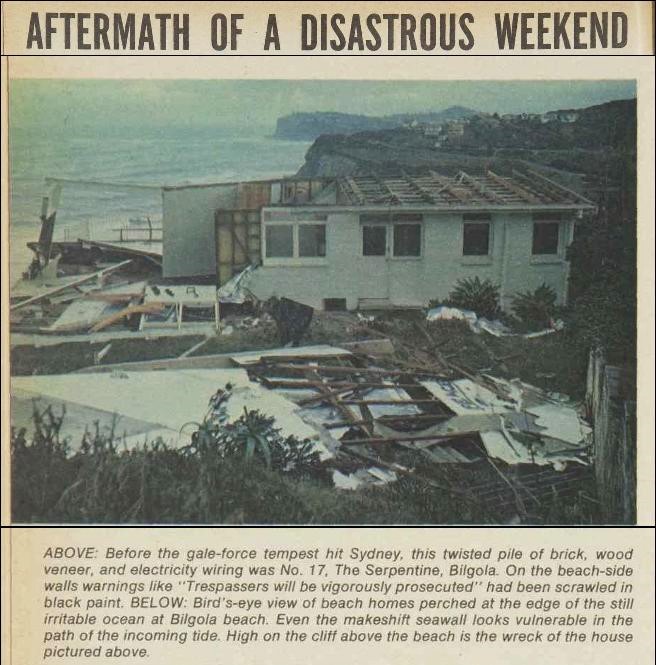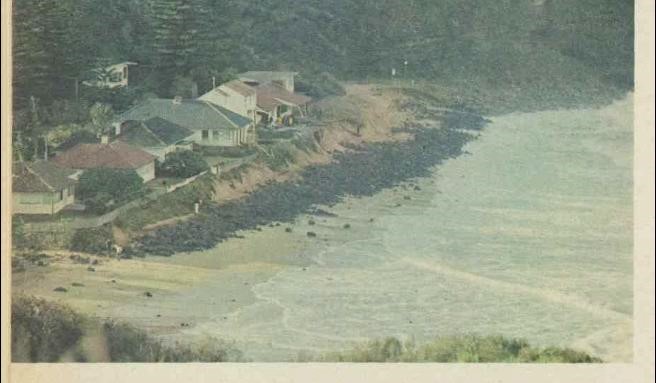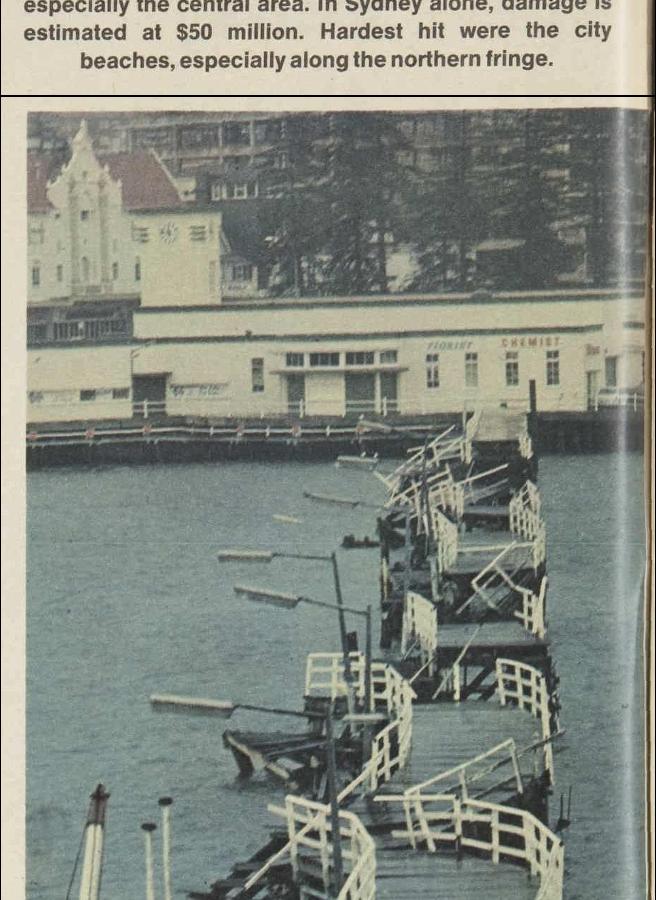 AFTERMATH OF A DISASTROUS WEEKEND (1974, June 12). The Australian Women's Weekly (1933 - 1982), p. 8. Retrieved from http://nla.gov.au/nla.news-article44557918