November 11 - 17, 2018: Issue 383
MANLY MARLINS MAKE THEIR MARK ON MENTAL HEALTH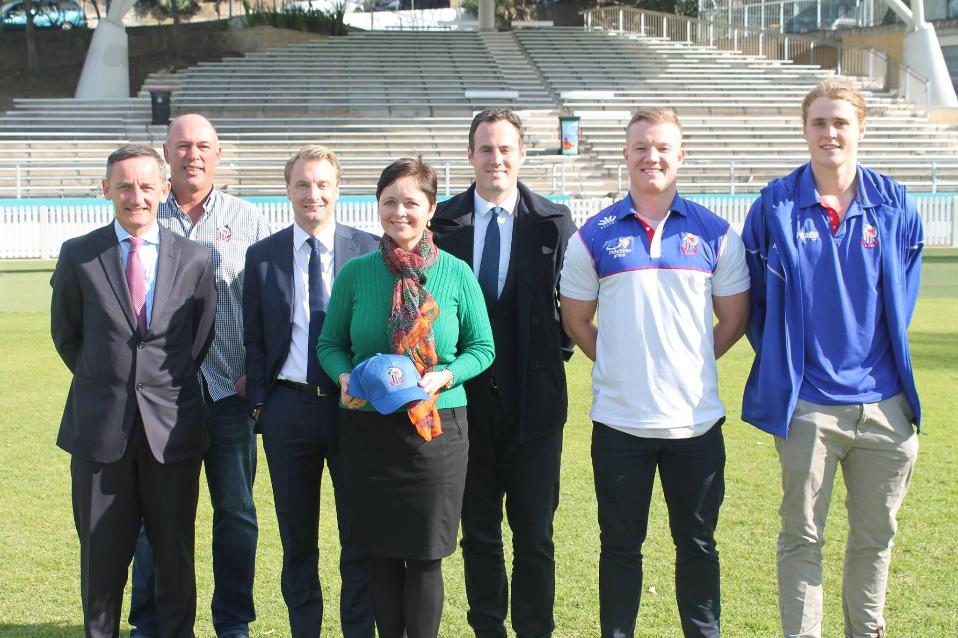 Manly Marlins Rugby Club members with NSW Minister for Mental Health, The Hon. Tanya Davies MP and James Griffin, MP for Manly. Photo supplied.
Member for Manly James Griffin has announced that the Manly Rugby Football Club will benefit from a NSW Government grant to assist in delivering their mental health program to their players, to be rolled out across the club in 2019 after a successful pilot program this year.

Mr Griffin said that the program is an important tool in challenging the stigma of mental health, particularly in young men.
"The Marlins have been at the forefront of addressing mental health in our local community, particularly for young men, and this grant shows the importance that the NSW Government places on reducing mental health stigma," Mr Griffin said.
"Alongside the Minister for Mental Health Tanya Davies, I have seen firsthand the impact these workshops have on the club's players and wider community in encouraging help-seeking behaviour amongst young men in a medium appropriate for them."
Manly Rugby will partner with Tomorrow Man to deliver their mental health program, conducted by professional facilitators who have worked across secondary schools, including Balgowlah Boys High School, amateur and professional sporting clubs as well as in male-dominated work environments in the public and private sector.
"The pilot sessions with our Colts players were especially powerful and we are delighted for the support of the NSW Government in providing the necessary resources to roll out this program across the entire club," Manly Marlins' president Anthony Bergelin said.
"The mental health and wellbeing of our players and members is of paramount importance, and, we are eager to demonstrate to them that support structures are in place for anyone that may be going through difficult times or suffering from mental health related issues."
Minister for Mental Health Tanya Davies said the workshops would provide an opportunity for the club's players to better understand the impact of mental health, and explore how to support themselves and others in times of distress.
"I recently visited Manly Rugby Club and had the opportunity to hear about the work they are doing to improve players' mental wellbeing, and I want to commend James on his advocacy on behalf of this important program," Mrs Davies said.
"It is incredibly important that young people are given opportunities to learn about mental health, which is why we are proud to support initiatives that reduce the stigma around mental health issues and encourage people to reach out when they need help.
Mr Griffin said the discussion and engagement with mental health, particularly amongst sporting clubs, was improving locally.
"I am proud to be Patron of a sporting club that meaningfully engages in mental health among their players and the wider community, and I encourage more clubs on the Northern Beaches to do the same."
The grant supports the outcomes of the Strategic Framework for Suicide Prevention in NSW 2018-2023, which sets out NSW's priorities for further coordinating, integrating and investing in suicide prevention activities, while building on what is already in place.
The Framework starts the journey towards zero suicides in NSW, where 880 people ended their lives in NSW in 2017, and is supported from an additional $90 million over three years for eight new or expanded initiatives.