August 4 - 10, 2019: Issue 415
Australians Secure Winners medals in Molokai to oahu 2019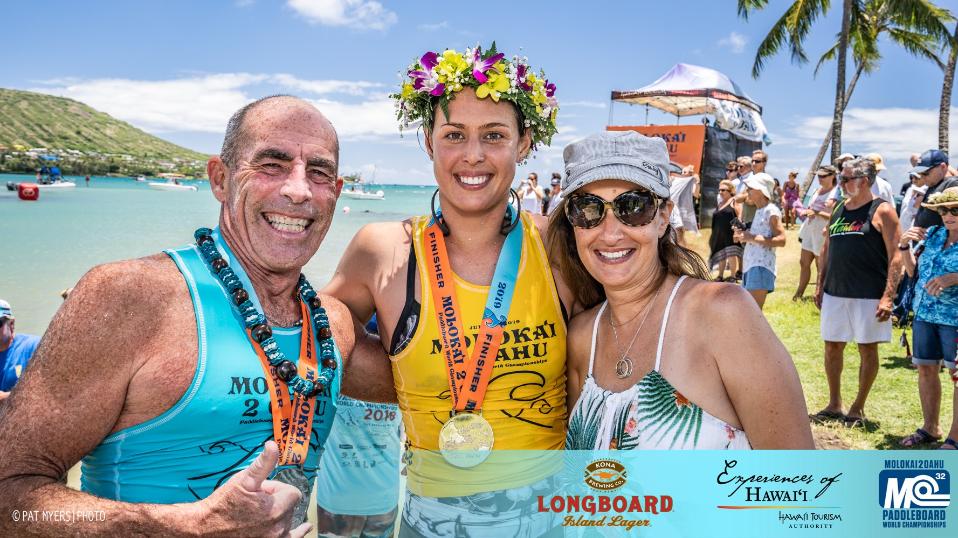 Australian athletes have taken out all top 10 positions in the 22nd Hawaiian Molokai to Oahu Paddleboard race this year with half of those hailing from NSW Surf Life Saving clubs.
The 52-kilometre ocean race across the Ka'iwi 'Channel of Bones' attracts over 200 hardcore competitors from all over the world.
Ironman Matt Bevilacqua has won his fifth consecutive win in the Men's Solo Unlimited Prone Paddleboard and set a new course record of 4 hours 20 minutes, beating his own 2016 record by 10 minutes.
In the stock division, Lachie Lansdown held the lead in what was a back and forth battle between fellow Australian and 2018 champion Stewart McLachlan. McLachlan was able to take the lead in the last leg coming in first at 4:43:23 and Lansdown second at 4:45:23. The previous world record crushed by both athletes from a bar set in 2017 by Stewart (5:02:43).
"This year was hard and it took a lot to get here. I can't believe I stand here knowing that I have made another crossing and won with ideal conditions." McLachlan said.
Stewart McLachlan from Manly LSC won the top title in the 30-39 stock division, his fourth consecutive title. He also broke the five-hour milestone, a personal best for him.
"I really wanted to break five hours this year and I achieved it with 4 hours 43 minutes," said McLachlan after the race. "The race this year was actually very comfortable compared to other years. That said, it's never an easy race."
Meanwhile, 23-year-old Lachie Lansdown had an impressive 2019 race across the channel as he snagged the gold in the Under 29 Men's Stock Prone, with his time of 4:45:23 also setting a new personal best for him.
Fellow Manly LSC Ironman and teammate Harrison Stone won a silver in his own division in the Men's Stock Prone Paddleboard Under 29 category.
Ironwomen Harriet Brown (QLD) and Lizzie Welborn from North Bondi SLSC battled it out for the top spot in the Women's Solo Unlimited Prone Paddleboard. Lizzie led for much of the race but Harriet dug deep in the final three kilometres of 'flatwater' and passed her to finish first – her third straight win. Harriet set a new course record of 4 hours 50 minutes.
"I looked in front of me and thought, how can I do this, everything hurt and Lizzie had a strong lead. But I made it, and I'm so proud of both myself and Lizzie. The channel takes everything and gives you everything back at the same time" Harriet said.

After finishing third overall in the Unlimited division in 2018, Newport SLSC's Maddie Spencer returned to the Stock division and nabbed a silver in 2019.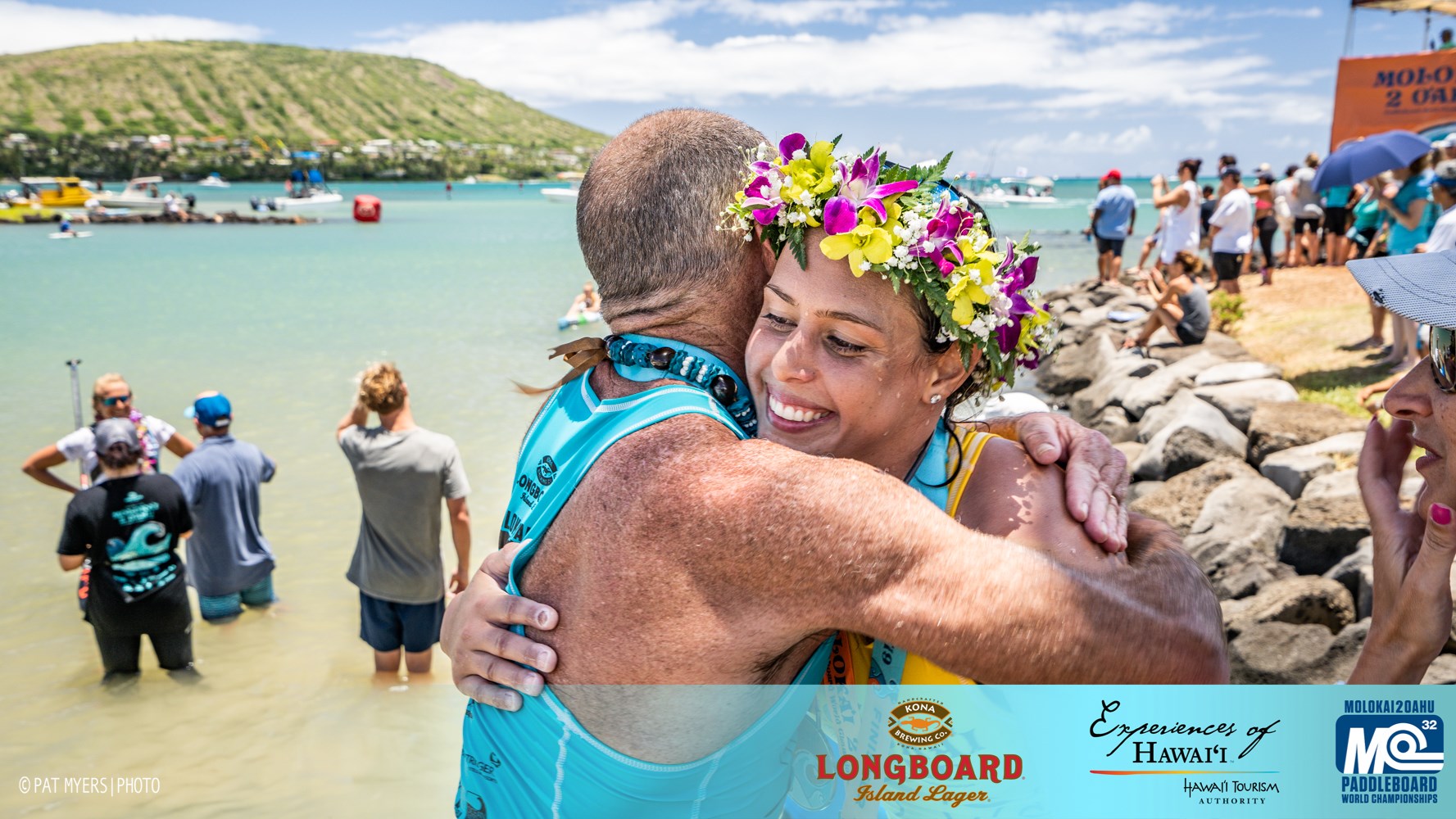 Madison Spencer and Nick Carroll - Newport SLSC
Nick Carroll from Newport SLSC took out first place in the Men's 100+ teams' event with team mate Gavin Hill from BMD Northcliffe SLSC, QLD. Racing together for the first time, they set a new record of 5 hours 21 minutes. Carroll, who was competing in his seventh event, said that conditions were almost perfect with "healthy winds and relatively normal trade-wind swells".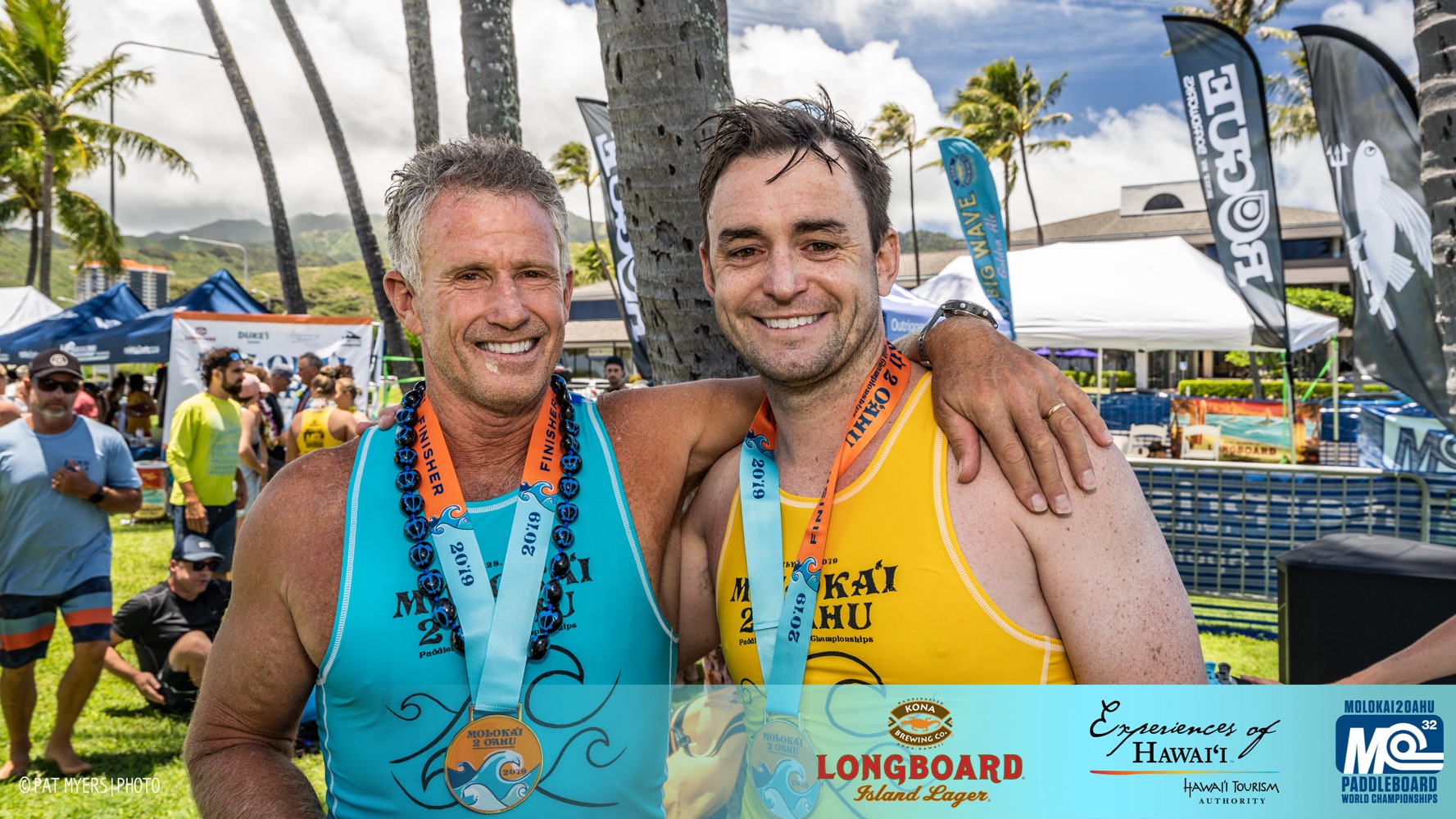 Molokai 2019: Gavin Hill and Matt Bowbridge (right) - more Team Australia

"We pushed it hard and fast from the start of the race because we knew a nasty current would form at the South East corner of Oahu early in the afternoon. It can push you backwards if you're too slow getting across the channel." said Carroll.
Carroll said that Australia's dominance in the event was unsurprising given the culture of surf clubs in Australia and the board skills and training opportunities available to lifesavers from a young age.
Surf Life Saving NSW congratulates all our surf sport athletes who competed in the Molokai to Oahu Paddleboard race.
Overall 41 Australians competed in this year's Molokai. Results here.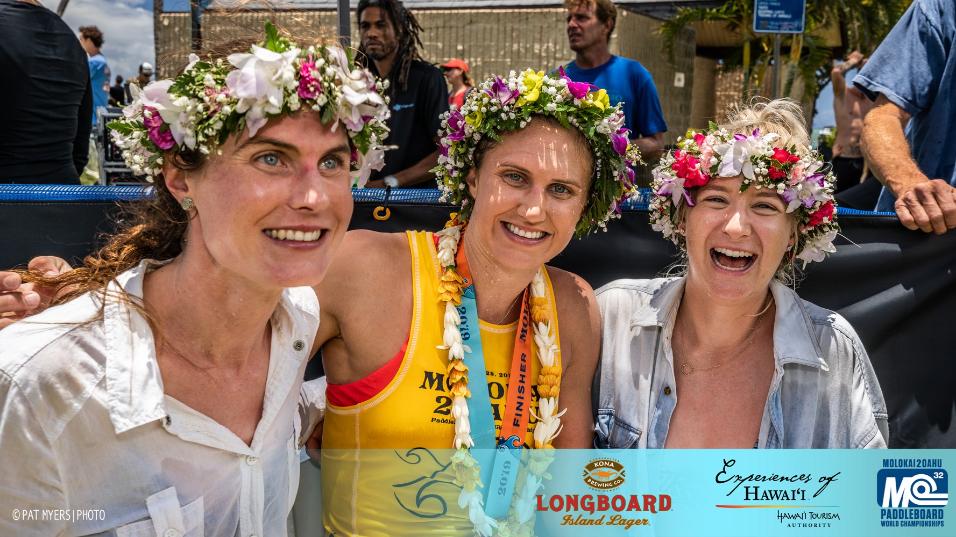 Australian Ironwomen Harriet Brown and Lizzie Welborn (left and middle)