September 11 - 17, 2022: Issue 554

Local Surfers Win Placings In First Woolworths Surfer Grom. Comp For 2022 At Kiama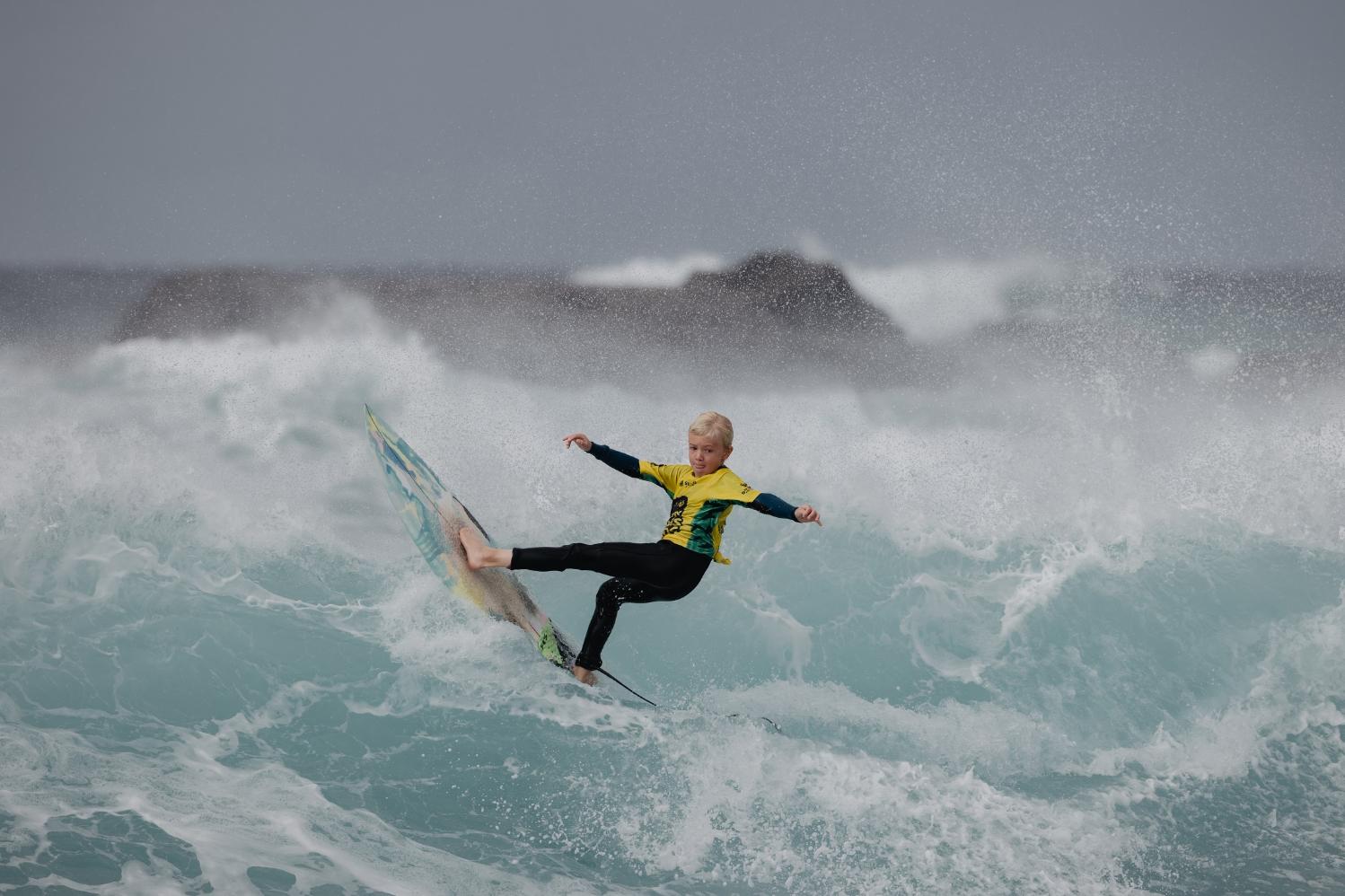 Maverick Macgugan (Avalon Beach) in action. Photo by South of the Bridge Images
The first NSW Woolworths Surfer Groms Comp Series got underway last weekend, September 3-4 2022, in challenging, cold and windy conditions at Jones Beach. All up six local surfers secured places in the results; the Under 14 Boys 1st place was secured by Sullivan Tucker (Freshwater), the Under 10 Boys 1st place was won by Maverick Macgugan (Avalon Beach), while Under 10 Girls saw Mila Grainger (Newport) secure 2nd, Jacques Callebaut (Freshwater) was Under 12 Boys 2nd, and a 4th for Nixon Vaughan (Avalon) in the Under 10 Boys and a 4th for Kaoni Aguiar in the Under 12 Boys.
A brilliant start to their 2022/2023 Surfer Grom comps.
The challenging surf proved no feat for some of the youngest competitors with the Under 10 parental assist making the most of the 2-4 foot wind affected conditions. Maverick Macgugan (Avalon) got his campaign underway early by keeping the judges busy.
Ty Campbell (Barrack Point) led the charge for the Under-14 Boys finding a wave that allowed him to open up with a series of back hand manoeuvres to drop a 6 point ride, to progress on through into the quarter finals.
Gracie Ball (Maroubra) performed one of the upsets of the day defeating the local defending champion Lucy Darragh. Gracie impressed the judges with her stella power carves, both Gracie and Lucy progressed on through to the Semi Finals which will be held Sunday morning.
The elite event saw male and female surfers competing in four different age divisions, starting at Under-8's right through to the Under-14's and will be the first event of the series run in the state this year.
Regarded as one of the major steppingstones in the development of young Australian surfers, the 10-event Woolworths Surfer Groms Comps series caters for surfers from Under 8 to Under 14 and will be held in New South Wales, Queensland, Victoria, Western Australia, Tasmania and South Australia over Spring and Summer.
A northern beaches competition in the rounds is scheduled to be held over the weekend of October 15th-16th.
As an added bonus, the respective winners of the Under 14 boys' and girls' divisions from each event will receive an invite to attend an all-expenses-paid, three-day Woolworths Surfer Groms Comps National Final Surf Camp, (1-day coaching clinic, two days of competition and heat analysis coaching) at the Surfing Australia High-Performance Centre (HPC). For the South Australian, Victorian and Tasmanian events, the Woolworths Surf Camp prize will be awarded to the highest place Under-14 Boy and Girl who reside in that respective state.
On Sunday, Father's Day 2022, September 4th, Kiama came alive as the Woolworths Surfer Groms Comps saw all champions crowned in two-to-three foot conditions at Werri Beach.
Local surfer Alice Hodgson (Kiama) started the final with an impressive 8.17 before backing it up moments later with a 5.67. From there she was no match for defending champion and friend Lucy Darragh (Gerringong).
Fellow South Coast surfer Taylor Bartlett (Manyana) followed the same pattern as Darragh in the Under 8 mixed division final, taking a win for the south coast. Bartlett scored an impressive 8.67 one wave in his first final before backing it up with a 7.5.
Sullivan Tucker (Freshwater) will be heading back to the Northern Beaches with a massive grin on his face as he notched up two excellent scoring waves to gain the upper hand against his fellow finalists in the Under-14 Boys. Sullivan finished the final one of the most impressive totals of the day with a solid 17.83heat total to claim the title.
Jaggar Phillips (Maroubra) made his presence felt in the Under-12 division, taking wins in every one of his heat en route to the final where he claimed the heat with a 16.00 two-wave total. Jaggar smashed out an array of powerful backhand snaps and carves in the final to take the win.
Over 80 competitors surfed in the event.
Results
Under 8 Mixed
1st- Taylor Bartlett (Manyana)
2nd Sani Hellman (Ulladulla)
3rd Aidan Rowlands (Barrack Point)
4th Maya Everitt (Werri Beach)
5th Holly Walker (Kiama Downs)
Under 10 Girls
1st Everly Morgan (Milton)
2nd Mila Grainger (Newport)
3rd Alani Morris (Shelly Beach)
Under 10 Boys
1st Maverick Macgugan (Avalon Beach)
2nd Reko Moltzen (Boomerang)
3rd Noah Kornek (Austinmer)
4th Nixon Vaughan (Avalon)
Under 12 Girls
1st Kendall Payne (Gerringong)
2nd Olive Morriss Avoca Beach)
3rd Pearl Eaton (Lilli Pilli)
4th Everly Morgan (Milton)
Under 12 Boys
1st Jaggar Phillips (Maroubra)
2nd Jacques Callebaut (Freshwater)
3rd Omar Moltzen (Boomerang)
4th Kaoni Aguiar (Northern Beaches)
Under 14 Girls
1st Alice Hodgson (Kiama)
2nd Lucy Darragh (Gerringong)
3rd Mia MacMahon (Norah Head)
4th Ivy Morriss (Shelly Beach)
Under 14 Boys
1st Sullivan Tucker (Freshwater)
2nd Ronan Ball (Maroubra)
3rd Malakai Carson (Old Bar)
4th Joe Rocco Sommerville (Wollongong)
Woolworths Surfer Groms Comps 2022 Schedule:
EVENT 1 - Kiama, NSW - Sept 3 - 4, 2022
EVENT 2 - Coffs Harbour, NSW - Sept 10 - 11, 2022
EVENT 3 - Gold Coast, QLD - Sept 24 - 25, 2022
EVENT 4 - Fleurieu Peninsula, SA - Oct 1, 2022
EVENT 5 - Northern Beaches, NSW - Oct 15 - 16, 2022
EVENT 6 - Clifton Beach, TAS - Oct 29, 2022
EVENT 7 - Torquay, VIC - Nov 12 - 13, 2022
EVENT 8 - Trigg, WA - Nov 19 - 20, 2022
EVENT 9 - Cronulla, NSW - Dec 3 - 4, 2022
EVENT 10 - Sunshine Coast, QLD - Dec 10 - 11, 2022
Report by Surfing NSW, Photos by South of the Bridge Images.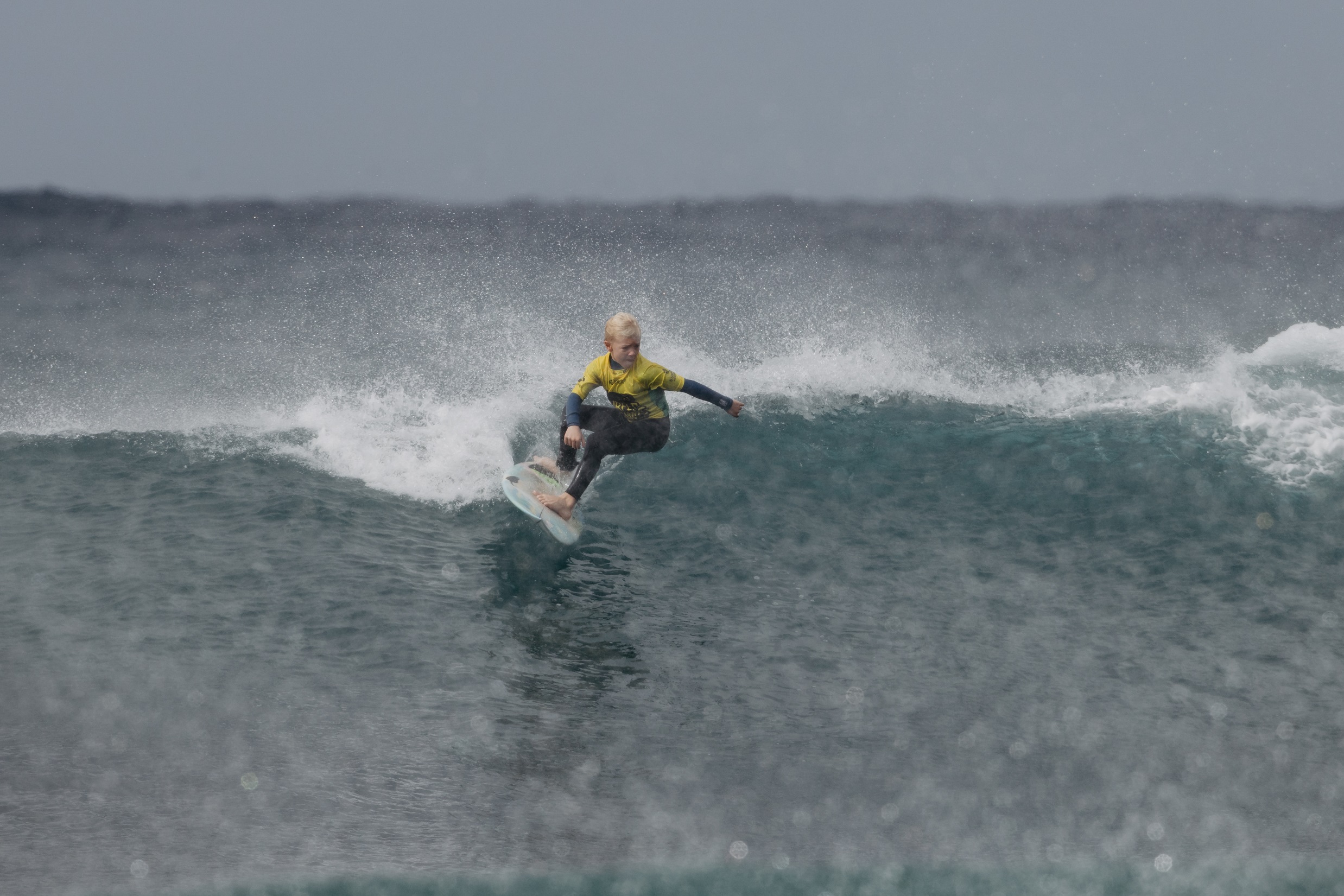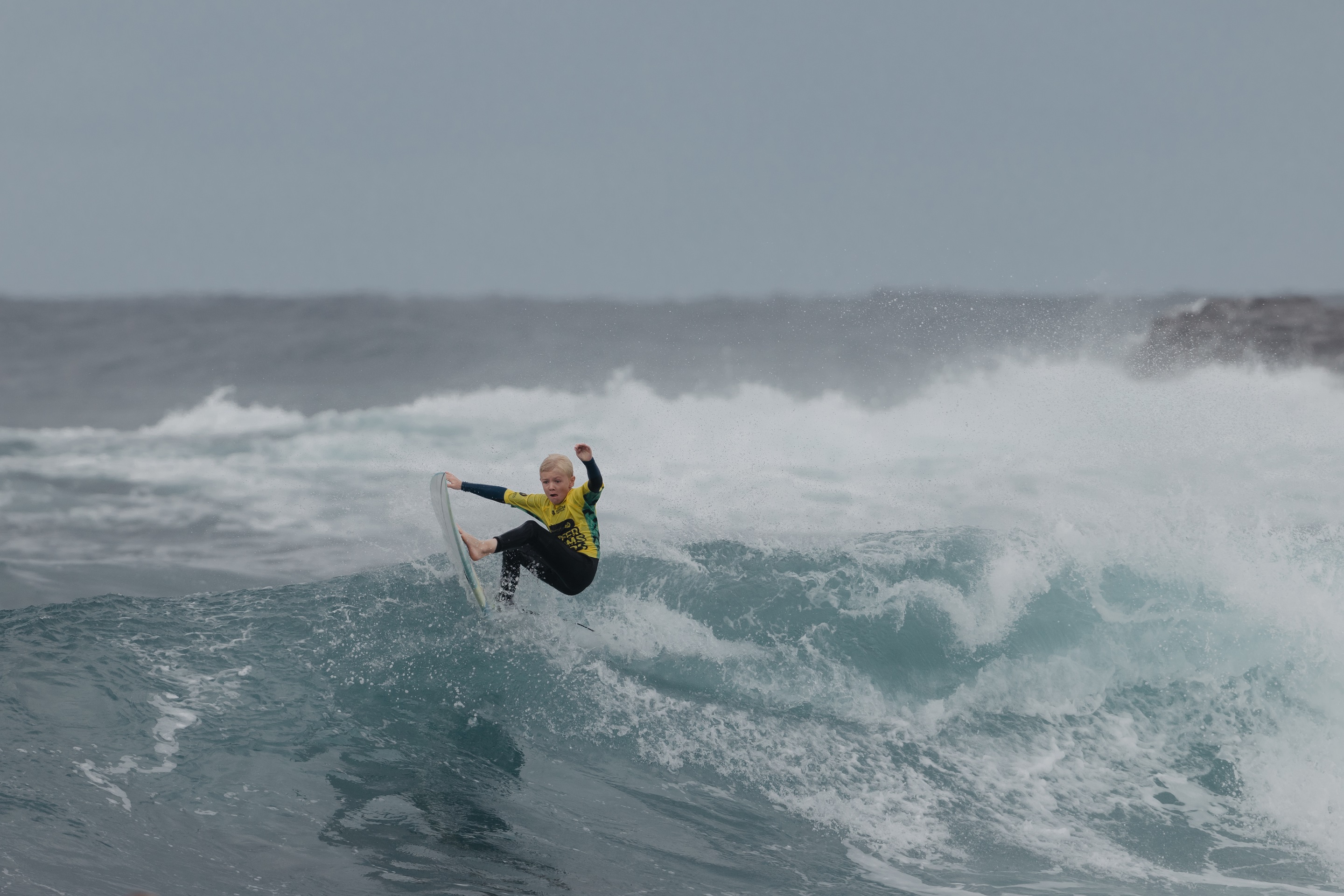 Maverick Macgugan (Avalon Beach) in action.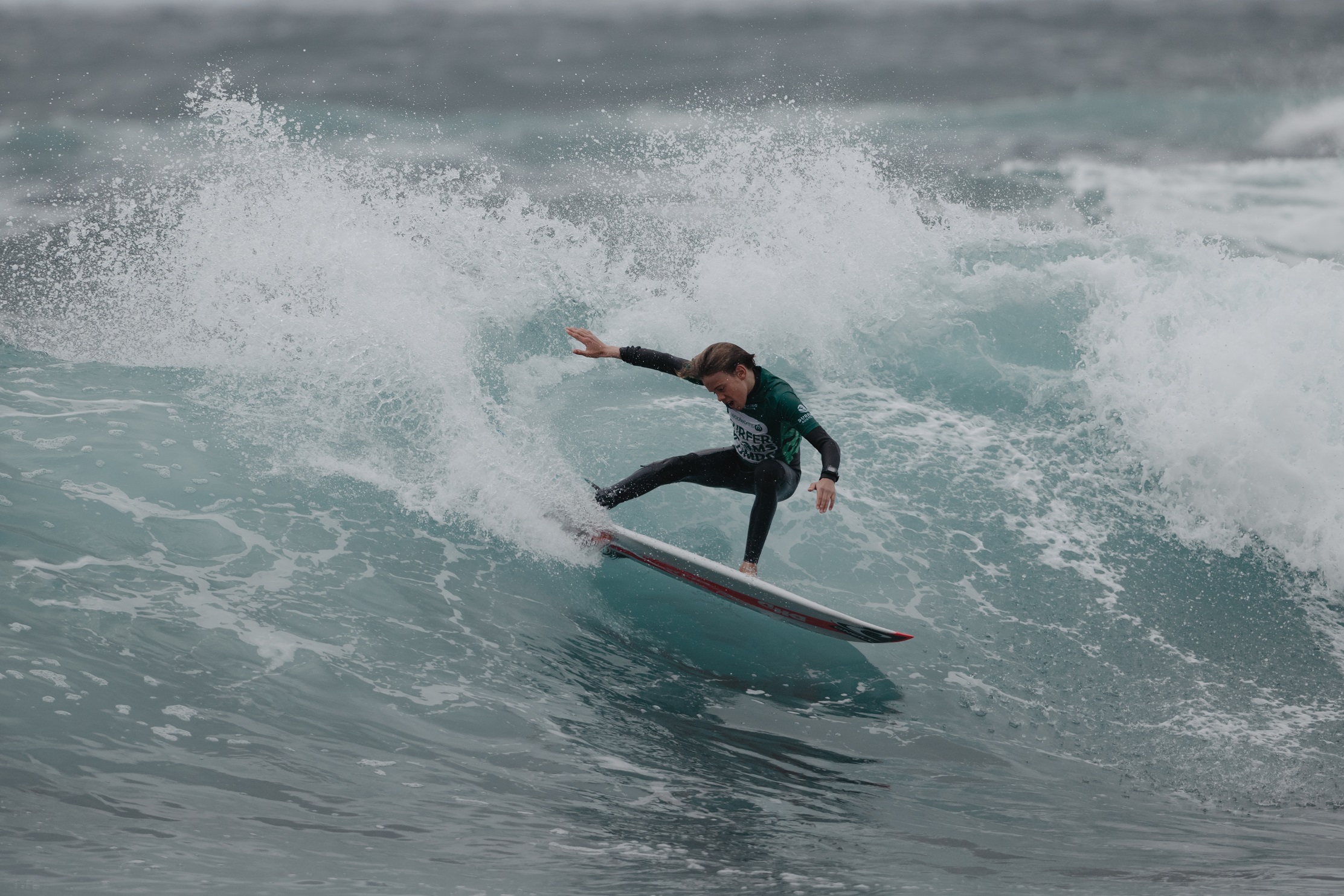 Sullivan Tucker (Freshwater)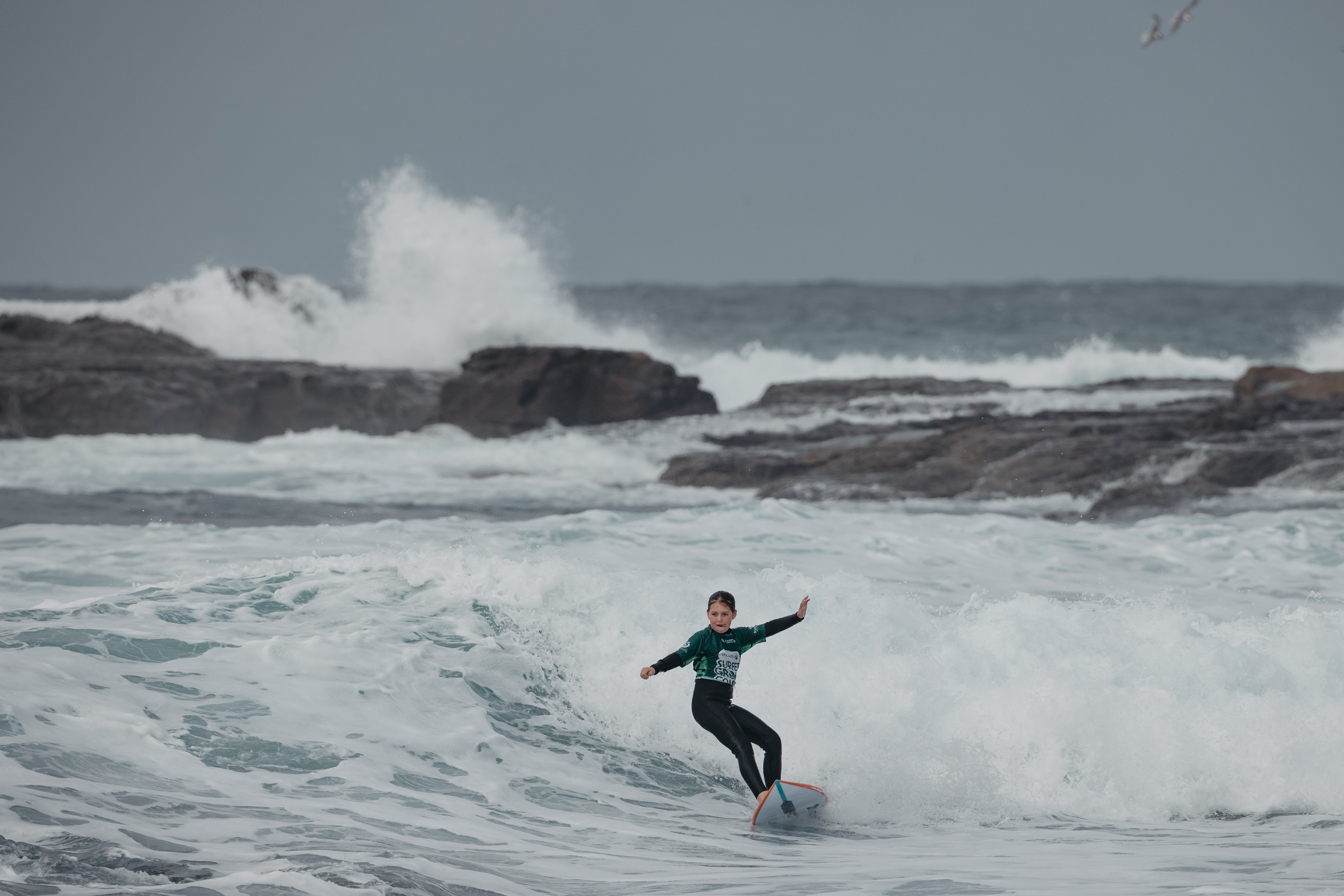 Mila Grainger (Newport)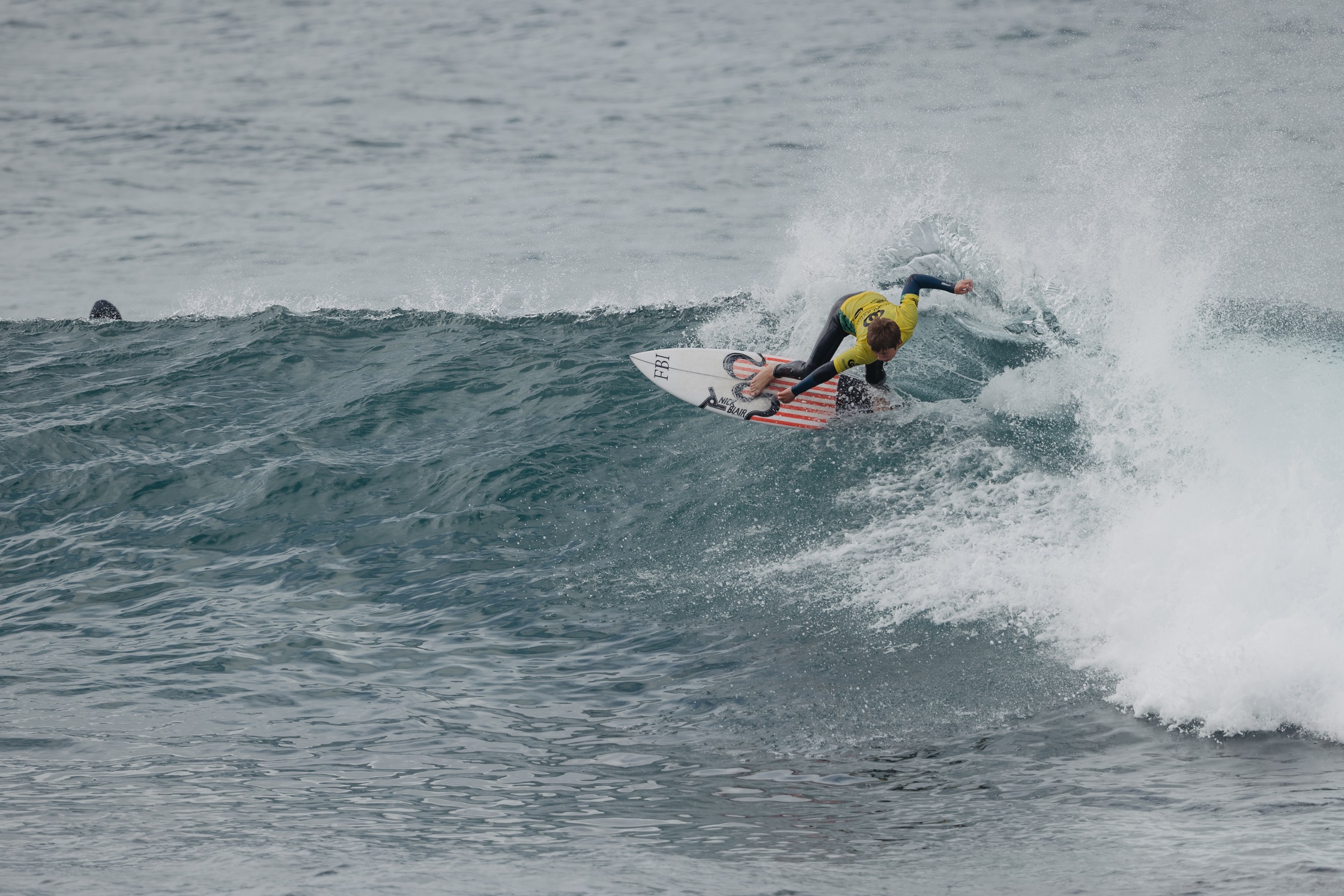 Jacques Callebaut (Freshwater)
Nixon Vaughan (Avalon)