May 8 - 14, 2022: Issue 537
Local Teachers attend Strike action: calling for measures to address teacher shortage and unpaid hours worked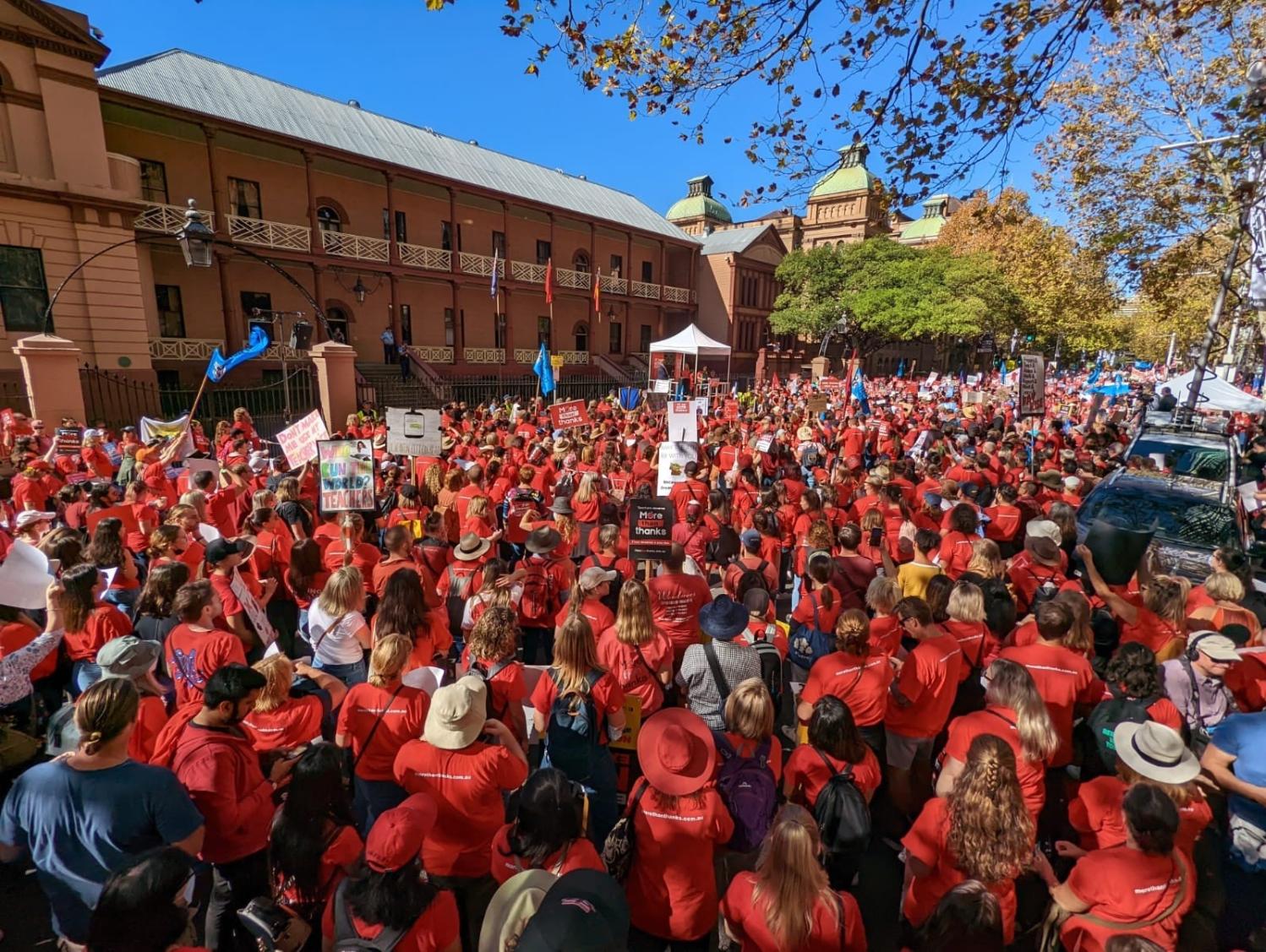 NSW Teachers striking in Sydney on May 4th. Photo: NSW Teachers Federation
On April 26th the NSW Teachers Federation announced that in response to the worsening teacher shortage crisis in public school classrooms, members in schools would take strike action across the state on Wednesday May 4th.
Federation President Angelo Gavrielatos said acting on uncompetitive salaries and unsustainable workloads was the only way to stop more teachers leaving the profession, attract more people into the profession and address the teacher shortage crisis.
The announcement coincided with the release of a poll of more than 10,000 members from across the state which revealed that without urgent action teachers will continue to leave the profession.
The poll found:
73 per cent of members believe their workload is unmanageable
70 per cent are reconsidering their position due to workload
90 per cent disagree that their pay reflects their expertise and responsibilities
89 per cent say shortages are very significant
82 per cent say shortages are leading to higher teacher workloads at their school
"The government and the Premier are failing children and their teachers," Federation President Angelo Gavrielatos said.
"One of the most fundamental roles of a government is to ensure there is a qualified teacher in every classroom with the time and support to meet the needs of each child."
"The Government's workload reduction plan didn't reduce teachers' workloads by a single hour in 2021. Their failure to address the real problems will make the profession less attractive and only increase the number of teachers who resign.''
Teachers are, at present, doing around 20 hours of unpaid work each week and the burden of tasks is increasing, without addressing that already being done.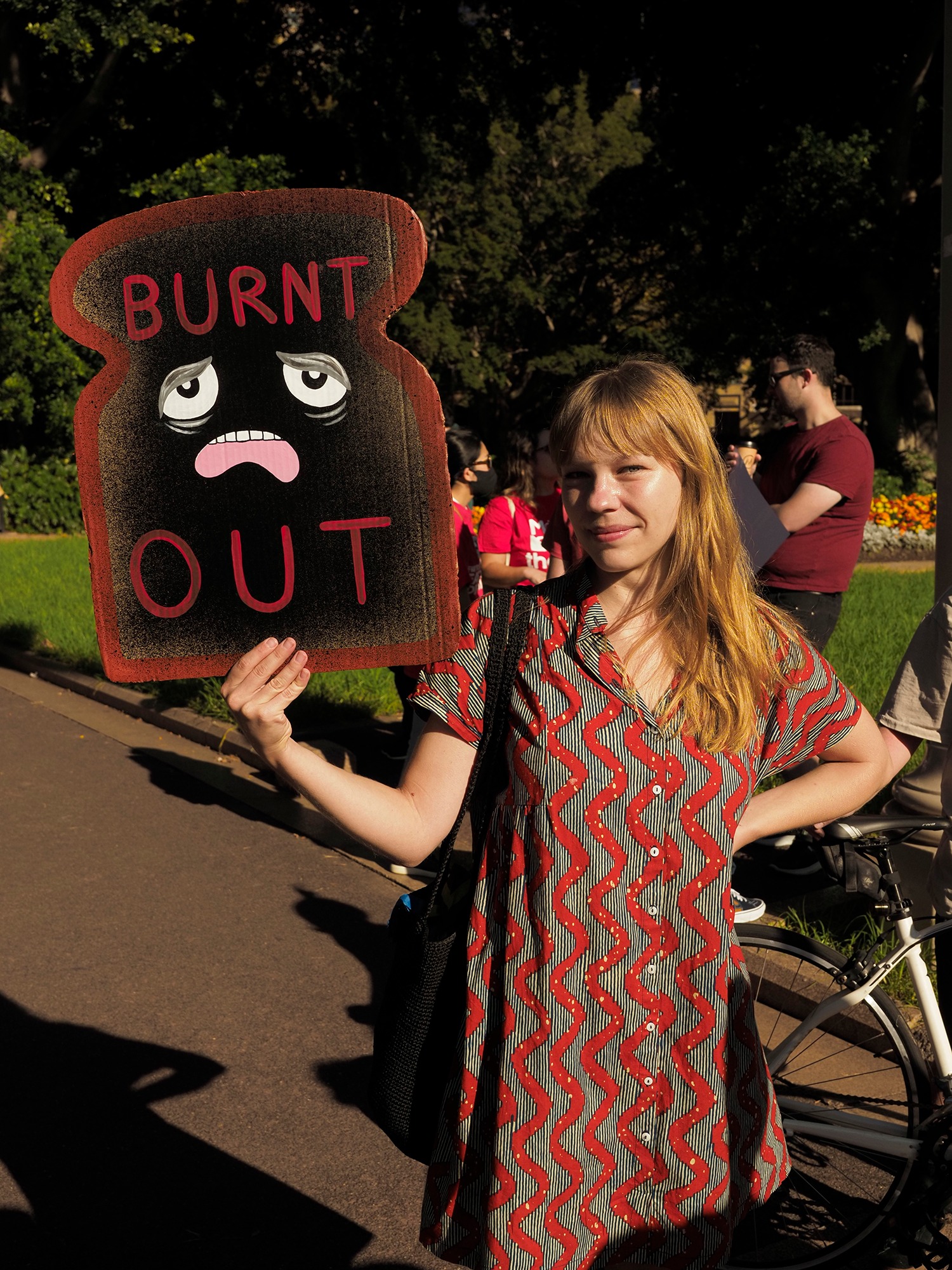 Photo: NSW Teachers Federation

"We suspended our industrial campaign in term 1 giving the Premier an opportunity to enter genuine negotiations. The premier failed to act on that opportunity. In doing so, the Perrottet Government has failed our students, their parents and the profession.'' Federation President Angelo Gavrielatos said.
"The solution to the teacher shortage and its causes, unsustainable working conditions and uncompetitive pay, cannot be addressed nor resolved in the Industrial Relations Commission."
''The NSW Government's contemptuous Award offer, which it is pursing in the Industrial Relations Commission, will not even cover inflation. This means teachers' pay will effectively go backwards every year.
"The Government's own regulations effectively prevent the IRC from addressing the causes of the teacher shortage. Its own regulations will result in a predetermined outcome consistent with the Government's 2.04 per cent salary cap."
"At a time when inflation is running at 3.5 per cent and predicted to grow, this would constitute a cut to teachers' real income," Mr Gavrielatos said.
"The profession is now left with no alternative but to act in the interest of our students and our profession, and take industrial action."
The Teachers Federation has also placed an immediate ban on all new Government (Department and NSW Education Standards Authority) policies/initiatives due for implementation on and from day 1 of term 2.
In addition, should NSW Government MPs seek to enter school grounds, Federation members are authorised to walk out for as long as these MPs remain on-site.  
The statements came two days prior to the Federation stating the Coalition Government had allocated more than $10 billion in special deals to private schools during its time in office while 99 per cent of public schools have gone underfunded.
Federation President Angelo Gavrielatos said the new research by education economist Adam Rorris documents 13 key decisions made by the Coalition since 2015 – when Scott Morrison was Treasurer and then Prime Minister – that have boosted the wealthy private system.
"This report is resounding proof that the Coalition Government has established and further contributed to a great divide in education equity in this country," Mr Gavrielatos said.
"It details a long record of special deals, discretionary funds with minimal accountability, even flaws in the design of JobKeeper that have allowed private schools to keep the wage subsidies as profits.
"The report lays out this record of neglect plainly for all to see and, appallingly, to the detriment of the overwhelming majority of students in this nation who attend public schools."
The funding decisions in favour of private schools made by the Coalition Government since 2015 include:
$750 million in JobKeeper payments to private schools, where at least half was kept as profit
$796.5 million cut from public schools over the next four years in the 2022-23 Budget
$1.9 billion made available to private schools for building improvements, while excluding public schools from any capital works funding despite their much greater need
The report states drought and flood relief and COVID-19 support measures for private schools that were not extended to public schools.
Report author Adam Rorris said: "These decisions have come at a time when public schools across Australia are under-funded by approximately $6.5 billion each year.
"Instead of fixing this shortfall, what we've seen is announcement after announcement that add up to more than $10 billion in extra funding for private schools above the 2017 baseline.
"Concerningly, much of this funding has been delivered through no-strings-attached special deals and discretionary funds with minimal accountability."
Mr Gavrielatos said the Morrison Government repeatedly speaks about record levels of funding, but it is funding for schools that need it the least; overfunded private schools.
"This report shows the record level of funding they provide is the billions of dollars in special deals and slush funds for private schools," he said.
"The report sets out a timeline of Coalition decisions that clearly shows the 'record funding' has been given to private schools at the expense of Australia's 2.62 million public school students, their families and teachers.
More than 15,000 members descended on NSW Parliament in Sydney on Wednesday May 4th. The teachers taking strike action called on the Government to urgently act on the teacher shortage and its underlying causes, uncompetitive salaries and unsustainable workloads.
Thousands more members protested in 15 regional rallies across the state, drawing attention to, as the Federation states, ''how the National Party is failing our kids in the bush.''
At the Sydney rally, a number of teachers took to the stage to share their experiences of how the teacher shortage is affecting them, their students, and their communities. Braidwood Central School teacher Alisa Stephens said the teacher shortage was having an untold impact on student learning in schools across NSW.
"My youngest son's kindergarten class was without a teacher for 14 days last term due to the shortages. This highlights the dire need for action," she said.
Uralla Central School principal Michael Rathborne explained the effect of chronic shortages on his school.
"I've had seven counsellors in eight years, too many classes uncovered and had to go through a two-year process to get a specialist Industrial Arts teacher. Kids in the bush are being let down by politicians in Sydney," he said.
Federation President Angelo Gavrielatos said the Premier has failed students, their parents, and the teaching profession.
"We took industrial action today because we care deeply about the education that every child in every public school receives. We protested outside Parliament House because we cannot accept the crippling teacher shortages that are costing our children opportunities to learn, costing them their future.
"Despite our teachers' best efforts, hundreds of classes are being combined every day. Thousands of students are being left in playgrounds with only minimal supervision on a regular basis. To say their learning is being disrupted is a massive understatement.
"One of the most fundamental roles of a government is to ensure there is a qualified teacher in every classroom with the time and support to meet the needs of each child. The time for government posturing, spin and gimmickry has long passed," added Mr Gavrielatos.
"Acting on uncompetitive salaries and unsustainable workloads is the only way to stop more teachers leaving and to attract the people into the profession we need to fix the shortages. This is an investment in our children's futures.
"We won't accept anything less than what the profession and our children deserve," he said.
In response the State Government issued a statement which reads:
''The Department of Education has repeatedly called on the Federation to put students first and call off today's industrial action.
The Government has indicated its intention to consider wages as part of the budget process which concludes in June.
The Minister and Secretary will seek to defer the Industrial Relations Commission (IRC) arbitration on the salaries component of the Award to enable us to factor any outcomes of the budget process into the Teacher Award process.
The Department will do all it can to minimise disruption to teaching and learning, especially given the difficulties and challenges students, parents and families have experienced over the last two years.
School principals will have communicated arrangements for today for their school with parents and carers.
During industrial action, principals have a duty of care to ensure students and staff are safe, and will advise parents and caregivers of operational arrangements at their school.
Some public schools will only be able to offer minimal supervision to students due to the impact of the strike.
Minimal supervision means teaching continues but temporary class structures and a modified timetable will be enacted to meet student safety requirements.
Teacher salaries
NSW public school teacher salaries are competitive with those offered by other state education systems.
From the first full pay period after 1 January 2022, an increase of 2.5 percent (comprised of a 2.04 per cent salary increase and 0.5 per cent increase to the Superannuation Guarantee Contribution) was paid to teachers and related employees via an award variation to ensure they were not financially disadvantaged pending the award arbitration in the Industrial Relations Commission.
Teacher Supply Strategy
The NSW Government is working on a number of initiatives to deliver a sustainable supply of quality teachers, including in critical subjects and locations, and is on track to deliver its commitment to deliver 3,700 teachers with the right subject qualifications in the right locations over ten years. This includes delivering 1,600 of these teachers over the first five years of the strategy.
We have filled over 6,400 teaching positions for 2021, and since 2017 we have appointed more than 26,000 teachers.
In the 2021/22 NSW Budget, $125 million was committed over four years to deliver the initiatives included in the Teacher Supply Strategy.''
The Industrial Relations Commission is currently hearing the Crown Employees (Teachers in Schools and Related Employees) Salaries and Conditions Award 2022 and Secretary, Department of Education v Australian Education Union New South Wales Teachers Federation Branch, until May 13, 2022.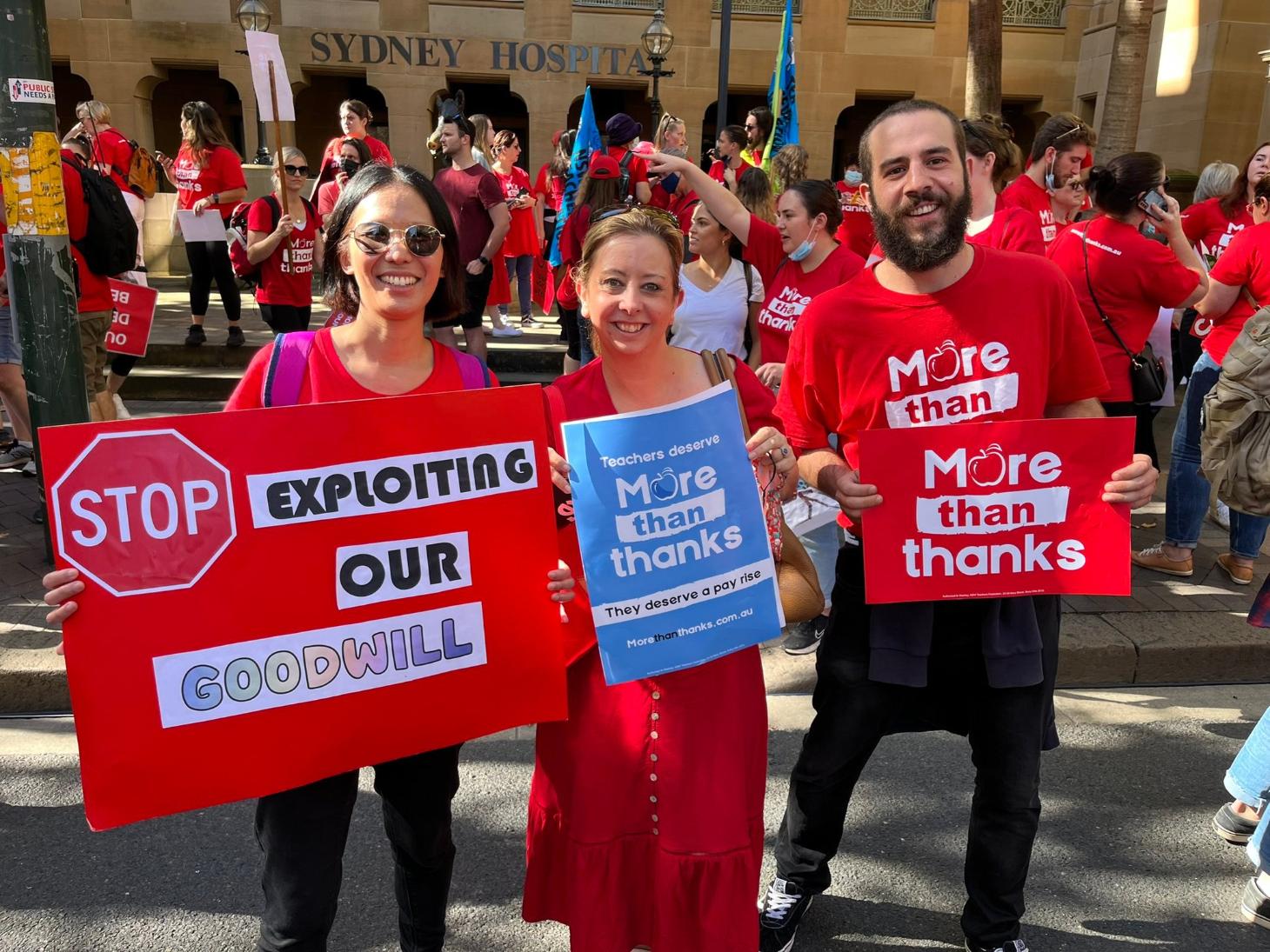 NSW Teachers striking in Sydney on May 4th. Photo: NSW Teachers Federation