August 7 - 13, 2022: Issue 549

Local Surf Life Saving Clubs 2022 AGM's: President's Words, New Life Members, Long Service Recognitions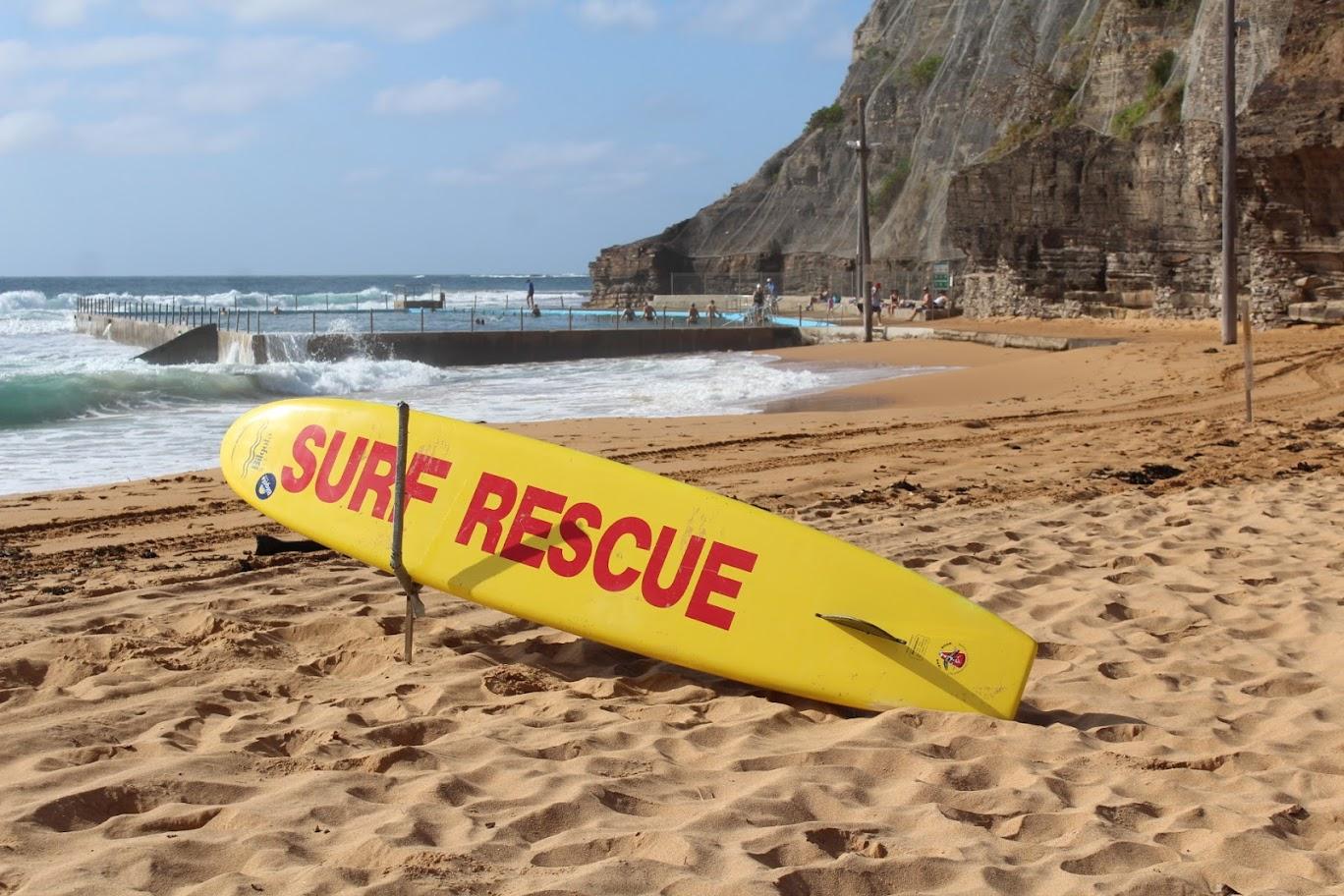 During July and August each year our local Surf Lifesaving Clubs hold their annual Annual General Meetings to present the club reports as well as honour those who have served their local club over the previous Season or for many decades.
Warriewood SLSC's Annual General Meeting was held on Sunday 24th July, Newport SLSC's was held on July 31st, as was Avalon Beach SLSC's.
North Palm Beach SLSC hold theirs early each August, the SLS SNB Branch AGM will run this coming Tuesday, August 9th, Whale Beach has their AGM scheduled for August 14th, and Bilgola SLSC has scheduled their 73rd AGM for Sunday 28th of August.
The 2021-2022 Annual Reports available so far are all outstanding documents filled with celebrations of members achievements, honour those the community and these clubs have lost in the past year, summarise the 2021-2022 Season, provide extension overviews and presentations of club honours, and also present the financial statements.
The reports made available so far reflect the challenges the thousands of local volunteer members faced again over the 2021-2022 Season.
Warriewood SLSC President John Dulieu summarised this eloquently, stating in his opening stanzas of Warriewoods' report;
''What should have been one of our finest seasons, bathing in the glory of being named Sydney Northern Beaches Club of the Year for the 2020/21 season, ended up being one of our most challenging for the second year in a row. Another complex start to the season having to cope with COVID-19 restrictions and delays to 'everything' Surf Lifesaving.

Patrols commenced wearing masks and limited to 10 people, Nippers delayed with a limit of 500 people on the beach, capacity limits on function, previous years COVID-19 plans had to be rewritten, Bronze, SRC training and proficiencies were all delayed, La Niña, floods, tsunami warnings, water pollution, vaccination requirements and possibly the first Club President in Warriewood's history prohibited from entering the local area due to pandemic restrictions. All of which had to be managed by a group of volunteers that just wanted to go to the beach and have some fun.

Enough said about the challenges we all faced, let's just put the 2021/22 season behind us– au revoir and good riddance.

Now as we draw the curtain on the season, we can all look back at those challenges and feel a great sense of pride on what we have achieved across all areas of the Club. I would like to thank all Committee members this year for their tireless efforts in maintaining the standard of keeping this Club 'Great'.

Stand out members of the 2021/22 Committee are Peter Casey our Treasurer, Cameron Powell - Club Captain, Mel O'Connell - Club Secretary, Angela Shanahan - Chief Training Officer, Adam Kovac - Youth Development Officer and Neal McCarry in his first year as Nippers President. The time each one you have put in over the season is massive, and I would like to acknowledge and thank you for your time, effort and professionalism that you have contributed over this season.

311 patrolling members, who across our 12 Patrol Teams invested over 6700 volunteer hours to keep our beach safe is an incredible achievement given the challenges we had with patrol teams being affected by COVID-19 isolation and the fact that 35% of our patrols this year were patrolled from the shed due to inclement weather.

Although it's pleasing to acknowledge once again this year, that everyone who arrived at our beach went home safely, there were some pretty dramatic rescues with our patrol teams being involved in an unfortunate resuscitation at Turimetta on News Years Day, and two hazardous rescues in extremely difficult conditions at the Blowhole making headline news. ''
Warriewood continues to go from strength to strength. Branchs' Young Life Saver of the Year was presented to Lilly Kovac from Warriewood SLSC in June. Lilly is a role model to the younger generation and has shown through recent assessments the she will be a leader on the beach when she is old enough to do so. Whether it's patrolling, doing water safety for Nippers, and events, assisting in training, you can always count on her.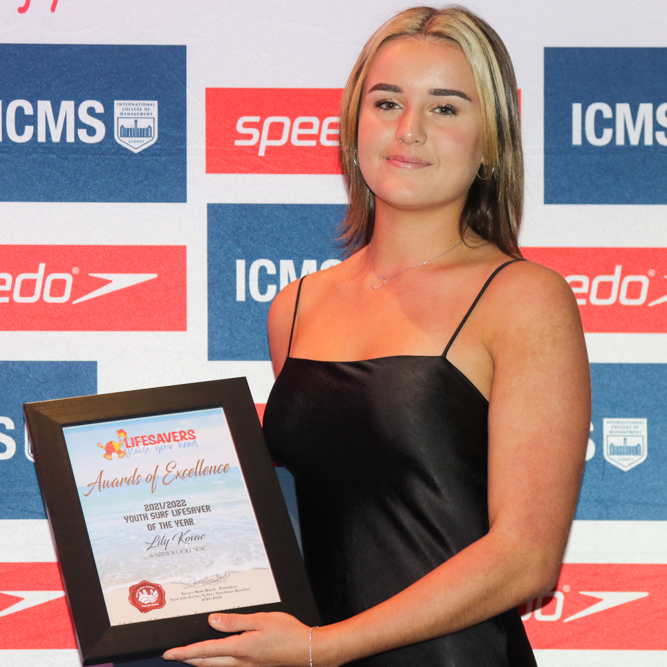 Young Life Saver of the Year - Lilly Kovac
Over the last weekend in July Josh Wilson, son of Paul Wilson from Patrol 3, competed in the World Junior Rowing Championships in Varese, Italy. Not only did his crew make the final of the U19 Cox 4, his crew from St Augustine's College won the Gold Medal.
Rowing Australia reported on August 1st:
''The crew of Joshua Wilson, Joseph Lynch, Oliver St Pierre, Brandon Smith and coxswain Ryder Taylor did it the hard way, sitting in third at the 1000 and 1500 metre points of the race. In the last 500 metres, the boys increased their stroke rate and rowed through the South African and Turkish crews. Italy made a late surge in the last 250 metres, but our boys hung on to win the gold medal by 0.53 of a second.




Post-race, coach Judith Ungemach said, "I always tell the boys, always expect the unexpected. In situations when we are trailing, we execute a big push called the Rossi (named after our 2019 stroke, Alex Rossi). We have been working on these types of race pushes for over a year now and it really paid off today."

The crew's coxswain, Ryder Taylor, is one of the youngest World Champions in regatta history. When asked to comment on his new World Champion status after the race, Ryder said, "It's pretty good and I have my Mum to thank." ''
Team Australia finished the World Under 23 & 19 Regatta with 4 Medals (2 Gold, 2 Bronze).

Might this be a sign of what's to come this Season in the Surf Boats? This is bound to inspire the already inspirational Boat Division at Warriewood SLSC.
Another congratulation goes out to Warriewood's U12 nipper and flag extraordinaire, Noah Pearce. Noah has been selected in the SLS SNB Development Squad for the 2022/23 season.
Warriewood SLSC is looking good for the upcoming Season, commencing Saturday September 24. Their Annual Report is available on their website, which also provides details of how you can get involved at this great club.
At the other end of that long stretch of sand Mona Vale SLSC members are still celebrating the opening of their brand spanking new clubhouse in early June, as well as looking towards the coming Season. Members are currently gearing up to take part in the 24hour Row for Mental Fitness over the September 10-11 weekend. Mona Vale SLSC's website provides all the information you need to get involved in one of our busier clubs and beaches this coming Season, either as a member or a community supporter.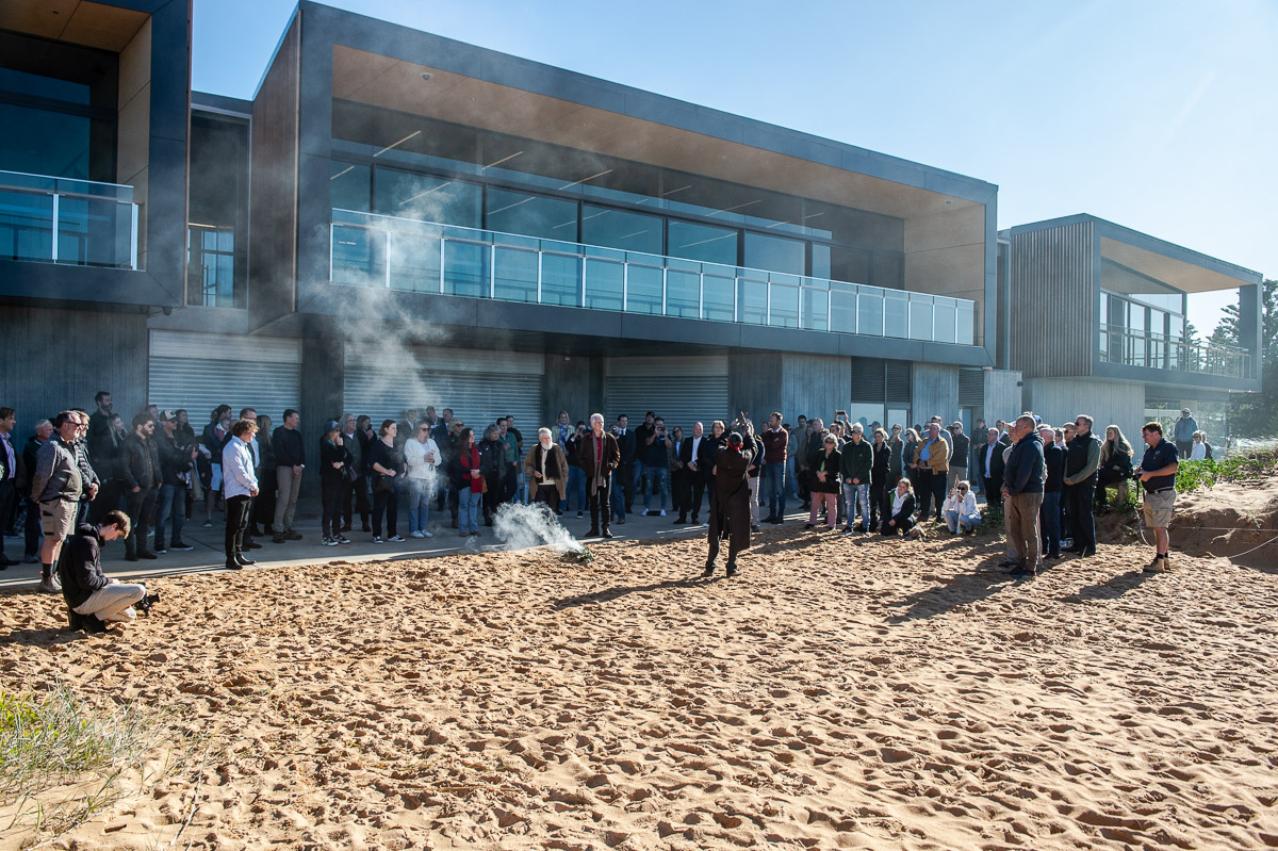 Traditional Smoking Ceremony to commence Official Opening of NEW Mona Vale SLSC Clubhouse. Photo: Michael Mannington OAM
Bungan held their end of season celebrations in May, celebrated member Amber Clark being awarded Branch Volunteer of the Year award in June, have been keeping their IRB skills sharp over Winter as part of the NSW Premiership rounds and will be focused on proficiencies for the coming Season between now on the end of September. You can find out how to be on the beach or in the gym at Bungan this coming season on their website.
Newport SLSC held their AGM on Sunday July 31st. Media Officer Jan Proudfoot received special thanks from the recap of their 2021-2022 Season in outgoing President Glen Borg's report - Glen has served the club over three Seasons, two of them among the most challenging local surf clubs have experienced. Newport's Club Member of the Year, and Branch Surf Life Saver of the Year, features on Newport's Annual report. Newport's Annual Report is available on their website.
Some extracts from the Presidents report:
'Newport SLSC celebrated our 113th year patrolling the beach and serving the community this season. In delivering this service for another year, we have achieved our key goals, including no lives lost on the beach, waterproofing our kids, success in competition, and ensuring families from near and far are safe and enjoy their time on our beautiful beach.

We maintained our high standards of lifesaving. Newport provided over 9,000 hours of support across the Branch, including 7,500 hours of vigilance on our beach. These hours include over 750 hours of patrol at other beaches, and I thank our members for providing this support to our Northern Beaches neighbours. We also had 11 members do over 735 hours for SNB as Duty Officers, RWC and SurfCom Operators. Special mention to Christopher Roberts, who clocked up 290 hours at SurfCom.

Special thanks to our Club Captain Jessica Menzies and Vice-Captain Lauren Budd, who, together with their Patrol Captains and Vice Captains, ensure Newport Beach remains a safe and enjoyable beach to bring the family.

This year we trained many candidates for their Bronze Medallion (32), Surf Rescue Certificate (29) and several other awards (59).

....

At the Sydney Northern Beaches Branch Awards presentation evening, Newport SLSC had many finalists and won several awards, including:

Mitch Morris - Athlete of the Year
Sam Capell - Youth Volunteer of the Year
Luci Bentley - Youth Surf Lifesaver of the Year - High Commendation
Chris Roberts - NSW State Premiers Award (please see separate report)
Matt Edwards - Surf Lifesaver of the Year
Jess Menzies - Harry Ragan Outstanding

Service Award

This season we proudly inducted a new Life Member, Brett Budd, who has been a member of the club for over 22 years with a record of service demonstrating his extraordinary contribution to the club. Brett served as Patrol Captain and Club Captain and was on several sub-committees. In addition, he also competes for the club as a masters beach sprinter and has won several medals at Branch, State and National levels. Brett supports the club as a patrolling member and works on the building committee. Brett also provides the surf club with IT support and oversight through his business ITeam Consulting and their generous support of the club.

In addition to our Executive, Management and Junior Activities Committee, Newport SLSC relies on several other volunteer committee members to ensure we continue to operate successfully. On behalf of the entire membership, thank you to those that served the club so selflessly on the following committees; your contribution is greatly valued:

Building Committee
Sponsorship Committee
The Board of Surf Sports
Life Members and Honours Committee
Ocean Swim Committee
Member Welfare and Support

To the Newport Kinghorn Surf Racing Academy Board, congratulations and thank you for a great year where you have again lived up to your mantra, "be the best and enjoy it the most". Our performance at the Aussies and State Championships would never be possible without the dedication of the team working behind the scenes to ensure our athletes can focus on racing. A special thank you to Jill and John Kinghorn for continuing to believe in and invest in the academy and our club members; we sincerely appreciate your generosity.

Thank you to the Branch Executive for all their hard work. Especially to Tracey Hare-Boyd for her support and guidance over the season. Tracey provides an impressive level of leadership and advocacy for the SNB Branch. I would also like to thank my fellow Presidents, many of whom I've reached out to this year, for their guidance and support.

A special thanks to Jan Proudfoot, an absolute force at Newport Surf Club, who can get through an amazing workload. In addition to her commitments as Honorary Secretary and sitting on both the Executive and Management committees, Jan is heavily involved in our Constitution, Sponsorship, Social, Publicity and Pool to Peak sub-committees. She involves herself in every aspect of the club, from Patrol to Competition. Without her efforts, the club would have struggled to function during COVID and not delivered what we did.''
News from the 2022 AGM

Report by Media Officer: Jan Proudfoot
Thank you to everyone who attended and participated in our meeting last Sunday afternoon (31 July 2022). It was wonderful to be able to meet in person after two years of online AGMs.
Thank you to Eric Crooke for taking so many photos on the day.
We have a new Board of Management:
Club President – Guyren Smith
Deputy President – Glen Borg
Director of Administration – Jan Proudfoot
Director of Education – Brendan Menzies
Director of Finance – Jeremy Paul
Director of Lifesaving – Jess Menzies
Director of Member Services – Eric Crooke
Director of Surf Sports – Darren Warrener
Director of Youth – Ryf Quail
Club Honours
Several members were thanked for their dedication and years of service to the club. The following club honours were presented by Mayor Michael Regan.
Outstanding Service
Ted Bruce (awarded posthumously)
Rebecca Capell
Matt Edwards
Peter Finn
Nick Rogers
Distinguished Service
Life Membership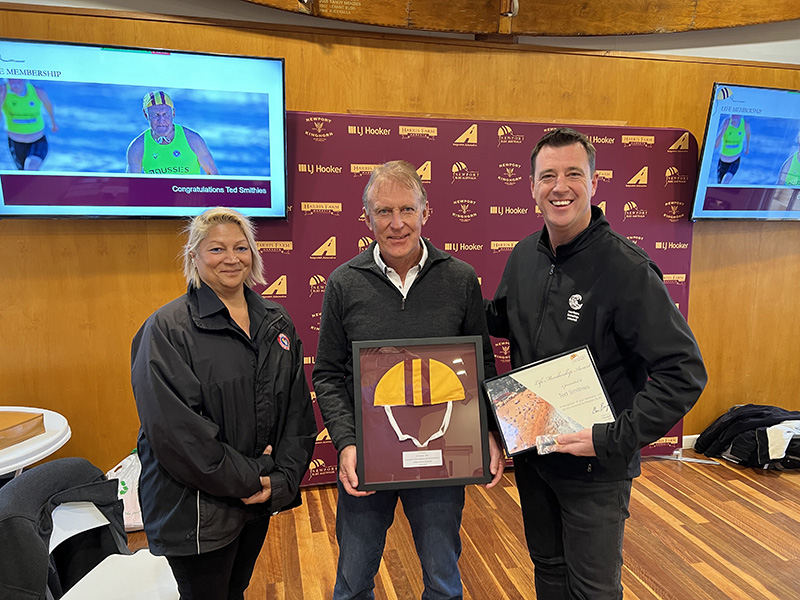 SLSA Years of Service Recognition
Numerous members were also acknowledged for their years of service to Surf Life Saving Australia. The awards were presented by Tracey Hare-Boyd, Branch President.
National Medal
The National Medal is a distinctive part of the Australian Honours system and is available to Surf Life Saving Australia volunteers and employees who have eligible (and proficient) service post-September 1986 for a minimum of 30 hours each year for a period of 15 years or longer.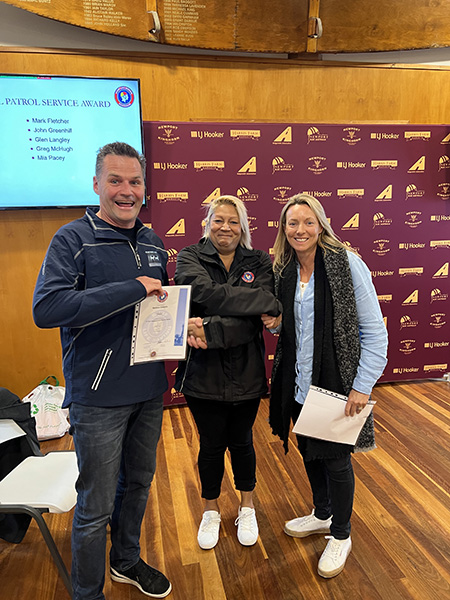 The National Medal was established by the Commonwealth of Australia in 1975 as one of the original elements of the distinctive Australian system of honours and awards. The medal recognises long service in organisations that protect life and property at some risk to their members.
10 Year National Patrol Service Award
Ben Ambrose
Zoran Avtarovski
Jackson Borg
Kevin Brennan
Scott Bridges
Matthew Butler
Tara Doyle
Therese Fletcher
Megan Hayward
Jill Matthews
Scott Newey
James Oxenham
Nick Rogers
Suzie Rogers
Matthew Thomas
10 Year Assessing & 1st Clasp
A person who has been awarded the National Medal may be awarded an additional Clasp to the Medal for each 10-year period of service beyond the original 15 years.
15 Year National Patrol Service Award
Christine Borg
Alex Brown
Barry Cooper
Gary Dixon
Katie Edwards
Matt Edwards
Mark Fletcher
John Greenhill
Glen Langley
Greg McHugh
Mia Pacey
20 Year National Patrol Service Award
25 Year Long Service Award
30 Year Long Service Award
40 Year Long Service Award
Beverley Barnes
Craig Holland
June King
John Milham
Avalon Beach SLSC also held their AGM on July 31st. Roger Sayers OAM, Media Officer for the club, sent in the following report afterwards.
There were no major changes at this year's ABSLSC AGM. Bernice McKay will serve as President for the upcoming year and Season, and Richard Cole as Deputy President, Jason Dale and Nick Sampson have again taken on the Club Captain role.
Two new Life Members were announced, Richard Cole and Rick Mitchell. Both well deserved awards, were announced by Warren Young OAM Chair of the Life Members and Service Honours Awards Committee.
Richard Cole, was awarded Life Membership of Avalon Beach SLSC at the 97th AGM held on Sunday.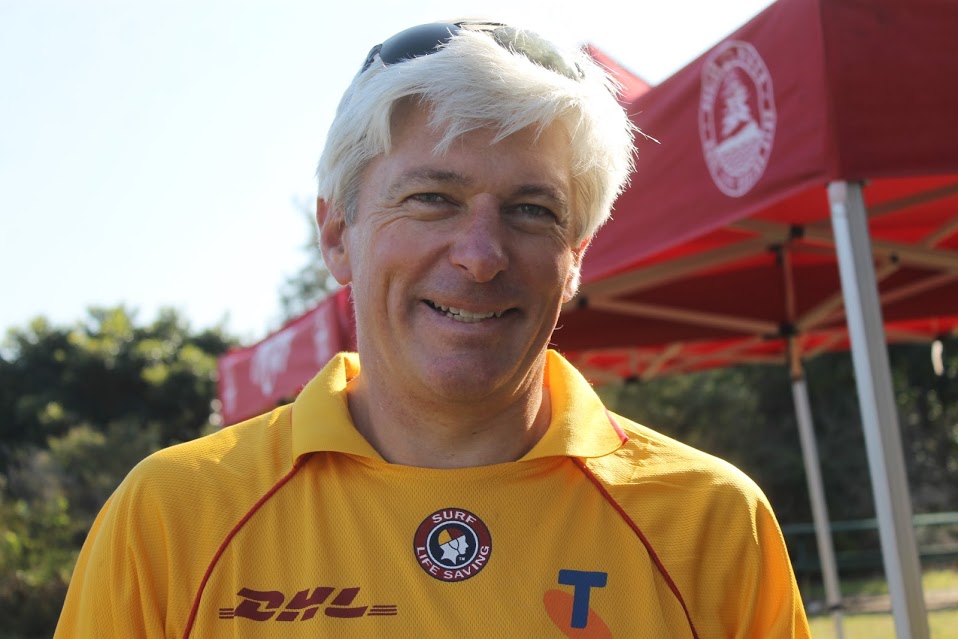 Richard's pathway in surf lifesaving started at Avalon Beach SLSC as a Nipper parent, joining the Club in the Spring of 2006, taking on the Age Manager role for his child's Age group and simultaneously signing up for the Bronze Medallion course.
Richard continued in the dual role of Sunday morning Nipper Age Manager and weekend patrolling member seeing his Age Group through to their Surf Rescue Certificate Award and then Bronze Medallion and was instrumental in establishing a pathway for youth skill development, social and Club connection instigating programs to achieve a balance between providing water safety, trying out senior competition skills, adventure activities and simply having fun. Many Nipper parents leave the movement once their children have completed Nippers. Not Richard!
He has continued to be a patrolling member and has held multiple Committee positions every year since joining, filling the gap after Nippers by investing more time and energy into revolutionising the Club, both the physical building and more significantly, Club culture.
Richard was part of the Building Committee (with Christine and Robert Hopton) that worked with the (then) Pittwater Council and NSW government to deliver a new clubhouse from concept, through fundraising, approval process and its significant challenges, construction tender and finally the two-year construction period concluding in 2014.
During his Presidency, 2015-2018, Richard was instrumental in uniting the Nippers and Senior divisions of the Club and driving the One Club culture we benefit from today. Richard and the management team, developed the Club's first Strategic Plan, shaping the future direction of the Club. The plan addressed all operational aspects of the Club and outlined goals, strategies and performance indicators to provide a framework for continuous improvement culminating in the awarding of a national Club of the Year Award in 2018.
In addition to the demanding role of President, Richard continued to patrol, could often be found at Nipper water skills Saturday morning training teaching rescue board skills to young Nippers, before heading back to Avalon to train up our newest IRB Crew.
Preserving the history of the Club is of huge importance and Richard was instrumental in the formation of the Heritage Committee to ensure that heritage memorabilia and historical records were adequately catalogued and displayed. Richard continues to play an active role on this Committee.
More recently the Club began to examine sustainability and together with Nipper parent, Leena Wood, has undertaken detailed analysis of the Club's energy uses, led the solar panel installation project and is working towards battery solutions to move the Club closer to its carbon neutral goal.
Richard continues to drive a culture of excellence, innovation and best practice, both during his leadership his sustained and ongoing contribution to the Club. Congratulations Richard.
Congratulations Rick Mitchell, awarded Life Membership of Avalon Beach SLSC at the 97th AGM.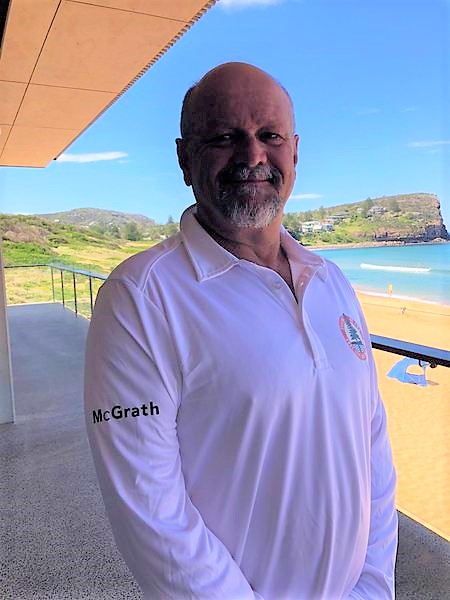 Rick gained his Bronze Medallion in March 1980 at Avalon Beach and since then has been an active member of the Club. Over this time, Rick has patrolled an estimated 1200 hours (30 hours per season) which includes more than 10 years as a Patrol Captain. Rick has also been an active competitor for the club and historically was a regular participant at club championships and Sunday swims.
Rick is also a long-term Trainer and has held various positions on the Club's Board of Management. Rick has 82 awards in Surfguard including his Bronze Medallion, First Aid, ARTC Trainer and Assessor Certificates and IRB Crew and Driver awards.
At the end of the 2019-2020 season, after 40 years of patrols at Avalon Beach, which included many rescues, Rick deservedly stepped back from patrolling, however, continues to be engaged with the club through his role in education and has always been a very prominent helper at surf club events including the Christmas Carols, Lion lsland Challenge and Avalon Swim.
Rick has over 30 years of high school teaching experience and has brought his vast wealth of education knowledge to ABSLSC, training and mentoring hundreds of past and present members. Rick achieved his lnstructor's Certificate in March 1983 and trained surf club members for over 10 years and was the club's Chief Training lnstructor for 3 seasons from 1999-2002.
After a break, Rick re-engaged with training, completing his Training Officers Certificate in 2016 and his Assessors Certificate two years later. Rick continues to help with the running of club's annual skills maintenance and bronze medallion courses.
There have been many accolades given to Rick over the years and these include the ABSLSC Presidents Award in 2000 and 2001, Long Service Awards and along with his daughter Heidi were awarded Pittwater Council's 'Courage in Life Saving' Award for the rescue of a rock fisherman at Avalon Beach. Rick has also been the recipient of the ABSLSC Steve Parkes Award for Achievement in Lifesaving Education in the 2017/18 season and was honoured with being awarded the ABSLSC Distinguished Service Award in 2018.
Rick is always one of the first Club members to put their hands up to help out no matter what the task, continues to do so and continually shows dedication and inspiration in whatever the pursuit. Congratulations Rick.
Avalon Beach SLSC's Annual Report also notes that at the 2021 Club AGM the committee's recommendations for the elevation of Nathan Wellings to Life Membership and Robert Hopton to receive a Club Distinguished Service Award was adopted unanimously by the meeting.
Robert has clocked up more than 20 years of service having gained his Bronze Medallion in March 2001.
Robert has been a Nipper Age Manager, Patrolling Member, IRB Driver, has served on the Building Committee assisting with the development and construction of our current Clubhouse, a starter on the Lion Island Challenge and competed as a Master. Over the past year or so he has also been the Covid Marshall for the Club which has involved attending the bar twice on a weekend and any other events as required and making sure the Club is COVID compliant.
Robert has fulfilled his patrolling duties every year being a qualified IRB driver as well as Bronze holder. Since he has been on Long Service he has been one of the go to members for Subs. He has also volunteered his time to drive IRBs at various carnivals including the past three NSW Championships. This year he sat in the duck for 6 hours in the pouring rain! In the patrol season of 2005/2006, he was awarded outstanding patrol service.
In October 2010 he was one of a number of members to be awarded the Rescue of the Month by Surf Life Saving NSW for actions in assisting a man who had fallen on the southern headland of our beach.
Nathan was a Nipper at Avalon Beach SLSC following which he received his Bronze Medallion on 14 January 1995. He received his SLSA 25 Year Long Service Award in 2020. Nathan has Long Service membership status at Avalon Beach.
Nathan has patrolled a remarkable 710.25 hours at Avalon Beach during his 31 years as a senior active member. In 2007 he received a President's Award and in 2014 he won the Max Watt Competitor of the Year Award with the U23 Pink Bits and the Chris "Detho" Dethick – Boatie of the Year Award.
Nathan held the position of Club Captain for four years, from the 2007/8 season until 2009/10 and took over the role again after Steve Parkes had his accident, completing another full season. He held a position on the Board of Management in this capacity and has also been on the Life Membership and Building Committees. Nathan is the Licensee for our liquor license and ran the bar through the initial years after the Club was rebuilt. In his capacity as a licenced electrician Nathan has helped with maintenance and various building projects around the Clubhouse. Nathan is a current member of our Emergency Call-Out team.
Nathan has a total of 44 awards including Bronze Medallion, ARTC, Senior First Aid, Silver Medallion IRB Driver, Surf Coach Level 1 and Boat sweep Accreditation.
Nathan is best known in the Club as a competitor. Since he gained his Bronze in 1995 he has represented the Club in surf sports every year he has been a member. He has won medals at World, National, State, Branch and ASRL levels.
In 2018, with his wife Mel, Nathan founded and organised the first 24-hour row to raise money for local mental health organisations. This has grown exponentially each year since to now be a nation-wide event that raises hundreds of thousands of dollars.
Nathan now becomes our youngest Life Member.
Four new National Service Medals, part of Australia's national awards, awarded to:
Warren Young OAM
Roger Sayers OAM
Mike King
Kevin Veale
Long service awards presented at our AGM to:
Evan Stilwell and Richard Stutchbury - 25 years
Mark Heffernan and Shaun Wolthers - 30 years
Stephan Jacek and Warren Young OAM - 40 years
Patrol Service awards presented to:
Terry Barber - 15 years
Xanthe Friend - 10 years
Above and beyond service and commitment to keeping our beach safe.
There was a good roll up by members after two years of zoom meeting AGMs and we were well supported by Rob Stokes MP and John Brogden AM, Club Patron, Michael Gencher NBC Councillor, and Rory Amon NBC Councillor.
Life Member Peter Akehurst's ashes were scattered following the AGM.
Bernadette McKay, in her President's Report, stated:

It is a relief and a pleasure to state that we met our core service obligations in the 2021-2022 season with no lives lost on our beach during patrol hours. For the season we were close to 5,000 patrol hours at own beach and another 600 hours at other beaches, recording 701 preventative actions and 122 rescues.

In addition to patrolling, Jason Dale, Andrew Crow and Nick Sampson assisted in flood relief efforts in Nowra, Bass Hill and Narrabeen and Terry Barber assisted in Ballina in the Northern Rivers region of NSW that were particularly hard hit.

The New Year long weekend saw our busiest days of the season, if not in the overall history of the Club, with massive crowds breaking free from lockdown, perfect swimming weather and some tricky conditions. Our Club Captains, Nick Sampson and Jason Dale were on patrol on the Sunday and showed strong leadership in reading the conditions and knowing that extra assistance was required to control the situation and had the courage to ask for it. Both stayed for the full day to ensure that all was managed professionally Thanks to all who were rostered onto the patrol with some members in the morning patrol staying later into the day and the afternoon patrol members coming early, as well as additional members who responded to the message and came down to the beach to assist. It was obvious why you were needed and I'm sure you went home satisfied that you were part of a team that put your skills to the test, either through preventative actions or in undertaking rescues when required, up and down the whole beach. In total we recorded 58 rescues performed on the Sunday and another 6 on the Monday and we are rightly proud of our achievement in keeping the beach protected and sending all our guests safely home to their families. The Club nominated this effort as Rescue for the Month and all patrol members were recognised for their efforts with a certificate of appreciation by Branch and awarded Patrol of the Year at Club level in our annual awards night.

This weekend was not the only time that our capabilities, commitment, and determination were tested and was not the only nomination for Rescue of the Month. Just 2.5 weeks after completing his SRC assessment in January, Will Dawson participated in an after-patrol hours rescue at Kiddies corner at Palm Beach. Zac Dale and Todd Barber were nominated and won Rescue of the Month for an IRB call out to a capsized boat between the Avalon and Whale Beach headland in big surf reaching some relieved fisherman. There was also another rescue in May, after patrol had finished for the season, where the masters training crew came to the assistance of a surfer who sustained a broken patella and lower leg compound fracture and stayed with him until medical assistance arrived.

Whilst these rescues were formally recognised, they in no way diminish our efforts, vigilance, and dedication across all patrols in the season signifying the importance of what we do and our confidence in our skills, training, and experience to know we can manage the beach in all situations. Our patrolling members' rescue readiness reflects their commitment and dedication and the training that is delivered by our education team.
Avalon Beach SLSC's full Annual Report for the 2021-2022 Season may be downloaded from their website, which also provides information on how everyone from a Nipper to a Master can get involved in this great local club.
On a final note, and heading south across the Narrabeen Lagoon border, Manly LSC announced in late July their new President is Victoria O'Halloran. Victoria is the club's first female President in Manly's 111 year history and the club is deeply honoured Victoria has taken on this role.
Victoria O'Halloran