June 26 - July 2, 2022: Issue 544

Living Ocean's Traditional Welcome To Country For The Southern Humpback Whale Migration + First Plastics Count For The Careel Multi-Layered Coastal Assessment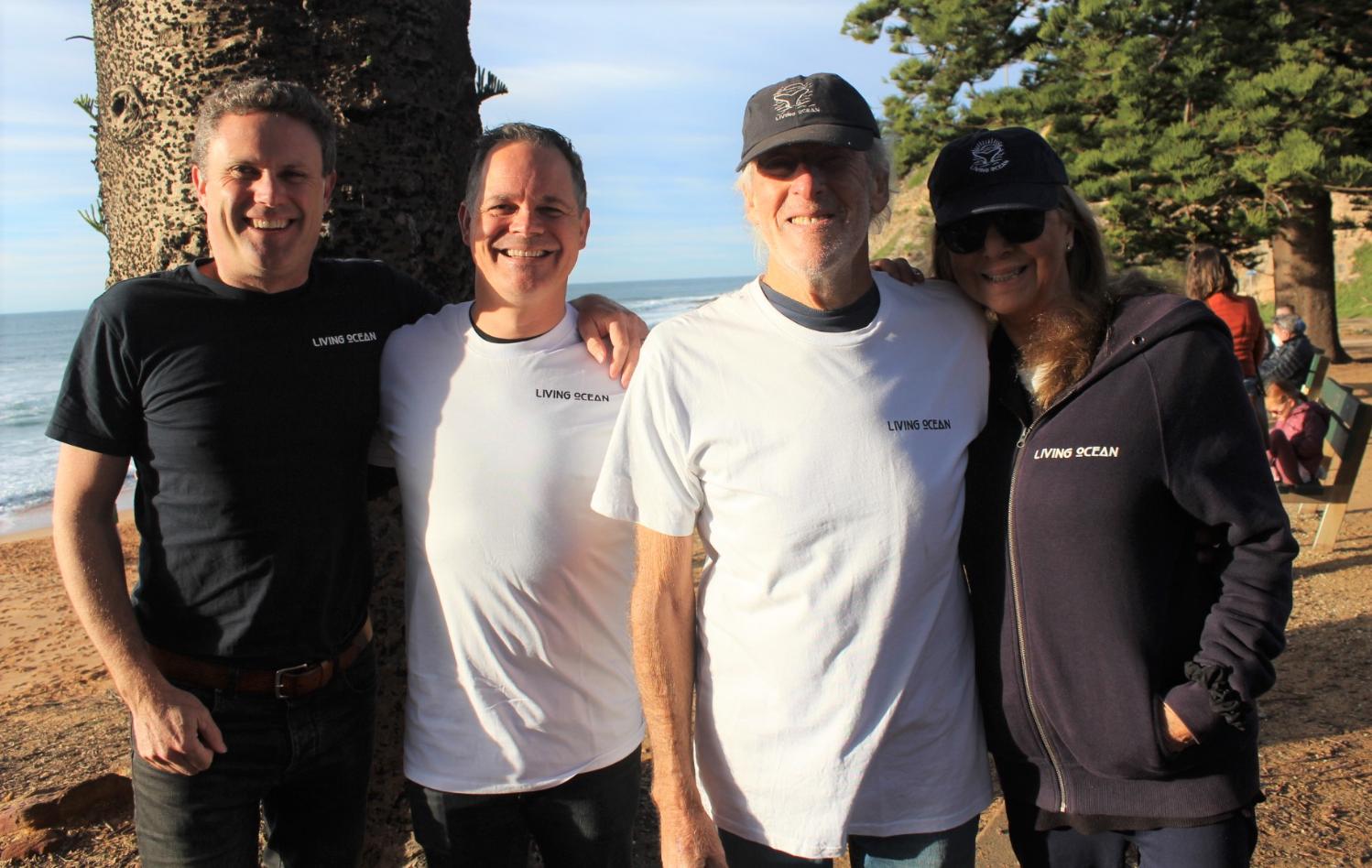 Living Ocean's Vice President Tom Peacock, Vice President David Cousins and Co-founders Robbi and Carol Newman.
Careel Multi-Layered Coastal Assessment (CMCA) First Study
There was a great turn out for the community on Tuesday morning, June 21st, for Living Ocean's Careel Multi-Layered Coastal Assessment (CMCA) first study survey of Careel Creek and Bay.
This is the starting point for our one-year study by a multi scientific panel of the entire system.
For each level of attention and study Living Ocean teams volunteers with a scientist using a strict citizen science protocol.
This first survey was to understand how ocean bound waste enters the system. Living Ocean use AUSMAP and Tangaroa Blue transects to collect micro and macro waste.
Volunteers collected these along the very high tide mark north of Etival St, Avalon. The different types of plastic are sorted and recorded, according to standardised protocols.

a very high tide at Careel Bay leaves a line where water has washed to
Quadrats were set out to search for microplastics along a 50m section of the shoreline. The marine debris and about 5cm depth of sand within each quadrat are sifted and washed to collect microplastics. The finest sieve from each quadrat is placed in a bowl of water so that any microplastics can float and become visible. They are then sorted into different types for analysis.

The volunteers were joined by Jordan Gacutan, a marine debris and ocean governance researcher at UNSW, Sydney. Working at the interface of science and policy, Jordan assists governments (from local to national levels) in 'making nature count' to understand the value of our ecosystems and how we impact them. His PhD explores the role of Citizen Science in marine debris monitoring, and the transformation the data towards policy and management interventions. He has experience working with government and sectoral stakeholders on spatial planning, spatial data infrastructure, and environmental management projects within the Baltic Sea, Spain, Maldives, India, Fiji, and Australia.

The team of volunteers will study this area or transect, once a month for 12 months to assess trends as revealed by the data.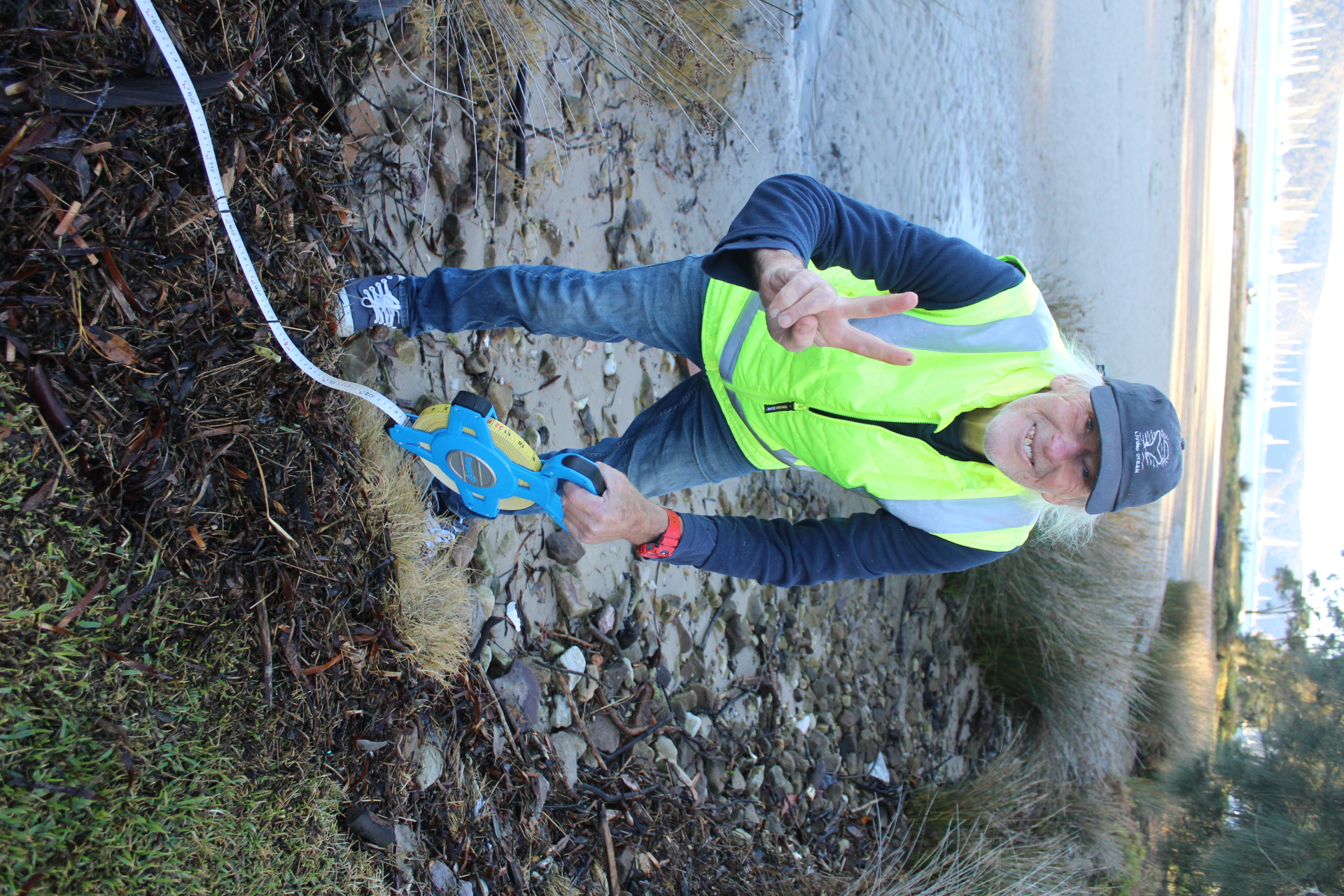 Robbi Newman, President of Living Ocean measuring out the area to be studied

Thanks to Jordan Gacutan from UNSW for your protocols.
Thanks also to these amazing volunteers:
Margi Coote, Gwen MacDonald, John Smidmore, Katherine Smidmore, Manu Fuchs, Glenn Woodward, Claudia Newman, Alessandra Metzler, Mick Colmer, James George,Robyn Jones, and of course Bill Fulton and Robbi Newman.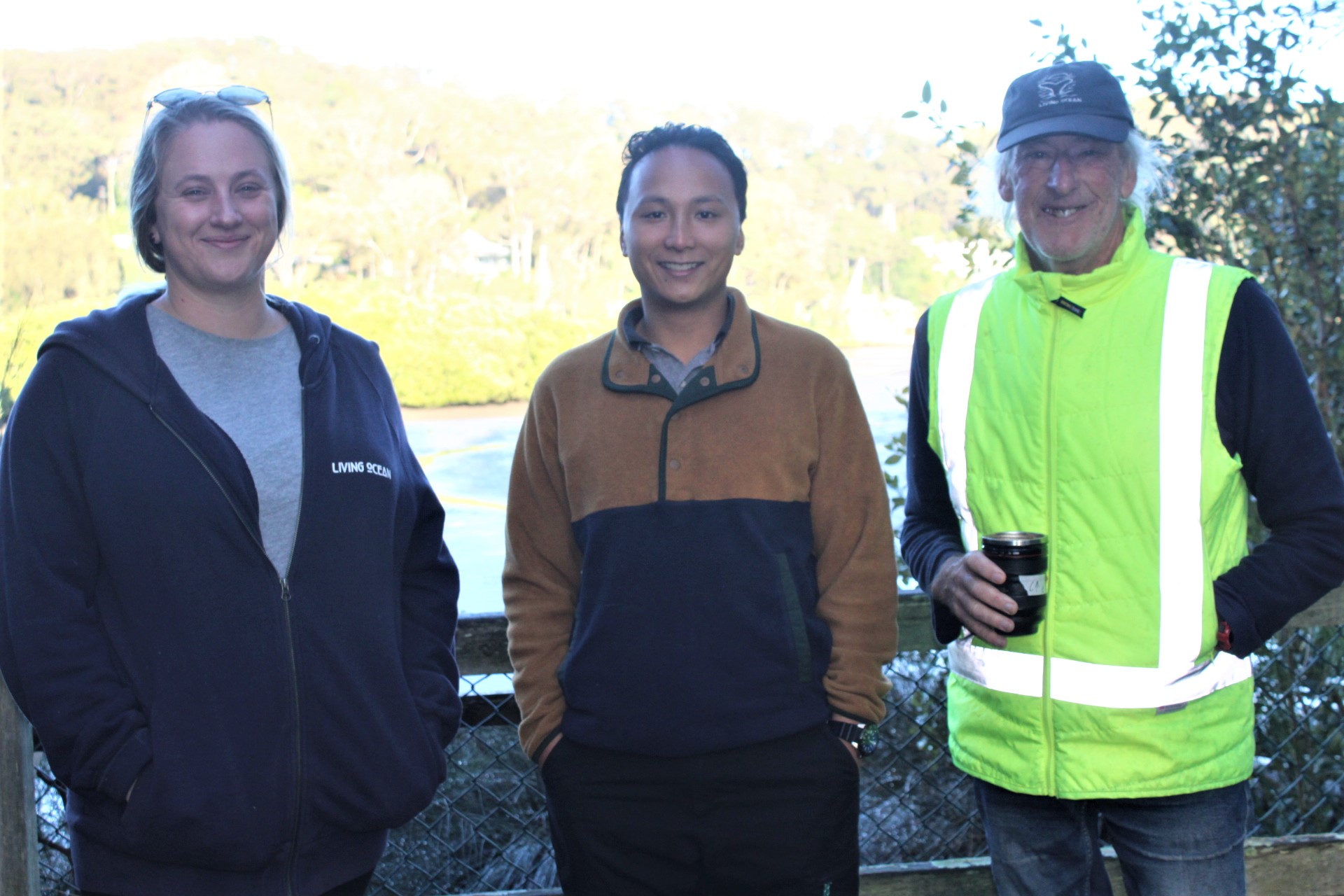 Claudia Newman, Jordan Gacutan and Robbi Newman, President of Living Ocean, arrived first to greet volunteers
Welcome To Country For Migrating Whales
Environmental organisation Living Ocean then hosted a traditional indigenous Whale Welcome to Ocean Country on Friday 24 June at the Avalon Surf Club, Avalon Beach. Despite the early hour and snow winds blowing there was a large turn out for this event.
Tens of thousands of Humpback Whales are expected to migrate north along the East Coast of Australia from June to September. Traditionally the local indigenous people, the Garigal of the Guringai whose totem is the whale, have always welcomed the migration to their Ocean Coast.
David Cousins, Living Ocean Vice President, who welcomed everyone, said 'the preservation of the marine ecosystem to boost whale populations is paramount, as the lungs of our planet actually reside in the ocean'. Mr. Cousins then asked local indigenous gentleman Neil Evers to Welcome all to Country.
Local Elder Uncle Neil Evers performed a smoking ceremony, while whale songs were on the didgeridoo by Matt James, and finally the local community met on the sands of Avalon Beach to call the whales in the traditional way by squeaking their feet in the sand.
In Welcoming all to Country Uncle Neil said:
Good morning everybody, it's great to see so many people here. My name is Neil Evers and I'm a descendant of the Garigal clan. The Garigal people are part of the oldest continuing culture in the world.

I respect my Elders Past, Present and those to come. I also acknowledged their wisdom and their courage.

I'd also like to acknowledge Living Ocean for inviting me here today and having this celebration of the whales.

Everyone here comes from this area and it's a beautiful area to live in. did you all see the sunrise this morning? It was absolutely magnificent, as it is every day.

I've lived in this area all my life, I was born at Collaroy, and to come around those (Bilgola) Bends is a beautiful experience.

To see the whales here is just fantastic.

Have you ever done any research into the statistics on whales? I did lasty night.

When we all got up this morning – what's the first thing we did? That's right – well, the whales do this too. Do you know how much they urinate every day? A thousand litres.

They're a magnificent animal – they have ears – have you ever seen a whale with ears? So how do they hear? No; we think we're smart as we have things on our cars which go 'beep, beep' when we come too close. The whales have had this system going for thousands of years, so we're so far behind them it's unbelievable. And they swim and don't need to run.

A little later on we're going to go down the beach and do what the old ladies did and twist our feet to make a squeaking sound. When hearing that squeak the whales and the dolphins used to come in, and they'd bring fish in.

These days it can be a bit difficult for the whales because of the incredible noise out there in the ocean. 250 years ago there were no boats out there with their huge diesel motors and the whales could hear p to 800 kilometres, so from here to Coffs Harbour.

So later on we will do as the old ones did, and help the whales.

I thank so many of you for coming today and on behalf of my elders Welcome you to this magnificent Country.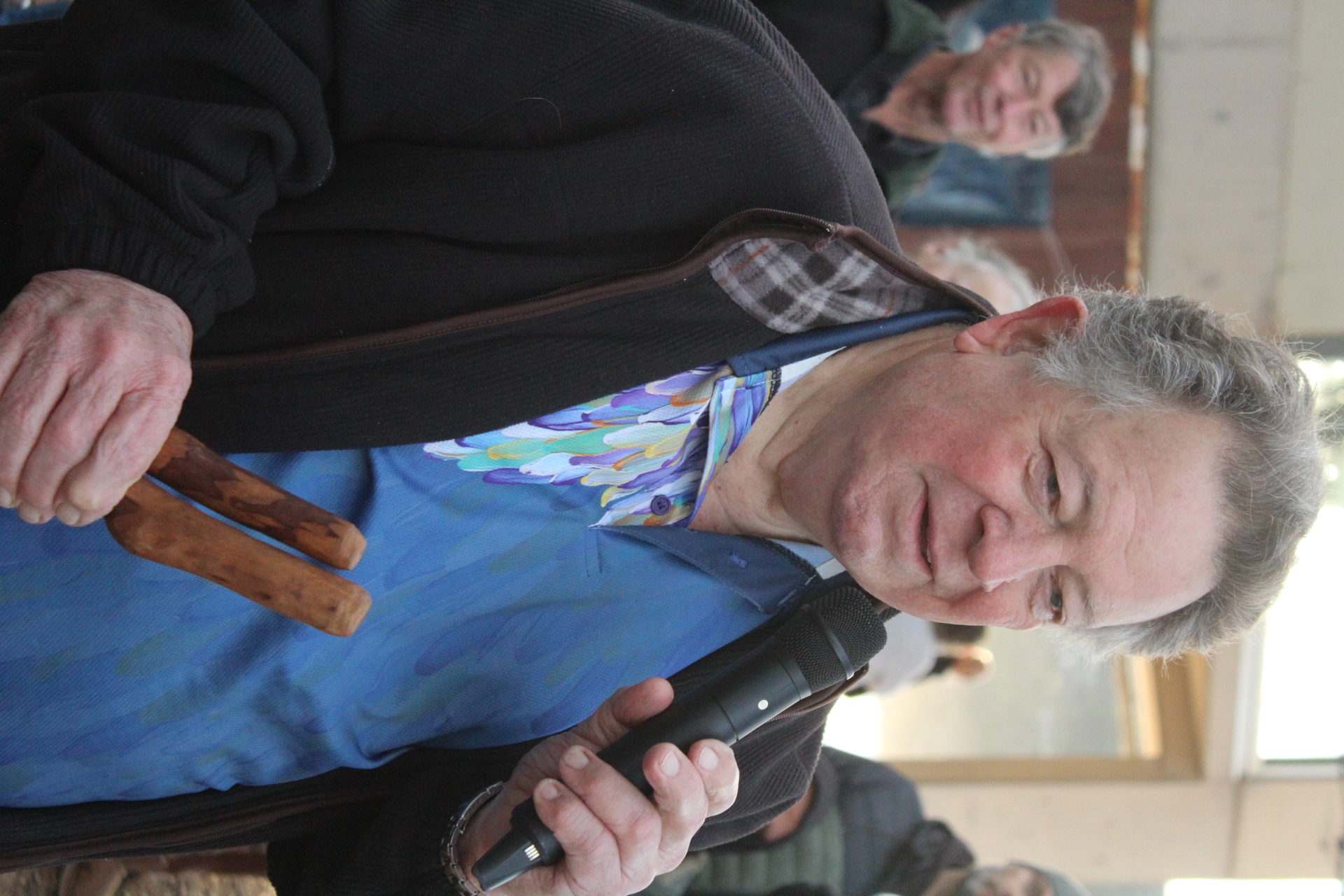 Uncle Neil
David Cousins, Living Ocean Vice President, said:
I'd like to tell you a little bit about what Living Ocean does. We are a not-for-profit environmental organisation based here on the northern beaches and we operate as a centre for Marine Studies. We are a research-based organisation and we focus on marine animal behaviour, particularly whales, but also seabirds, dolphins, as well as others.

We also focus on plastics and microplastics in the marine environment; along our coastline, and we look at marine environment processes. We actually have a great project up and running now looking at the environmental processes of Careel Bay which comprises looking at outflows from stormwater, microplastics in the sand as well as many other aspects of what's going on in that environment.

For us, whales are deeply rooted in our DNA. Living Ocean was originally set up by our founders over a decade ago us a funding mechanism for Sea Shepherd right at the height of when Sea Shepherd were taking action against the Japanese whaling fleets in the southern ocean.

Over time Living Ocean has evolved into its own entity with whales still very much at the heart of what we do, especially from a research point of view.

We're a full member of the Whales & Climate Research Program alongside seven international universities, including Griffith University and the Smithsonian Insitute in the Whales and Climate project (whalesandclimate.org), studying the impact of climate change on Southern Hemisphere humpback whales, vital contributors to carbon sequestration in the ocean.

We're also a member of many other surf and marine environment studies, which you can find out more about on our website: https://www.livingocean.org.au/research.html

When you think about whales and climate the obvious place to go is the effect of climate change on whale populations, when really it's the other way around. Whales are really important to hopefully help us in solving climate change, and that's for a couple of reasons.

The importance of whales in terms of climate change is staggering when you consider each great whale captures 33 tons of CO2 on average, taking that carbon out of the atmosphere for centuries. When they dive they take that to the bottom of the ocean.

Whales also are important as Uncle Neil said, in what they do on a daily basis in going to the loo. If anyone has ever seen a video of a whale going to the loo they will know it is extreme and a significant event. Whales do this every day as we do and do so over tens of thousands of kilometres of ocean, and in doing so deliver into the ocean vital nutrients which are vital to grow phytoplankton, which capture ~40% of all CO2 produced. Just a 1% increase in phytoplankton thanks to whales would capture hundreds of millions of tonnes of CO2, equivalent to 2 billion trees.

So, actually, the lungs of our planet are in our oceans, and this is why whales are so important.

For Living Ocean, having our community really support us is critical as we are a community-based organisation. Through donations, through buying our t-shirts, through sponsoring our work or being part of our citizen-science projects and programs you are all part of what we do. We partner with universities but we rely on people being part of our citizen-science studies as well. If you want to be part of the current Careel Bay studies then you can join up and be part of this science in our area.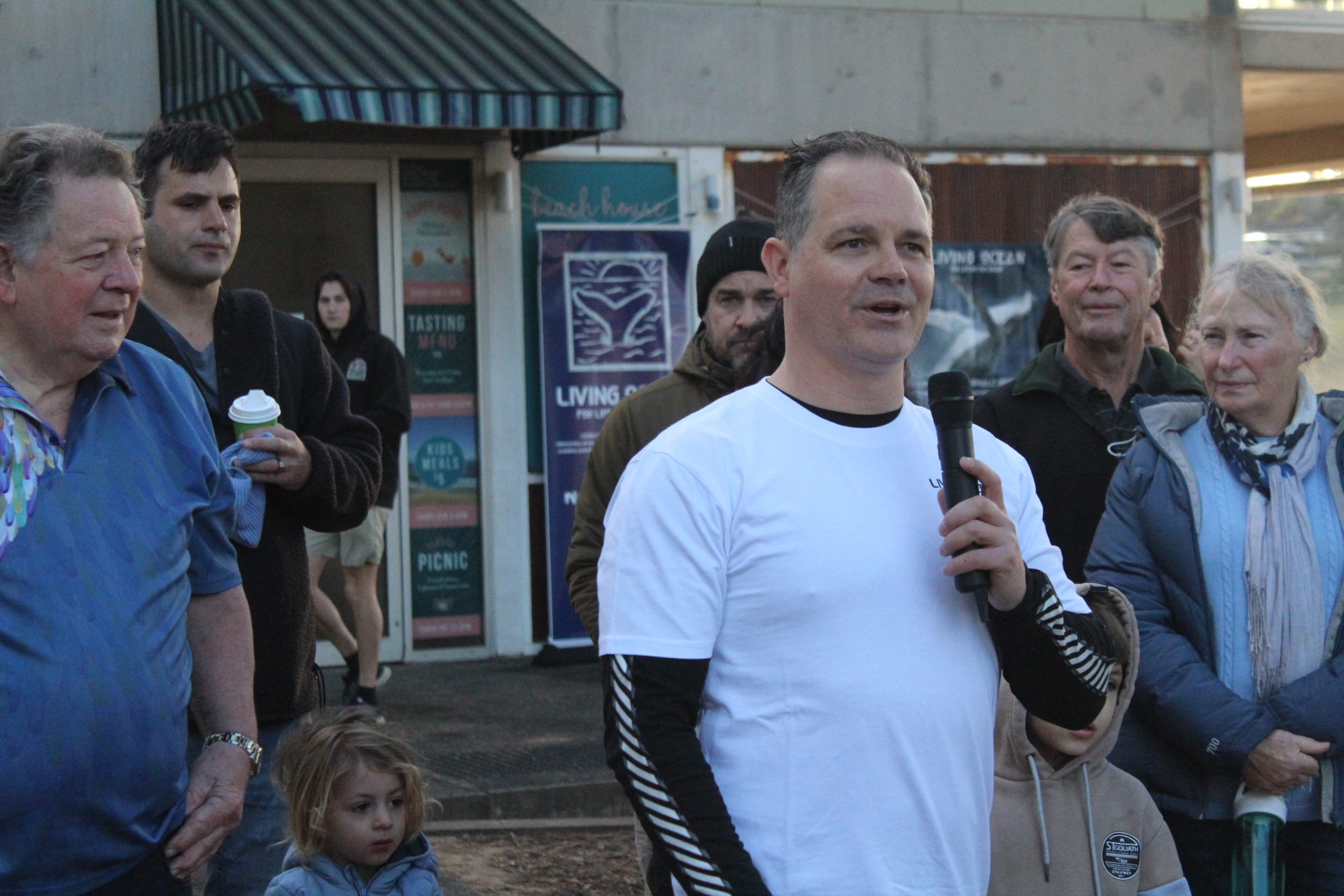 David
Robbi Luscombe-Newman, President of Living Ocean said:
Welcome to the triple interface of land, ocean and sky. That's why we live here – this is the triple interface of the sky, the ocean and the land – and such a dynamic place and a constant source of change and wonder.

Neil's folks were originally here and they trod lightly on the earth. We have not been so light about our impact on the earth. Neil's people were called the Saltwater People and I would say that all of us are also Saltwater People because that's our tribe, that's why we're here; we love jumping in the water, the ocean is our lynchpin.

Originally I came from the Newport tribe but eventually I realised we were all one big tribe on the planet. In those days you had more chance of spotting a UFO than you did of spotting a whale.

The great news is that the whales are back – we nearly wiped them all out but fortunately they're back, and that's fantastic news.

Whales bring joy, happiness, fascination and delight with them during their epic mass migrations twice a year. This is one of the great wonders of the natural world.

Their mere existence is a true marvel and to be near them is a never-failing uplifting experience.

What we have found through our research into the whale migrations is that the whales take different paths each year, and that can depend at the speed at which they swim too. They swim at about 4-6 knots. They take advantage of currents; they're not silly, they've been here for a long time.

At the moment they seem to be going very wide on their trip up north. This trip up north is what I basically call a 'Tinder path' because that's when they all meet and try and partner with other whales.

I mix science and spirituality together, and although they're not meant to mix, they do in me. So I'd like to finish with a nod towards all my experience with whales:

''They are the ancient messengers of our time on this planet. We have seen they are the Elders of the ocean domain. They sing to each other to celebrate each passing year. We have found they travel ancient paths. They know the passage of the old coastlines located off our coasts before the rising of the seas at the end of the last ice age.''

Now that's one thing that we found that's interesting – their paths out there, when we laid it on top of the underwater profiles of the old coastline that's out there, it's exactly where the old coastline was. So they have some sort of kinetic memory – they know where they're going.

So if I could speak cetacean or humpback dialect I would say;

''Hey Brothers and Sisters, we acknowledge you and rejoice that you have come back to bless us with your innocence and joy. We sing and send out our vibrations in that long wavelength that you speak, into the oceans of time. Yes brothers and sisters, we acknowledge you.

And do you know why? Because they're mammals – they're part of our family. At one stage we climbed out of the ocean to be on the land whereas they were actually on the land and went back into the water. But as mammals they're part of our family – we're brothers and sisters.

Forgive us for not understanding our responsibilities to your life and all the life in the oceans that you share…

Accept our song as we say to you, bring us the magic we need to celebrate our journey, along with you, on this river of time.''

Let's hear if for the whales!

(Cheers and whoops).

Thank you.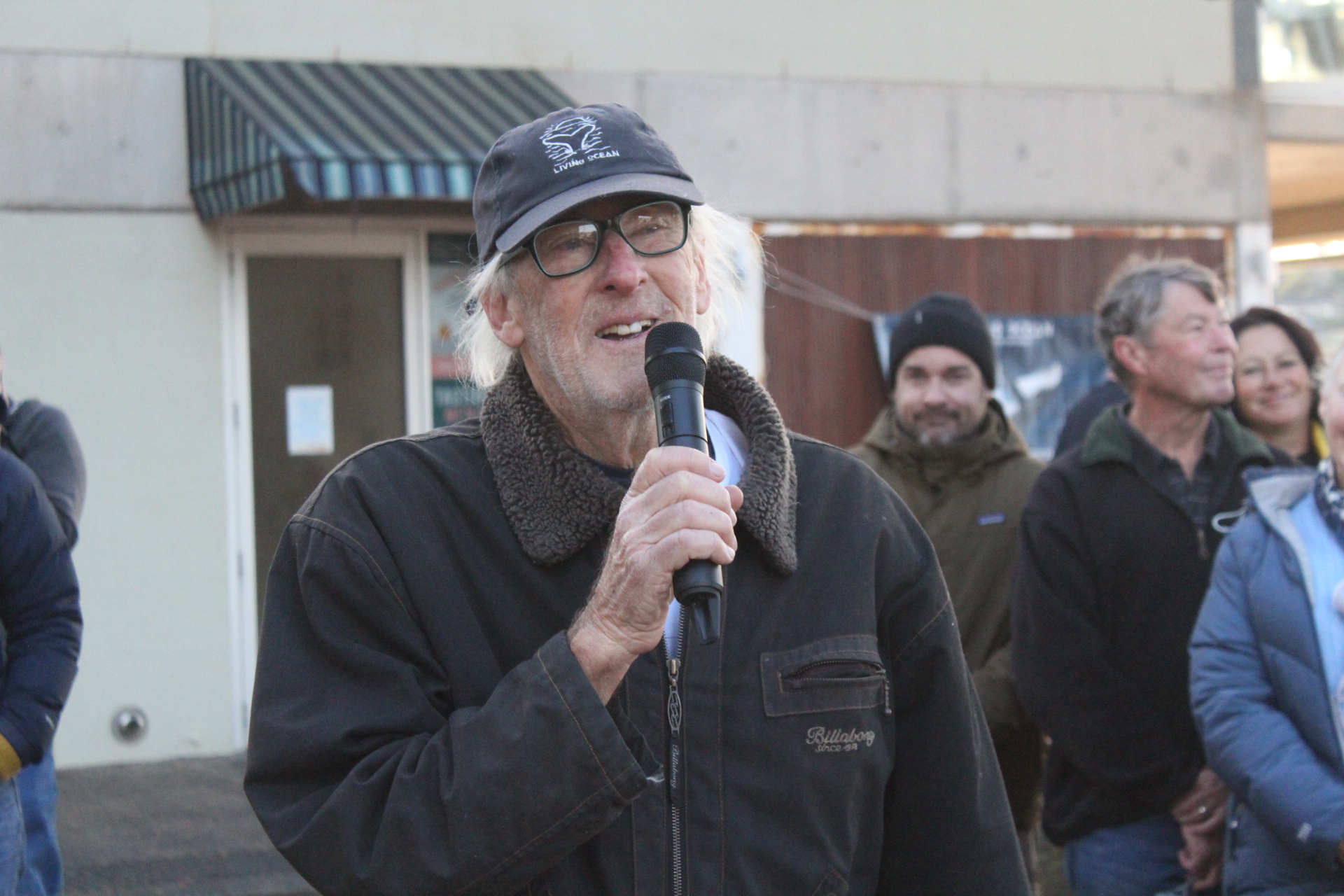 Robbi
Robbi and David then handed back to Uncle Neil so all could join in some sand squeaking. One local among the crowd joining in, was newly elected MP for Mackellar, Dr. Sophie Scamps.
Living Ocean also gave details of the great whale census, to be held by collaborative partner ORRCA on 26 June. If you see people out on headlands today with binoculars trained on the water, they're possibly counting whales.
The annual Southern Hemisphere whale migration is one of nature's most spectacular events, with these magnificent animals travelling up to 10,000 kilometres. However, it's not just about their journey, as
The role of the ocean is fundamental as it regulates rainfall and droughts, holds 97% of our planets water, and is the greatest carbon sink on earth, far surpassing all vegetation. Therefore, the impact of ocean health is profound.
Living Ocean is a not-for-profit organisation which operates as a centre for marine studies with a focus on marine animal behaviour, macro and micro plastics, and marine environment processes. They promote awareness of human impact on the ocean through research, education, creative activation and support of others who sustain ocean health and integrity.
Living Ocean strives to promote and educate on the importance of ocean health as necessary to the survival of all life (human, animal and botanical) on earth.
Conducted over 12 months by the Careel Collaborative, the Careel Multi-Layered Coastal Assessment (CMCA) project will assess Careel on multiple layers: from the state of Pittwater's largest stand of mangroves and endangered seagrass beds to the levels of macro and micro plastics in the environment and the impact of Careel Creek and stormwater outflows.
Plastics not your thing? get involved in:
Mangroves assessment
Ocean-bound litter along Careel Creek
Posidonia – endangered seagrass
Flora and fauna
Photography – media
Data analysis
To volunteer, contact Living Ocean by sending your details to info@livingocean.org.au or phone Robbi directly on 0410 374 333. You can follow the CMCA on Facebook too. You can learn more about Living Ocean on their Facebook page.
To find out more about Living Ocean or to get involved with the Ocean's Careel Multi-Layered Coastal Assessment (CMCA) please visit: https://www.livingocean.org.au/
Some More Pictures From Living Ocean's Community Activities This Past Week