December 1 - 7, 2019: Issue 431
Lisa Blair to sail double-handed in Melbourne to Hobart Yacht Race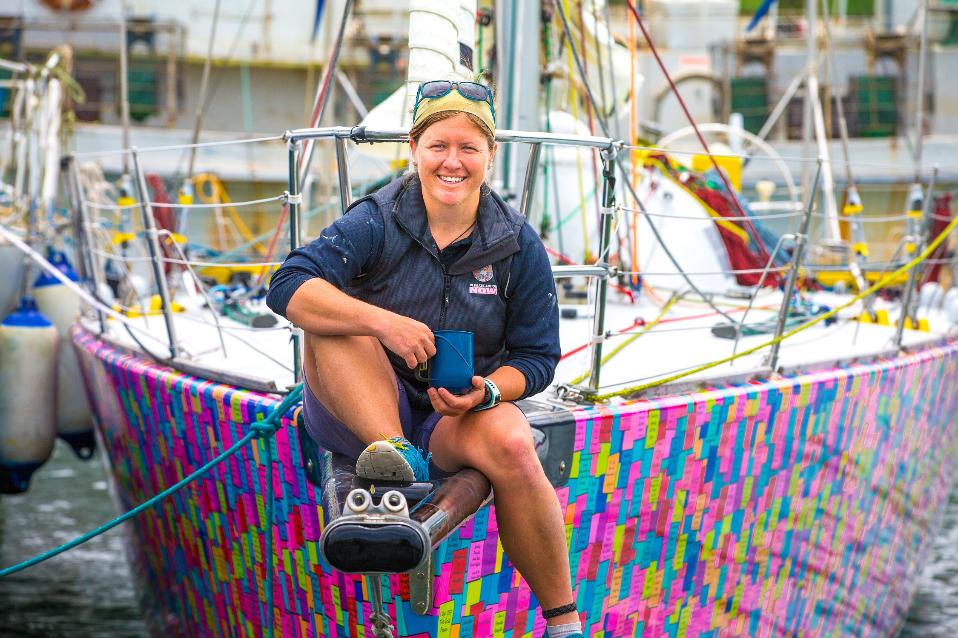 Lisa Blair on bow of her boat - photo by Dean Coopman
Lisa Blair, a high-profile yachtswoman and adventurer on a mission to break records and leave her mark on the world, is joining the fleet for the Ocean Racing Club of Victoria's (ORCV) 2019 Melbourne to Hobart, and in doing so, will create history.

Blair's thirst for sailing and adventure was aroused when she crewed in the 2011/2012 Clipper Round the World Race. The Sunshine Coast sailor, who has called Sydney home since 2014, has since completed the ITL Solo Tasman Challenge from New Zealand to Australia.
Among other achievements, Blair took her environmental message aboard 'Climate Action Now' to the 2015 Rolex Sydney Hobart. Next was her aim to become the first woman to circumnavigate Antarctica solo, non-stop an unassisted, but was dismasted in storm conditions. Undaunted, Blair stopped, repaired and two months later finished, making her the only woman, and solo woman, to sail around Antarctica.
Blair did the 2017 Sydney Hobart with an all-female crew and in 2018, refitted her Hick 50. She sailed solo around Australia, Sydney to Sydney, and into the record books. The first woman to sail solo non-stop, around Australia, also set a world record for the fastest solo voyage on a monohull - 58 days.
Niggling at the back of her mind, though, is the unfinished business of sailing non-stop and unassisted around Antarctica. But she wants to do the Melbourne to Hobart 'Wescoaster' first, with her freshly rebadged boat, d'Alboras/Climate Action Now.
ORCV Commodore, Martin Vaughan, comments: "Lisa is predominantly a single and double handed sailor. We share her passion for double-handed sailing and welcome her to our race."
For her part, Blair says, "The Club (ORCV) has been very welcoming. I chose to do this because the Club offers a rare chance to do a major Australian race double-handed. Double-handed racing is ideal for me – sailing fully crewed and solo have their challenges.
"We'll be the first double-handed women crew in the history of the race. I've also always wanted to race down the west coast of Tasmania and into the Southern Ocean. It holds great appeal – I want to have a crack at it," she says.
The 34 year-old who calls Curl Curl home, will do the race with Jackie Parry. "We can do it because of d'Alboras, which was a sponsor before I went to Antarctica. We're going to try our hardest, push the boat and have fun with it, while delivering the 'climate action' message," Blair remarks.
The boat is currently based at d'Albora Marinas at Rushcutters Bay, Sydney, having finishing touches put to it. In the first week of December, Blair and Parry will sail the Hick 50 from Sydney to Melbourne.
They have not sailed together before: "The delivery will be good training; we'll go out and do lots of tacks and gybes," Blair says.
"The race will be a solid platform to circumnavigate Antarctica non-stop and unassisted in December 2020. I am looking to find sponsorship to support me.
"I know I can do it and break the speed record. I was ahead of the record when I was dismasted last time - and I was sailing conservatively."
For 14 December, her 35th birthday, Blair has organised an 'Open Boat Day' day at d'Albora Marinas Victoria Harbour, at Docklands in Melbourne. "The public is welcome to come along. We are putting the final details in place, so stay tuned," Blair ends.
Commodore Vaughan says, "We know our numbers will be well down this year. Many boats have chosen to support the 75th Sydney Hobart, including a lot of our own members, so we are pleased Lisa has chosen to join us. We expect numbers to be up again next year."
The 2019 Melbourne to Hobart Yacht Race starts on 27 December off Portsea Pier and takes the fleet down the rugged west coast of Tasmania and to Hobart. The annual 440 nautical mile race is open to fully crewed monohulls, with divisions for Four + Autohelm, double-handed and multihulls.
For all information on the Melbourne to Hobart Yacht Race, go to: https://www.orcv.org.au/
Di Pearson/ORCV media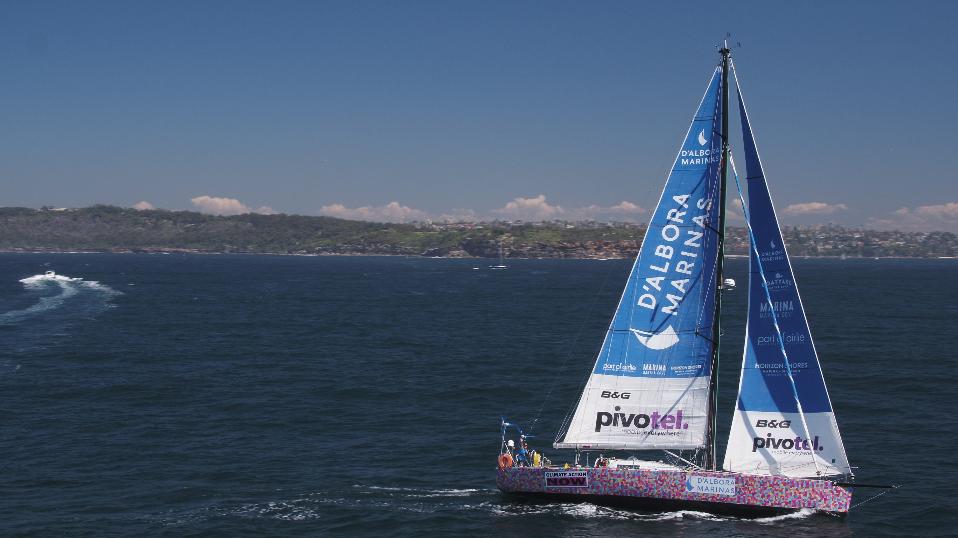 d'Alboras Climate Action Now under sail - pic courtesy Lisa Blair