June 13 - 19, 2021: Issue 498
Learn about French photography on Bastille Day 2021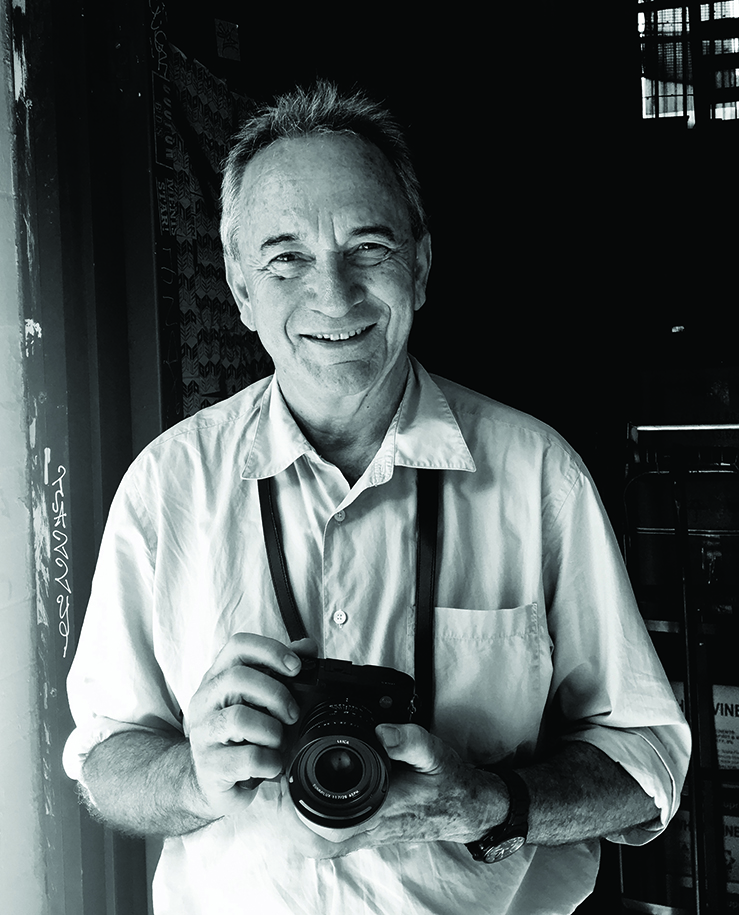 Get a flash course in the history of French photography at a free talk in Stanton Library on Bastille Day.
Photographer, journalist and author Tony Maniaty will give a talk about France's central role in the birth and development of the photographic arts to celebrate the national day of France on July 14, 2021.
Entitled France and Photography 1830-1990, Tony's illustrated talk featuring the blurry output of Niépce's 19th century 'camera obscura' to the classic 'decisive moment' street photographs of Henri Cartier-Bresson and other celebrated 20th century photo-artists.
Tony's talk will complement his own solo photography exhibition at the Kirribilli Centre from 11 to 25 July. Tony, who was based in Paris during the first wave of the COVID-19 pandemic, documented the daily life of French people as they tackled, with courage and fortitude, the greatest crisis in a generation.
"One morning as I was leaving the boulangerie, I commented to the owner that Paris had become a ghost town," Tony said. "Oui, she called out, cheerily. The bars and cafes are closed, monsieur, but our hearts are still open."
A regular visitor to France, Tony Maniaty spent two years based in Paris as SBS's European Correspondent, and 2020 living in Provence and the capital.
As well as a lifelong embrace of photography, Tony's professional career has included journalism, writing fiction and films, and lecturing as Associate Professor of Creative Practices at UTS in Sydney. He currently lives in Naremburn, on Sydney's Lower North Shore, and plans to return to France when circumstances allow.
Visit North Sydney Council's website for more details about the event or to find out more about the French conversation groups at Stanton Library.
France and Photography 1830-1990
Bastille Day – Wednesday 14 July 2021, 1pm, Stanton Library - 234 Miller St, North Sydney
FREE - Bookings are essential - North Sydney Council - Bastille Day: Tony Maniaty (nsw.gov.au)
Photo exhibition at The Kirribilli Centre
'Our hearts are still open': the Spirit of France in the Year 2020
Photographs by Tony Maniaty
From Sunday 11 July to Sunday 25 July at the Kirribilli centre - 16-18 Fitzroy St, Kirribilli
Artist's Statement
As with almost everyone else on Earth, my 2020 didn't go to plan.
I flew from Australia to Paris in early January, just as coronavirus was taking off in Europe - first in Italy, then France and the rest of the Continent. After long confinement in a Provençal village, I rented a small apartment on the Paris Left Bank, only to face successive waves of the virus and a rising death toll. (By year's end, more than 60,000 would die in France alone, and approaching two-million worldwide.) My creative focus shifted from the relative isolation of writing to a more confronting engagement with Covid-19 - heading out every day and night to photograph the changing life of the streets, sans tourists, sans crowds, sans traffic jams, everyone wearing masks and sanitising hands, a pervading sense of anxiety replacing the joie de vivre of the city.
Paris as none of us had ever seen it before.
What follows is a gallery of those moments of 2020, interspersed with notes I made as Covid took hold. In many ways, 2020 was a lost year, in which many hopes and dreams were suspended or abandoned altogether. But Paris gave me back a love of photography, which I'd pursued vigorously in earlier decades and subsequently put aside to focus on writing. The combination of Paris, the crisis and the camera seemed to open new creative horizons. Technically too, the year reinvigorated my street photography skills: patience and seeing things 'about to happen', intuitive framing and composition, the interplay of light and shadows in monochrome.
Now - facing this new year - a fresh struggle emerges: to stick with photography or return to writing? Or search out ways to combine both into a narrative form more suited to a radically-altered creative environment? It's been a testing time for the arts everywhere, with established methods giving way to the new. Let's see where 2021 takes us all…
These images feature in my photo-book 'Our Hearts Are Still Open' (Tettix Publishing, July 2021).